Though I only went to two events last year, the Cars and Coffee Toronto meets –hosted at Engineered Automotive— were two of my favourite events of the year. The laid back atmosphere makes them a great family friendly venue and the cars that show up are more often than not quite diverse.
When the season opening event started making its rounds on Facebook I got excited when I saw the list of attendees climbing. It looked like there would be a lot of people at the event.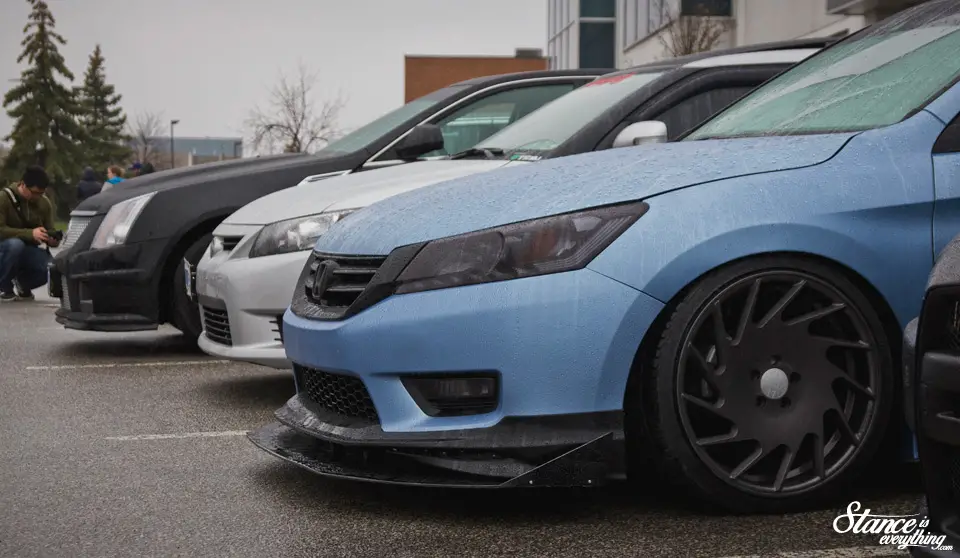 Unfortunately rain was in the forecast day of the event, and a lot of it. I had my hesitations before heading out the door but I'd already promised my son we'd be going to a car show Sunday, and Engineered Automotive was pretty on top of things announcing bright and early on Facebook that the event was rain or shine.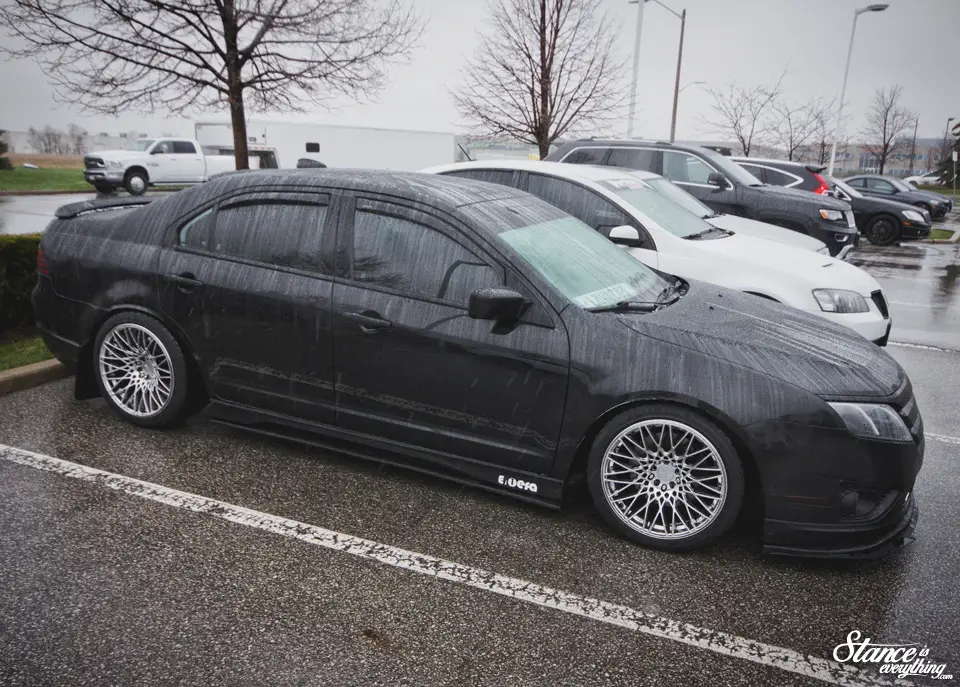 Though I don't drink coffee I figured the worst thing that could happen was going on an extended drive with my son for a few Timbits and a little puddle jumping.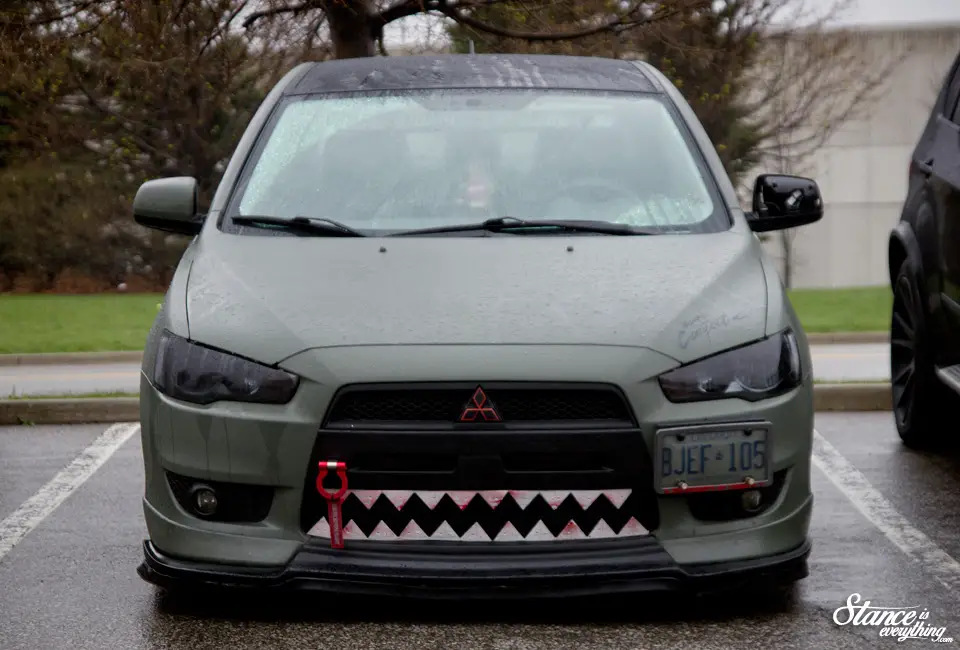 The parking lot ended up being a little fuller than one might expect given the weather, there were no exotics or convertibles in sight obviously, but there were interesting cars none the less.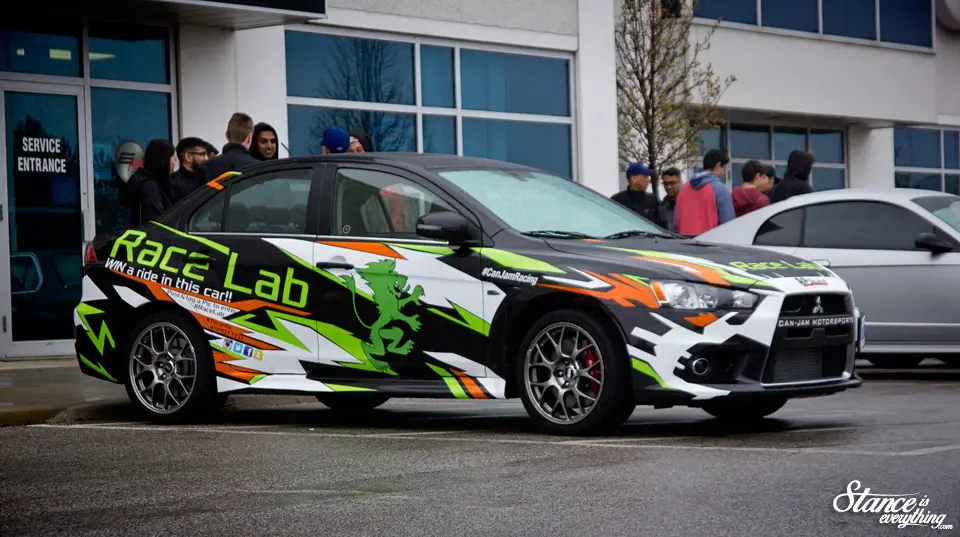 One of the cars that had me curious was 'Crazy' Leo Urlichich's new Race Lab Mitsubishi.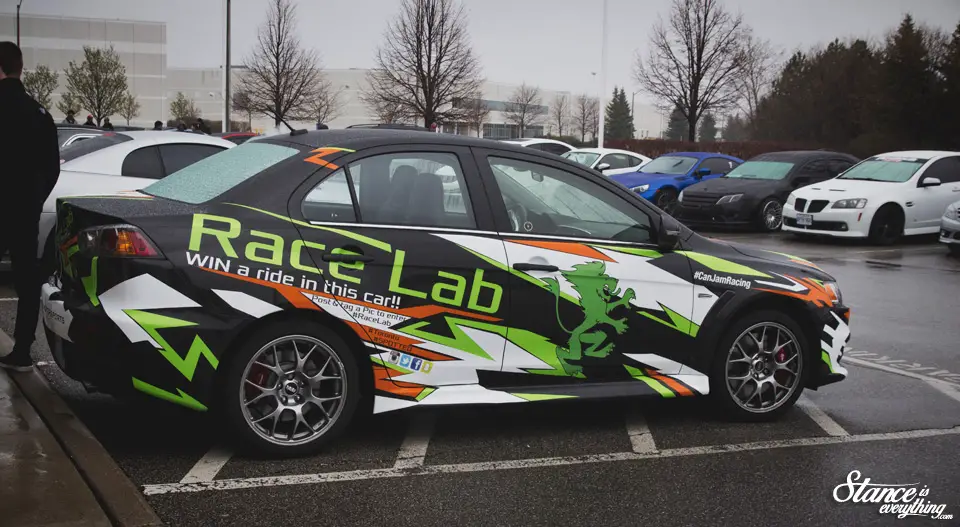 Historically a Subaru guy Leo has hopped into this car for tarmac. According to Leo Mitsubishi make a better car for on road shenanigans than Subaru does.
A car my son Ash noticed almost immediately was this black Genesis owned by @EvilG3N. 'Light' is a new word for him and he likes to point them out whenever he sees them. In this case the red angel eyes caught hits attention.
Tire stickers are quite popular these days with the Genesis above and 370 rocking a fresh pair.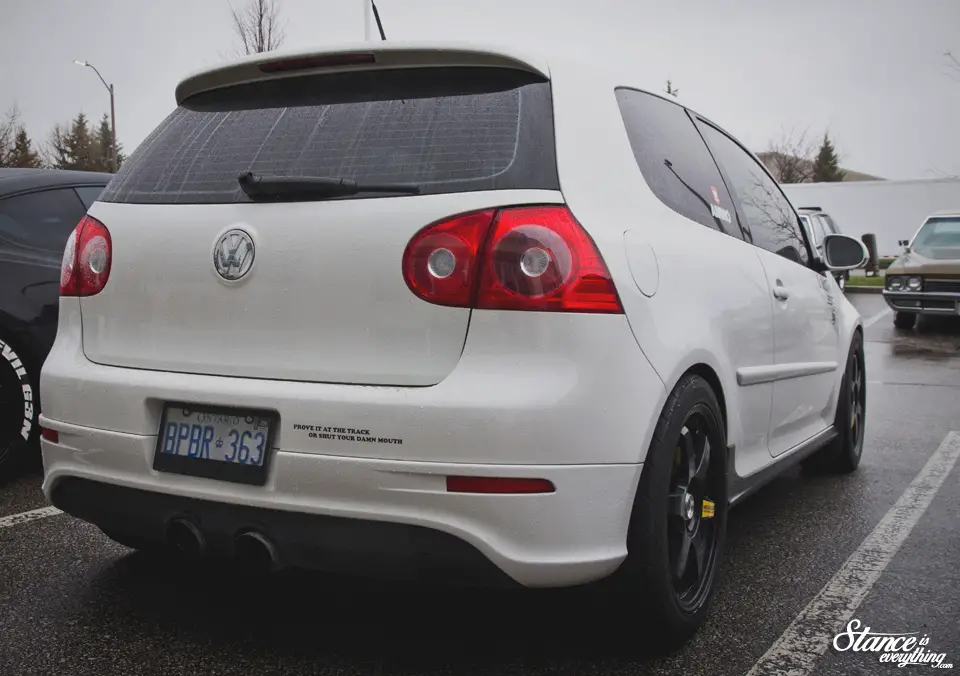 Speaking of stickers this GTI was rocking a "Prove it at the track or shut your damn mouth" sticker on the back bumper.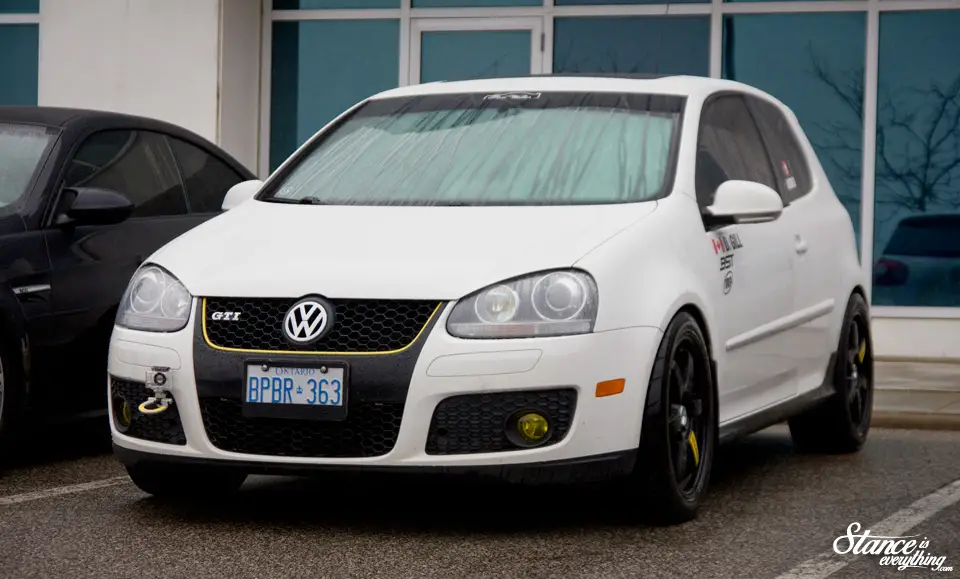 The wheel and tire set up, upgraded brakes, and Go Pro mount suggested that this car does actually see some track time.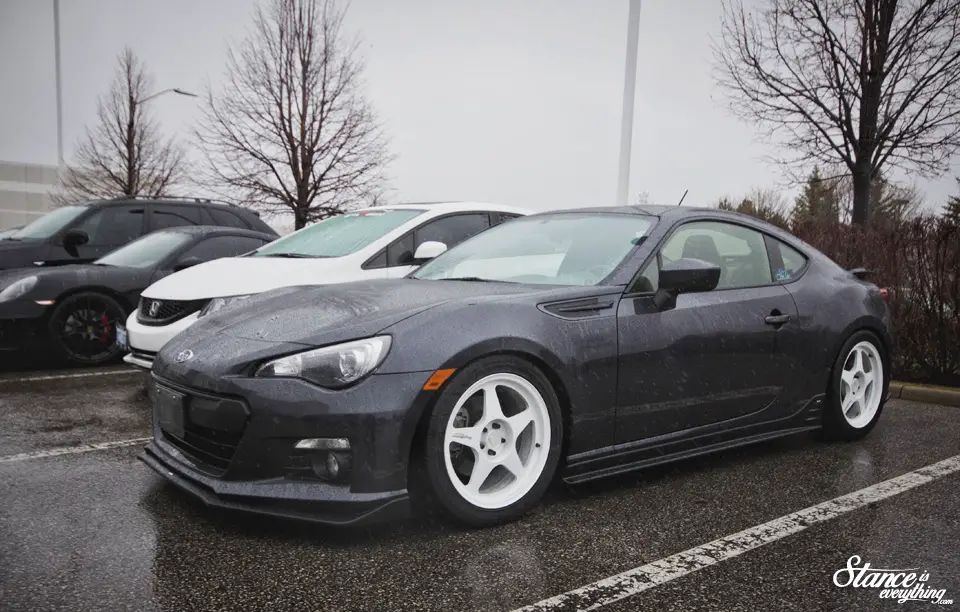 This BRZ looks right at home on Desmond Regamaster Evos and made me wonder if I should renew my search for a set of those wheels. They are such a simple design and yet they work great on so many cars.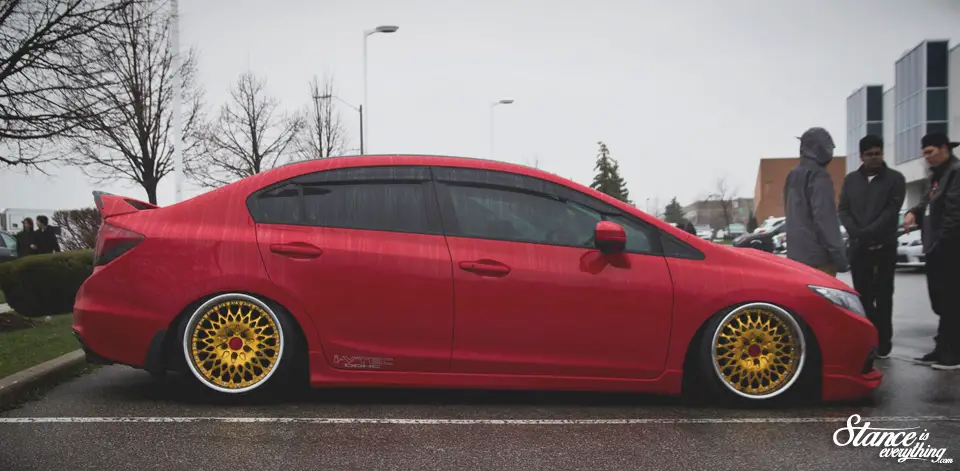 I had seen photos of the Civic above floating around instagram and Facebook before the event as I think it was completed the day before. Looks pretty good in person, the rear camber might be a bit much for some though.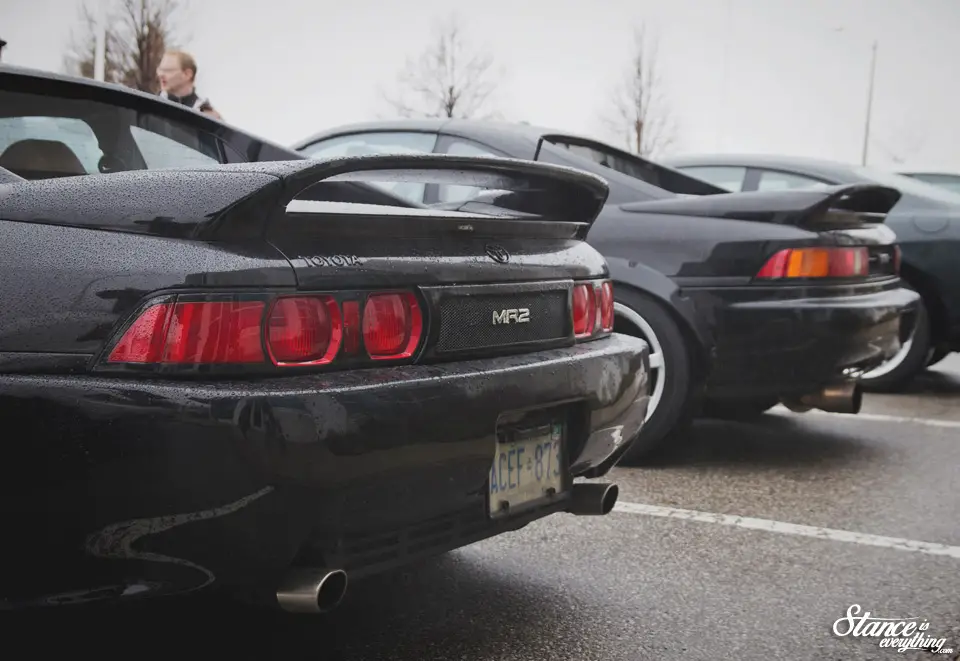 Before I made my way inside I took a walk down to the group of second generation MR2s.
The flared example above sat on Enkei Kojin wheels, these wheels are less popular than their RPF-1s but in my opinion look just a nice.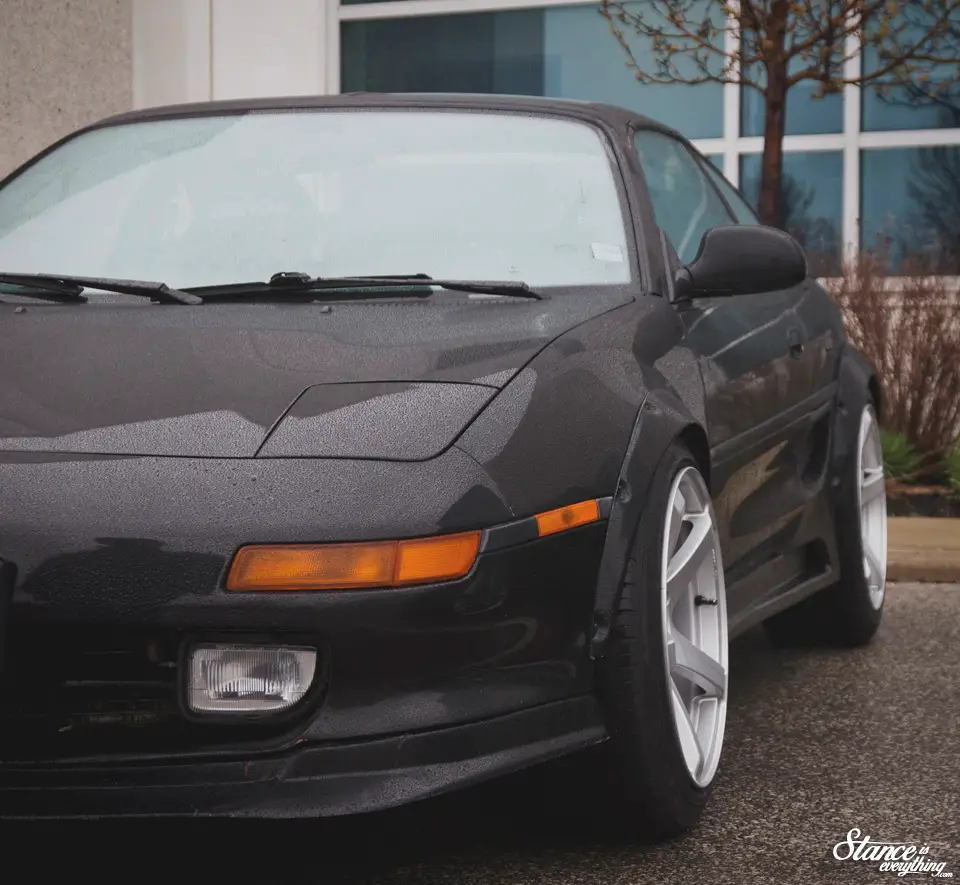 The 18×9.5 sizing is a bit much for the MR2 in stock form, hence the addition of universal after-market flares.
Inside Engineered has a couple nice Fords right near the entrance, caught the whipple of a GT poking out from the rear compartment and the bay of a Cobra.
The 959 that was up on the hoist my last visit to the shop is back on the ground and theoretically in operating condition. It was parked in a pretty bad spot for photos so I didn't spend too long taking pictures of it.
I did how ever take a few photos of this Rips racing R32, it too has been there since my last visit but looks to be in running condition.
It looks like a pretty serious build, and hopefully at the next Cars and Coffee (June 5th) it will be on the ground and maybe even running as I'd love to hear what it sounds like.