Canada's unofficial, yet undisputed, house of drift is Autodrome St-Eustache so when Formula Drift comes to Canada its the only venue event considered.
After a demo in 2014, and a World Round in 2015, 2016 marked the first year that the US Formula drift series held an official points round here in Canada.
Dubbed True North, this event was hopefully the first of many to come where Canadians get to see Formula Drift competitors from the US series compete for the finals without crossing the border.
Since this was a points round anyone in the running for championship points came out including Dean Kearne, Chris Foresberg, Mad Mike, Ryan Tuerck, Vaughn Gittin Jr, and Fredric Aasbø to name a humble few.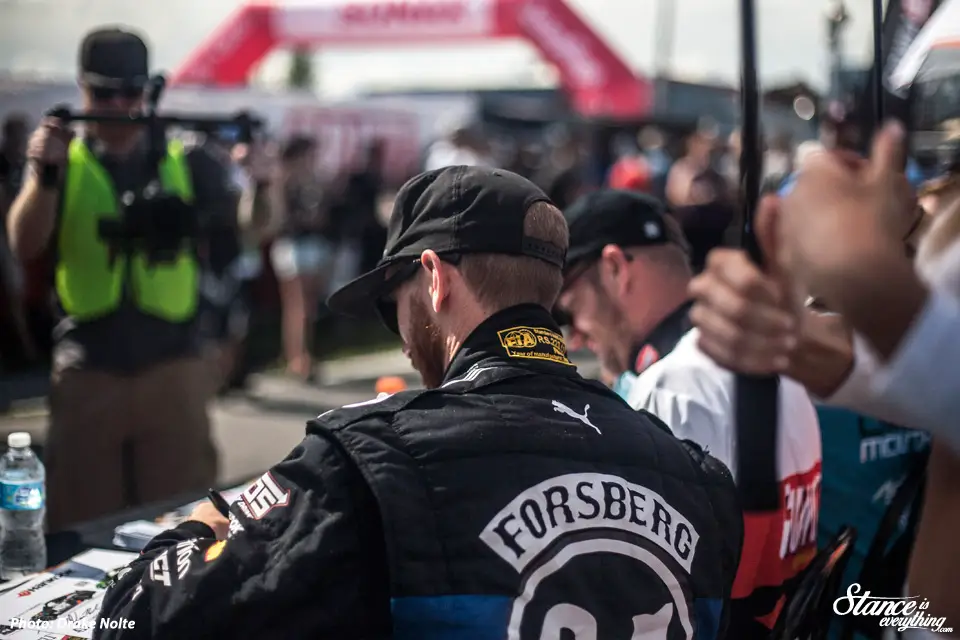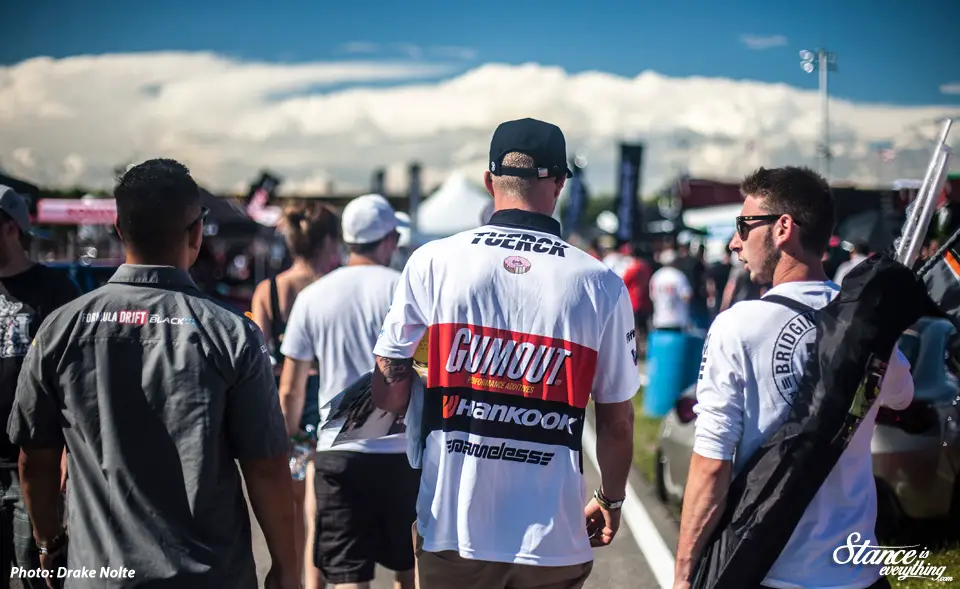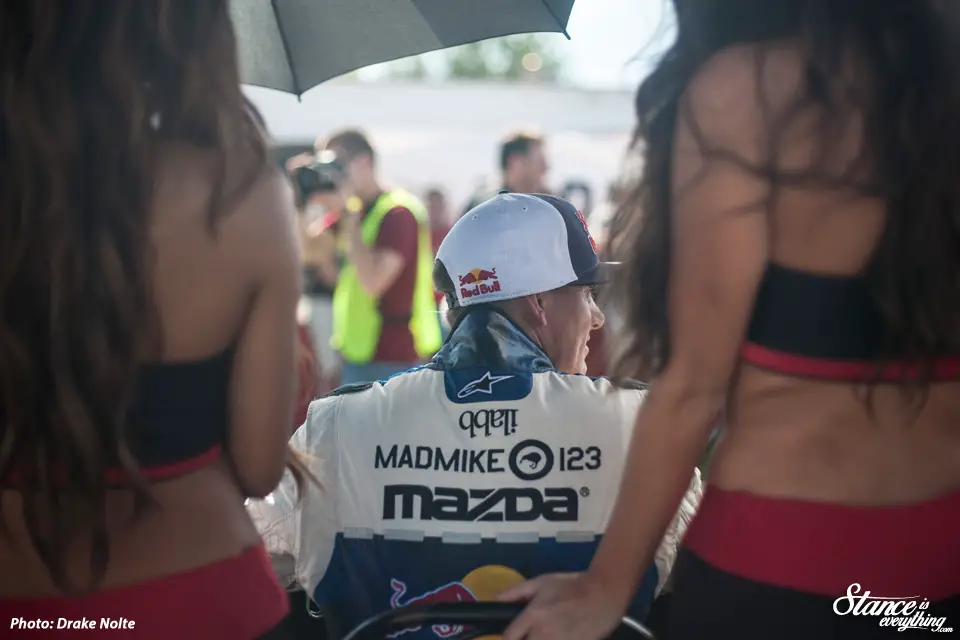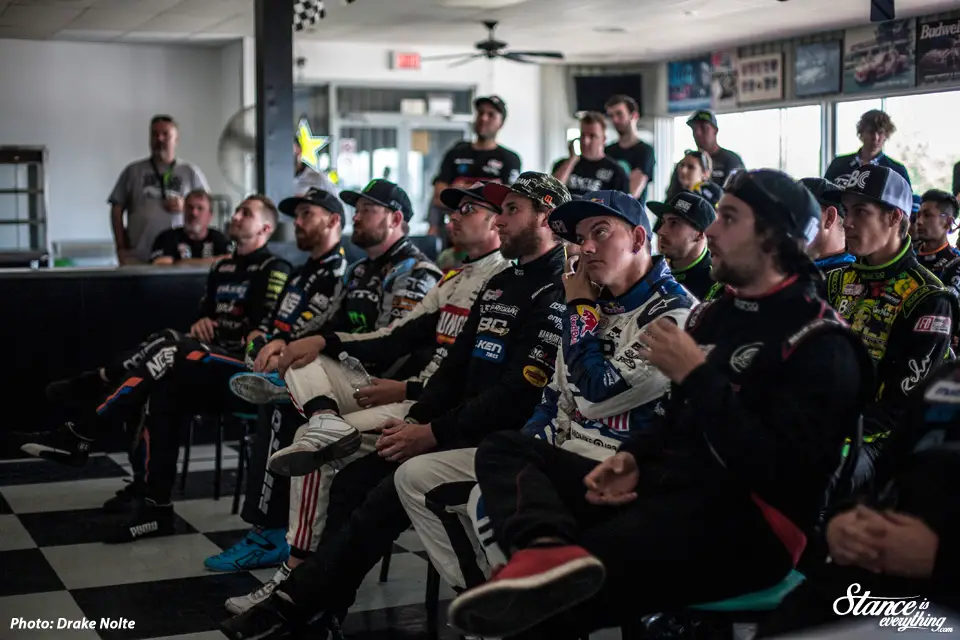 If that wasn't enough there was also a Formula Drift Canada event held on the Friday, and since it rained pretty heavily the finals for that were moved to the Saturday as well.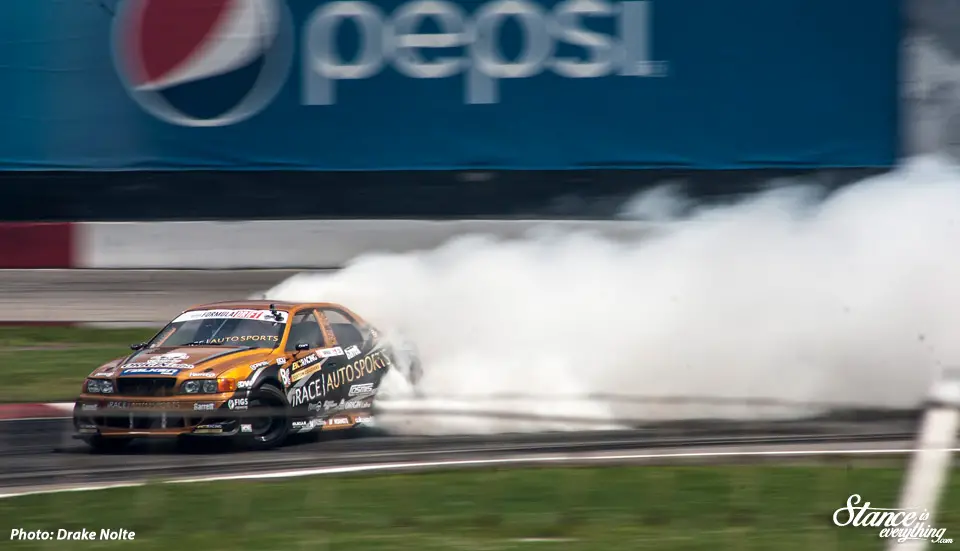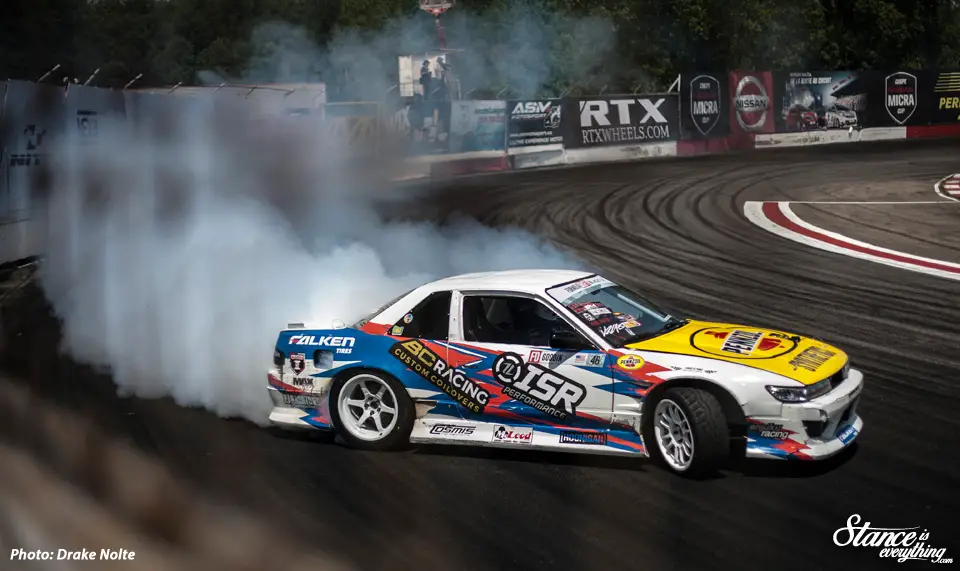 With two grids to get through, and torrential downpours to avoid, the track was essentially never cold between practice, qualifying and top 32 competition.
Those people in the stands, a few scrolls up, who brought their tents and camped out were perhaps the smartest in the whole venue because for everyone else it was a long day in the hot July sun.
Leading up to the event their was a lot of contempt towards the Formula Drift series, and a lot of ill words had been said about judging, politics, this, that and the third.
However this event was simply all about hard-driving consistency and style something many criticize that the series for lacking.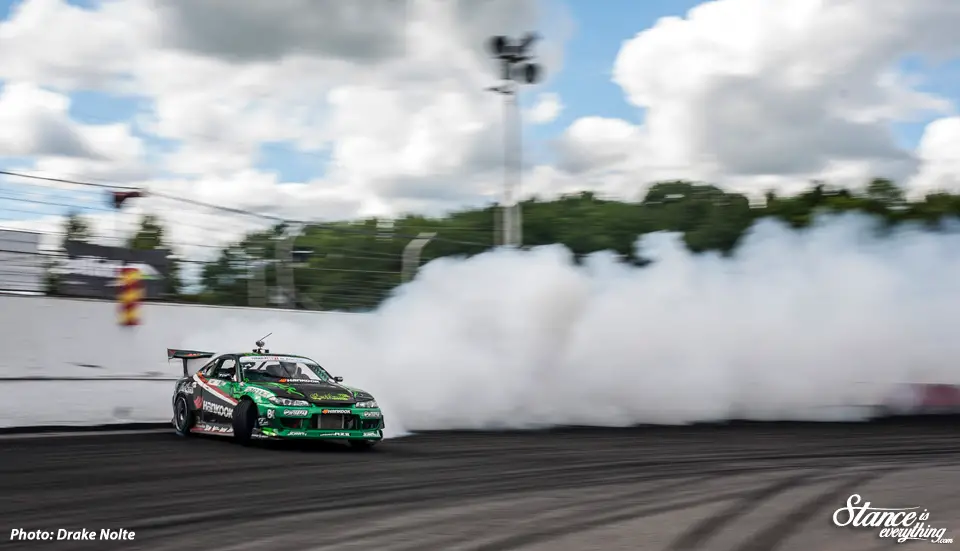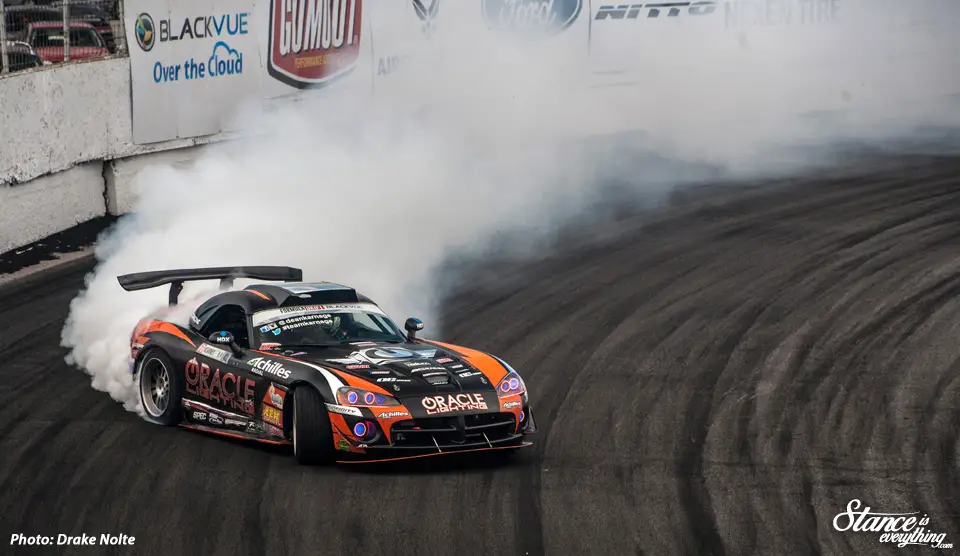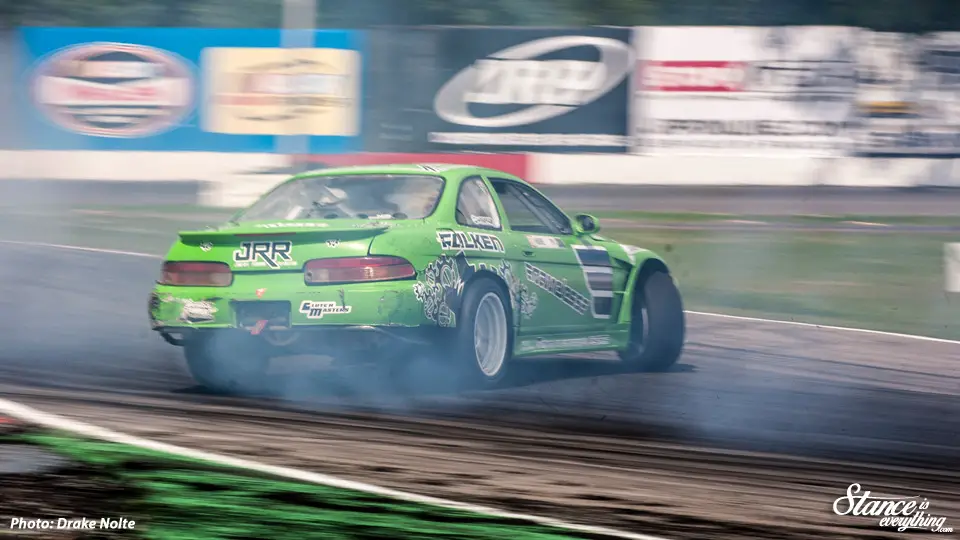 Heck even @formuladerp didn't have anything negative to say about this round, which is huge considering he –or they– slay pretty much any drift event at any time these days.
As day turned into night, and the track was shut down for the day, the party and smoke (tire and otherwise) just moved to the campground where people stayed up until the sun arose once more.
But before this post goes too Formula Drift after dark, let us bring things back to the track.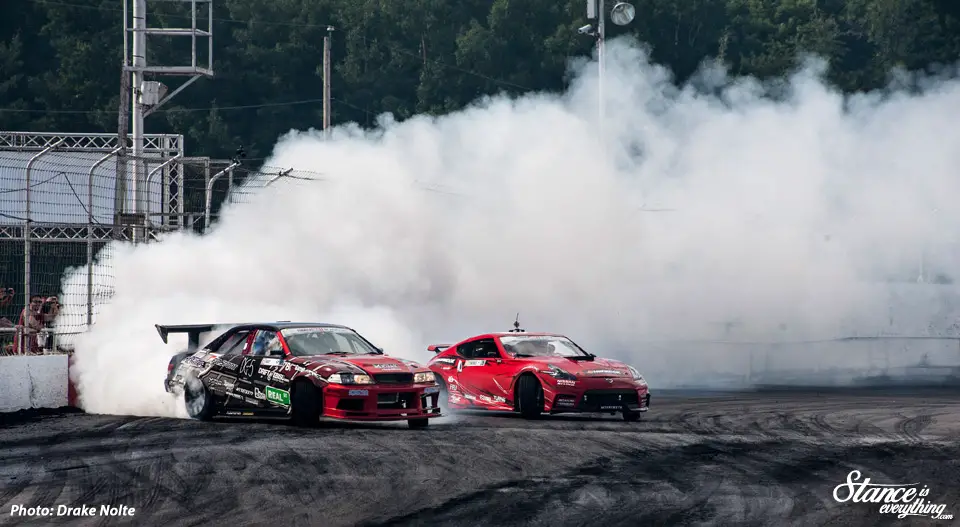 Drake who covered this round a long with Julian Dzialoszynski, is a Miata owner so naturally he paid a special mind to the Miatas in the venue.
The Miata to see was of course Mad Mike Whiddett's turbo 4 rotor "RADBULL".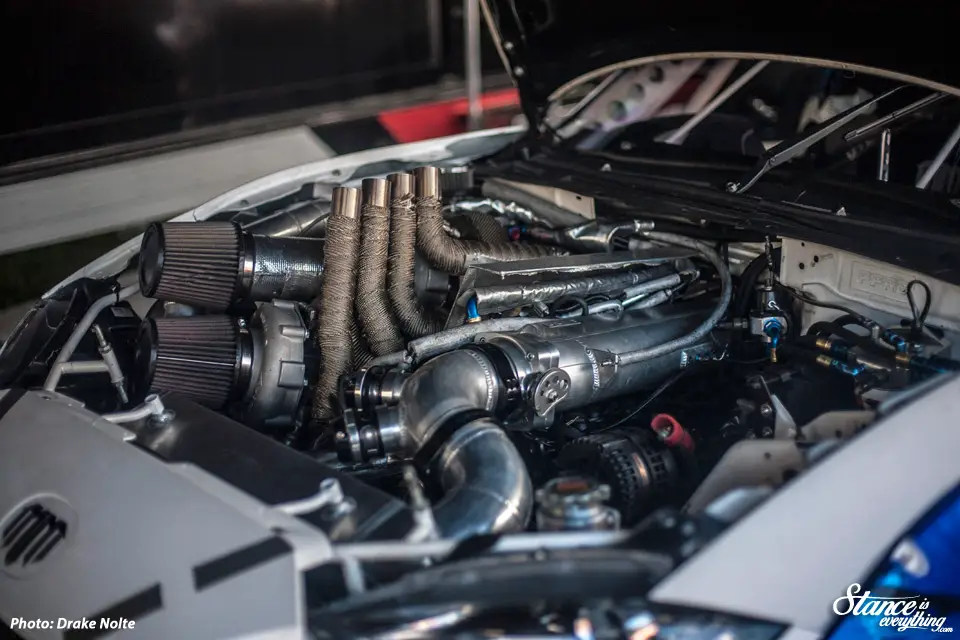 Mike smashed the wall pretty hard in qualifying which meant his pit crew had to work extra hard to get his car back out just in time for his second qualifying run.
With it being such a hot weekend a hat tip has to be given to all of the pit crews for keeping the cars on the road all weekend long.
I'm sure drowning in a puddle of sweat under a car isn't exactly the best way to spend a weekend.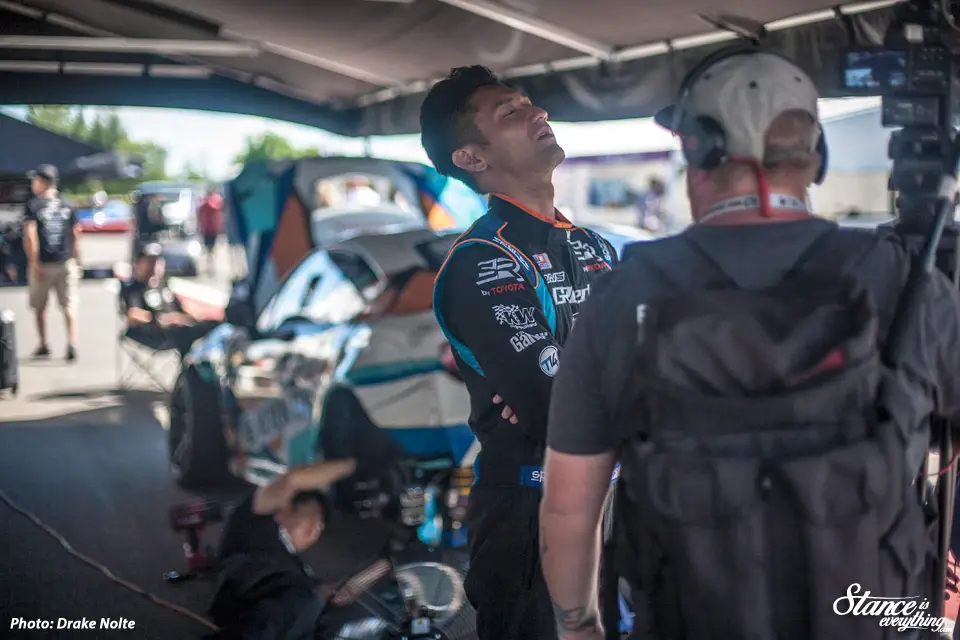 Suffering in a race suit isn't all that great either, but if there's one good thing that comes with the hot weather it's that the models need to dress appropriately to avoid heat stroke and dehydration.
Like any drift event carnage was unavoidable and the weekend left a few cars battered, bruised, and just plain broken.
With irresponsible Mustang drivers accosting pedestrians world-wide Justin pawlak and Vaugn Gittin JR. have had an uphill battle restoring people's faith in the pony car.
Being consummate professionals of course they kept their cars between the walls and away from the crowds.
As the Top 32 whittled itself down the 'great 8' shaped itself into a listing of Forrest Wang vs Odi Bakchis and Coffman Vs Aasbø on one side, and Turerck Vs Foresberg and Vaugh Gittin Jr. vs Yoshiara on the other side.
Foresberg left it all on the line to make it through his battle with Tureck eventually moving on to face Aasbø in the finals.
Vaughn Gittin beat Dai Yoshihara and Odi bested Forest.
In the end it was Aasbøand Forsberg who squared off for the final battle, with Aasbø and his rock solid consistent driving taking him to the podium.
Foresberg took the second spot and Odi Bakchis ended up third.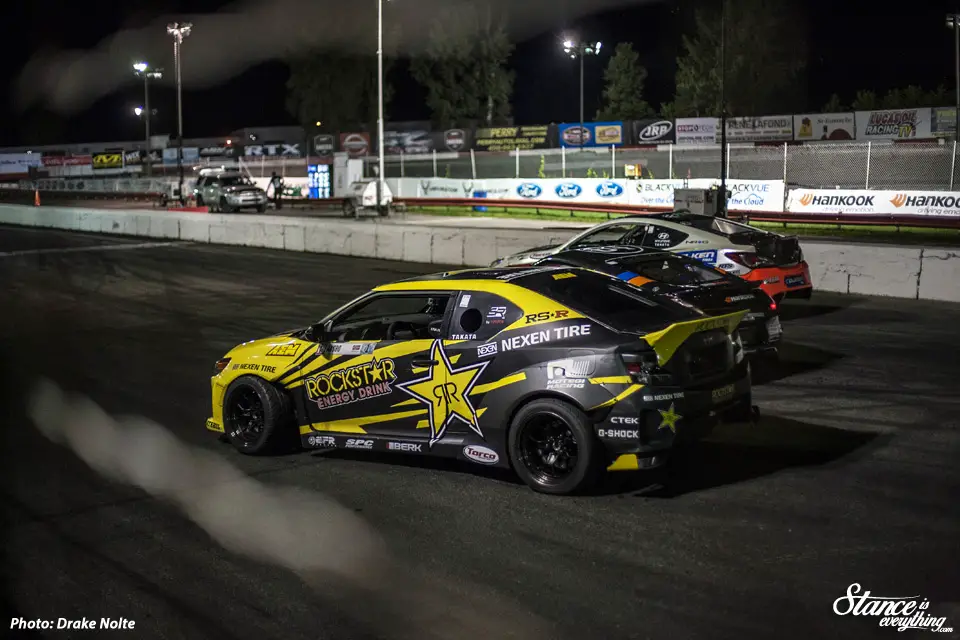 As much as I'd like to be able to make Canadian Formula Drift stops every year it just isn't possible for me, so I'm glad that I can depend on Drake to head to the track and get some great coverage.
Here are a few more photos from this round and you can follow the rest of the series at Formulad.com!