You have to feel for event organizers. Putting on any type of event is no easy task. After you've selected a venue, picked a date (that you hope no one books over) and promoted the show as best you can, you are still left contesting with something completely out of your control. The weather.
Every year the Niagara Truck And Tuner Expo ends up going toe to toe with mother nature. This has to be more than a little frustrating, but entire event staff takes it in stride and has, consistently put on a great rain or shine event.
If you're looking at the photos above, not a dark cloud in sight, and wondering what I'm on about allow me to paint a picture.
When I woke up morning of the show it was raining. Not spitting, but black cloud sappy movie rain on the window type stuff. When I told my son we were going to a car show today all he said in response was "Daddy, rain" while pointing a toddler finger at the window.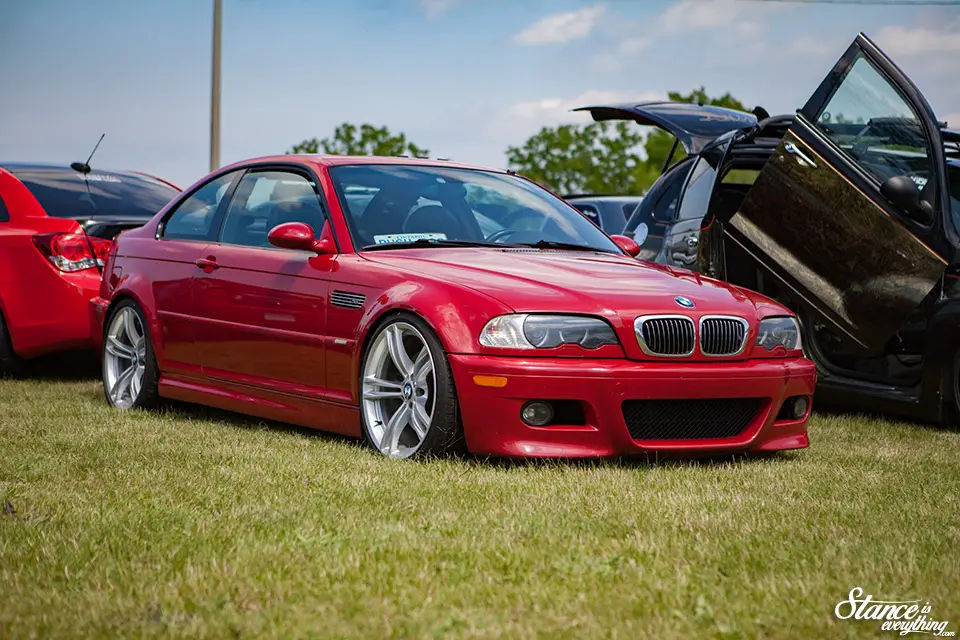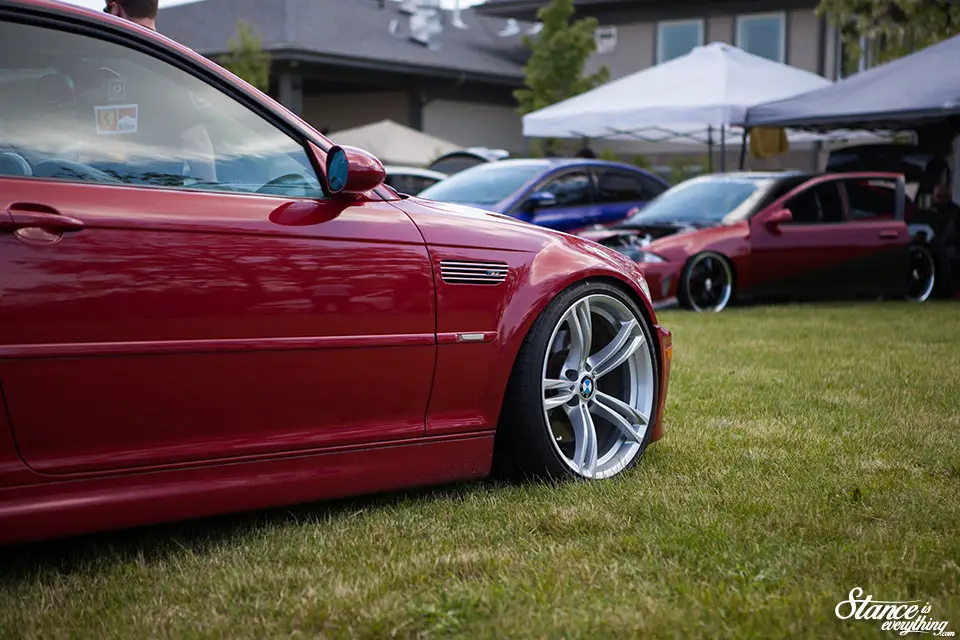 Quickly heading to the TNT Expo Facebook page they said the main system would pass by 11am, which was well after I would arrive. So, foolishly if you ask my wife, I saddled up and made the drive hoping for clearer skies than when I departed.
The TNT Expo is a charity event after all so it's worth supporting even if I'd need a snorkel.
Ultimately I'm glad I took the leap of faith because on my way there the clouds did part and the sun came through resulting in a great day at Fireman's park.
It's been a few years since I have been able to attend TNT expo personally and I'm glad to see that it is exactly as I remembered, a varied mix of cars and trucks of all styles.
Trends have certainly changed over the years and it's always nice to go to an event where you can see a little of everything. The Del Sol and CSRX above represent a time when doors swung up, wheels were straight(er), kits were molded and stickers went down the fender rather than the rear window.
If you're on the younger side maybe you missed this phase but I remember it vividly.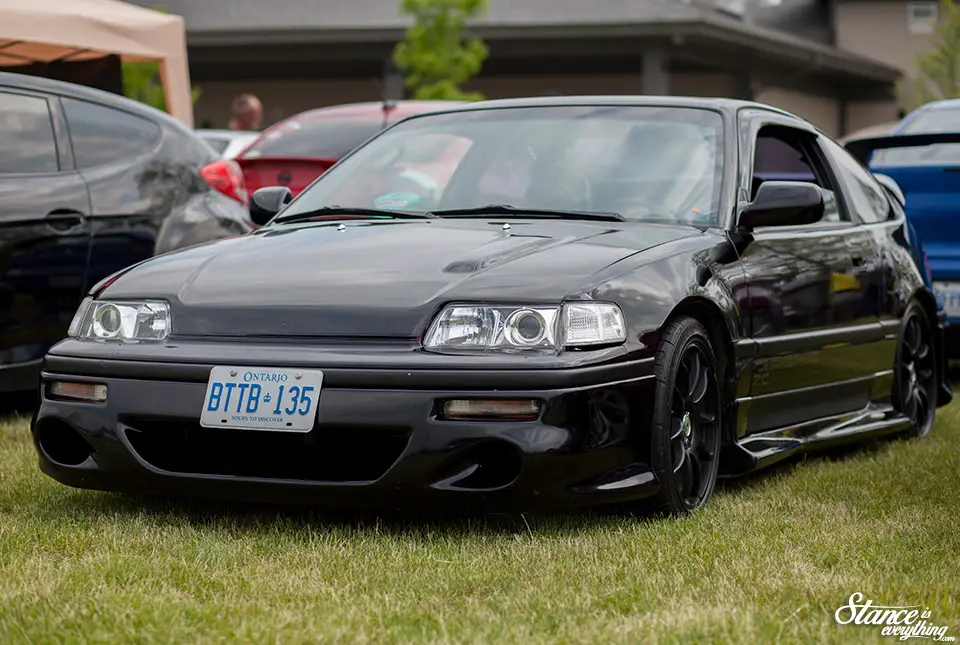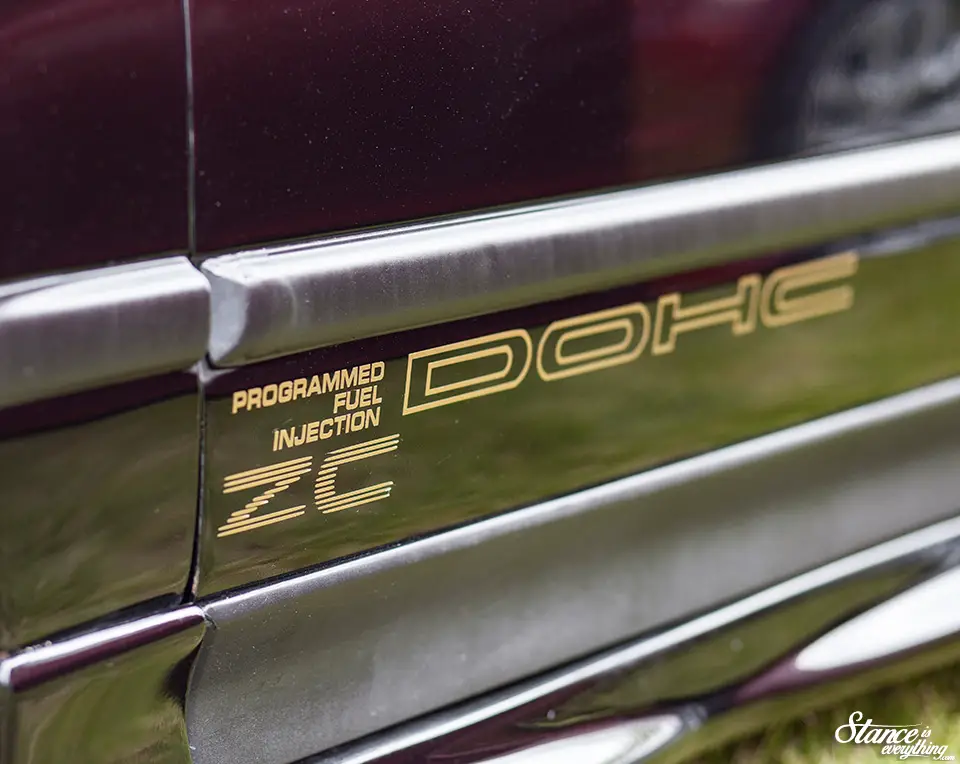 It seems like just yesterday one of my good friends was cruising around in a ZC swapped CRX on Rota Slipstreams —as was the style at the time— with a BMX bike in the hatch.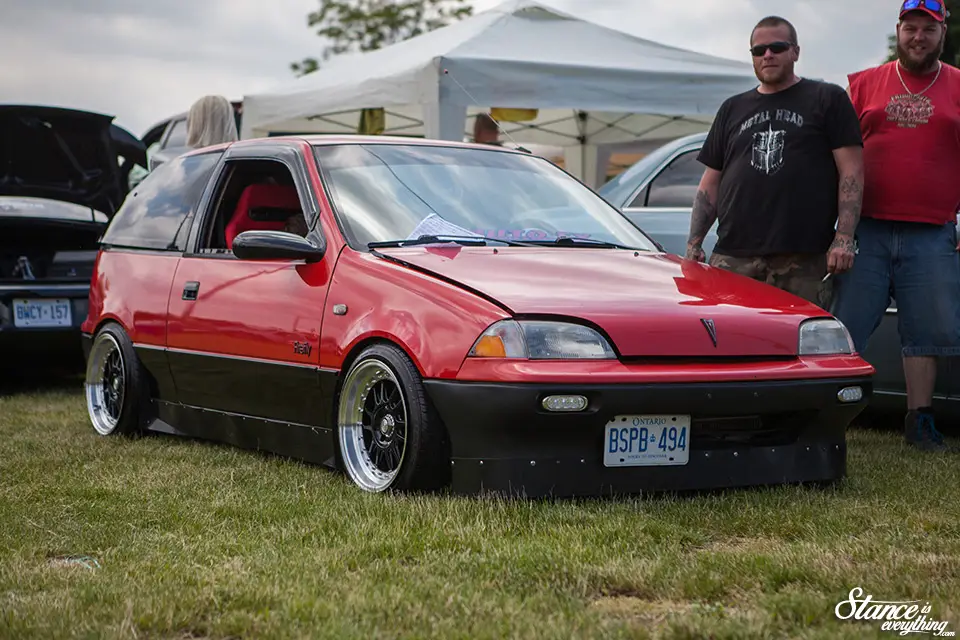 Also throwing back to my time in high school was this Pontiac Firefly, a car that I can honestly say I don't think I've seen any of since high school. If I'm not mistaken these cars came in a 1L turbo variant, though I'm not sure if this is one of those models.
People have often told me to check out the Cavalier above at shows, and I've always managed to pass it like a ship in the night, only remembering I should have looked at it on my way home from whatever venue it was at.
This time I took a look and I can see why people suggested I take a gander.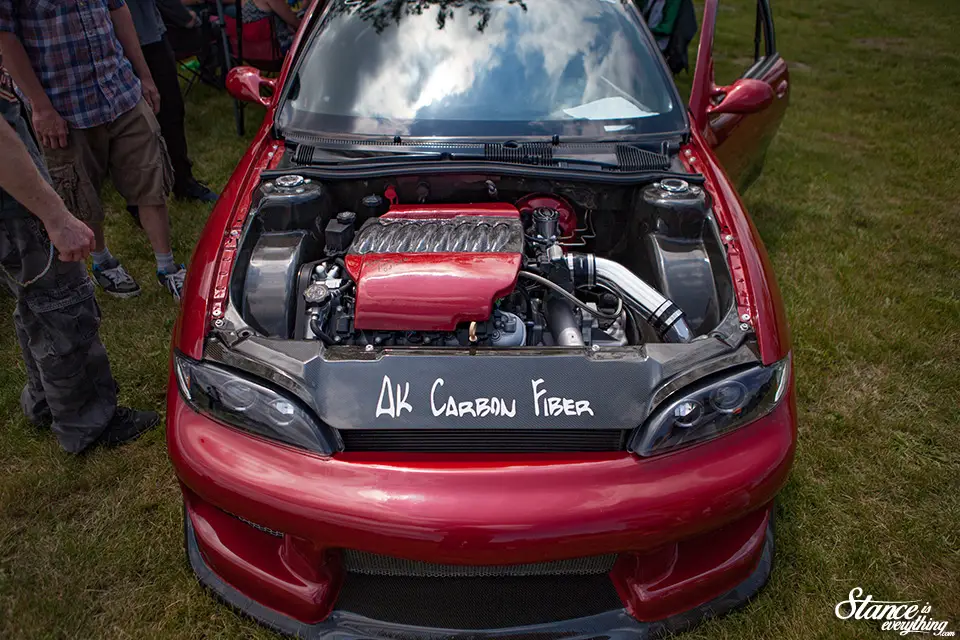 Surrounded by custom carbon fiber work, done by the owner, is an LS4 motor the far less commonly seen 5.3 LS V8 variant that only came in FWD configuration.
This is probably the most interesting, and impressive, Cavalier motor swap I've seen since the famous Northstar V8 swapped car of nearly a decade ago.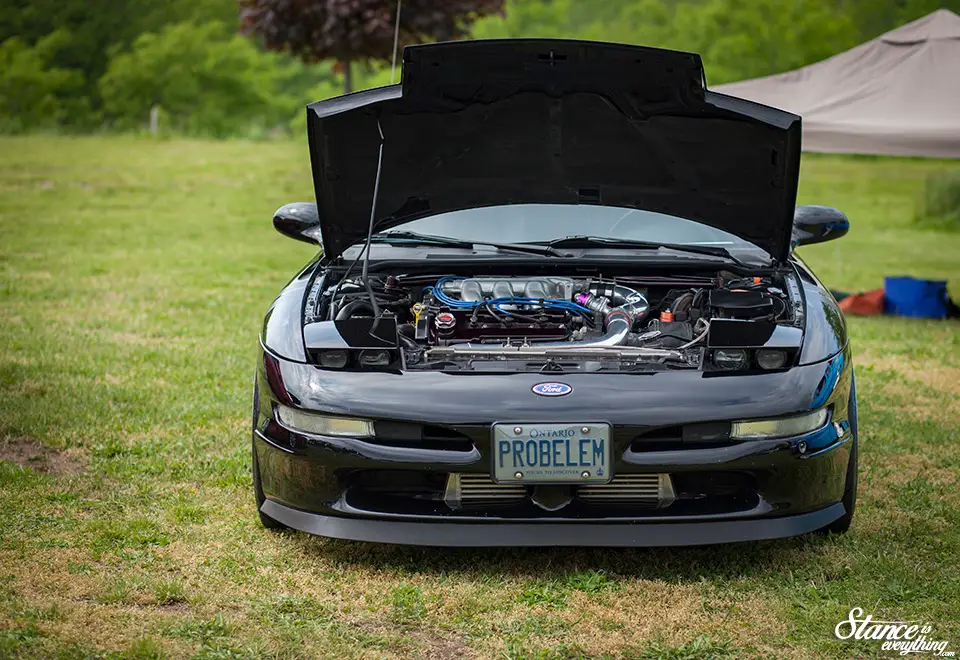 Keeping the obscurity up, here's one of two turbo KLZE Ford Probes in Ontario.
While Erik was at the show, his car wasn't giving this car the distinction of standing alone.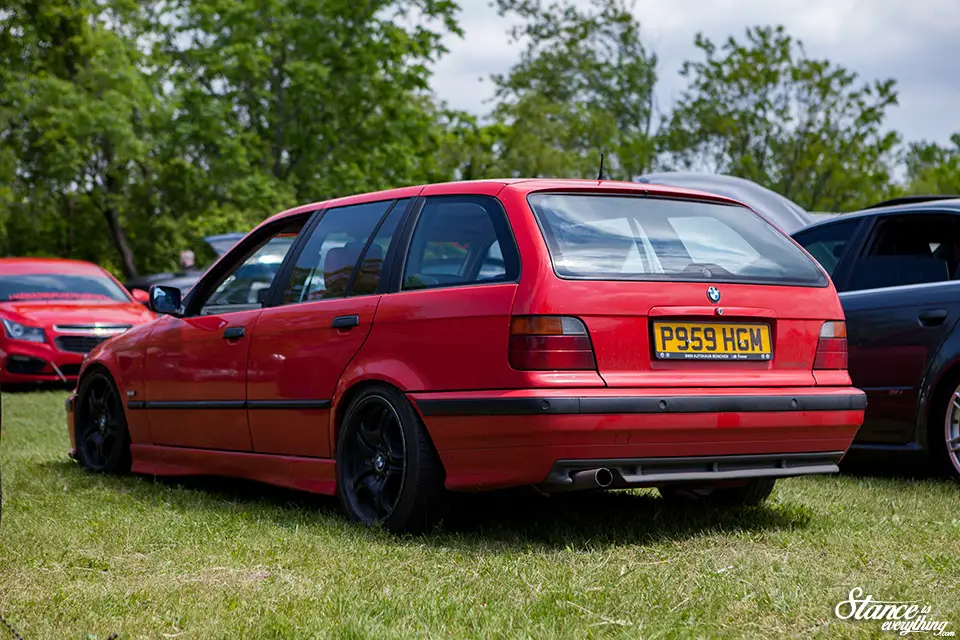 Completely out of left field was this right hand drive, M sport, diesel e36 touring. This is rare stuff in Ontario, heck in all of Canada, as these were never sold here and very few people have bothered to import the diesel.
Tourings are many people's dream car so it was pretty wicked to see this one done tastefully with OEM plus modifications.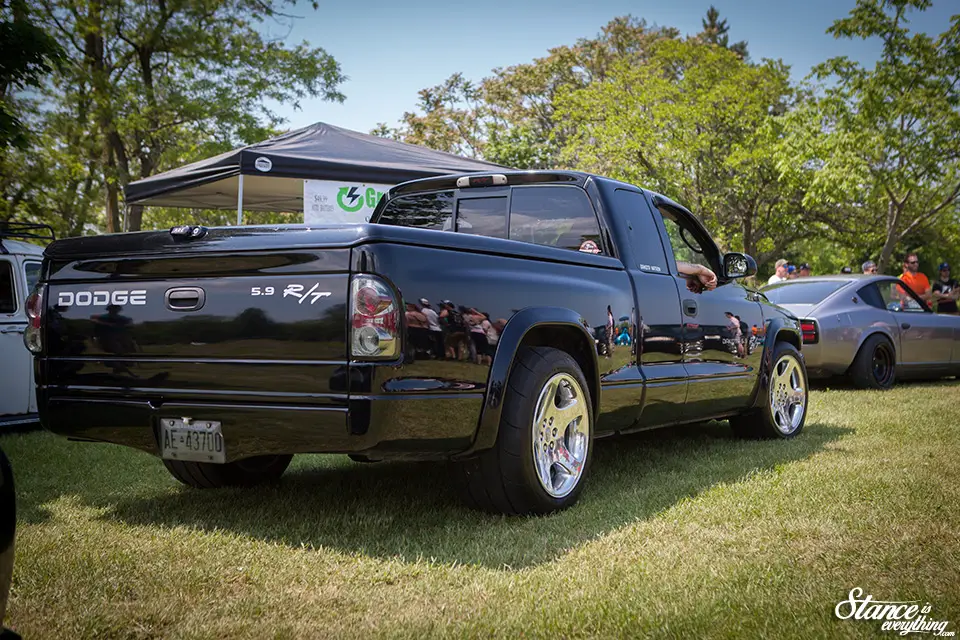 The loud exhaust contest at TNT Expo is always a crowd pleaser and that's when a few American vehicles like this Dodge Dakota R/T made their way from their parking spots and towards where the competition was held.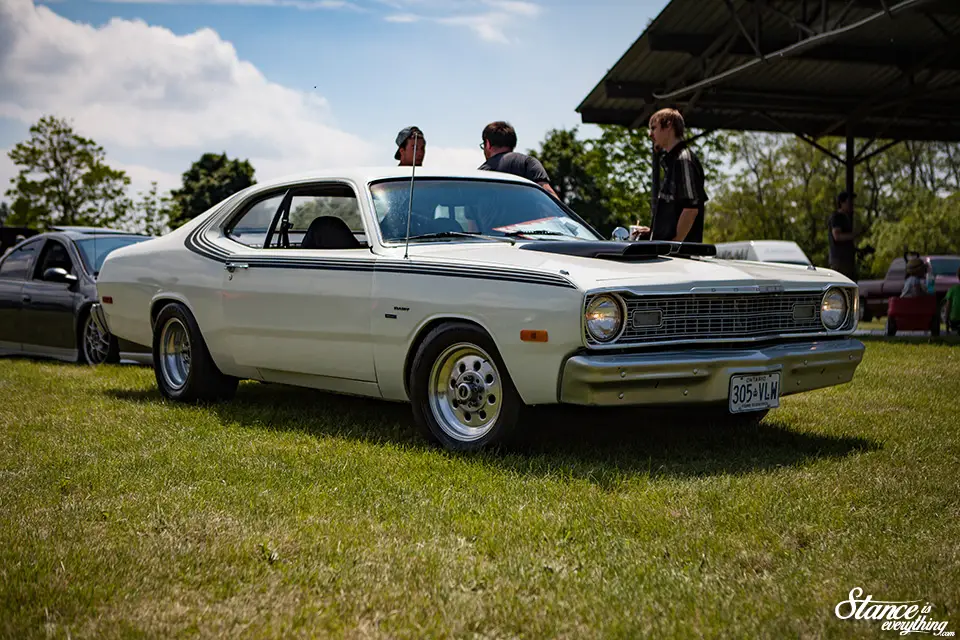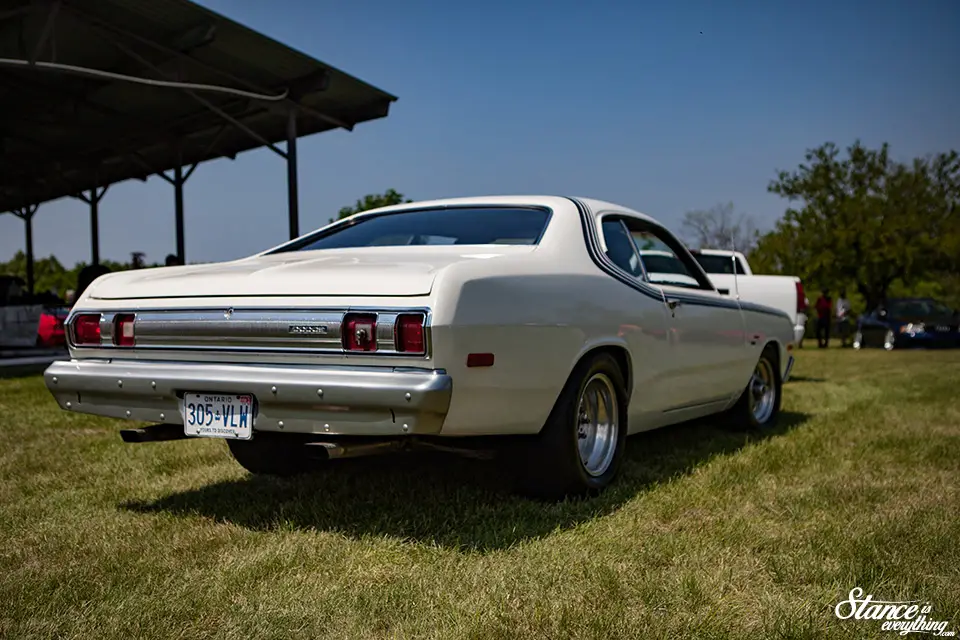 This Dodge Dart may have won the loudest exhaust competition as it sounded very, very, healthy hitting limiter. I wasn't able to take in the entire loudest exhaust competition because it was at this point my son Ash spotted the RC drifting in the pavilion.
The second he (wearing the hat above) saw the cars I knew it would be a challenge getting him away from the R/Cs but to be honest I didn't mind. It's great of TNT and the scale drifting community to put this little set up together for the children.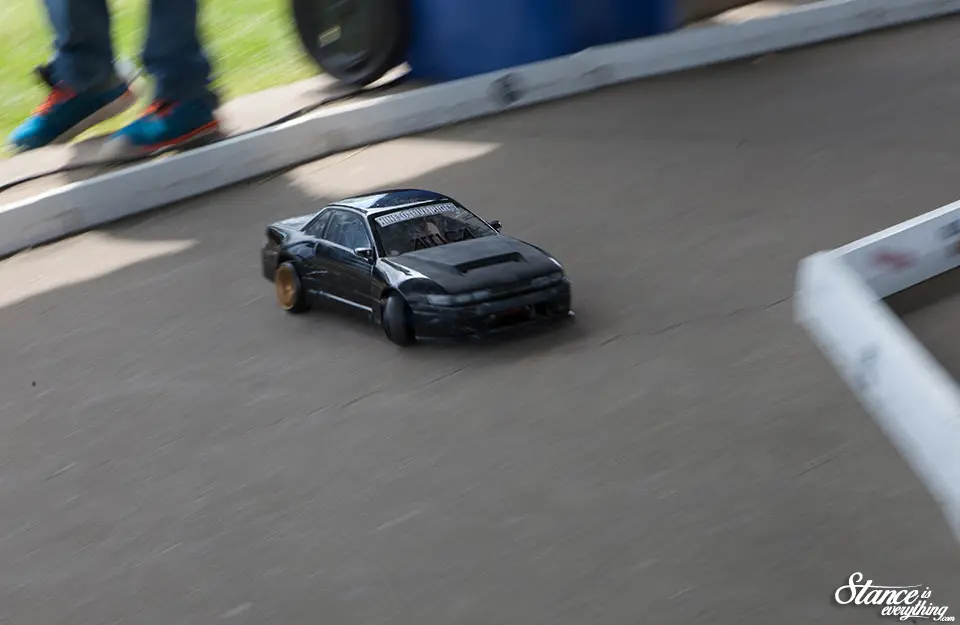 The kids obviously enjoy the whole thing, and as someone with a few older remote controlled cars tucked away I don't mind watching for a few minutes either.
It also gave me a chance to try scaling down some of my 1:1 scale drifting techniques. I think shooting R/C cars might actually be more difficult than their full sized counterparts.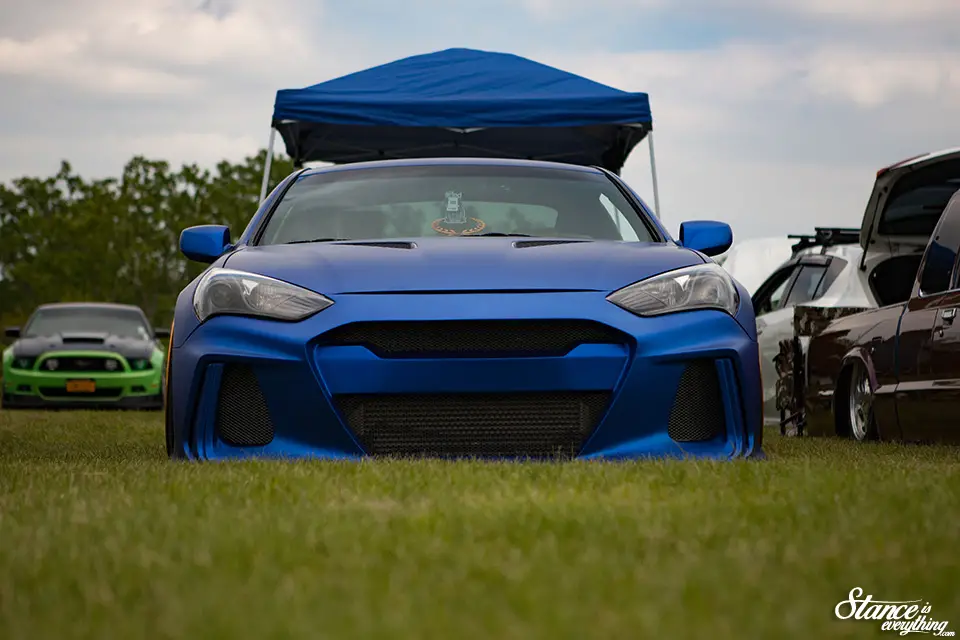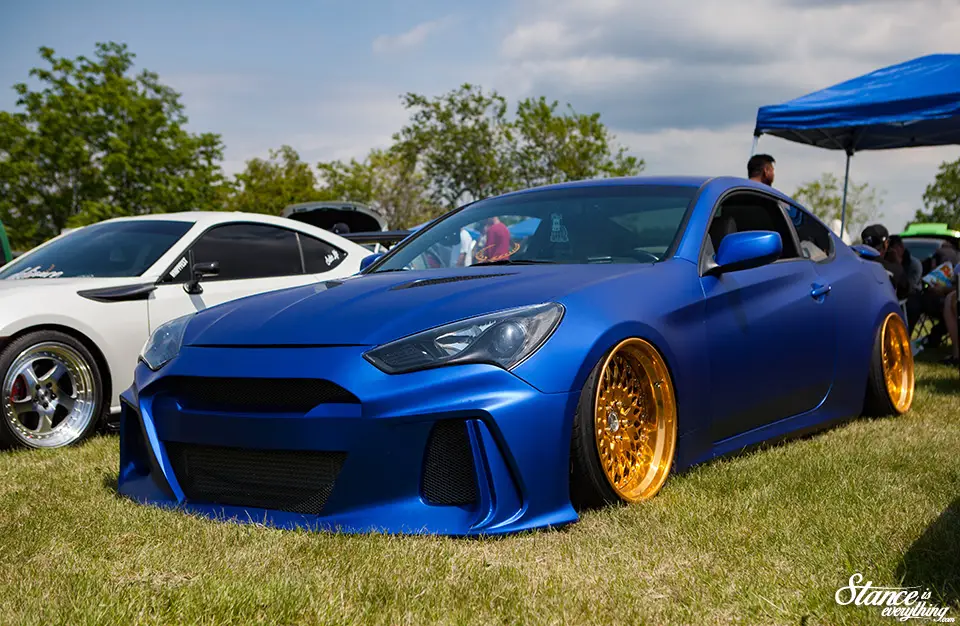 As Ash was watching the drifting I took a few steps away and snapped photos of a few of the vehicles near by the pavilion. The gold VIP Modular wheels on the car above made it an easy subject for a few photos.
Gold wheels have become increasingly popular in the past few years, as this EL wore them as well.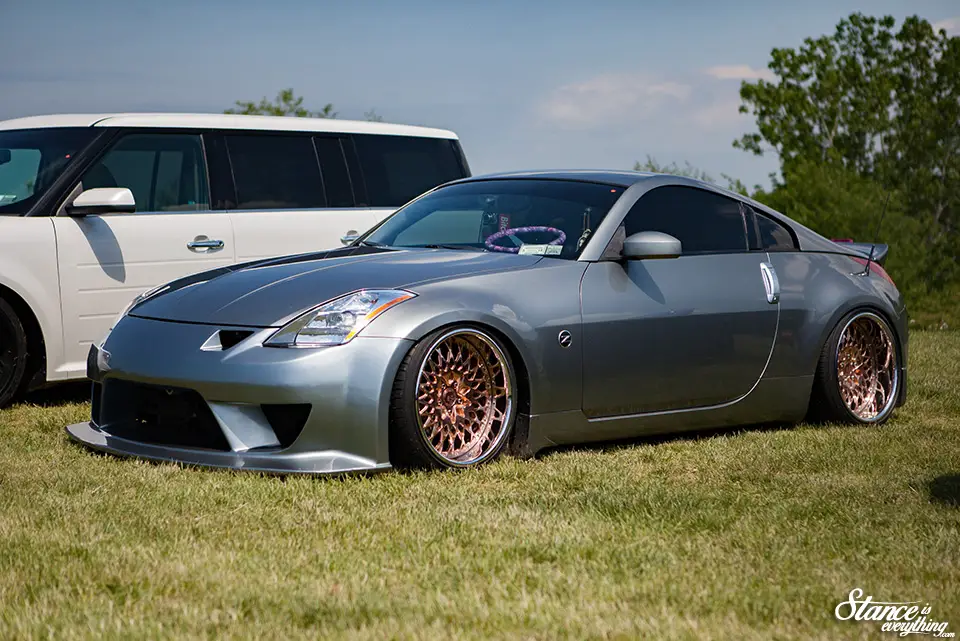 More gold here, albeit of the rose tinged variety.
Not to be outdone in the 'bling' department this Subaru had some heavy flake in its paint that shone bright in the sun over the widebody fenders.
This car was part of a large showing of Nokturnal Car Club vehicles that made their way over the border from neighboring Buffalo.
The Subaru showing at TNT was pretty decent, with this wrx and trailer combo turning quite a few heads. The matching wheels on both the car and trailer are a nice touch.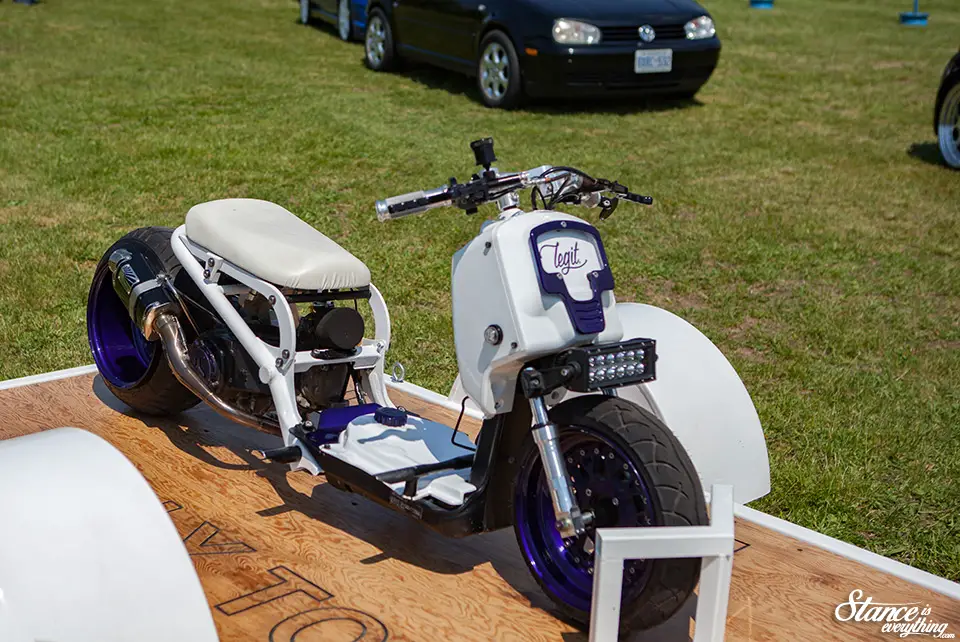 The color scheme also followed through to the Rukus that the owner later pulled off the trailer to join the limbo contest.
The limbo contest, as usual, was eventually dominated by Mazda Miata. These cars can hold their own even at stock height.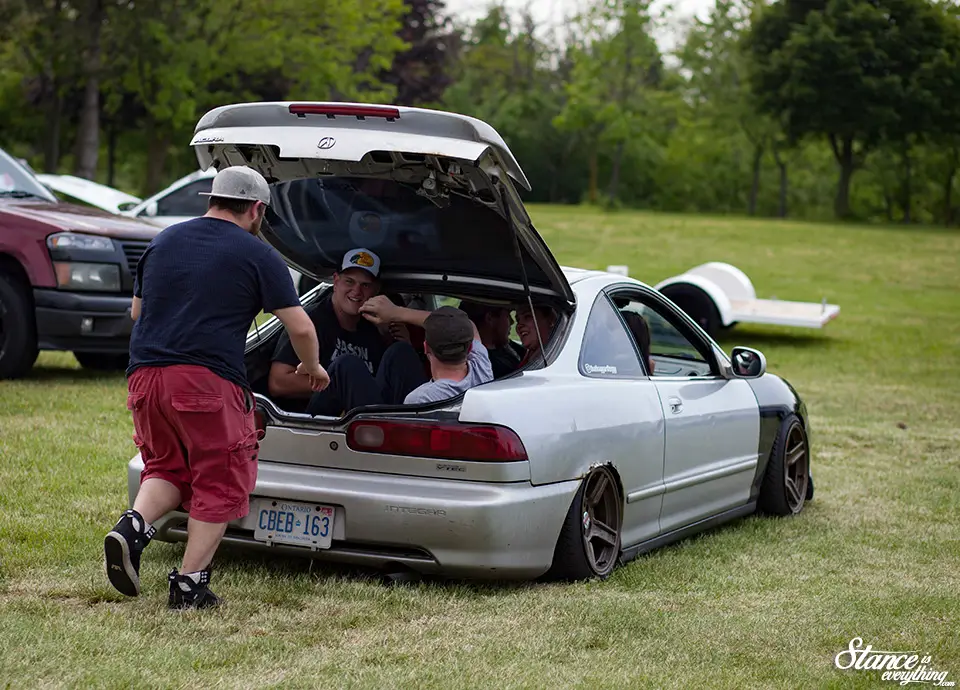 It's always funny seeing the lengths people are wiling to go to get their cars under the bar.
Trust me when I say this, at this point in the day it was far too hot to have that many people in the back of an Integra.
It might not have won the limbo contest but this 9th gen Accord is absolutely hammered. Static it's by some sort of miracle that the quarters and fenders are still relatively intact.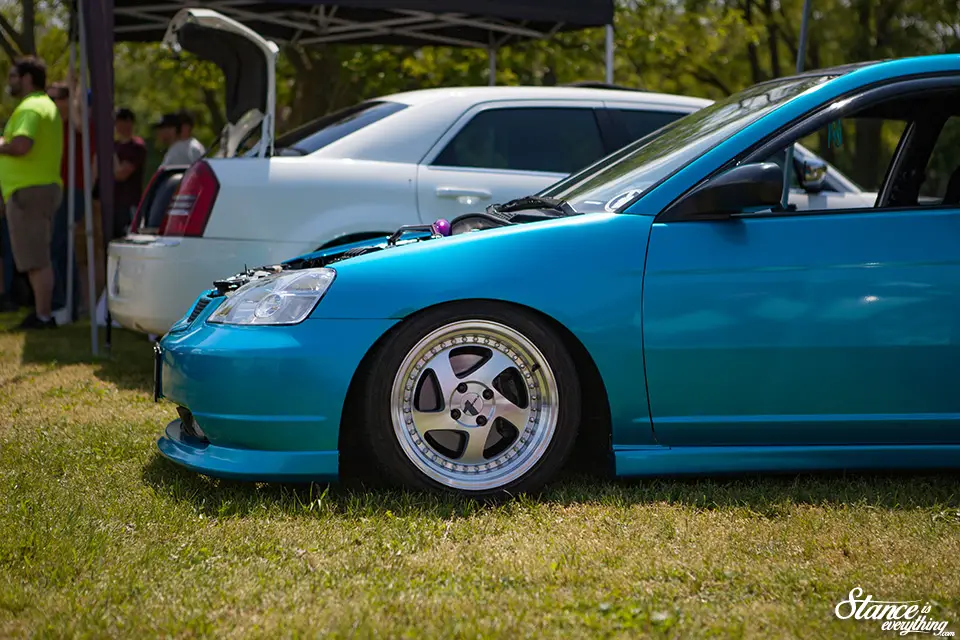 On the topic of static cars and lack of ground clearance Shannon managed to beach her freshly wrapped car later that day. This car, the last time I saw it, was covered in Plastidip but the new vinyl wrap looks much better.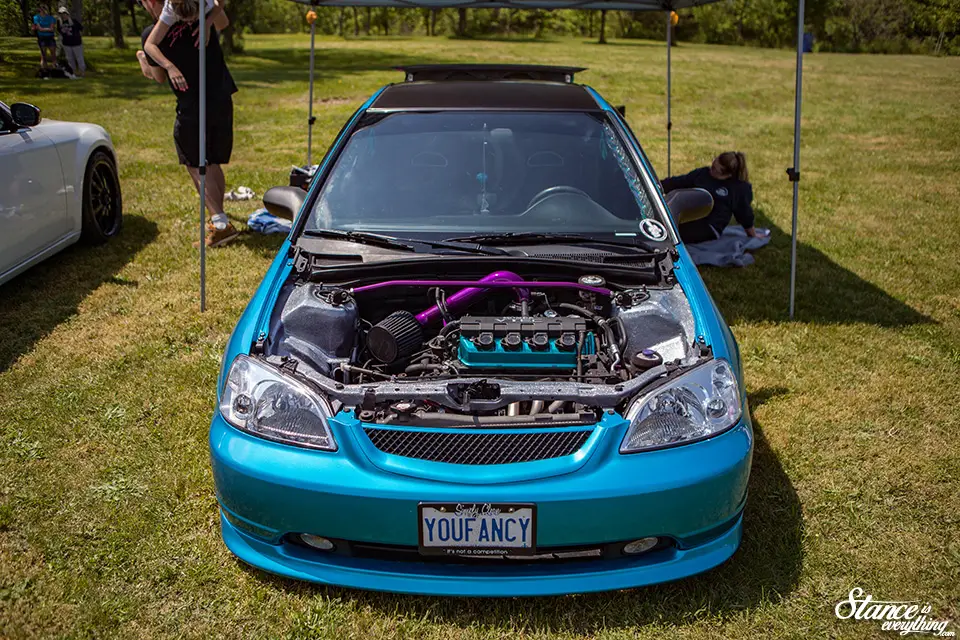 Contrasting the new color is a silver flake painted engine bay that's been given a once over.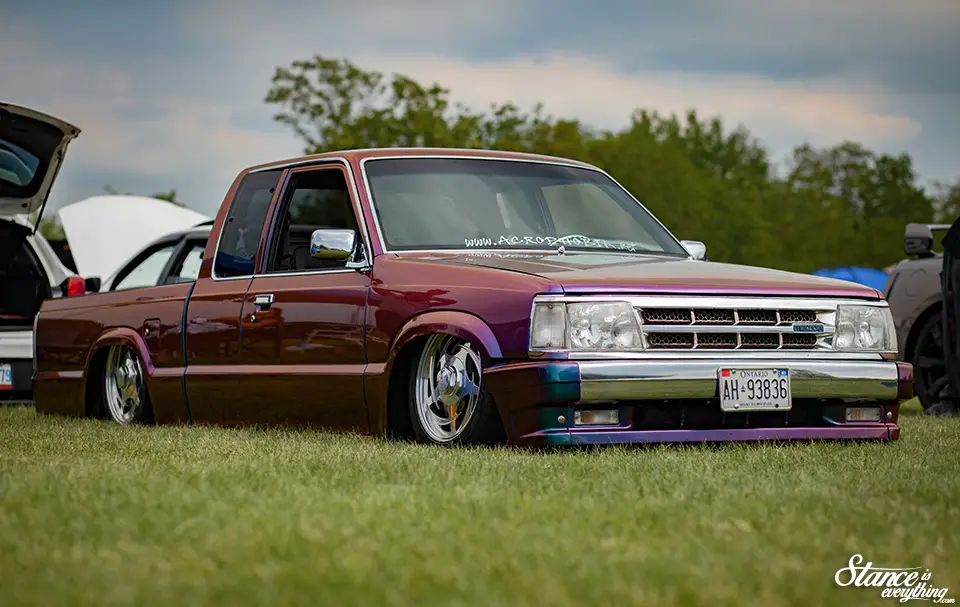 The chameleon paint job on this B2200 is still hanging in there. I don't know who did the paint on this truck, but hats of to them because it is still going the distance.
Spec R Silvia's are not terribly common around here so I didn't expect to stumble across one at TNT. A Clutch Kick Customs shop car, it looks like, via instagram, that this car was imported March of this year.
A second unexpected car was this Dastun 280z that was given a complete refresh and new mechanical lease on life from its owner.
As a long time sponsor of the TNT Expo it was great to see the show still so successful.  Before bringing this coverage to a close I'll leave you guys with a few more shots I took at the event.
Congrats once again to the TNT Expo team for another great show and bobbing and weaving past mother nature for another year.