Stance focused sites –this one included– often feature many of the same vehicles;  a clean Civic, a couple bagged Volkswagens, a few 350zs,  a vintage truck, and finally plethora of s2000s.
While there is absolutely nothing wrong with builds on more traditional or accepted platforms the audience of stance focused websites –you included– often ask, or in some cases demand, something different and today's featured ride is exactly that.
Something different.
These days Probe's are seldom seen on the road and most that are are either completely stock or desperately holding onto styling cues of yesteryear.
Erik's '94 however is one of very few exceptions: It's low, it's quick, and most importantly it's clean.
The first time I saw this car was in 2010 and –Stance Is Everything sticker on the lip aside– the car stood out to me because I honestly couldn't readily recall the last time I had seen a Probe at a show.
After taking in the build for a few moments I introduced myself to then stranger Erik and now almost three years later I am incredibly glad I did.
Erik is easily one of the nicest enthusiasts I've met and is the type of person always willing to help someone out if he is in a position to do so.
It's through him I met contributing photographer Mike McConnell along with most of the guys in Nine-O-Five Rides, and because of him I got the opportunity to spend an evening with the PFAFF tuning 964.
Simply put Erik is a great guy who loves cars, and that passion for cars has been driving force behind this build.
Erik has had this Probe for nine years and during that time it's gone through numerous exterior, interior, and power train revisions.
Currently the car is sporting a low mileage KL-DE motor with a custom turbo set-up built around a Turbonetics t3/t4 unit.
Running at 7psi with a mild tune this car puts down roughly 265 to the wheels which is a considerable step up from the 164hp these cars were rated at from the factory.
After making such a considerable change under hood Erik figured he would do an equally significant change to the exterior and said farewell to a kit that had been on his car for several years. Opting to bring back the factory bumpers and side skirts.
Once he acquired OEM replacements he had the car resprayed 2012 Ford Sterling Grey Metallic and installed a Mustang Mach 1 front lip.
The aggressive stance (something that is almost virtually non existent among the Probe community) is the end result of  several years worth of trial and error.
The wheels are a square 18×9.5 all around with an offset of +35 up front and +15 in the rear and the low is supplied by K Sport Coils. Helping dial everything in are K Sport Ford Focus Camber plates, King6 adjustable rear lateral arms, and camber bolts.
This combination of parts allows the car to sit considerably lower than stock and position the wheels within the fenders via -1.5 degrees of camber up front and 4.5 degrees out back.
Interior wise Erik has changed everything (including the dash) over to black and added black leather Cobra buckets. Finally A stereo setup comprised of Clarion and Alpine components keeps things lively on long drives and for some personal flare he sticker bombed the center console.
Taking an underdog chassis and running with it while putting up with comments like "It's still a…. Why Don't you…. Have you heard this Probe Joke…." isn't the easiest thing to do but Erik has proven himself more than up to the task.
After every winter I look forward to hearing what Erik has done to his car and look forward to continuing to document it's progress here on Stance Is Everything.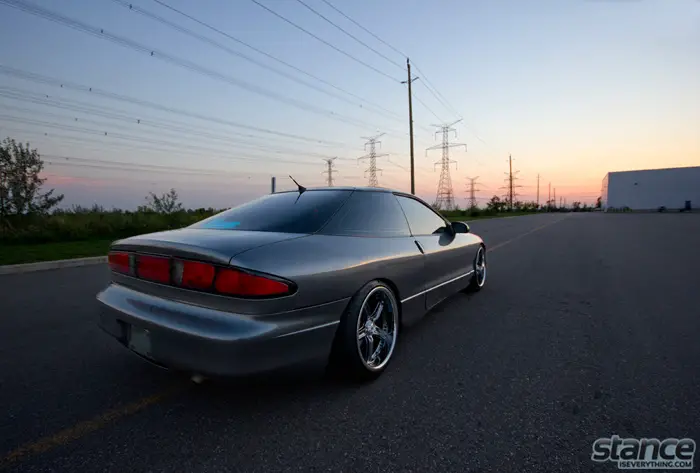 Modification List
Body/Exterior
Shaved rear wiper,door locks, rear washer
2012 Ford Sterling grey metallic paint
Quarters and fenders rolled flat
96/97 rear bumper and tails
Mustang mach 1 front lip
Brakes/suspension
Ksport coils
Ford focus ksport camber plates
King6 adjustable rear lateral arms
Camber bolts
626 rear sway bar
Mazda 6 12″ front brake swap
Front and rear strut braces
B pillar floor brace
Wheels/tires
Fast Mistral wheels
18×9.5+35 front
18×9.5 +15 rear
225/40/18 nankang ns2 tires
Interior
Black interior swap
Leather rear seat
Black Leather Cobra buckets
Alpine/ Clarion Stereo
Mx6 steering wheel
Engine/Transmission
Auto to manual swap
Centerforce Clutch
Mx3 flywheel
Civic EK short shifter
Lower km KL-DE motor with stock internals
Turbonetics t3/t4 turbo set
Millenia S injectors
Walbro 255 fuel pump
2.5″ exhaust
Poly mounts
Relocated Battery
Megasquirt tuned piggyback
Thanks to Erik for letting me feature his car, and Elle Marie Photography for helping with the shoot.