Before we head out to an event my son always has one simple question, "Daddy will there be up down cars?" Clearly last year's Majestics Toronto BBQ left a lasting impression on him.
I'd like to say I am surprised but I'm not. With miles of chrome, detailing on nearly every panel, and a stance like none other lowriders are some of the most interesting vehicles to ever cruise down the street.
Young, old, male, female car enthusiast or non everyone remember the first time they saw a classic American car on wires roll by on four, three, or two wheels.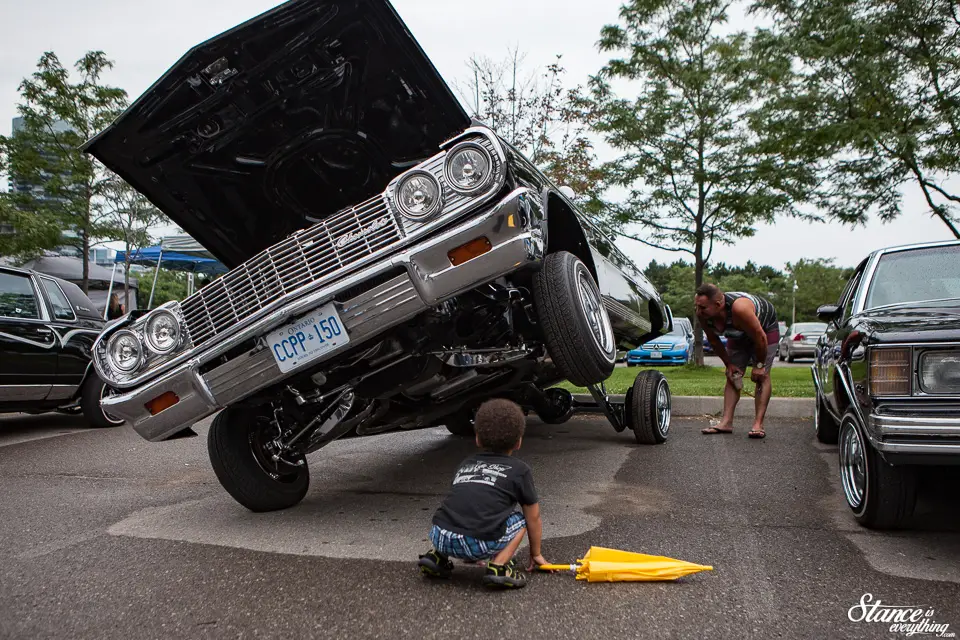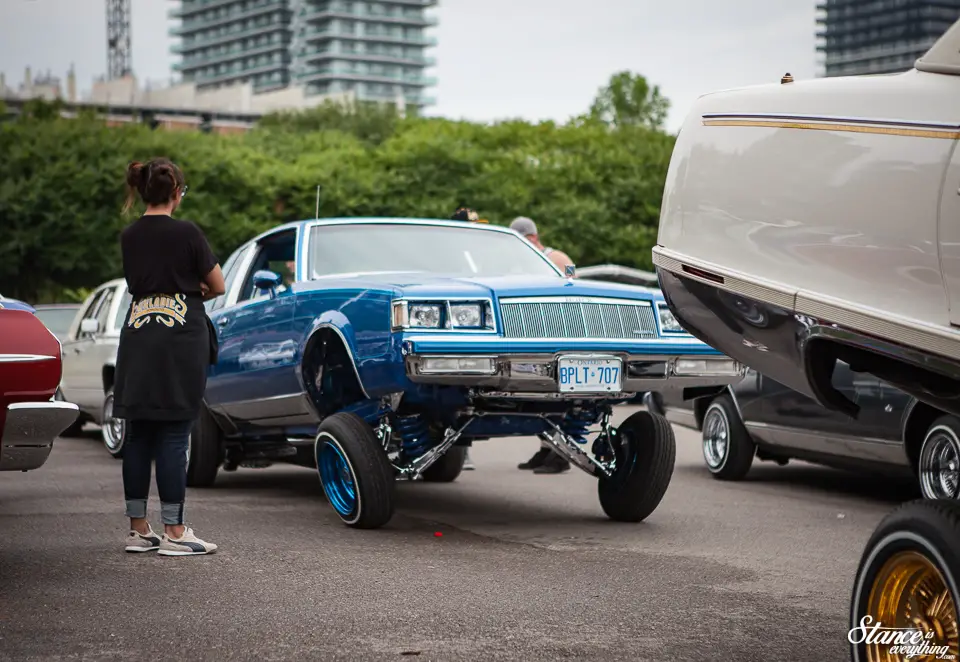 My first Majestics BBQ was in 2012, and since they've earned a permant spot on my "must attend" list every year.
In those five years I've also invited others to check out event, like Rob at Performance Improvments did me, and they have also returned every year since.
The music, and food (which, yes, I mention every year), make this event stand out but the vibe is what seals the deal. Egos are checked, family is welcomed, and everyone is encouraged to just have a good time.
It's not about trophies at all, but there are two to be won, 'best of show' and 'furthest traveled'.
With these trophies there's no bickering about who wins, and no question about who deserves them as the decision is typically unanimous.
This year the best of show award went to the green '64 above and below. Based on what is arguably the most popular lowrider platform the car is built to the exacting level of detail that one would expect from a top tier lowrider.
The laser straight body is adorned with flawless bright work and the paint on the roof down is as smooth as glass. The paint from the roof line up is next level. The patterns, pinstriping, and golf leafing found on the roof continue into the car onto the steering wheel and steering column.
I imagine there's miles of clear on that wheel to prevent the paint from coming off.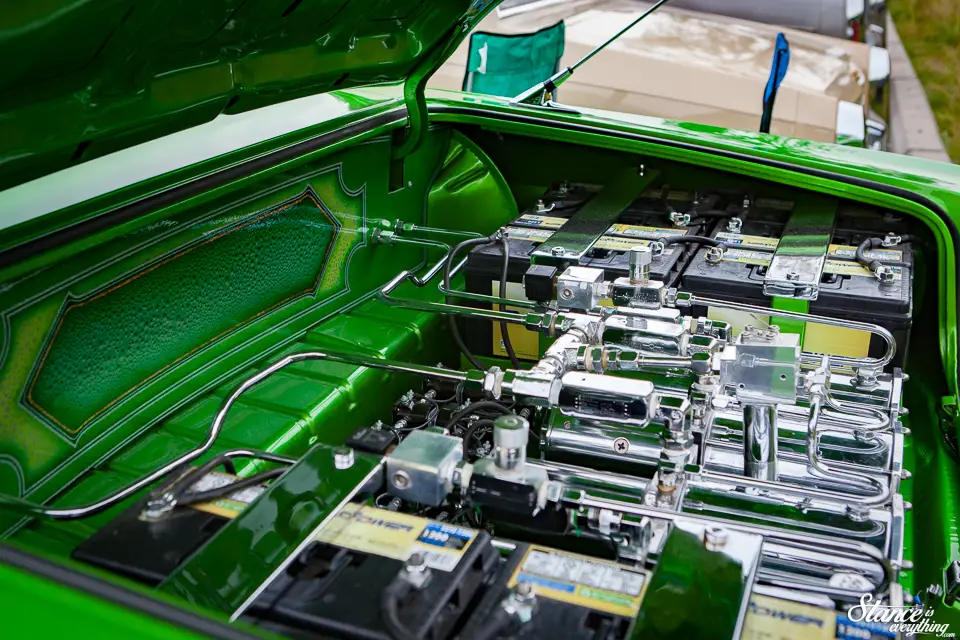 I managed to over hear that the owner of this Impala has had the car since high school and that it has been a dream of his to get it to this level.
The passion certainly shows through in the execution of the final product.
The highlight for many at these events (especially the children) is the hopping demo where those willing to put their cars up in the air do just that. If you've never seen it, there is nothing quite like a watching a full size, full framed car bounce up and down.
It is a violent affair, and even though they are reinforced to take it the cars typically don't enjoy the process. However build it, break it, repeat seems to be the mantra because no matter how hard these cars get punished the owners never seem to really care.
The car above was actually California plated, and I'm not sure how it ended up here by trailer or driven, but the owner thrashed it like he was ten minutes from home.
Thankfully for him Switches And Thangs isn't far from the location of the BBQ, and there's no question that Jeff can repair whatever damage was done when this car came down from resting on bumper.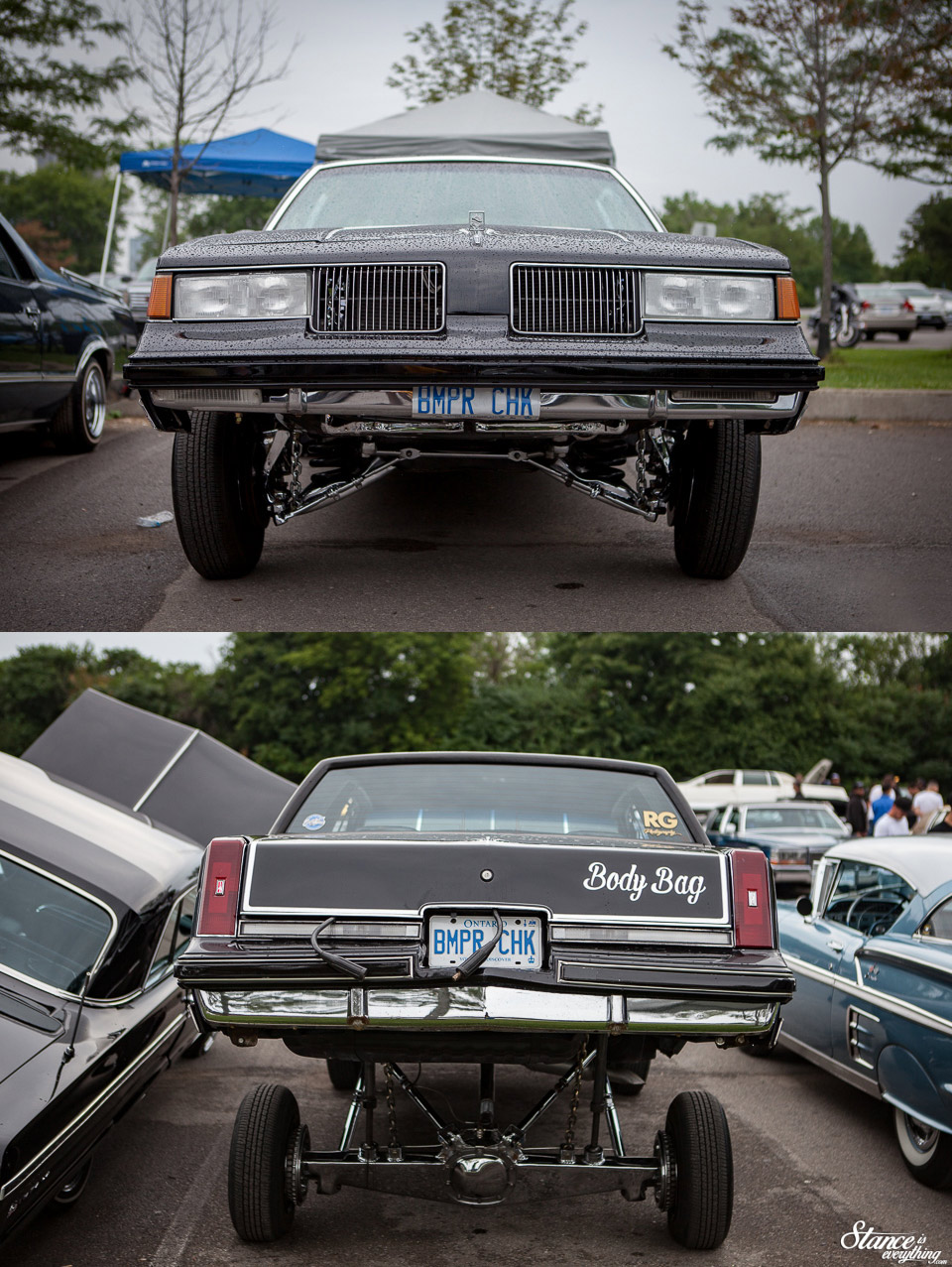 With a plate that reads "Bumper Check", sitting above a bumper that has certainly been checked, it was easy to see that this car meant business from the second I pulled into the parking lot.
When the time came to put on a show Jeff didn't hesitate, and the car was up on the rear bumper within a few flicks of the switch, to the elation of my son who exclaimed "that was awesome!" when it was all said and done.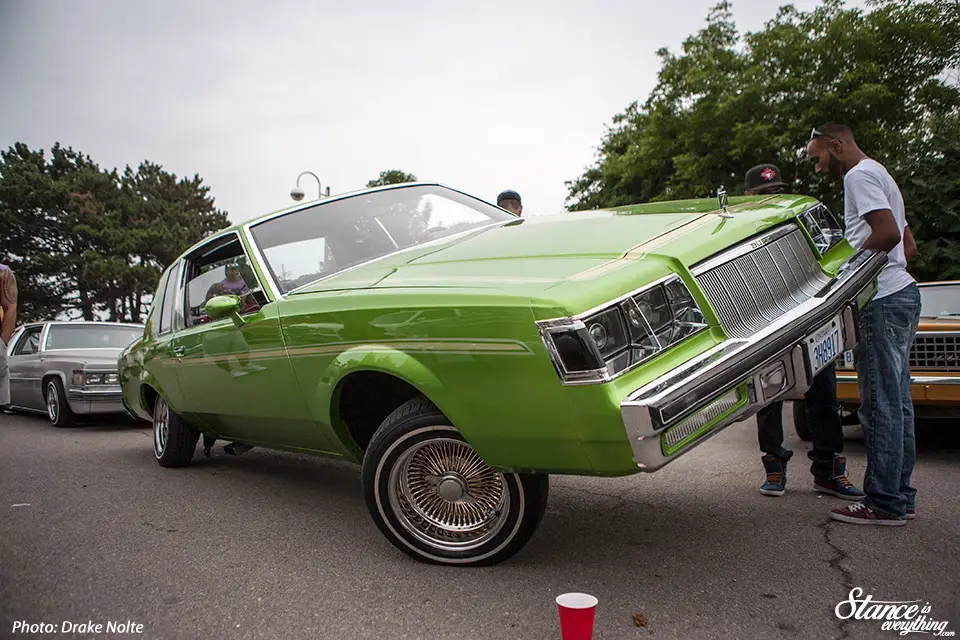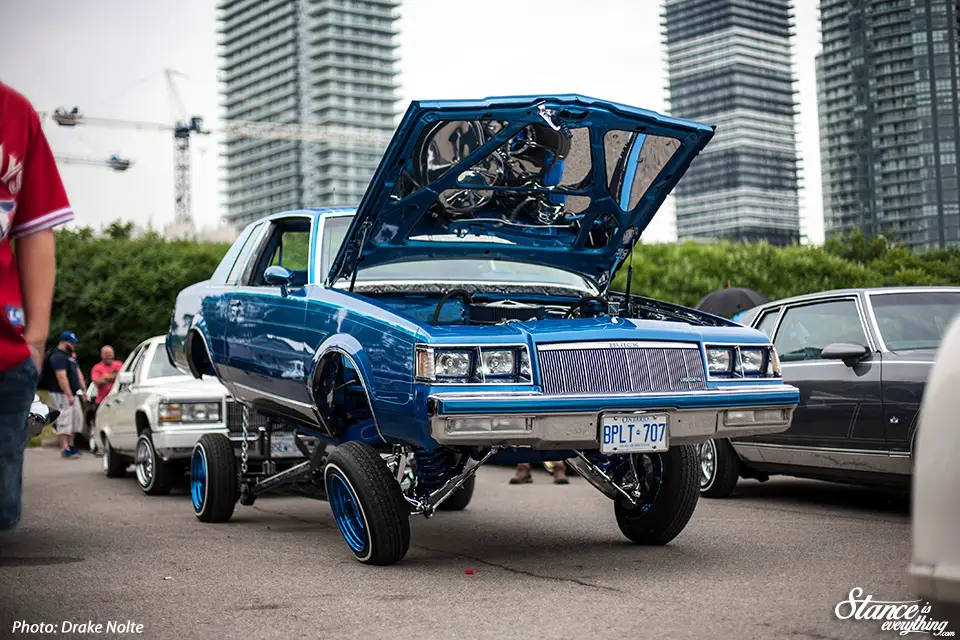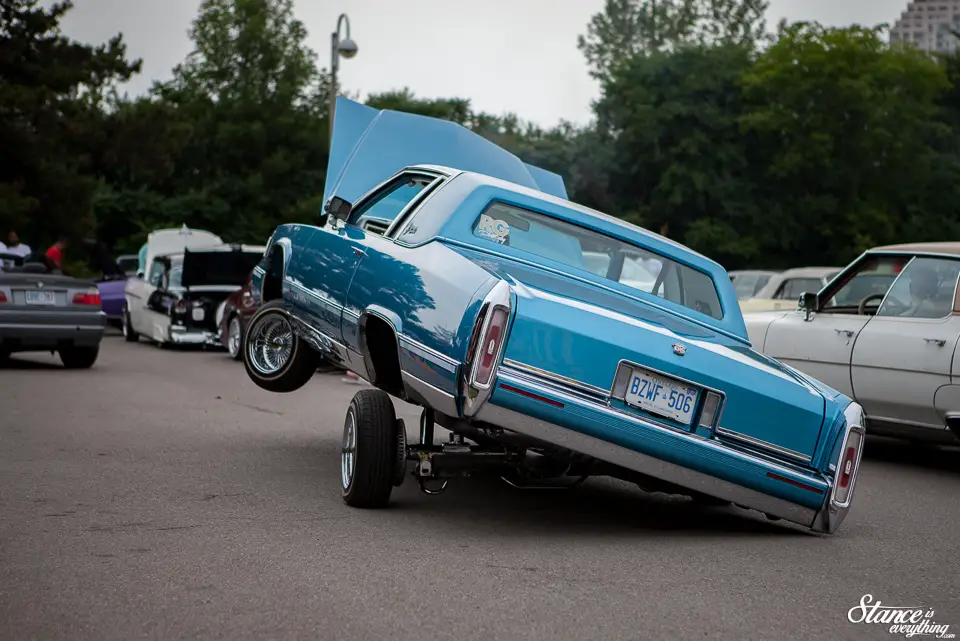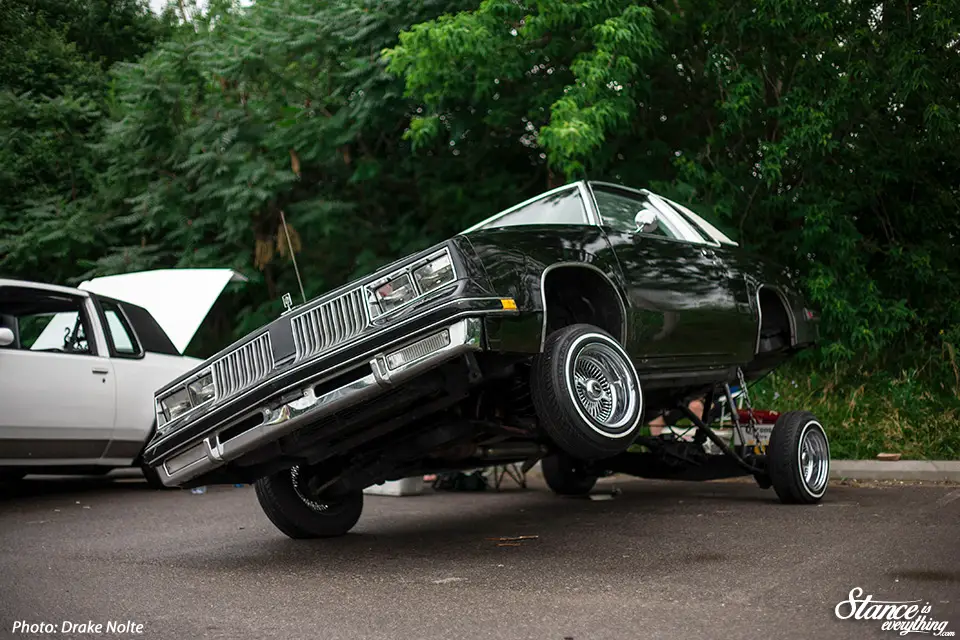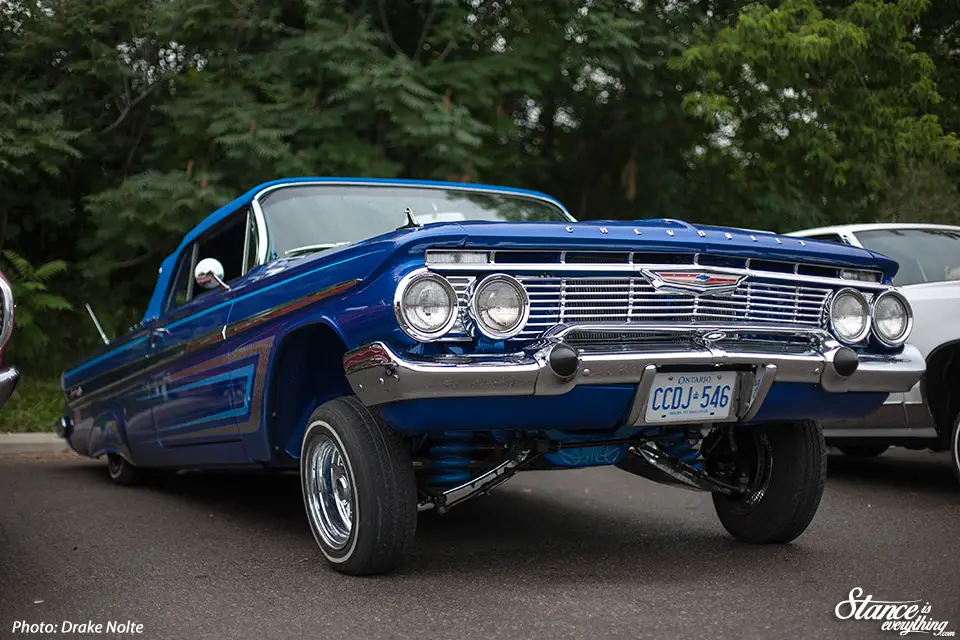 The spectacle of putting a car in the air (without the use of a ramp or air jacks) is one that is exclusive to lowriding and it is impressive just how much larger the crowd gets once the action starts.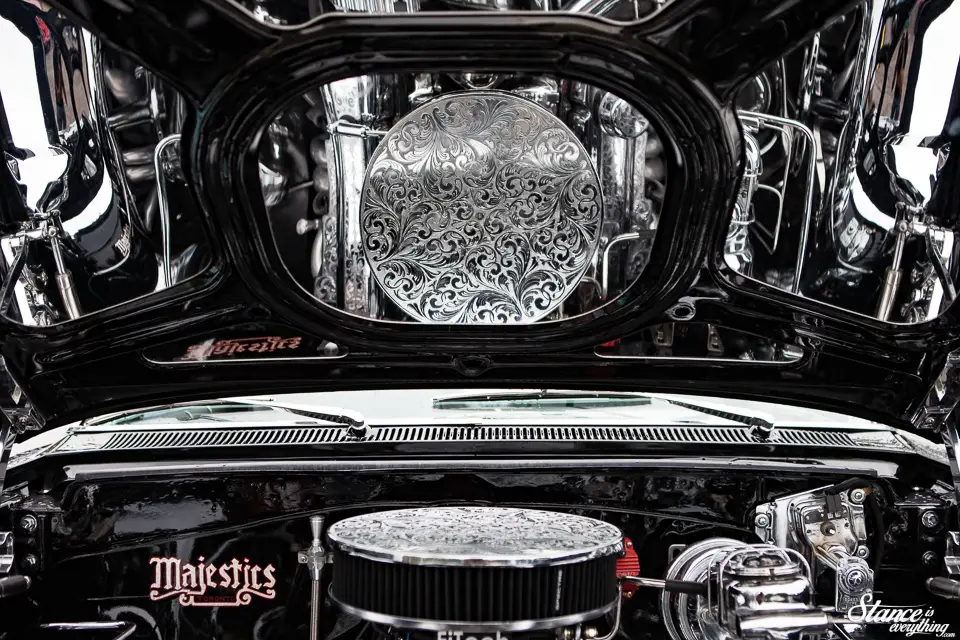 This year's show, despite the rainy forecast, was pretty much at capacity and there wasn't a single parking spot left for spectators.
I even spoke with one woman who saw the event from her condo. After hearing the great music (her words) she had to come down and see what was going on.
All of the local lowrider clubs were represented at this show in some way with builds from the Affiliated, Majestics, Rollerz Only, Luxurious, and Solitios parked up throughout the venue.
I mentioned this on instagram a few weeks ago but a lot of new 'car clubs' could learn a thing or two from how lowrider clubs operate. It's much more than just affixing a sticker to the center of you windshield.
Most of these cars sported at the very least a plaque, but often emblems, shirts, and even permanent ink on their skin showing who they are affiliated with.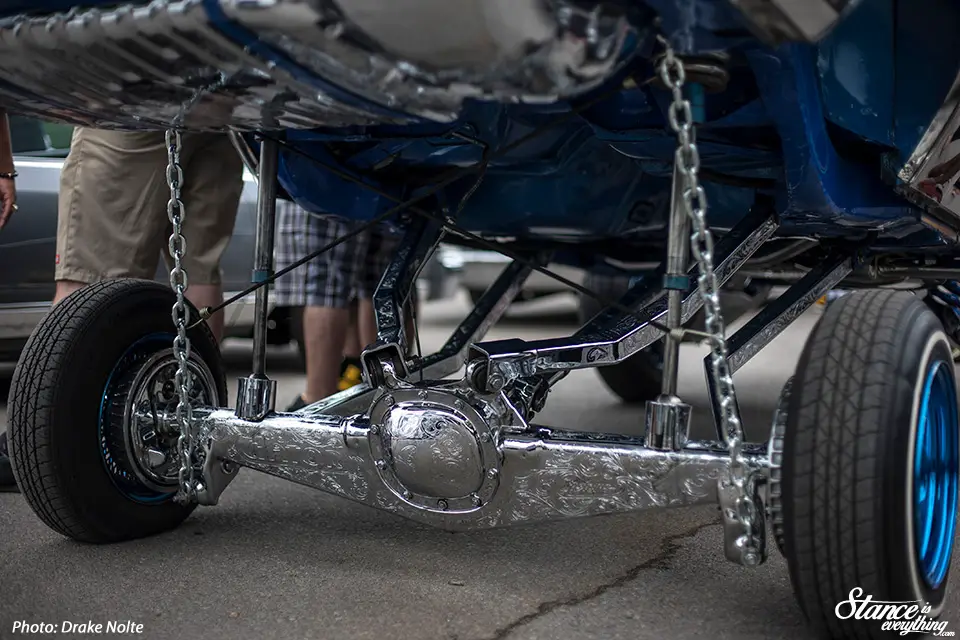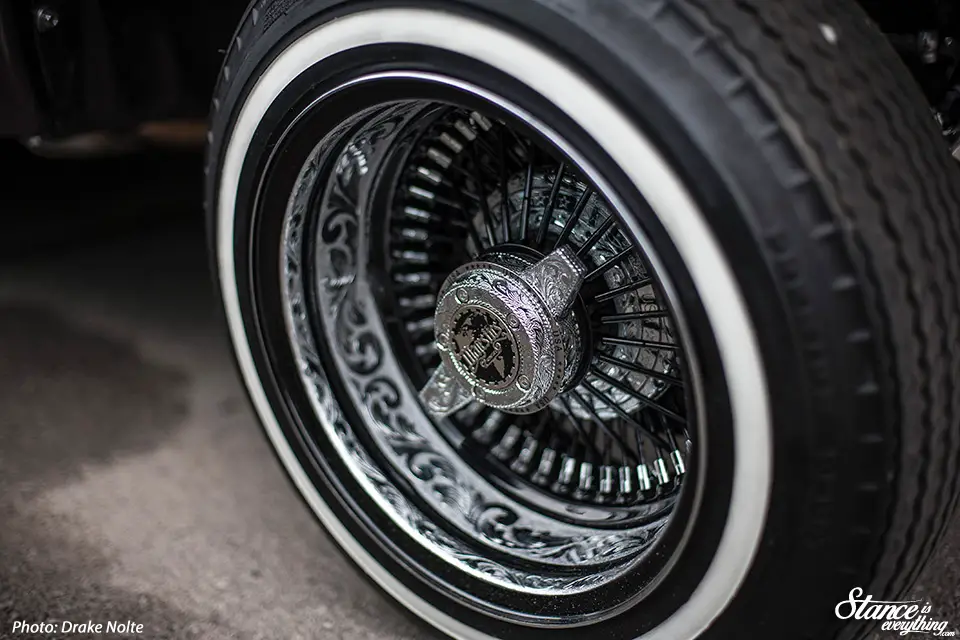 Both Drake and myself took a lot of time trying our best to truly capture the detail work found in these cars, and while we did the best we could to really appreciate the detail it needs to be seen in person.
Can you imagine just how never racking final assembly would be on one of these cars?
Last year I stated that the 'Goldmine' Fleetwood Cadillac above had one of the most detailed trunk set ups I'd ever had the pleasure of seeing in person.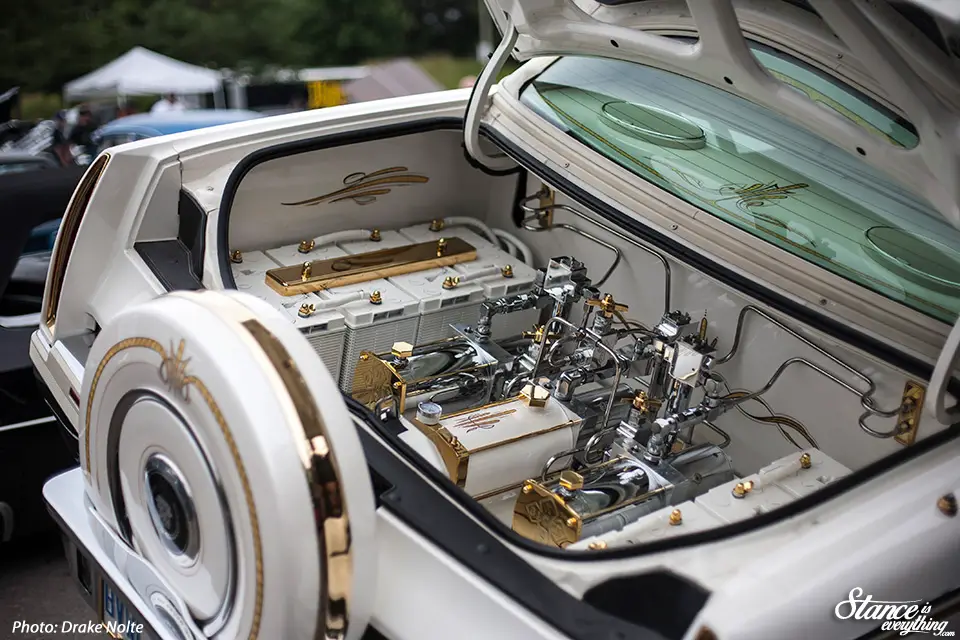 Drake thought so as well as he couldn't resist taking a photo of it this year. Note the color matched batteries, and gold leafing practically everywhere, including on the newly added continental kit.
Another favorite of both Drake and myself was the Gold accented '63 Impala below.
Deep blue, chrome, and gold all came together on this car to make it one exceptional looking car.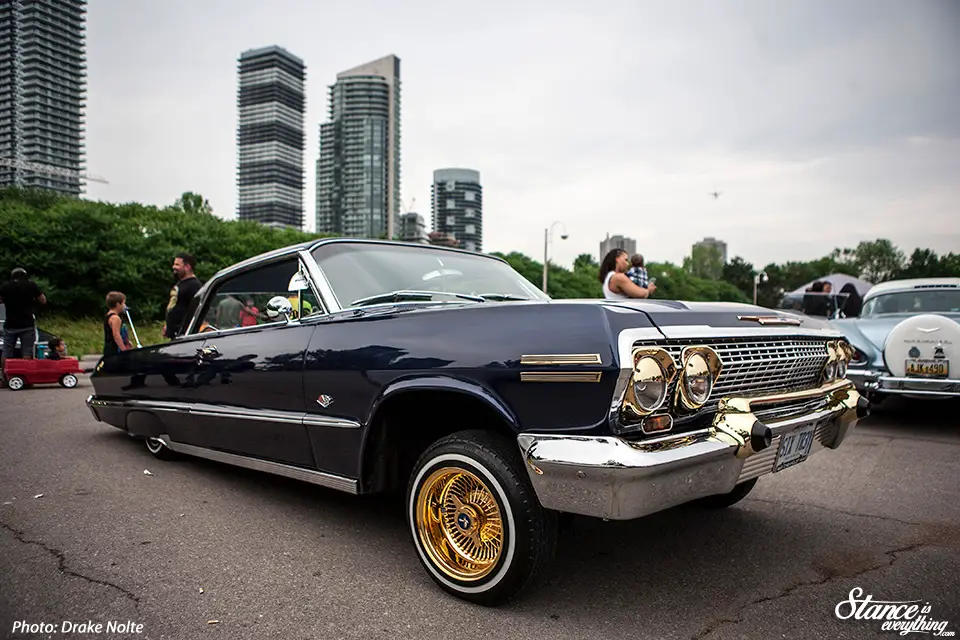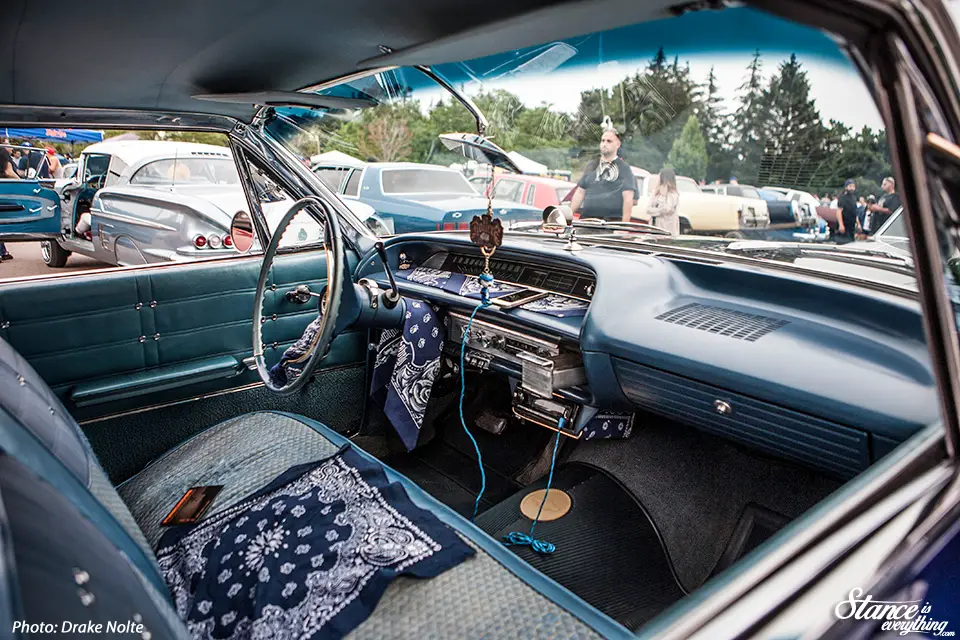 Another car that cannot be overlooked anytime I go to one of these BBQs is the 65 Buick below.
It's such a great looking car. In comparison to some of the other cars it is a lot simpler but I think that refinement is what makes it stand out. That and it's the only Riviera at the event.
If any of you are fans of the movie Training Day then surely you can see the inspiration from that car on this one. You in the office baby.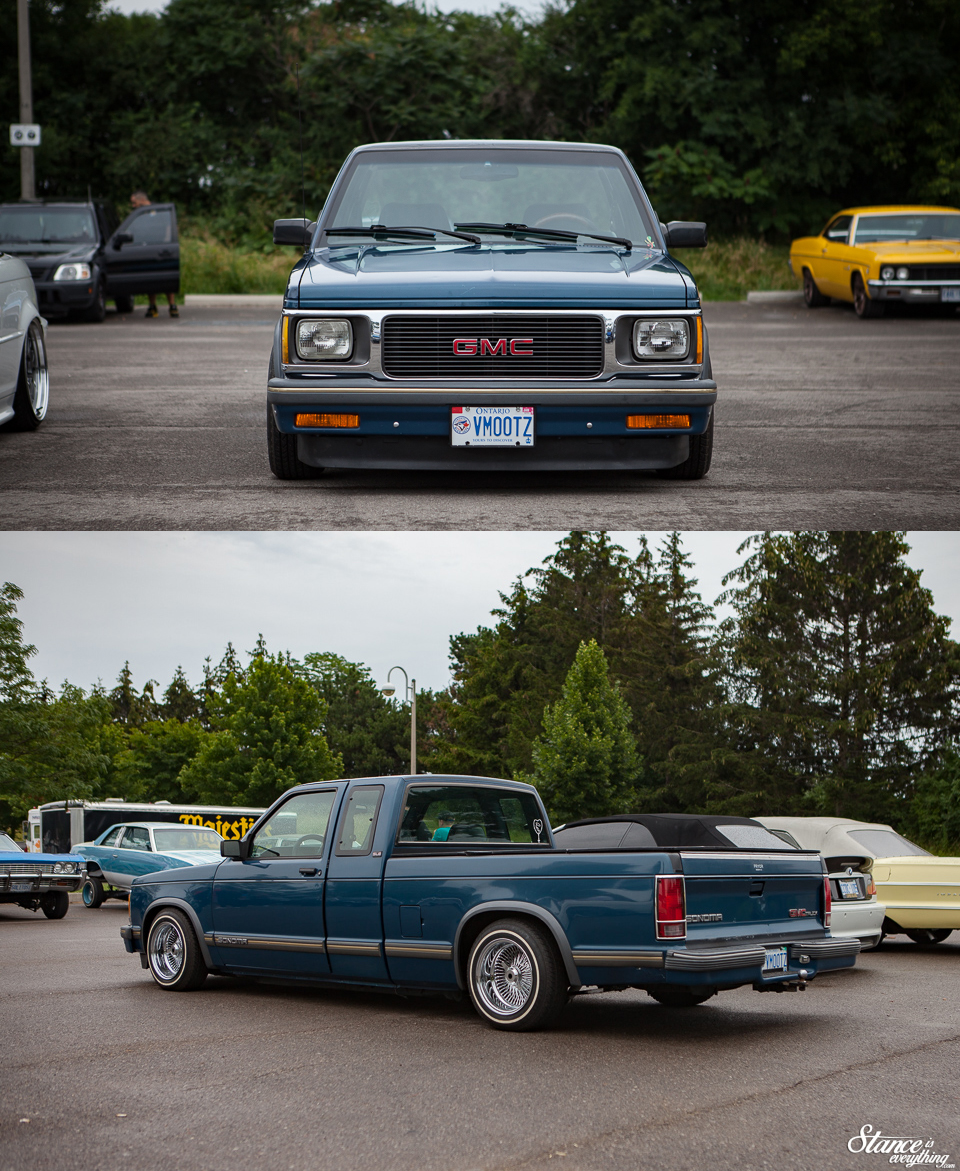 Last year there was a Blazer on wires and hydraulics this year there was a first generation Sonoma. Not too common to see trucks at these events but I appreciate the ones that do show up.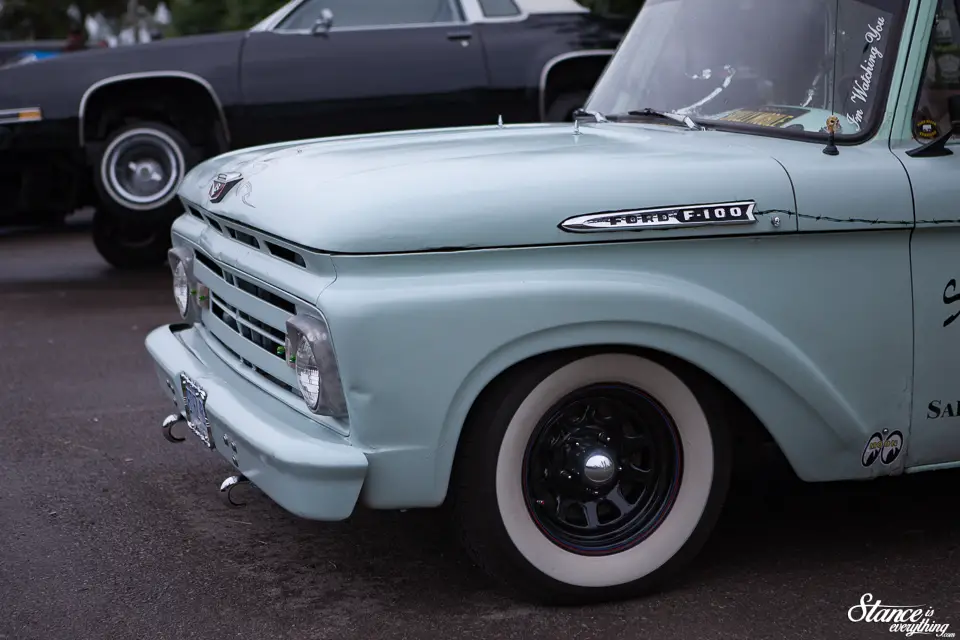 This Ford F-100 was a pretty cool driver painted a unique, almost mint green, color and riding on fat white walls.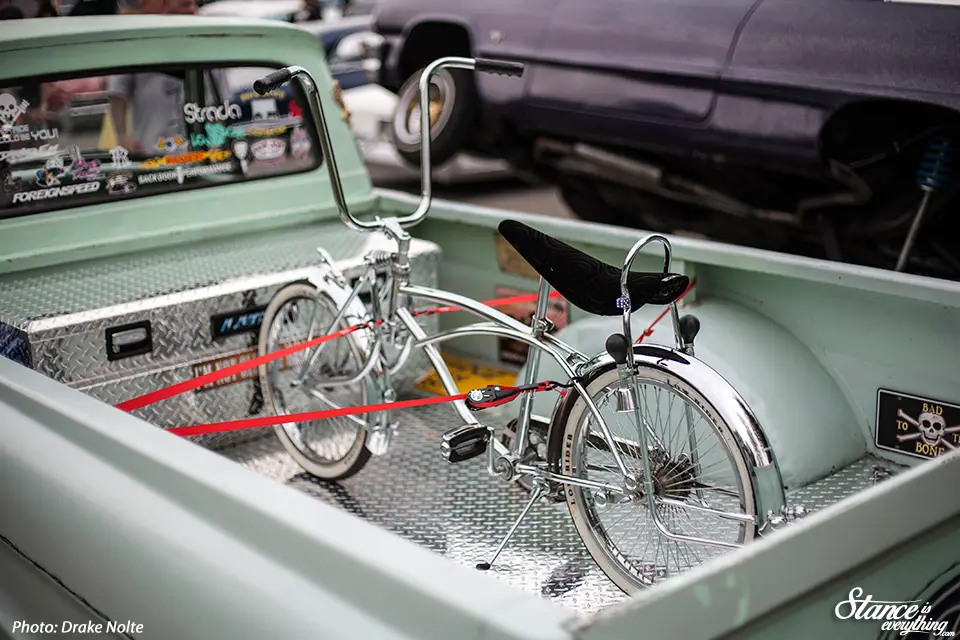 In the bed was this a rad lowrider bike that was completely chromed out and sitting on radial spoked wheels with fitting white walls.
With so many great cars at this show it would be unfair to cut this coverage short just because I am running out of things to say.
Enjoy a few additional photos below, and if you were at the event and are wondering if myself or Drake took a photo of your car drop a comment and I will see what I can dig up.
The next lowrider BBQ is August 18th at Rowntree Mills park put on by the Luxurious Lowrider Club and following that Rollerz Only Niagara, and Rollerz Only Toronto is hosting one August 26th at Humber Bay Park West.
Both run 11-6 though 2pm is probably the best time to show up.