Recently a number of builds have emerged from the rapidly growing Mazda 3 aggressive fitment community that are pushing the chassis ride height and wheel fitment boundaries to new levels.
As these cars get lower, and lower, and wheels wider, and wider, several individuals have begun to explore the possibilities that exist beyond the limitations of the stock 3 body.
Already running a fairly aggressive set up the , Trevor used an ailing motor as an excuse to give his Mazdaspeed 3 a top to bottom rebuild for the 2014 season.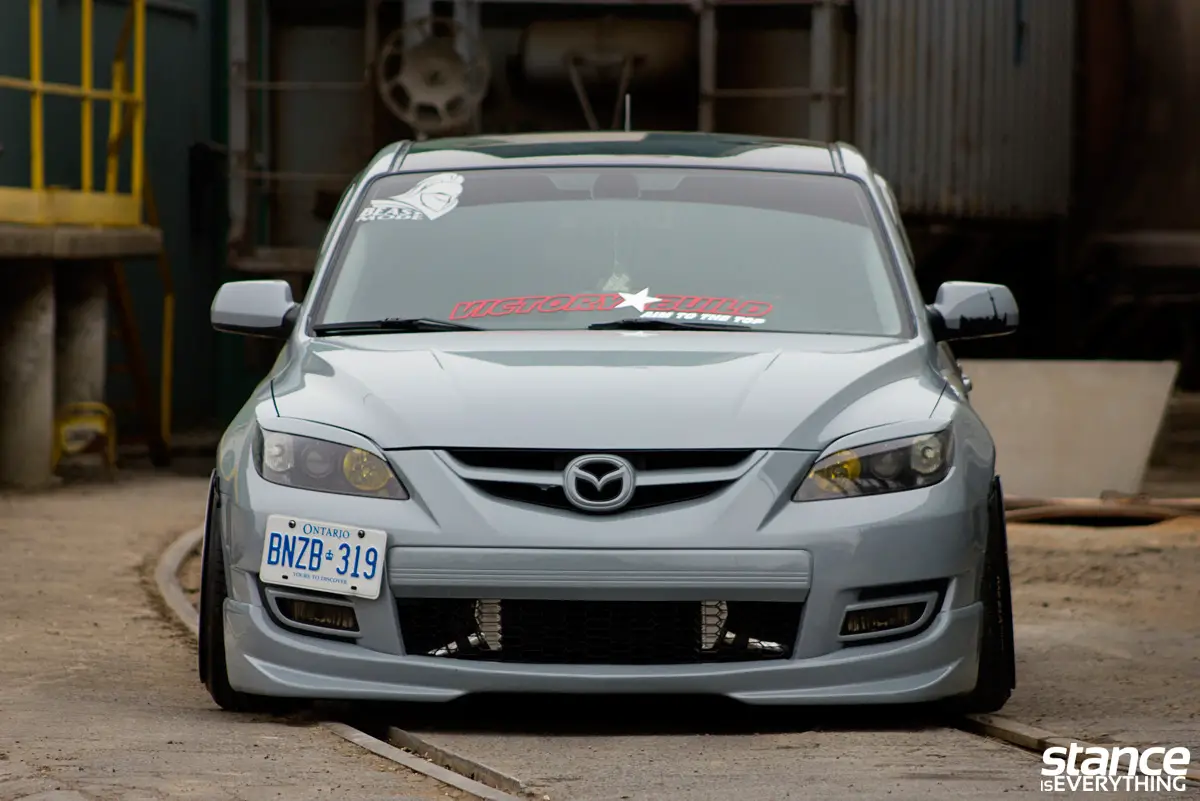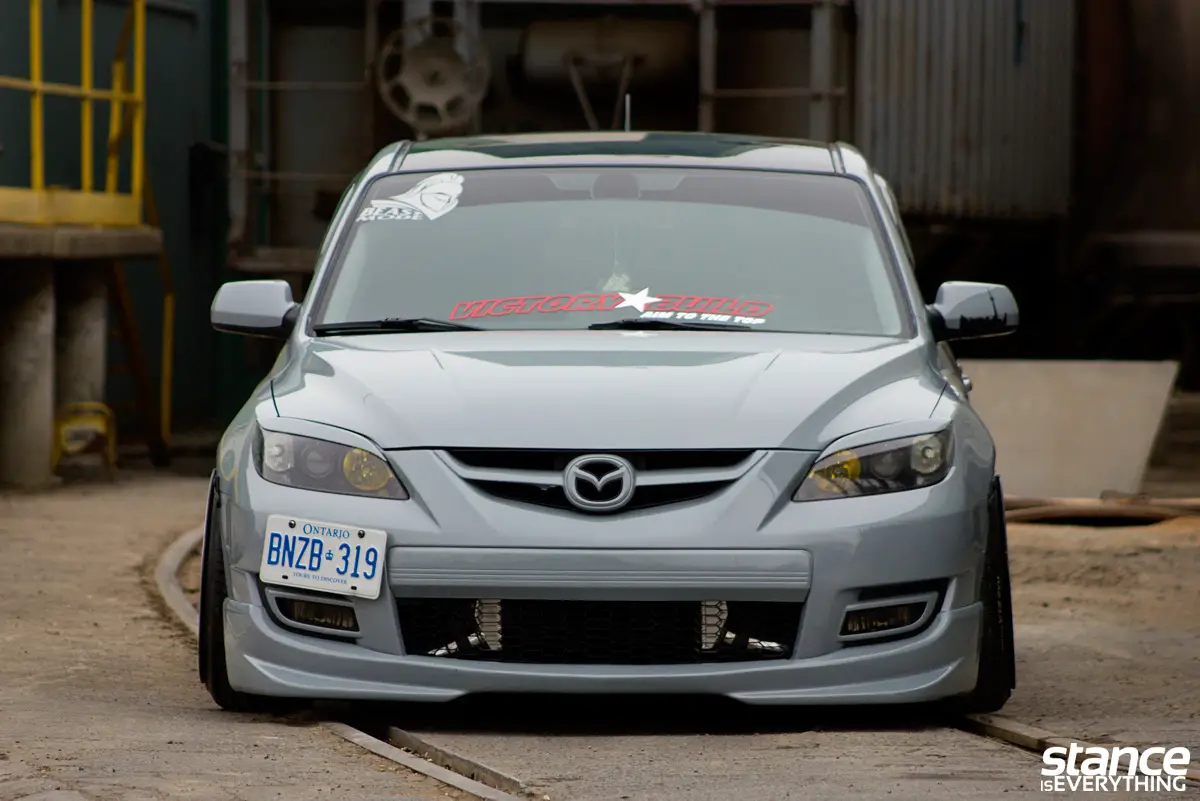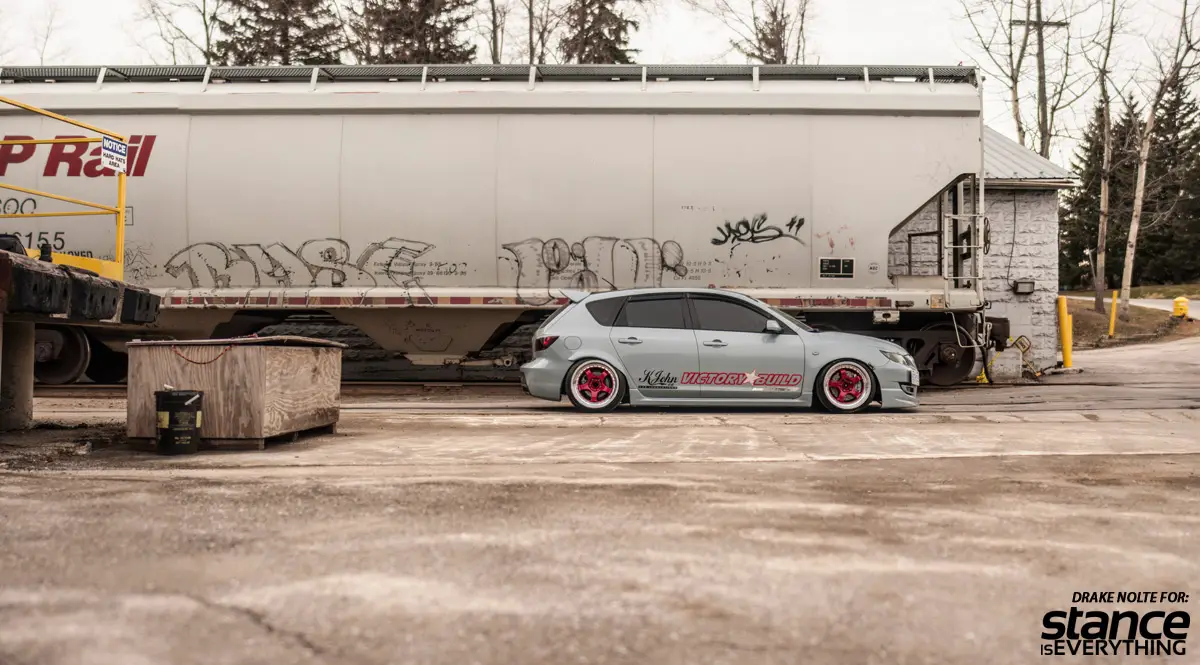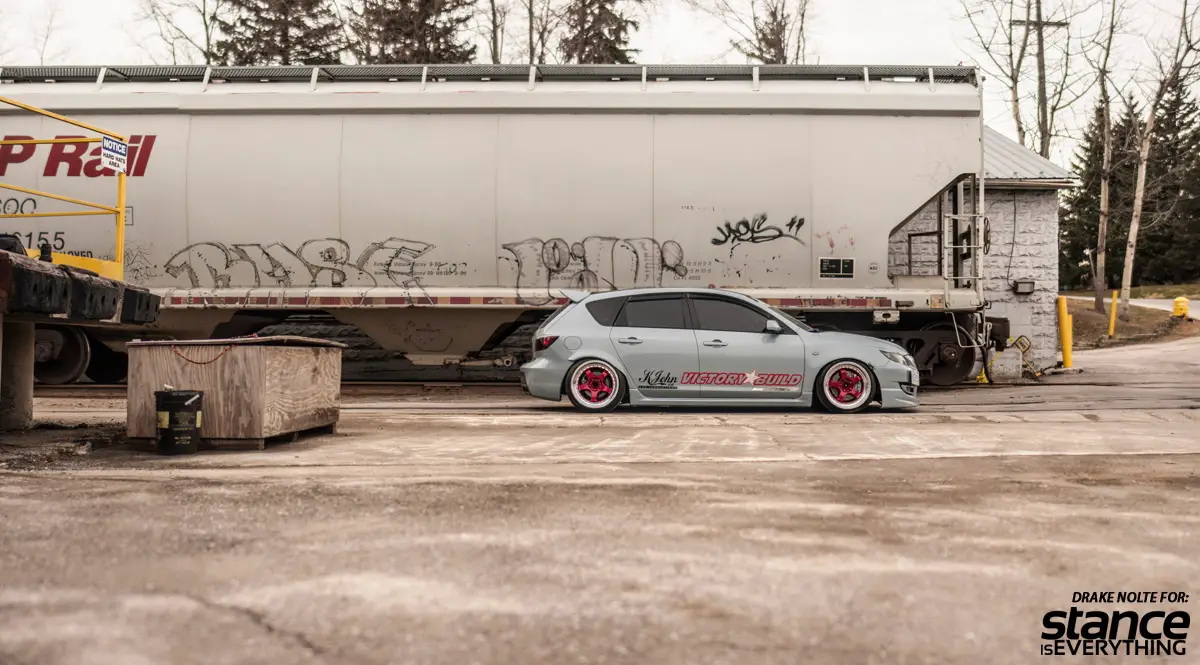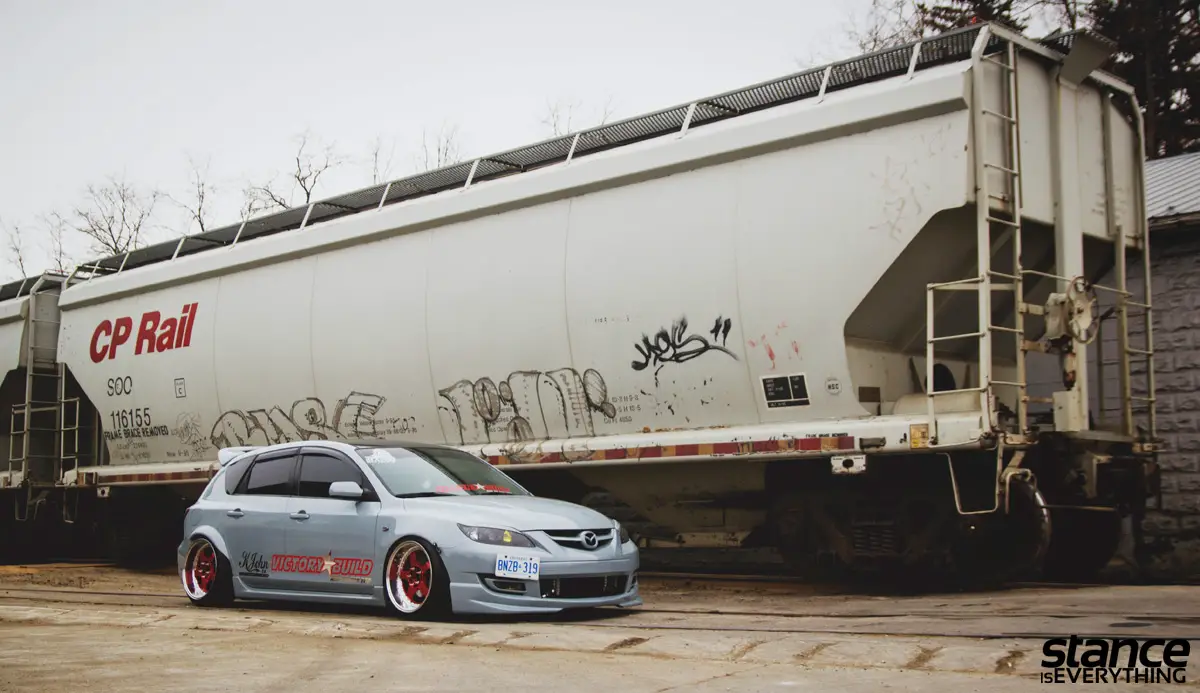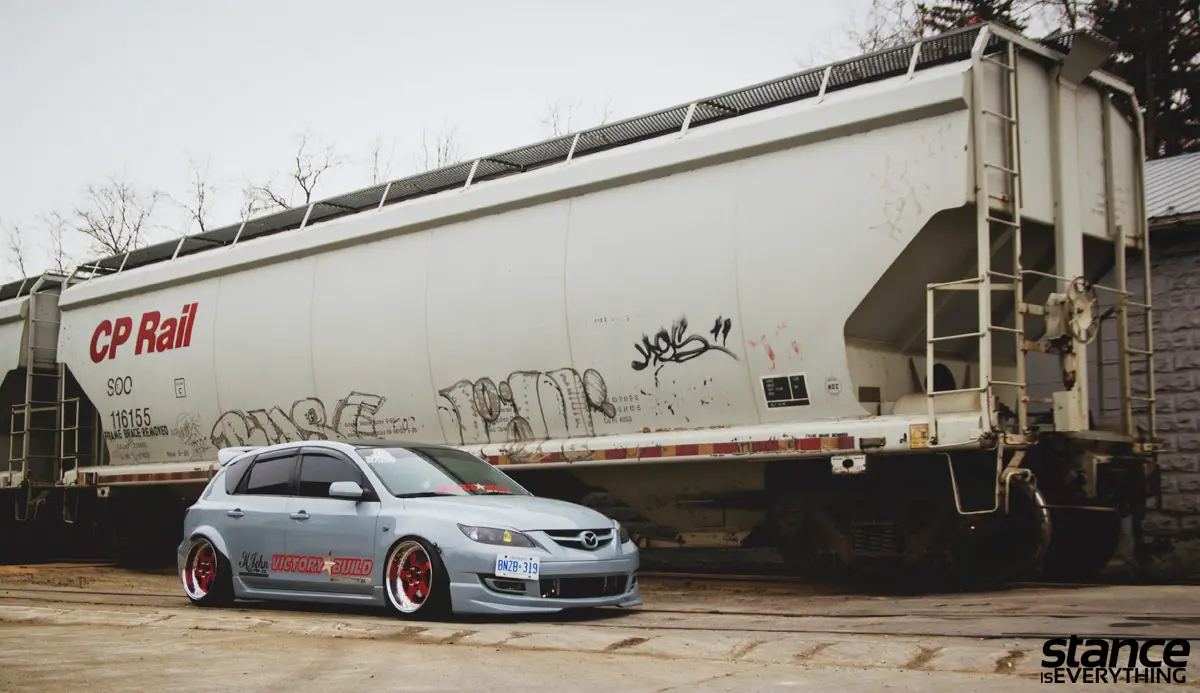 After some careful planning Kieron 'KJohn' Ramjohn of KJohn Car Innovations got to work removing any factory metal that would prevent the 18×10 Koning SSM wheels from properly fitting underneath Trevor's Mazda.
While bolt on flares are the current 'go to' option for going wide, Trevor and KJohn bucked the trend and went the more challenging route of molding the new flares to the body.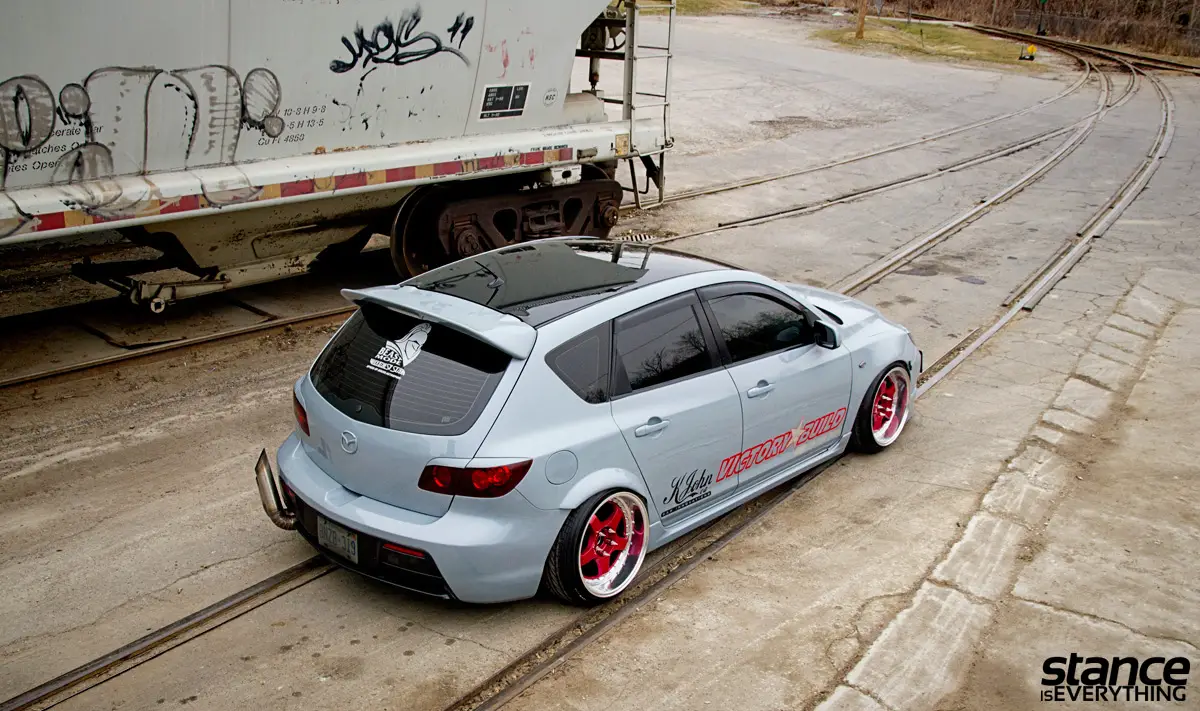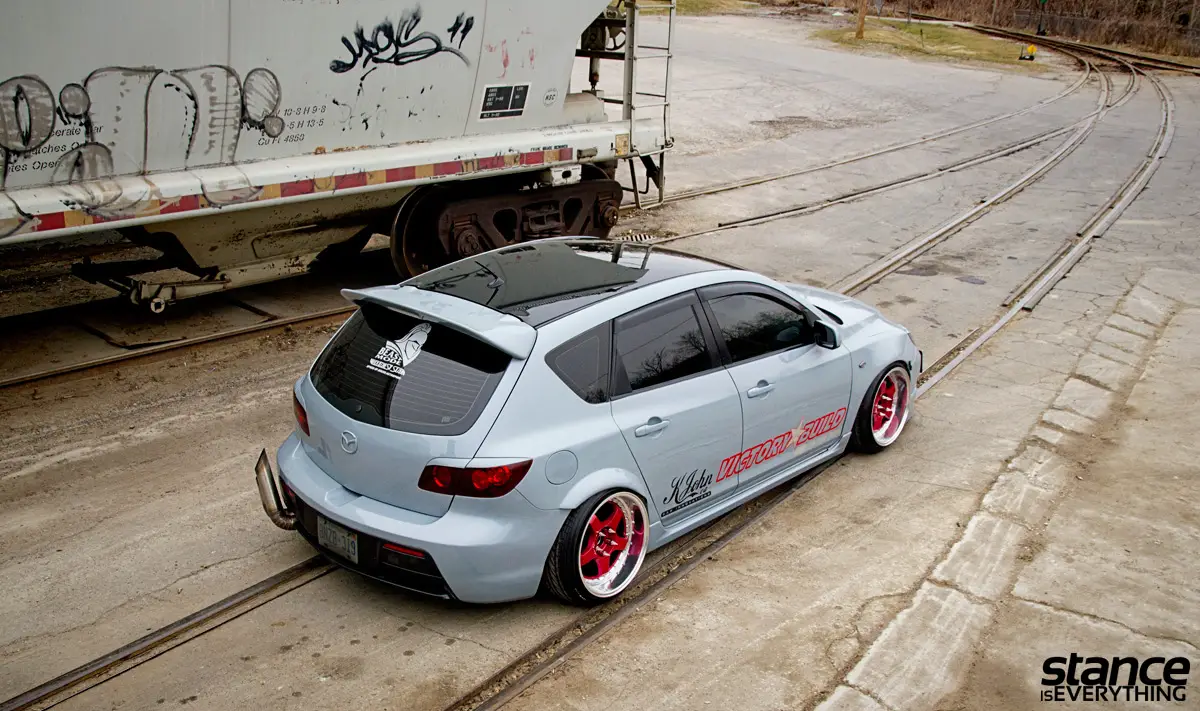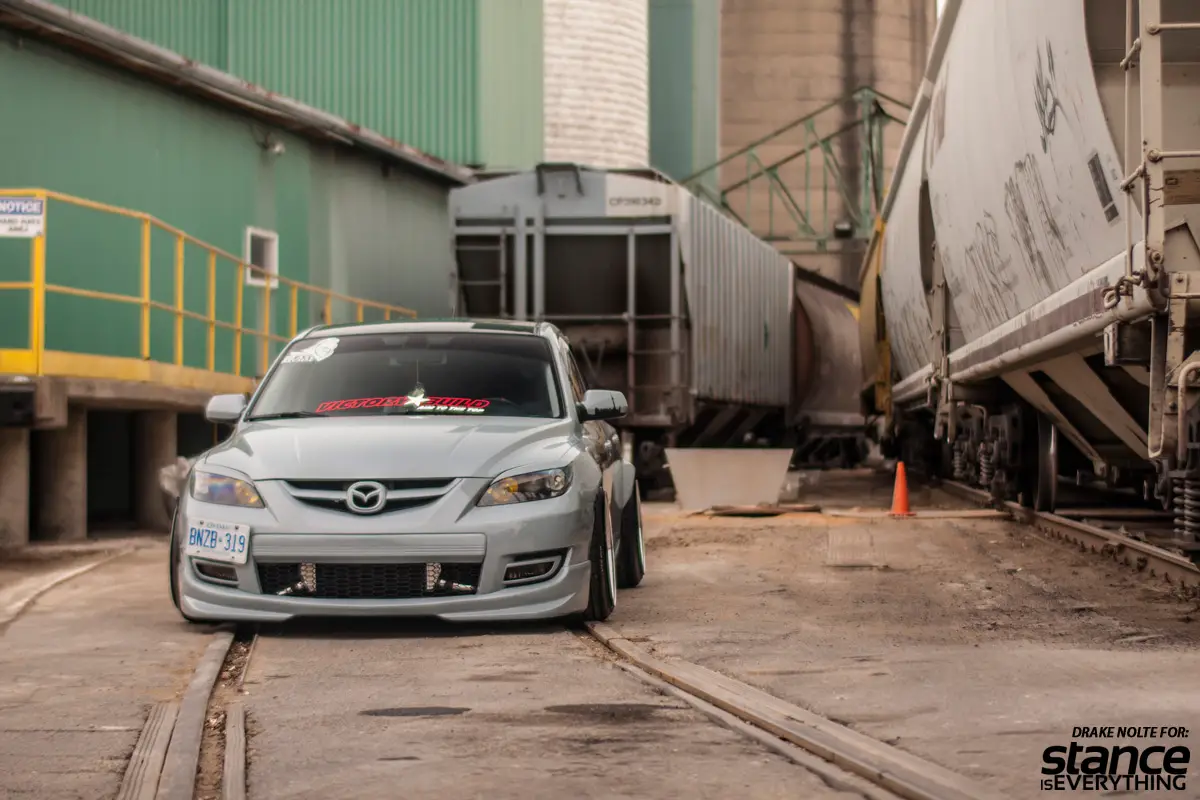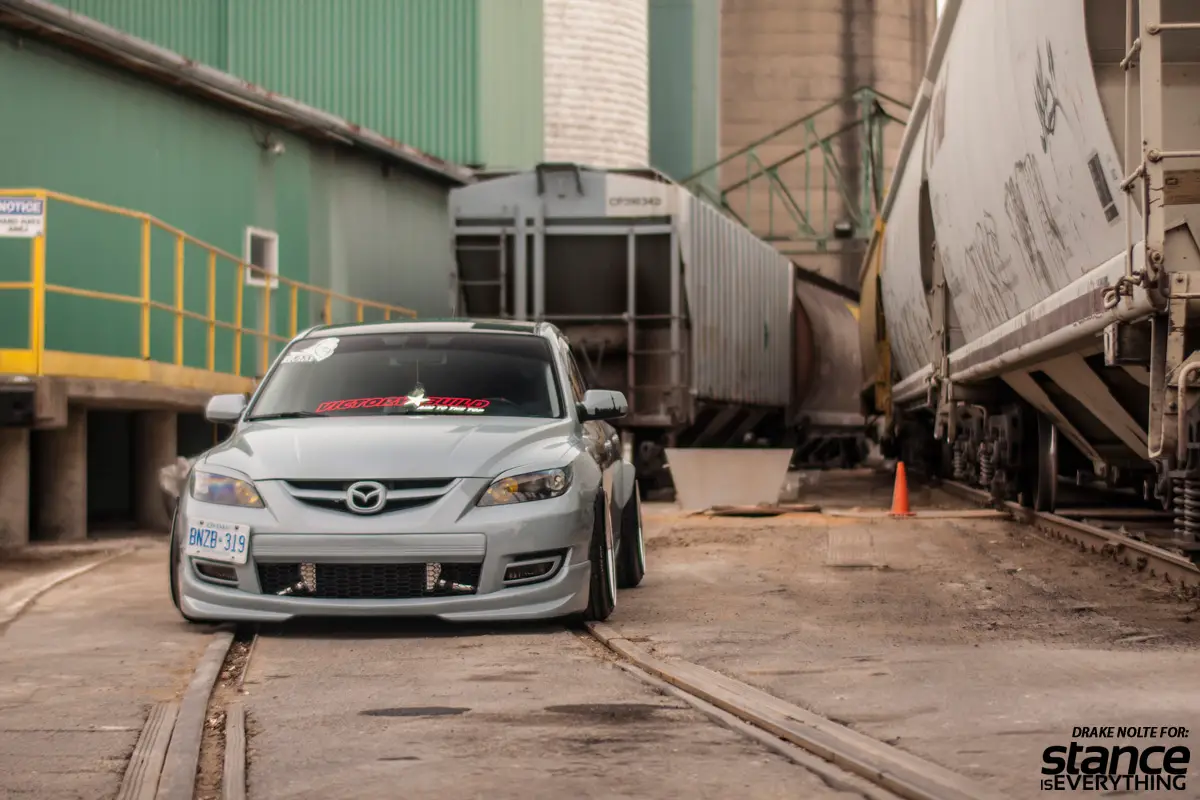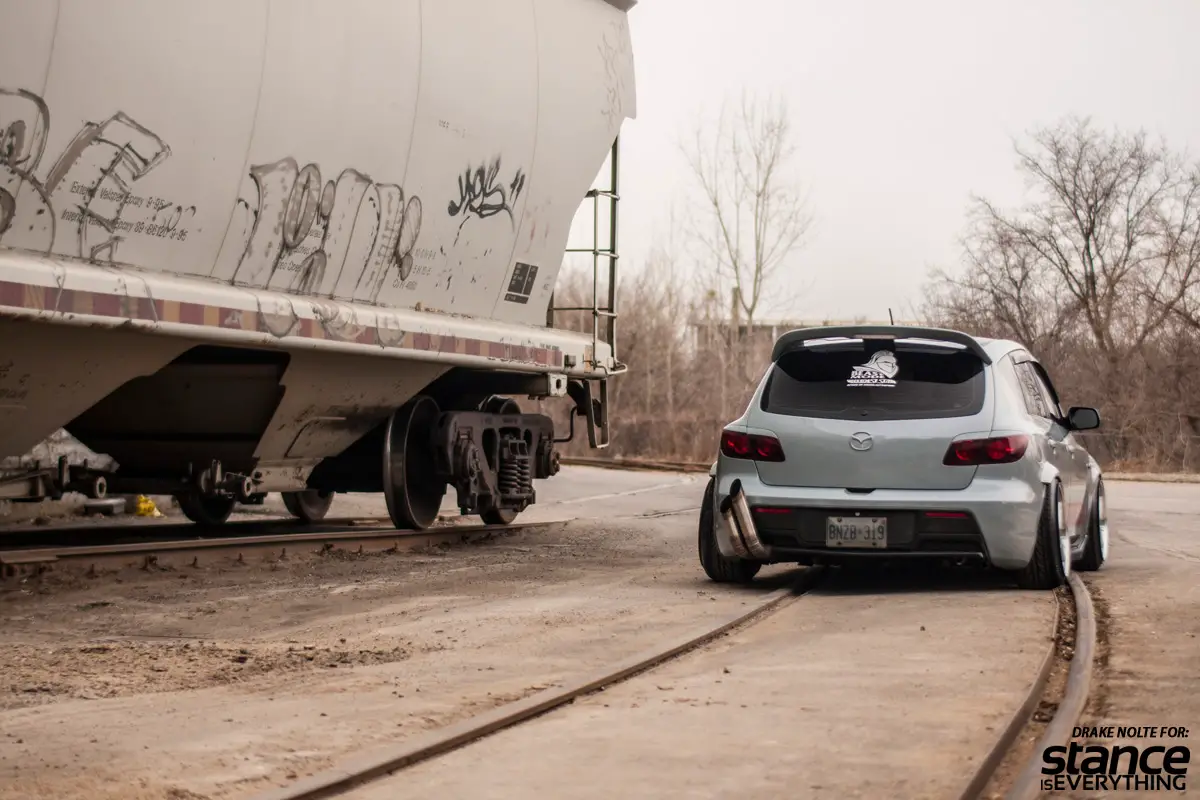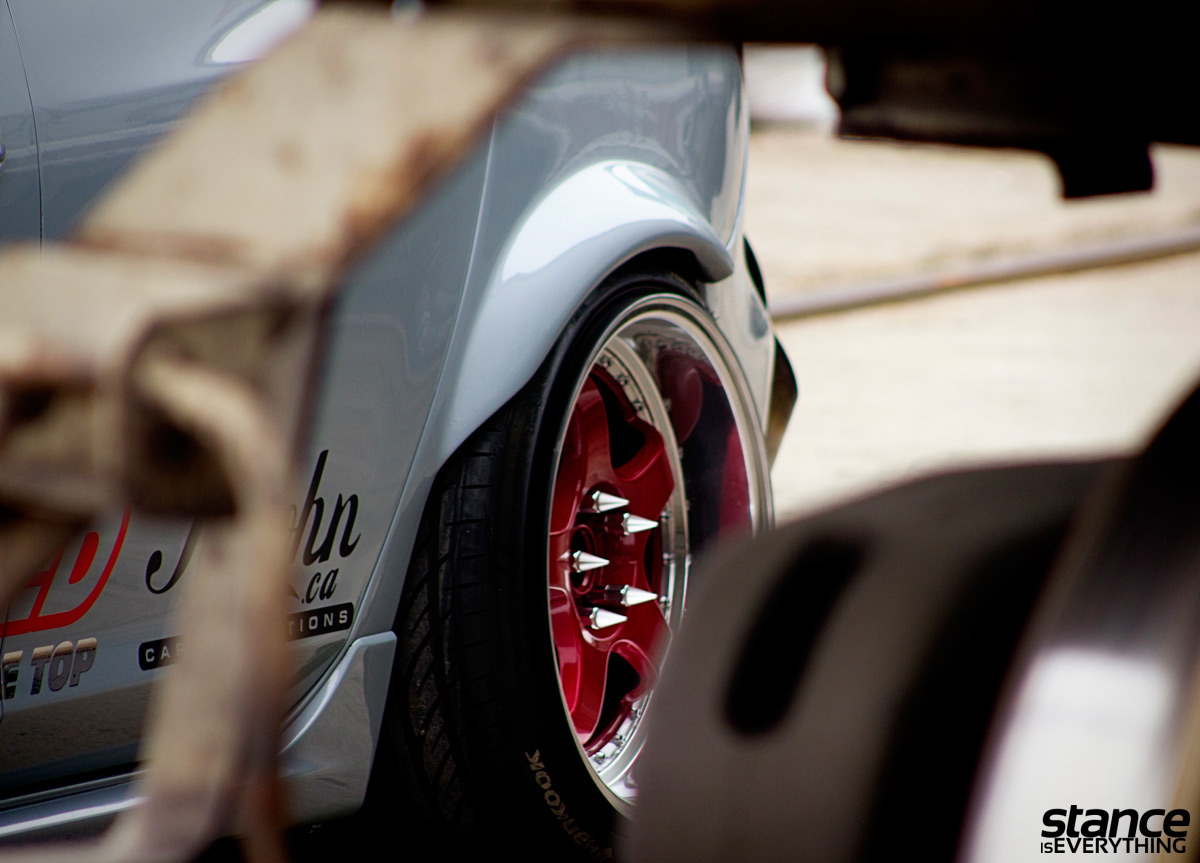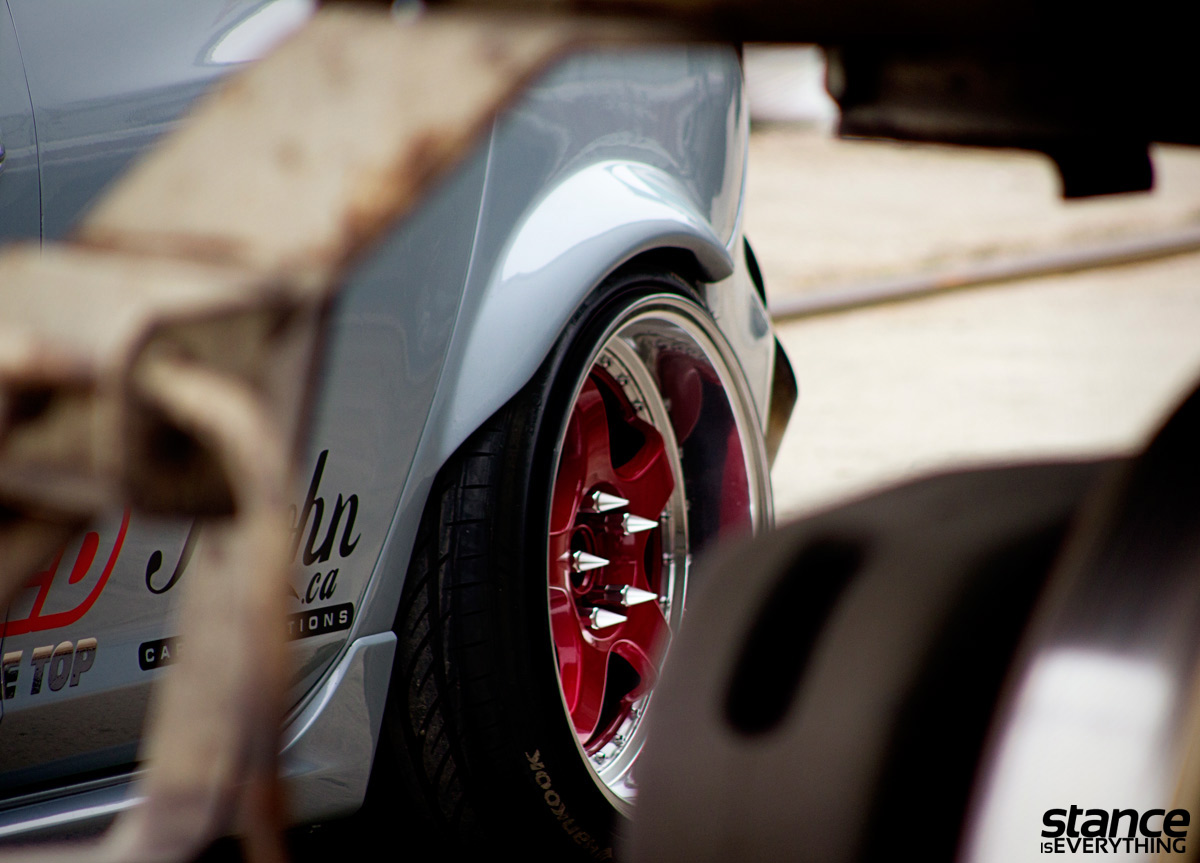 Though historically this option runs the risk of cracking filler and paint at the slightest breeze, these flares have been properly, and permanently, affixed to the car. Even when yanked on forcefully to prove a point these flares don't so much as budge.
The end result of the extensive body work –combined with a healthy drop provided by Standard Suspension coilovers– is a rear end silhouette that would make the likes of Coco jealous.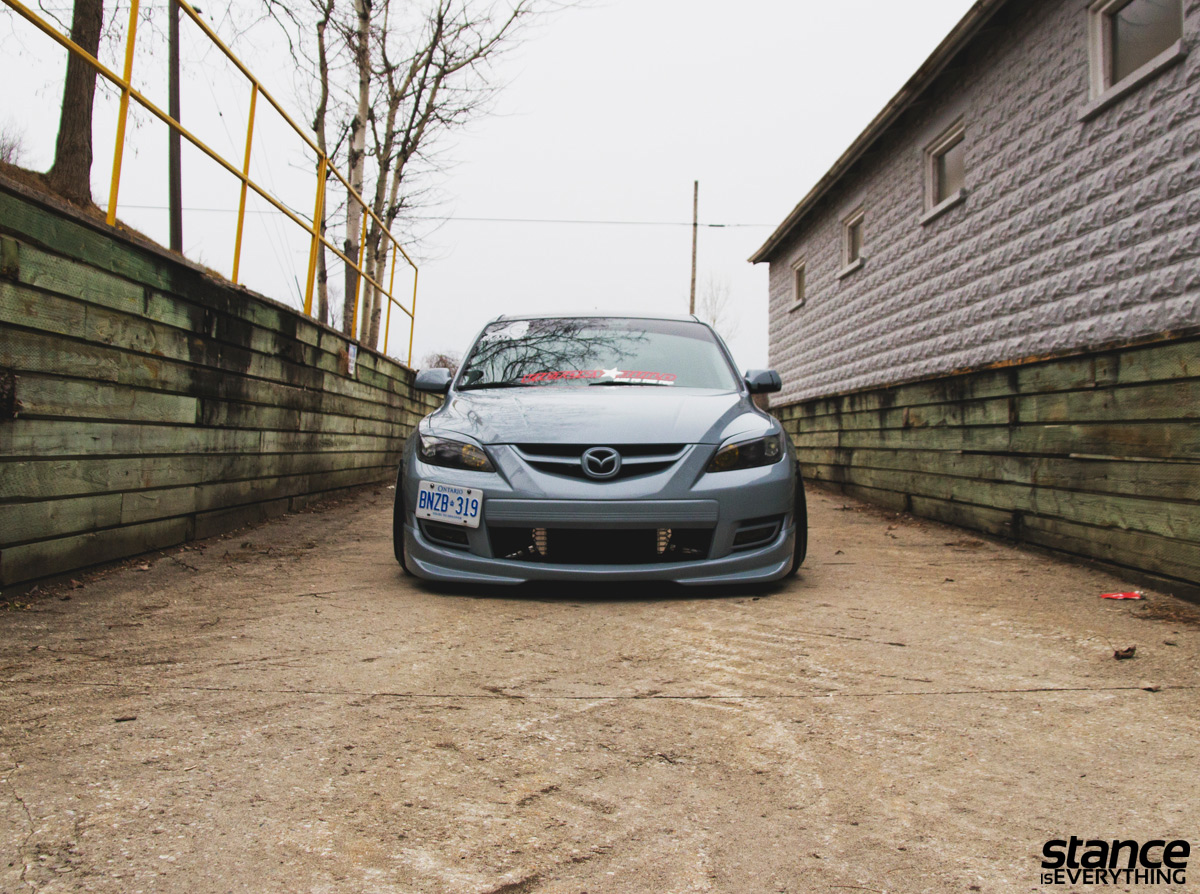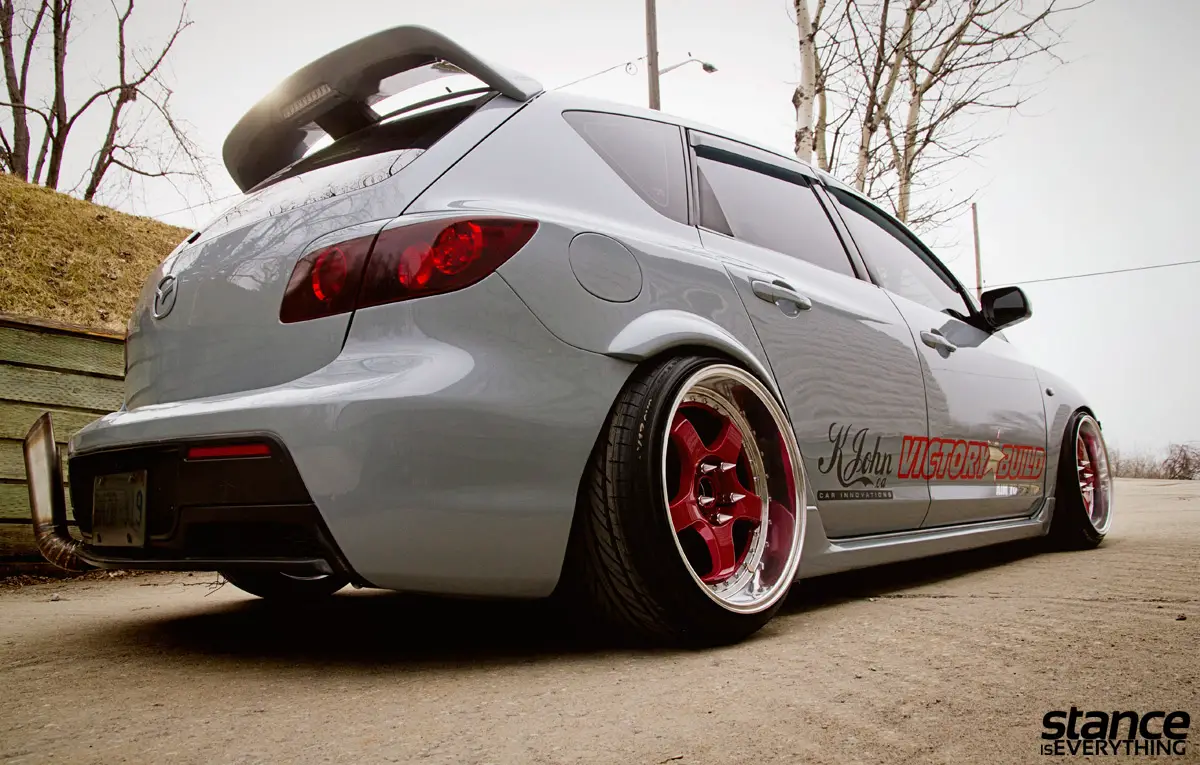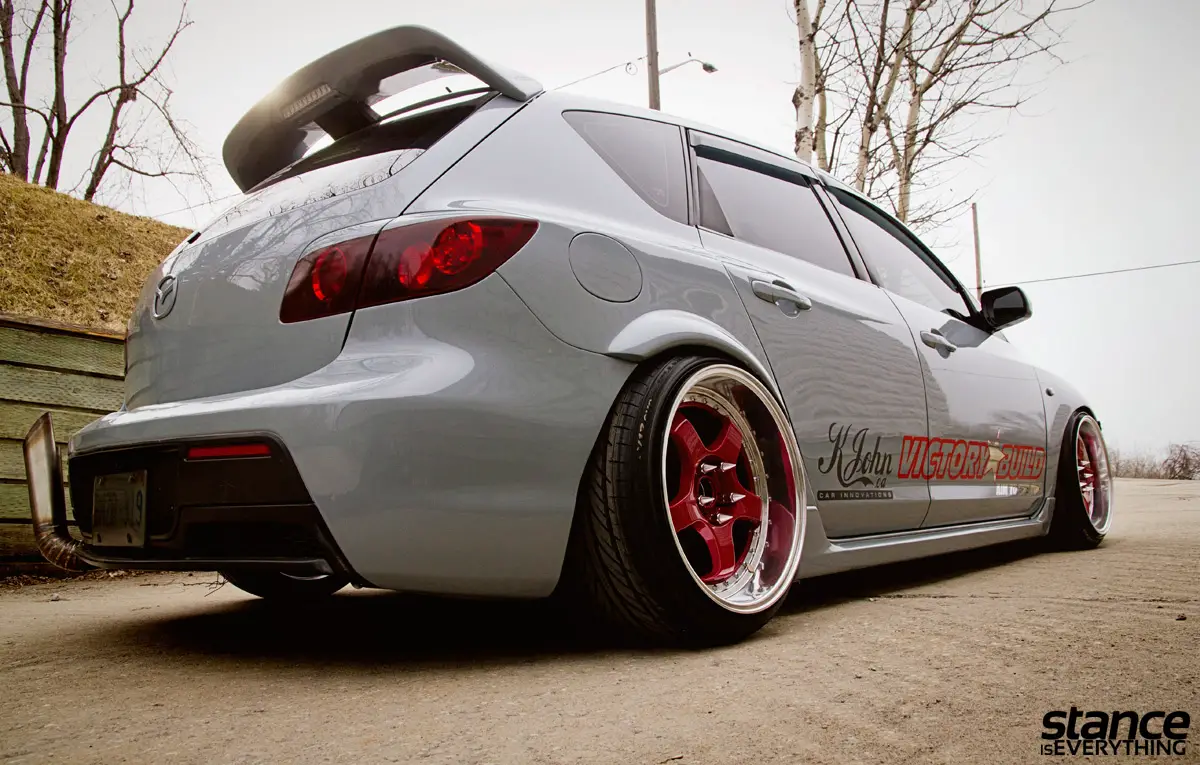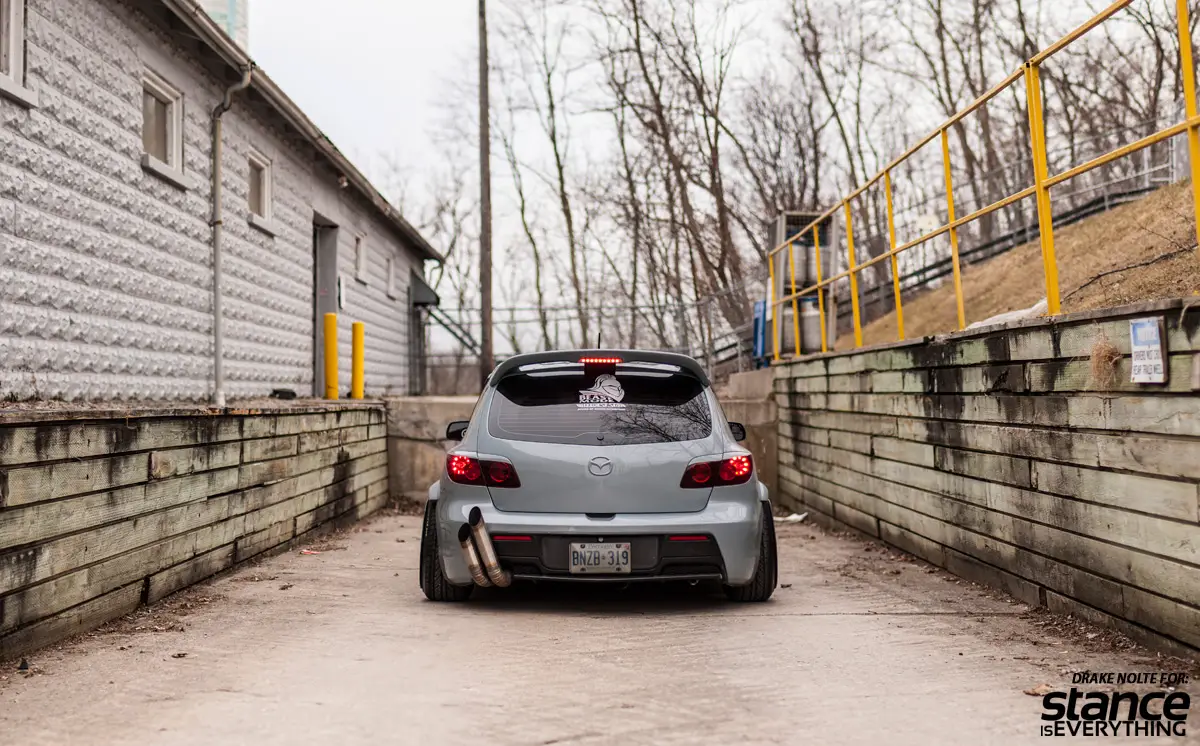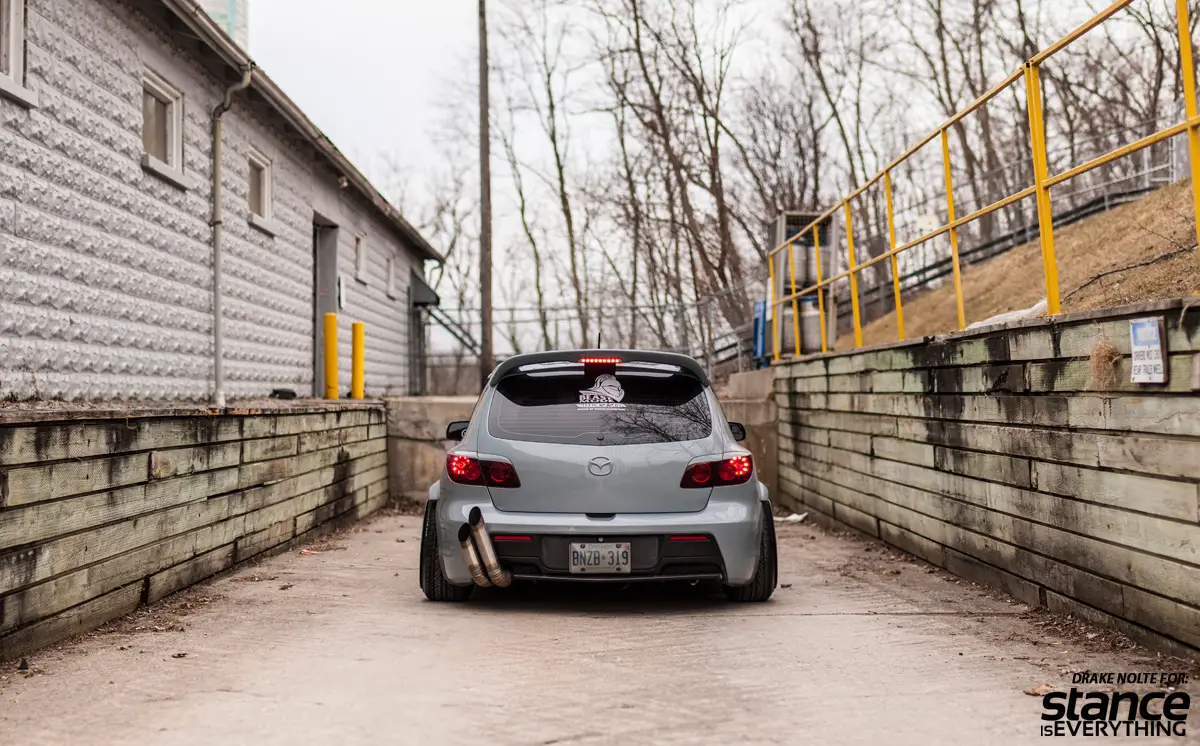 With the rear of the car set significantly wider than stock something had to be done up front, so prior to spraying that unique custom grey paint on the exterior KJohn widened the front fenders in a subtle blister style.
This detail, that many may overlook while studying the rear quarters, gives the car a nasty snarl when combined with the Garage Vary front lip and matching eyelids.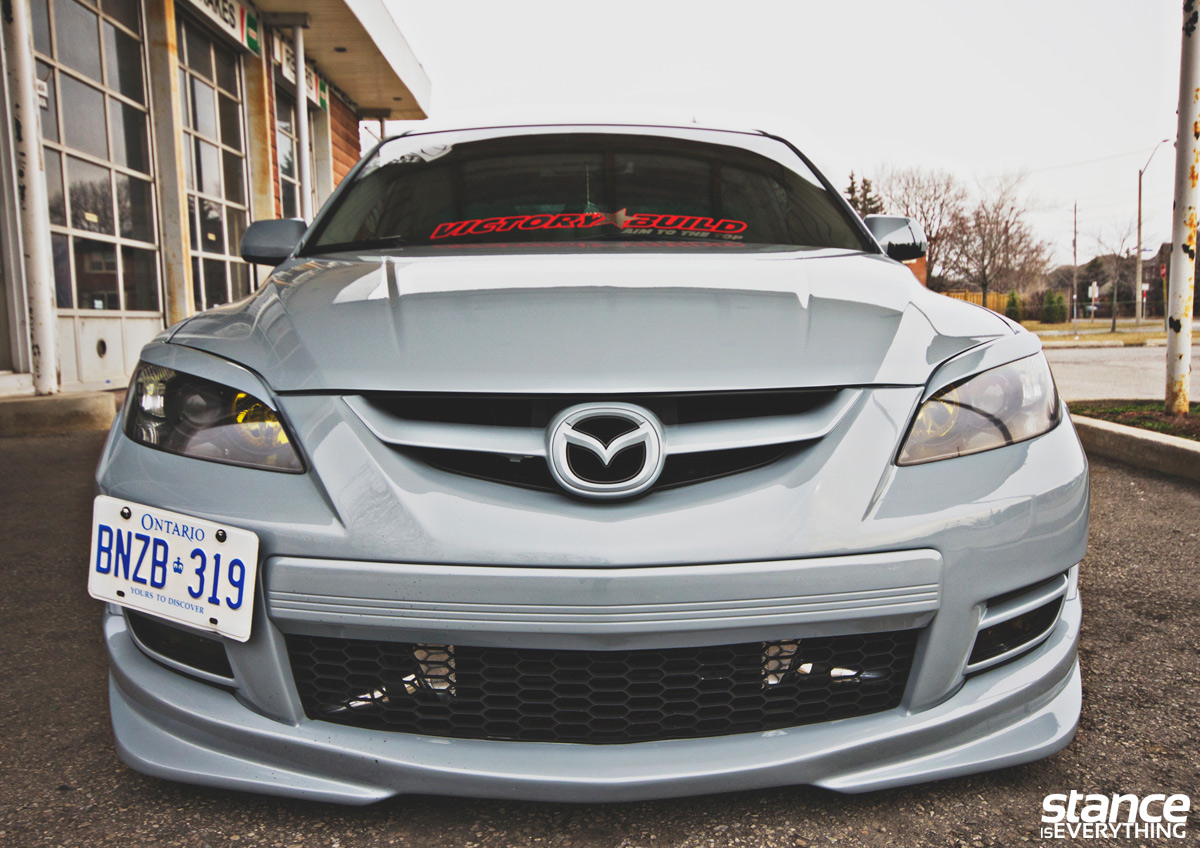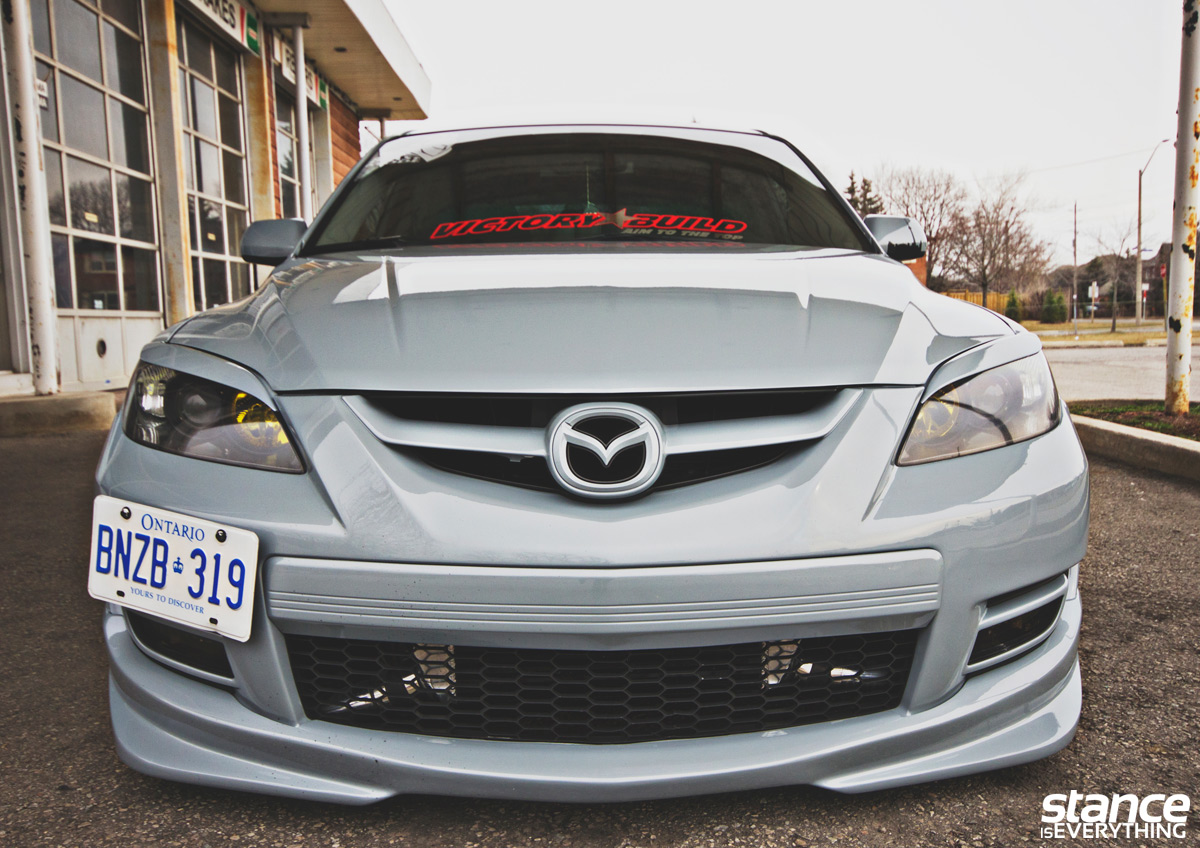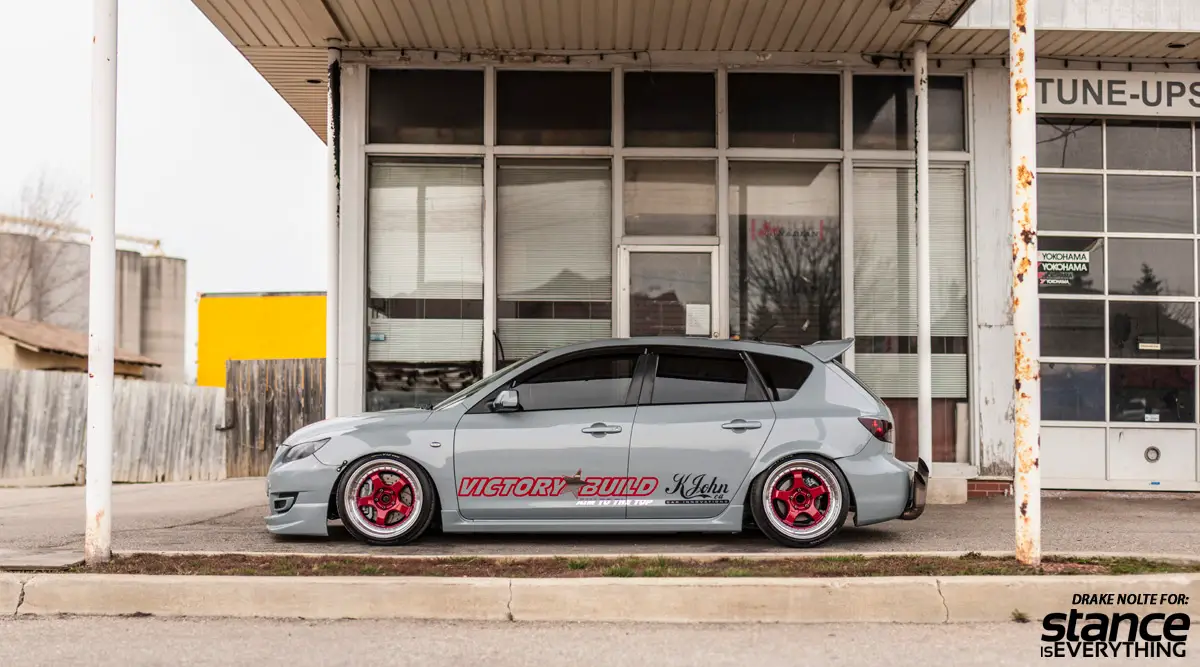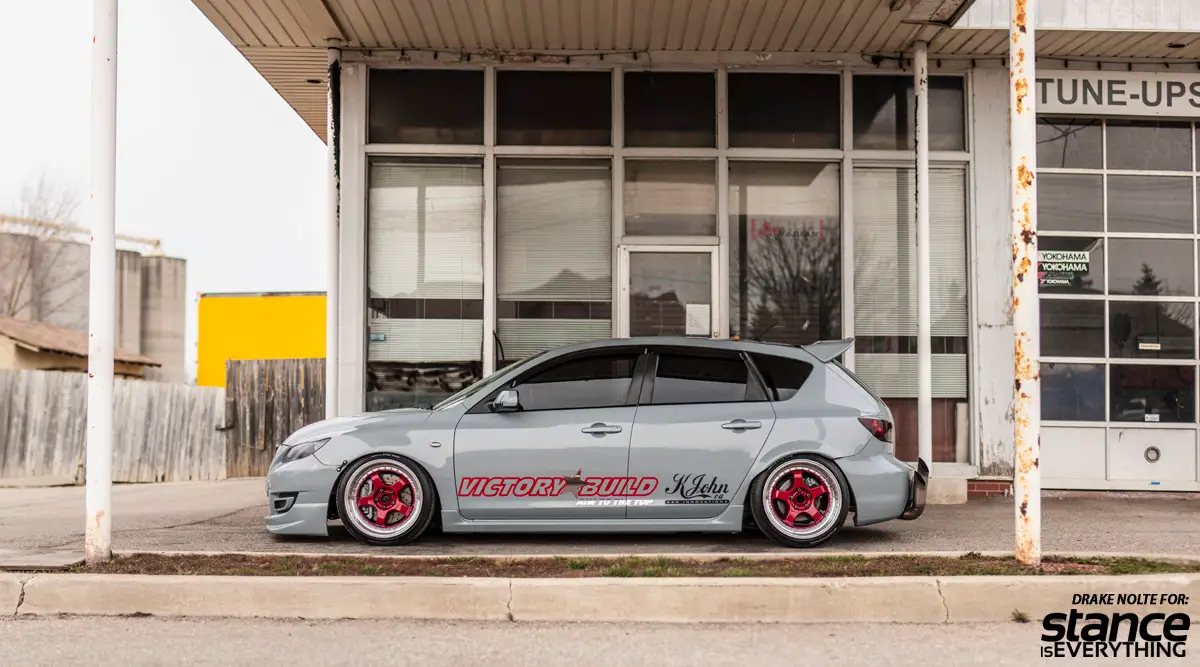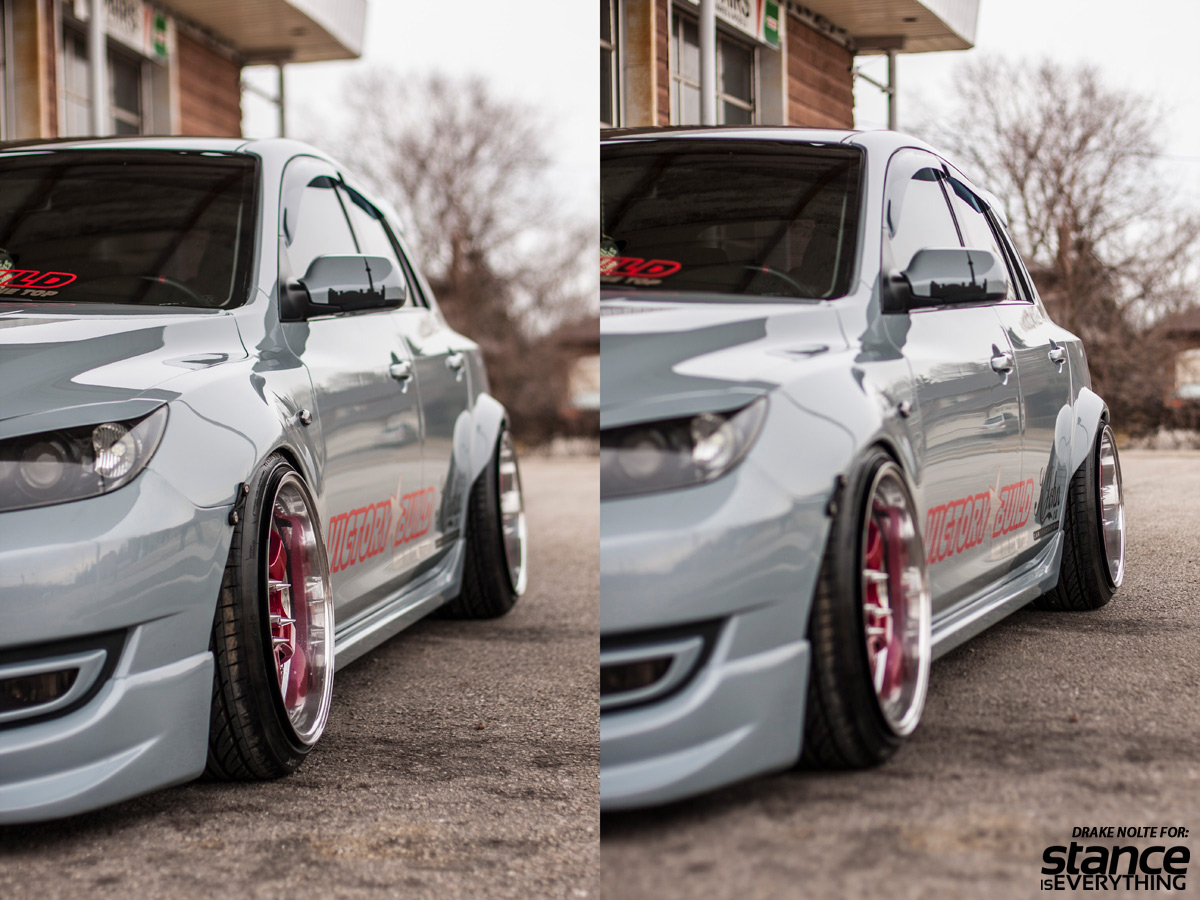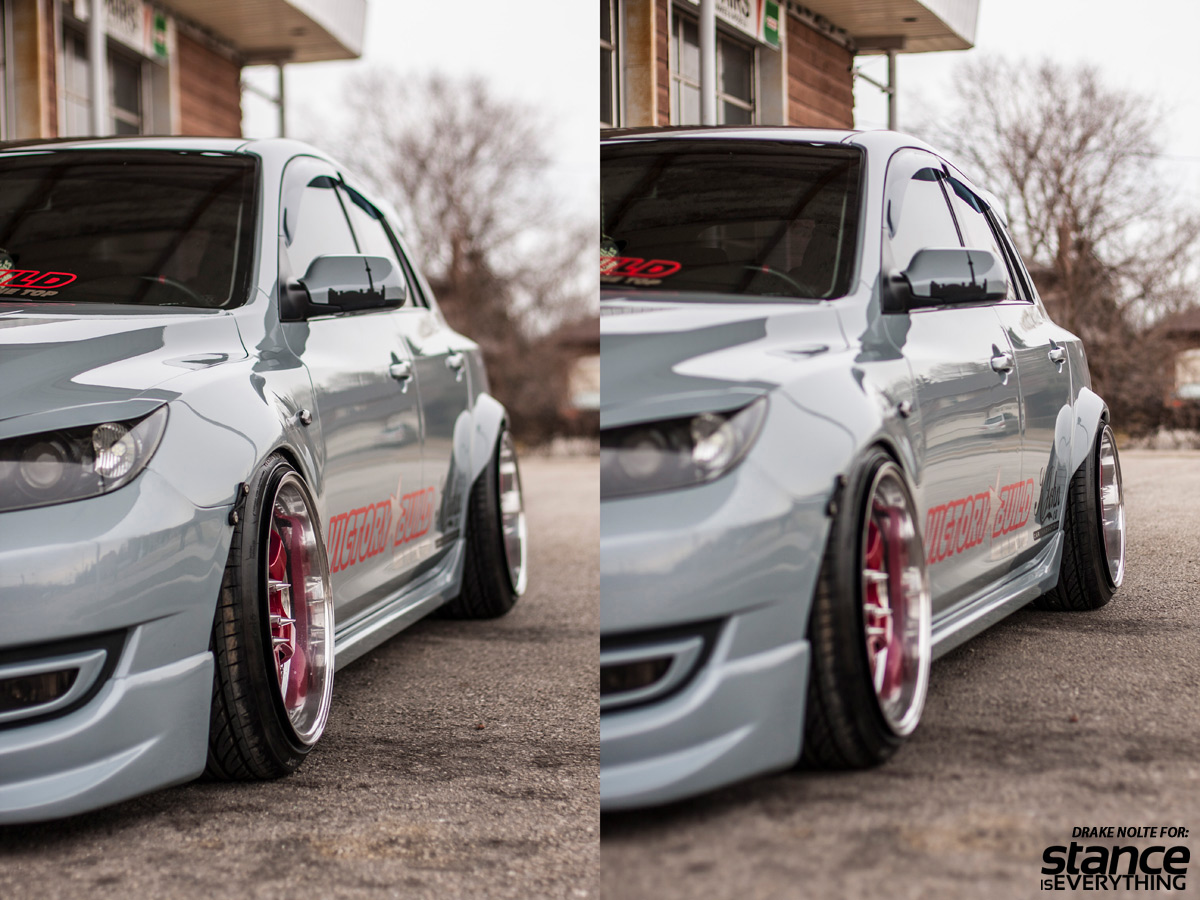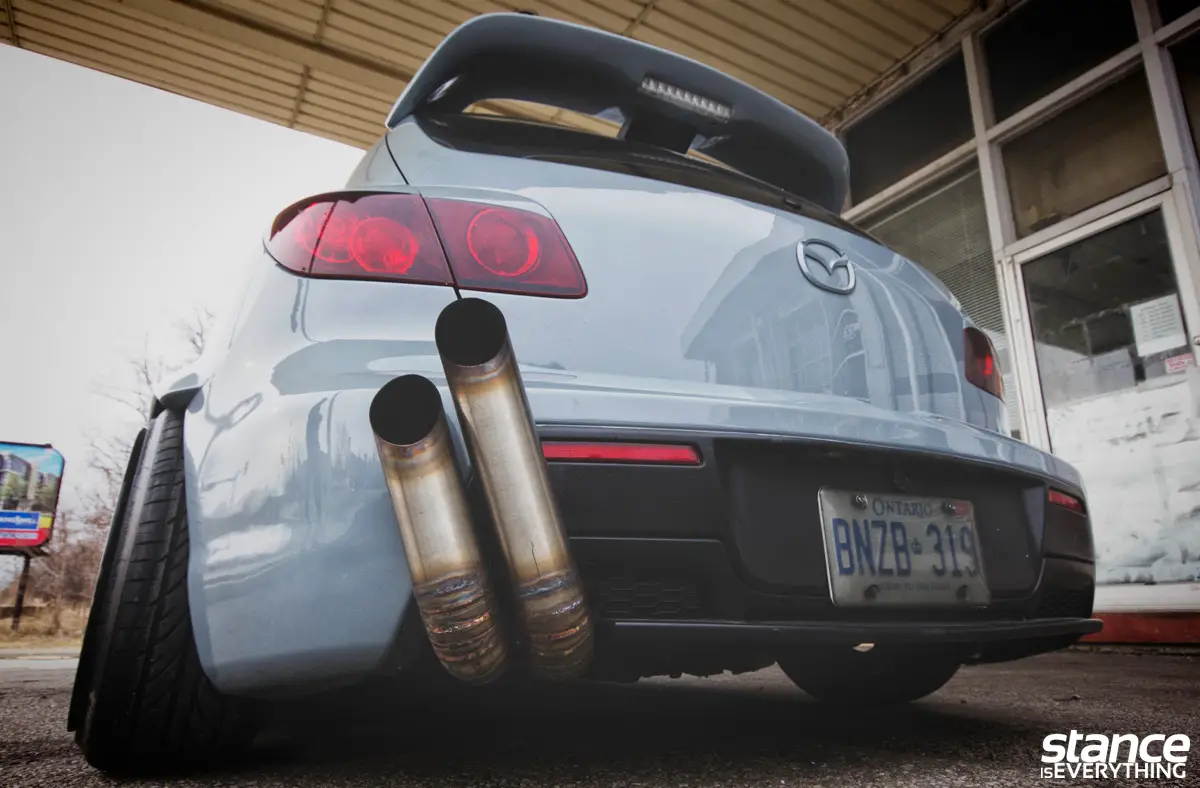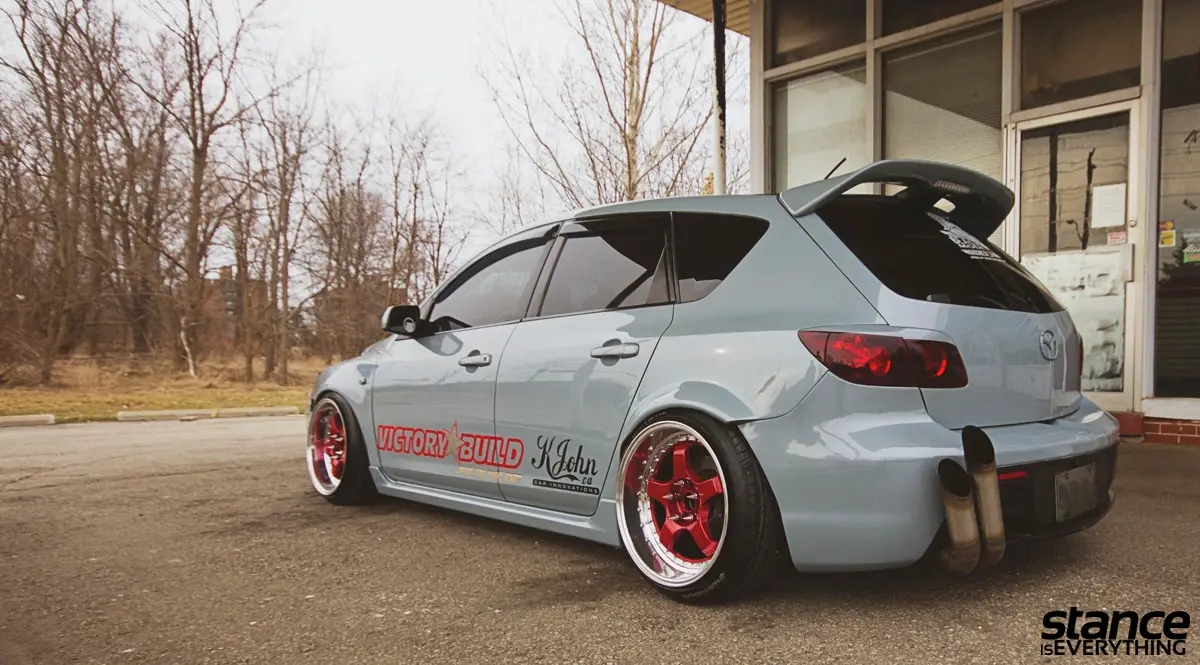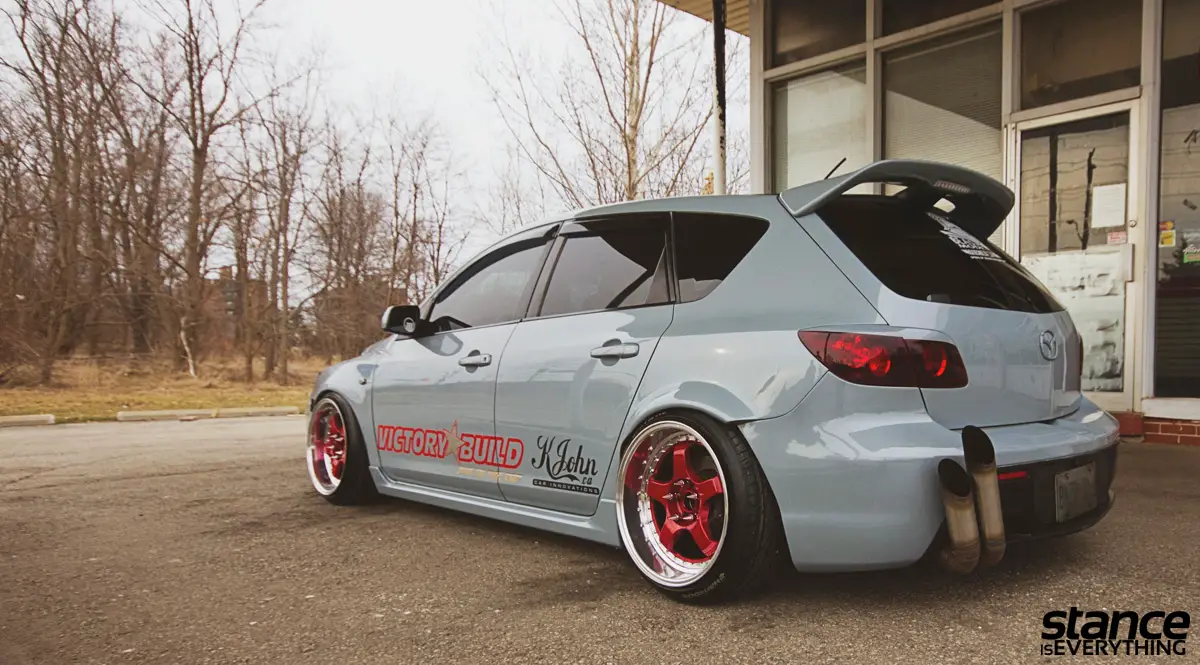 While the car was under going it's exterior transformation at the hands of KJohn, Trevor was busy rebuilding the bum motor that kick started this entire rebuild.
The turbo 2.3 DISI MZR I4 mill now boasts a lengthy list of modifications including; a ported and polished intake manifold, SURE Motorsports TIG™ thermal intake and throttle body spacers, SURE Injector seals, SURE balance shaft delete, SURE 3″ Inlet and Intake, ARP studs, and a CXRacing front mount inter cooler.
Suited, booted, and tuned by Advance Power House, Trevor's car is now running better than it ever has before.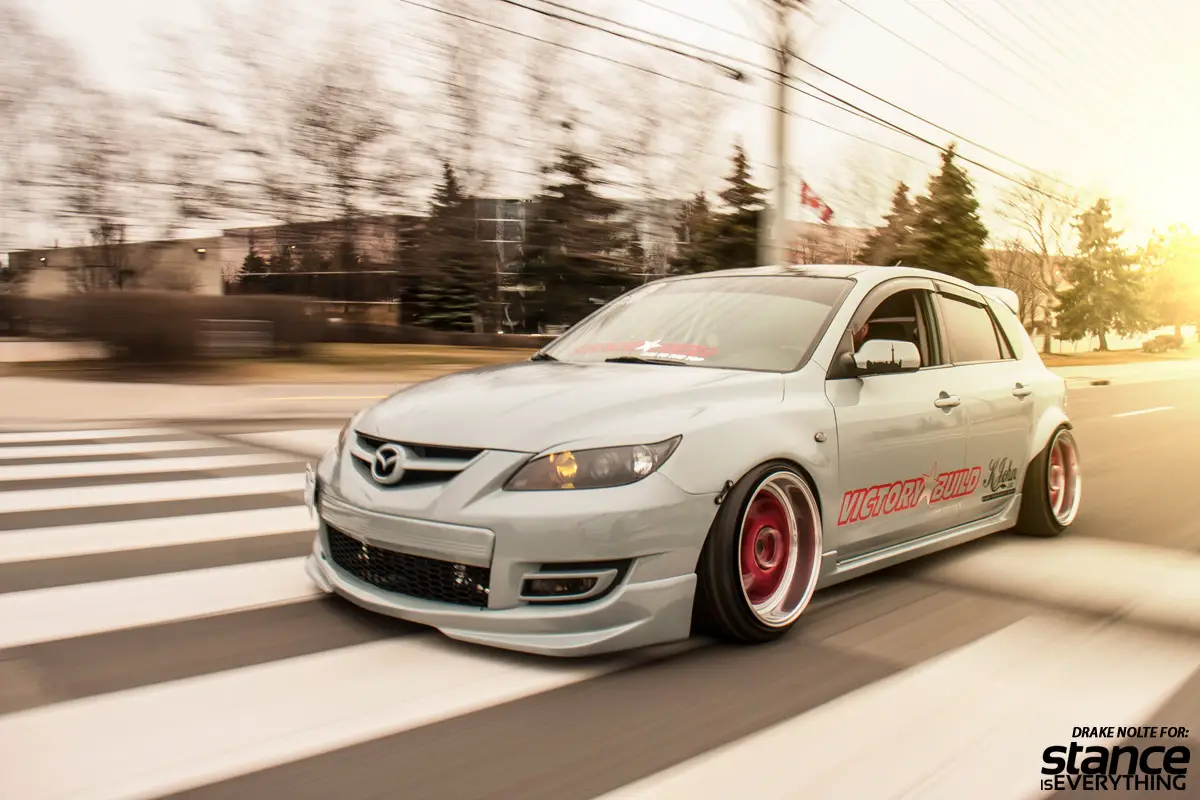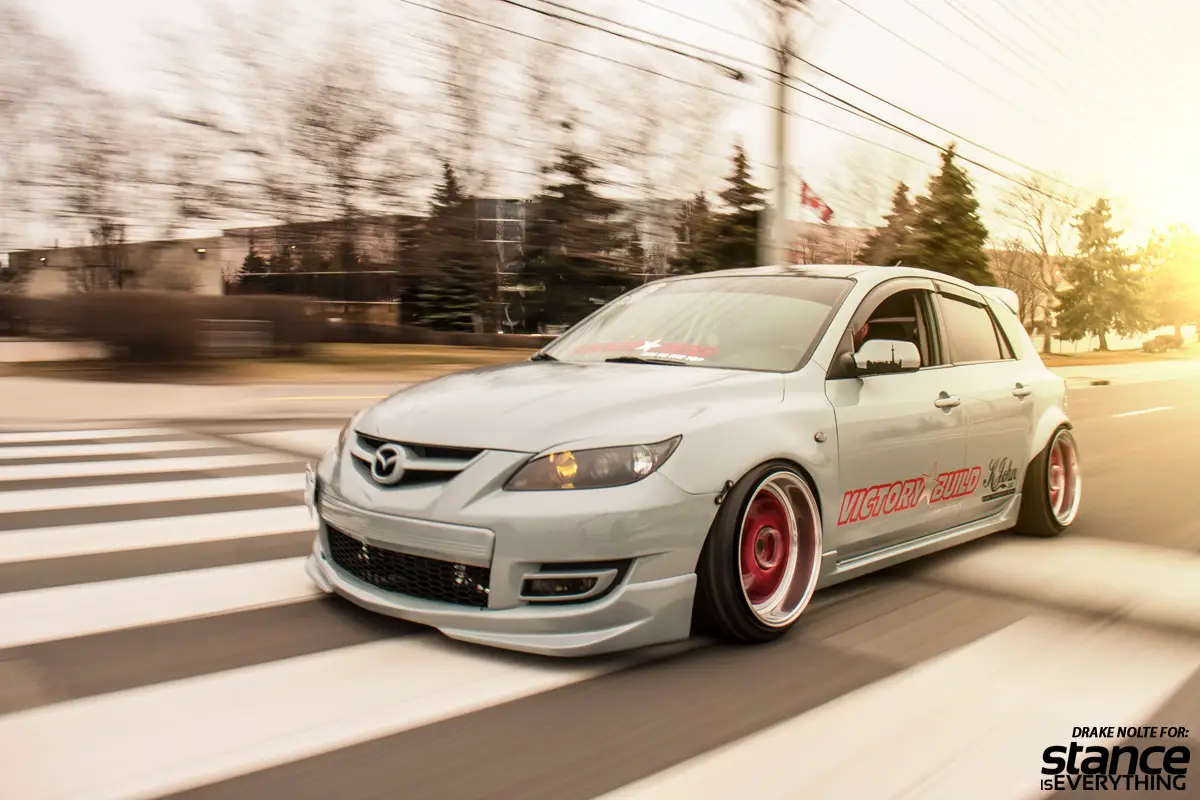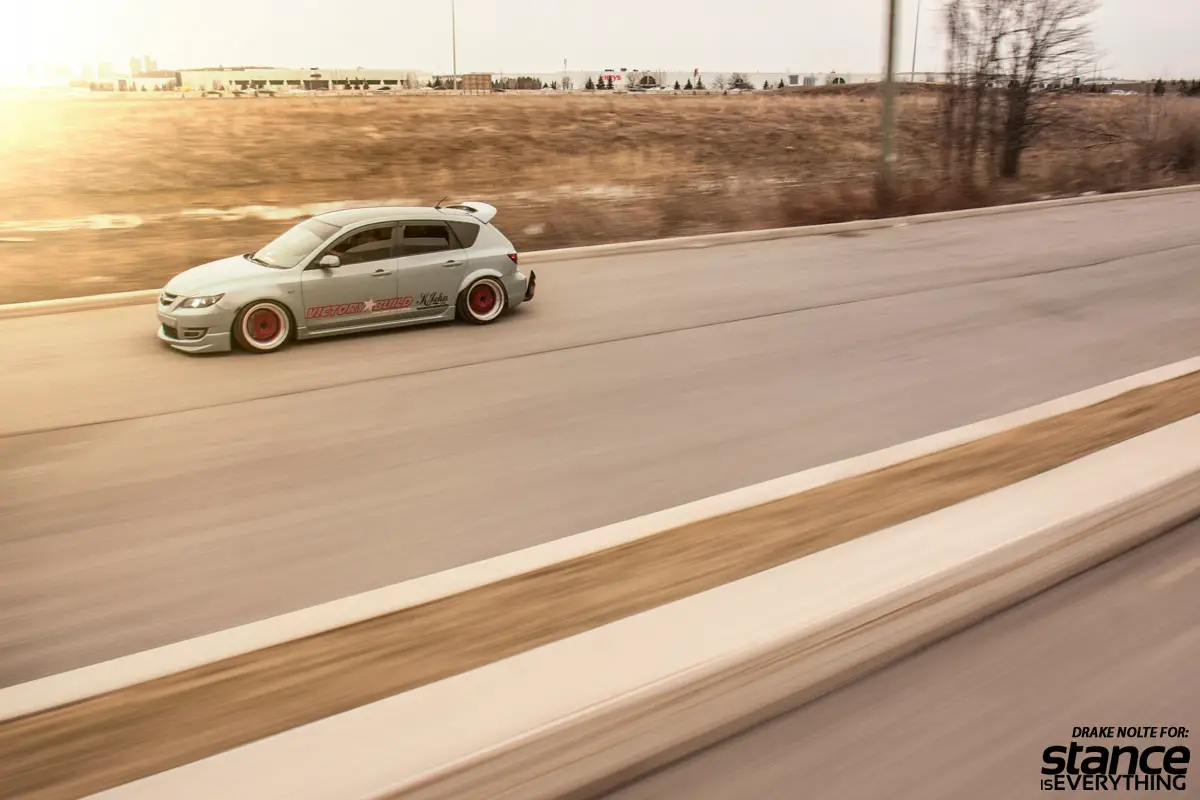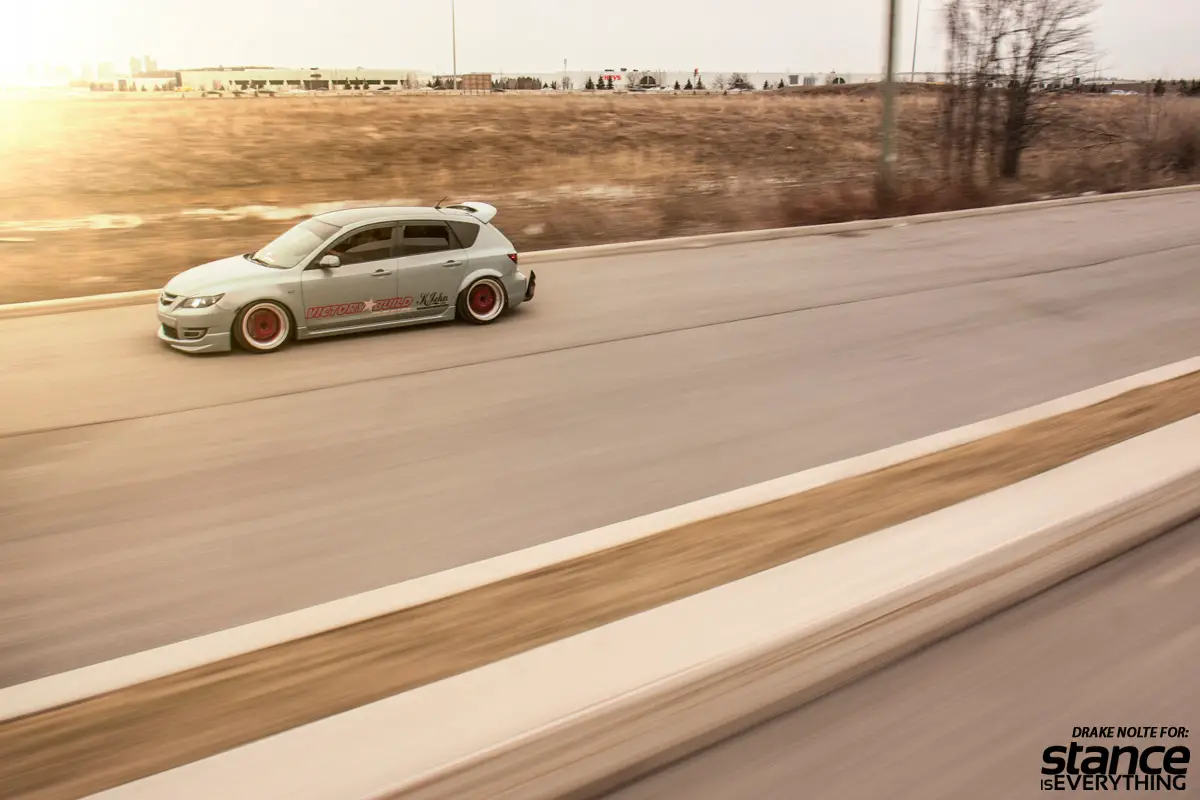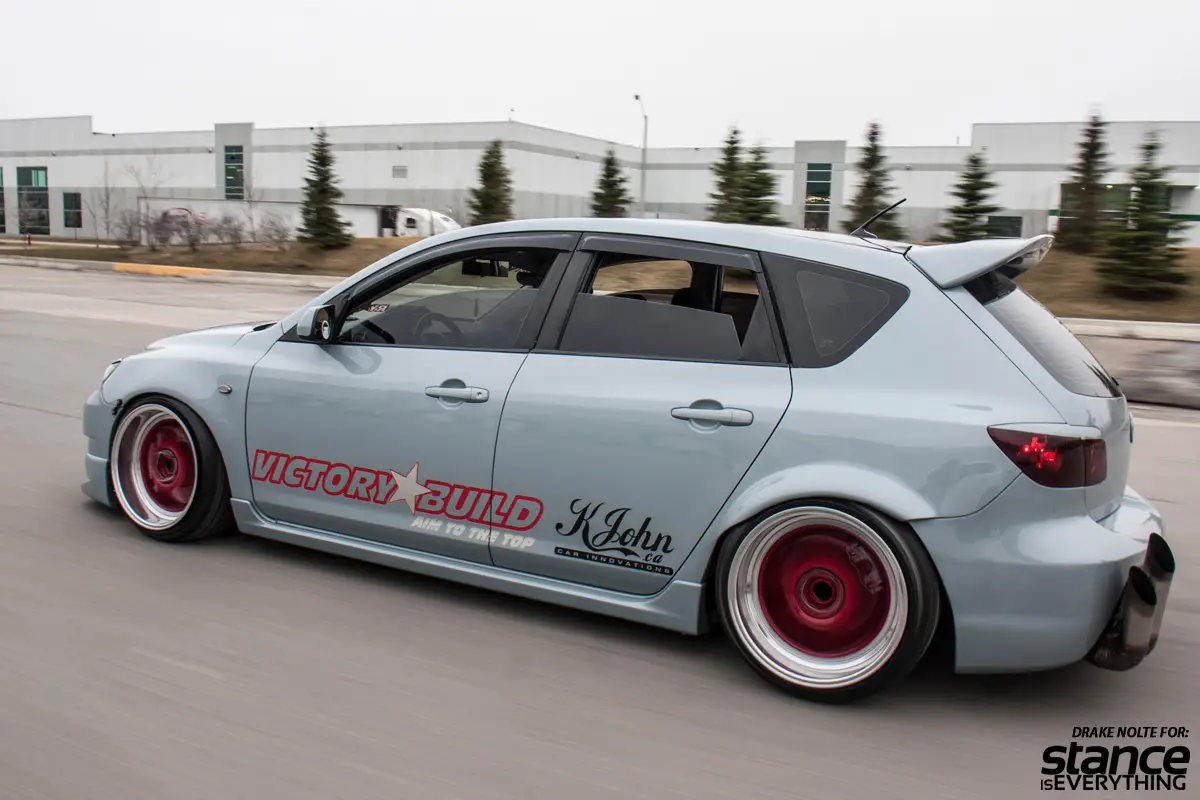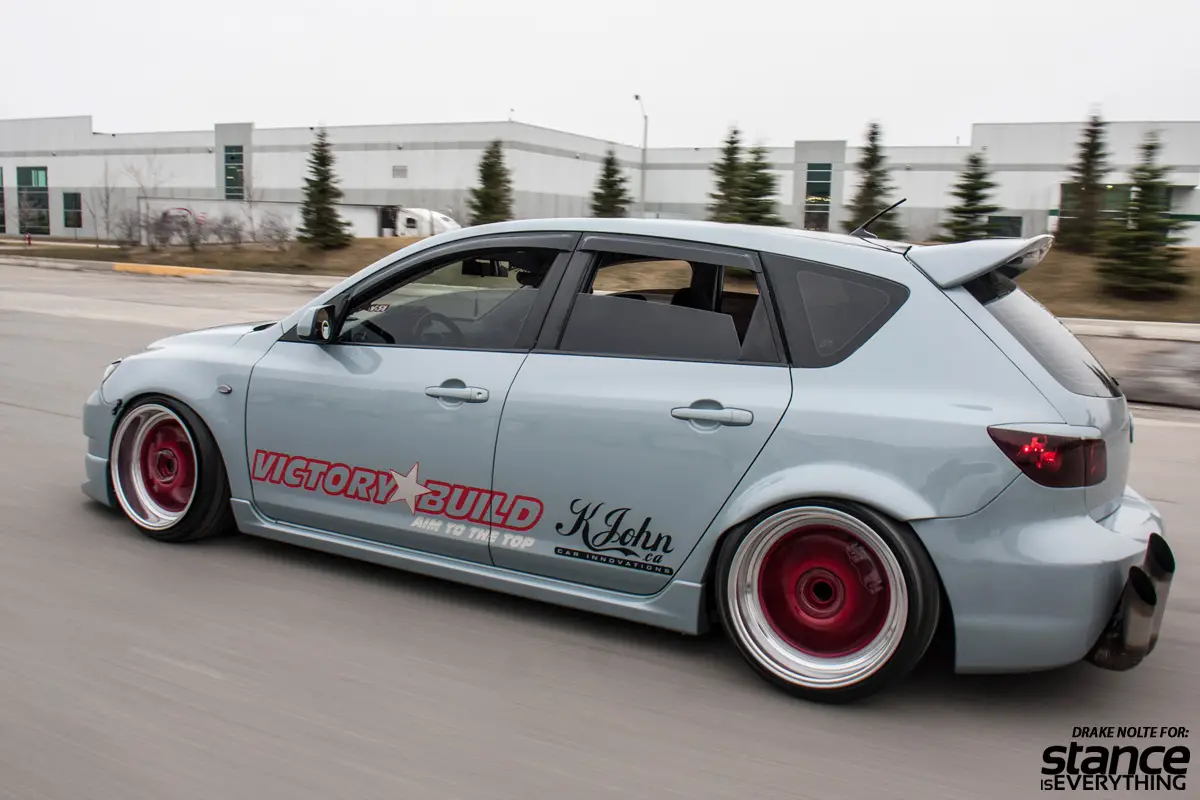 On the inside Trevor continued the red/black/grey color scheme blueprinted by both the new exterior color and stock Mazdaspeed 3 seats, by having his center console sprayed the same candy apple found on his wheels.
Further tying the seats, console, and wheels together are custom wrapped factory door cards.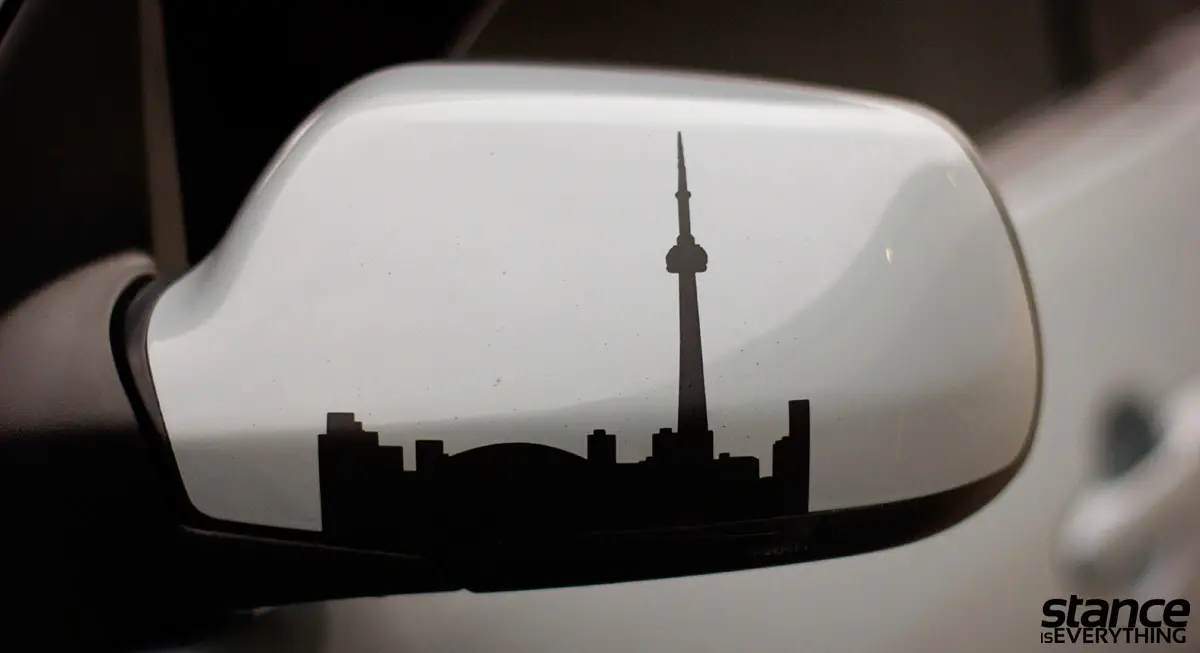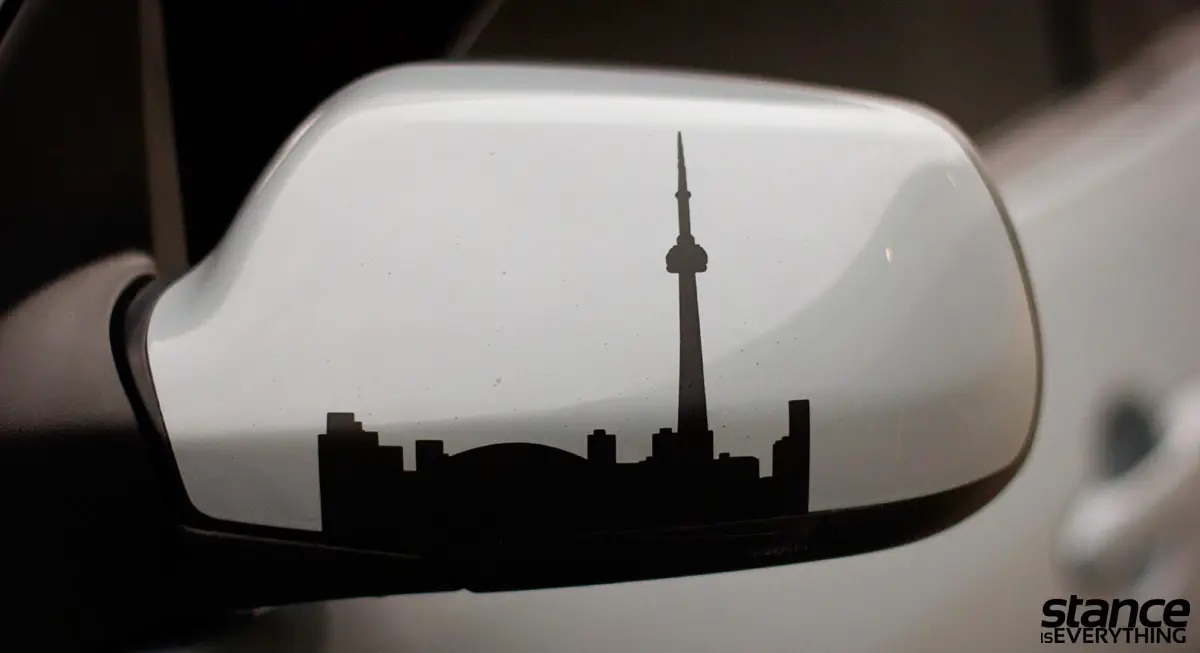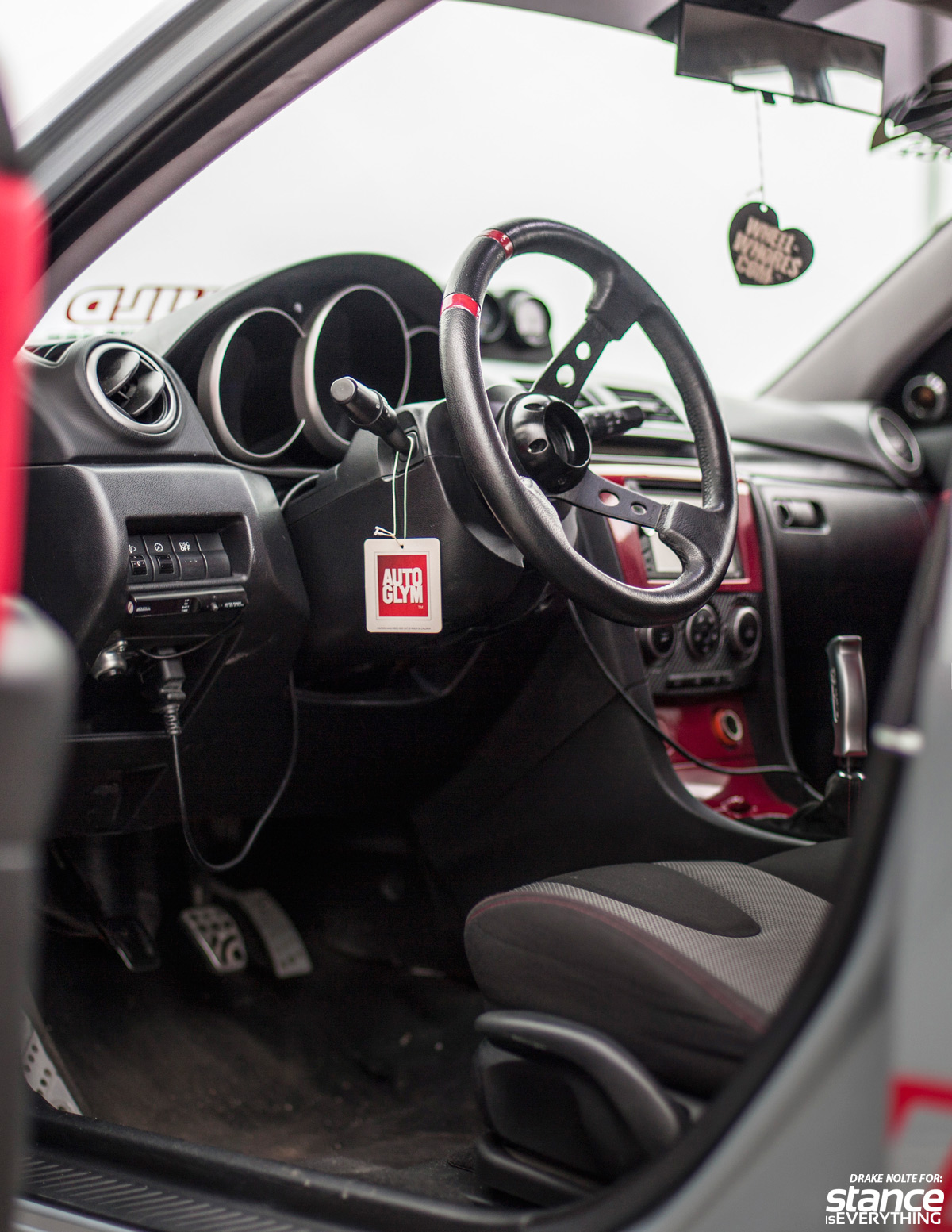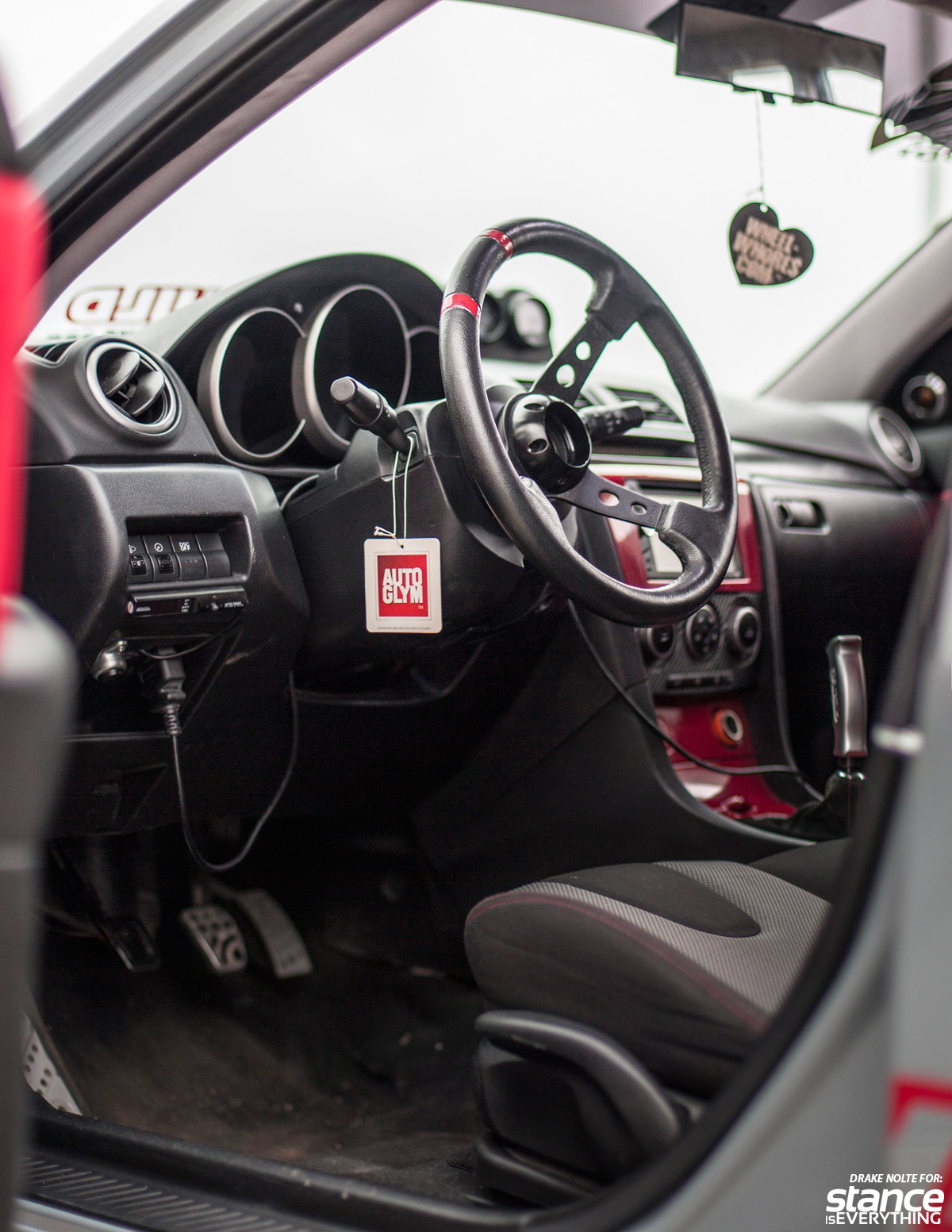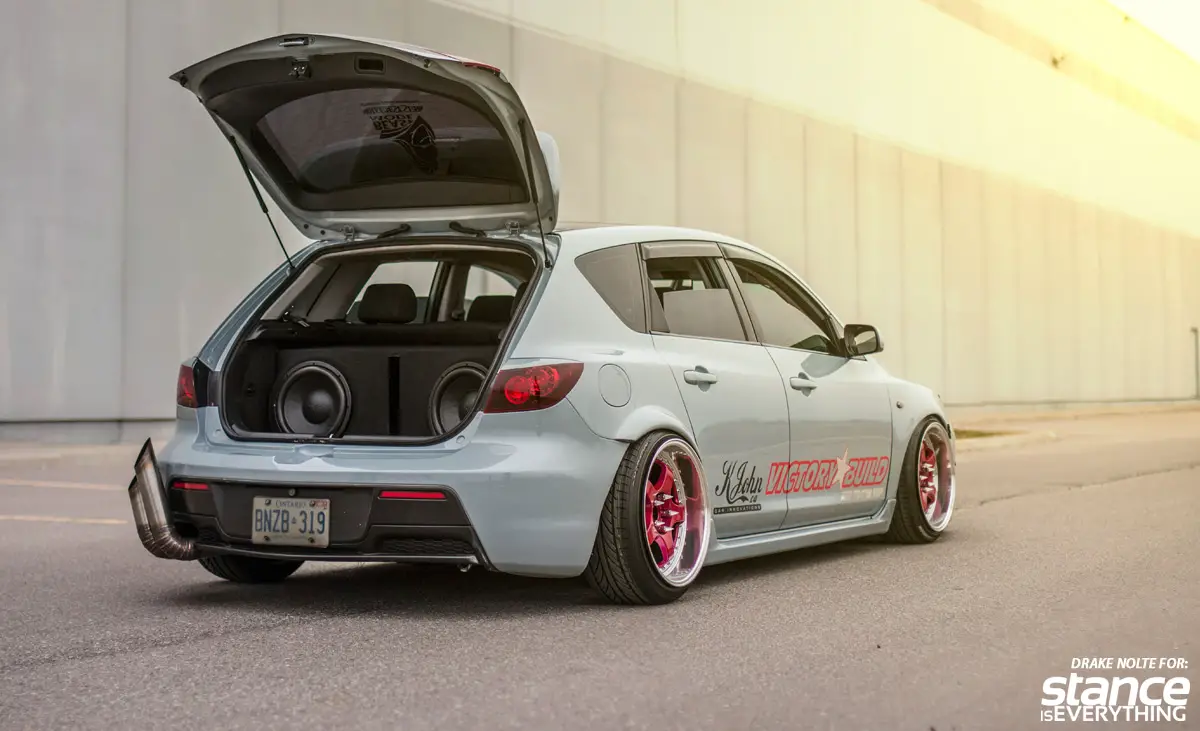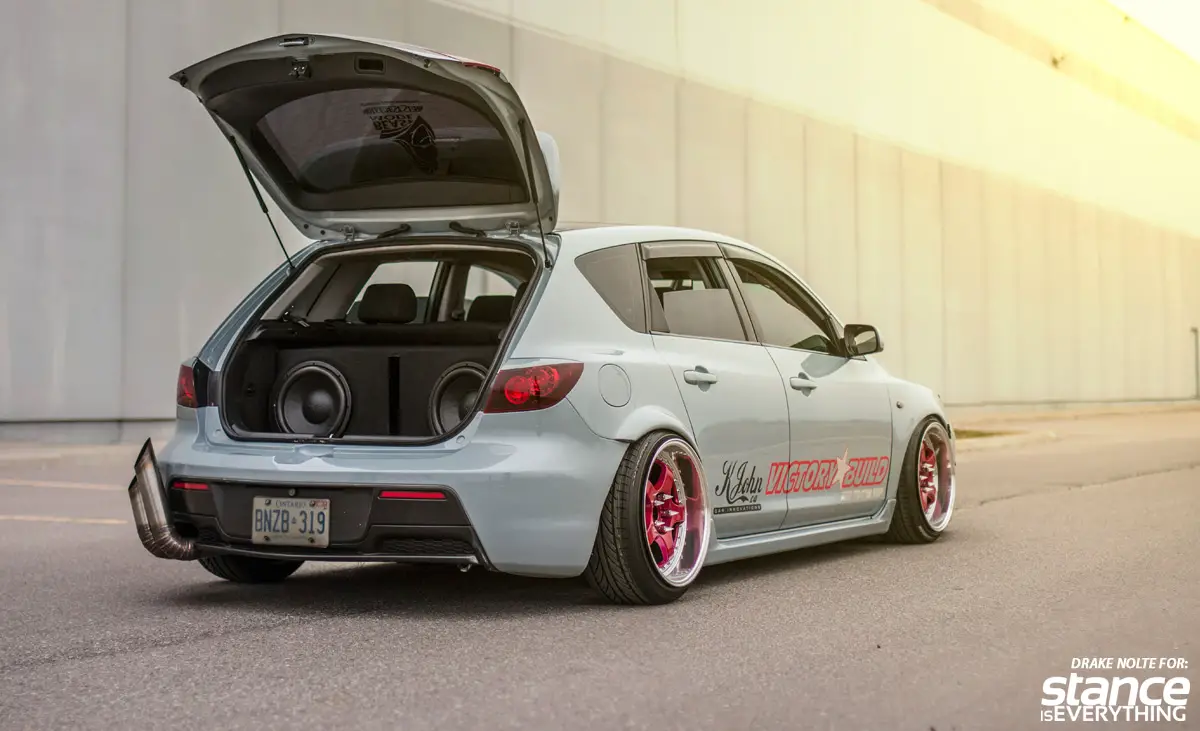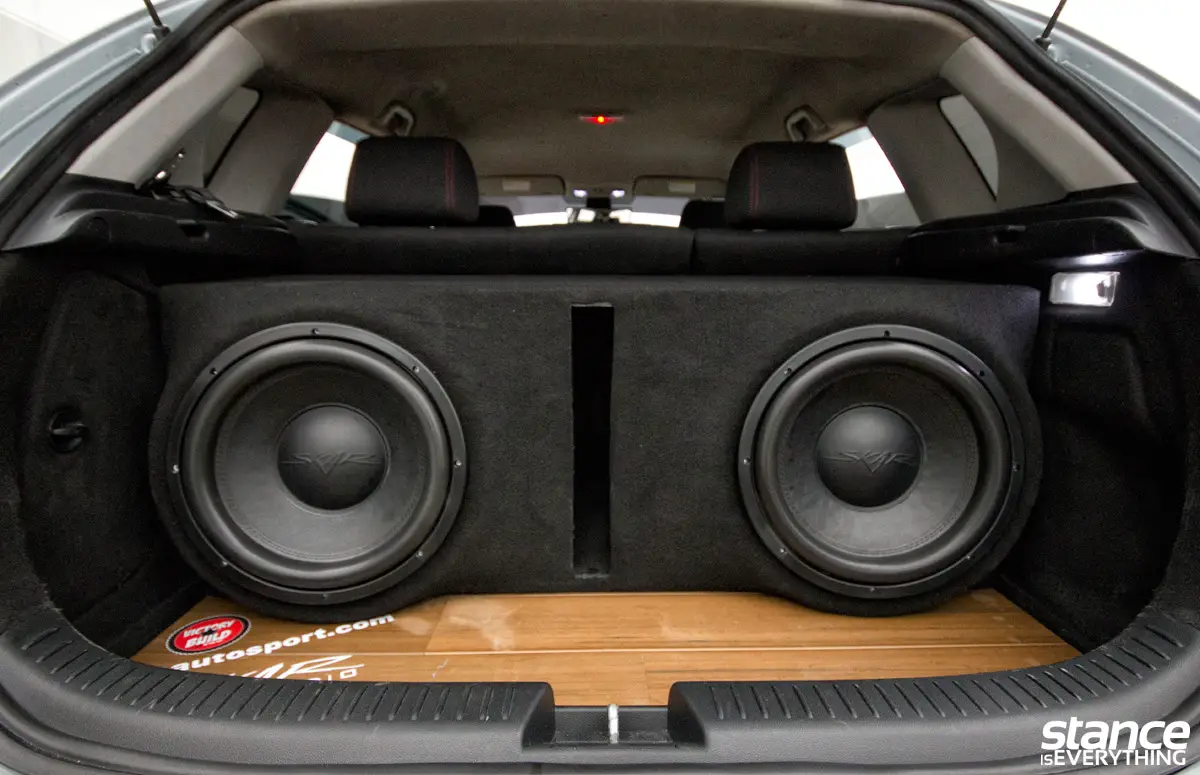 Should Trevor not want to listen to his Turbosmart blow off valve, or Victory Build custom Exhaust, a quick turn of the volume knob on his Sony deck sends sounds pumping through the complete Skar Audio in car entertainment system consisting of Skar Audio 6.5″ components, VVXV2 Subwoofers, and duo of SK800.1 and 80.4 amplifiers.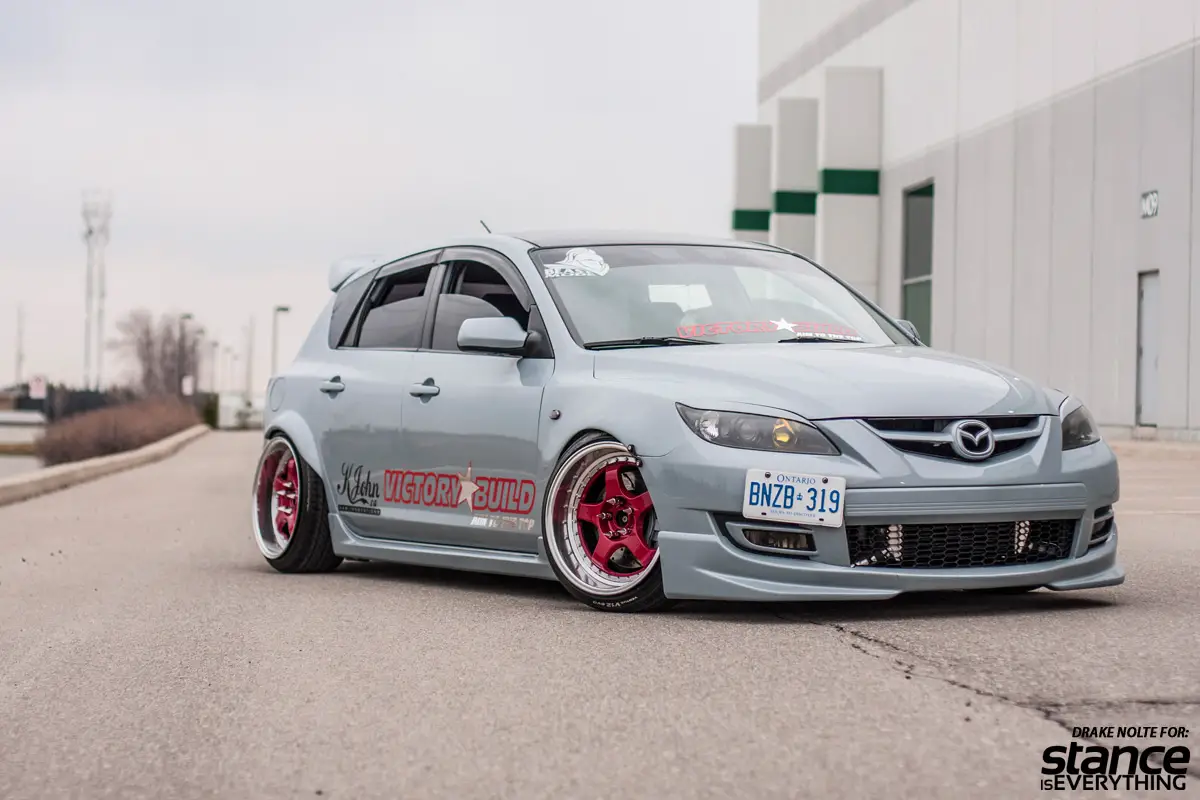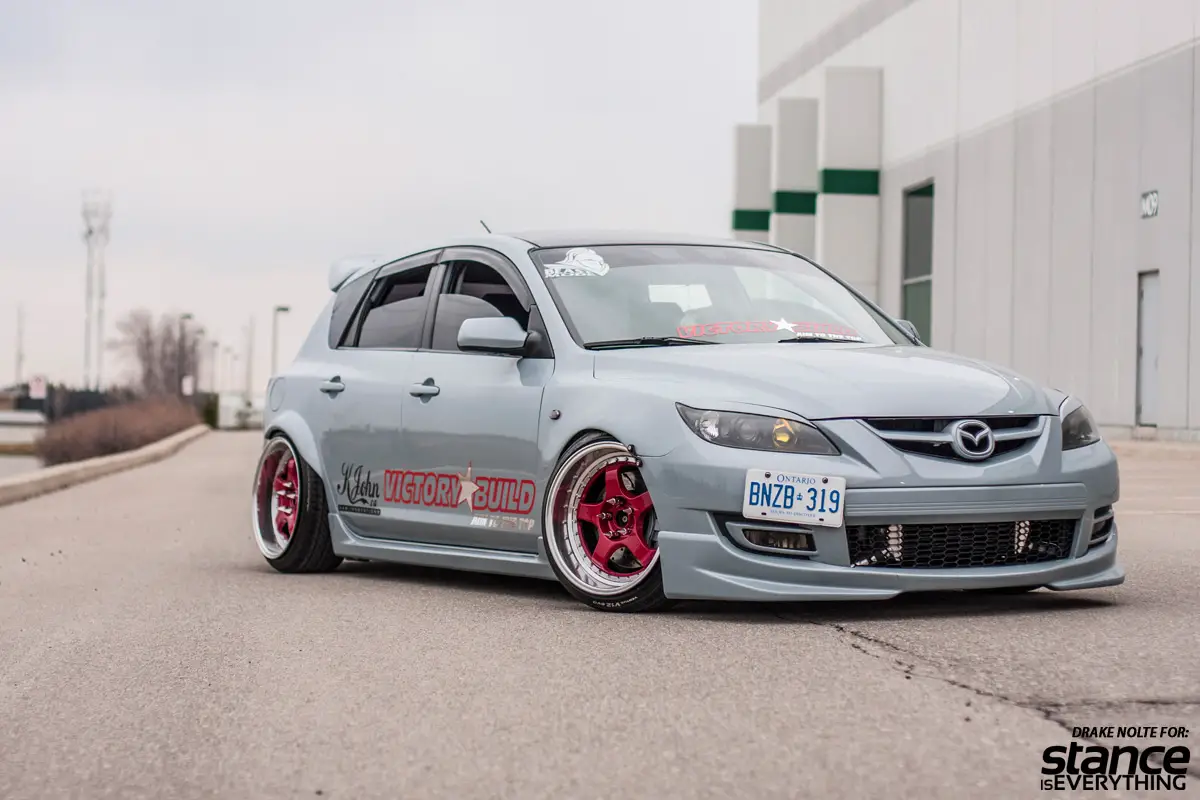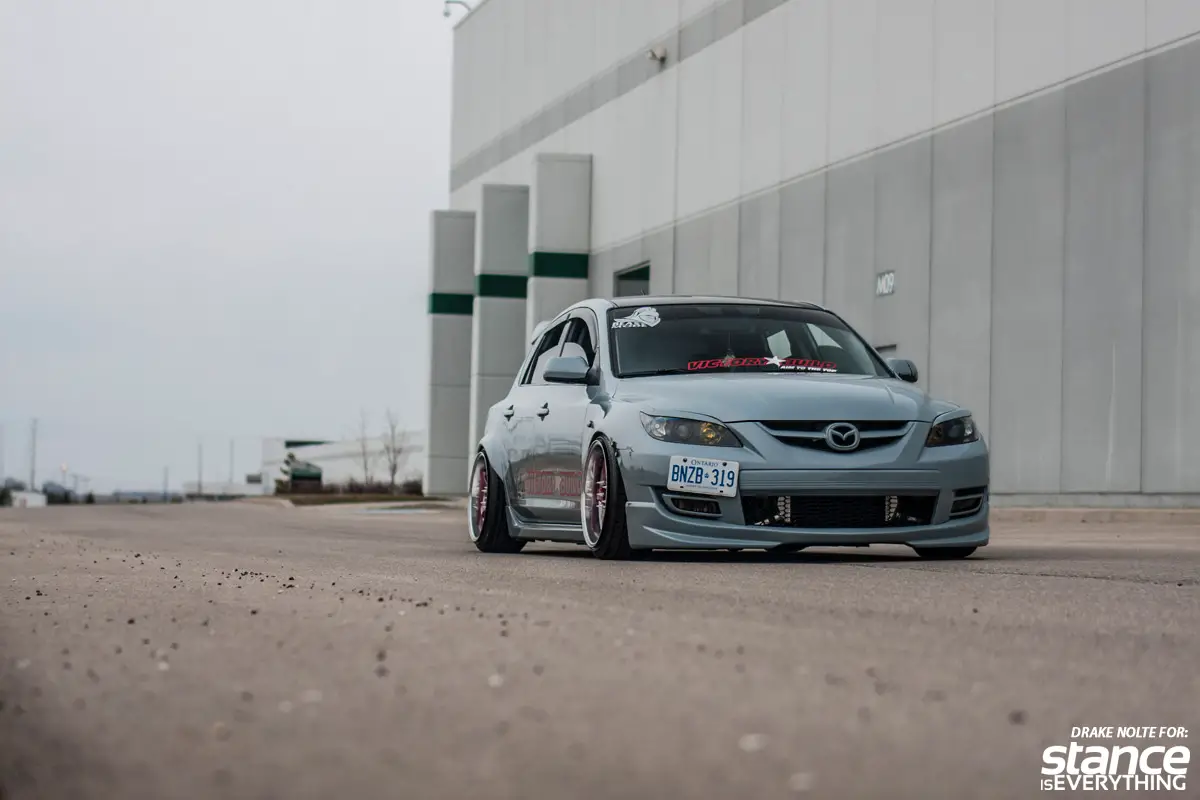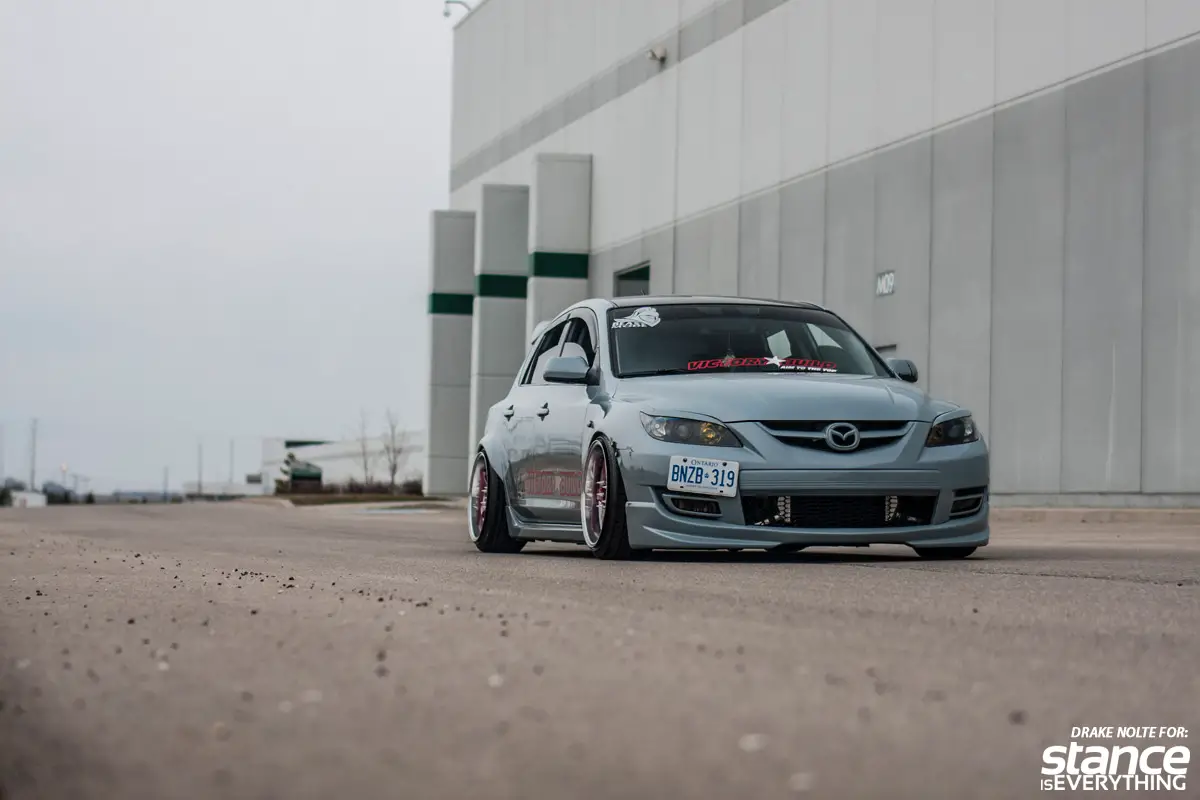 There's a saying that goes "when life gives you lemons paint that shit gold" and while Trevor didn't paint his car gold after his motor gave up the ghost he certainly did make the best of a bad situation by turning his car into an absolutely unique show stopper.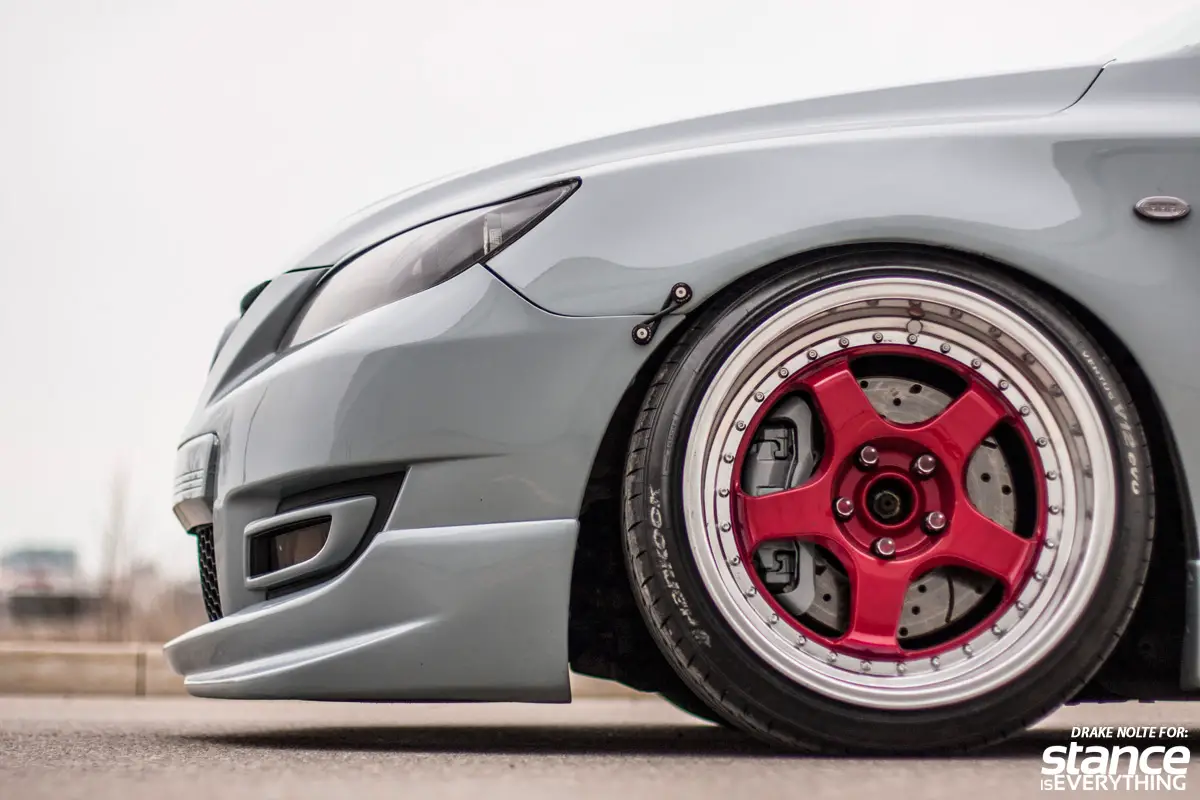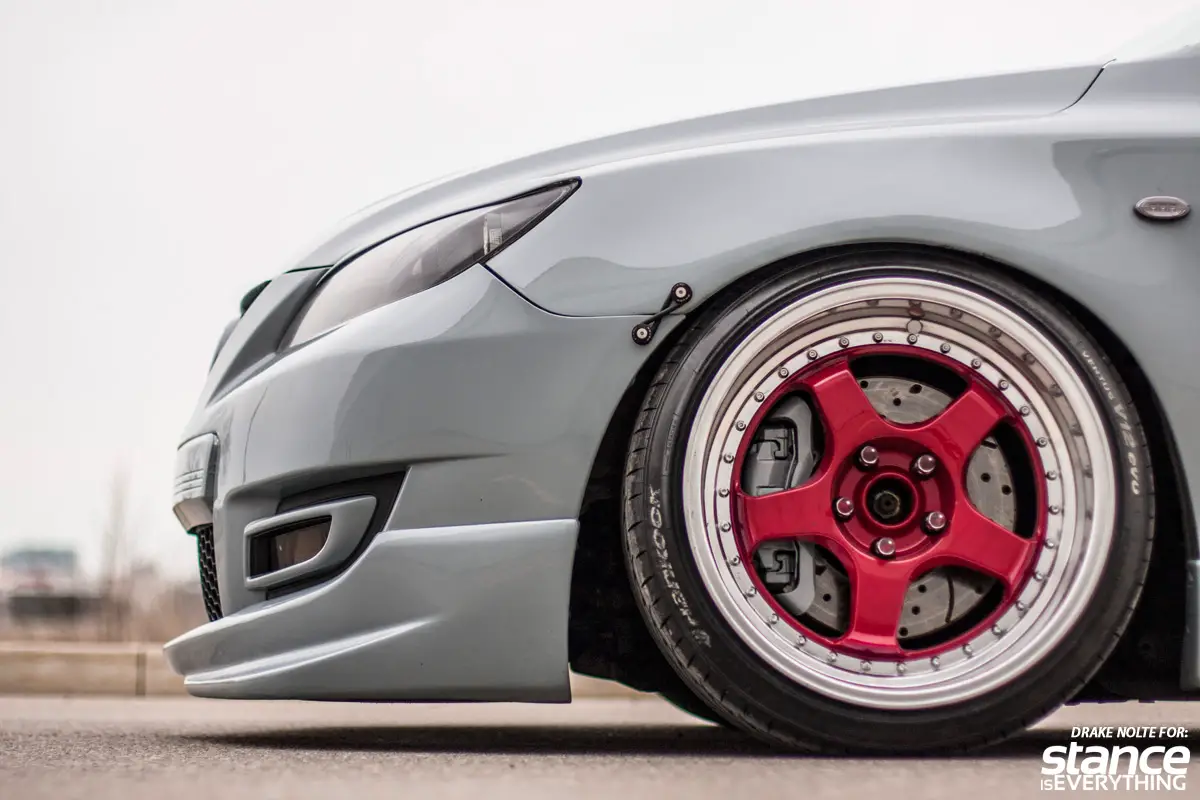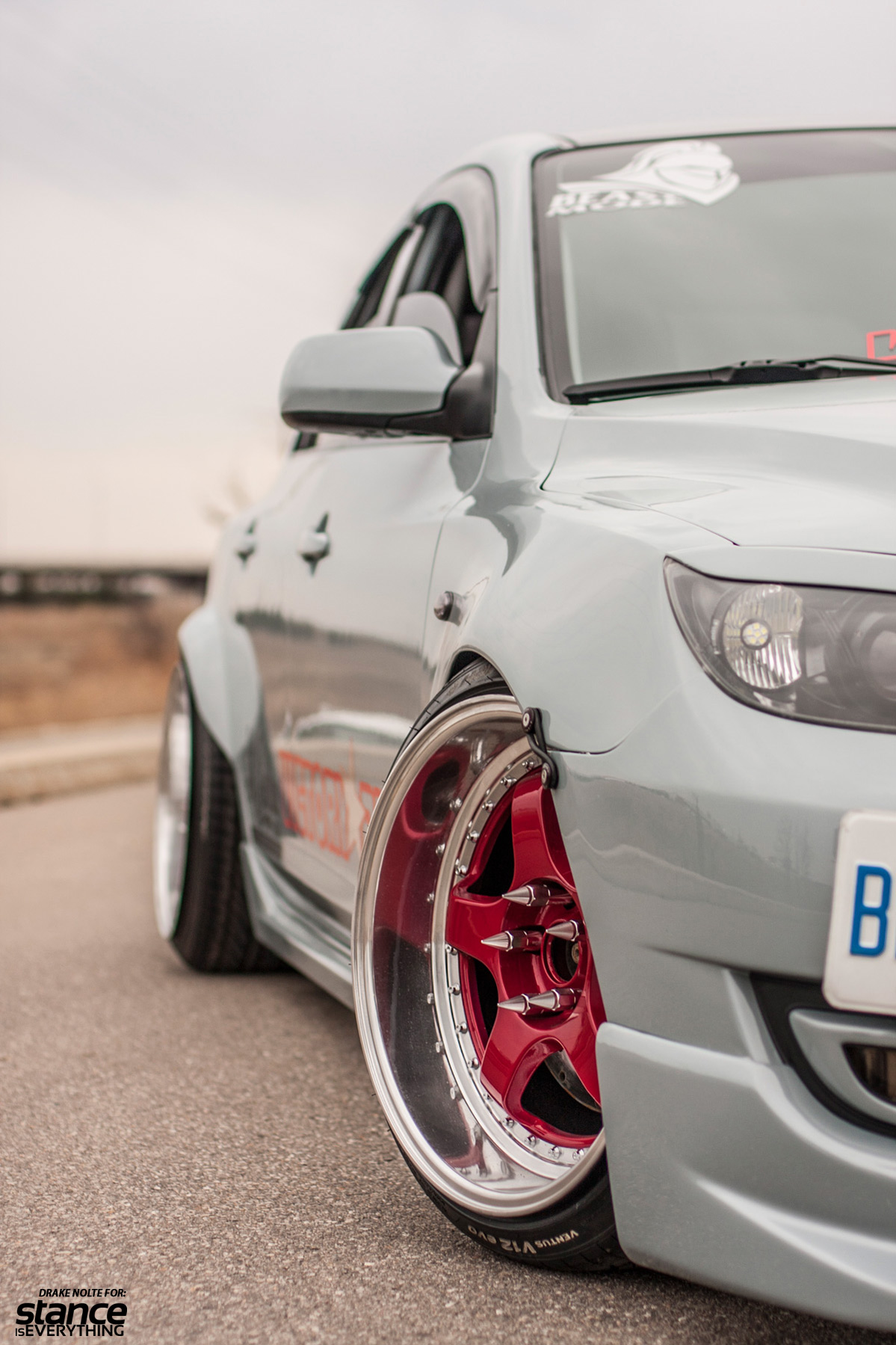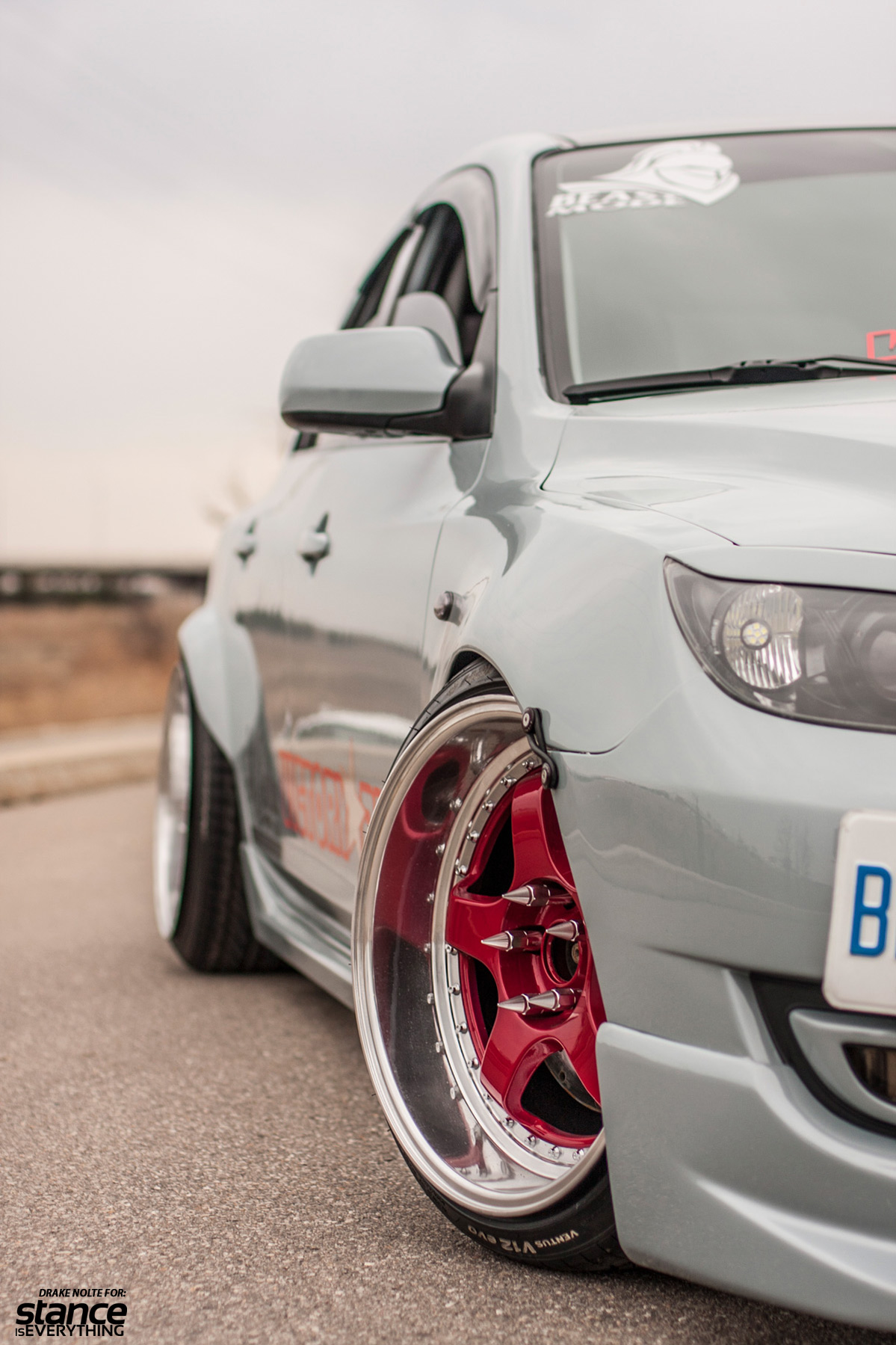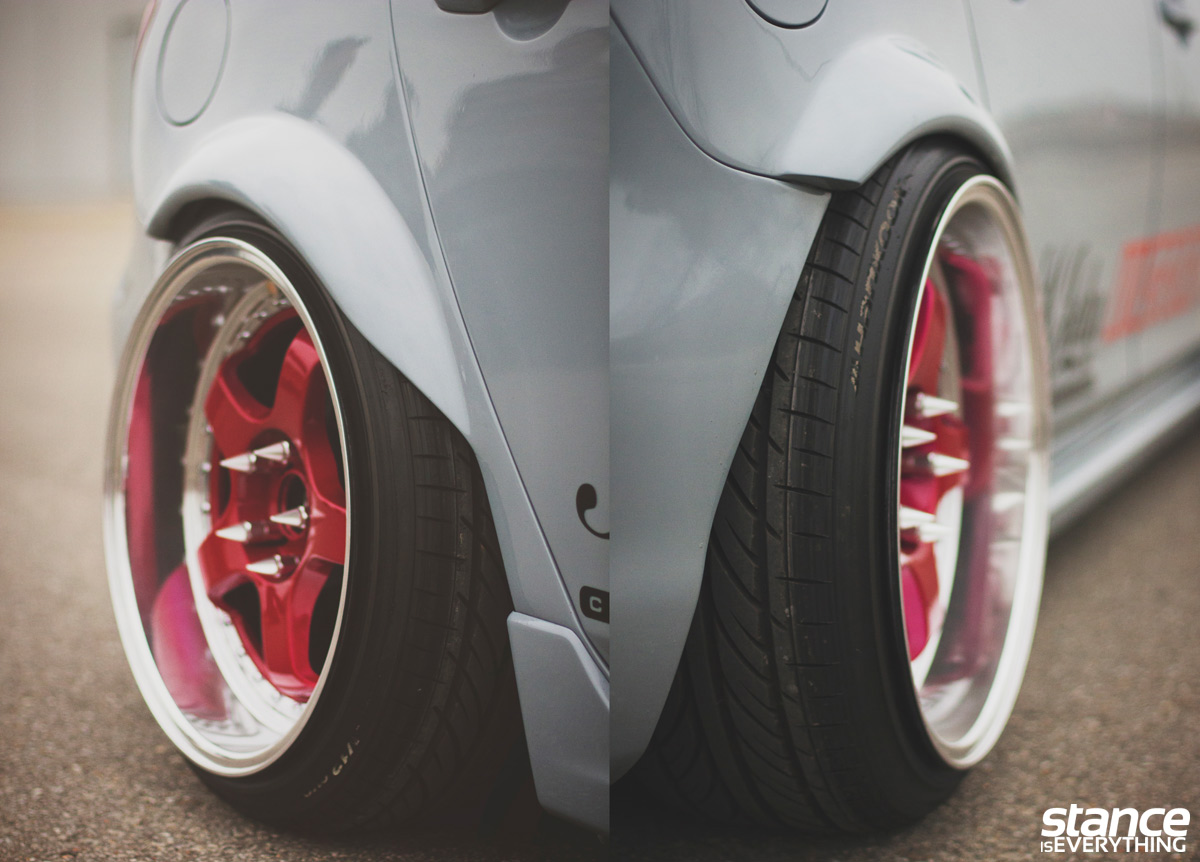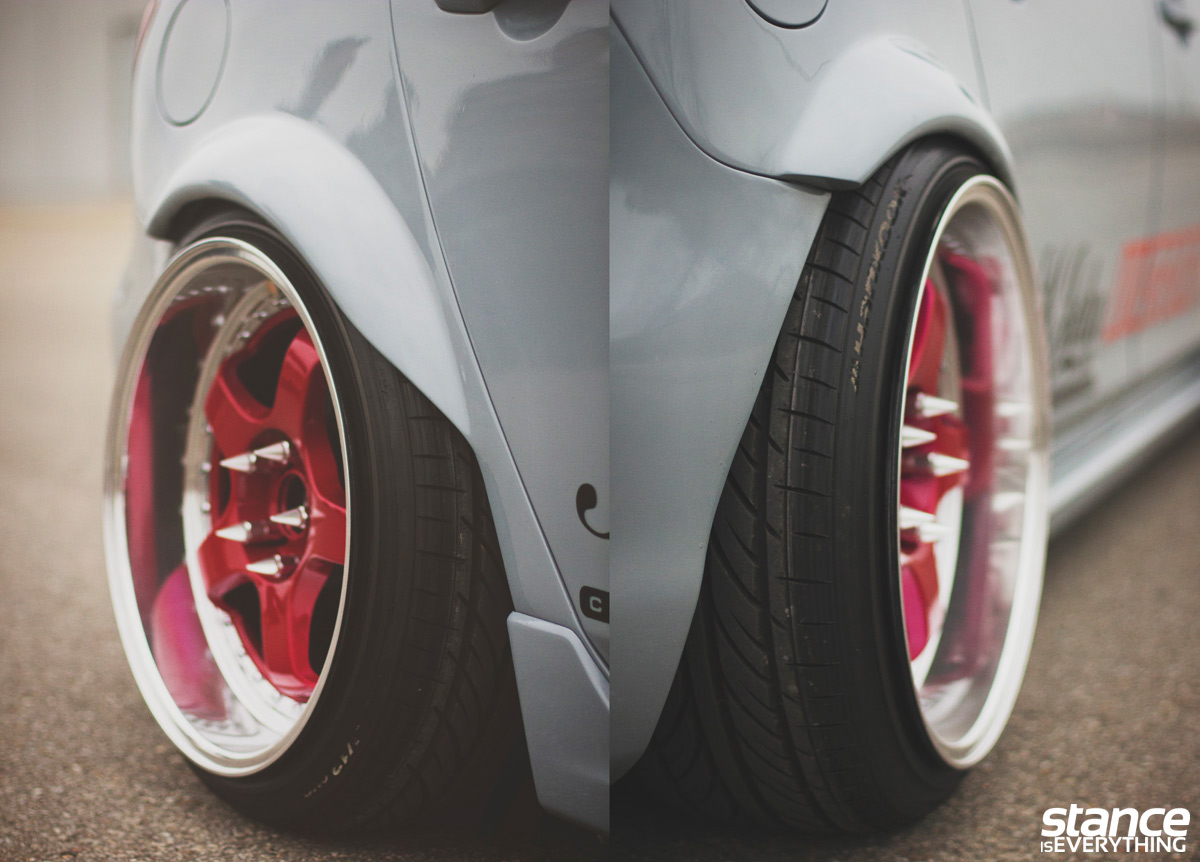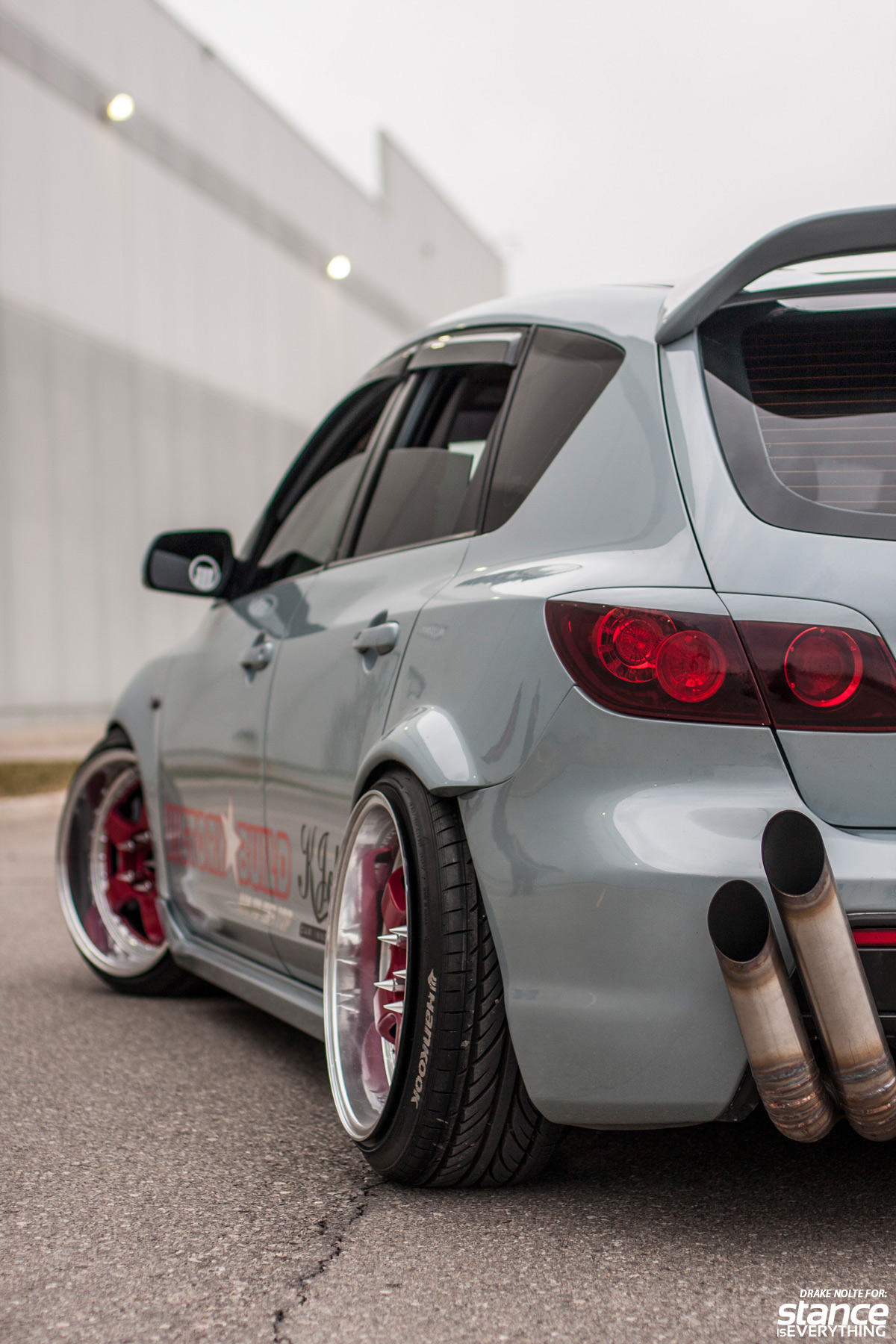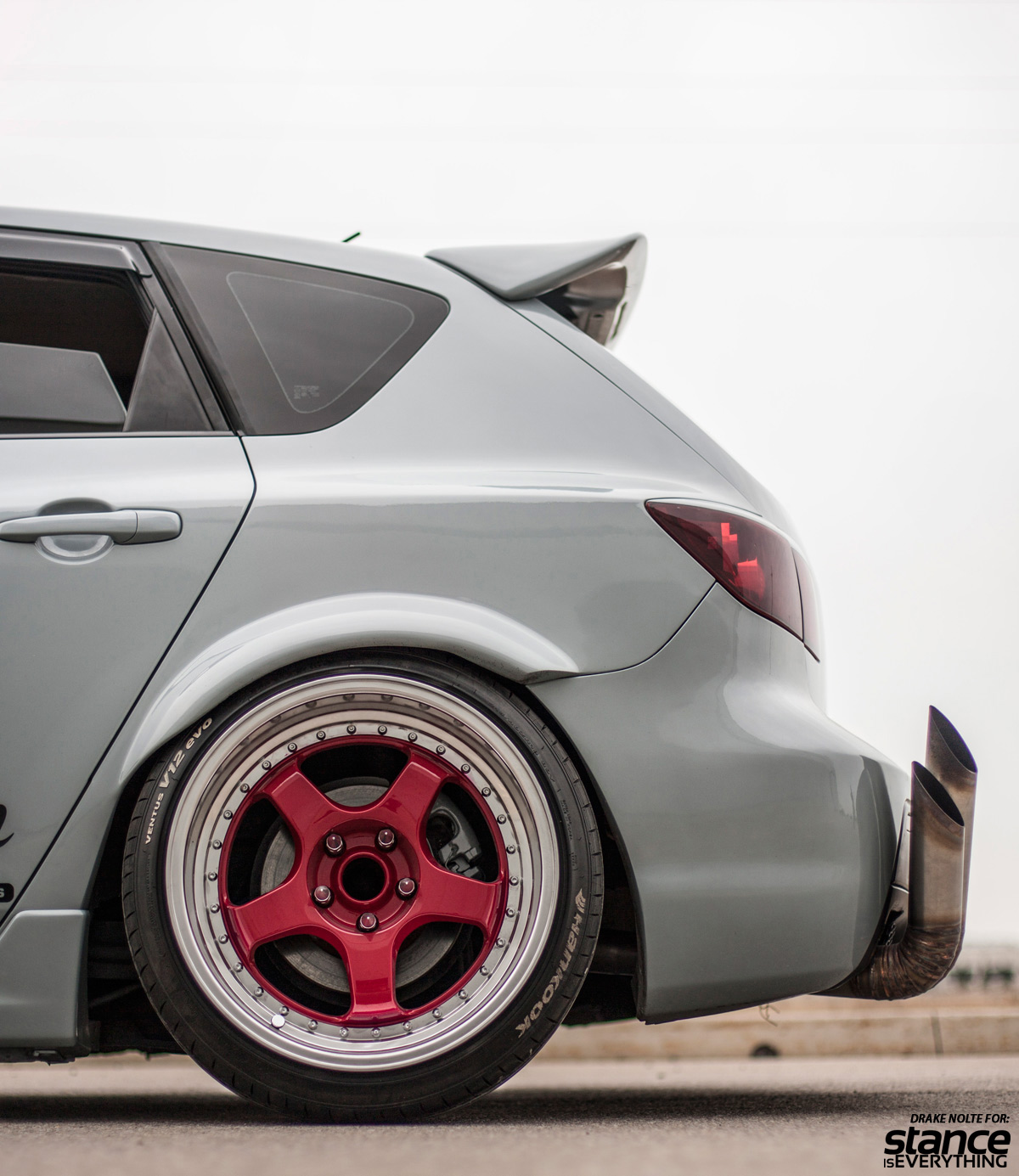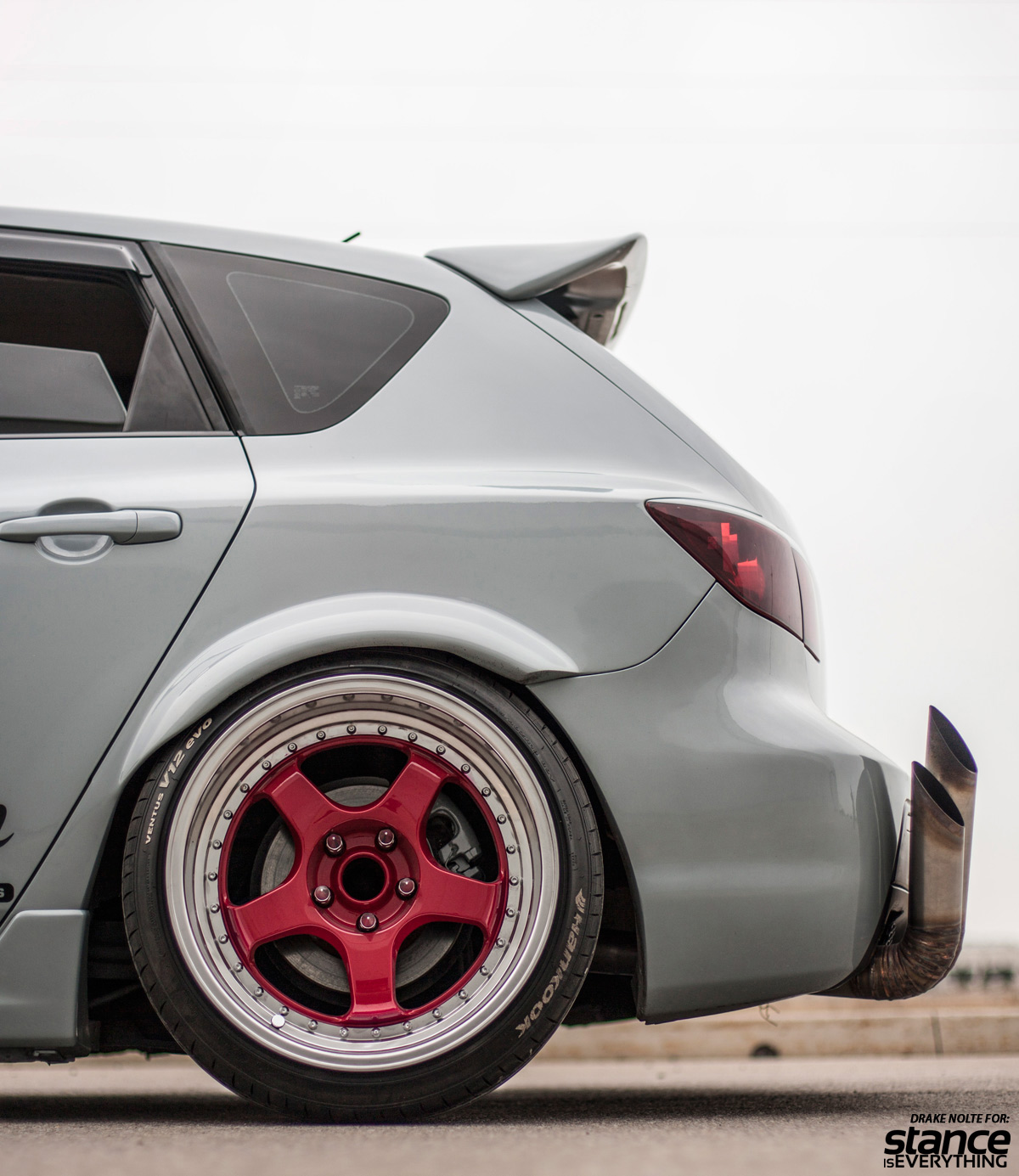 For more photos of this car be sure to check out the sister feature on MazdaFitment.com.
Exterior
Garage Vary Front Lip
Garage Vary Eyelids
Hydro- Dipped Headlights
Custom Paint Color
Custom Wide body
Rear Wiper Delete
Custom Eyelids on Rear Taillights
Red Tinted Taillights
Custom Victory Built Exhaust and Tip
Password JDM Fender Washers
Rear Bumper Reflector Delete
Custom Wing Extension
Wheels/Suspension/Brakes
Konig SSM Rims 18×10 et 15 Painted Candy Apple Red
25mm Spacers in Rear
Standard Suspension (STD) R3 Fully Adjustable Coilovers
Standard Suspension (STD) Camber plates
Vibrant Strut Bar
Whiteline Front And Rear Sway Bars
Modified SPC Camber Arms
Painted Brake Calipers
Cross Drilled and Slotted Rotors
Hawk HPS Brake Pads
Engine
Sure Motorsports Engine Mounts
NRG Catch Can
CNT Downpipe
Ported and Polished Exhaust Manifold
Ported and Polished Intake Manifold
Sure Tig Thermal Intake and Throttle Body Spacers
Autotech Fuel Pump Internals
Sure Injector Seals
ARP Head Studs
Sure Balance Shaft Delete
Forged Block
Sure Motorsports Full 3 inch Intake and Inlet Pipe
EGR Block Off Plate
CX Racing FMIC
Cobb Acessport
APH Tuned
Turbosmart BOV
Group 34 Deka AGM Style Battery
Interior/I.C.E.
Apexi Turbo Timer
Center Console Gauge Pod
AEM Tru Boost Gauge and Controller
AEM Wideband O2 Gauge
AEM Oil Pressure Gauge
Sony XAV64BT Double Din Deck
6.5″ Skar Audio VX165 Components in Front Doors
6.5″ Skar Audio RPX65 Coaxials in Rear Doors
Skar Audio LP-80.4 4 Channel Amp Running Door Speakers
(2) Skar Audio VVXV2 Subwoofers
Skar Audio SK-800.1 Amp Running Subwoofers
Custom Fiberglass / Ported Subwoofer Box
0 Gauge Skar Audio Amp Wiring Kit
Custom Wrapped Door Panels and Pillars
Custom Painted Center Console to Match Rims
NRG Hub and Steering Wheel
Hurst Shift Knob
Sponsors
Kjohn Car Innovations
SOS Autosport
Streetunit
Victory Build Fabrications
Skar Audio
Art In Motion Auto Care
Standard Suspension