Del Sols have always stuck out as interesting little cars, they tease with the look of a mid engine sports coupe while their underpinnings are actually hinged on the ever popular Civic chassis. As a successor to the much loved and ever popular Honda CRX Del Sols never seemed to catch on quite the same, however for every 10 people who look over the Del Sol there is one individual who is willing to put some time and money into this light and nimble chassis, Erich Hachey is one of those individuals.
I first spotted Eric's car at Scrape By The Lake 2009, I am pretty sure it was the only Del Sol at the show and it looked pretty nice sitting in the grass in front of the hotel. The second time I saw Eric's car was at Importfest and even though there were 7 other Del Sols at the show Eric's is the only one I noticed.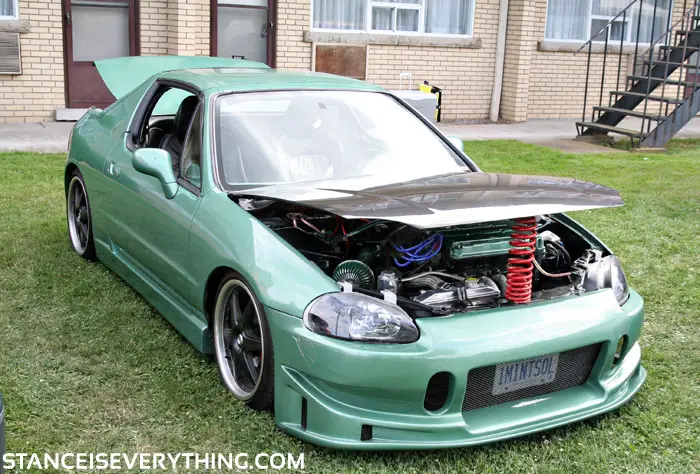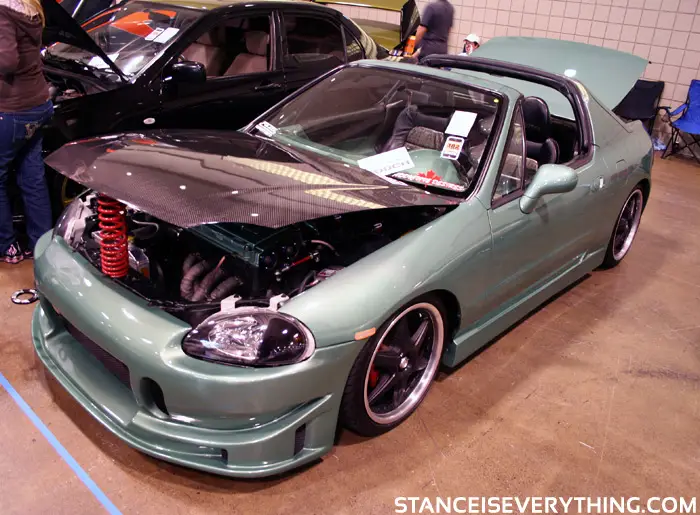 While it was fairly obvious that Eric's Del Sol had some work done to it, it was  not until I joined Pas Nation and Eric contacted my directly that I got to know just how much work he has put into his car.
Eric, a Hamilton native, has been into the turner scene for about eight years shortly after getting his liscense and first car (an 89 Civic) at age 17.  Like many car enthusiasts he has owned quite a few cars since his first and they have all received a few modifications. His current daily, a 2005 turbo Jetta, for example has about 10 grand worth of money into it just to get from point a to point b.
Off all the cars he has had Eric decided to turn his Del Sol into his show piece and while he didn't have any pictures of the car in progress to make this a full feature he did have a few pictures and a lot of info to share about the final product.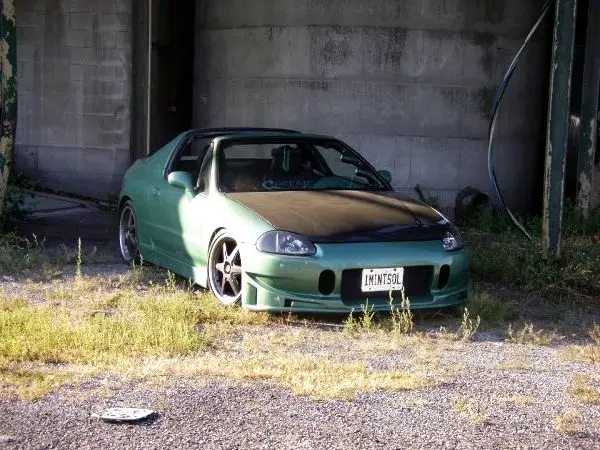 Right out of the gate Eric was not happy with the factory performance of the Del Sol and therefore swapped the factory motor in favor of a 99 Integra GSR motor with a plethora of bolt on modifications including an AEM intake, AEM fuel rail, AEM cam gears, and venom throttle body, a Fluidyne race rad keeps everything cool while a clutch master stage 2 clutch helps put the power to the ground. Finally a DC sports Header and 2.5″ exhaust was then installed to let everyone know when Eric feels like getting well acquainted with the speed limits here in Ontario.
To balance out show and go Eric spent a great deal of time and care shaving the emblems, wing, antenna, rear license plate and third brake light off of the body. He also sourced out and modified a Buddy Club Body kit and mixed 1950 Ford green with HOK flake to create the unique mint green color his Honda now wears.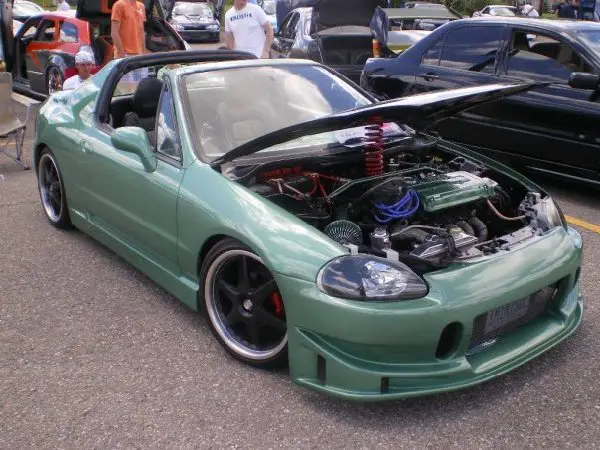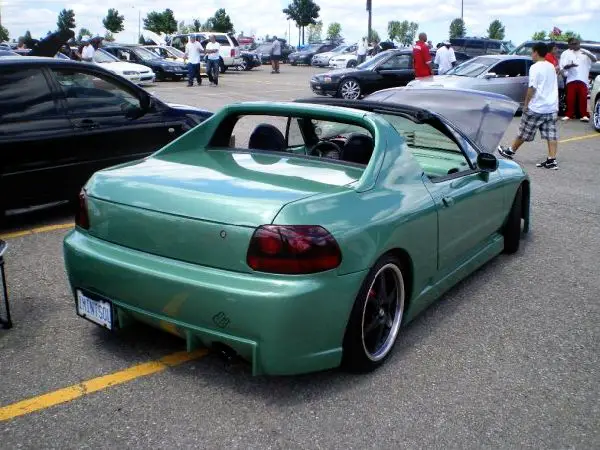 Eric knew that the stock stereo wouldn't cut it on the show scene so he replaced the stock deck 7″ pioneer head unit, the stock speakers with Zapco components, and added some thump in the trunk with 2 OZ audio subs and installed some 2 Kenwood amps and a capacitor to power it all. As a final I.C.E. touch and a throw back to his 80s roots a 15″ tv was added with a classic Nintendo Entertainment system.
While the interior of the car was out for the I.C.E. install the door panels were replaced with custom fiber glass versions and the seats were wrapped in black leather and alligator skin. For the icing on the cake interior wise Eric replaced the factory shift knob with a Coors light beer tap.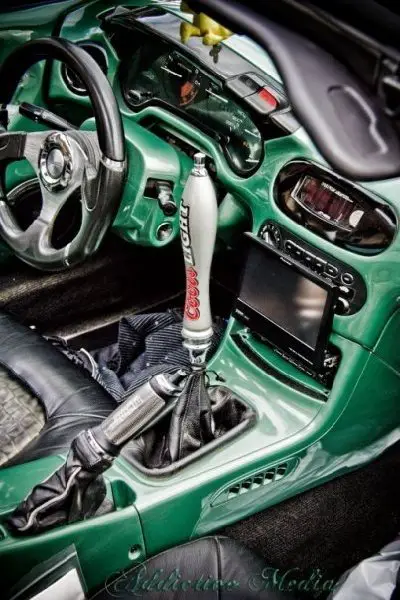 Last but not least around here the stance was brought down via Nuespeed springs and Koni shocks while the rolling stock is 17 MSR wheels painted black.
While the Del Sol might not be a popular platform among the stance crowd I think that Eric's unique sense of style and tasteful modifications help remind us that this platform does have a lot of potential and in the right hands (and not these hands) can become something worth taking a second look at.
Thanks to Eric for contacting me regarding the mini feature and being the first featured ride of 09.