About a month ago I received an email from Basit from Importfest asking if I would be interested in dropping by a Performance Auto And Sound cover shoot later that evening.
While the timing wasn't perfect there was no way I was going to  pass up an opportunity like this in the name of sleep so 11pm that evening I made my way back down town to a location that oddly enough I can see from my desk at work.
While the email Basit sent informed me that Harvin's Amuse kitted, twin turbo, 370 was the subject of the shoot Basit made no mention that the car had changed significantly since the last time I saw it.
The familar car white and teal car I was expecting to see now looked completely different wrapped in matte blue pearl vinyl and sitting on dark Vossen CV2 wheels.
Worlds away than it's previous look but a significant improvement to a car that I previously thought didn't need improving upon.
After recovering from the shock of  the 370's new look I said my hellos to all of the people present; Rich and Q the production editor and creative director from PAS, Angelo from Focus Films, Harvin the owner, Basit of course, and famous local rig shot photographer Ste Ho.
Ste is one of the top automotive photographers in the area  and the person you will see in most of the photos (that's Angelo up above not Ste) so I was stoked he was cool with me having a peak behind the curtain, so to speak, at his process.
I wasted no time getting my gear out though I was a little disappointed in myself for forgetting my tripod.
Once all of the preliminary shots were taken Ste began to pulling piece, after piece, of aluminium out of his car and eventually this mass of piping and suction cups came together to assemble the biggest photography rig I had ever seen.
Rig's don't exactly put themselves together, and it was damn hot in the parking garage, but Ste didn't complain once.
In fact throughout the entire four hours or so I was present for the shoot Ste was fairly quiet and remained focused on the task at hand, diligently working to get the best shots possible.
The rig ended up having to be configured twice, the long configuration above was used for the front shots while a shorter configuration was used for the rear of the car.
The location within the garage chosen for the shots was a ramp going from one level to another, and judging by the final cover I would guess this area was chosen for it's simplicity and ease to manipulate.
After each round of shots Rich, Q, and Ste consulted on if adjustments needed to be made to the rig and which angles would be candidates for the final product.
At around 2am the shooting had come to a close and plans were made to pick up where they left off tomorrow at Automatrix to get interior and detail shots of the car.
A comparison of one of the shots from the shoot, and the final cover is below: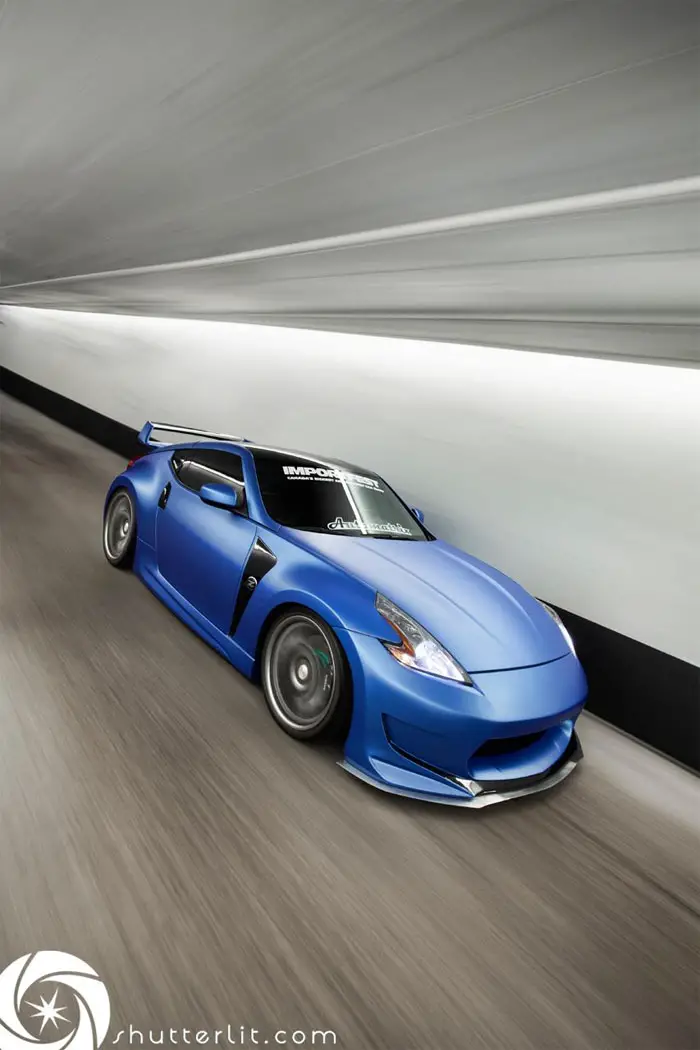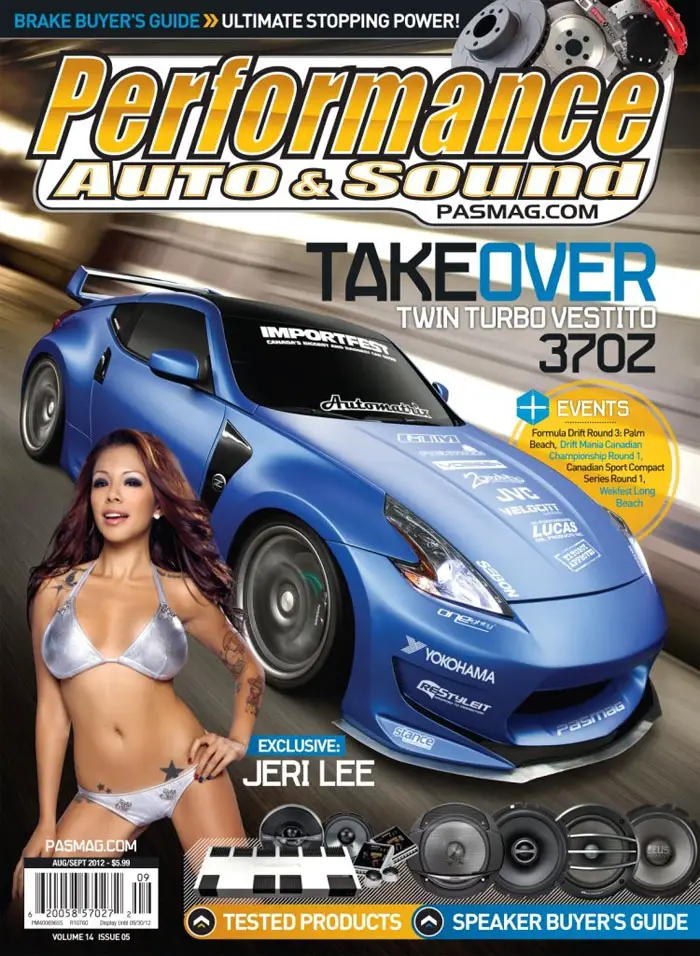 Thanks to PAS Ste, Harvin, Basit, and Angelo for having me out.
You can read about this car in the next issue of Performance Auto and Sound which should be in stores next week and see it at Importfest exactly a month from now on August 25th.