To me a great drift event shares a lot of similarities with a great BMX event. Parts get destroyed, knuckles get bruised as frantic repairs are made, women get heckled (and men get heckled right back), there's a guy with dreads (sometimes named Grant) rapping in the corner, more than 70% of the crowd is cheering for the hometown hero and you get a chance to catch up with friends you may only see once a year
All of the above combined with incredible driving are what make DMCC events at Mosport so damn enjoyable and truly make me wish there were more stops out this way.
For 2012 DMCC switched things up by running the course in an entirely differently than how it was run in 2010 and the new configuration seemed to be just as challenge as the last with the course hungry to take out wheels, suspension components and body parts.
Today's coverage runs through the list of qualifiers I was able to capture in order.
'Magic' Mike Pollard – DNQ
Sometime during practice Mike Pollards steering rack gave up the ghost so he took one from another 240 in the parking lot in order to compete. Unfortunately in his first run he mangled a Work VS-XX wheel and reportedly took out his sub frame ending his day.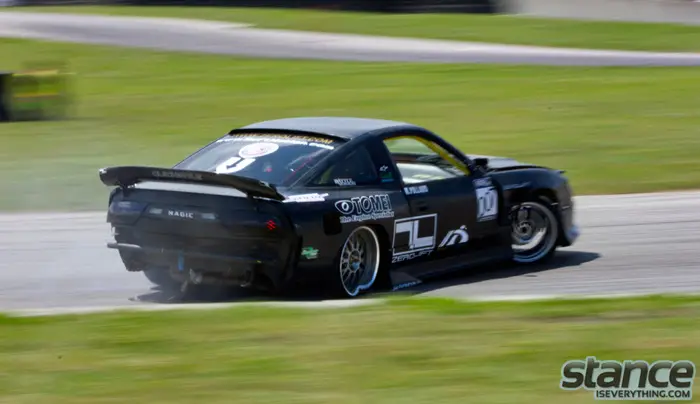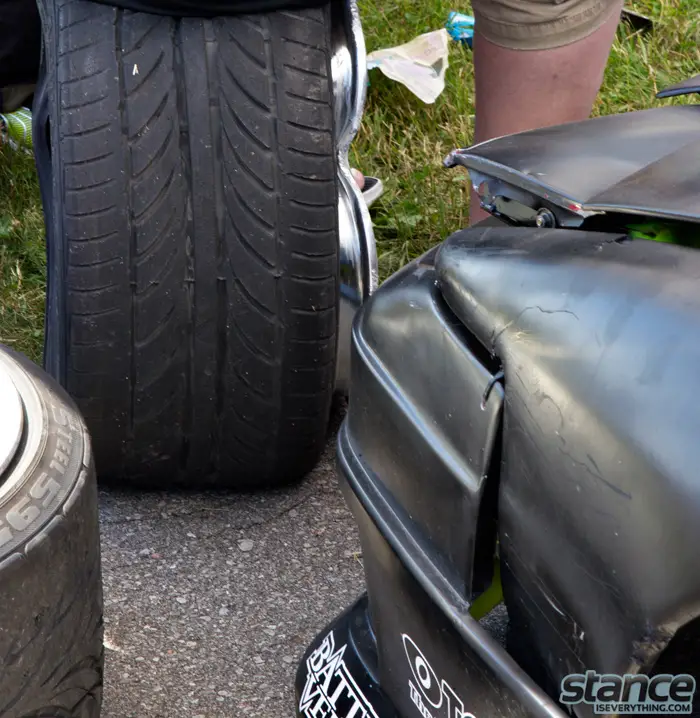 Brad Paauw – 15th place qualifier
As mentioned in yesterdays coverage Brad runs in both CSCS and DMCC and here he was able to qualify 15th.

Eric Paradis – 14th place qualifier
About mid day I uploaded a photo to the fanpage of Eric's convertible LS1 powered 240 on the fan page and Eric drove well enough to grab 14th spot in qualifiers.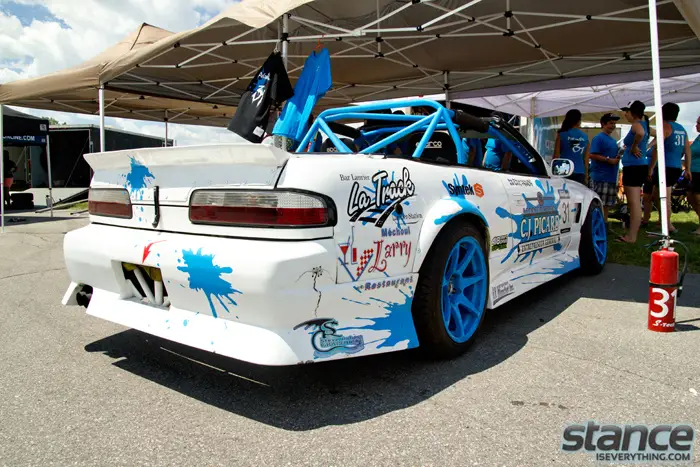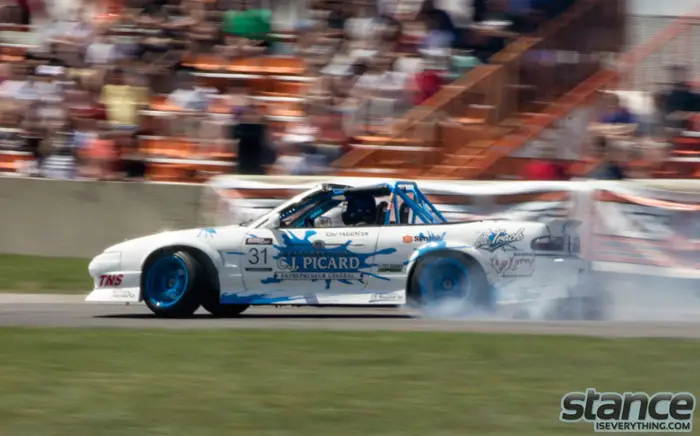 Claude Poirier – 13th place qualifier
Claude I remember from DMCC 2010 because his car had Cheetah livery that made me think of Ben Jonson every time he came down the hill with his super loud LS powered 350.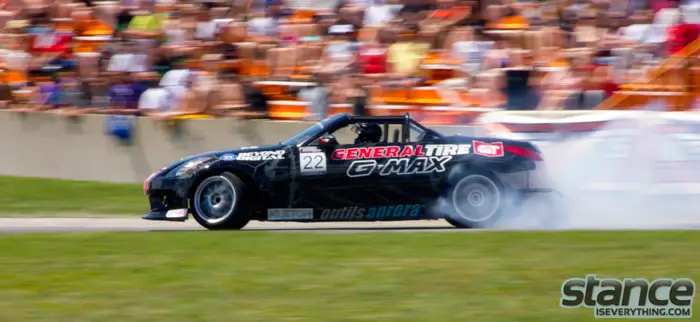 Alex Gosselin – 12th place qualifier
I beleive Alex managed to hold onto all his body panels and wheels through qualifying which wasn't an easy task.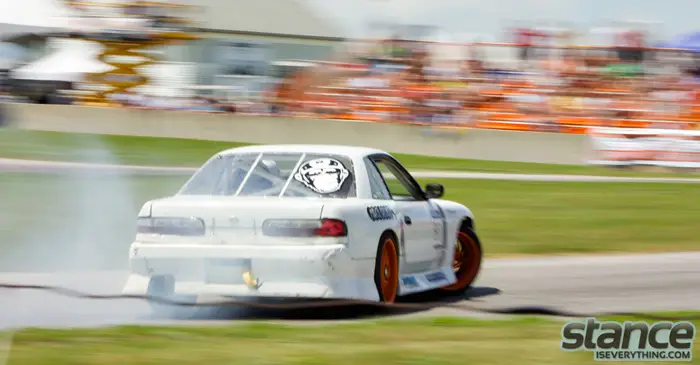 Danny Bernier – 11th place qualifier
Another LSX powered car Danny really put on a smoke show any time he was on the course.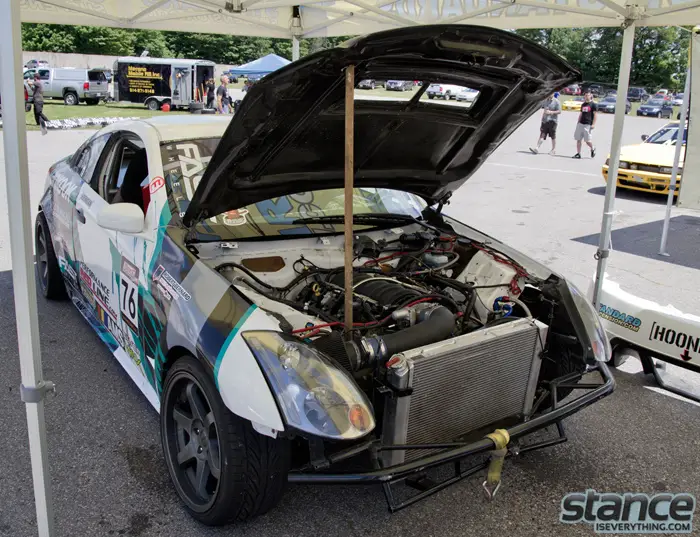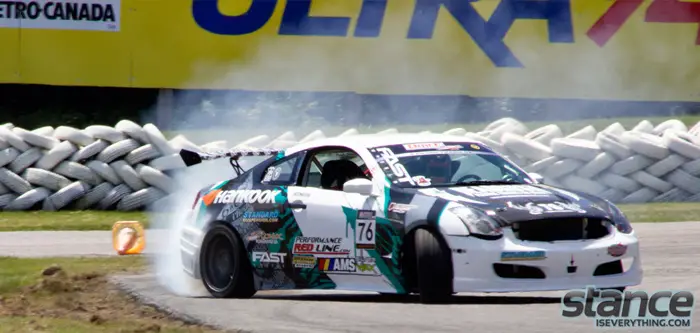 Dave Briggs – 10th place qualifier
Though he might have had a few issues with entry speed Dave Briggs (in the tandem battles) Dave was super consistent and competitive all day and had quite a few good battles with Peter Chrisikopoulos.

Tomy Boivert Bellemare 9th place qualifier
Tomy qualified 9th managing to truck his way through a crazy 3 wheel drift on one of the last corners of the course.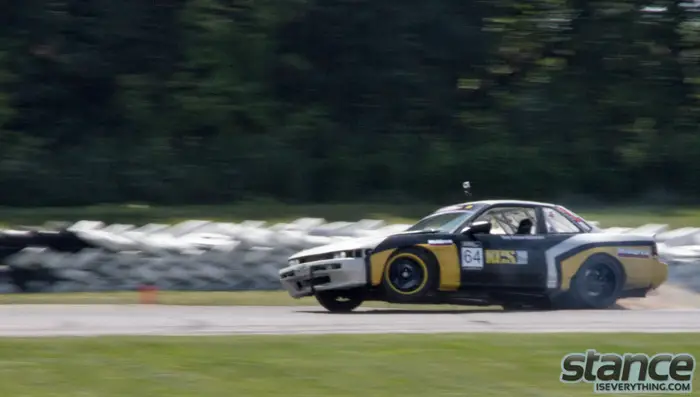 Brad Carlton – 8th place qualifier
It's been awhile since I've seen Brad drive but he looked really good out there in his now LS powered 240 and qualified 8th joining the other two drift posse drivers in the finals.

Peter Chrisikopoulos – 7th
You might remember this Neo Motorsport sponsored car from the Squeaky Clean 'Coffee' coverage. Every entry by Peter was followed by a ridiculous amount of smoke.
Shout out to the announcer for making it through his last name every time too.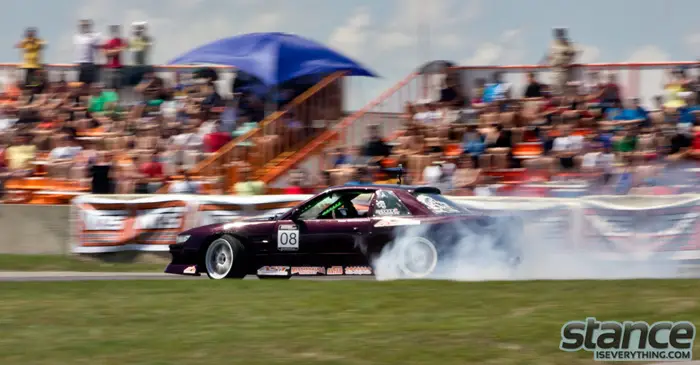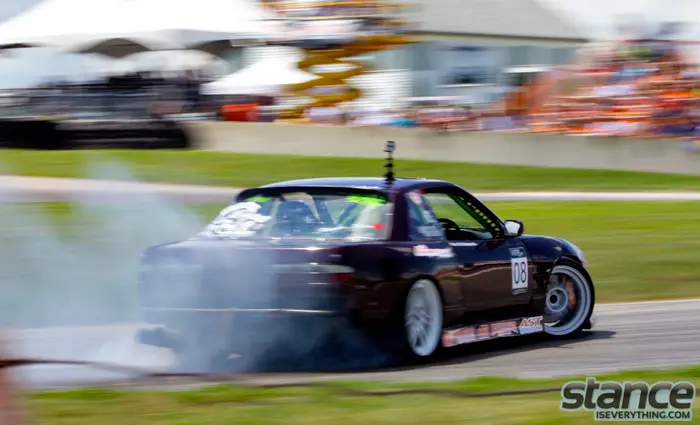 Joe Thiffault – 6th place qualifier
Joe also had a bit of an off course run in during his second run that wrecked his wheel pretty gruesome but his first run was good enough for 6th and he had the car repaired and ready for the tandem battles.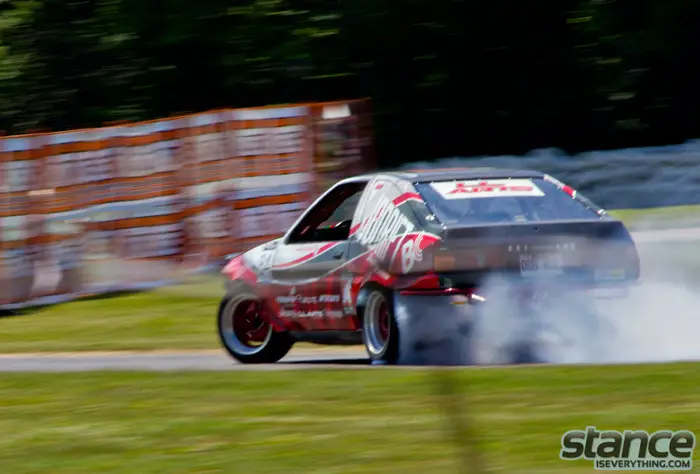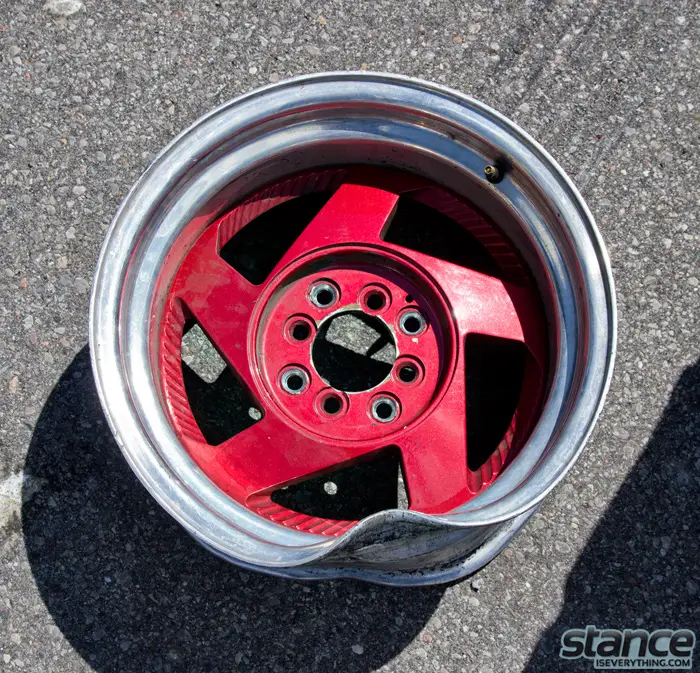 Bob Patinka – 5th place qualifier
Another name I remember from 2010 Bob made it past qualifying to put up a fight in finals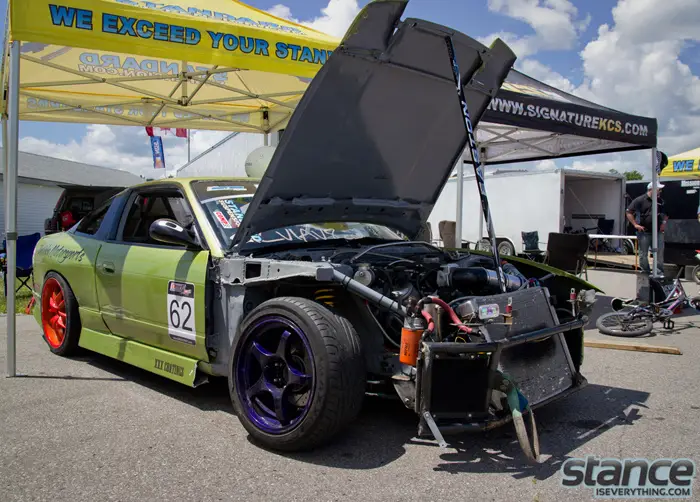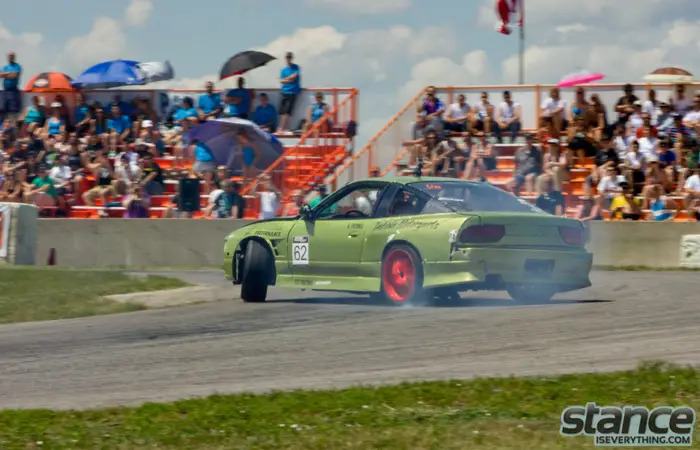 Alex Michaud – 4th place qualifier
Alex piolited his damn near blinding yellow s13 to 4th in qualifying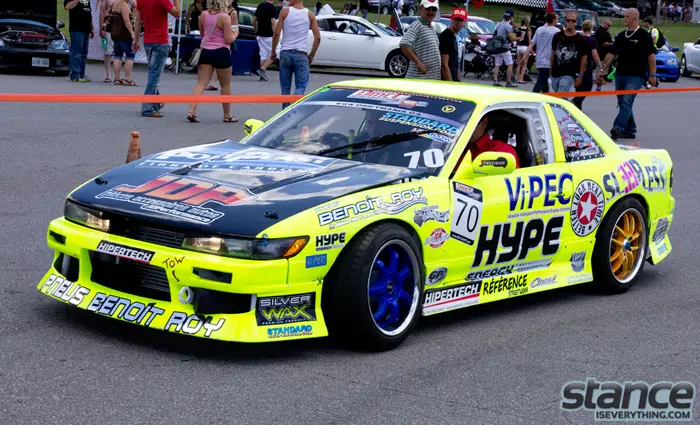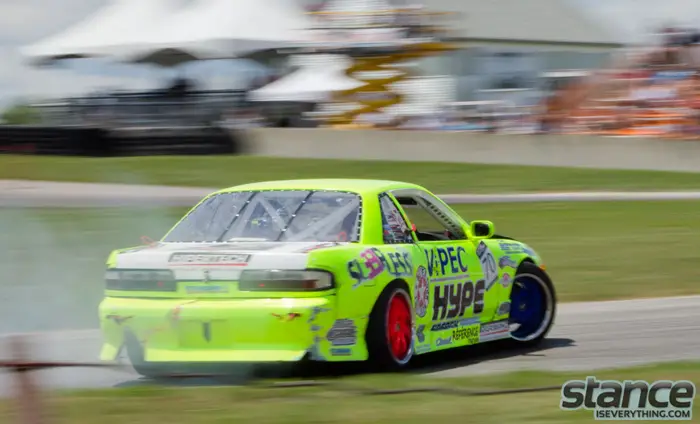 Francis Tasse – 3rd place qualifier
"Hollywood" drove his way to third behind evil clown eyes.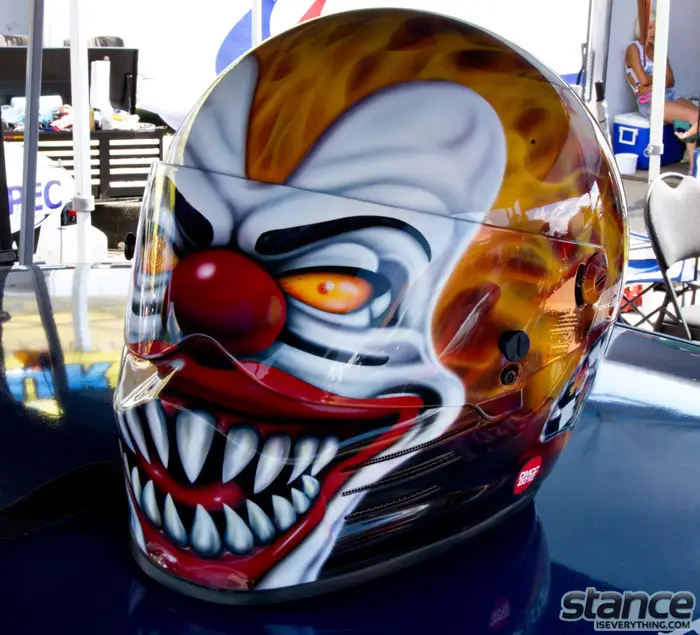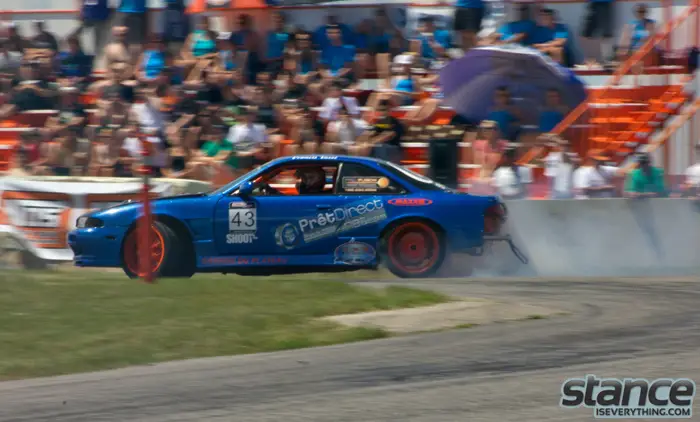 Pat Cyr – 2nd place qualifier
I spent a lot of time in the Drift Posse area before things got started talking to Brad, Curtis, Dan, and of course Pat himself.
I'm excited to see him in a FR-S next year but I will be sad to see his current car retired.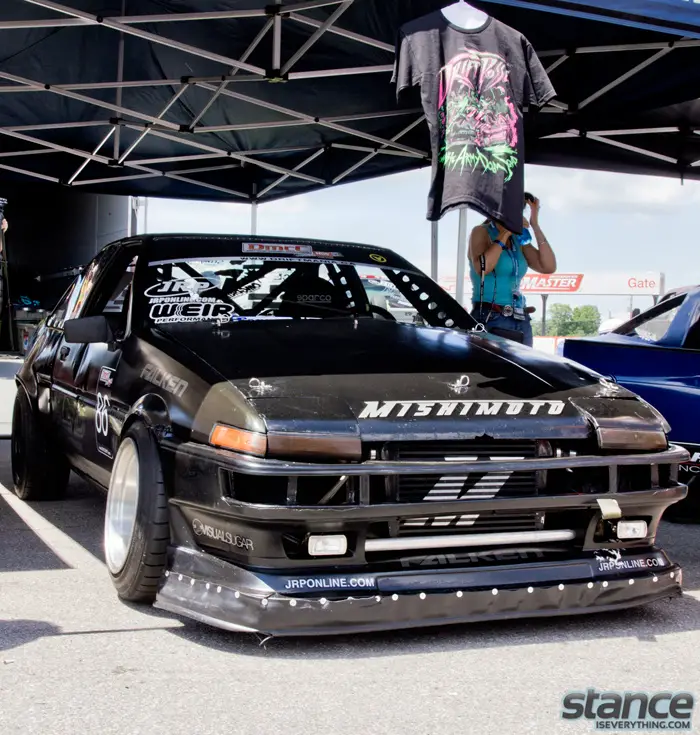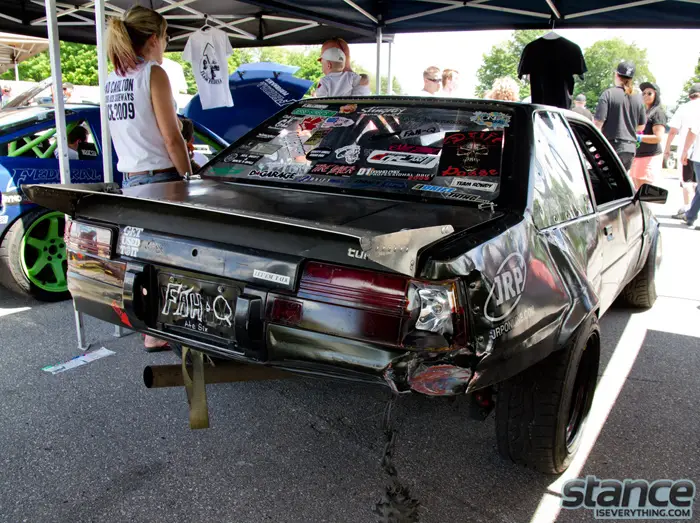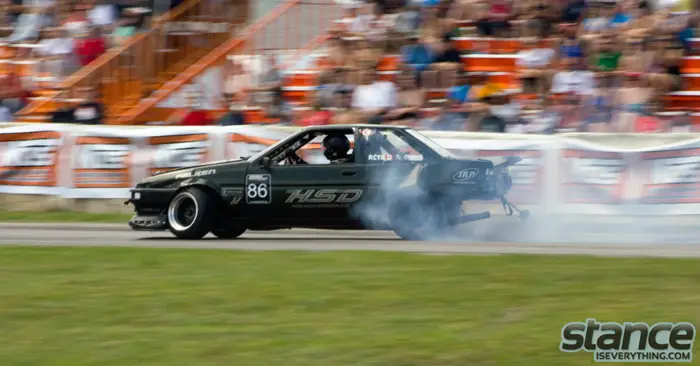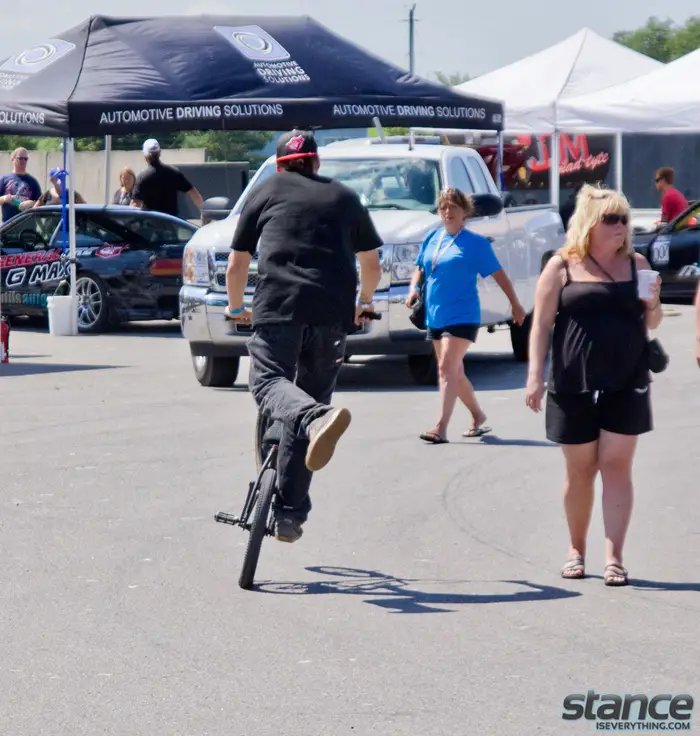 Marc Landreville – 1st place qualifier
Marc Landerville who won the 2010 Mosport DMCC stop qualified first and was looking to carry that momentum into the finals.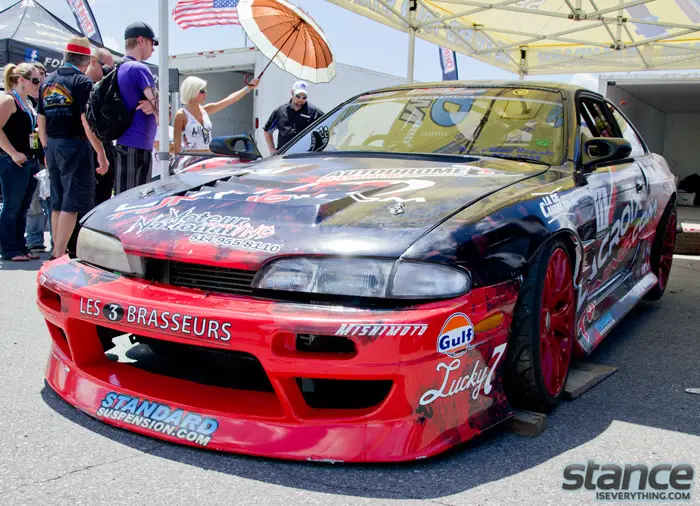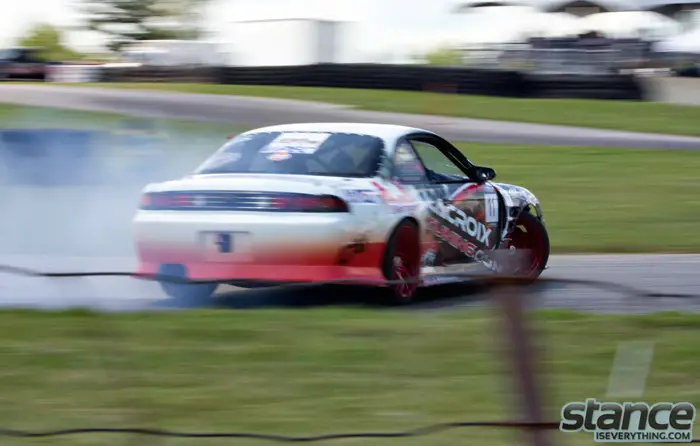 Stay tuned for more DMCC coverage to come this week.