When I first started this site in 2009 the thought never occurred to me that I would have the opportunity to hand pick cars for a Stance Is Everything designated area at one of the largest aftermarket automotive shows in Canada.
After an enjoyable, and successful, showing in 2012 I approached the Importfest organizers early in the year to secure six spots for 2013.
For 2013 I was proud and lucky enough to have Blair (B8 A4), Shayan (B6 A4), Ryan (MK4 TDI), Luke ('61 Beetle), and Tyler (LS GMC Syclone) represent SIE alongside myself at Importfest.
Today's post serves double duty as a show of my appreciation and a dedicated look at each of their cars via photos I've found online along with a few of my own.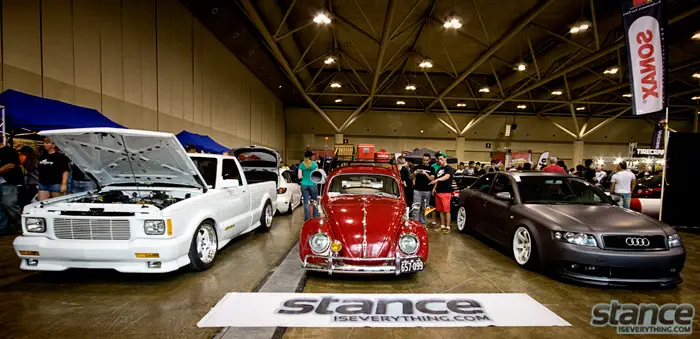 Blair's Audi B8 A4
Blair was actually the first person I asked to show again and the last person to actually sign up due to a very busy year with Taylor'd Customs.
Last year Blair represented the classic segment of the booth with his '57 3200 but this year he switched things up and brought his daily driver.His daily just so happens to be an Air Lift Performance bagged B8 A4 tucking 20″ Vossen CV2 wheels.
It's a simple effective combo that makes you wonder why exactly Audi made the wheel wells on the B8 large enough to swallow 20s.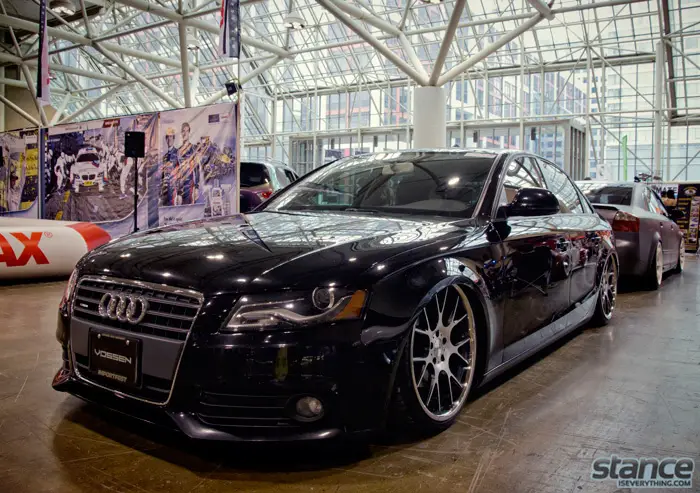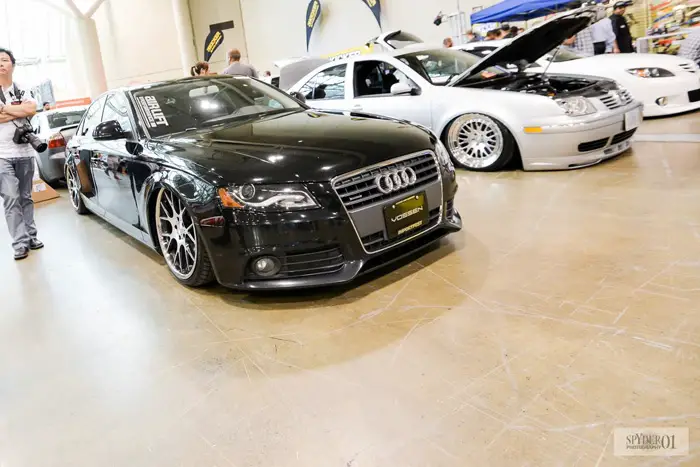 Shayan's B6 A4
Shayan's car is actually the first of my wife Lyndsey's two picks for 2013. She's been a big fan of it since he put the vinyl wrap on and I've taken quite a few photos of it over the years so it seemed quite fitting to have him on board.
His car was the only one that several people seemed to think was bagged when it's actually static. It was pretty funny seeing the reaction on the faces of some when they learned that –unlike several others– he didn't lower his car specifically for (or at) the show.
He drives it exactly how you see it.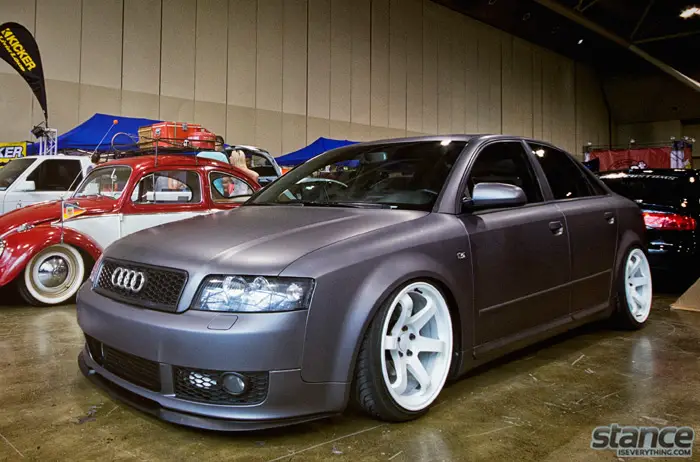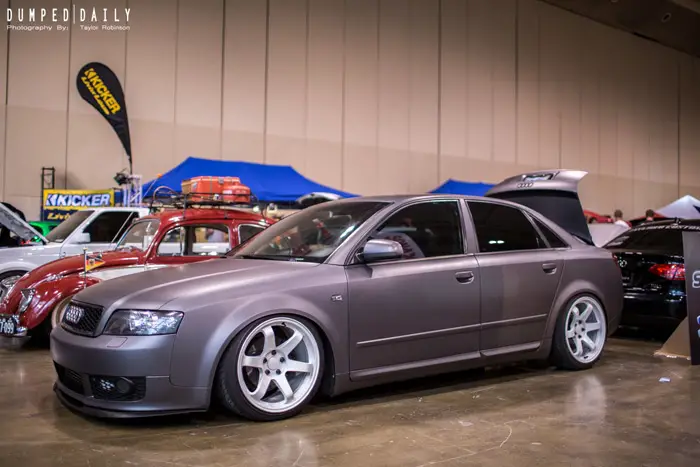 My 2004 Mazda 3
Last year my car was fortunate enough to make it into the show due to a friend backing out a week beforehand. This year I actually entered it ahead of time and did my best to make sure that it not only represented the site well but Air Lift Performance as well.
After hemming and hawing about what to do with my hatch fate intervened when I found a piece of glass perfectly sized for a tank window while out walking my dog. A few nights with a jigsaw and I was pretty happy with the final result. The judges must have also liked it because I managed to walk away with the cars first award, a second place in the Mazda 3 category.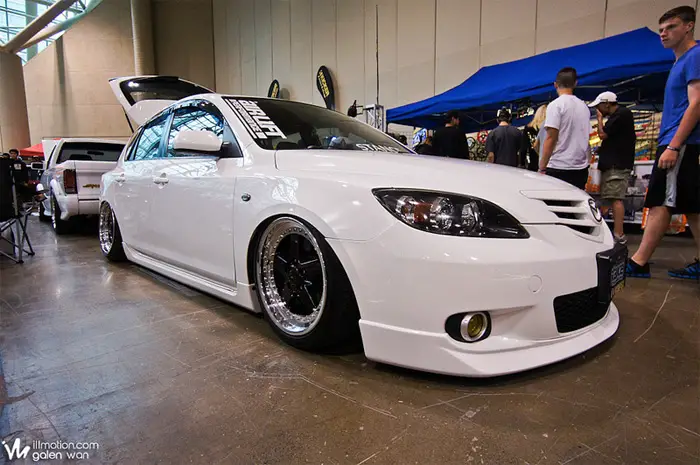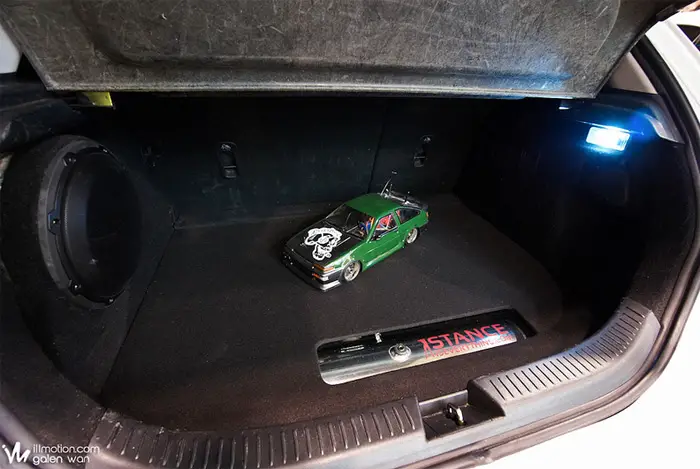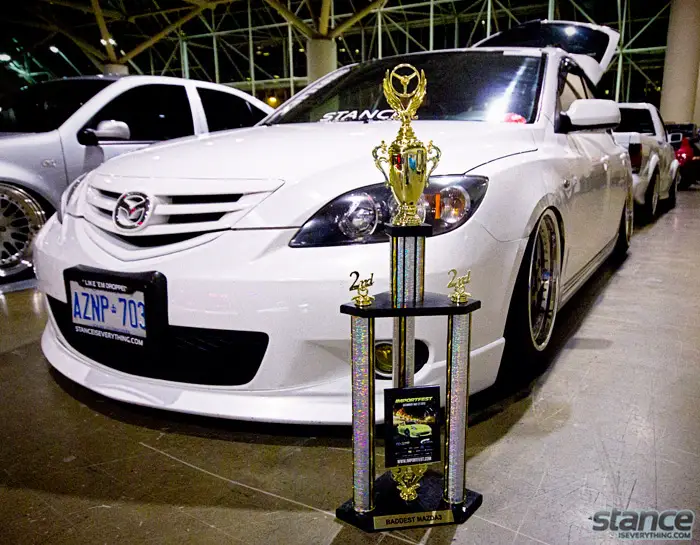 Ryan's MK4
I was really happy when Ryan inquired about space for 2013 because his car was a show-stealer at least years event.
Two years in a row Ryan TDI has been of of the cleanest both literally and figuratively and it's great to see it  get such a positive reception.
It's one of those cars that the more you look the more you see (the devil's in the details) and the fact that he's always constantly refining it just makes it all the better.
Three-peat in 2014?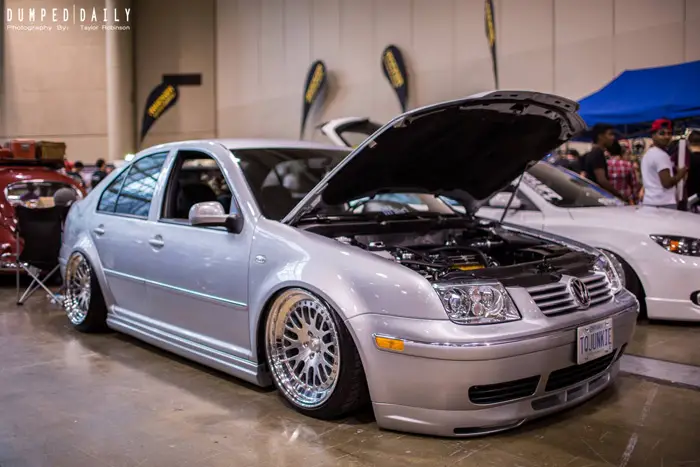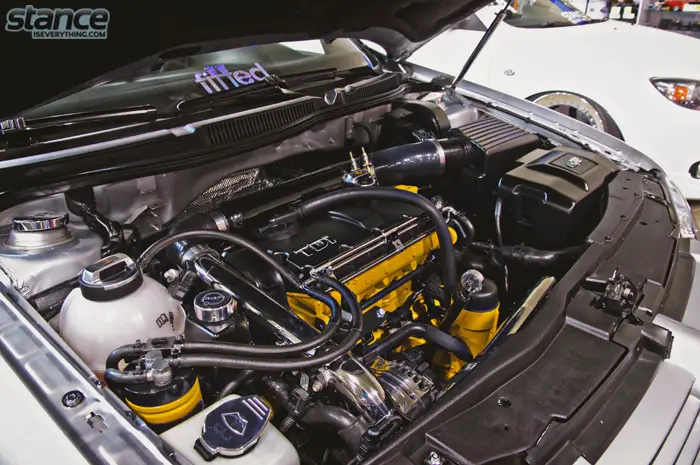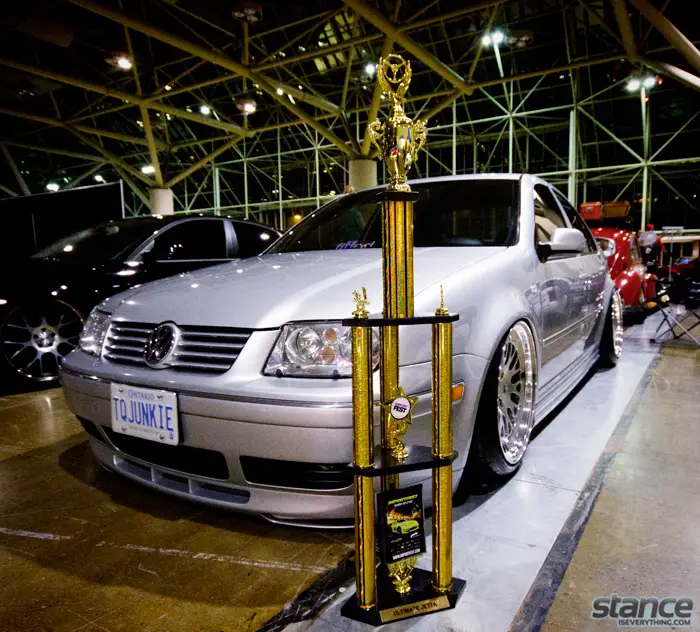 Luke's '61 Beetle Deluxe
Luke's bug is the second of Lyndsey's two picks for 2013 and a vehicle that was arguably the most popular of the entire show. It's highly unlikely many people expected to see a 61 Bug draped in period correct accessories at a show called Importfest but that's what made having it there so damn cool.
His car was literally surrounded by people the entire show and if there was a people's choice award I'm pretty sure Luke would have walked away a winner.
It wasn't uncommon to see people young and old posing with, and taking pictures of, this beautiful bug.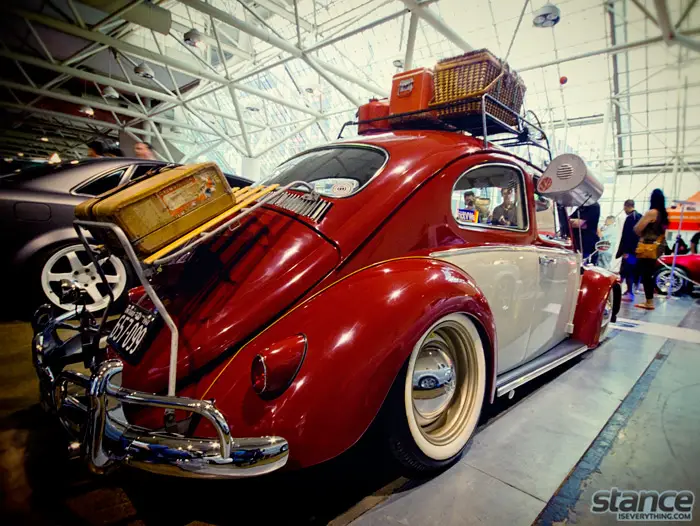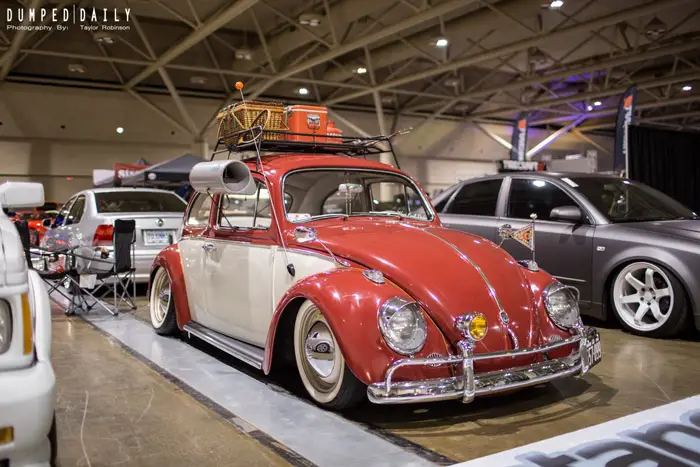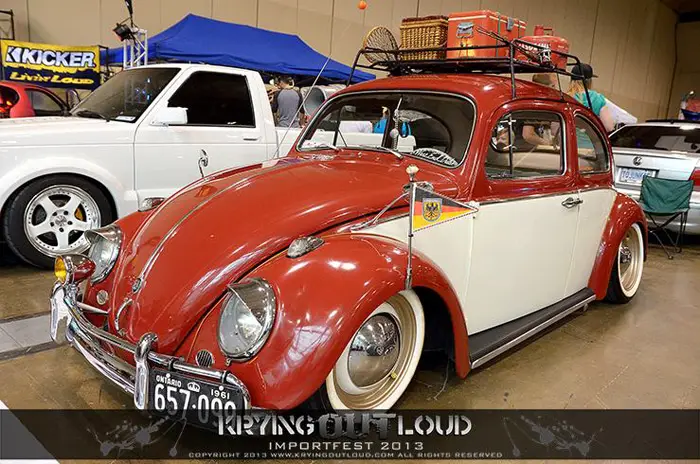 Tyler's LS GMC Syclone
Ty's truck is the only vehicle in the booth I had not seen in person prior to Importfest 2013. I have however been closely following his build on Stance | Works and had eagerly been anticipating seeing it in person.
On Friday when he rolled up I nearly had a complete S truck relapse on the spot because it's honestly everything anyone could ever want out of the chassis when it comes to the perfect balance between performance and looks.
It was really funny to watch people at the show walk past the truck, glance under the hood, come to a complete stop, then come back once more and really take a look at what they saw. Out of the entire show it's easily the vehicle I took the most pictures of and I can't wait to shoot it properly once it's fully on the road as a daily driver.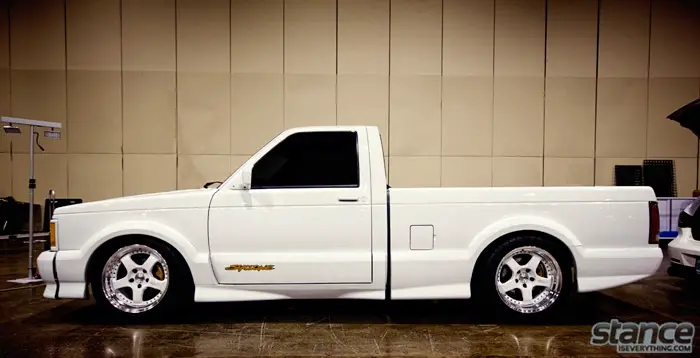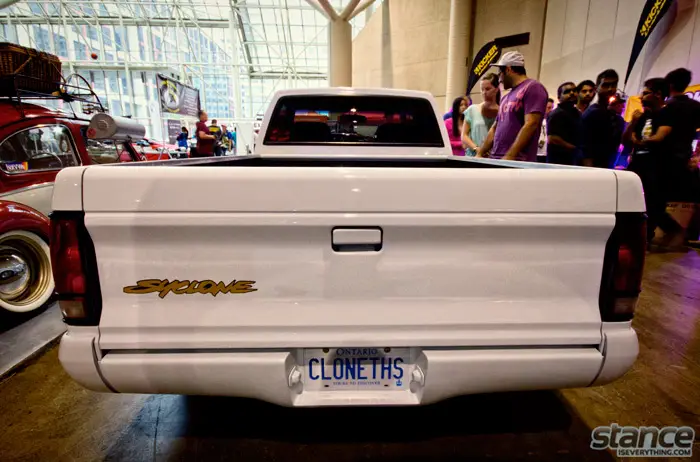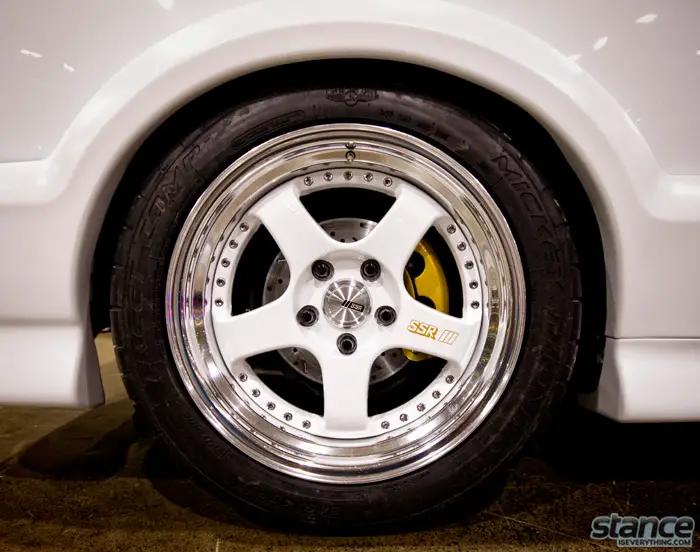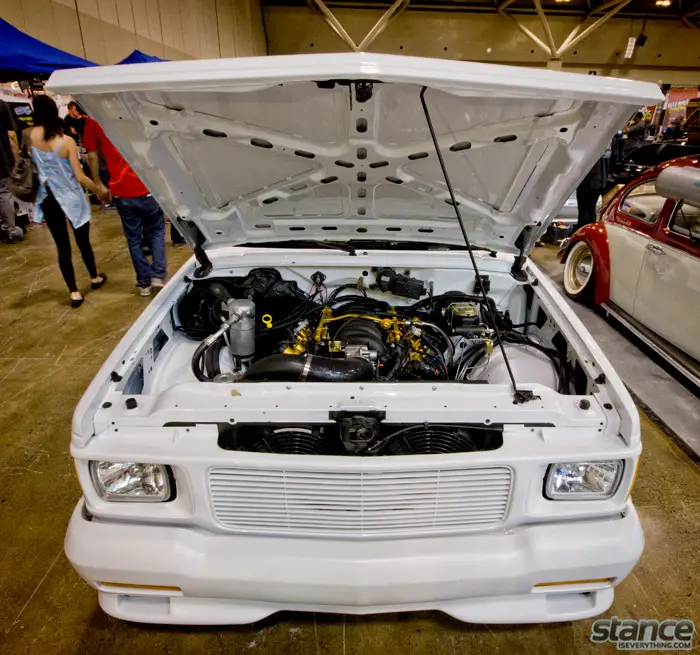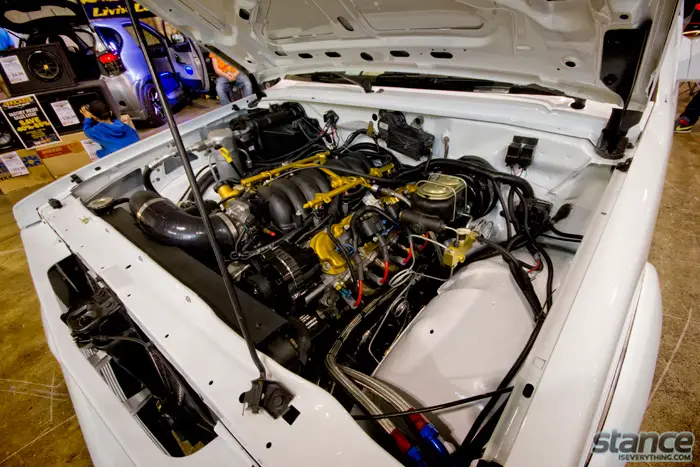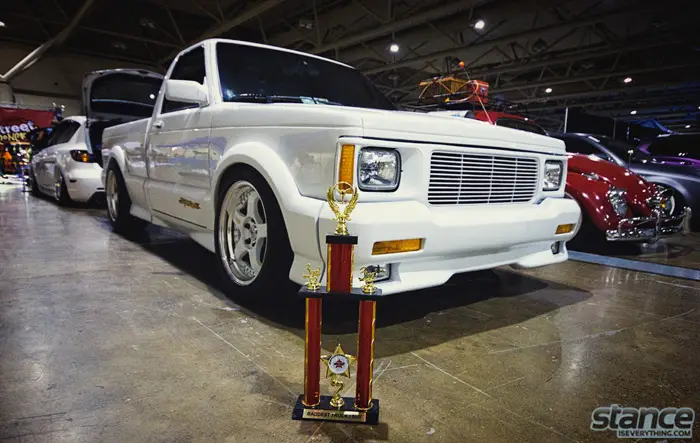 Big thanks once again to Blair, Luke, Shayan, Ryan, and Tyler for being awesome people to spend the incredibly long day with and supporting the site at Importfest for 2013.
I can't imagine not having any of these guys back next year so for 2014 I may need to ask for more spaces again….