As mentioned in Tuesday's post featuring the cars outside the venue, Fitted Lifestyle has grown significantly since its inception to the point where it is now one of the largest shows in the Toronto area.
With each passing year the reach of the show extends further across Canada drawing out cars from as far away as New Brunswick.
These out-of-towners, who probably represent at least 40% of the show, trailer or drive some of the craziest vehicles of the event. The Québécois in particular pull out all the stops.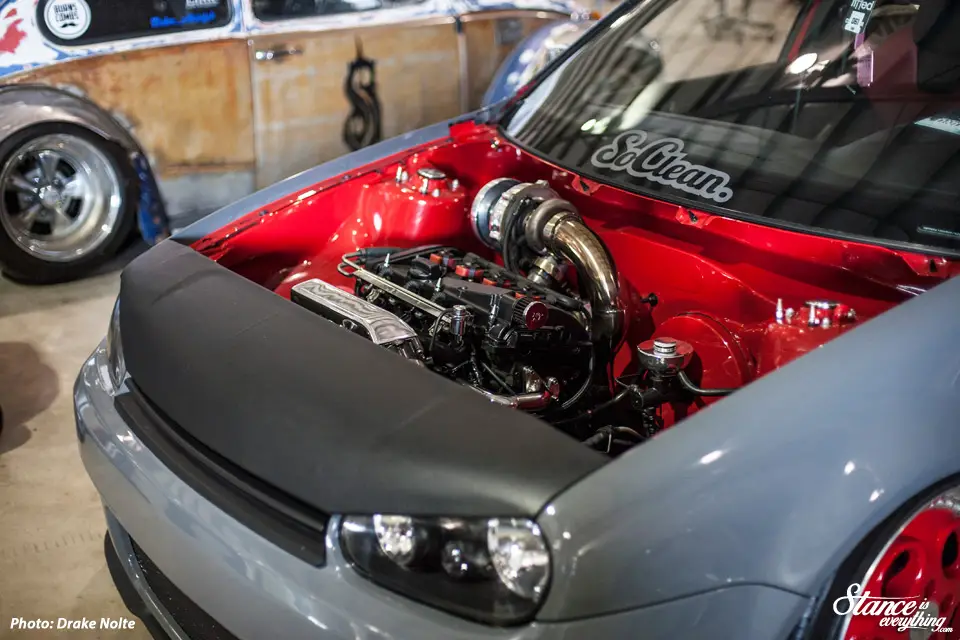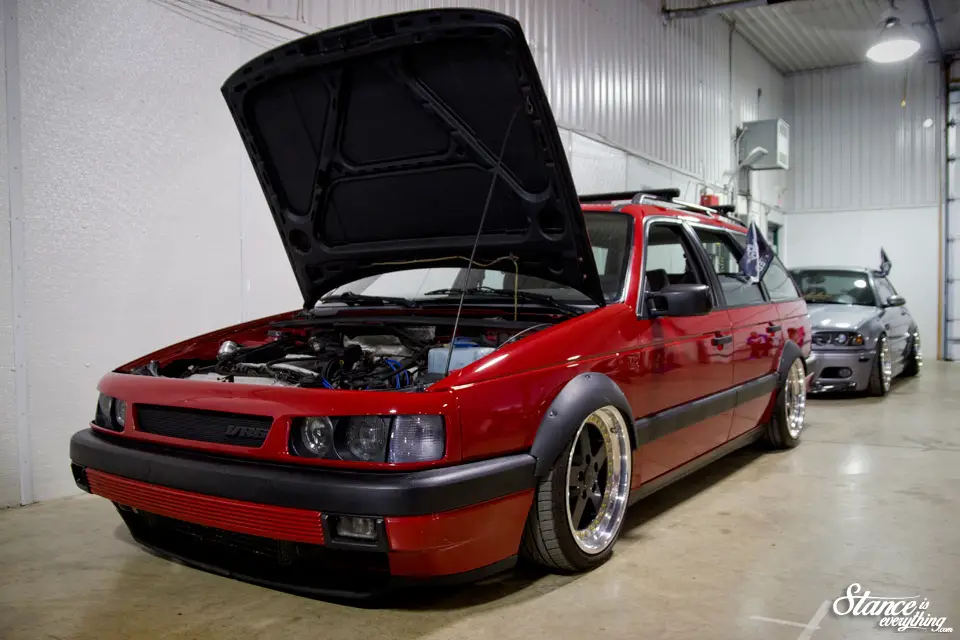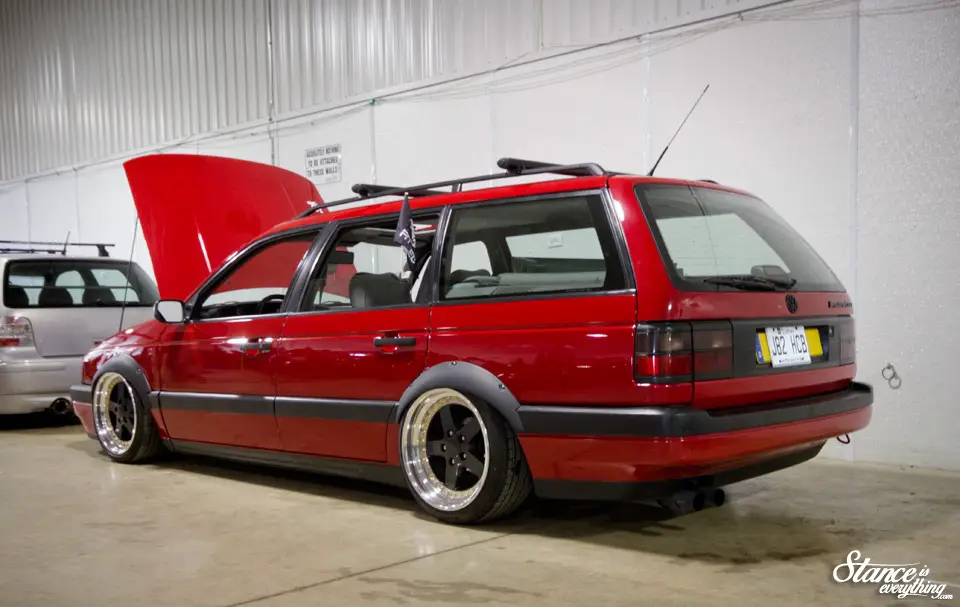 As my friend Chris De La Cruz put it, since the laws in Quebec are currently quite strict in regards to aggressive fitment, the Quebec contingent shows up to 'wild out' (thankfully without Nick Cannon).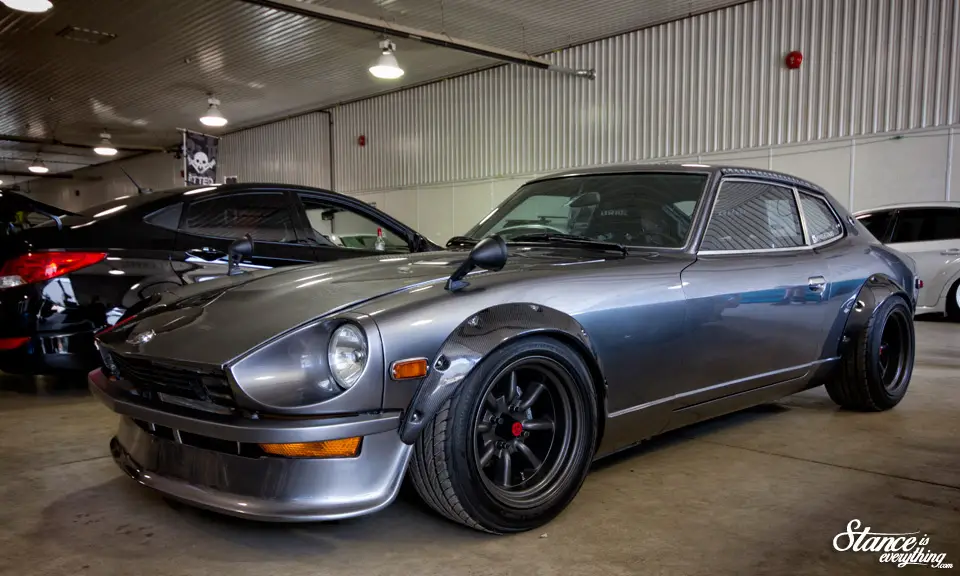 Having been to Quebec late last season many of the cars were familiar to me, but nearly all of them had changed to some degree.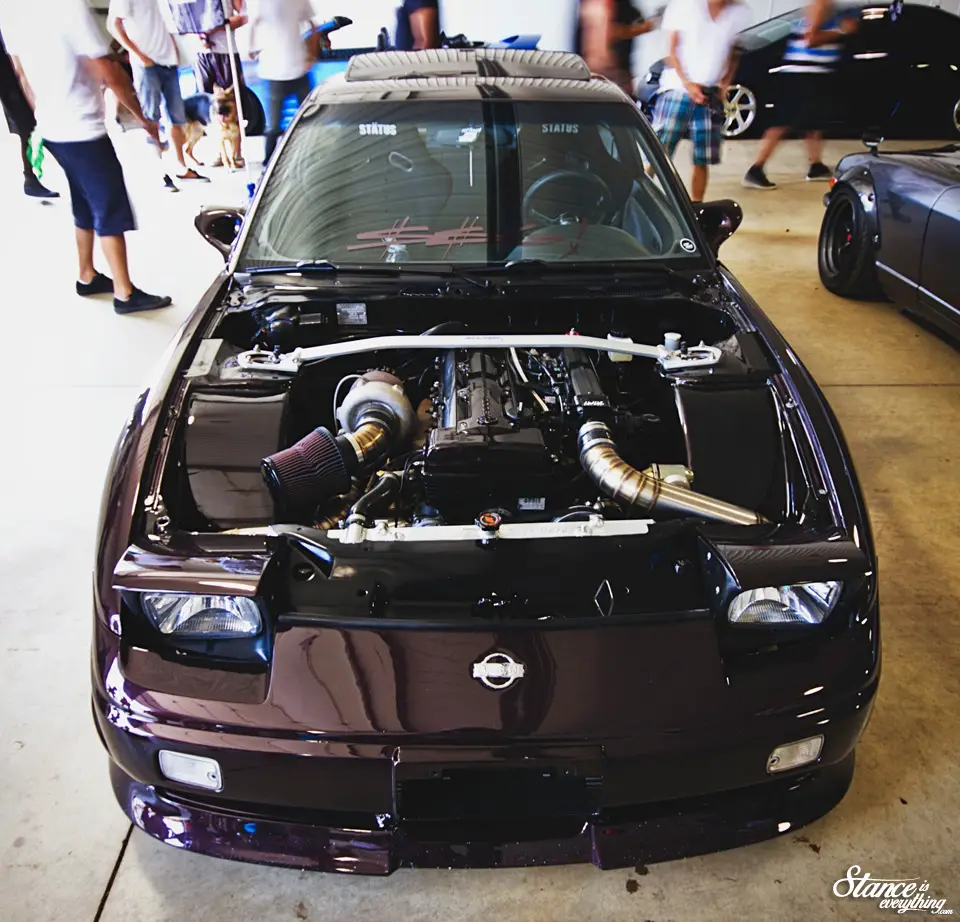 One of the cars that changed most significantly was Cimon Brouillette's s13. It now sports a shaved, tubbed bay featuring the almighty Toyota 2JZ motor. The interior is just as detailed as the exterior to boot making this car a truly complete build.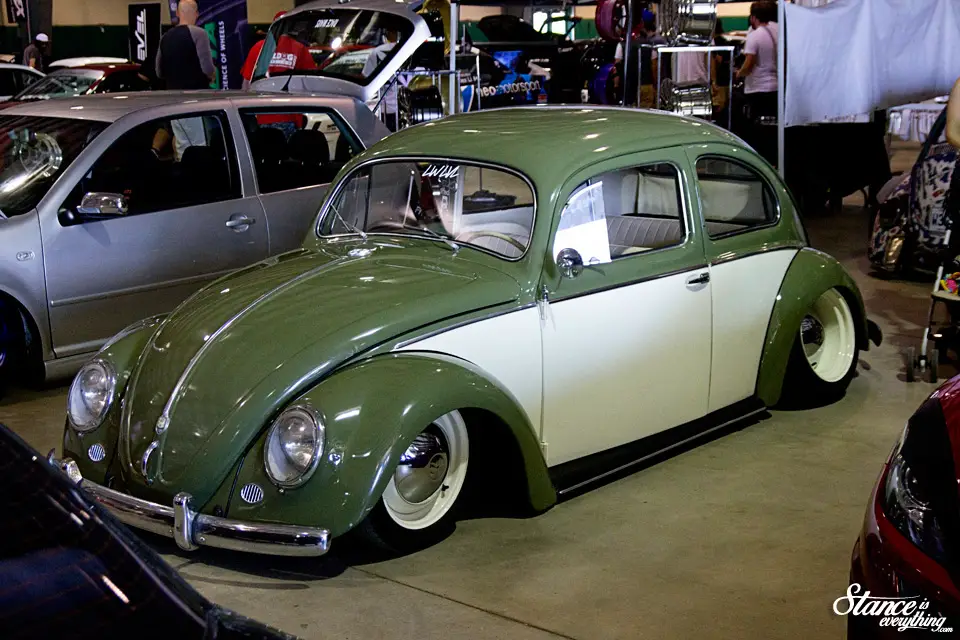 A duo of air-cooled Beetles also made the trip from Quebec, which was great for me since I unfortunately won't be at Eurokracy this year.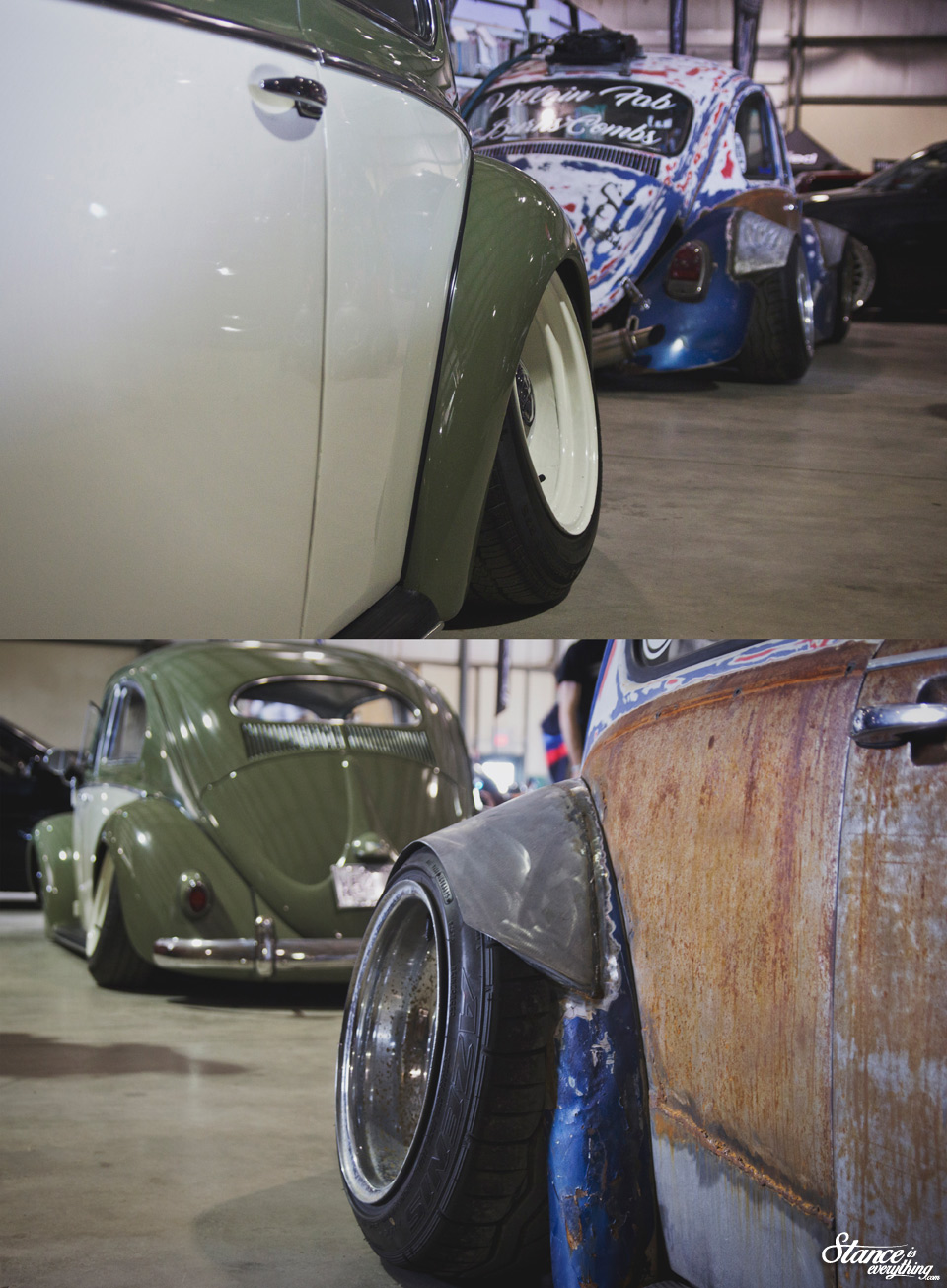 As you can tell from the photos above the two beetles were very, very, different from one another. The first was built in a more traditional manner, while the second was quite the opposite.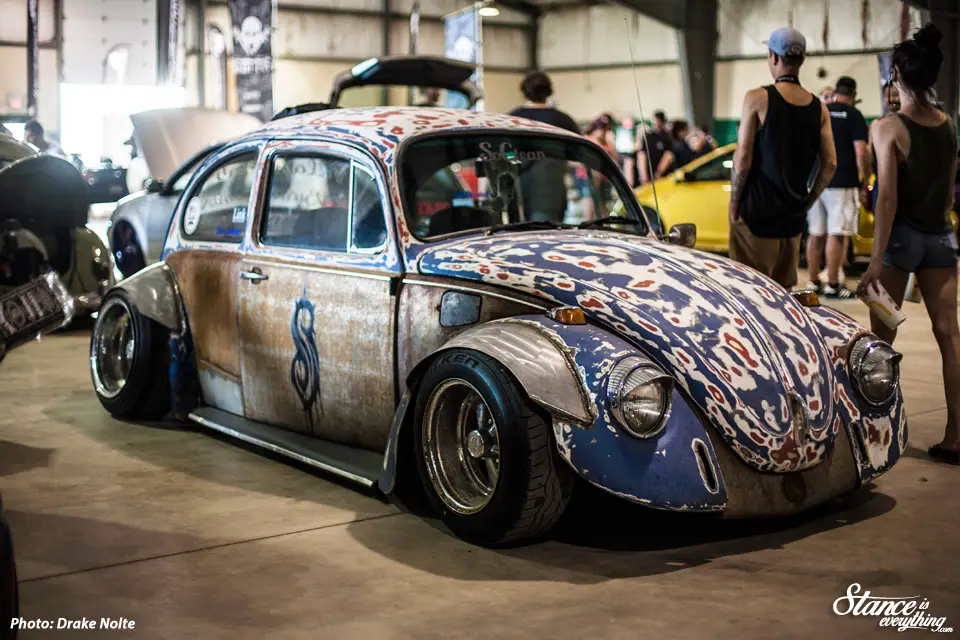 With not a single non patina'd panel on its body this bug sits on fittingly unrestored wide Cragar five spoke wheels.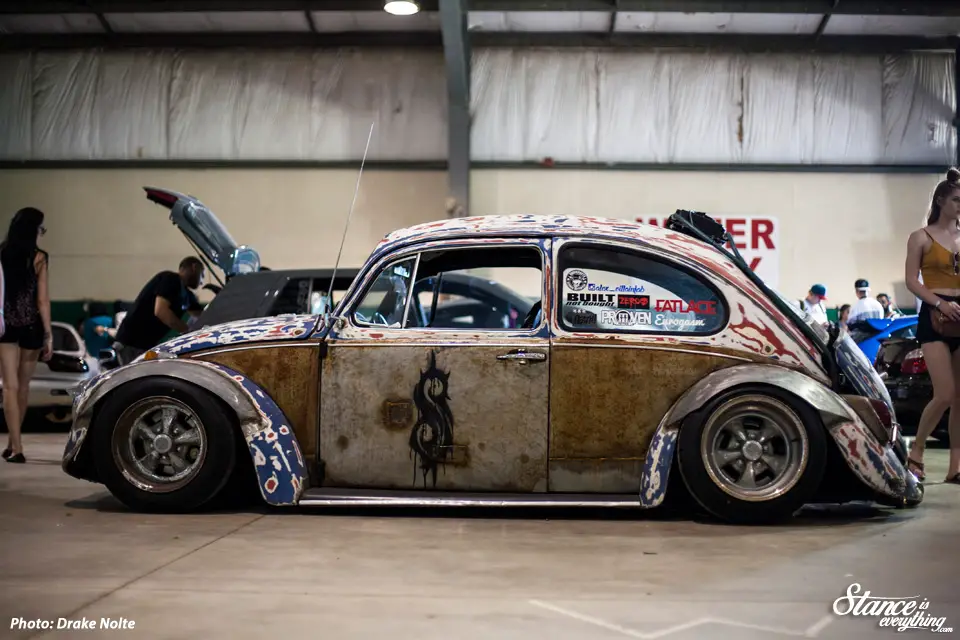 Those wheels, more typically found on muscle cars, look surprisingly at home on the German machine.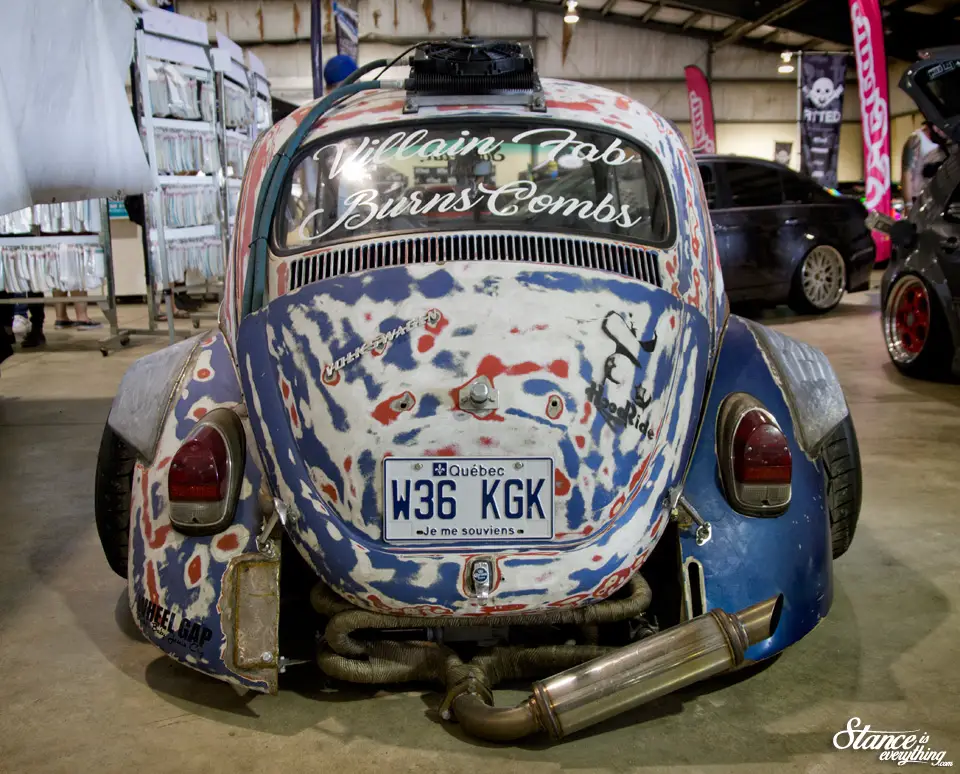 I'm sure some purists will react to this car in a knee jerk fashion but they should scroll up and look at the photos again. From the looks of all the patch panels this car was closer to the scrap yard than it was the Councours before the owner got a hold of it.
If you do want something to get upset about, how about this year's best Euro sedan winner.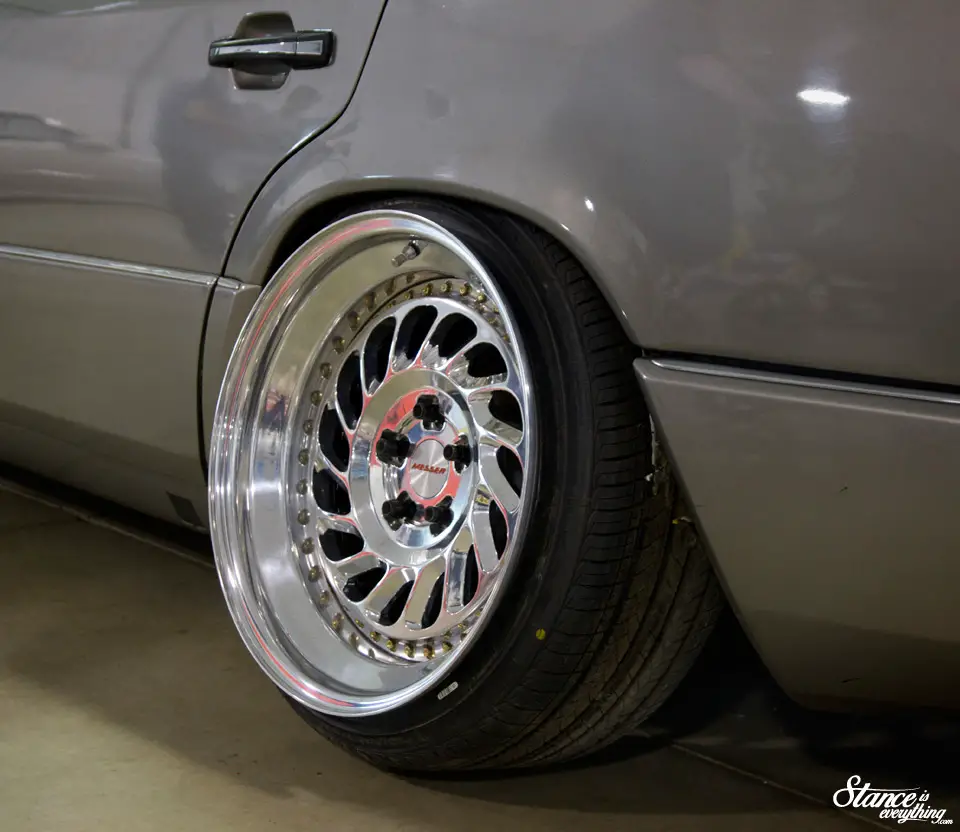 Those very aggressive Messer wheels, are one of very few sets in the world and the only ones in North America.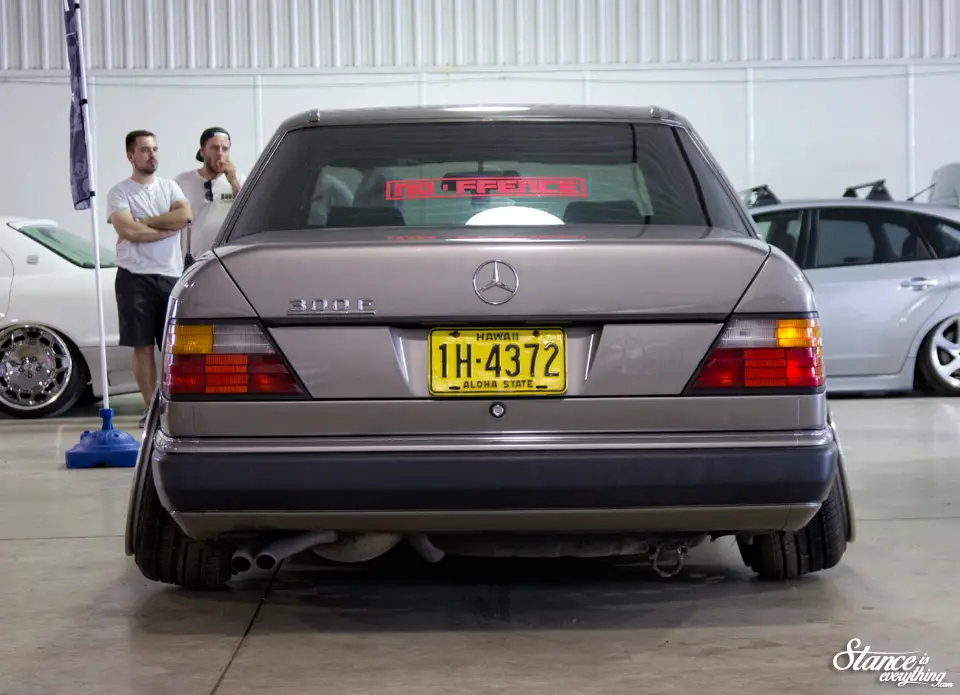 Fitting them got a little… messy, but I think (or hope for his wallets sake) Stance East's Chad McGairity is working to straighten this up a bit.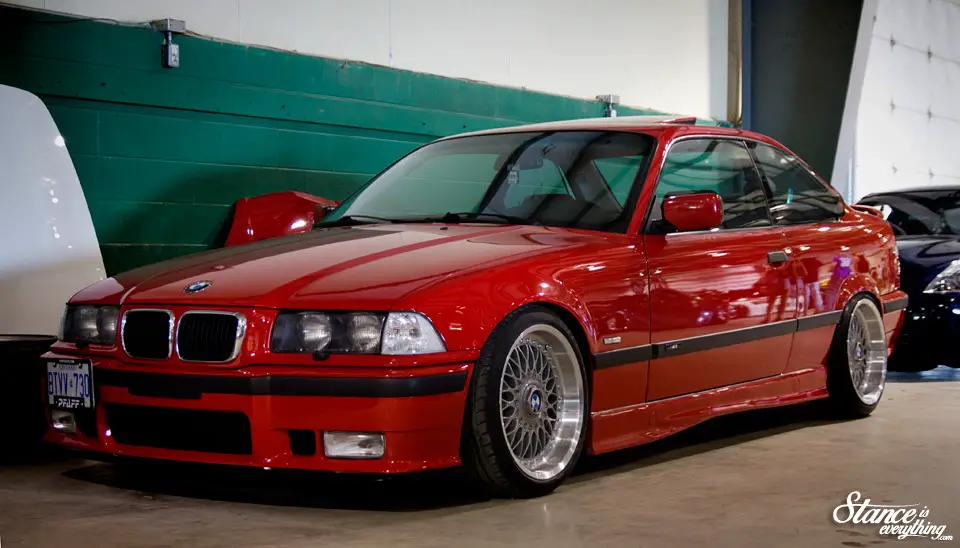 But lets switch from the overly aggressive and dial things back to the kind of wheel fitment that stands the test of time.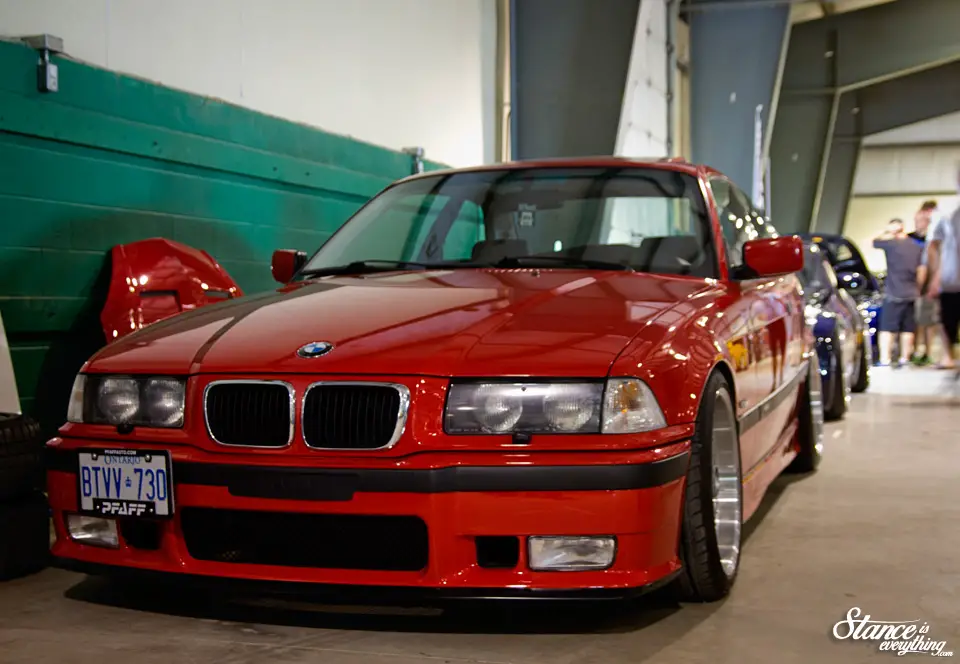 Adrian's e36 might not be the lowest BMW around but this car could remain unchanged for ten years and never look dated. A true testament to the staying power of a classy touch and eye for detail.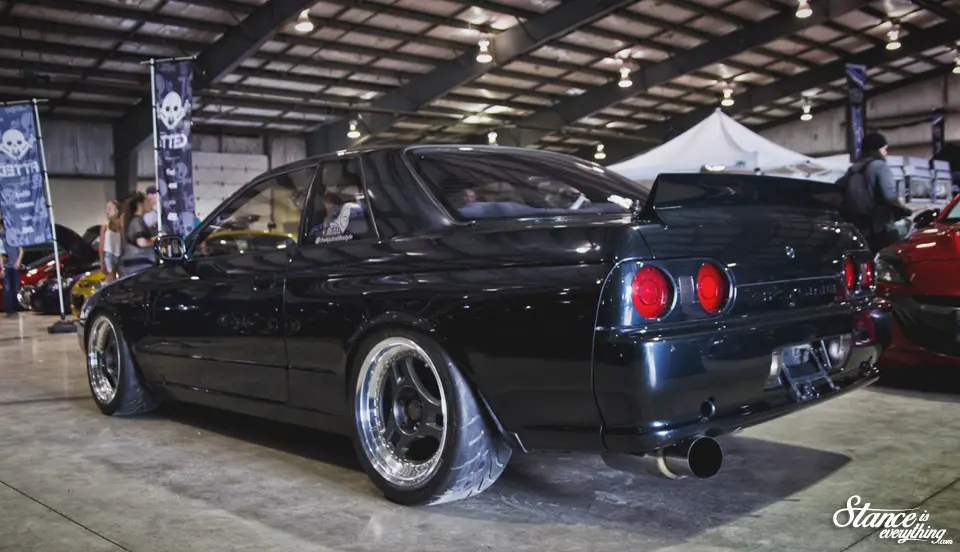 The same could also be said for Kieron's –aka Kjohn– Skyline. Sitting right on the function and Form line this car looks stellar and it's great to see him out again with a new build.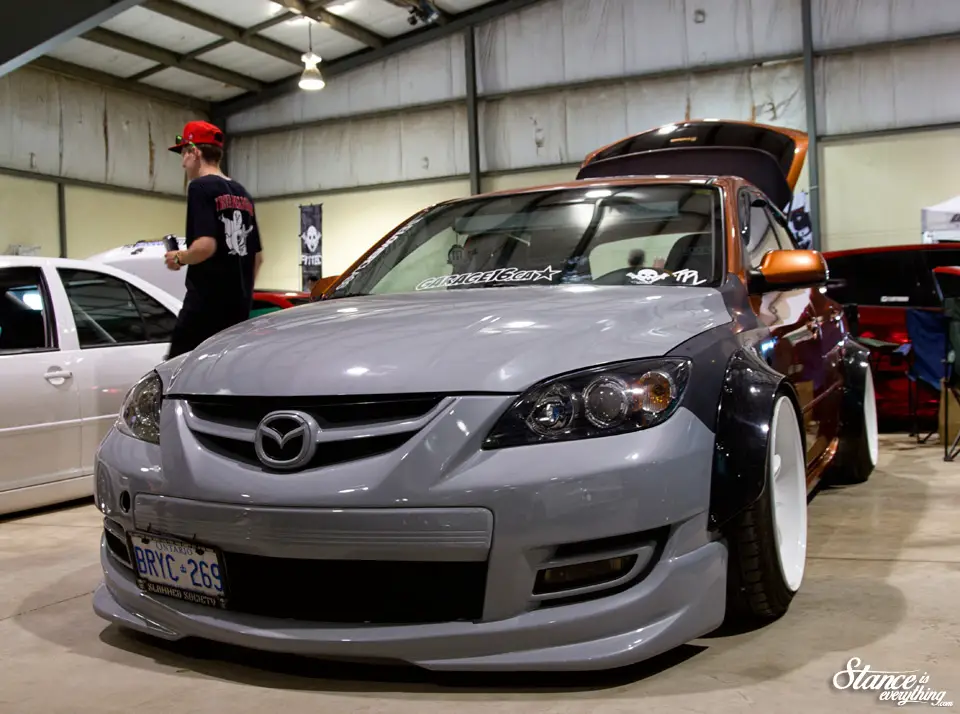 Kjohn's work also appeared on this Mazda 3 hatch, albeit not originally. If this front end looks familiar to you it's because it was previously on Trevor's Mazdaspeed3 that was featured last year. In addition to parts from Trevor's now parted out car,  this 3 has Clinched flares and work wheels.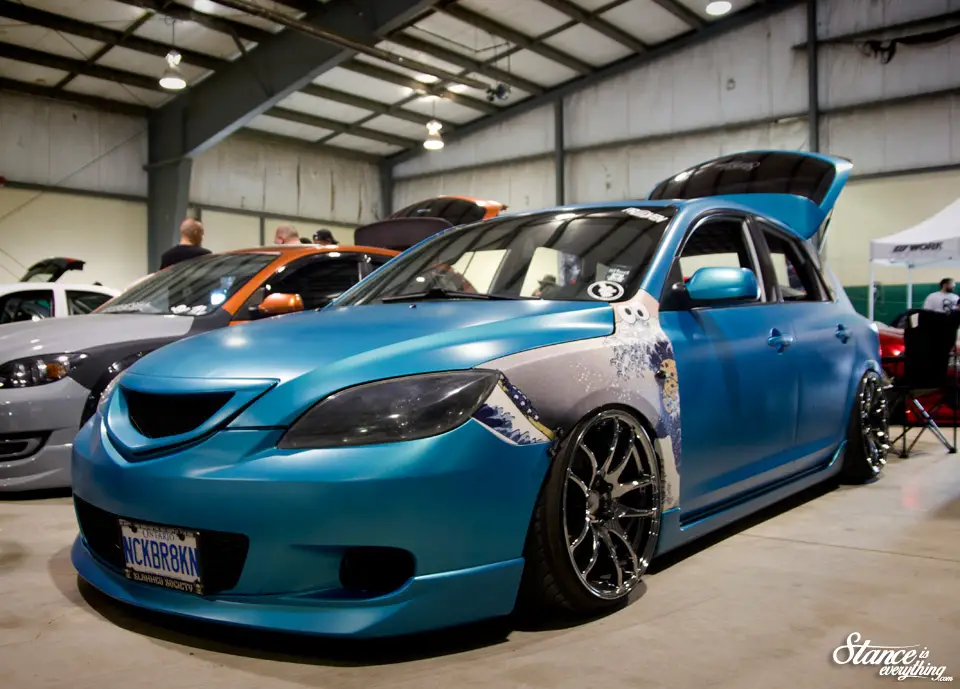 Ryan, who recently re dipped his car, got new wheels, went lower, and caved a fender days before the show. With no time to refinish a new fender to match his pearl dip he used a unique wrap to cover things up.
Rounding out the Mazdas is Jordan's bagged FD RX7 on Blitz 03 wheels. It is pretty impressive how much wheel an FD can fit stock body, sort of makes you wonder why so many people are cutting them up these days.
But the counter to the no flare argument could be the s14 above and FRS below.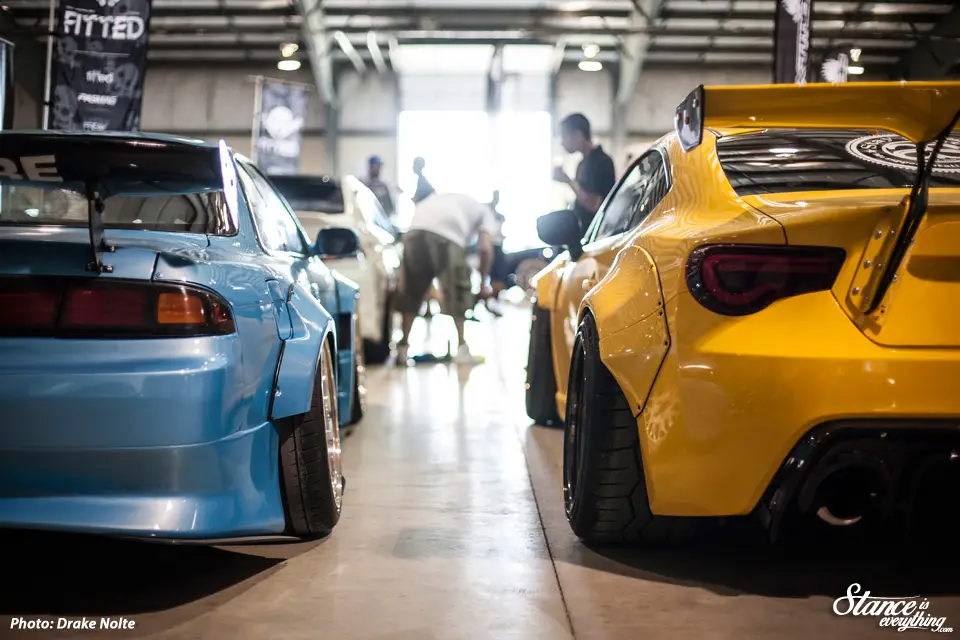 I particularly like how the s14 has the black molding running between the flares and the body reminiscent of an RWB build.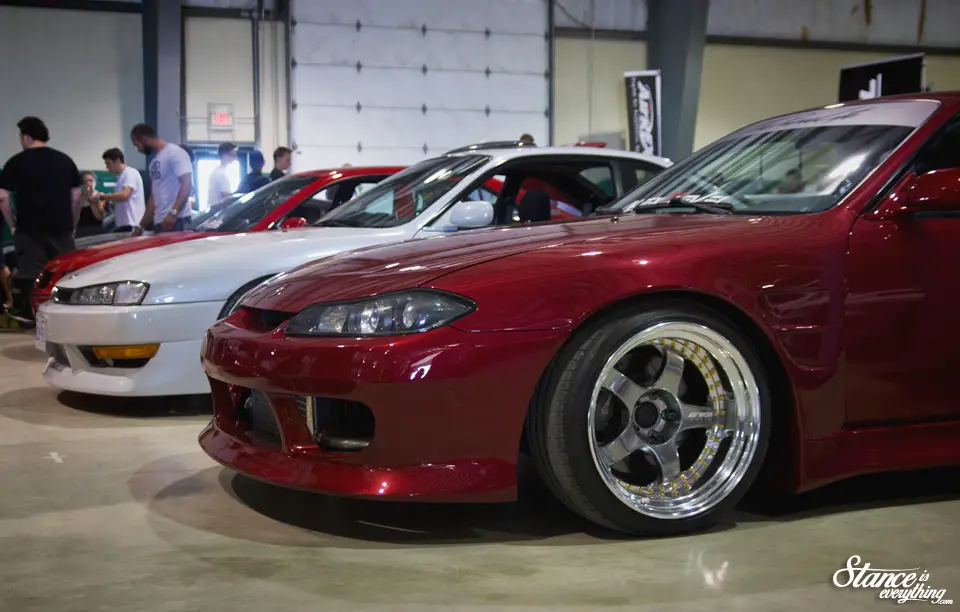 The s15 faced s14 spotted at CSCS was at Fitted, sitting beside Matt's pearl s14.
S2000s continue to be quite popular among the fitment community with a variety sitting at Fitted. The Carshop Glow tail lights on the red one are quite stunning.
370s are also popping up quite a bit more, among this crowd. Or is it popping down? Anyway the Airrex bagged blue turbo 370 above features the first Varis Arising II kit in North America and TE37 Ultra wheels.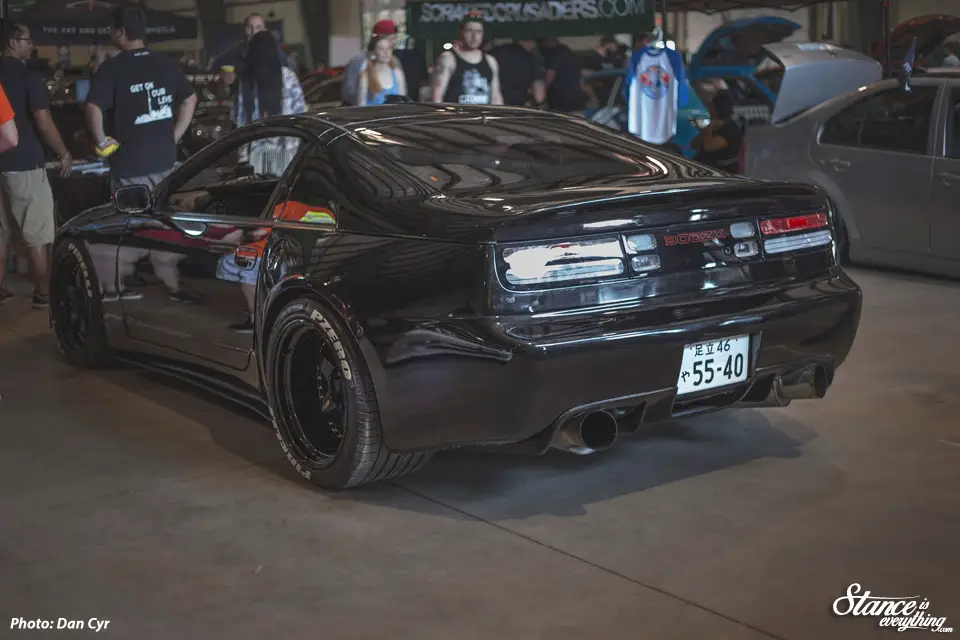 Matt Budz competed and won the Tuner Battlegrounds competition at Fitted 2016. His all metal wide body 300zx is a car I really should make arrangements to feature sometime this year.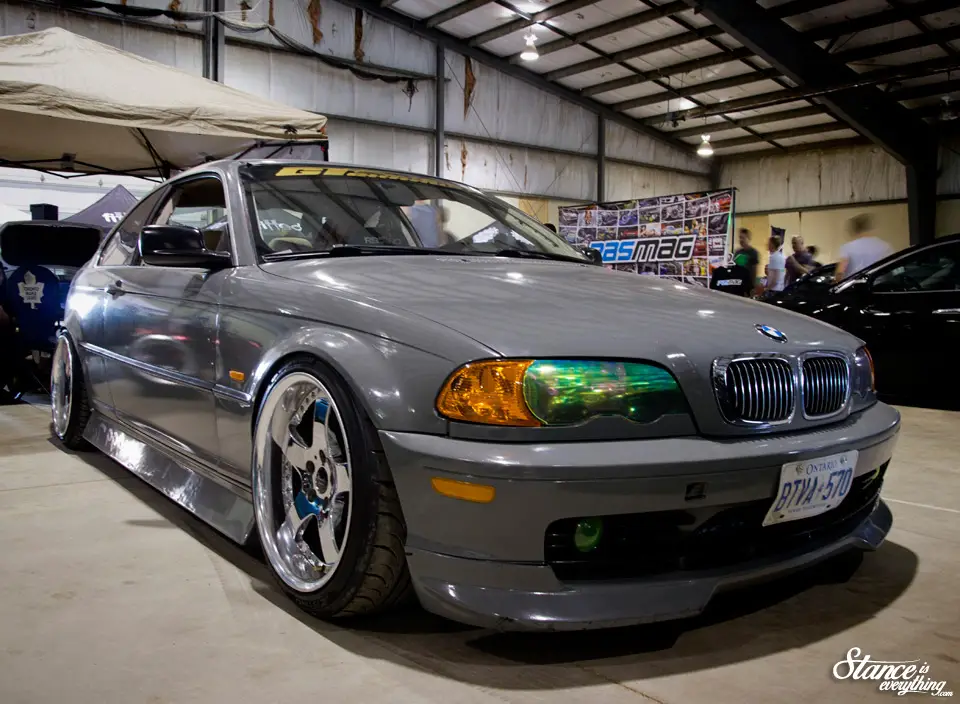 GT Custom Exhausts' Mike Catell claims his car is used and abused but I say for a daily driver/occasional drifter it holds up pretty well compared to show cars like the red e46 below.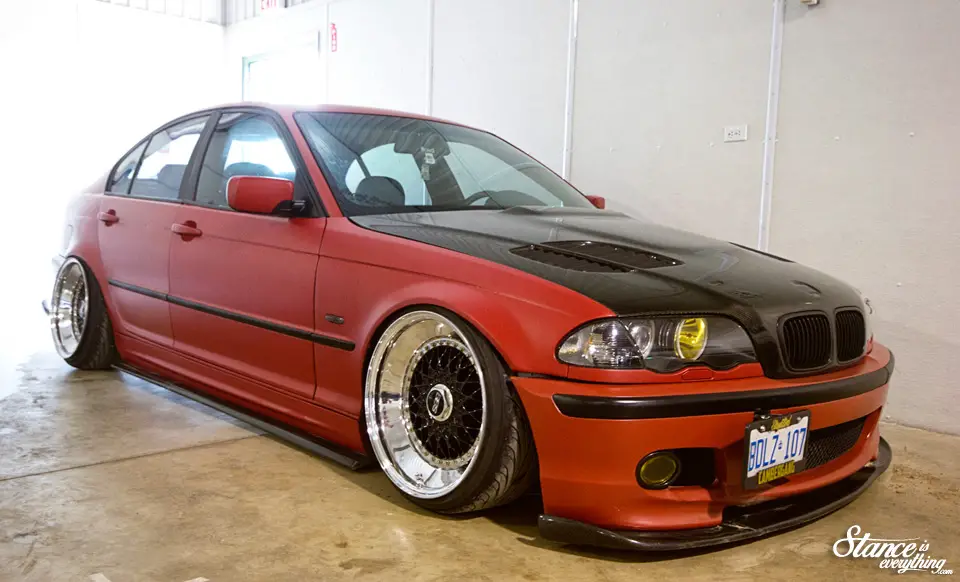 What do you think?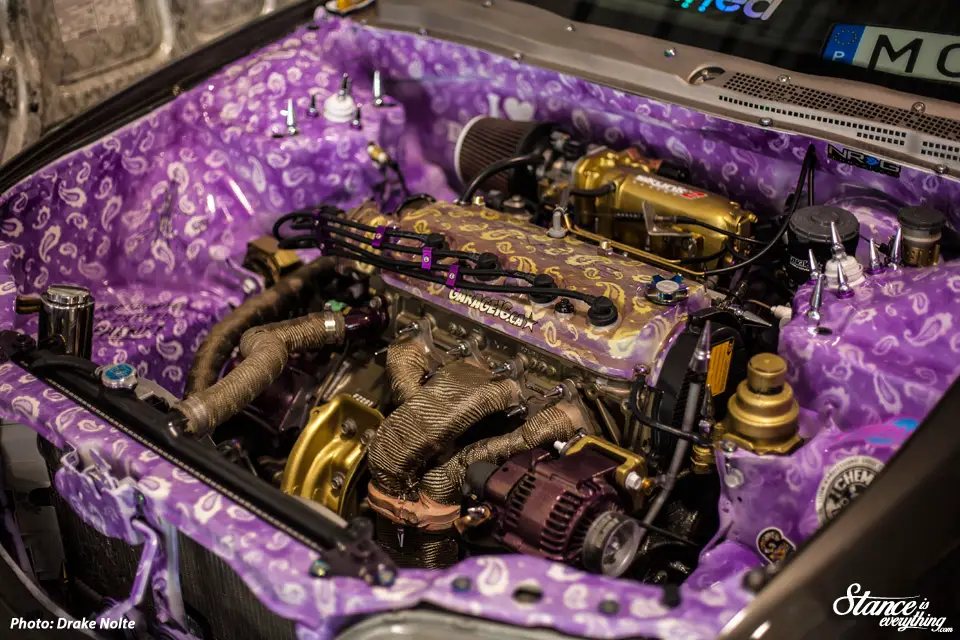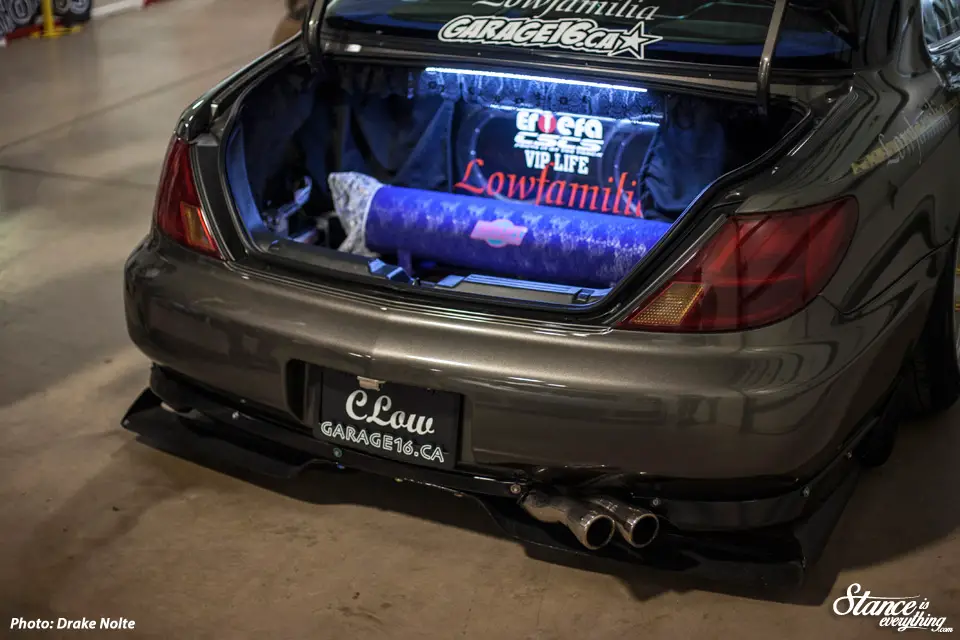 When it comes to show level attention to detail it's hard to deny the effort put into the Moniz Detailing Acura CL.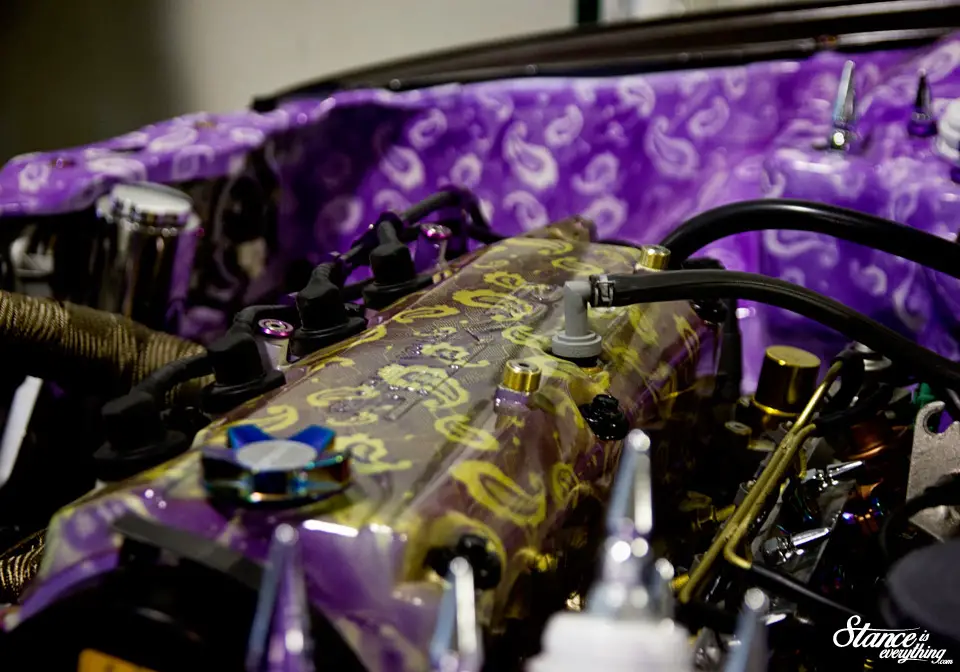 Not exactly sure how the engine bay was done (hydro dipping I don't think would work here, however I could be wrong) but I can't imagine it was a quick application.
Hardlines are still very much in fashion this year and there were several intricate examples at the show, one of the best had to be in the car below.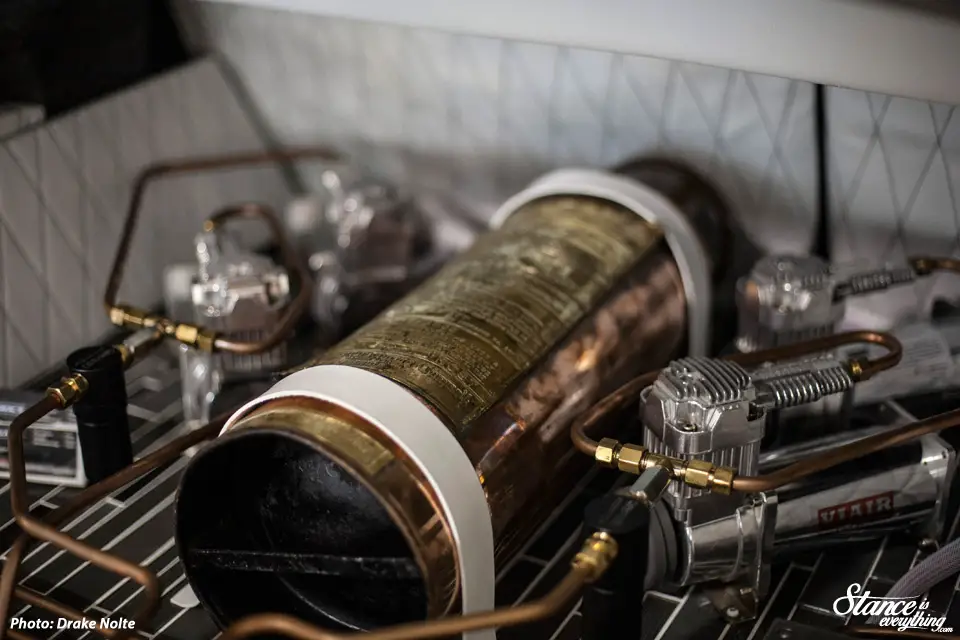 I've seen vintage extinguishers used before, but never surrounded in such a complex network of hard lines. With four compressors I bet this car fills with the quickness too.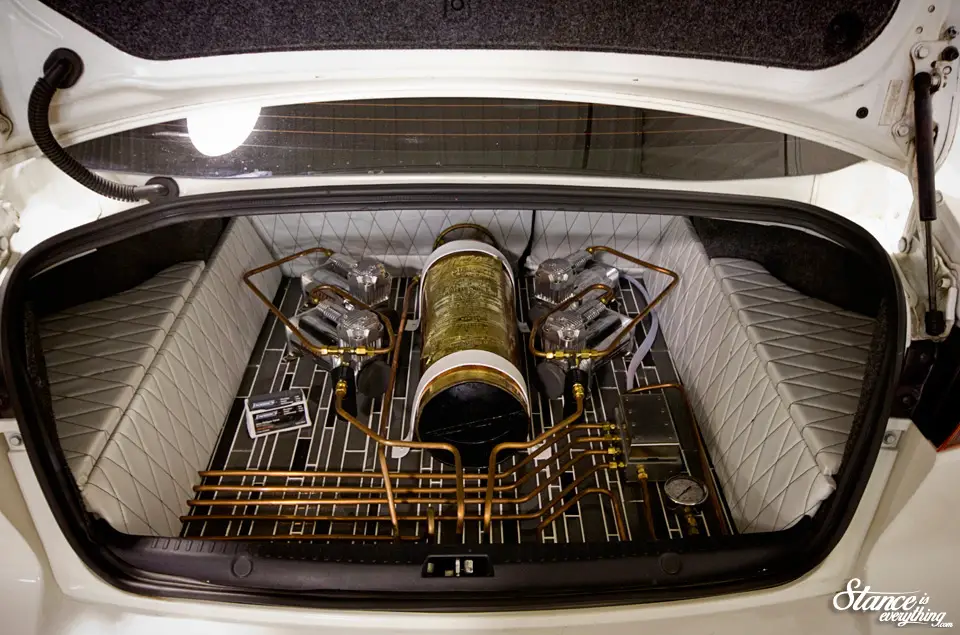 As a true 'Lifestyle' show Fitted wasn't just about the cars, there were actually a few side attractions.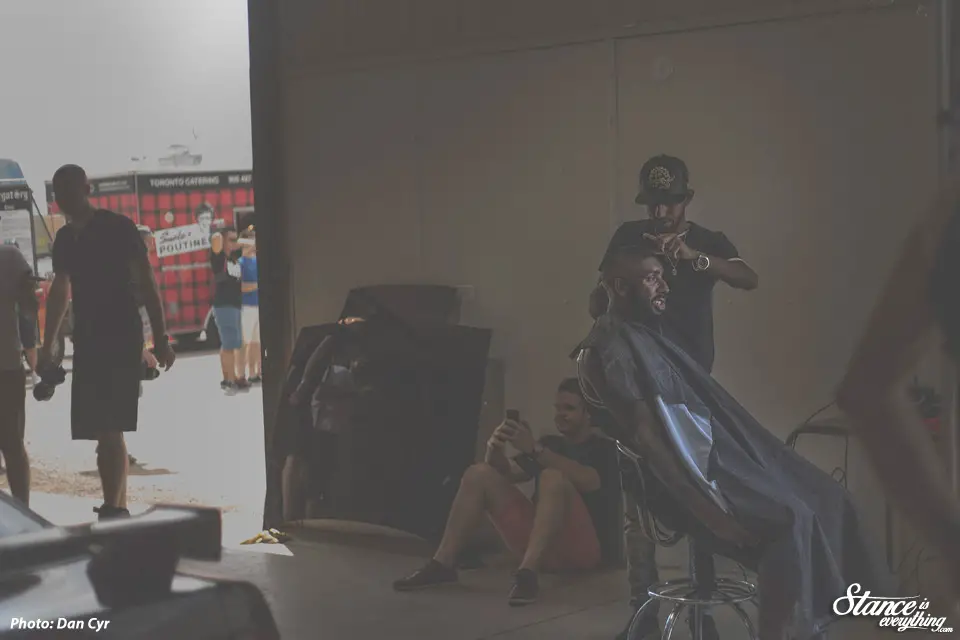 Needed a hair cut? Sure thing.
Tired of looking at cars sitting stationary? Well hopefully RC drift cars can distract you for a bit, they certainly worked on my son.
For those interested in neither hair cuts, or small scale cars, there were a few motorcycles sprinkled throughout the two halls.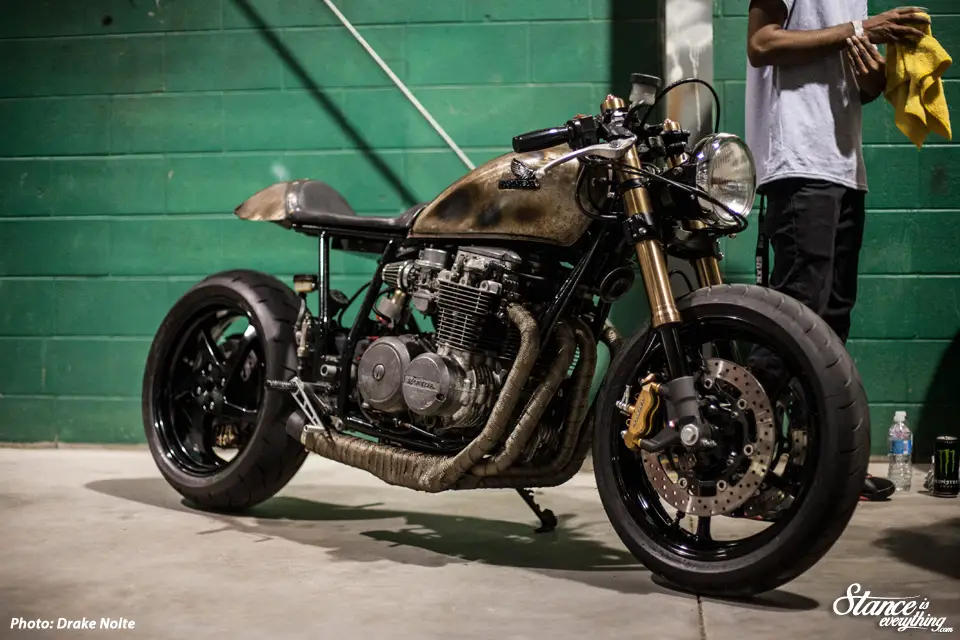 Again, I'm not sure if it's a mid life crisis or what, but I feel the clock is ticking on how many days left of my life I can live without a motorcycle of my own.
MoonRise Motor Co built the two bikes above and the second Honda is actually going to be up for sale soon, not that I'm looking or anything….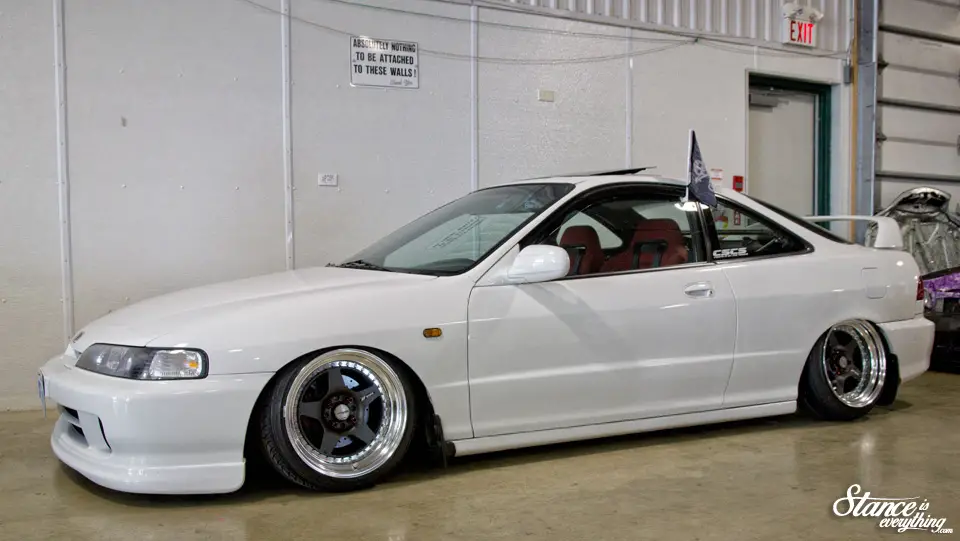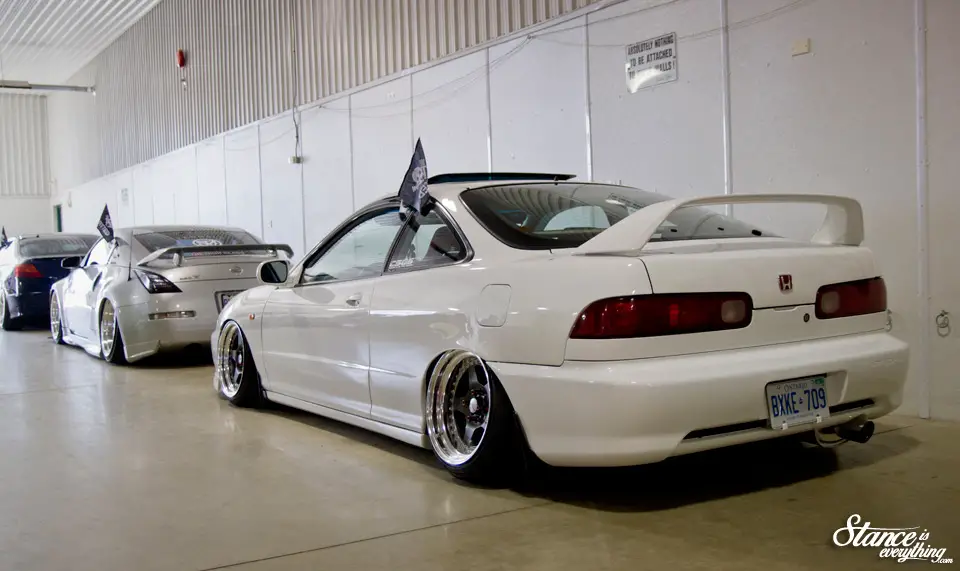 But to get back to the cars this DC Integra on Work CR-01 wheels was clean as a whistle. I feel it just might have been static too, but it is hard to tell these days.
Ken's car had yet another set of wheels on it and looked like it was straight out of the pages of VIPCAR Magazine. Every now and then Ken mentions that he might part with the car, but then he goes and buys a new set of wheels or a crazy OEM accessory like a Toyota Celsior Walkman (seriously) so I never quite know.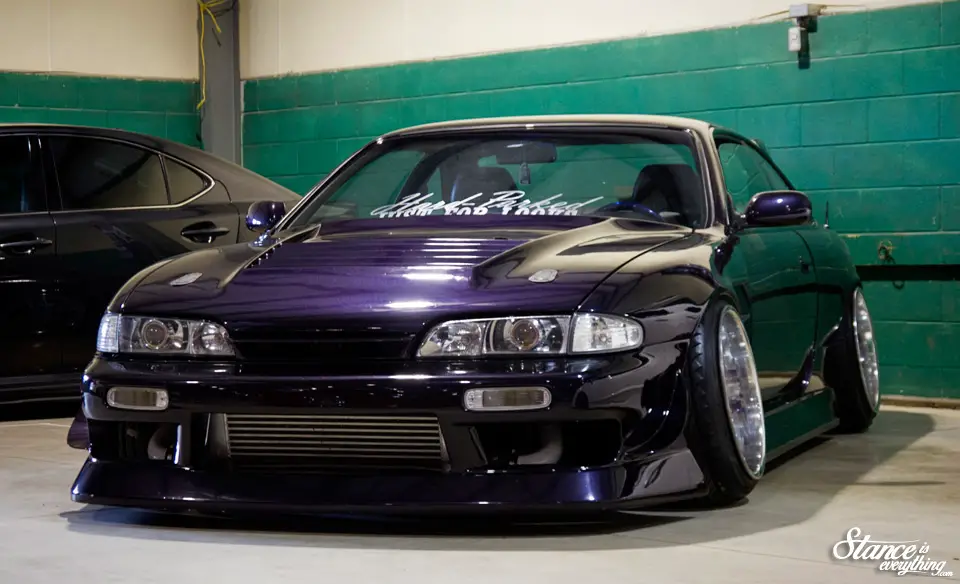 Another individual who keeps me on my toes is Jon Prem. Bagged in 2014, static in 2015, and for 2016 after a bit of a 'situation normal all fucked up moment' shortly after revealing his new wheel set up, he quickly swapped his old wheels back on for Fitted.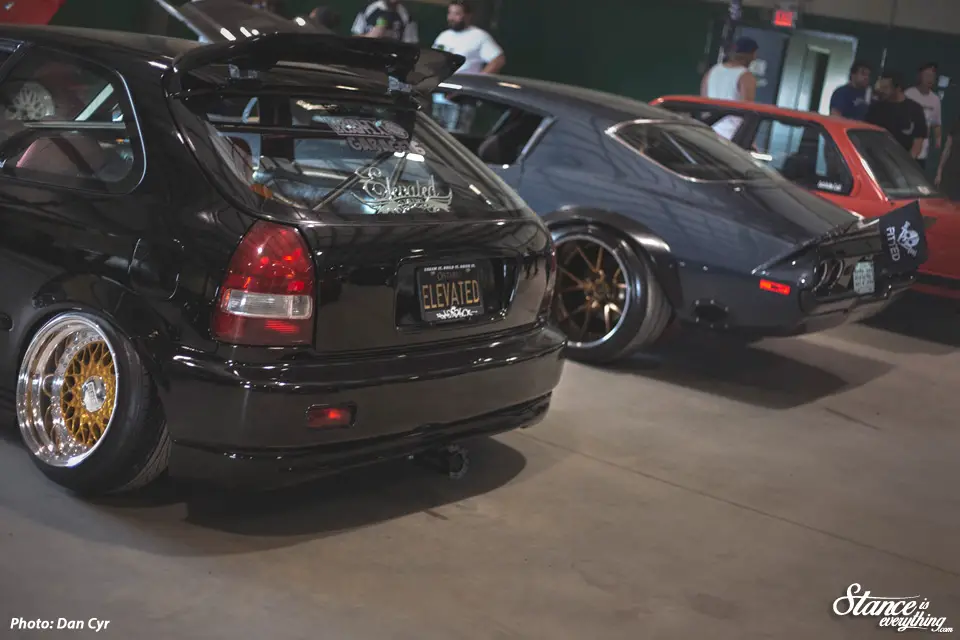 It certainly wouldn't be a Fitted post without a few photos of Brian's car.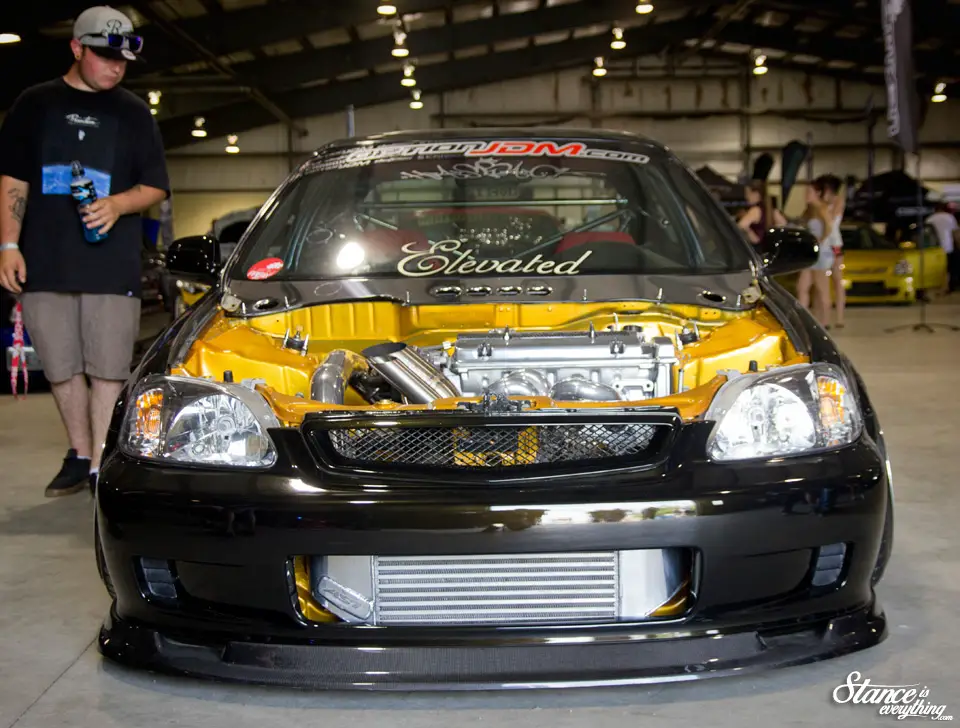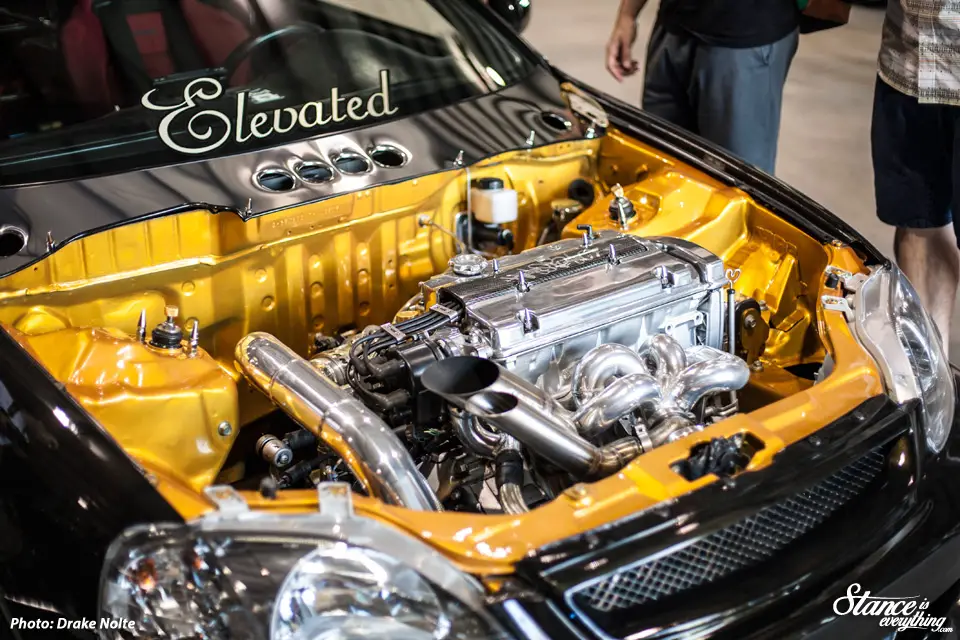 He's got his bag set up dialed in now and I think the same can be said for the h22 turbo power plant.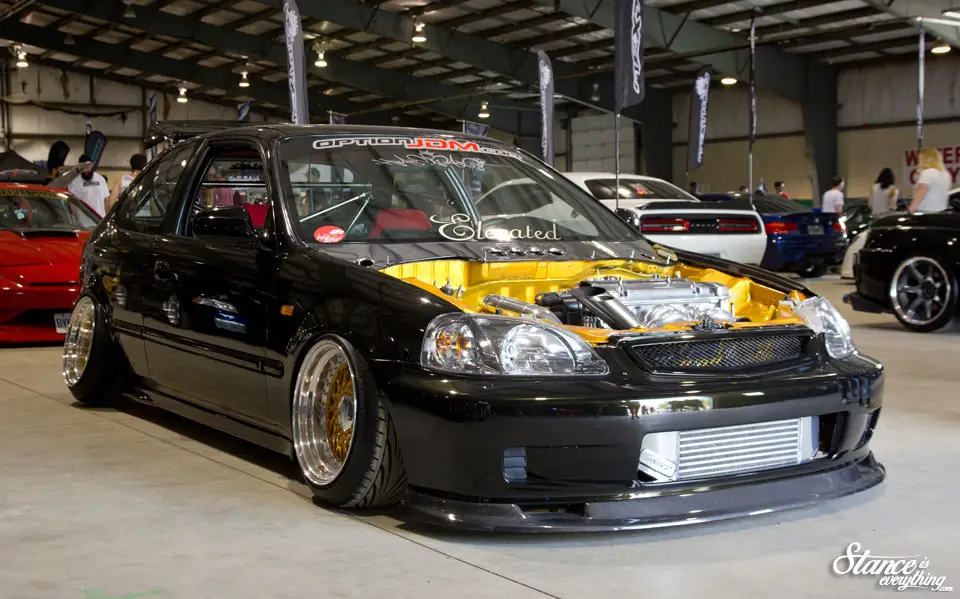 For Fitted 2016 the organizers asked if I knew any classic car owners who might be into showcasing their car at the show.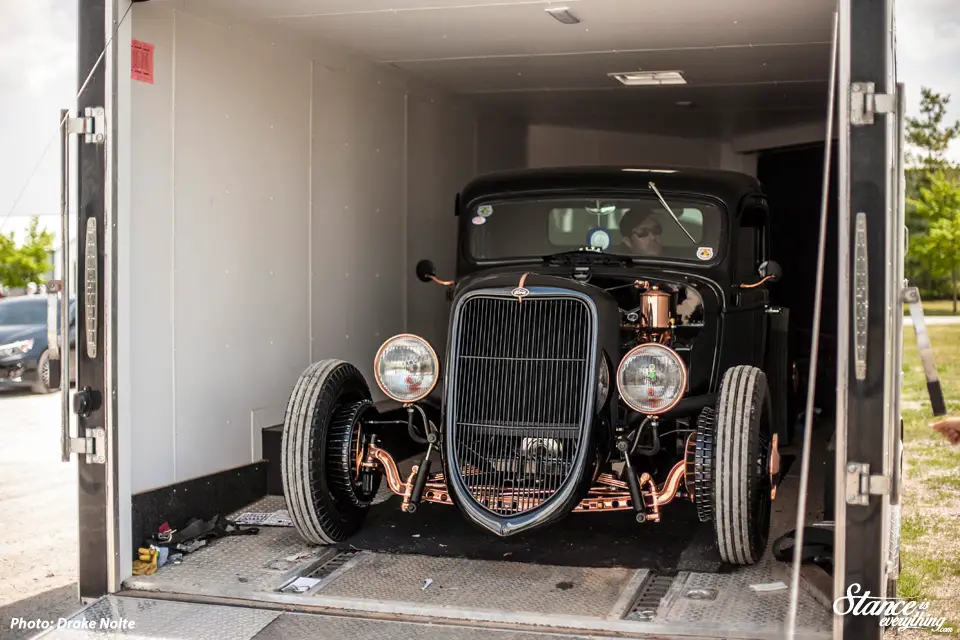 I asked a few people and the only person who could be availible was Mike Livia.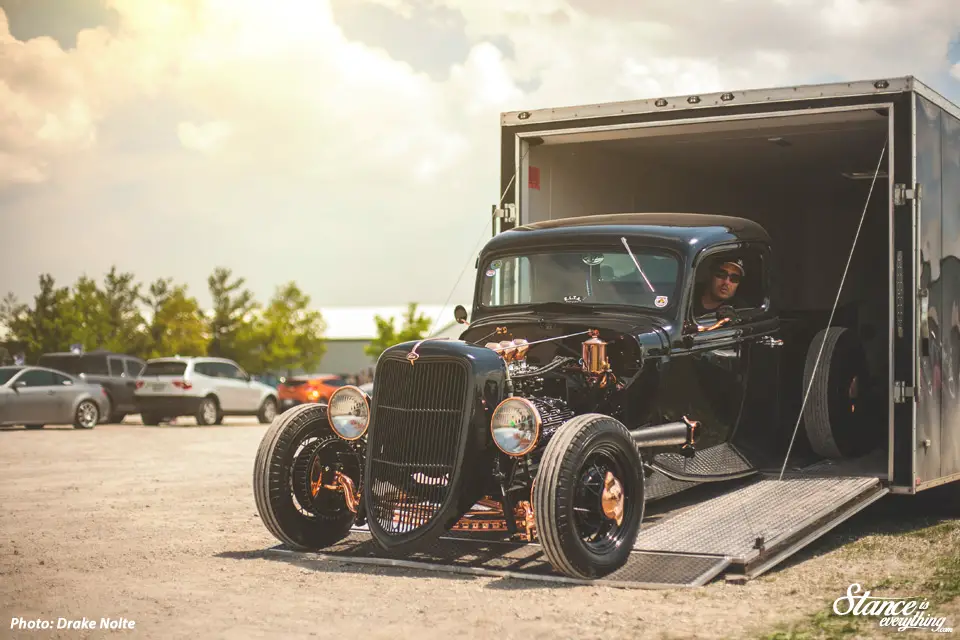 His 1936 Copperhead is a show stopper anywhere it goes, and I'm very glad he could bring it to the show even if he couldn't stay the entire day.
Vehicles like his are the type any enthusiast can appreciate and was the second most talked about classic car of the show.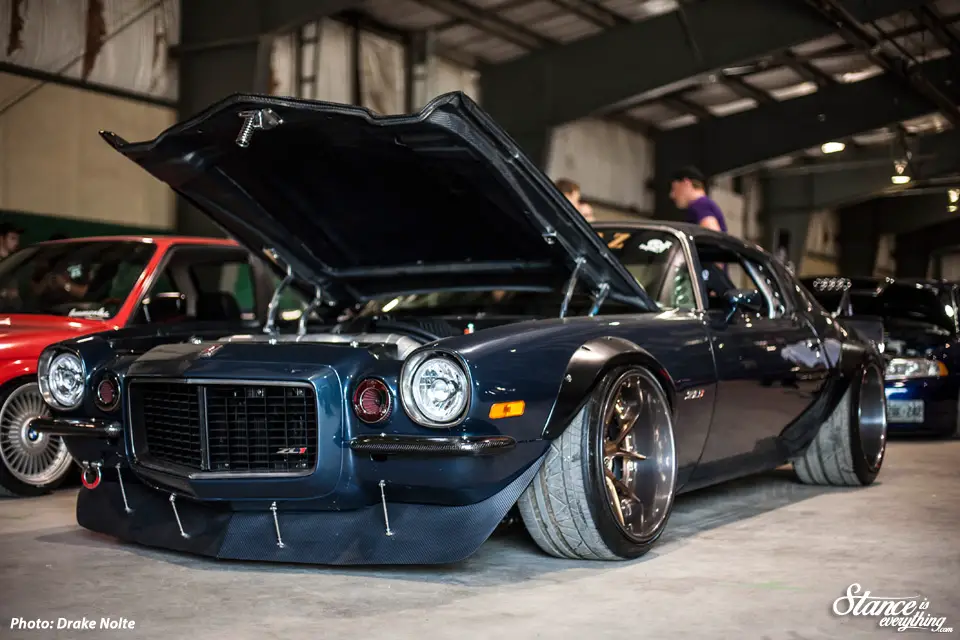 So what was the first you ask? Well that honour was reserved for the Cyrious Garageworks built World War Z 1970 Camaro.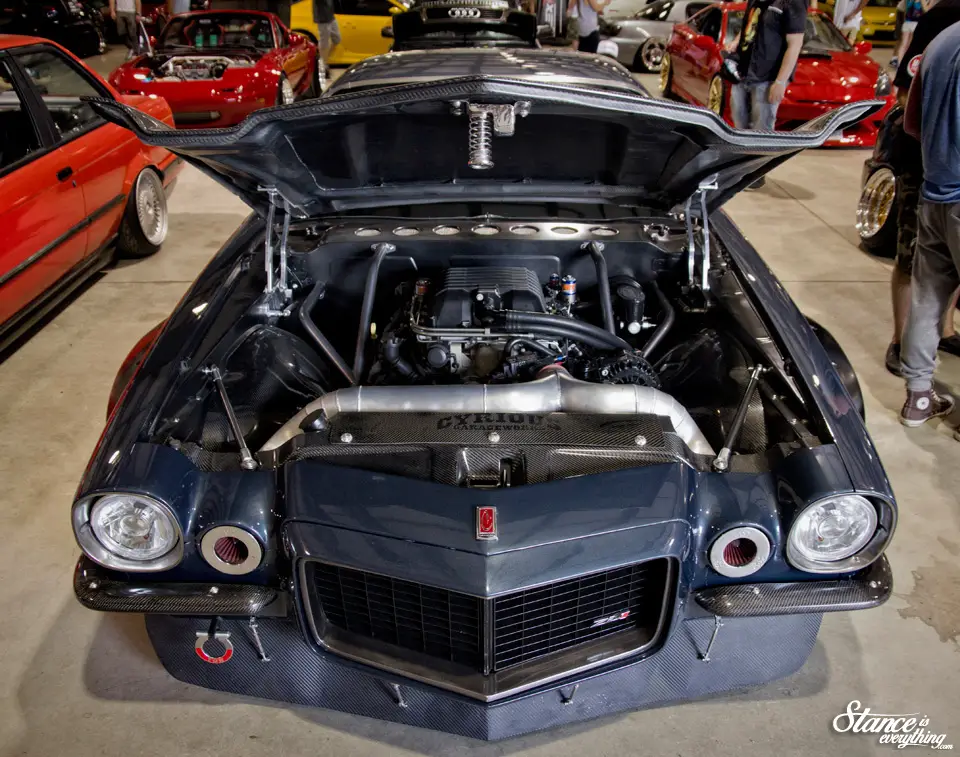 Seen in various stages of completion last year this car is now done and absolutely outstanding.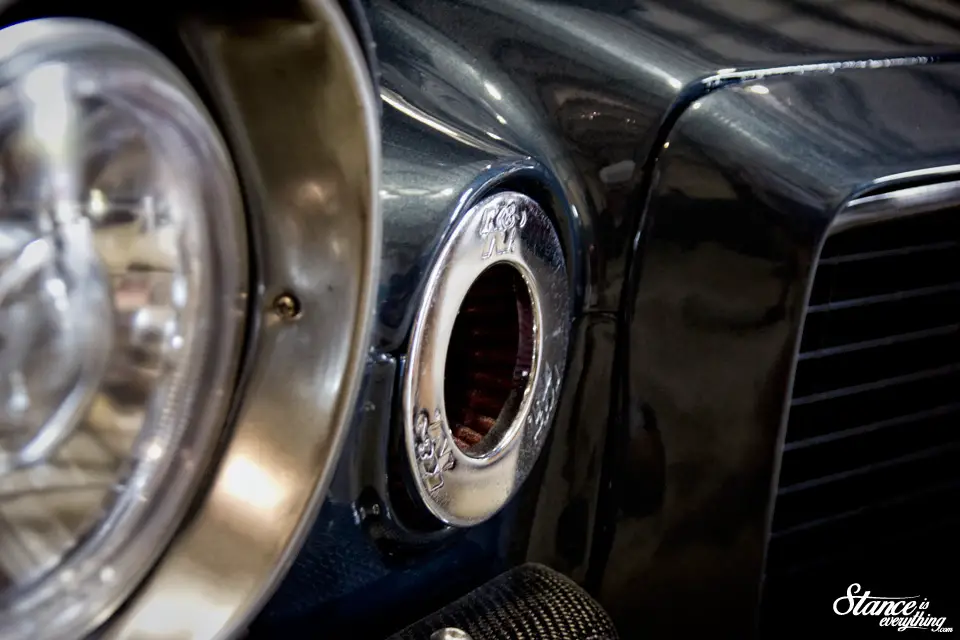 Carbon fiber bumpers front and rear, LSA motor, ride tech self leveling suspension and a stellar interior round out just some of the details hidden within this intense build.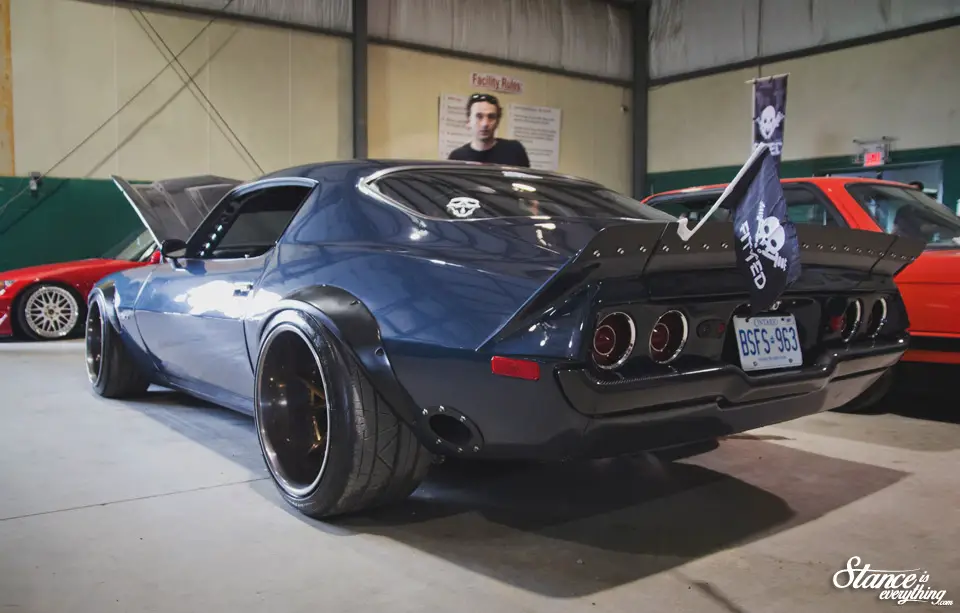 I am going to make damn sure to get some one on one time with this car sometime this summer, as well as get a ride shotgun!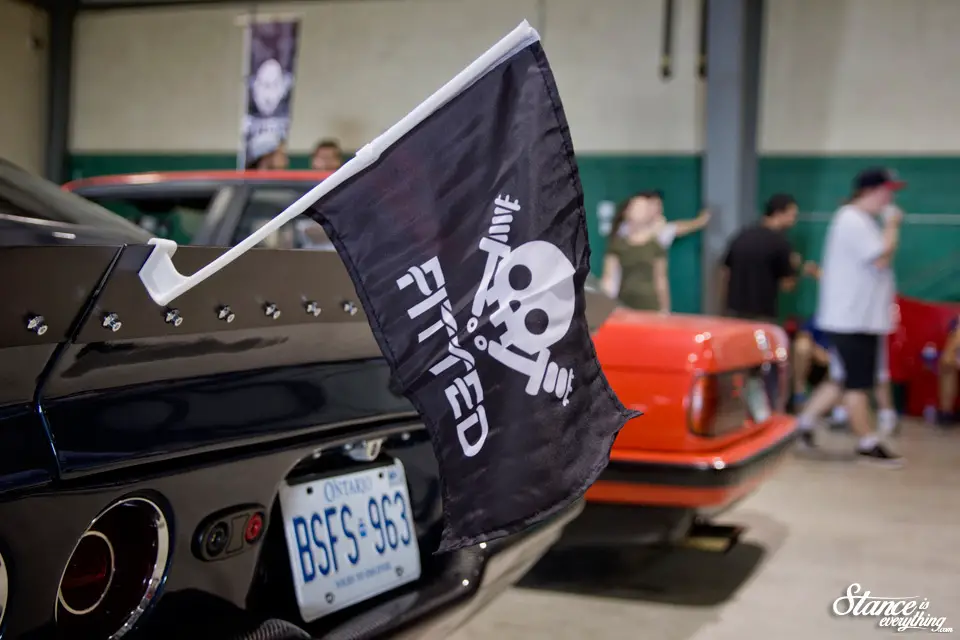 That rounds out the Fitted coverage for another year though there's sure to be a few alternate shots trickling out on to instagram and Facebook over the next few weeks.
So if you didn't see your car in the coverage thus far keep an eye out!