Ah Vanfest, perhaps the only show I've been unable to attend a remarkable five years in a row. My lack of attendance has not been for lack of trying however, every year previous to this one Vanfest has fallen on the same weekend as a bachelor party, wedding, funeral, or some sort of other fixed previous obligation.
This year the show was scheduled for Father's day weekend, so I used my father card to reserve one day of the weekend for my son Ash and I to check the show out.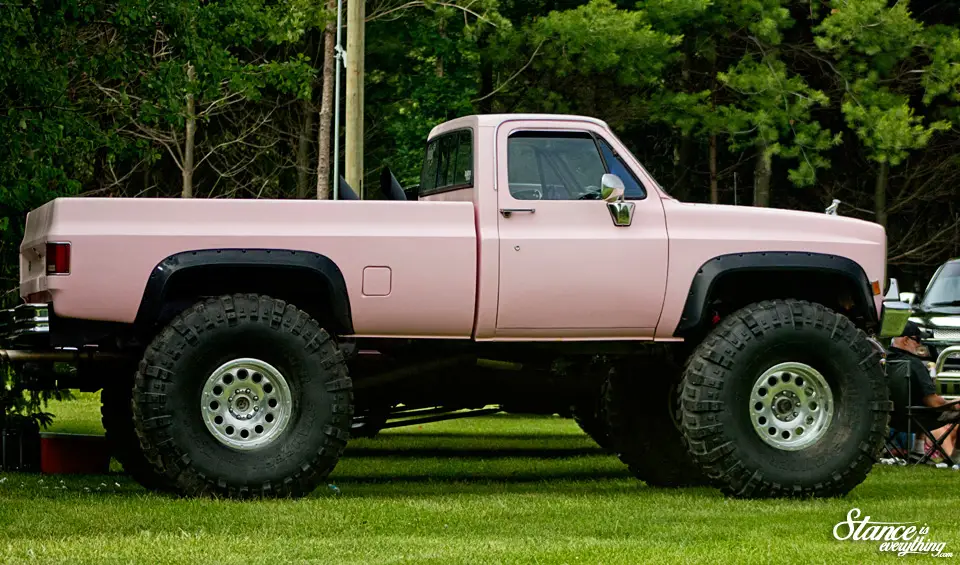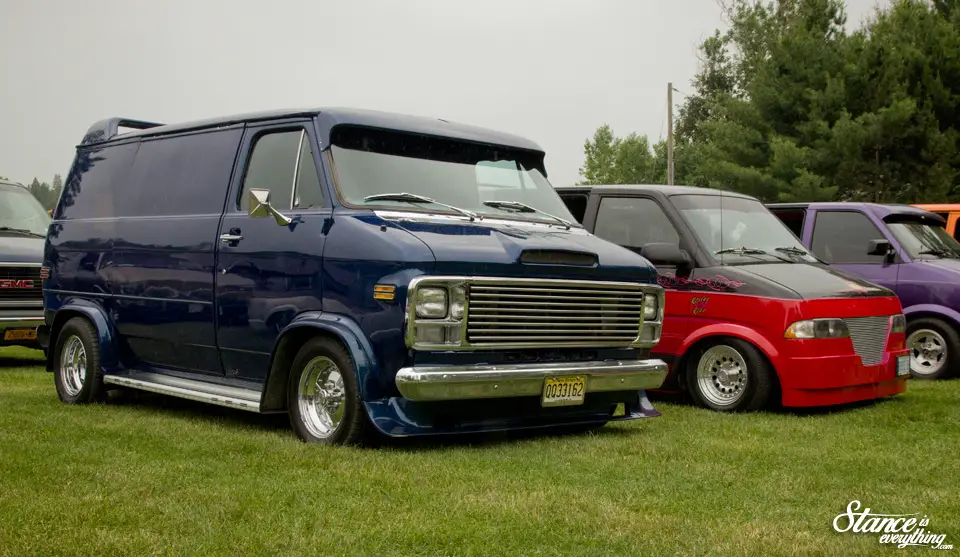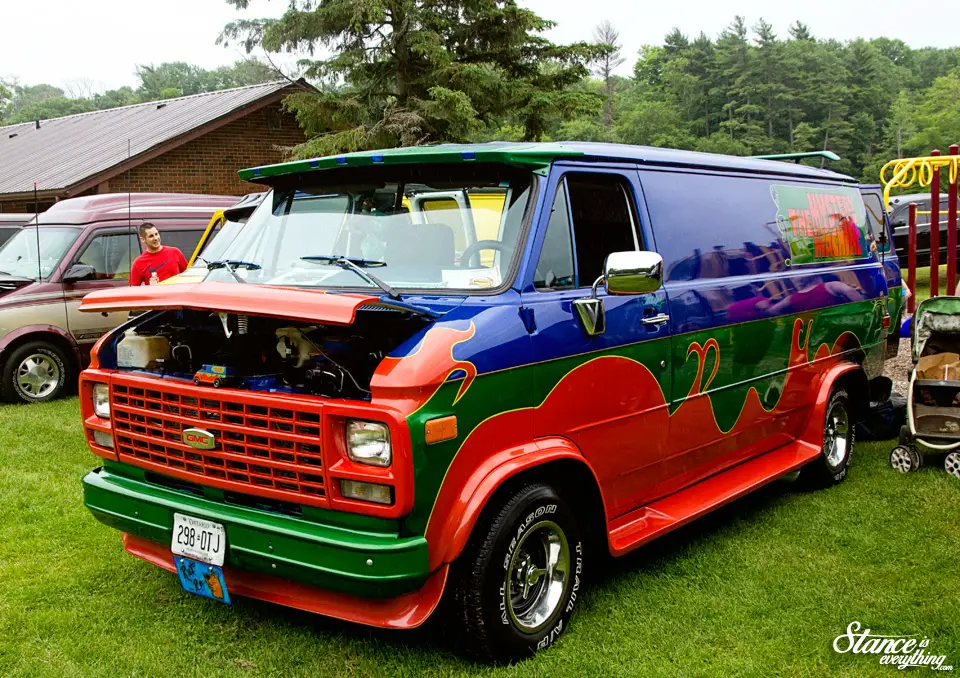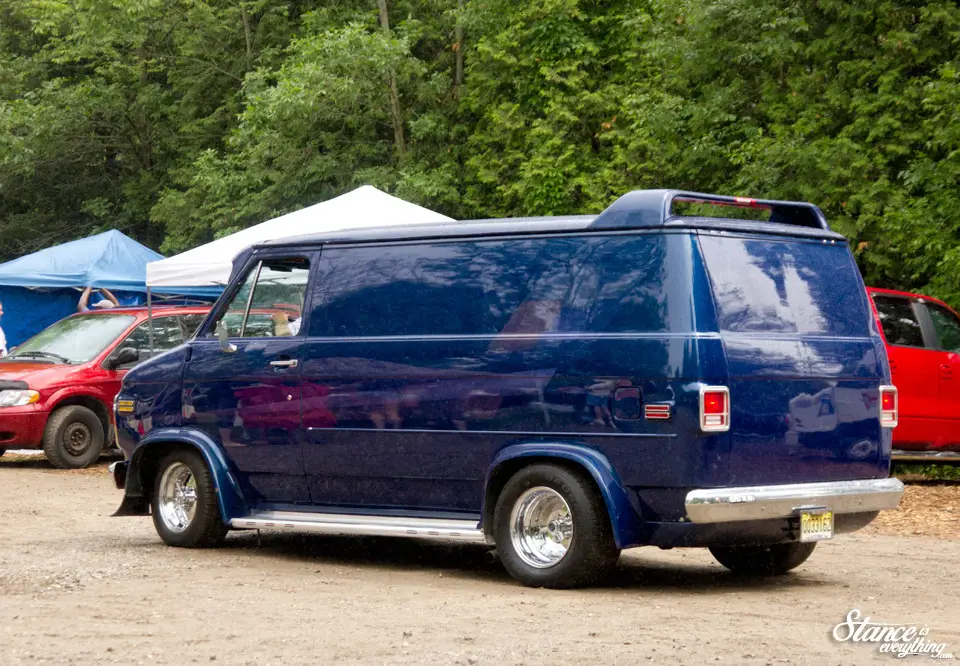 Upon arrival I was not disappointed, greeting me at the entrance of the Springwater Conservation area was one of the highest street going single cab pick up trucks I have ever seen.
Following that was an almost overwhelming number of highly modified vans, vans done in a style I had only ever seen in extremely small doses, or read about online.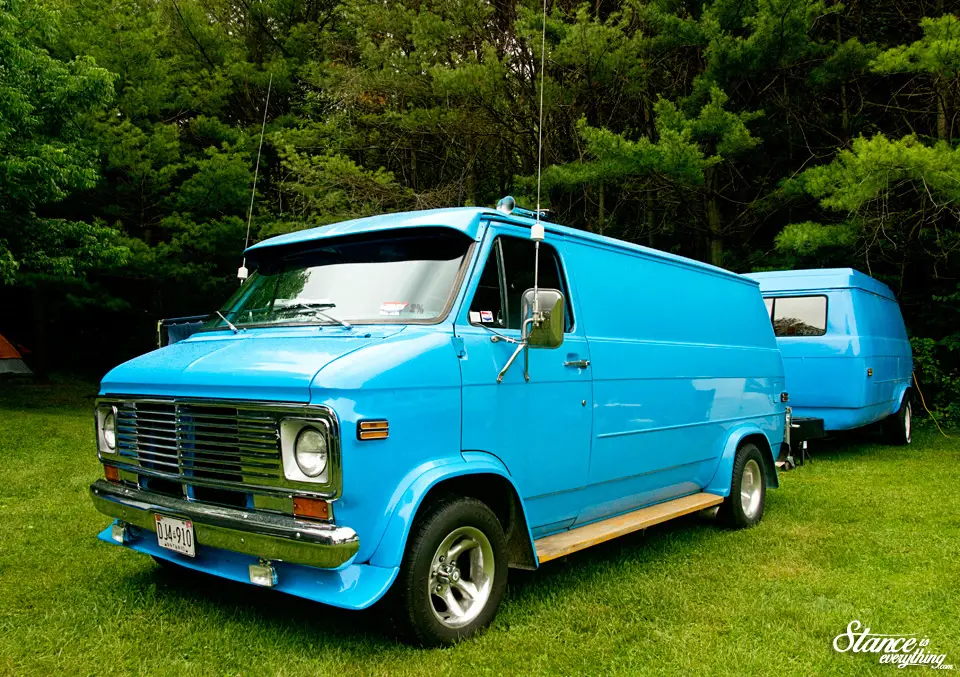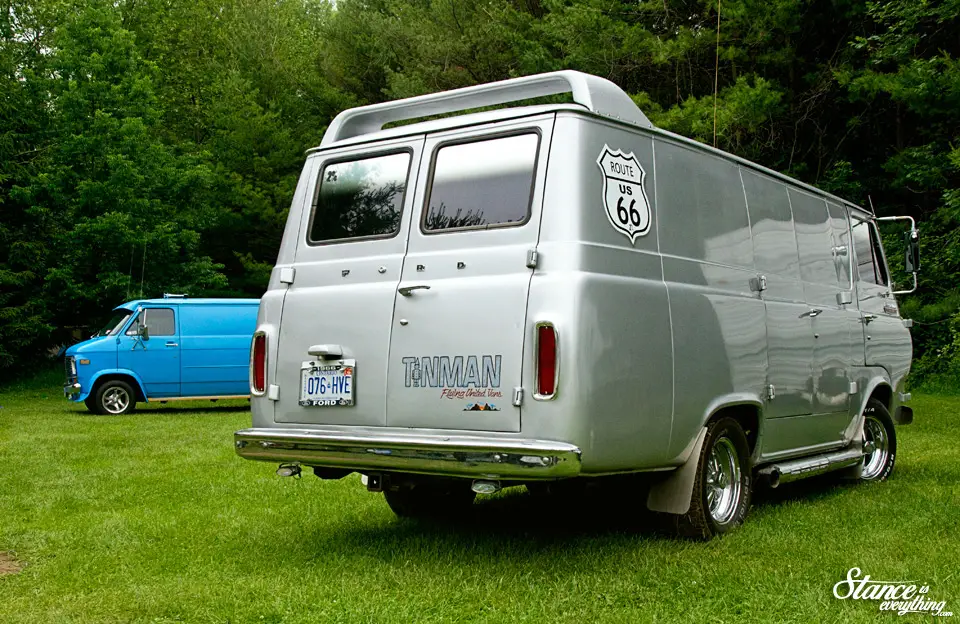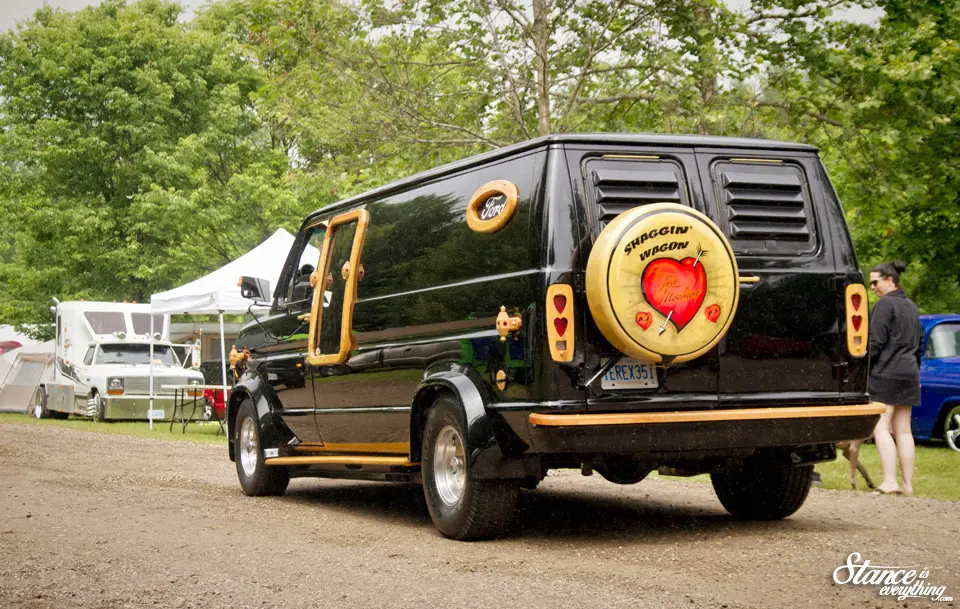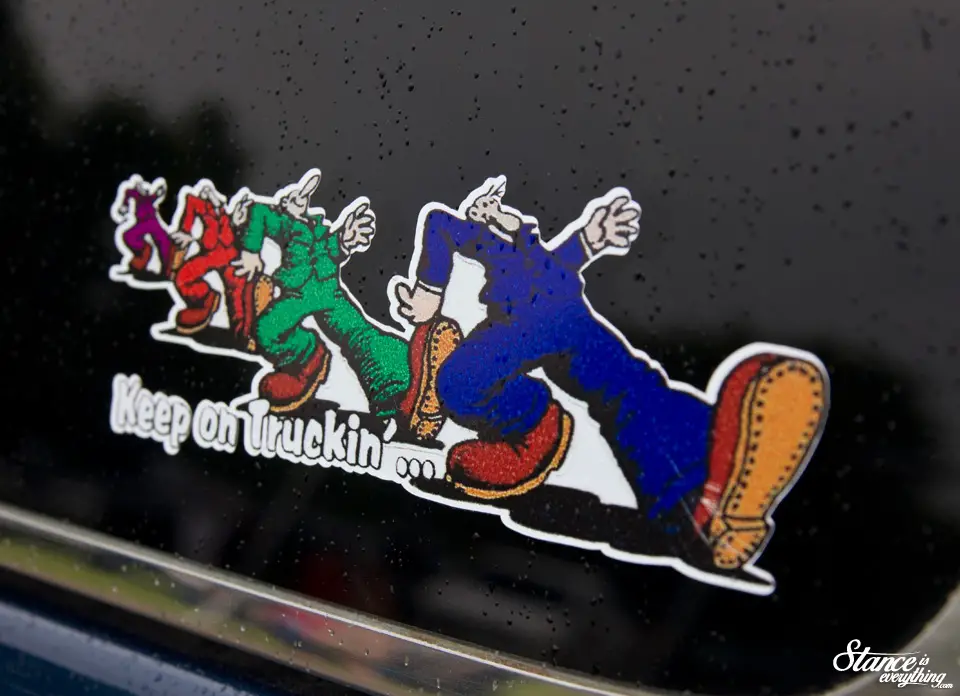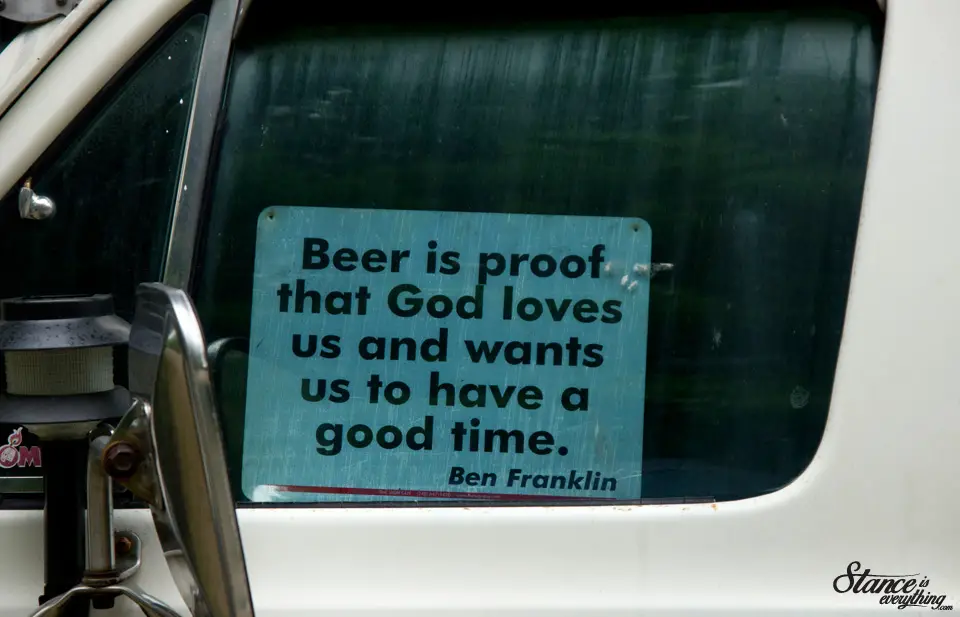 Though the Saturday is considered show day, and I'm sure judges were milling about somewhere, the vibe was more on par with a weekend long party than anything else. Everywhere I looked all I saw were people having good time in the general proximity of heavily customized vans and trucks.
Now vans might not be everyone's cup of tea but if you want to take lifestyle Vanners really do live their passion. Many of these individuals have been into vans for twenty to thirty some odd years, and have been going to the same shows with the same people for almost that entire period of time.
The van community is tight-knit to say the least and boy are they dedicated to their niche.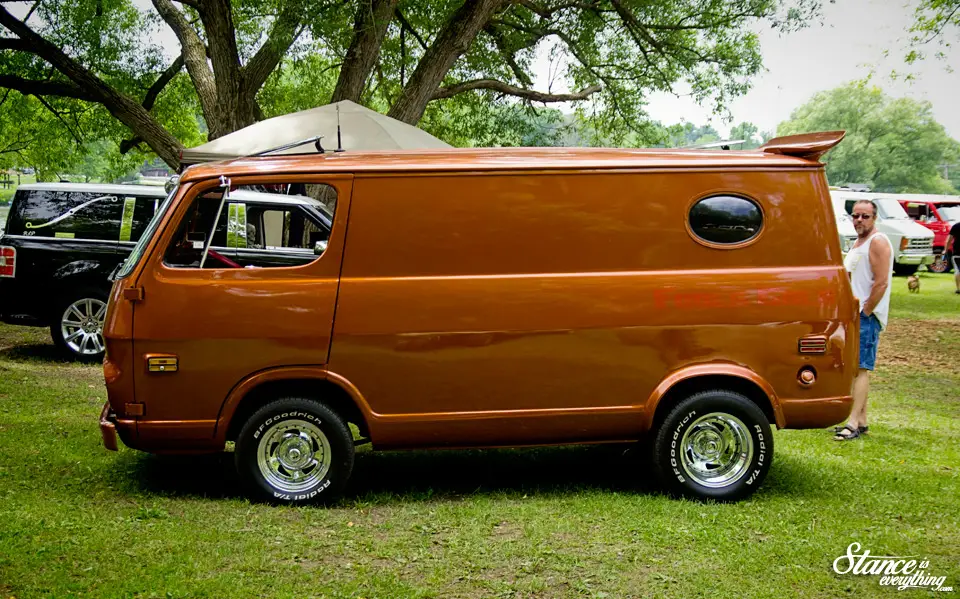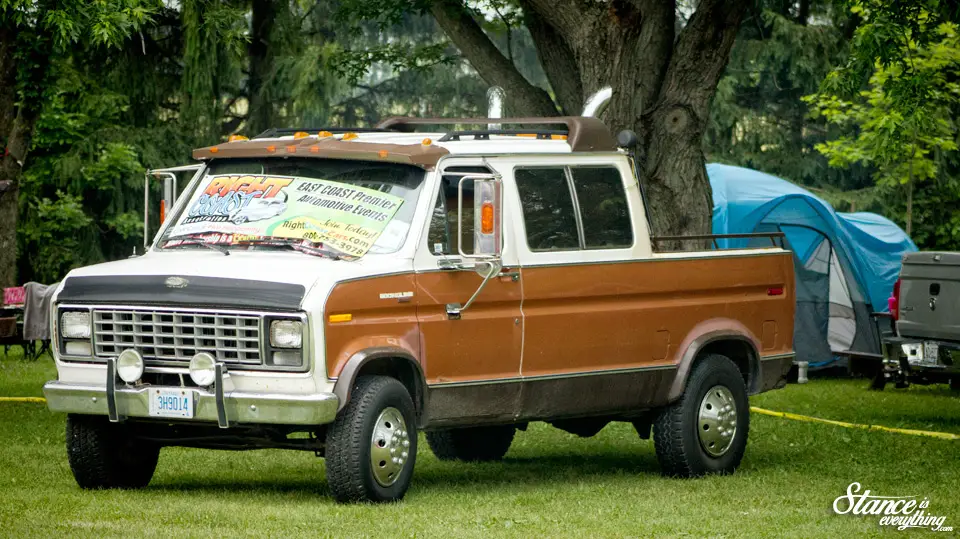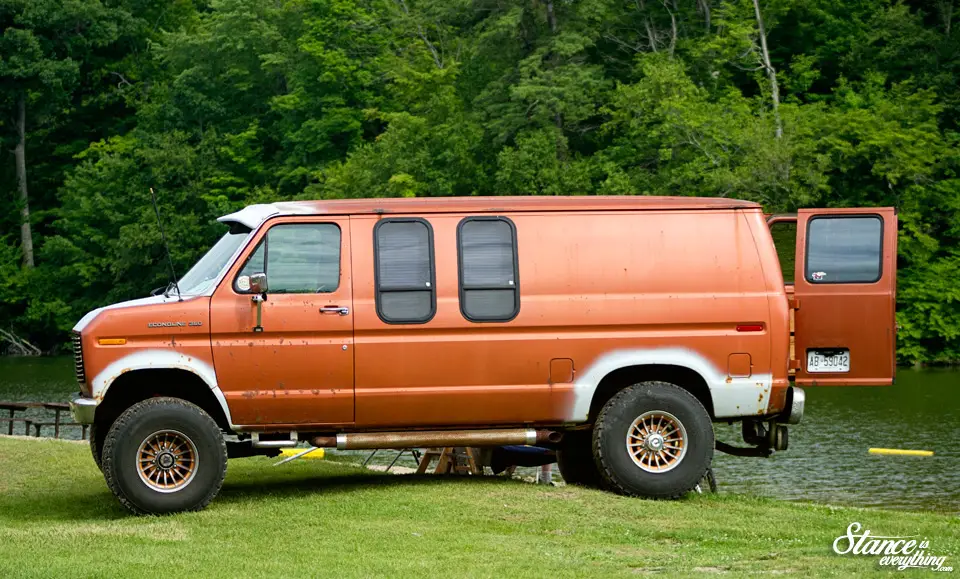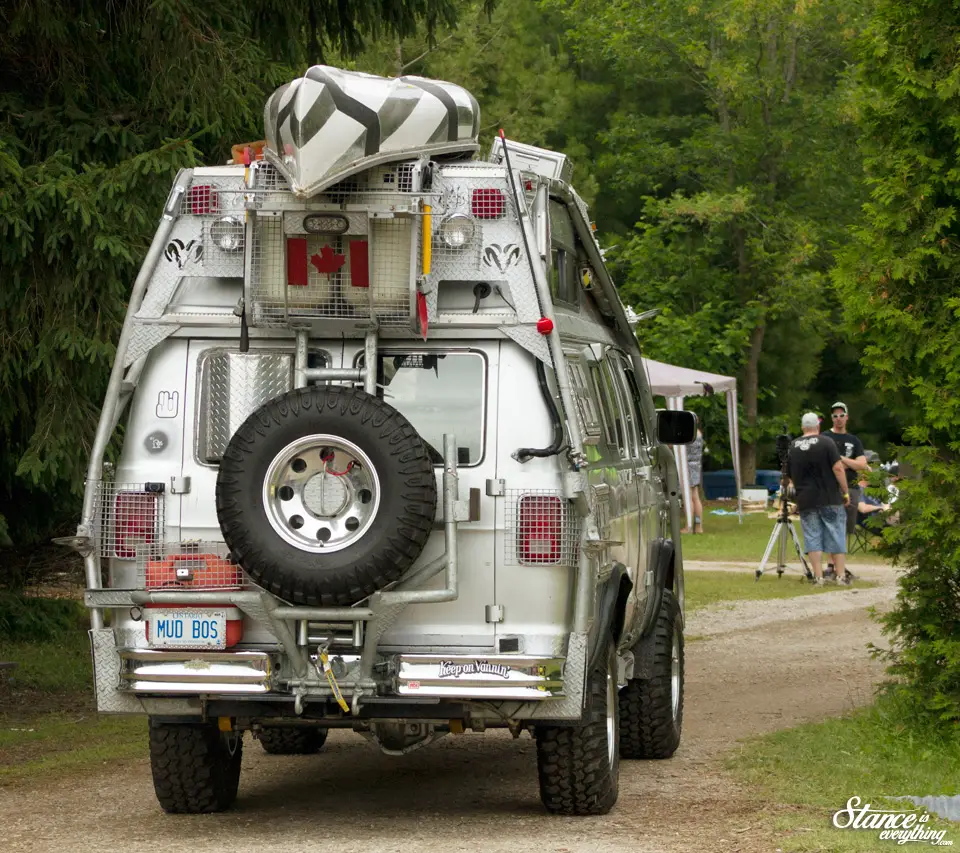 Few things characterize a true custom van more than a wild mural and if I were to hazard a guess I would the hours invested in some of these paint jobs triples that invested in some of the entire builds I've seen at other shows.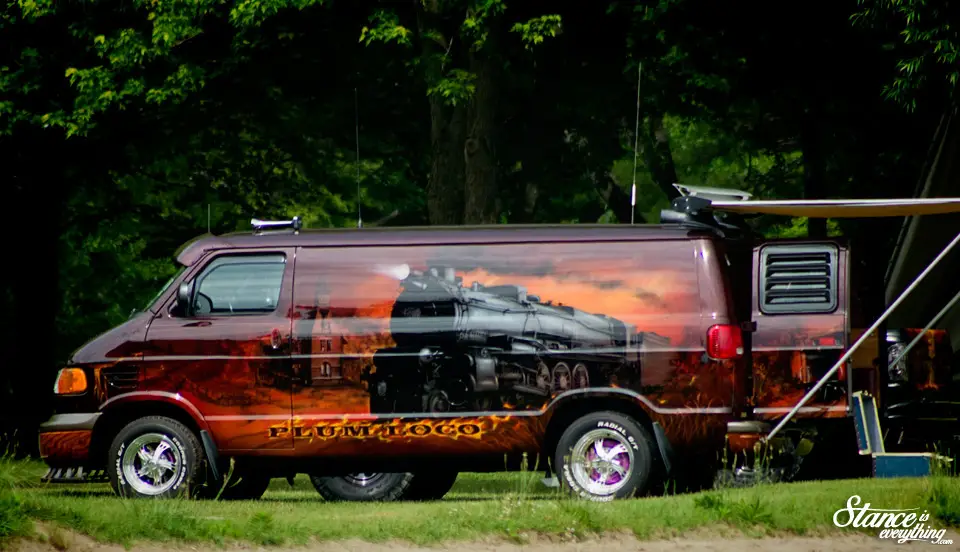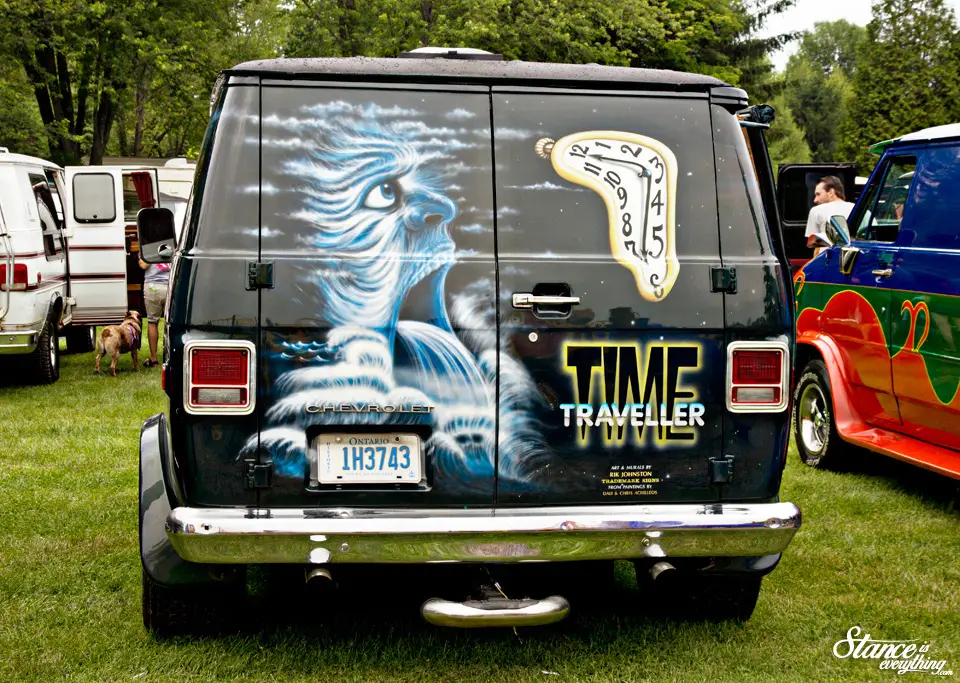 The murals run the gamut of topics and influences, but most appeared to be in the realm of fantasy or paranormal.
The work on the Time Traveler for example immediately made me think of a character that would be in The Never Ending Story.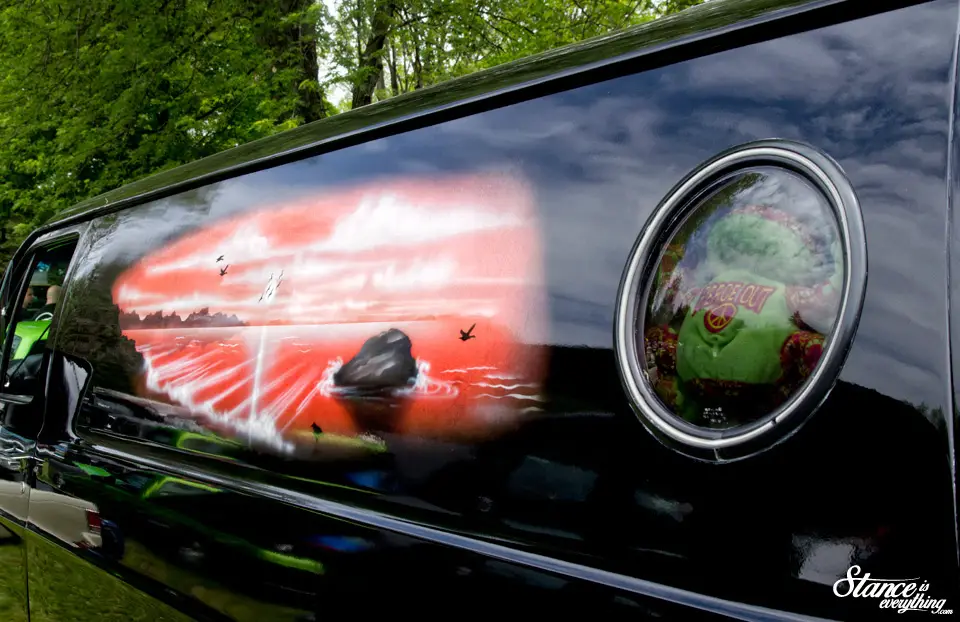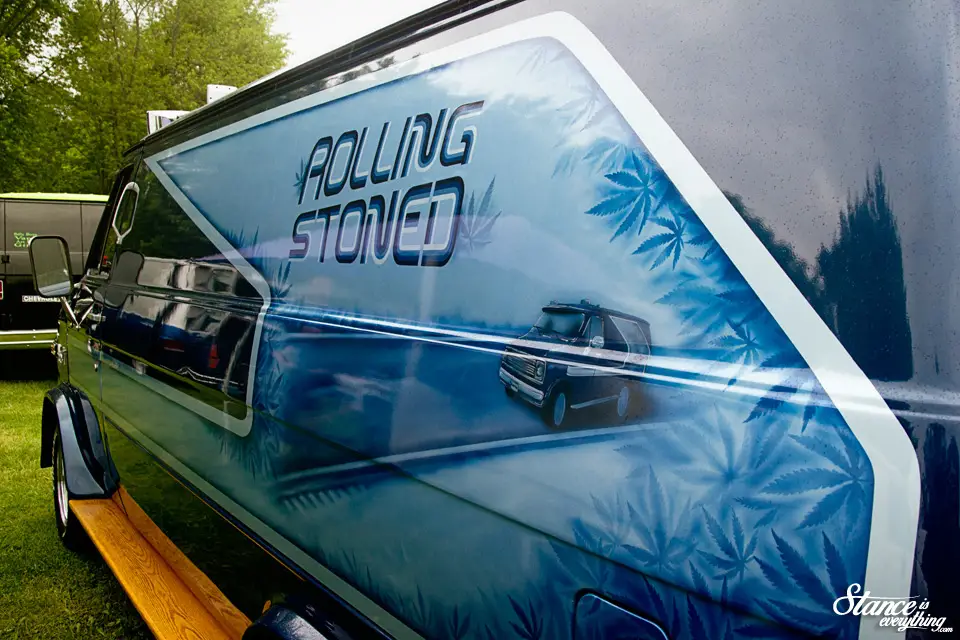 These two murals were probably examples of two owners very different ideas of the perfect weekend; an island oasis and a cruise above the clouds.
Can't imagine what it's like to drive around with a mural depicting illegal activity on the side of your van though…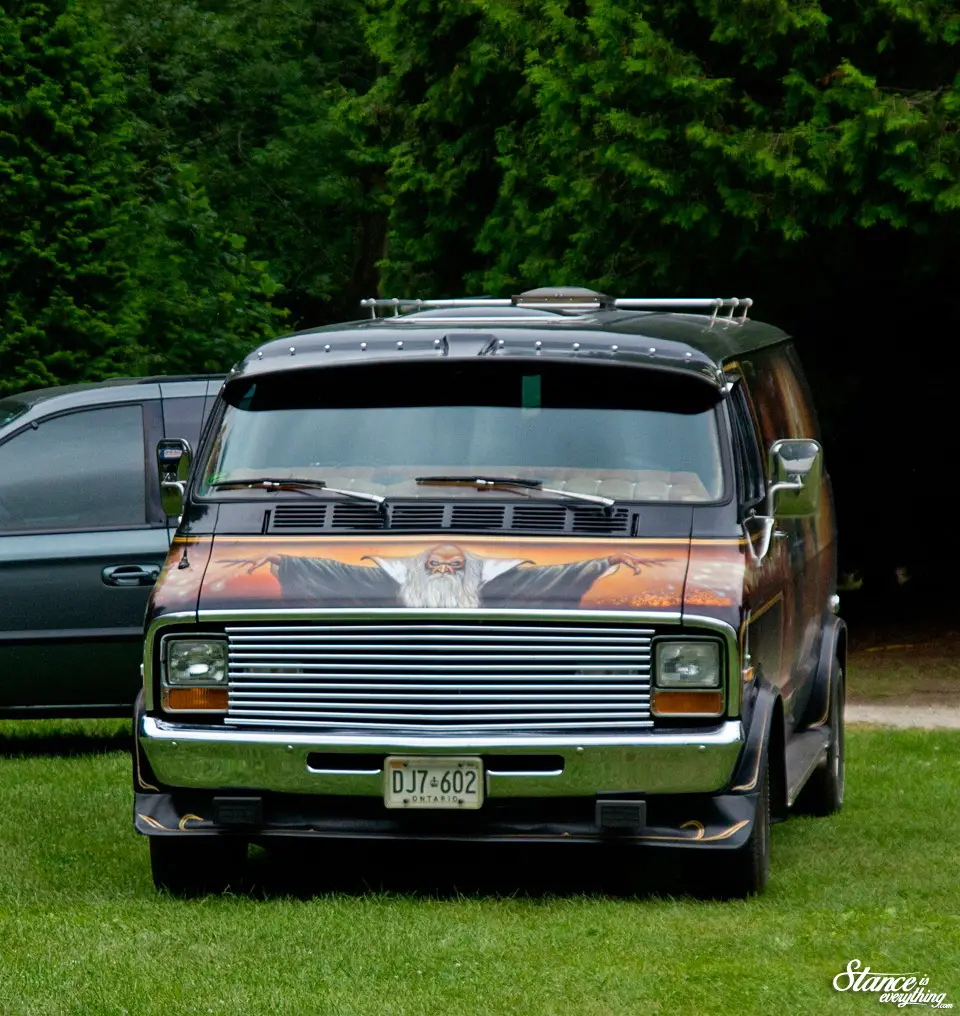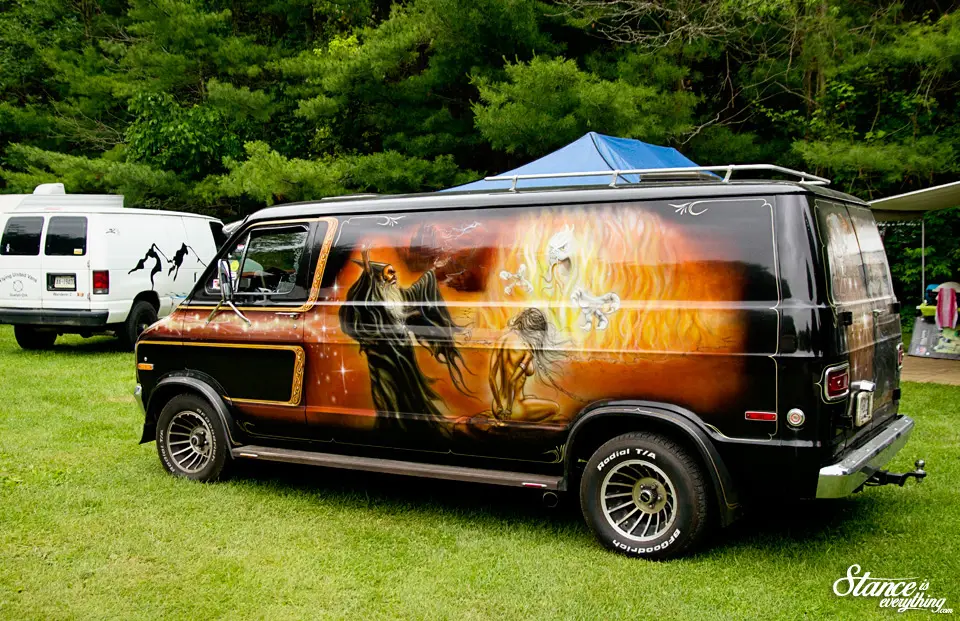 Very few of these murals were modern pieces either, but they still miraculously stood up to the hands of father time.
The Black Rose was originally built and painted in the early '80s, but subject matter aside it looked like the paint could have been done a week ago.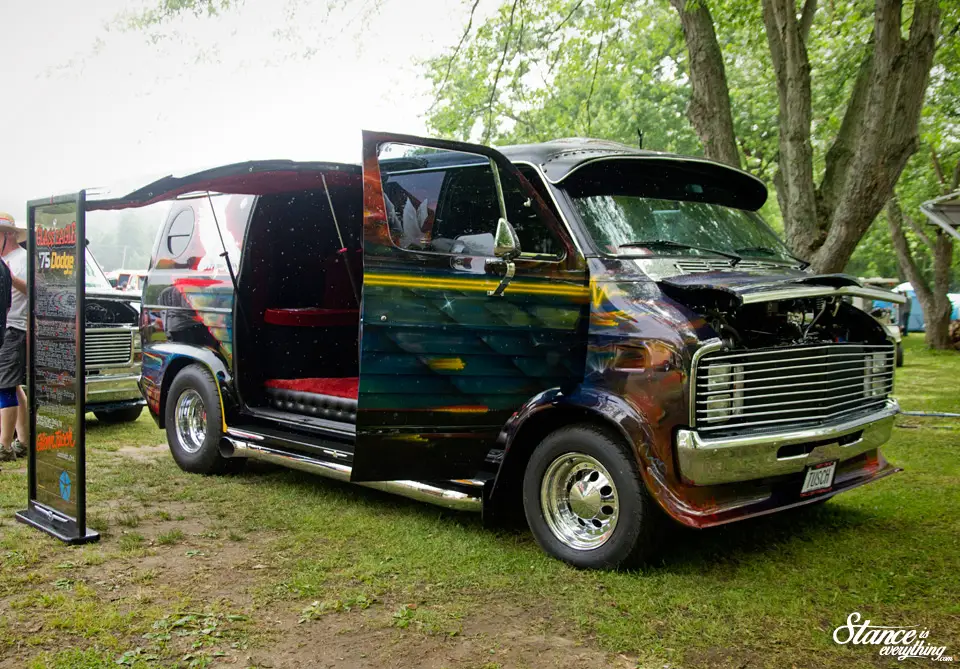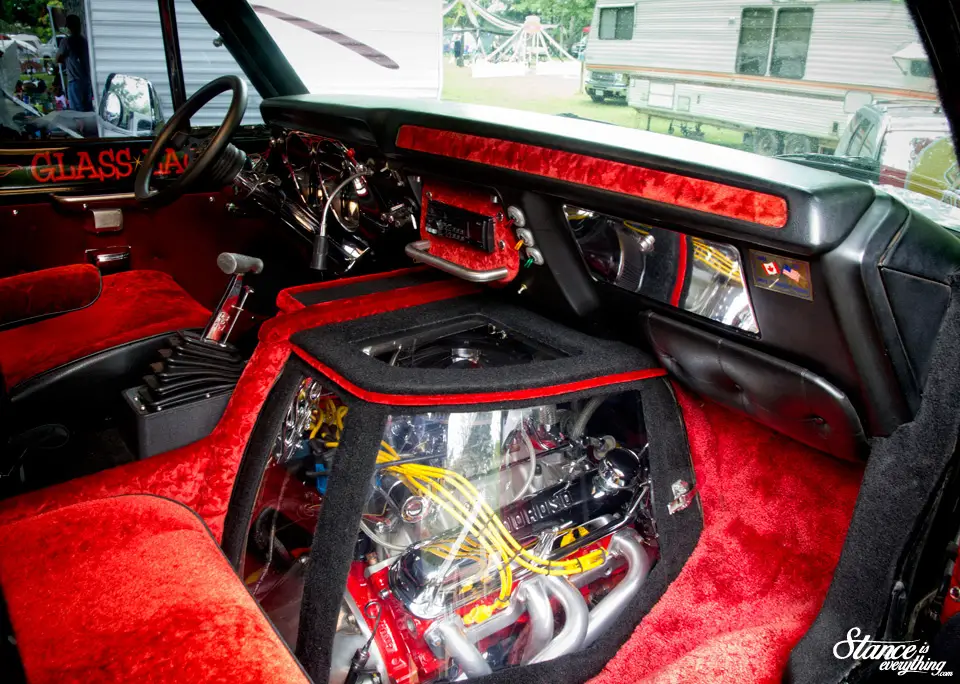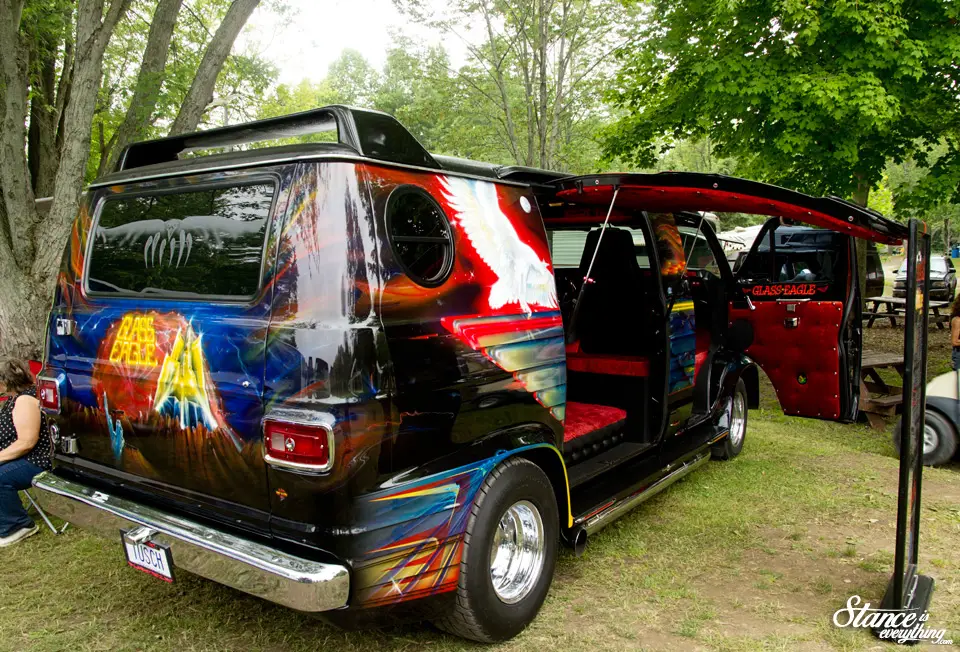 I'm told this '75 Dodge dubbed The Glass Eagle is one of the top show vans in the area and I don't doubt that for a second. The doors opened all sorts of different directions, the body was largely custom and extensive air brush work ran all over the entire car.
There was even an etched rear window and a fitting glass case for the very detailed motor.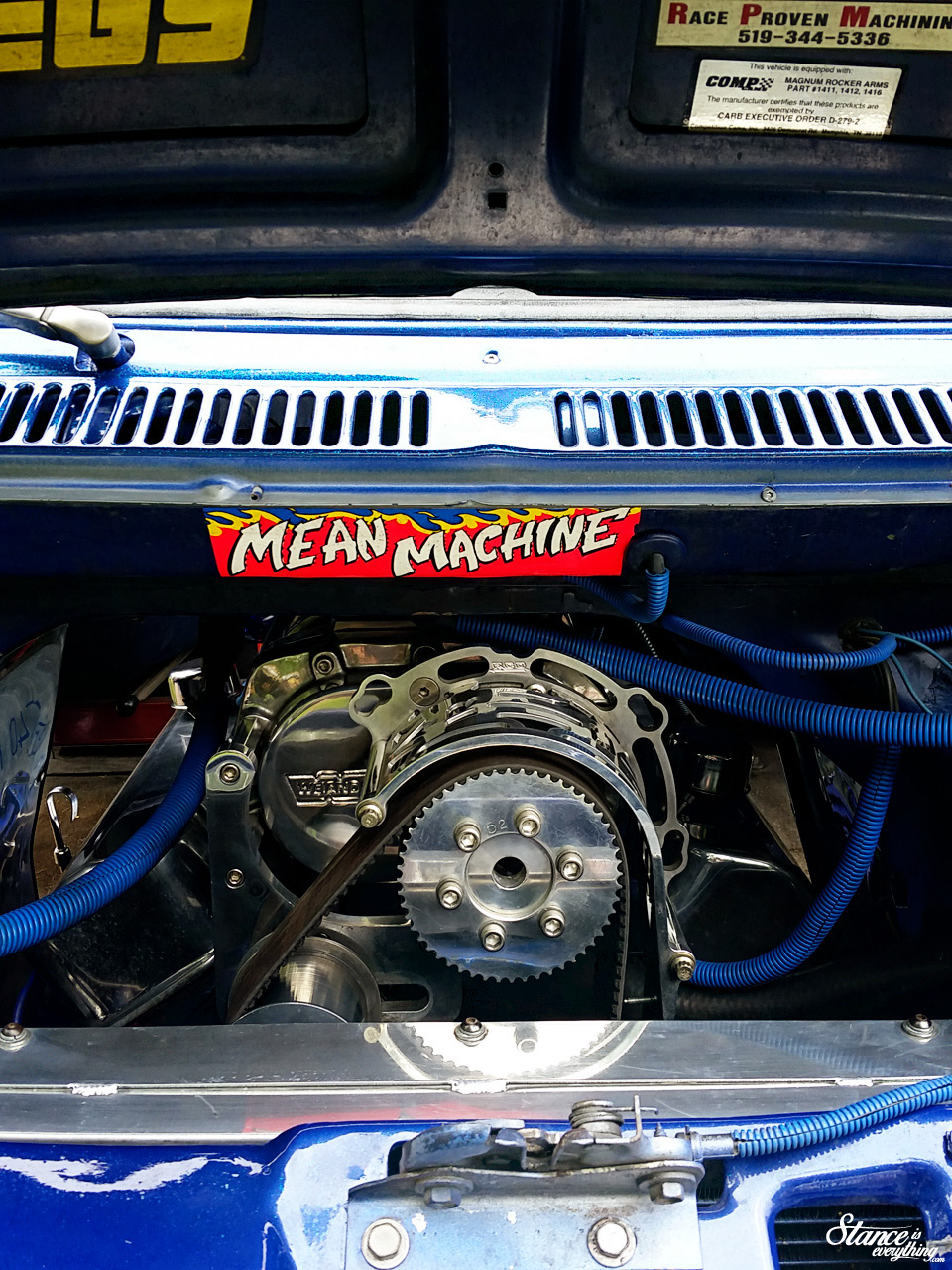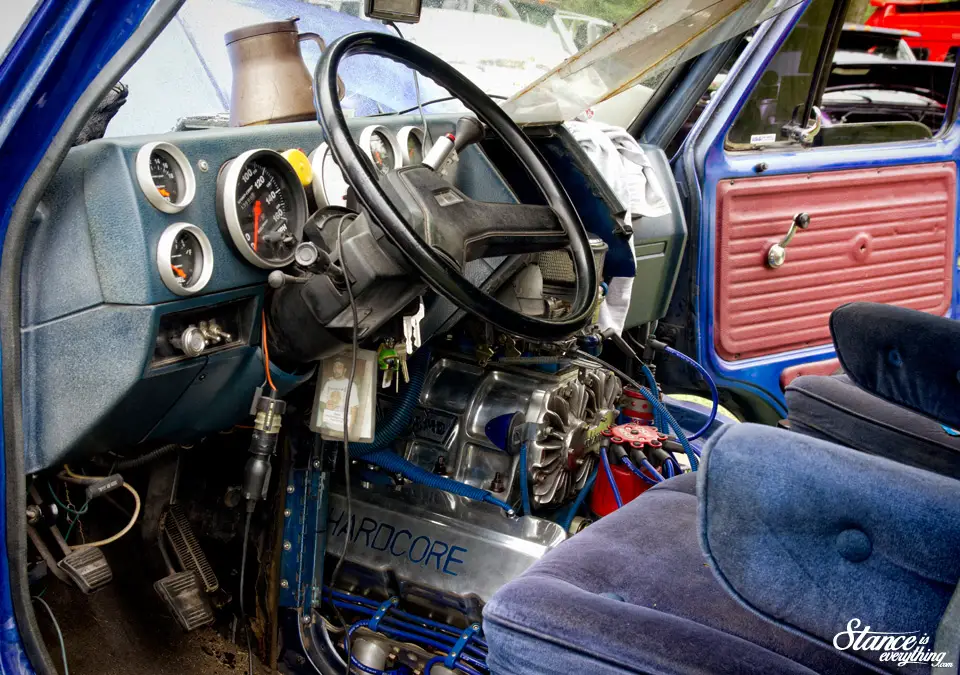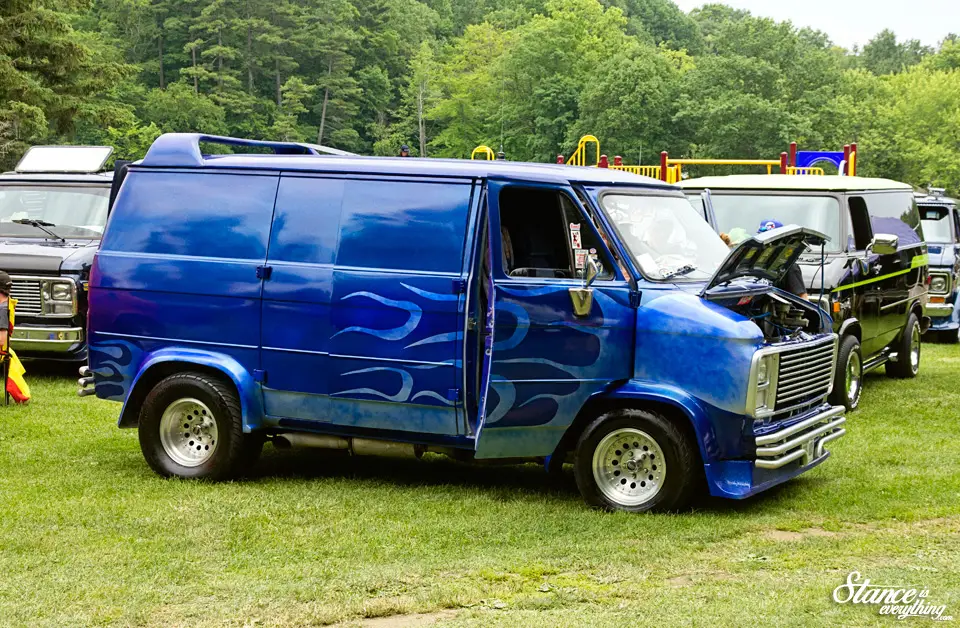 With their awkward engine bays I wouldn't fault a lot of Vanners for leaving well enough alone under the hood, but several of these owners devoted some serious time to the motors.
The van above (dubbed the Outlaw II) was supercharged and could be seen running the strip on the Friday. Additionally I've come to learn that it also has two transmissions, not exactly sure how or why but I'd really like to find out.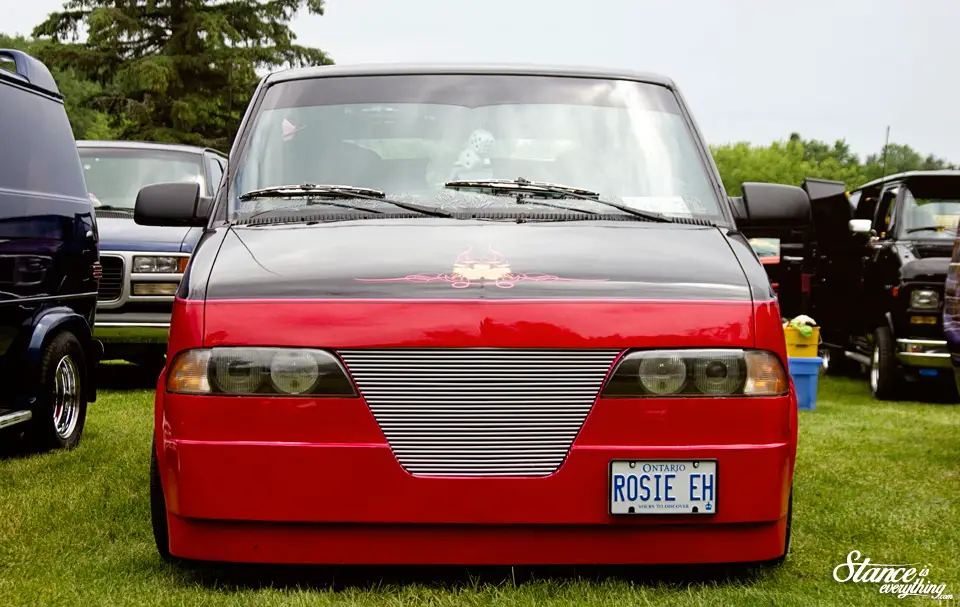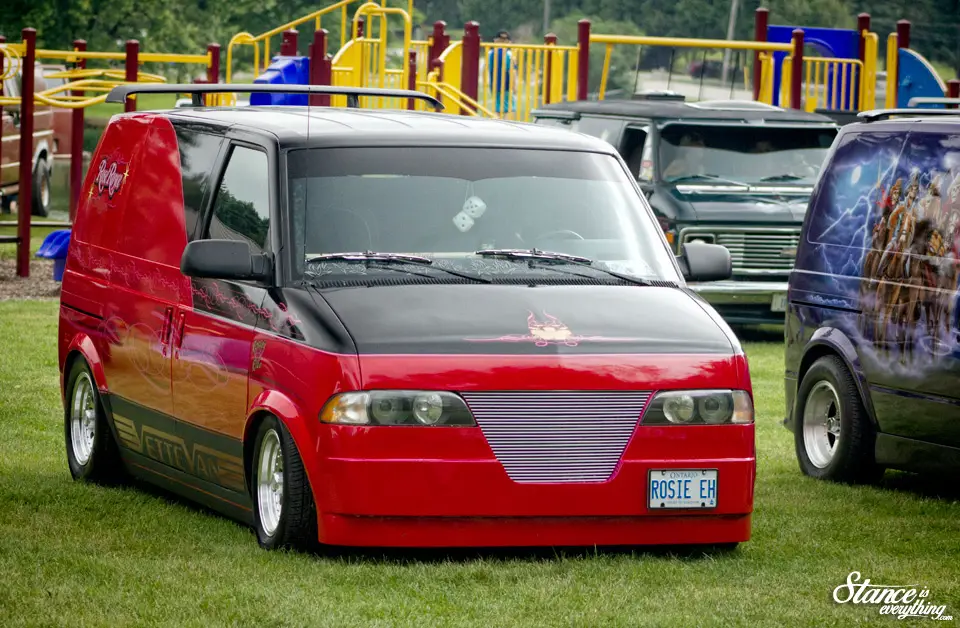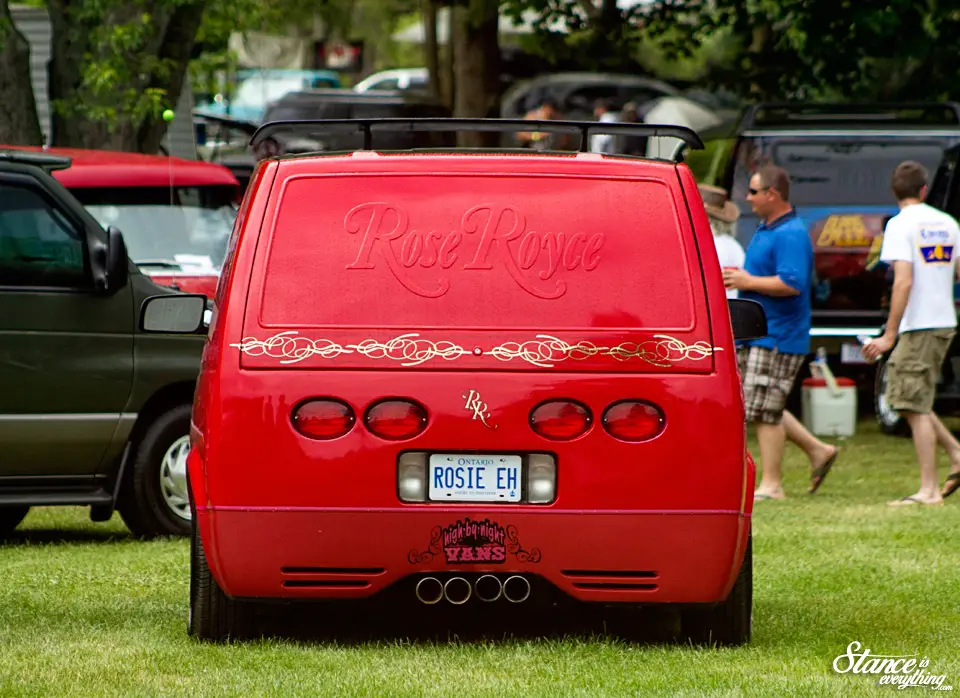 While there were tons of Vans modified to levels far and beyond any Van I had ever seen, one that kept luring me back repeatedly was Rose Royce.
A more recent build, it reminded me a bit of the Astros I saw in high school filled with audio, the difference was while those may have had C4 tail lights they certainly didn't have BMW headlights.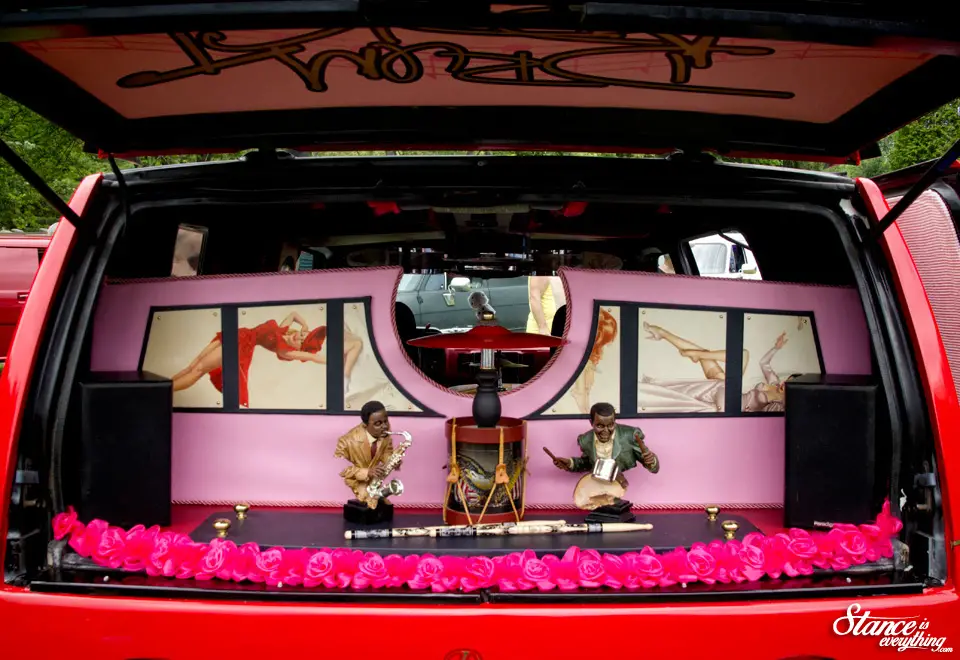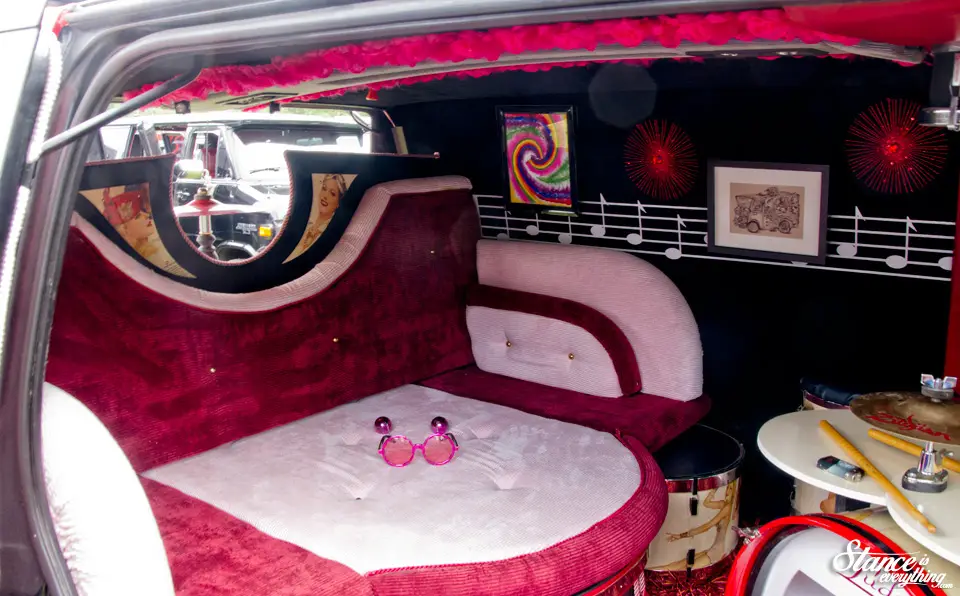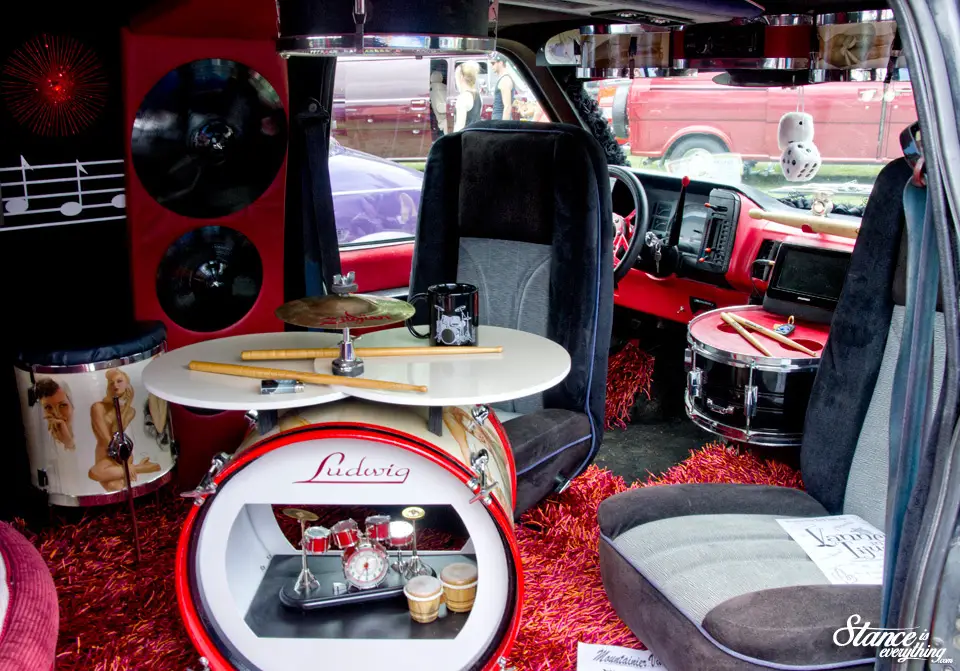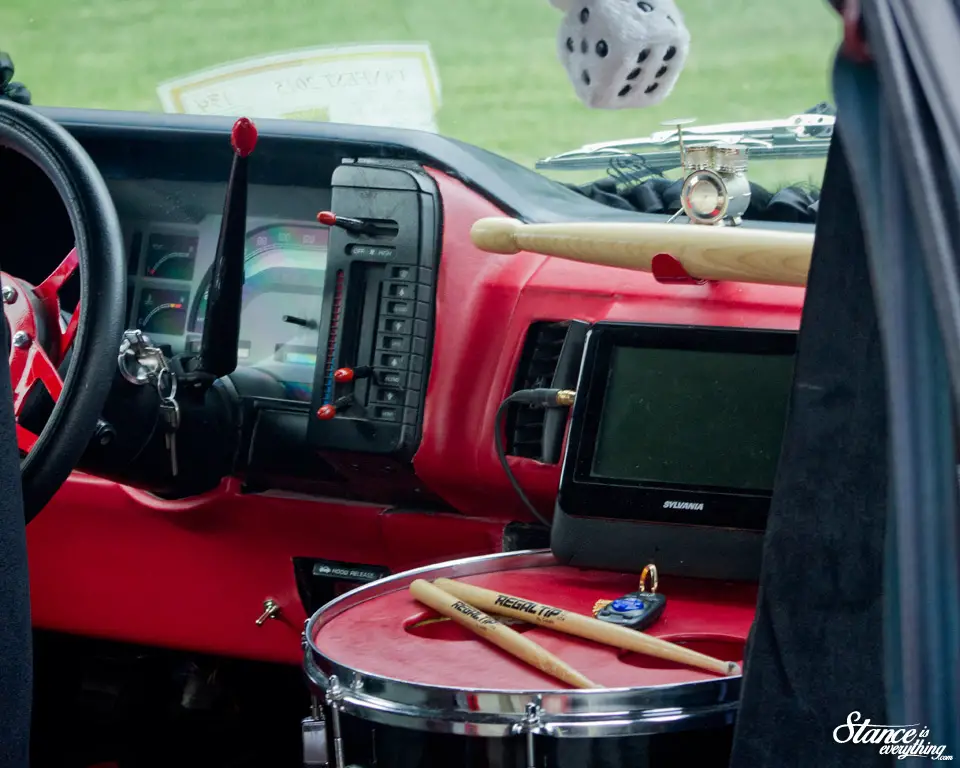 Inside, this van was a tribute to percussionists everywhere, and if you look really close at the photos you will notice that there are snare drums hanging from the roof in addition to the sticks worked into the HVAC and steering column controls.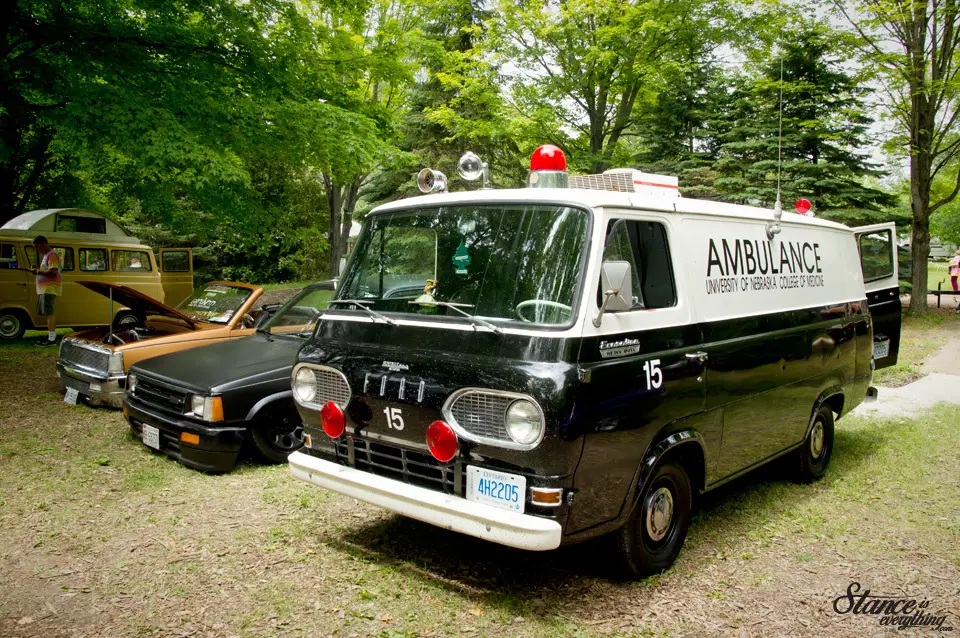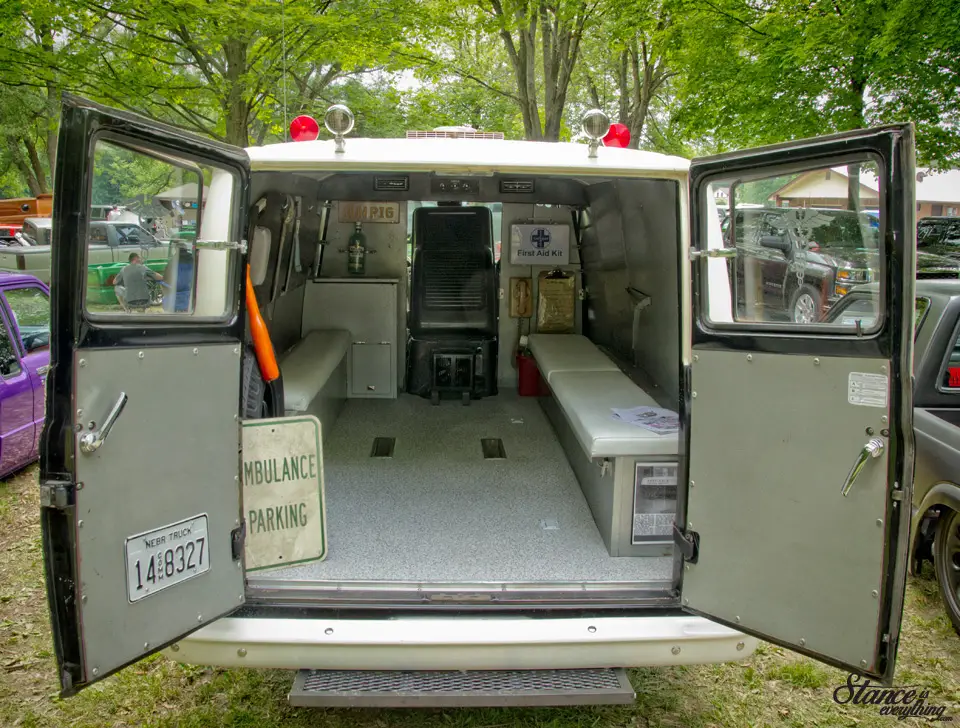 I'm not sure if the Ford Econoline above was an actual Nebraska Ambulance at one point in its life, but if it wasn't the owner sure did their due diligence ensuring that it looked the part.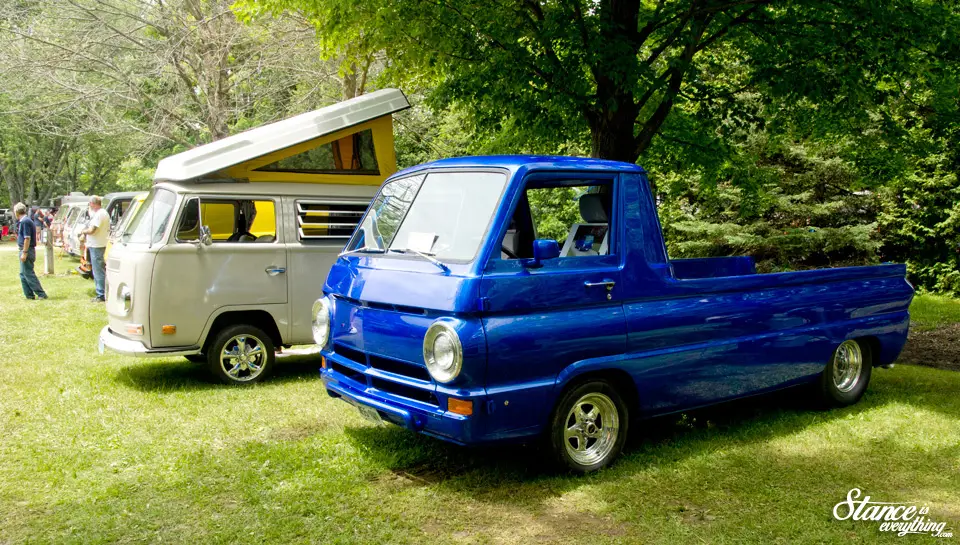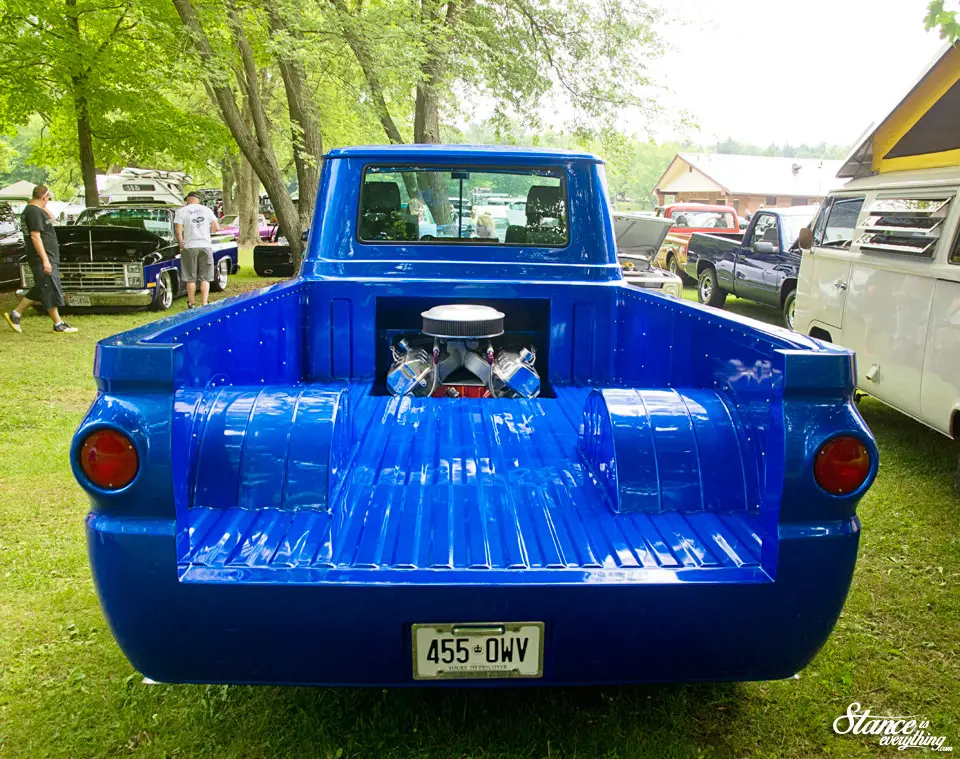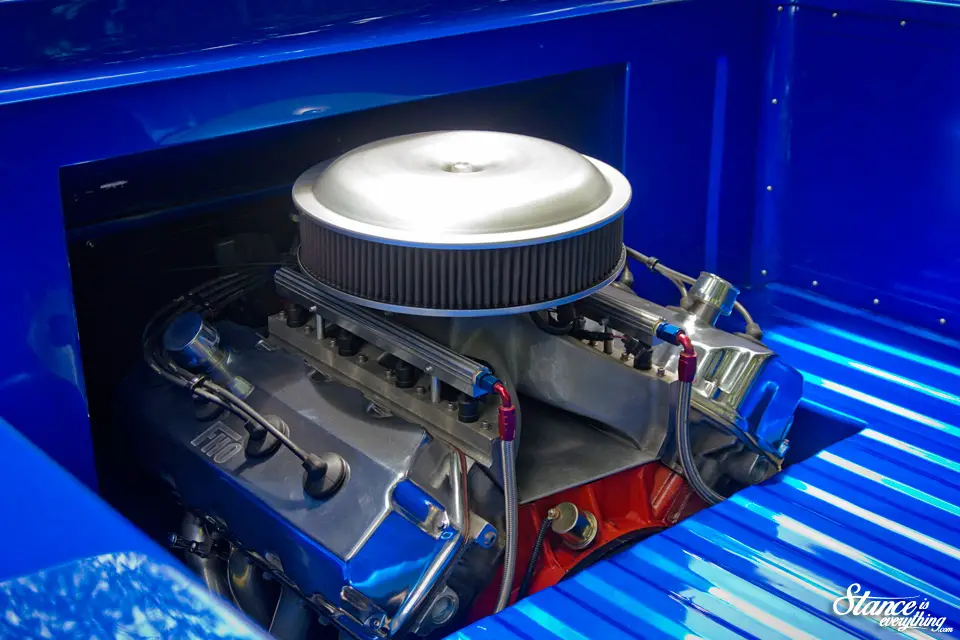 Like the El Camino splits the difference between car and truck the Dodge A-100 does the same between truck and van.
This one also look's like it splits the difference between street and strip, judging by the motor and wheel/tire set-up.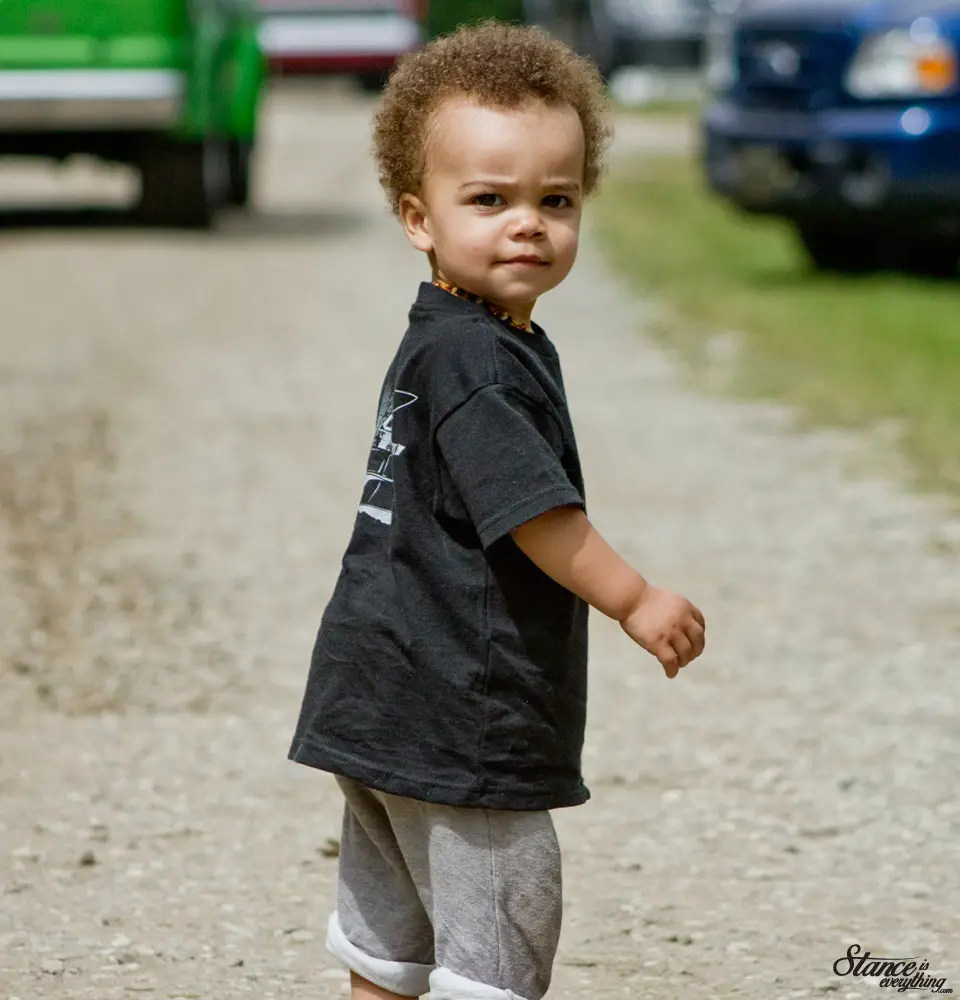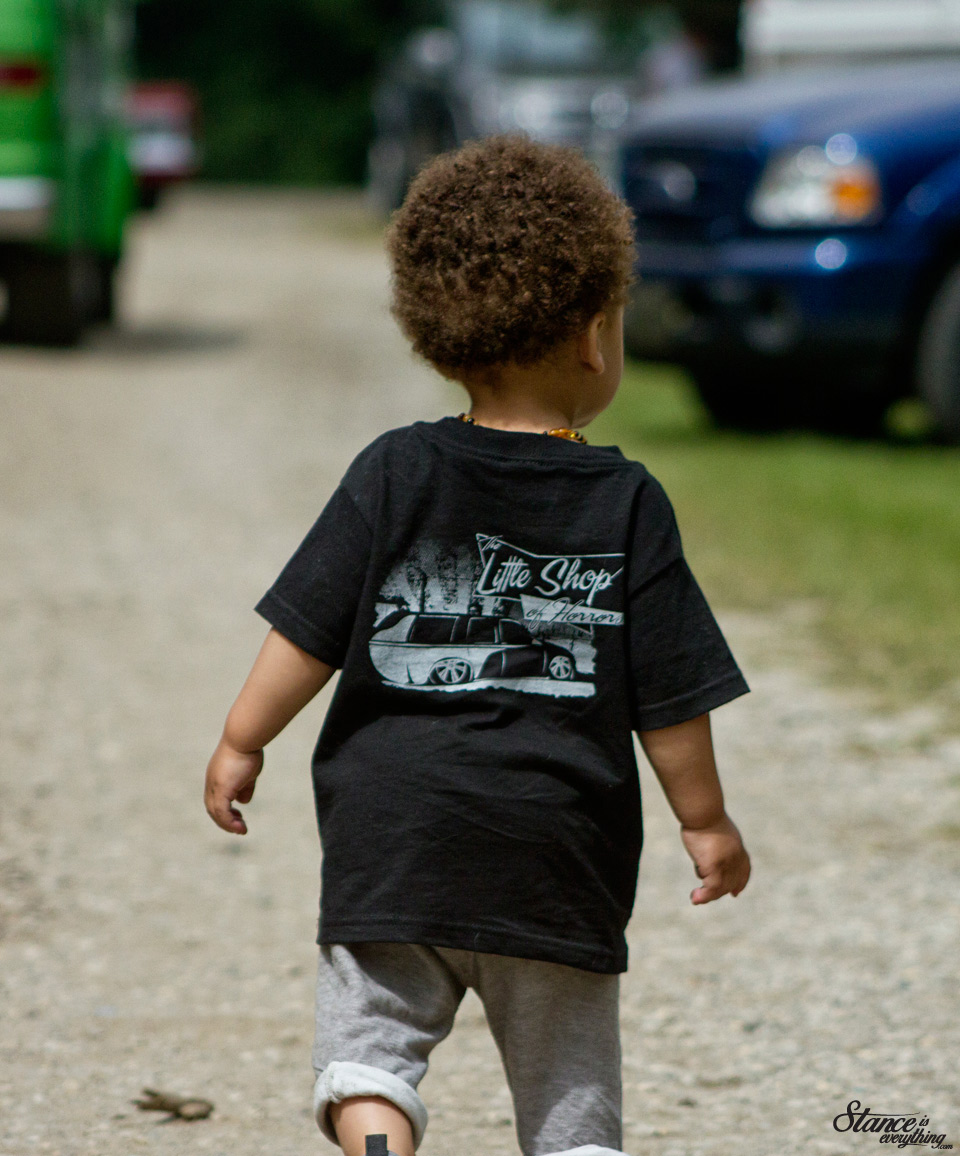 After being a good sport about looking at vans Ash decided he had spent long enough in the stroller and demanded out.
As soon as his feet hit ground he made way towards the part of the show where there was a higher ratio of truck to van, than van to truck.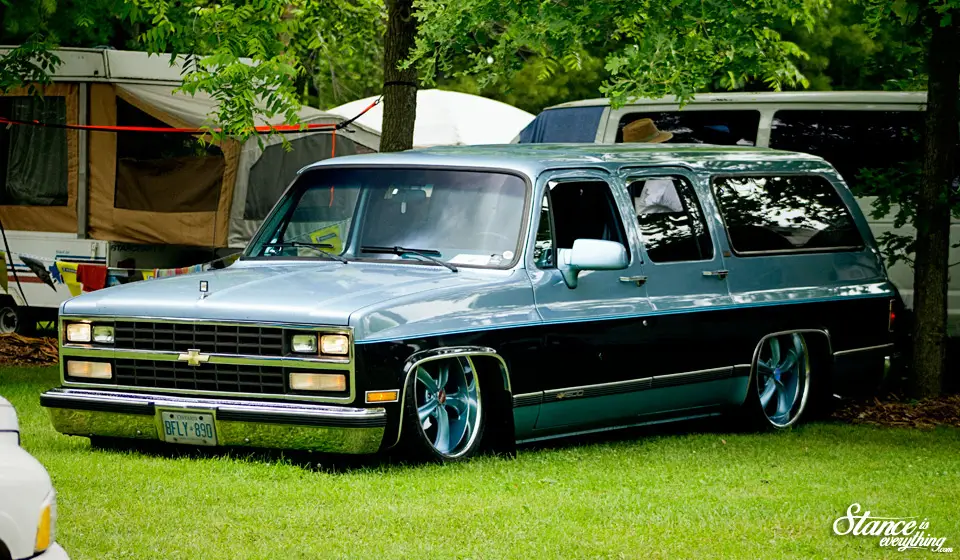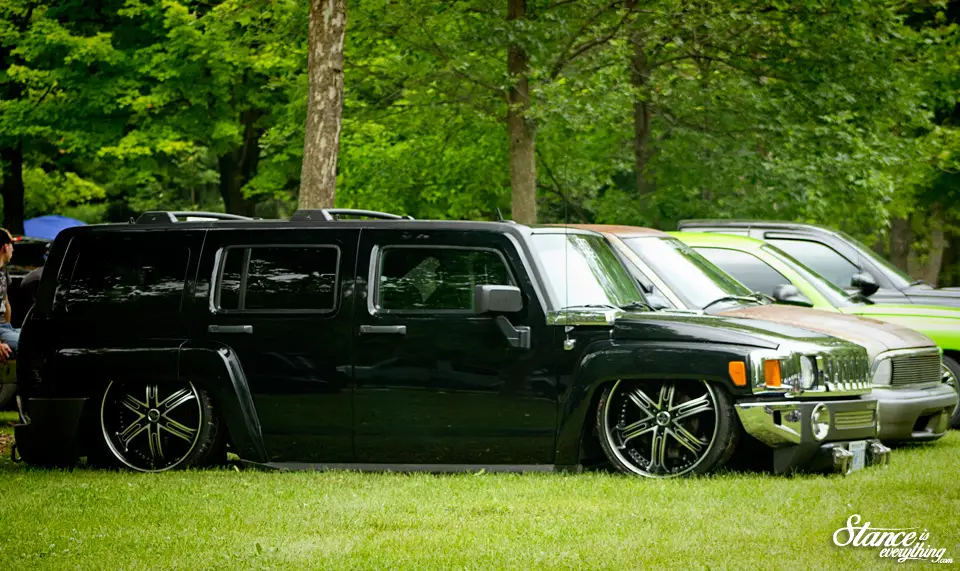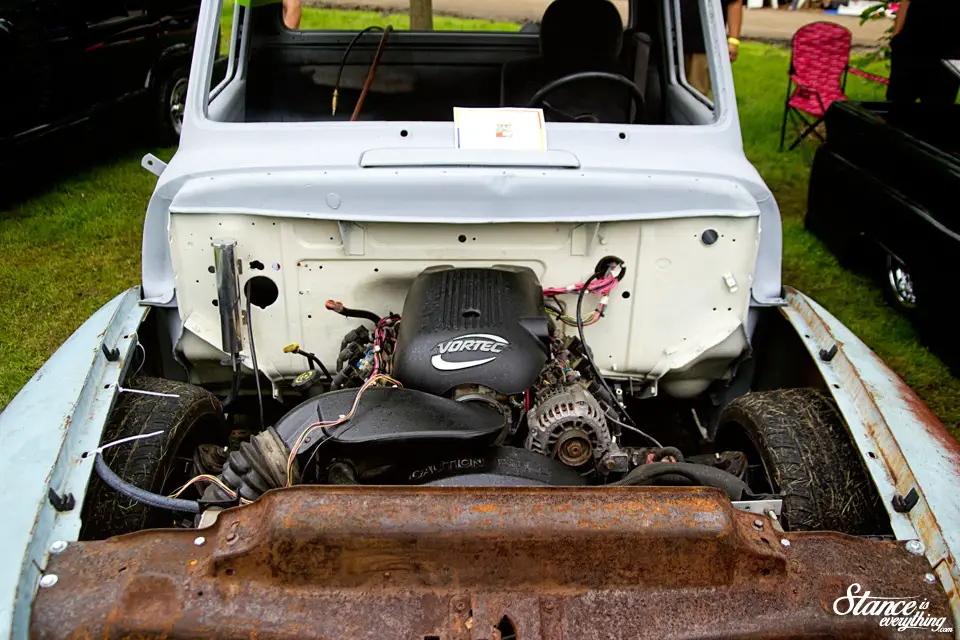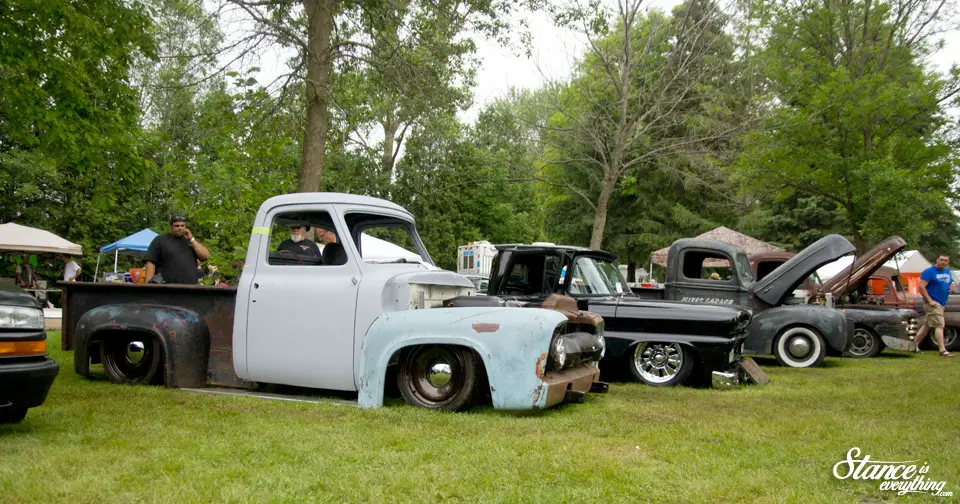 I was pretty familiar with many of the trucks but there were a few I had never seen before, one of those was the Smallwood Custom paint Ford F-100.
The clear coated patina'd body looked amazing over the low offset Astro Supremes and under the louvered hood there's an LS motor that's just about ready to fire up.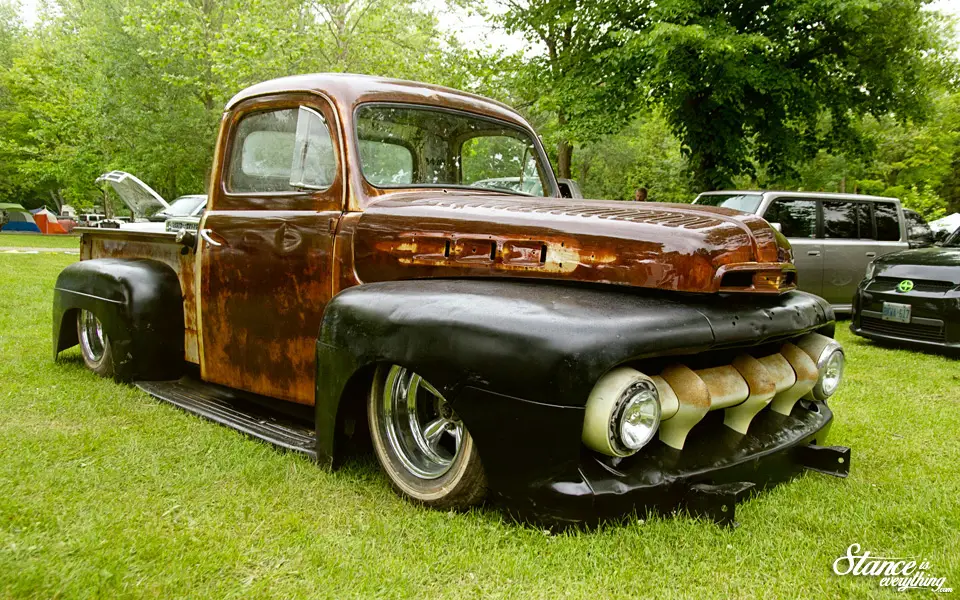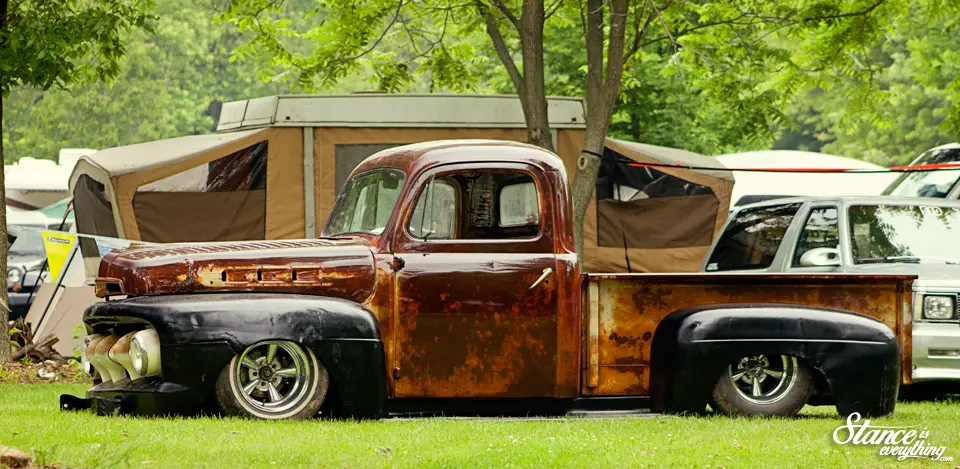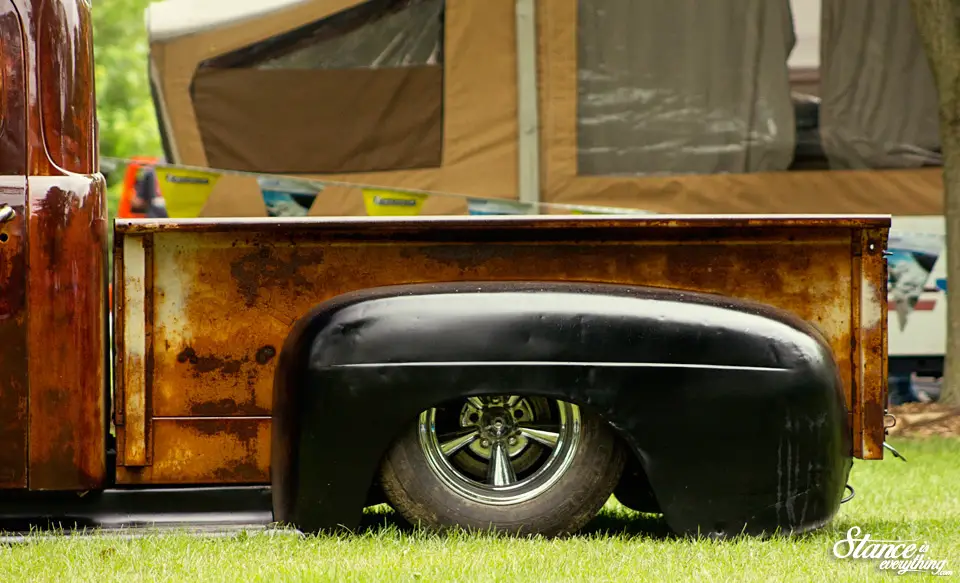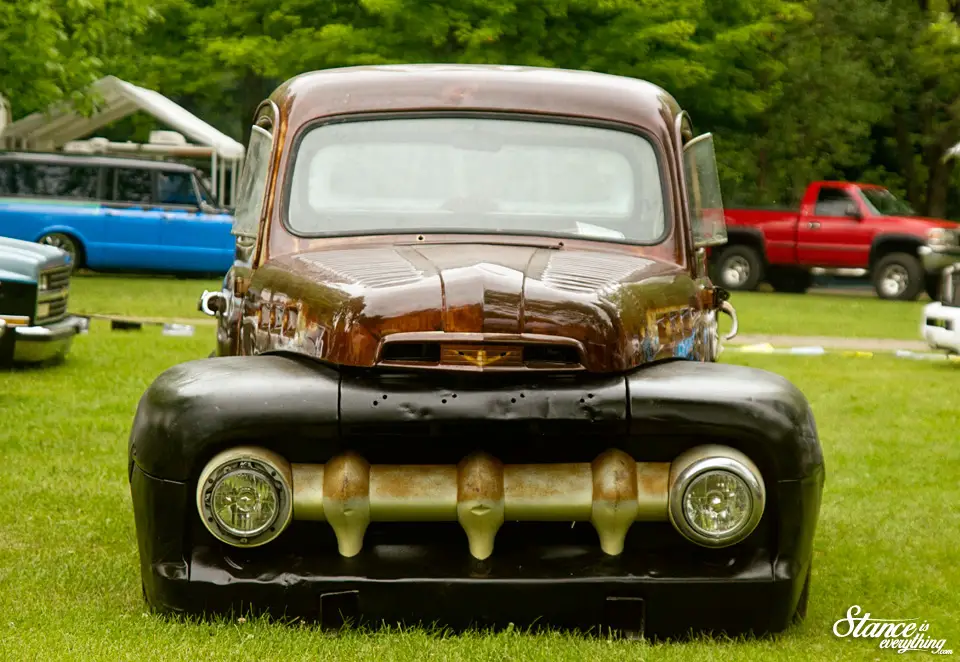 The '60s C10 below was another truck I'd never seen before, and I'm told Vanfest 2015 was the first show it has ever been to.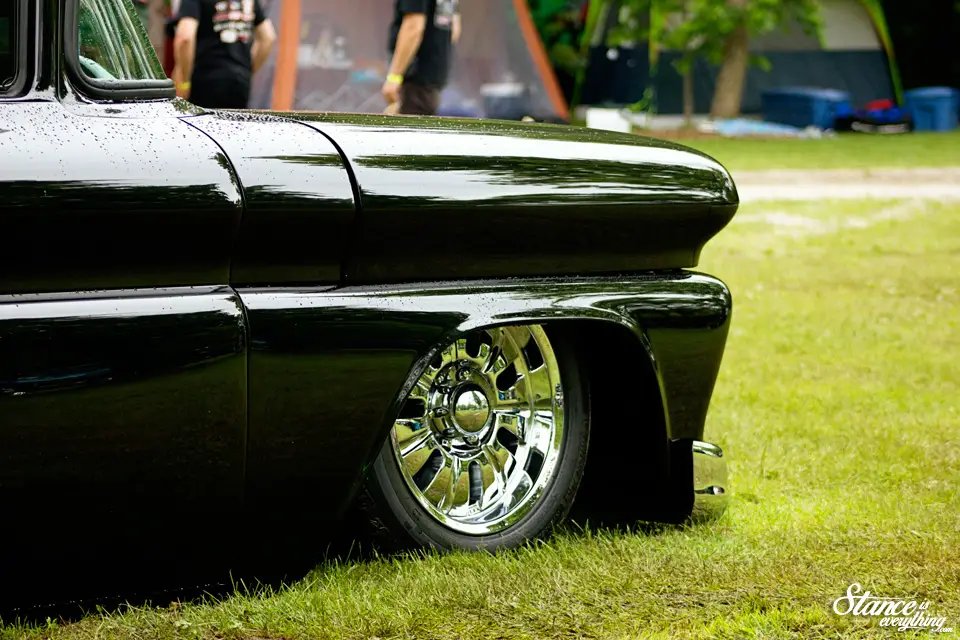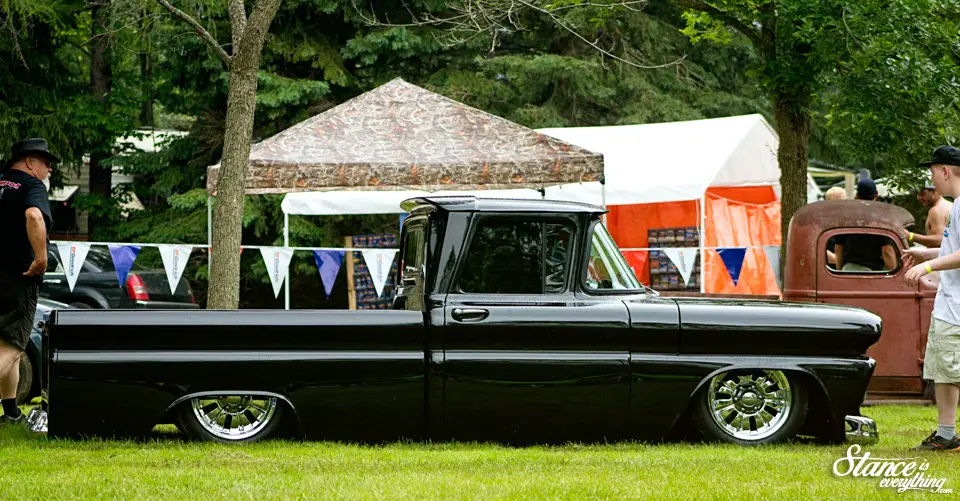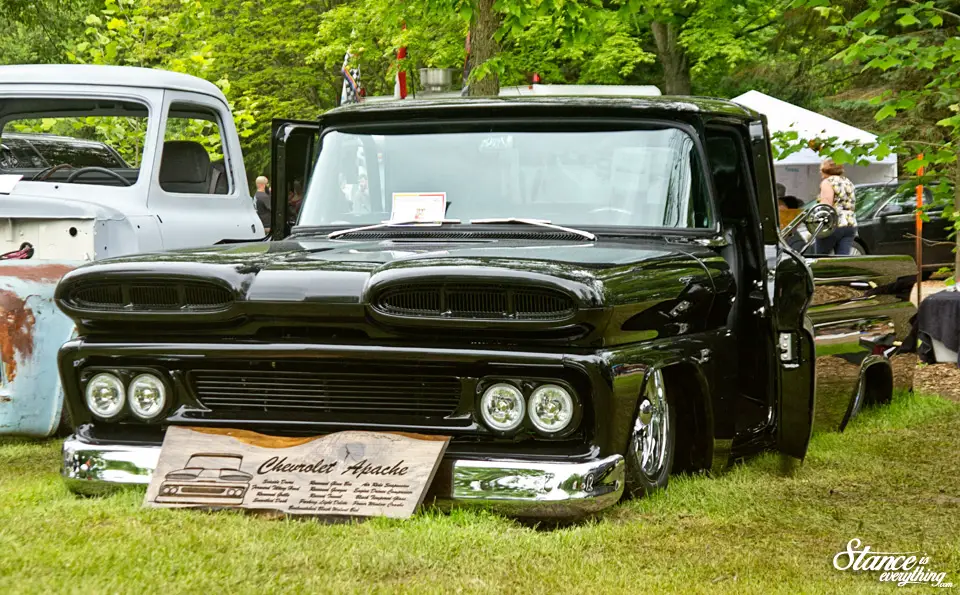 Working my way back into familiar territory I had to take a couple snaps of Rob's International because no matter how many times I see it it's simply impossible to get tired of this truck.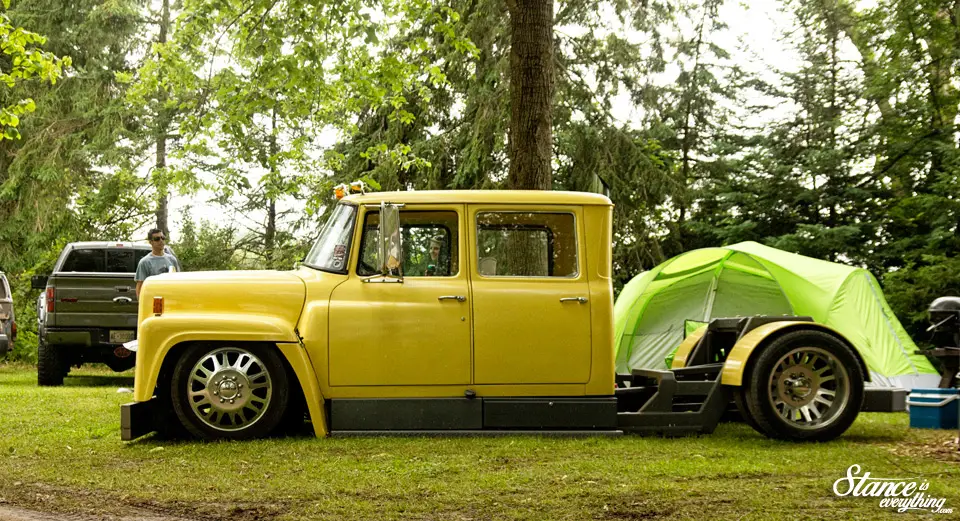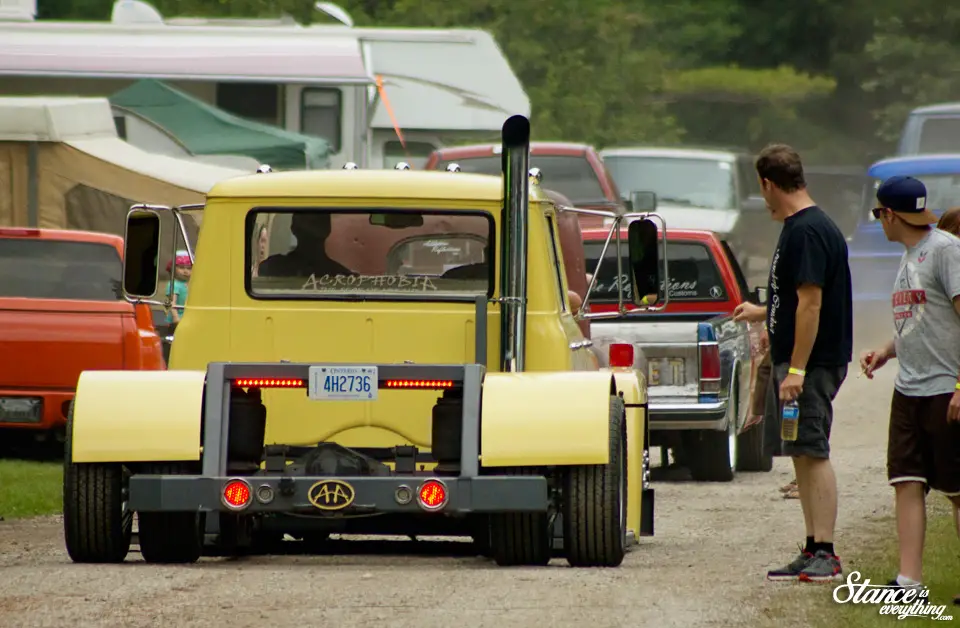 And of course I had to indulge my inner s-10/Sonoma/Blazer/Jimmy fanboy with a few pictures of the s10s in attendance, heck I even caught Jeff moving a few rocks around with his rear bumper.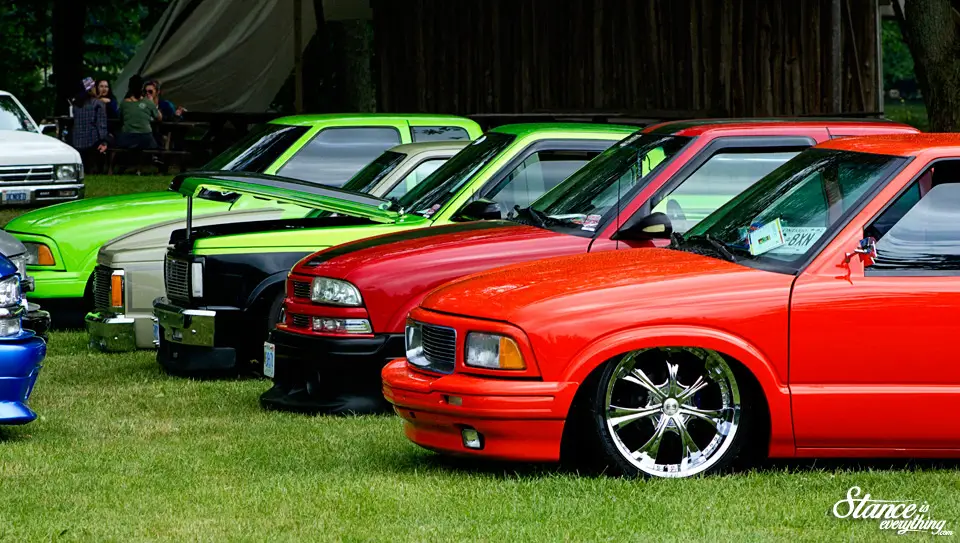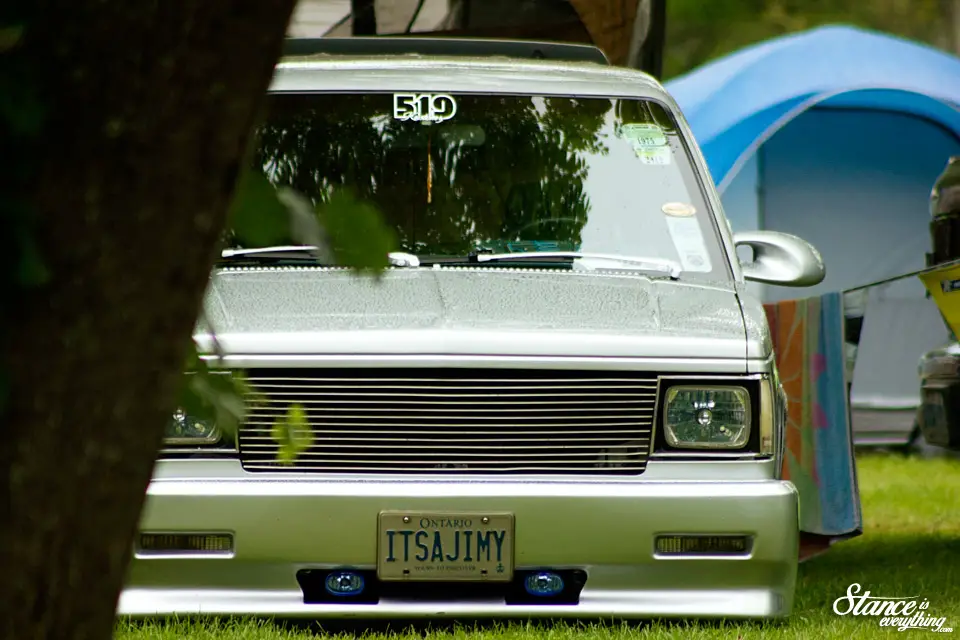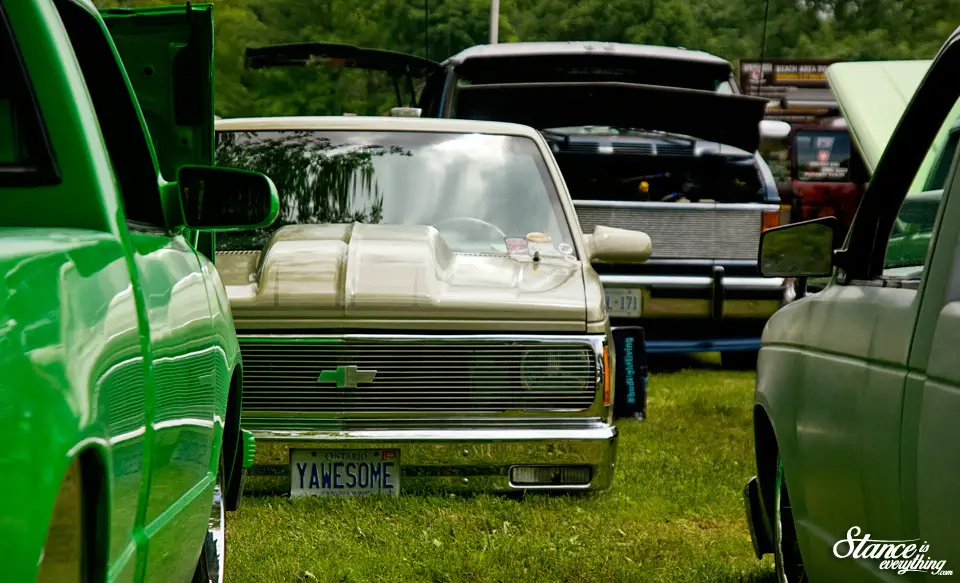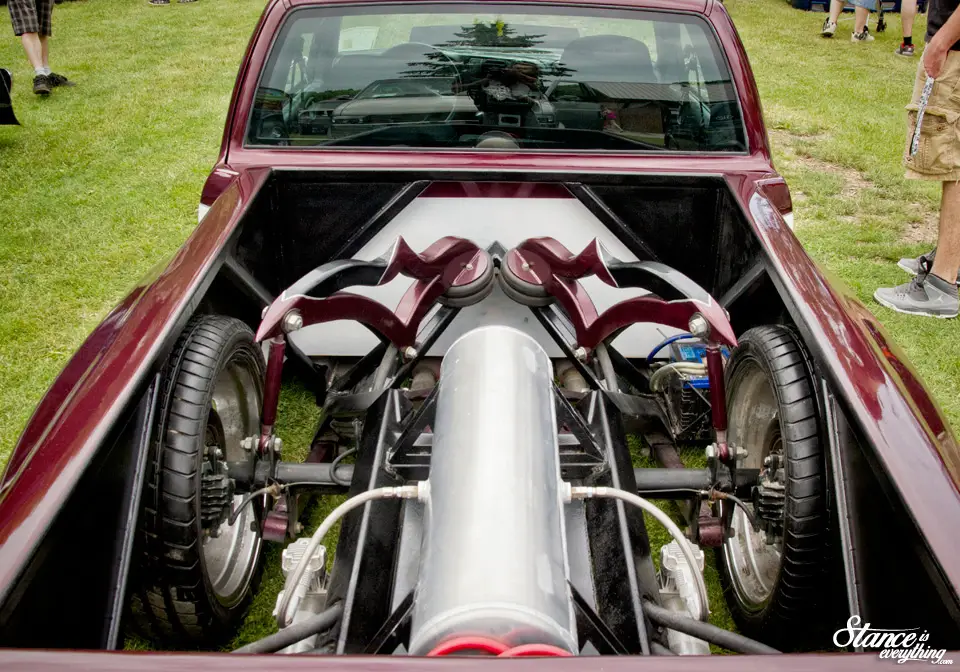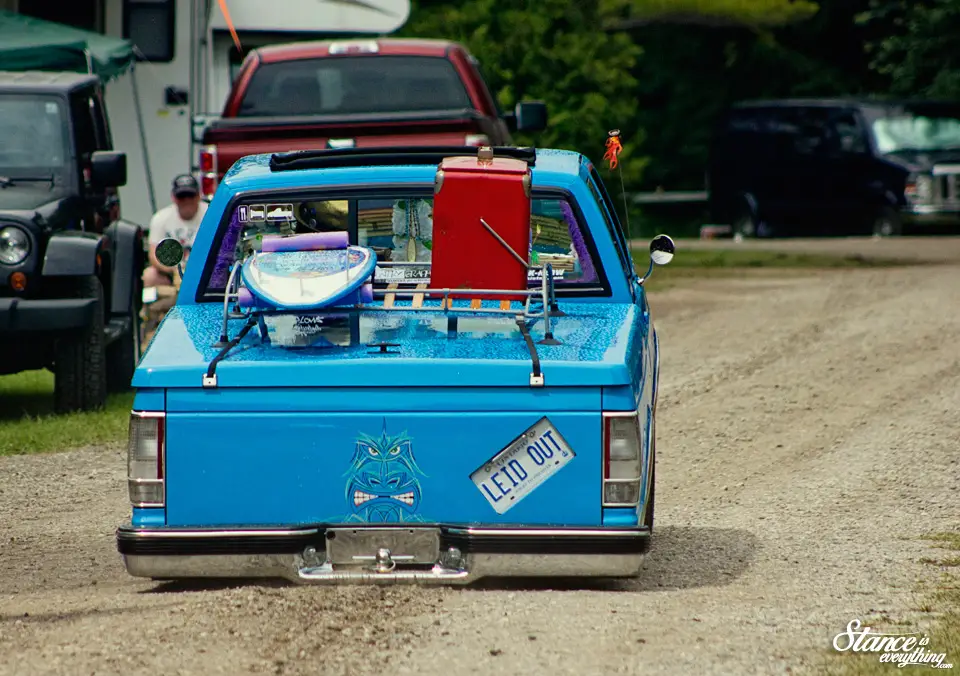 One the classic side of things this '49 Chevy 5-window was so well detailed that I actually forgot to take any photos of the entire thing.
This doesn't happen often but I'm sure you'll agree the details were totally worth taking in.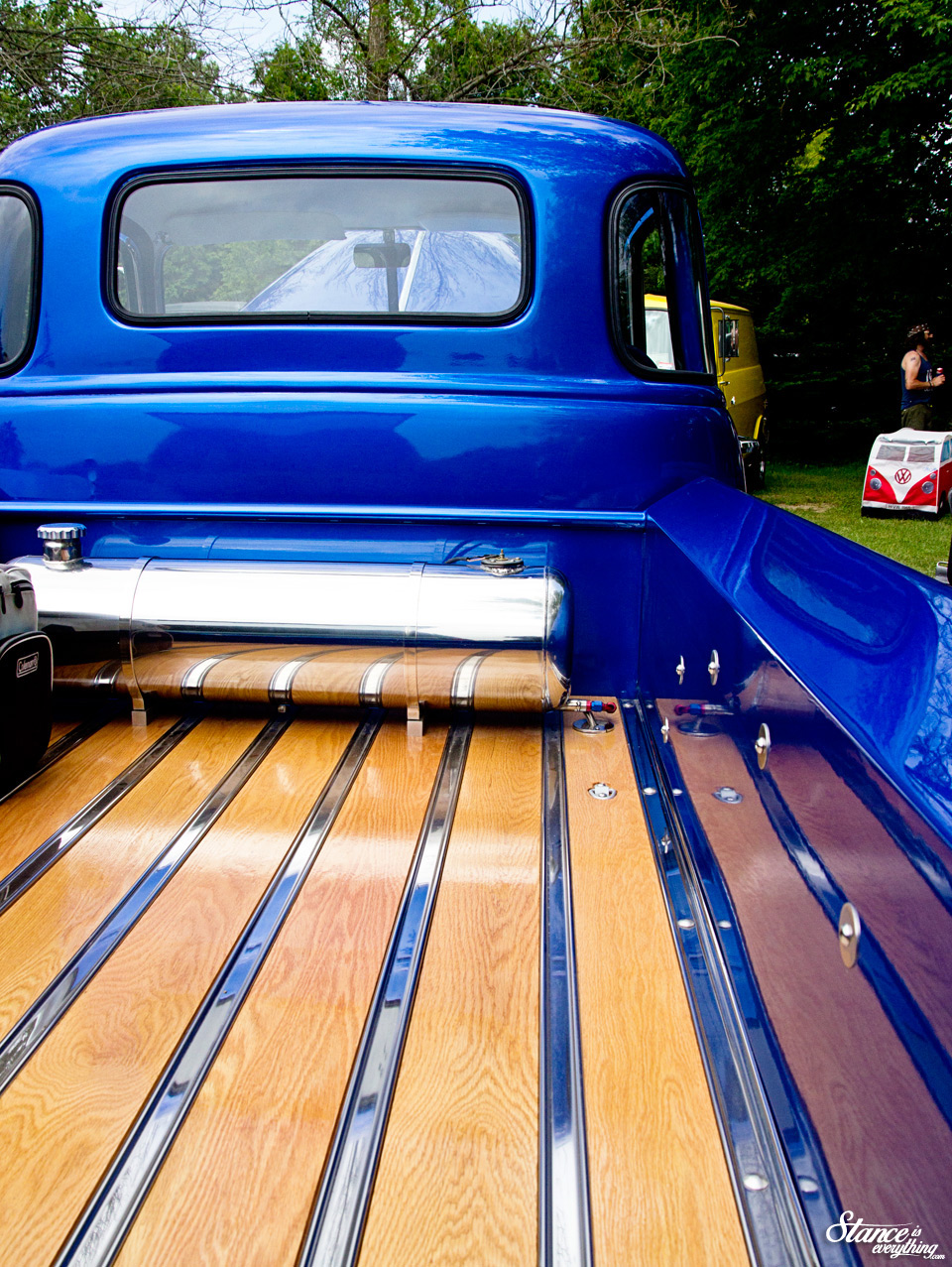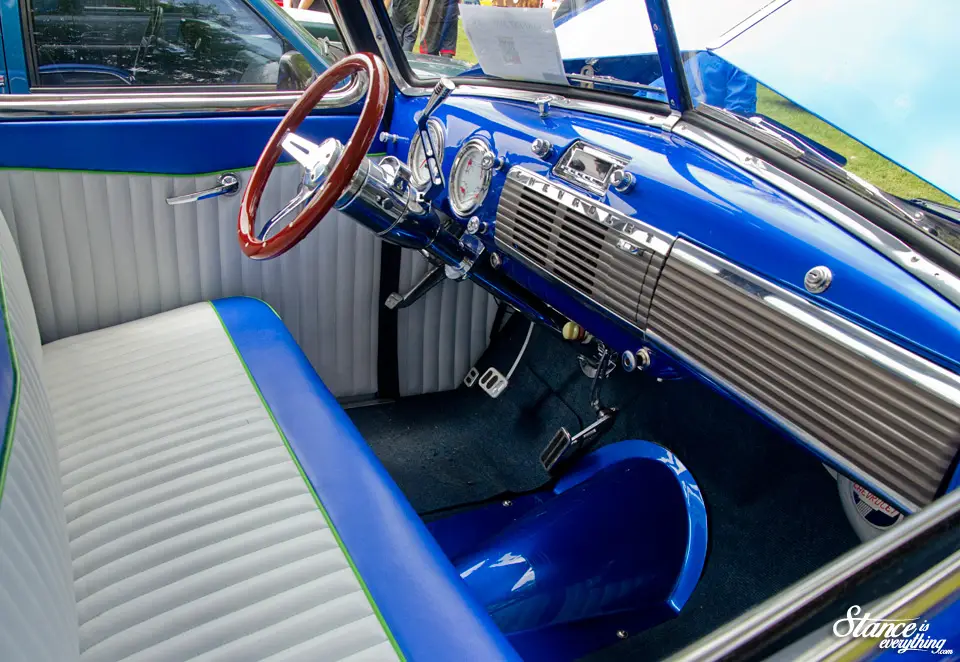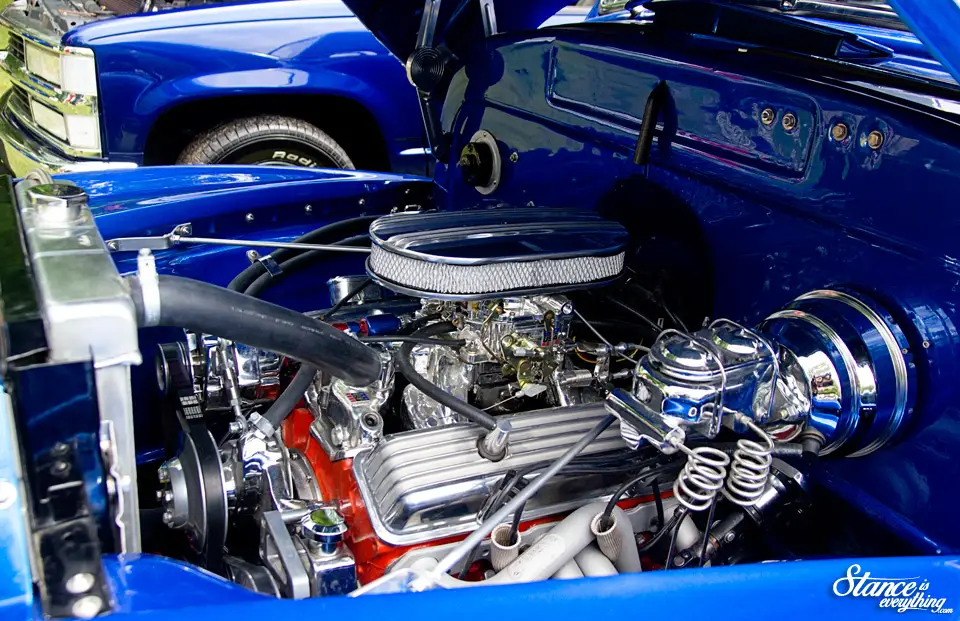 The Nissan 720 that came from Mississippi for Northern Showdown was back again and looking as polished as ever.
This truck is seriously awesome and no doubt something that the guys over at The Coalition of OG MiniTruckin would appreciate.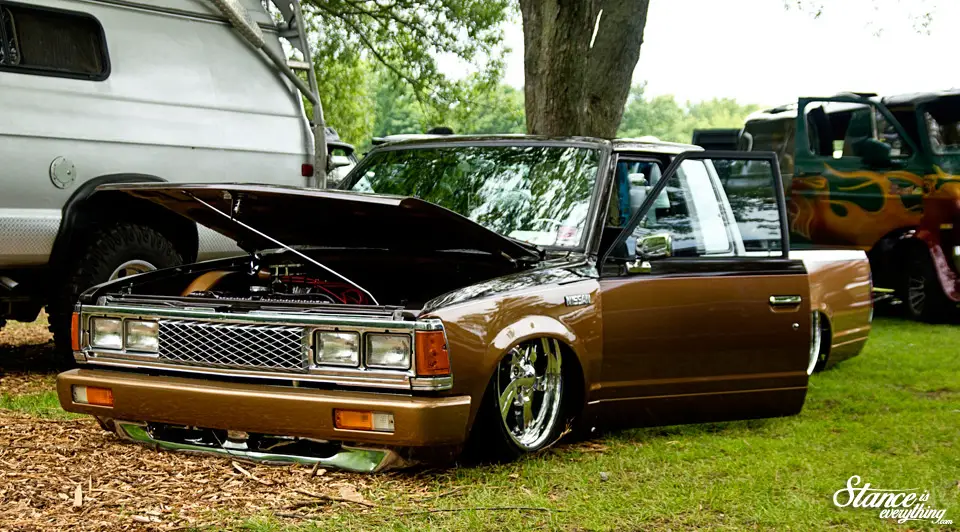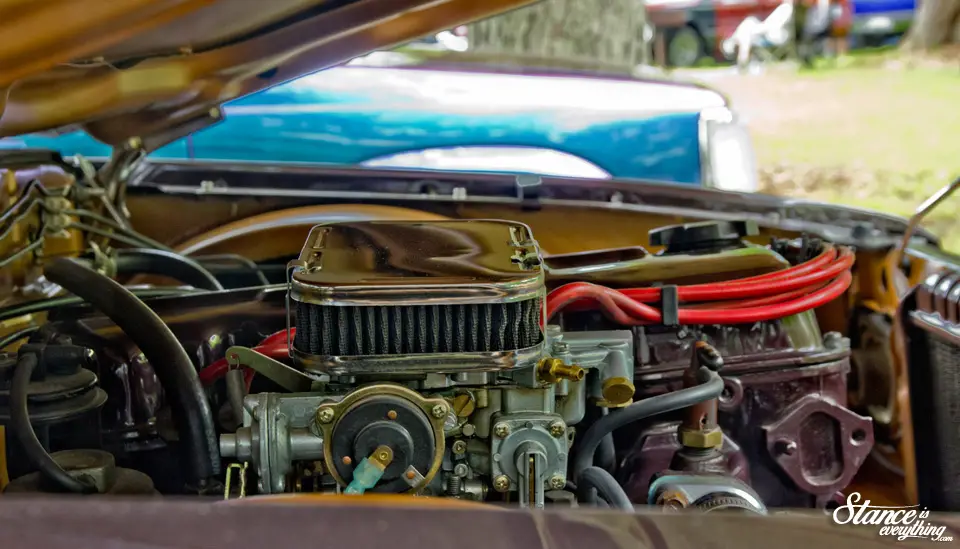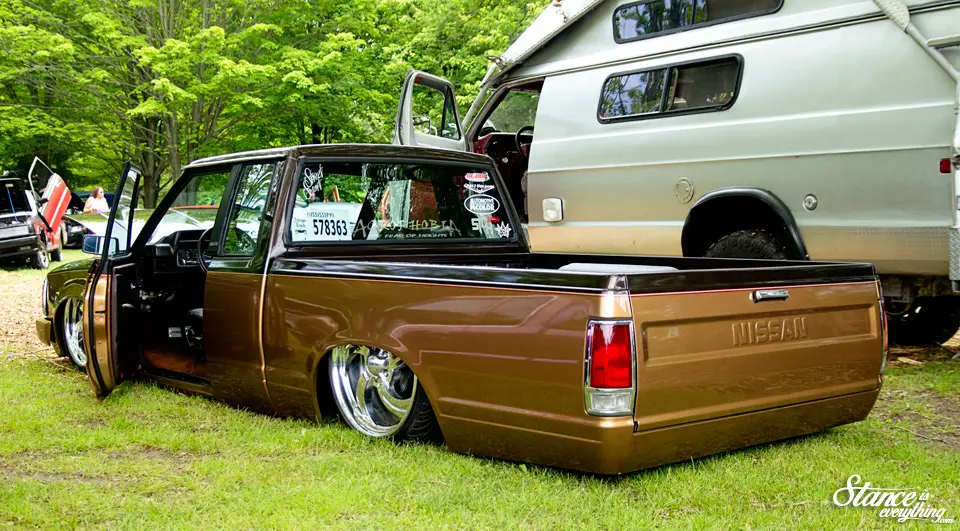 Speaking of OG's, Geoff brought out his bagged, tilt bed, t-topped Mazda and parked it beside a female owned Toyota.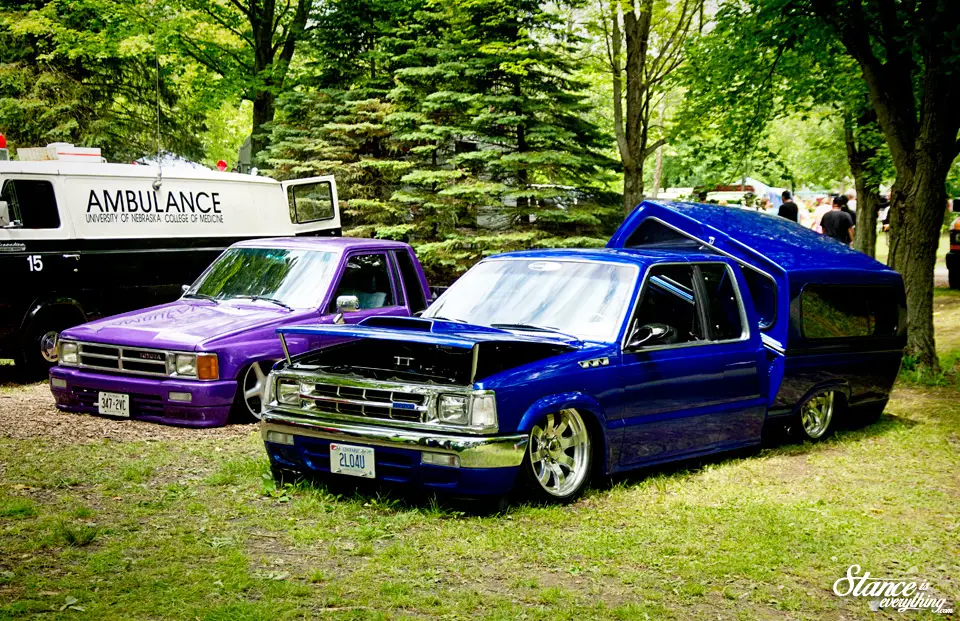 And speaking of Jeff's, when not doing absolutely epic burnouts Jeff used his truck to transport people to and fro.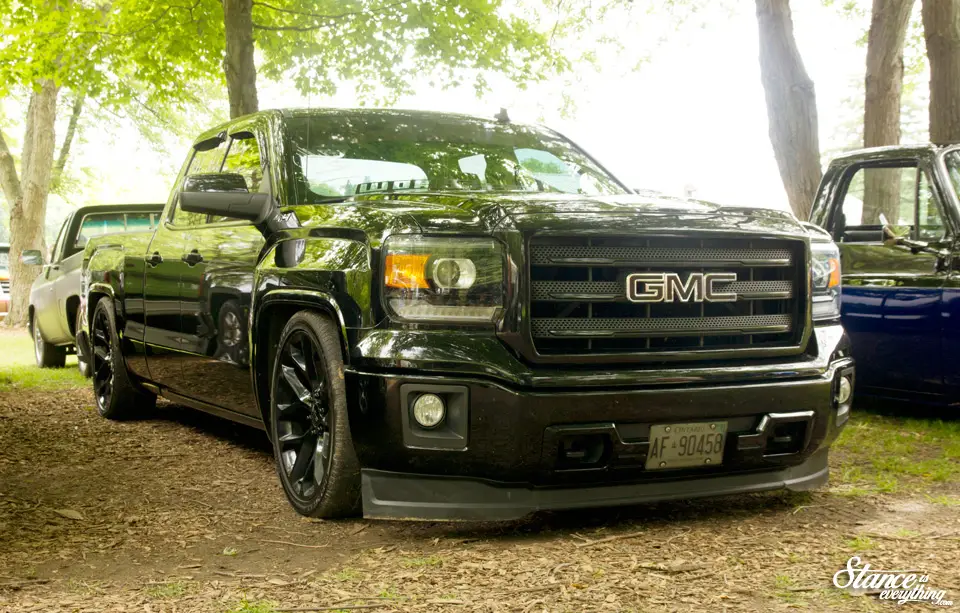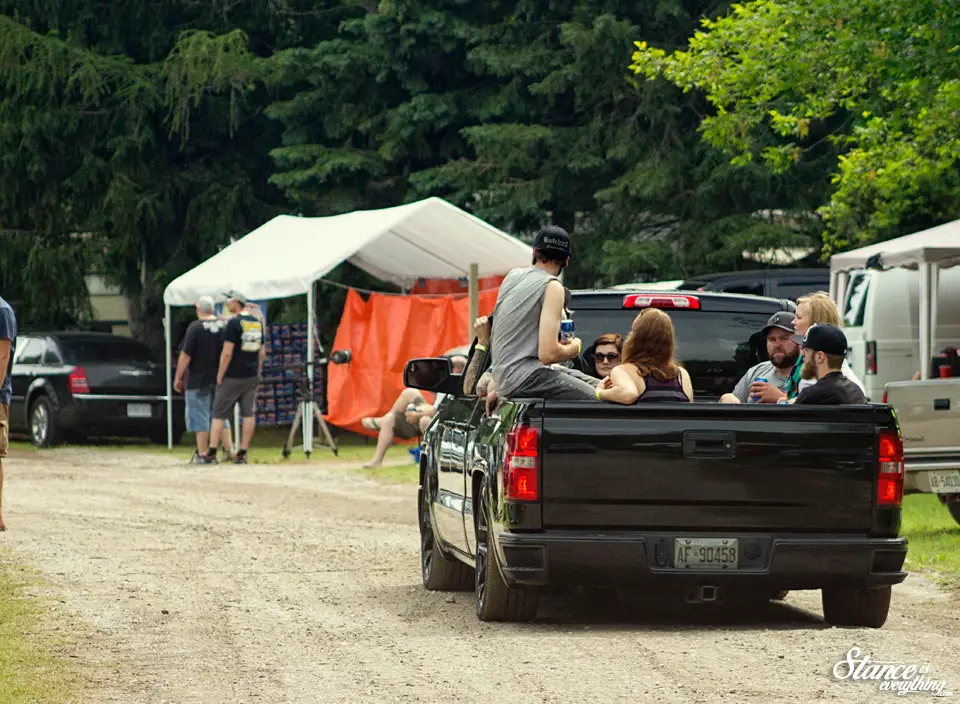 As Ash continued to snake his way through the trucks I tried my best to snap as many photos as possible, but keeping a small child from wandering off into the wilderness while taking photos is a little challenging so I missed a few of the vehicles in attendance.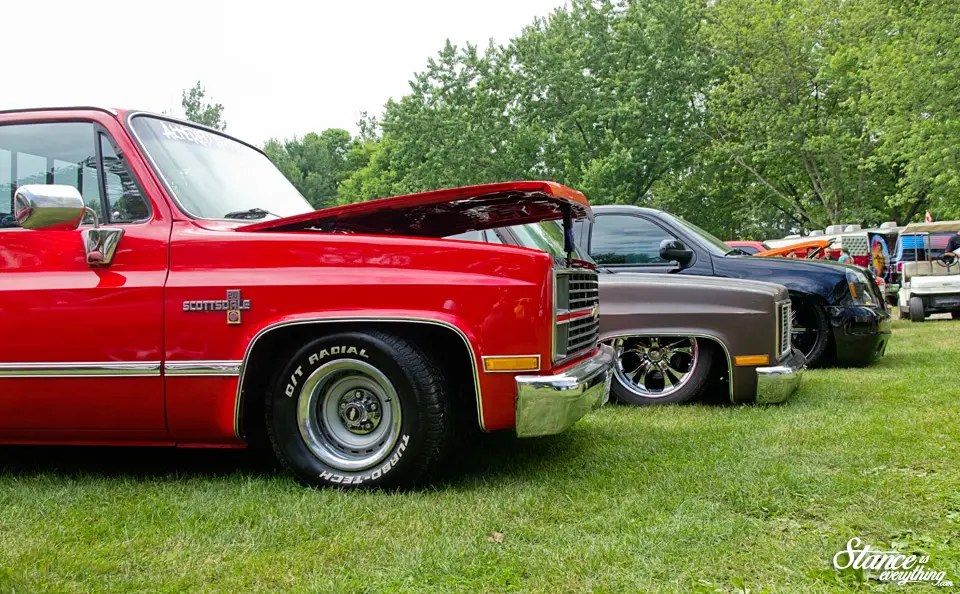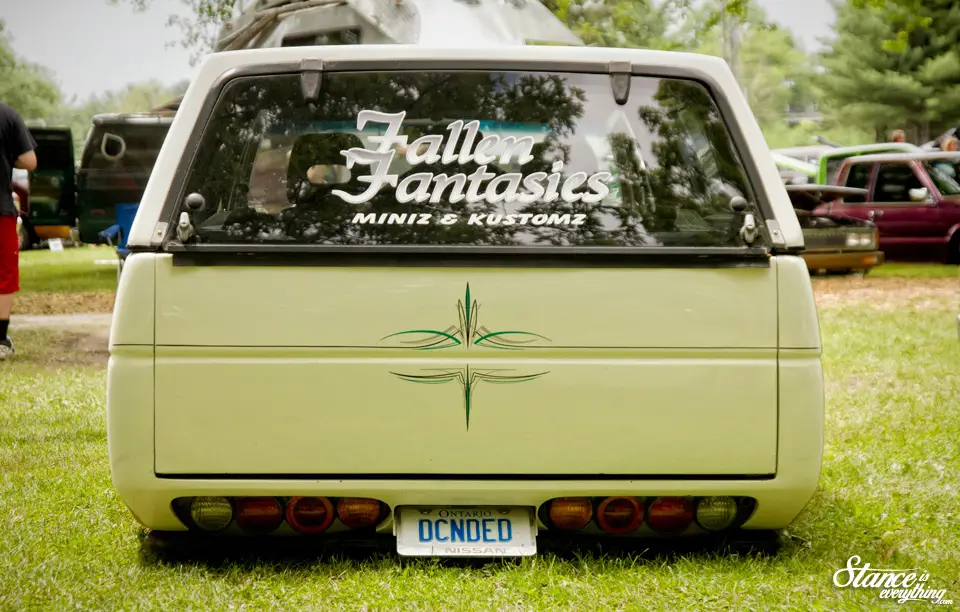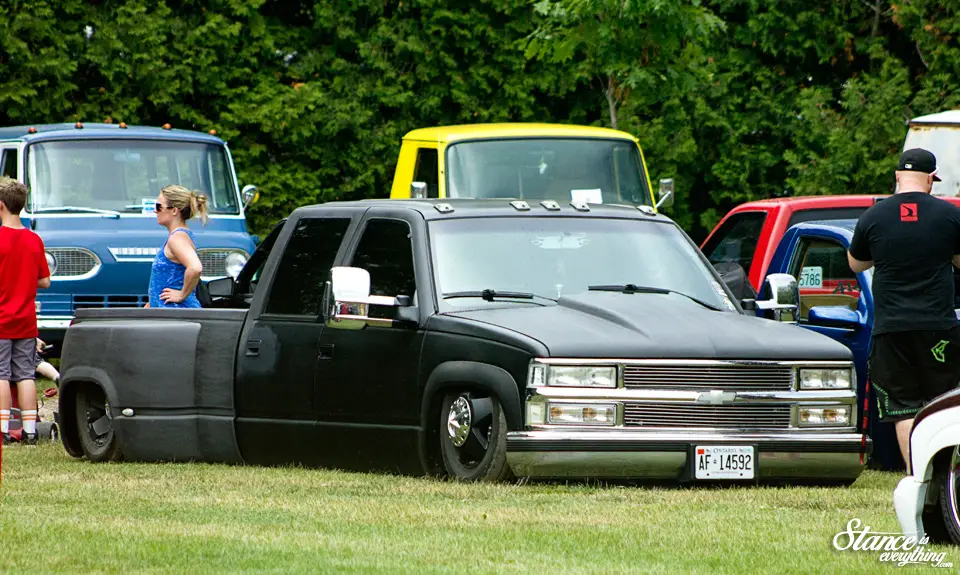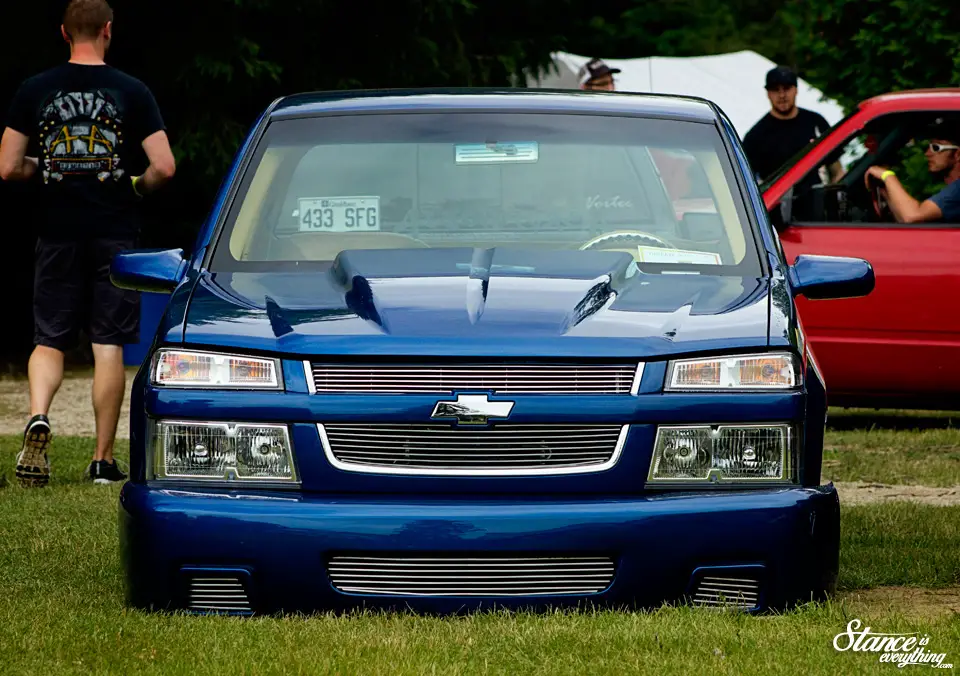 One  I made sure not to miss however was Mike Livia's 36 Ford I previously spotted at Motorama. As detailed and glossy as this Flathead powered Ford truck is I actually didn't imagine I'd ever see it in a setting like this.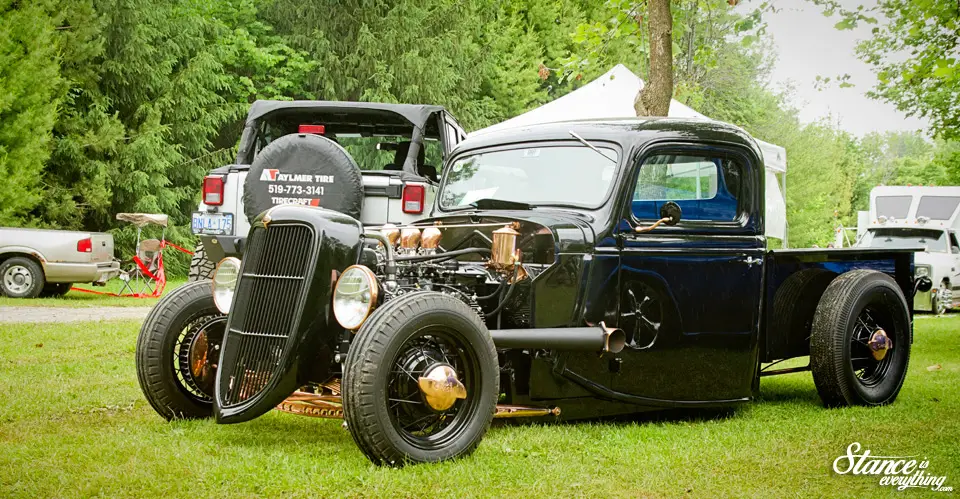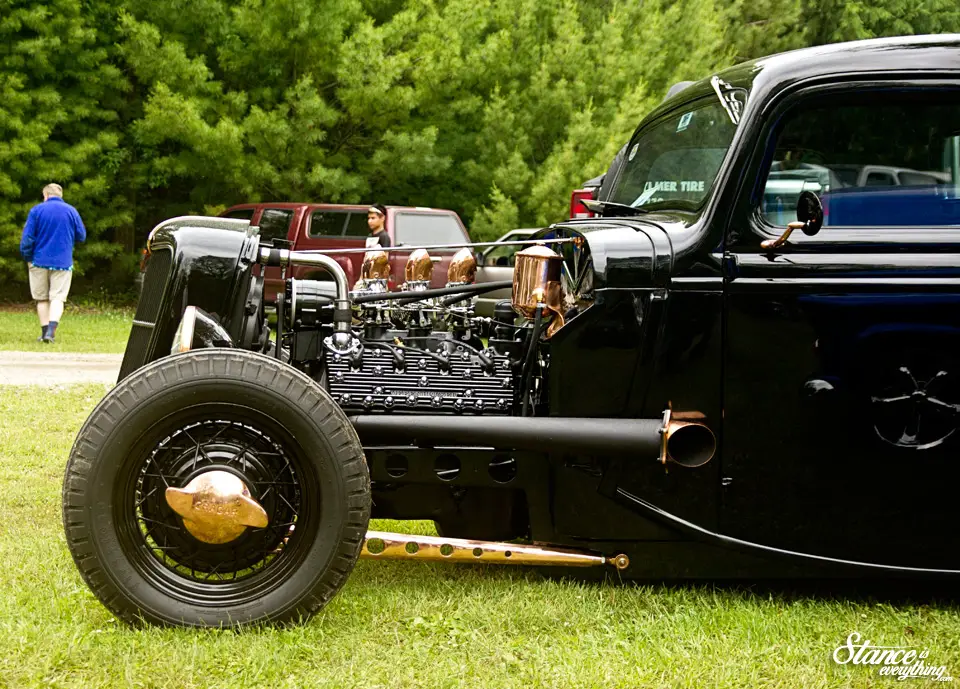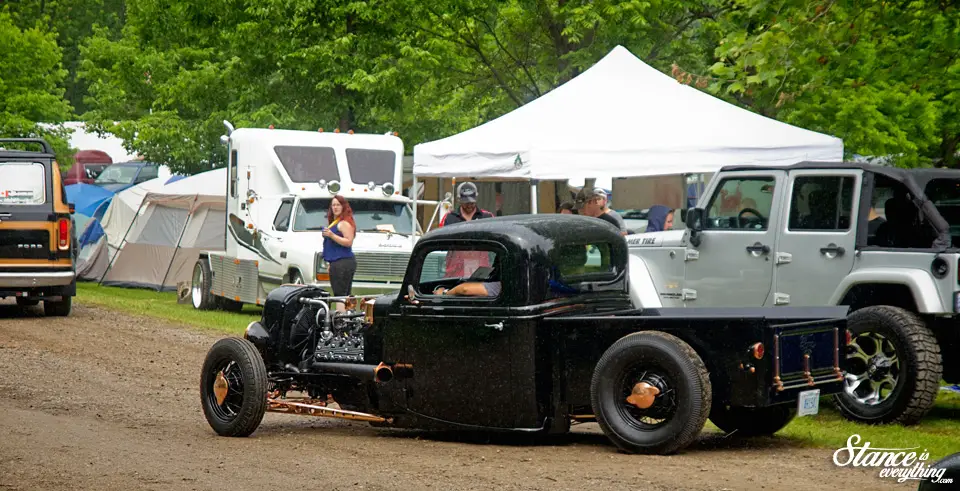 I'm told it also ran the drag strip Friday which means sometime in the near future I am going to have to move mountains and make a proper weekend of everything that is Vanfest because clearly I still managed to miss out!