There's really no good time to have your daily driver wrecked, but right after having minor paint issues fixed, redoing the air management, and detailing the car bumper to bumper has to rank up there with one of the worst. Unfortunately for me that's the exact point my last car was written off via the blight of everyone's daily commute, the dreaded Toyota Corolla.
Luckily I've made a world of awesome friends through this blog who were able to help me get that car put back to stock before insurance took it away preventing me from losing much more than just the shell.
Left with a pile of parts –thanks to an epic one day tear down at Miltowne Auto Collison— and a not too insulting pay out, the challenging task of quickly finding a reasonable daily driver on a new dad schedule lay ahead of me.
Budget, along with a request from my wife to not buy a car older than my last, meant I didn't have a lot of options for practical and fun daily driver unless I made the false promise to myself that I would keep it stock.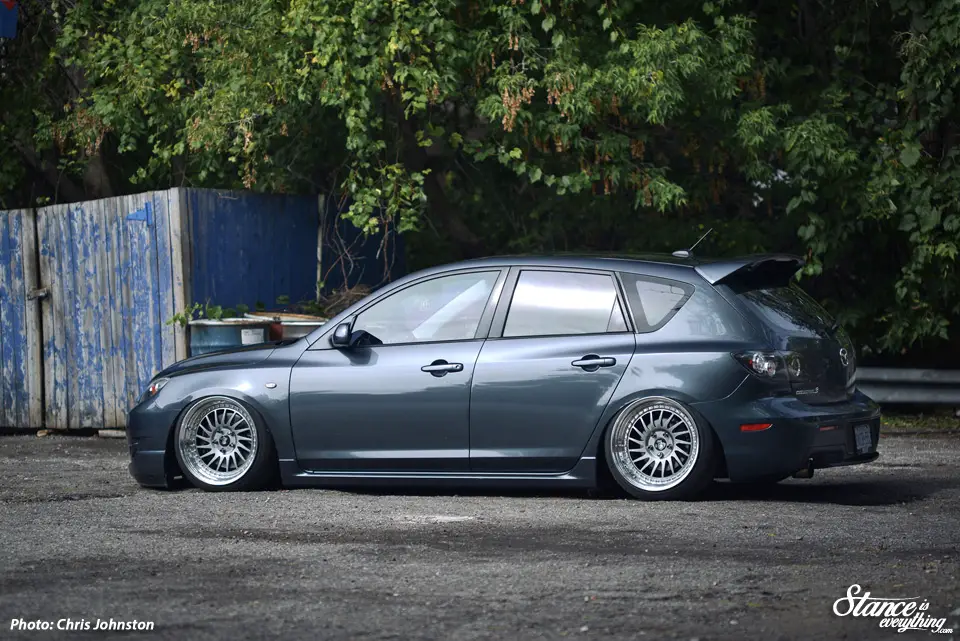 While a van was the obvious choice to my not so car-centric co workers I avoided them like a plague and ended up test driving a MK6 GTI, a couple of Audi A3s, and a high mileage STI before sitting down and crunching the numbers.
Yes I could have made a different car work but it probably would have pushed purchasing a project back six months or more so I 'compromised' with a reasonably low mileage, well maintained, 2009 Metropolitan Grey Mazdaspeed3.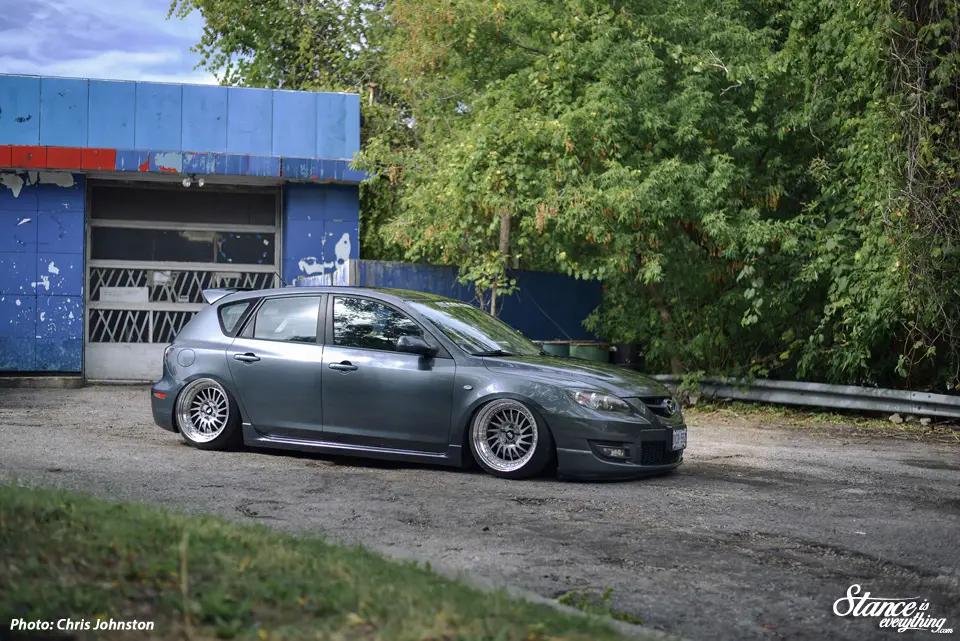 After a surprisingly refreshing six months driving a completely stock car –there's something to be said for flying below everyone's radar– my initial plan was to install the air ride and put a 9″ wheel on it at about 40-45 offset. Though somewhat conservative paired with a 225 or wider tire a set up like that would allow me to split the difference between function and form right down the middle.
Of course that all went out the window when I started talking to Mtechnica's Chris Bernado who pointed me to an extremely reasonably priced set of used 9.5″ et30 Mtechnica Directional wheels that we both agreed I needed to own. After selling a few of the salvageable parts off my last car, and my beloved Work Equips said wheels were on their way to Canada from California.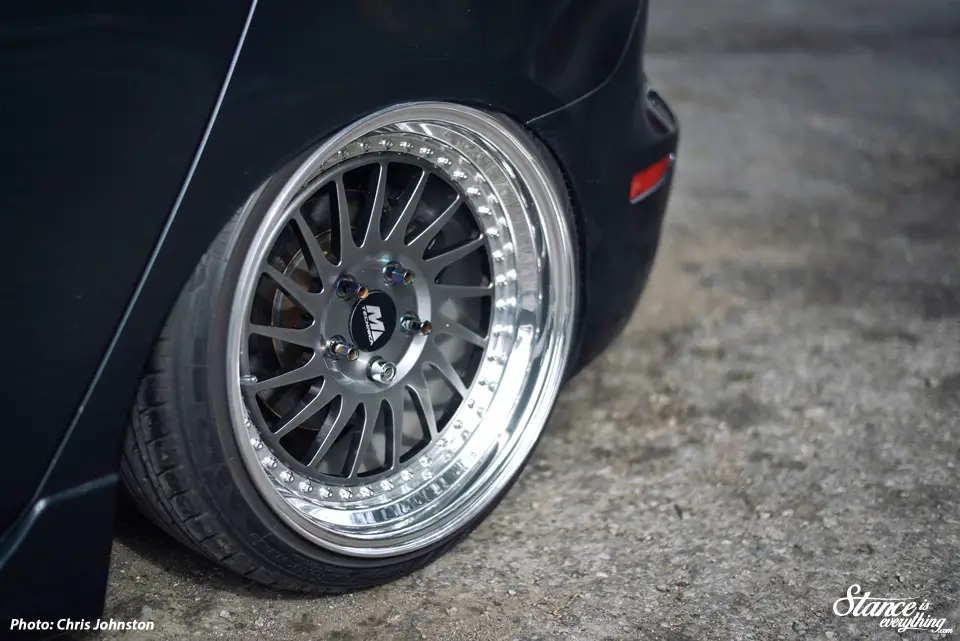 A quick installation of my air suspension set up at Taylor'd Customs and fender roll by Righteous Garage and the wheels just about fit.
Generous amounts of heat, modified fender liners, a little clear bra on the inner fender lips for protection, along with a hair over four degrees of camber at ride height and I was able to get the car to sit down fender to lip in my garage.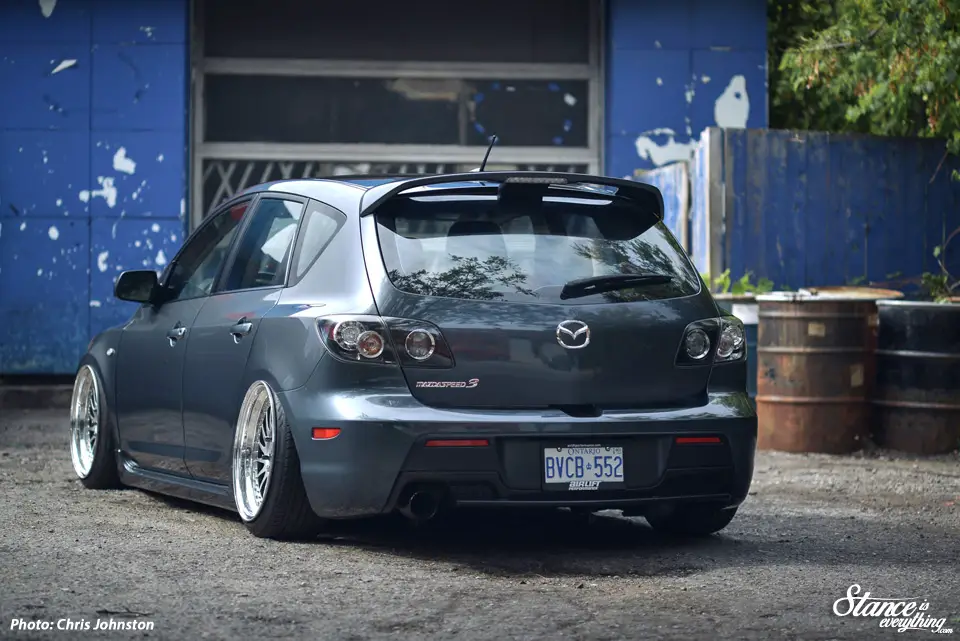 The 215/40 Nankang tires that came on the wheels do protest a bit at when I find myself deep in the loud pedal, but I'll sort that out once they are burnt out with a better set of rubber, or, a more drastic/costly approach of lipping the wheels down a half-inch.
However the car is still far more usable than one might assume at the ride height in the top photo for everything I put it through including it's most important duty as 'Daddy's Car'.
On my second go round doing the hatch install I was able to shave one inch off the overall stack height which means the factory floor is only raised half an inch in total allowing me to use the hatch like a hatch when I need to, and take off the covers and show off the hand painted tank when I need to.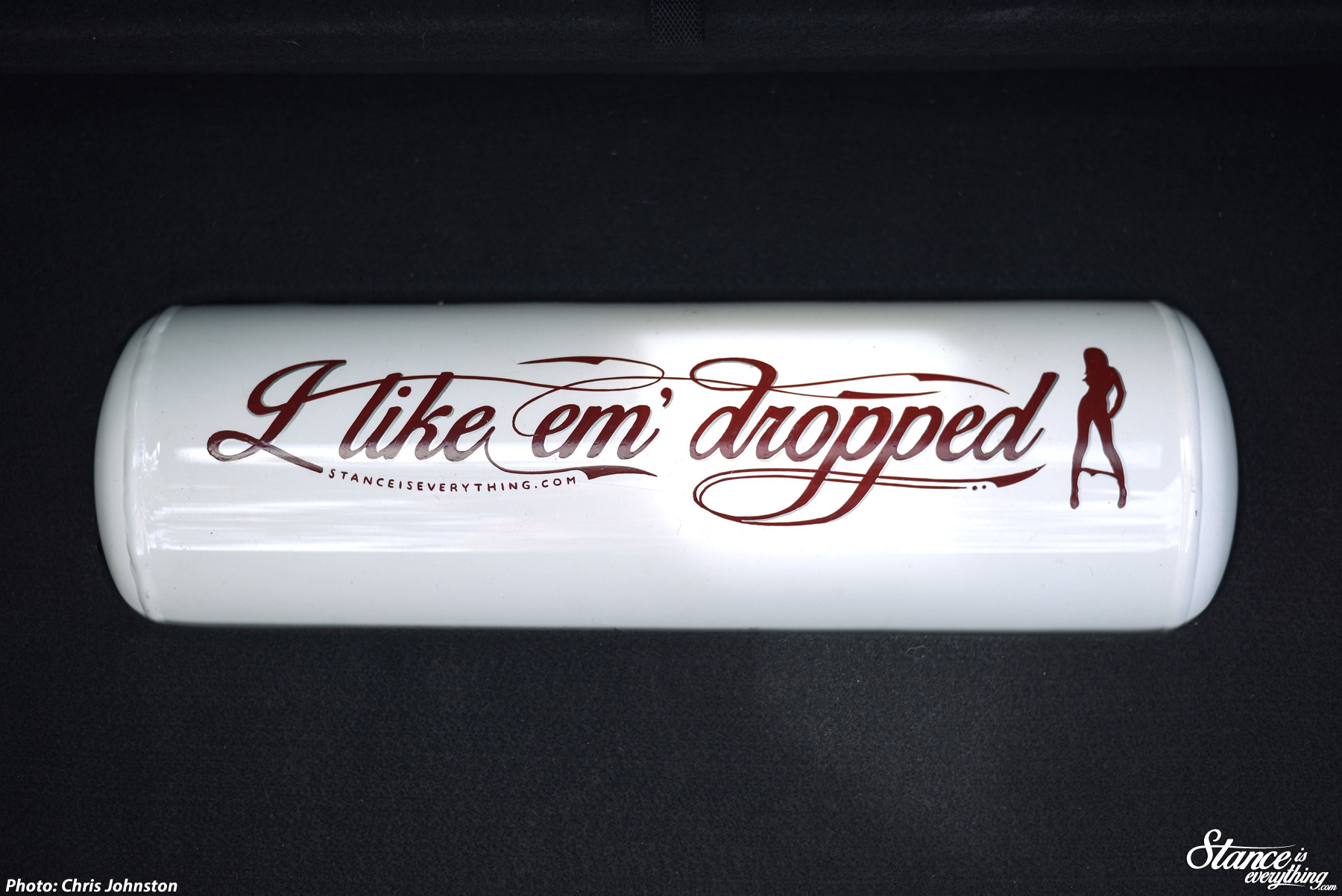 Project Why Wait consumes most of my vehicle resources these days, but this car should see a few bolt on modifications as the years tick by and I get the itch for a bit more get up and go.
For now the HKS intake, TWM short shifter, and motor upgraded mounts I have to install will keep me honest.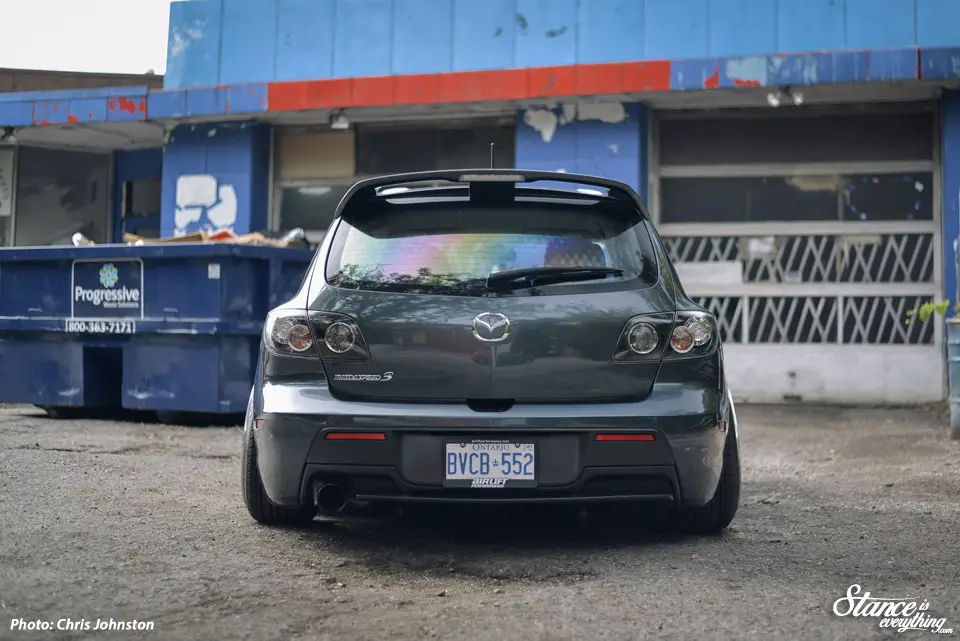 Part of me will always wish the story of the white car ended differently, but here's to many more years with the replacement.