Mike Pimmenta and Steve Luangpakdy ran around last summer with two of the most polarizing bagged Honda vehicles in the GTA. Mike's car seemed to appear virtually out of nowhere completely finished, while Steve's was a long time coming towards its current look.
Though these two cars have no problem standing out on their own together the really make a visual impact and Chris Johnston just so happened to get the two of them together while shooting for USDMFREAX magazine.
Like so many other cars featured on this site Steve's started as a vehicle "that was going to stay stock" before "just a wheels and a drop" kicked in leading to what would eventually be a complete make over prompted by winning a set of Luxury Abstract wheels at Liberty VIP's Black III event in 2012.
Using the go big or go home motto Steve went big and ordered his wheels at 10.5 and 12″ width all around and 19″ in overall diameter.
These wheels were much, much, too large for a standard body TL so Steve sent the car off to Ottawa Autobody for a little plastic surgery. The ensuing wide-body build used oem fenders borrowed from a different vehicle along with a lot of man hours and block sanding.
After an extended stay in the body shop the car came back purple with much wider hips.
Tucking the wheels into the new fenders is Air Lift Performance suspension controlled by a DVS switch box.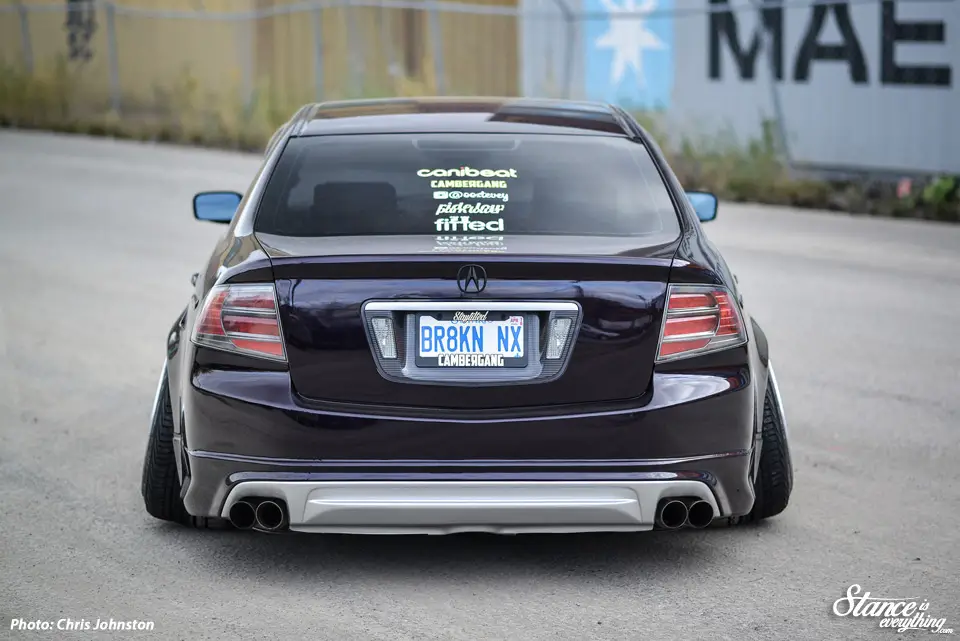 Ultimate Motorsports handled the trunk install that features a host of RE Audio components including XXX subs, speakers and components powered by an RE Audio 45KV amplifier that's been mounted in the center of the trunk floor in a way that allows the guts to be showcased.
Inside Steve, the newest Canadian member of the Liberty VIP Car club, went the VIP route with carbon fiber interior accents, Junction produce neck pillows, Junction Produce curtains, and a matching JP Kitsuna knot.
Mike, previously a Civic owner who valued function over form, took the complete opposite approach when it came to modifying his s2000 opting to flip the script and put form over function.
His car features K3Projekt Wheels, one of very few in Ontario (and I believe the only IND K37s) sized at 18×9 et 35 and 18×10 et 10 wrapped in heavily stretched 205/40 and 215/40 Bridgestone rubber.
Like Steve's car Mike rides on air using Airrex struts paired with Accuair management.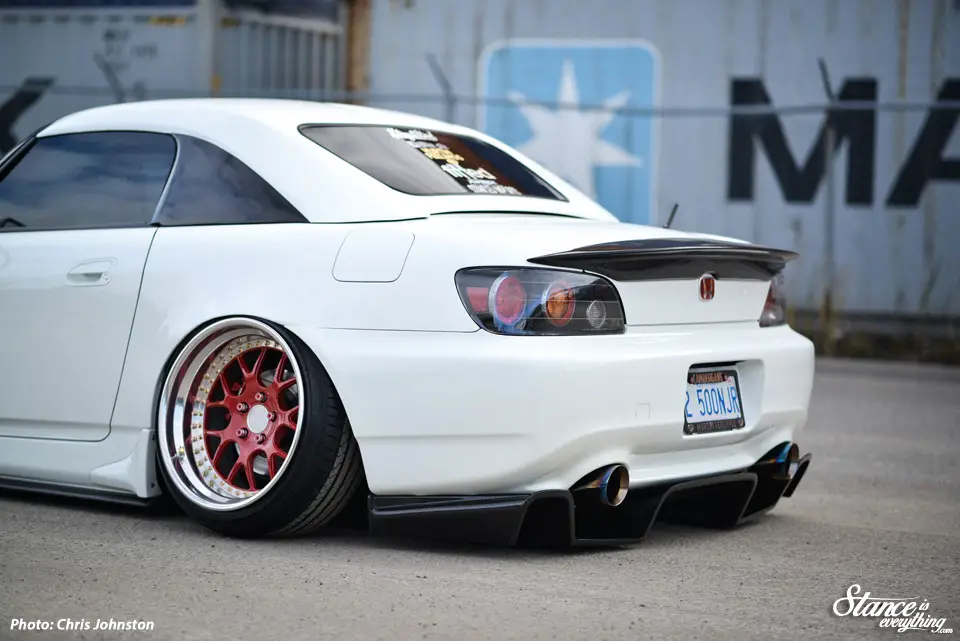 Hard Race front upper control arms, Megan racing rear upper control arms and Buddy Club extended ball joints allow Mike to run the camber he does without the suspension literally pulling itself apart.
Under hood most of the Password JDM catalog has been used from Carbon Fiber heat Engine shield all the way down to billet aluminum battery mount. Non password JDM under hood products include Downstar bolt boys baby spikes, a J's Racing Strutbar, and Science of Speed Hood Dampers.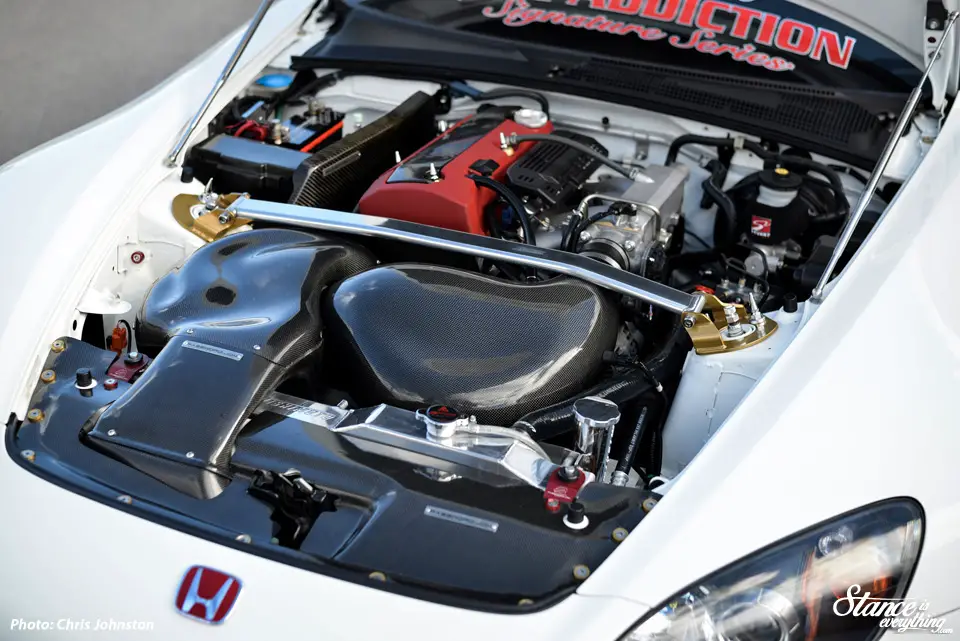 Interior Mike's got some tunes as well, but with less trunk space than Steve he's kept things pretty civil with one 12″ JL W3 sub-woofer. He's also added a Nardi wheel, flip out screen and red stitched shift boot to match the factory red door panel inserts.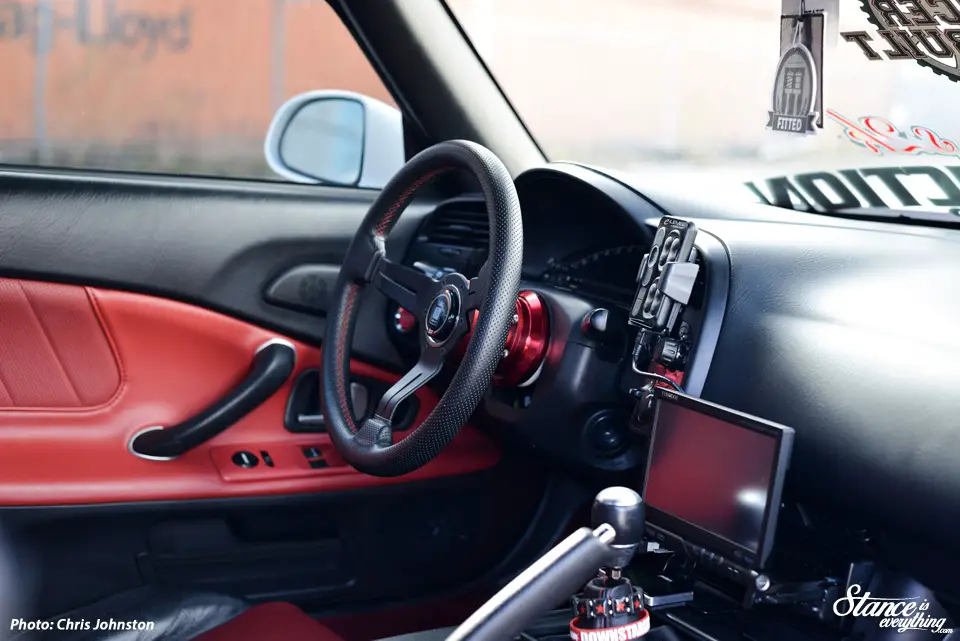 The sheet metal of the car is stock, save for the fender massaging to get the wheels to fit and subtle additions are an OEM Style lip, Downforce splitter and side splitters and a Spoon rear diffuser.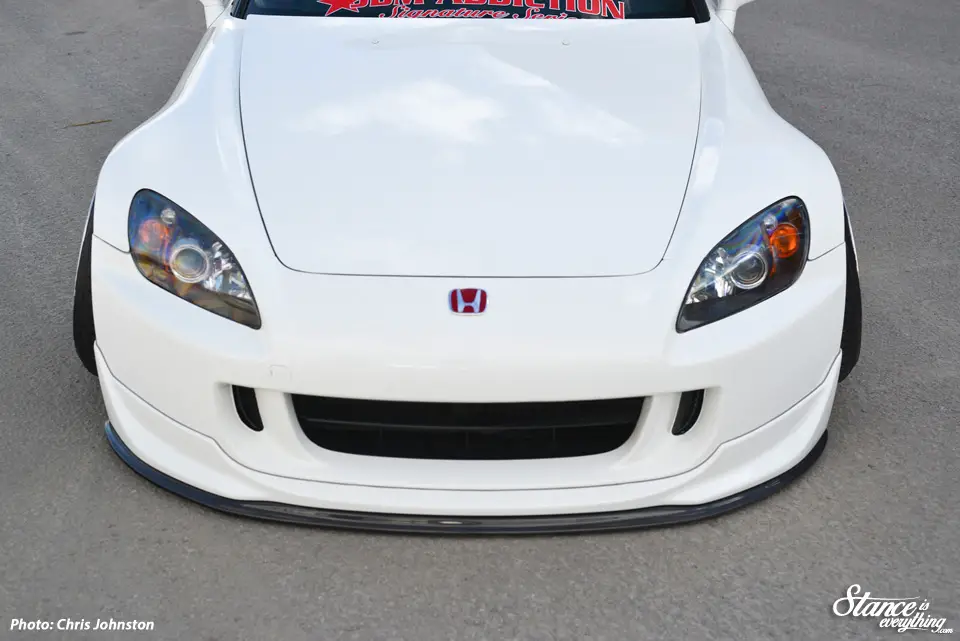 Rounding out the exterior are JDM red Honda pages, smoked side markers a BYS spoiler and the Mugen top that makes having the roof up for these photos excusable.
With fitment that isn't for the faint of heart and sure enough to give any alignment tech a headache both Mike and Steve's cars are sure to be causing double takes for a few years yet. The only question left now is what's next