Well here we are on our last build update in this journey and three days before the Taylor'd Dodge –which of late has learned the nickname 'Dirty D'– needs to be loaded on the trailer destined for the Motorama Custom Car & Motorsports Expo.
Saying the shop has been busy since the previous update is a little broken record at this point but true nonetheless. Aided by a small army of enthusiastic help Blair's been steadily ticking things off the white board as completion draws near.
The new supercharger belt has arrived built to spec, and with a build stamp on it reading FEB 29th 2016.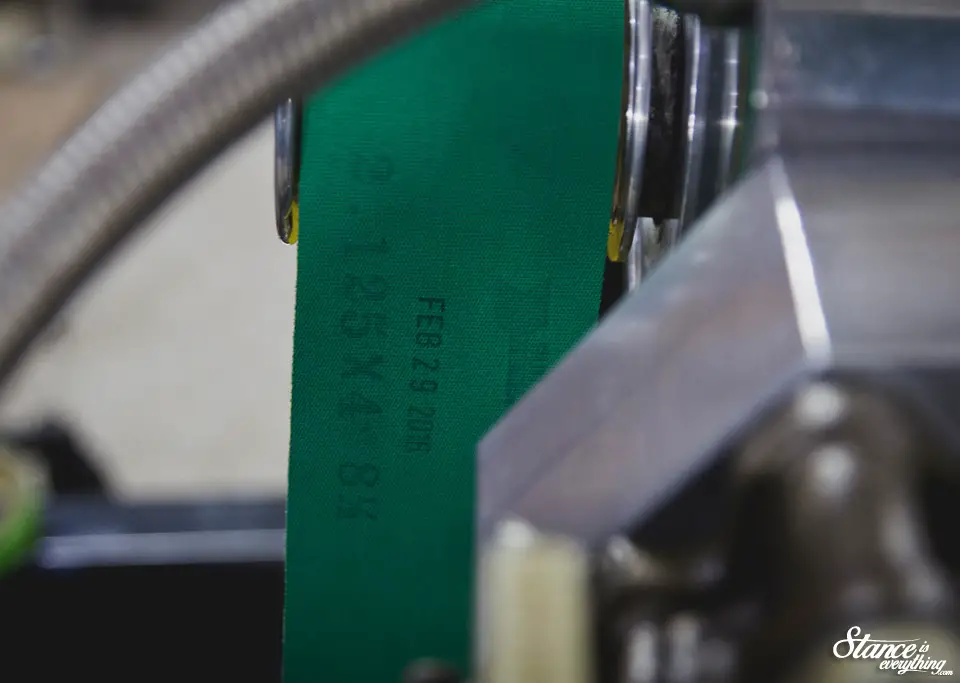 This wasn't an intentionally planned detail by any means, but adds another unique touch to this motor and superchargers history. If you recall from update three Blair's father bought and later resold the motor a decade before Blair brought it back to the Taylor family.
Brian Taylor manged to dig up photos of the motor when he originally owned it, along with photos of a Dodge he built identical in year to the one Blair is building now.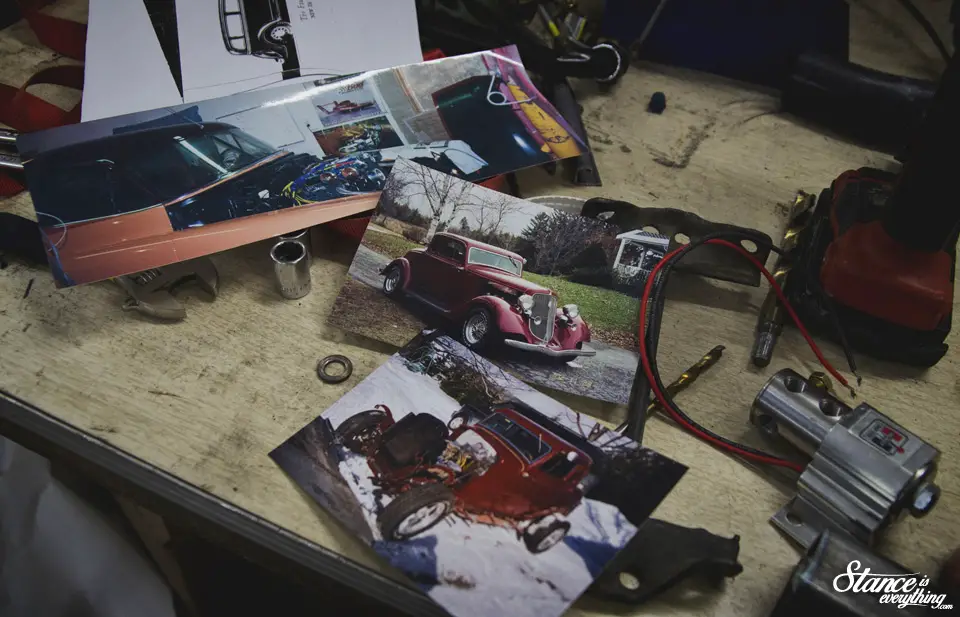 Of course his was a coupe instead of a sedan, had a standard roof, and sat significantly higher when parked.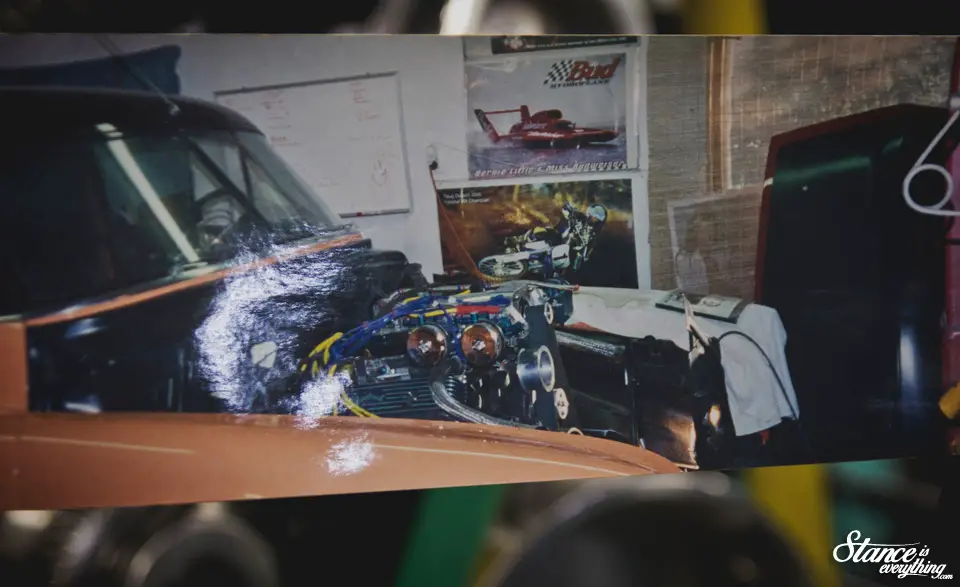 The orange car the motor is sitting in is a Buick, and shortly after being dropped between the fenders it was taken back out deemed a little too much motor for the cruiser Brian was building at the time.
The photo above is a picture of a photo of the motor sitting on an earlier stage of its current self. That's a mouthful to type and I think I heard the Inception drums sound as keys clacked.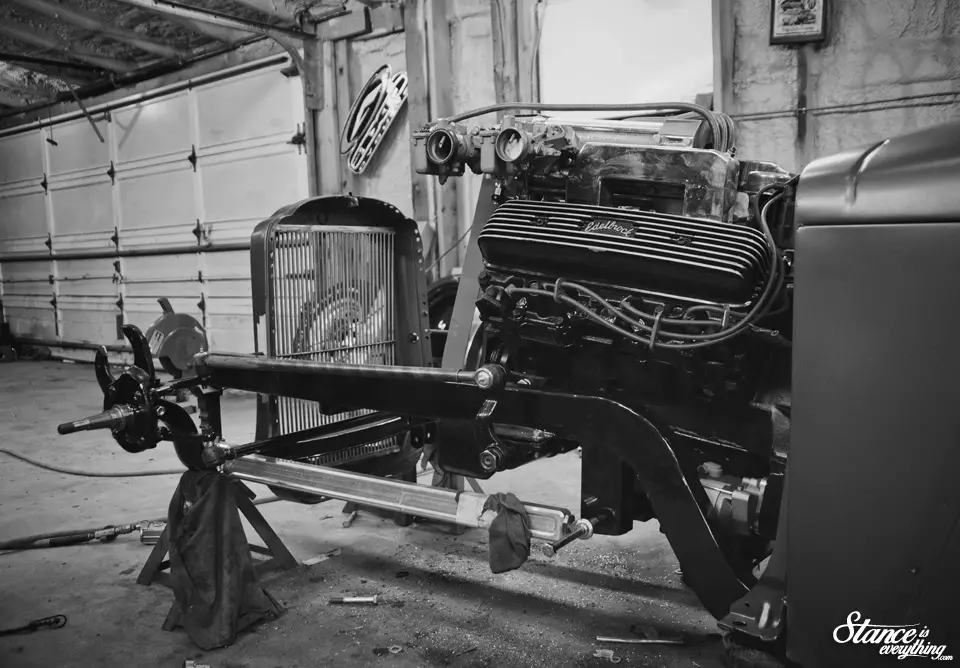 Blair reports that the motor was turned over last night and should be ready to fire tonight with the only absentee component being a set of headers. Those are being built by Mike of GT Custom Exhaust who stopped by yesterday afternoon to take the measurements he needed to make a fitting four to one header.
Once a rad finds its way into the grill shell all of the systems including the fuel and brake will be complete meaning the car will be able to start and stop properly.
Air Lift Performance has also jumped on board and their 3H management system will be taking care of the ride and park height.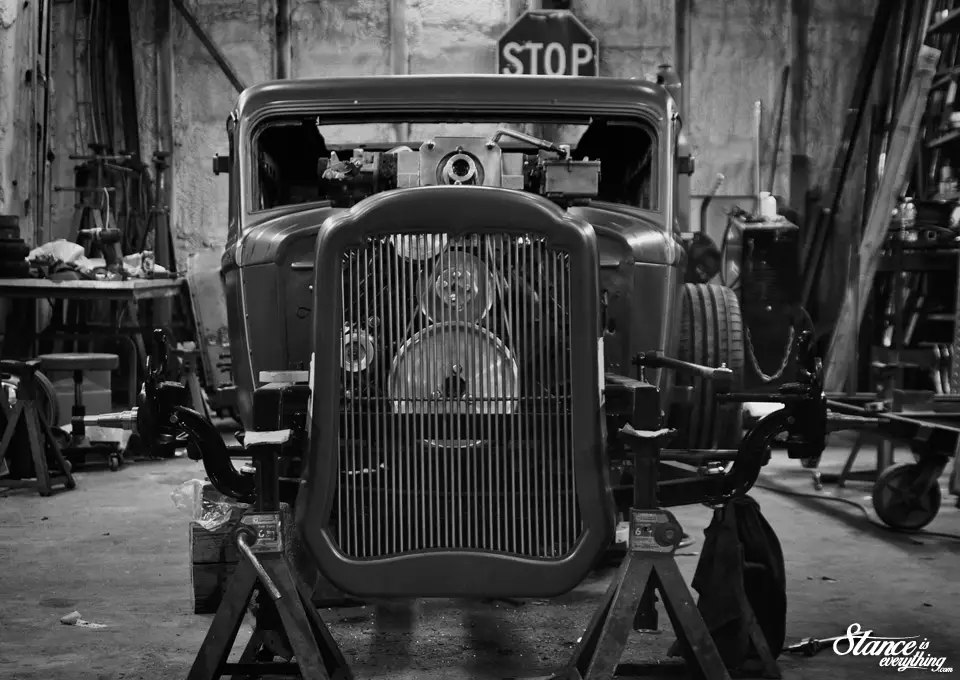 As I'm sure you've all noticed by now the body (that was last seen in update four) is back from the shop in a fresh lick of paint.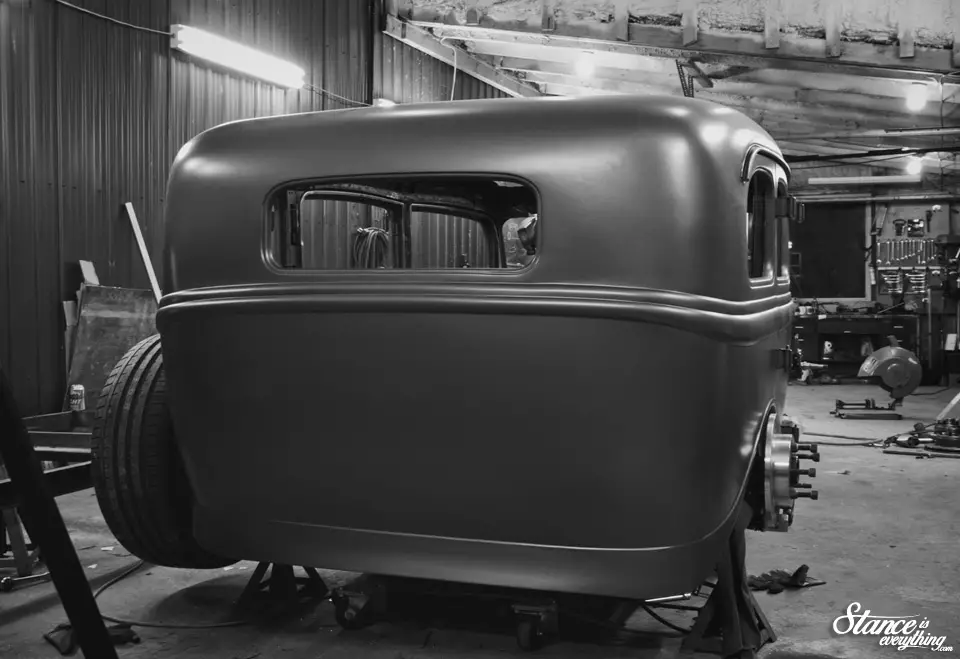 The decision to keep the body colour secret until the reveal came late last week, and as frustrating as this might be for all of you reading I promise that you won't be disappointed when it is revealed.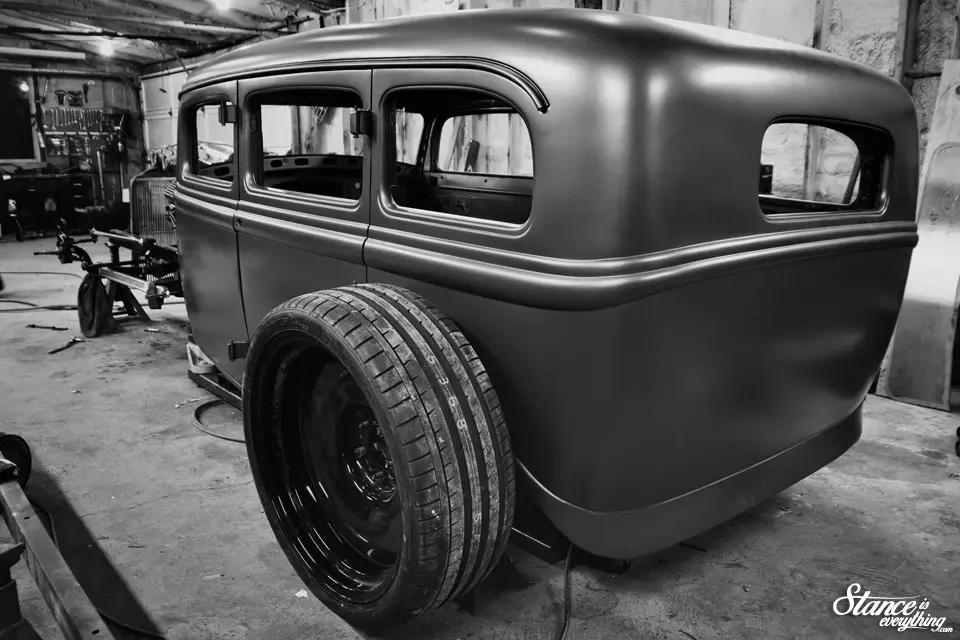 While I can't tell you the body colour just yet, I can confirm that the floor is black and painted in a material similar to rocker guard.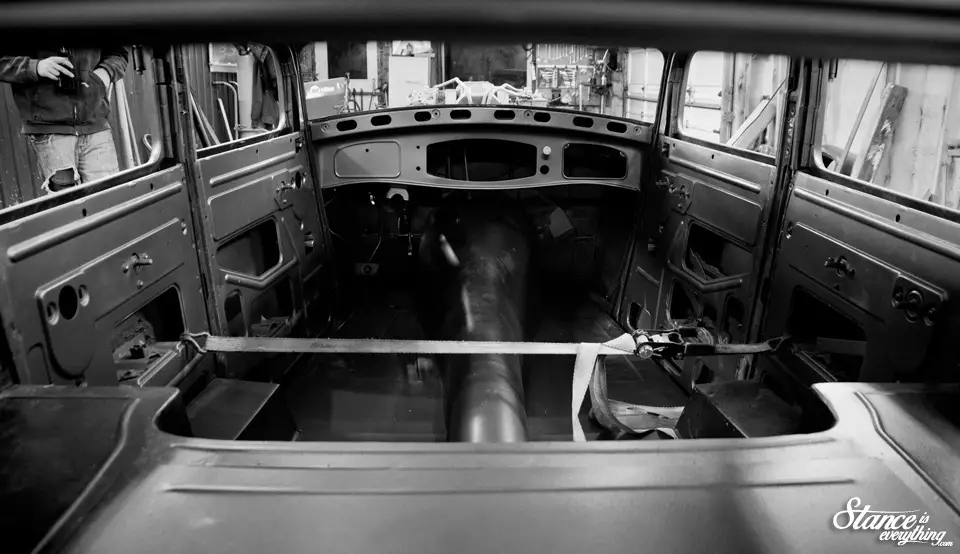 This coating allows just enough of the raw hand crafted aspects of the floor to show through and will make the vehicle much more usable in the long run. The upkeep on a bare metal floor in a car with no windows would have been a little ridiculous.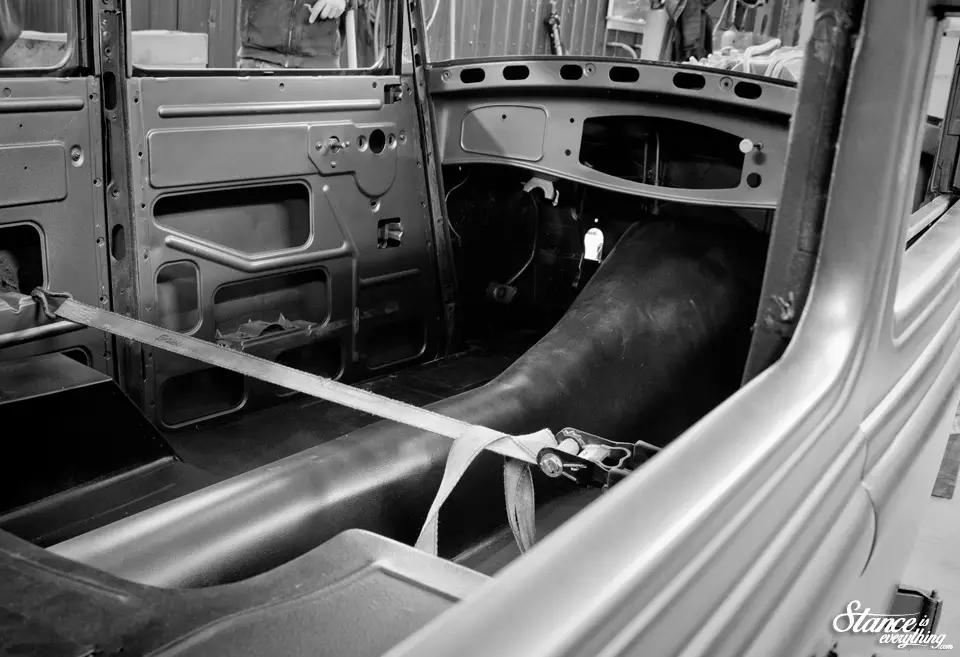 The overall look of the vehicle today is menacing with just a touch of class and the colour pairs well with the 20″ Mobsteel wheels that have also been painted.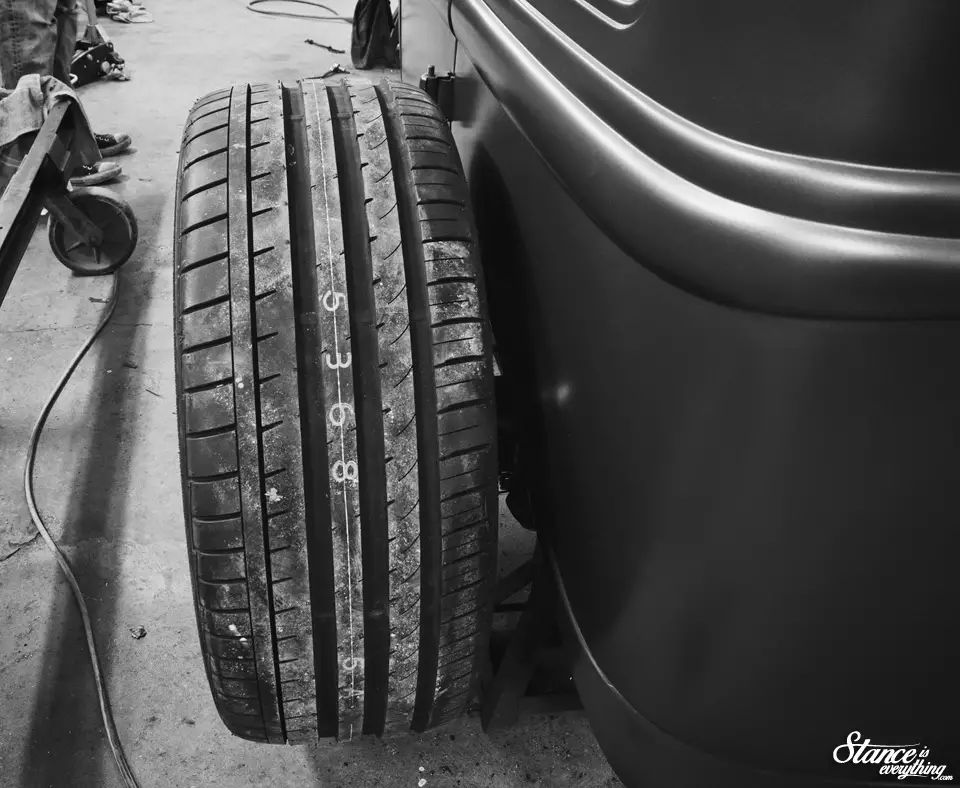 These wheels, which will have bullet caps all said and done, are a great visual fit, but physically their large diameter isn't exactly playing nice with the rear door hinge aired out.
Nothing a spacer can't over come but a slightly unanticipated hiccup.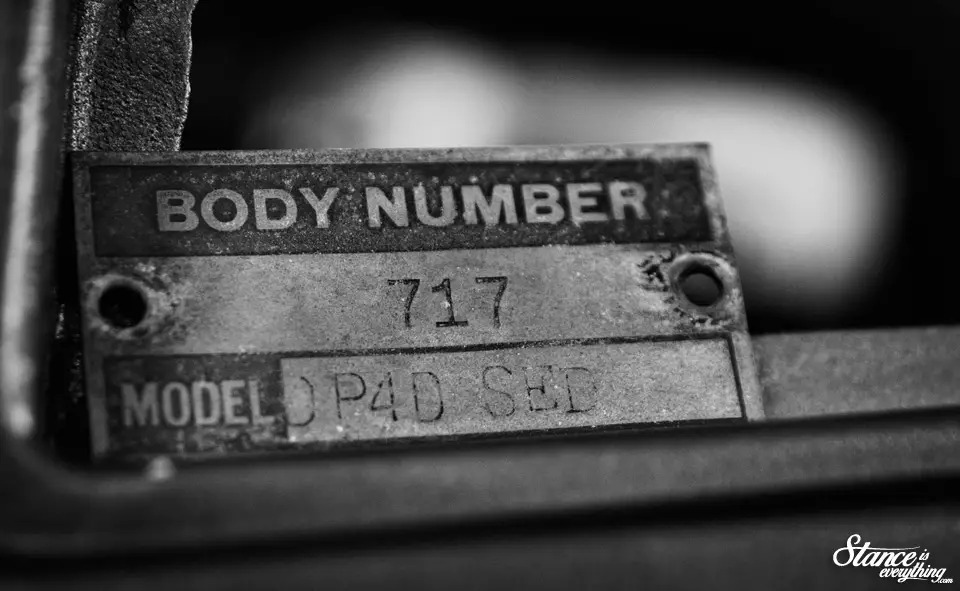 As the song goes time keeps on slippin' but with some luck, some friends, and some liquid persuasion the car will be done on time.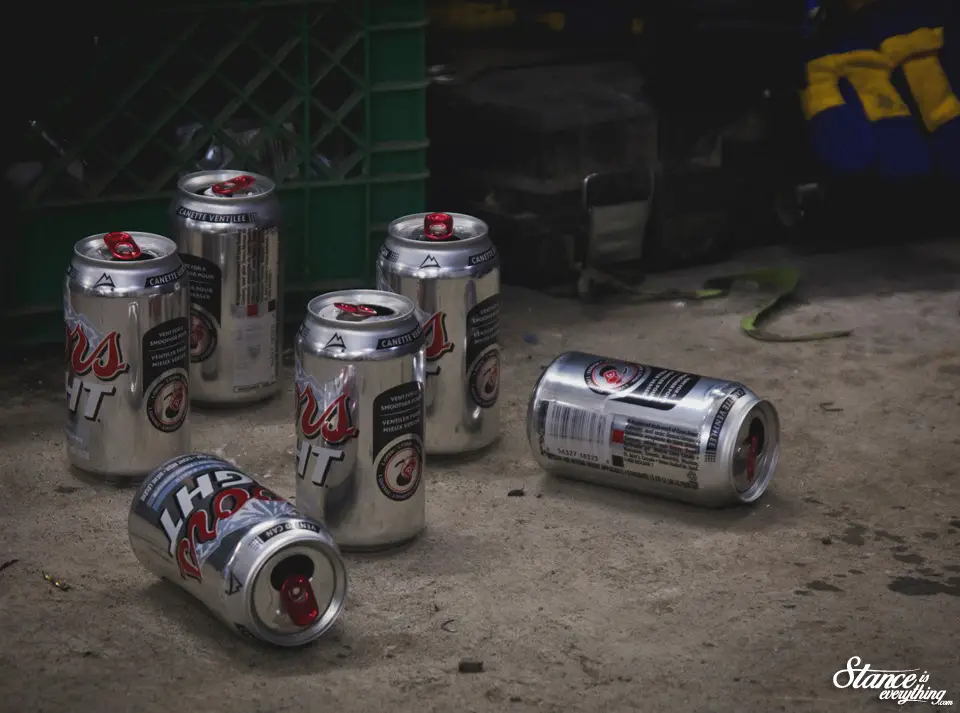 A reveal post should be up this weekend but the car will be at the show Thursday night so I wouldn't be surprised if a few photos leak on Instagram prior. Of course nothing beats seeing it in person at the Motorama Custom Car and Motorsports Expo this weekend at the International centre.