For the last few years Formula Drift Canada has been largely a Quebec based affair, with much of its fan base and competitive field residing in Quebec or in very close proximity to it.
However with the number of Ontario residents supporting the series growing year after year, Formula Drift Canada gave back to the Ontario fan base by bring an event back to Ontario for 2016.
When the Sunset Speedway was announced as the venue I'm sure I was not the only one a little surprised a somewhat remote oval was chosen.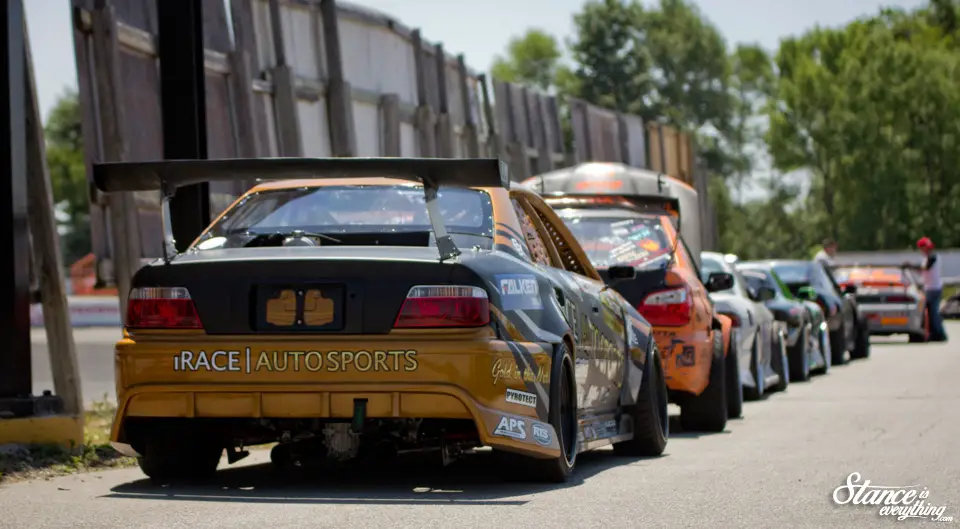 To be completely honest I didn't even know there was a racetrack in Barrie, and when I asked people about the track many said they had memories of coming to the track to watch Demolition Derbys, and were surprised it was still around.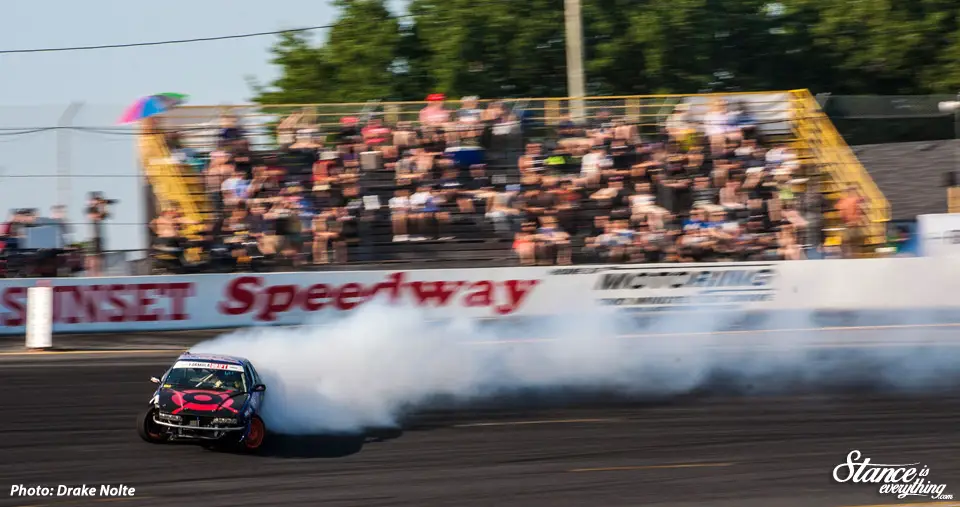 Drake sat out last year's world round, but this year we'd be covering this Ontario event together and we both showed up about half an hour before the media meeting kicked off.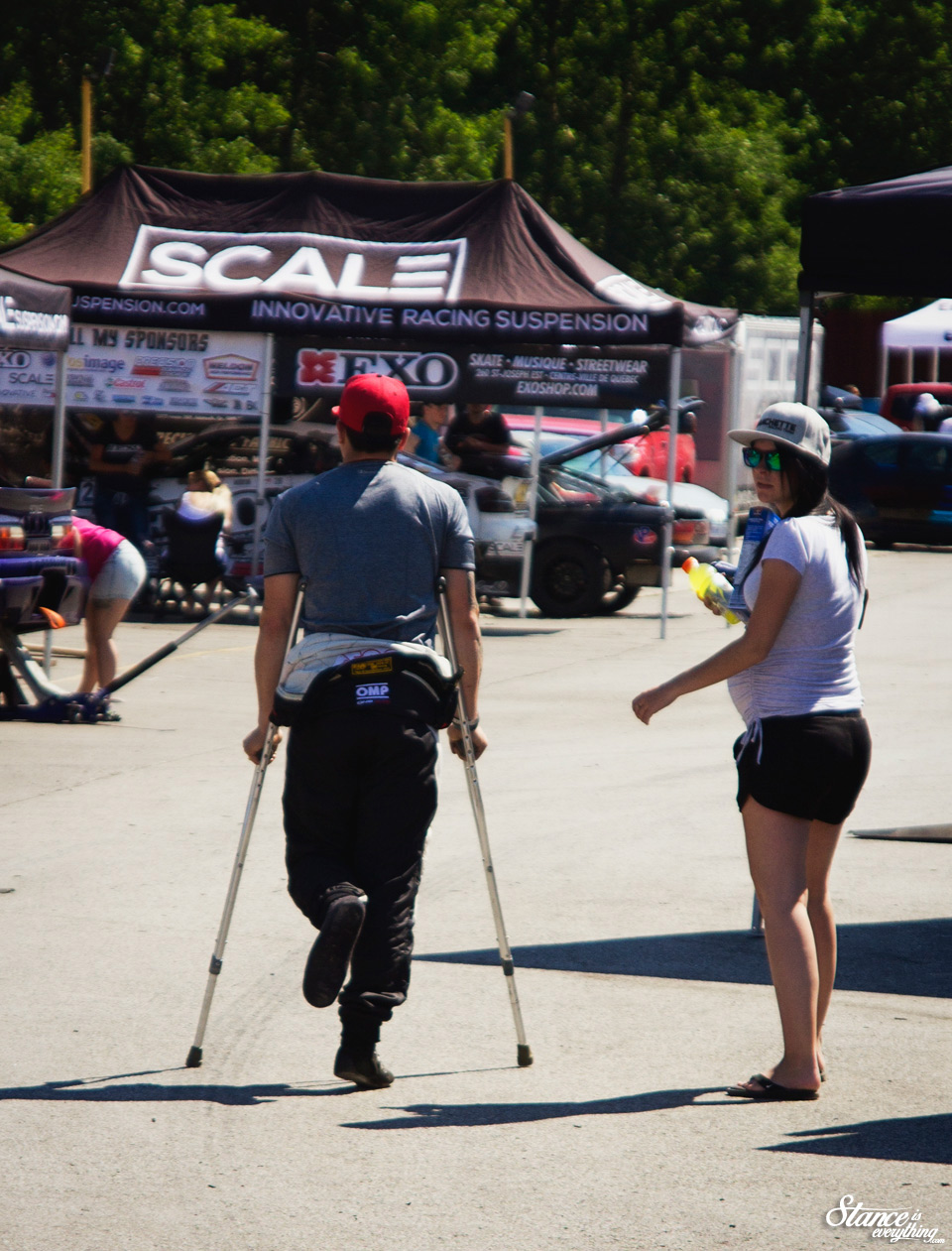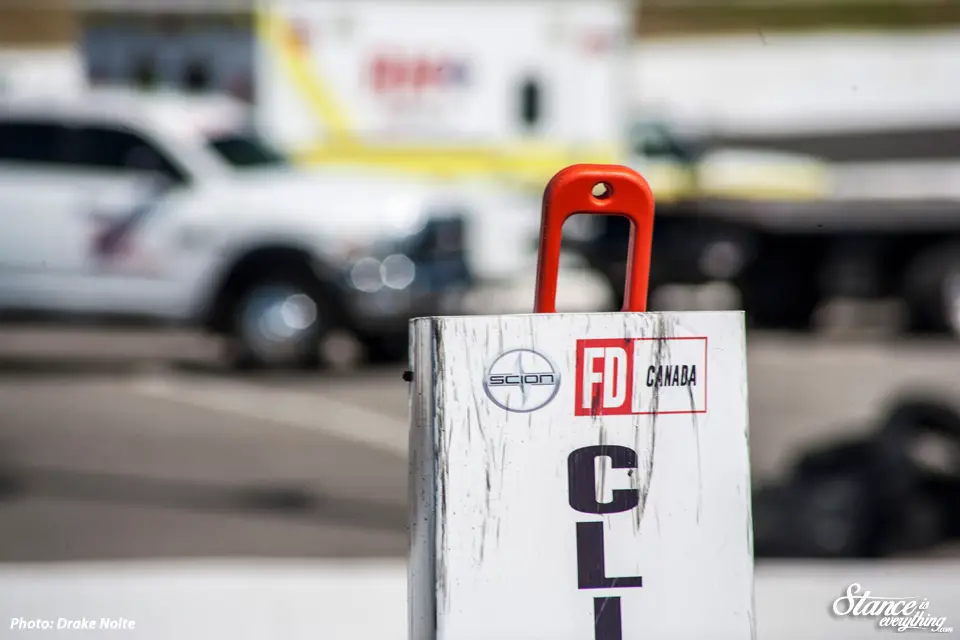 In the break between the meeting and practice Drake and I wasted no time taking advantage of the venue being empty so early in the morning as both the pits and the show would fill up later that day.
Being a compact venue it was pretty easy to get a quick lay of the land without a bike, scooter, golf kart or moped.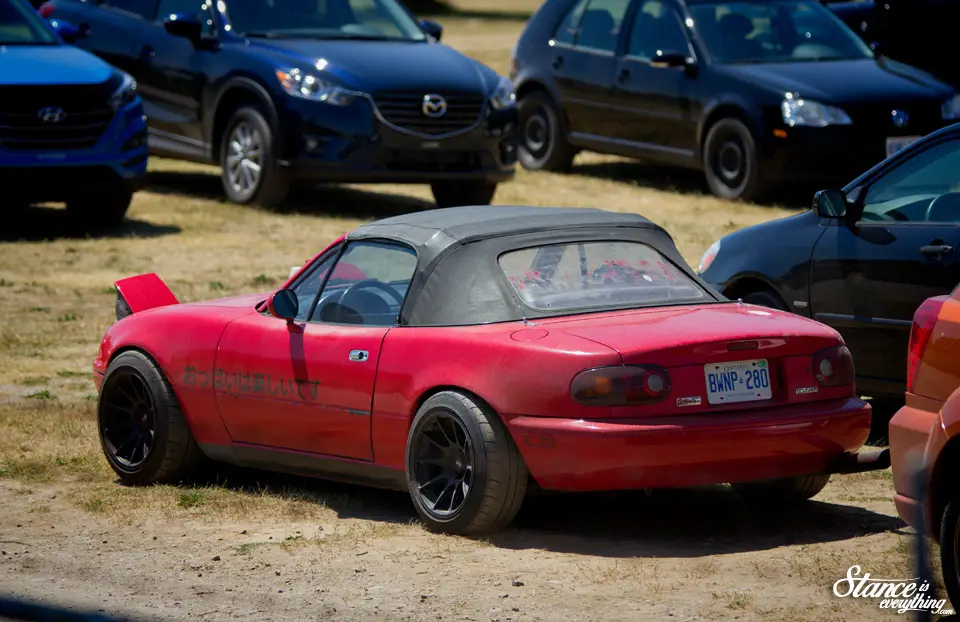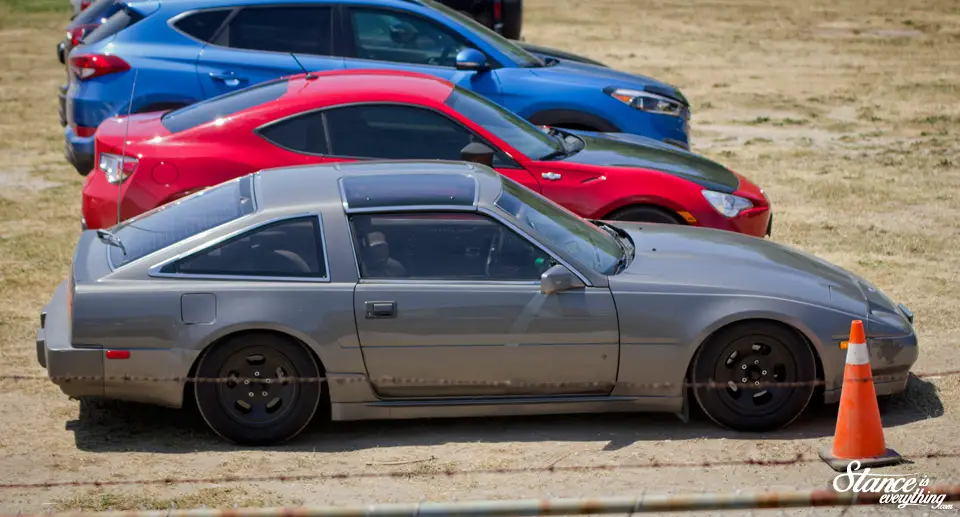 The pits were close to the parking lot, and the show area was close to the track. This all meant it was easy to wander around when the track was cold without worry of being too far out of position when the engines started to fire up.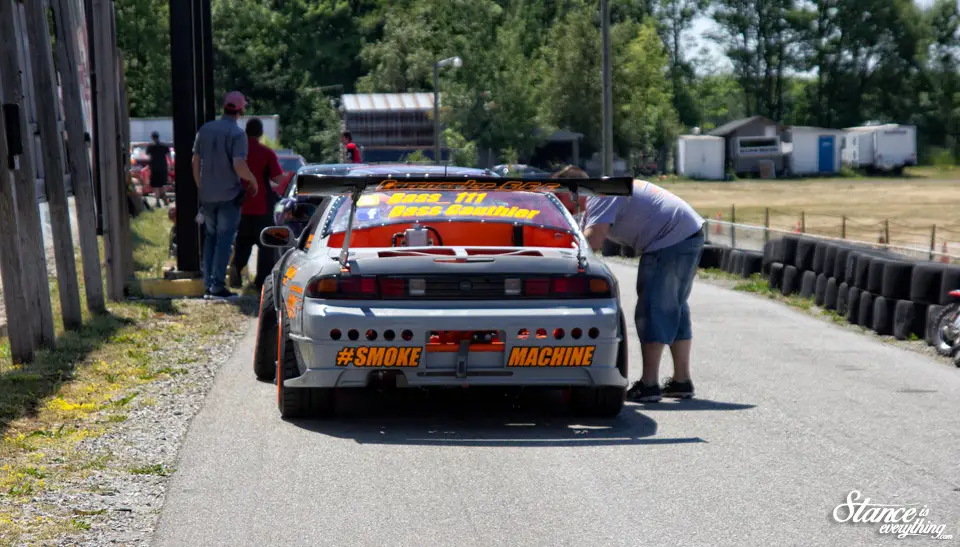 The show portion wasn't the largest I've seen at a drift event, but the cars were pretty decent, however since there's a lot of other show coverage on the site it won't be priority in this post.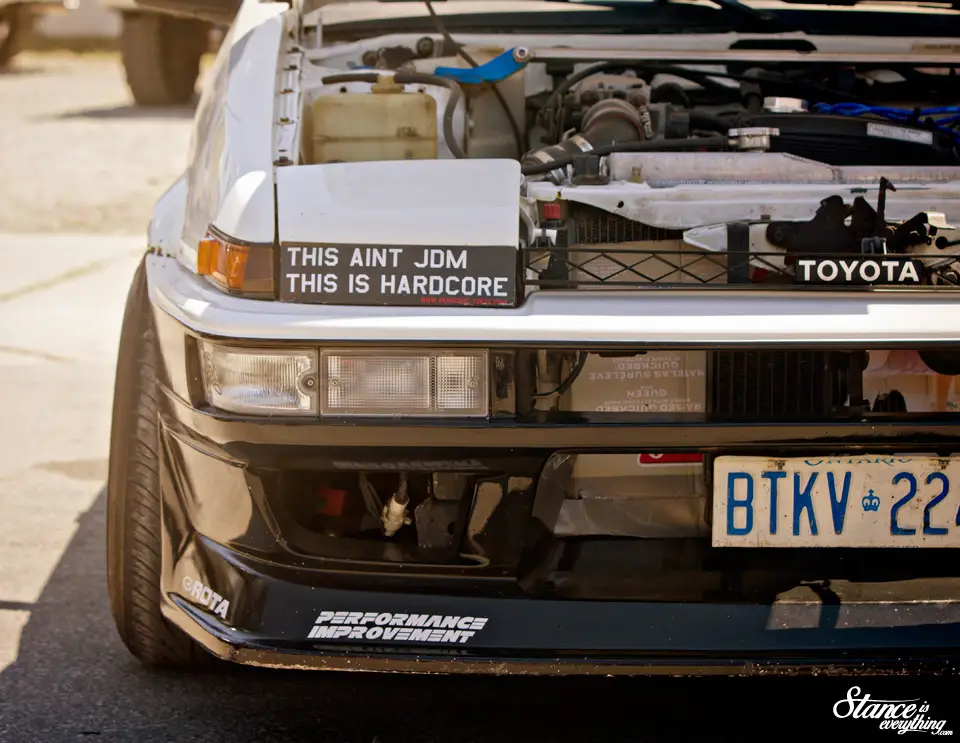 But, it has become quite obvious at this point that I can't walk past Brad's Miata without taking a photo of it, so here are a few more.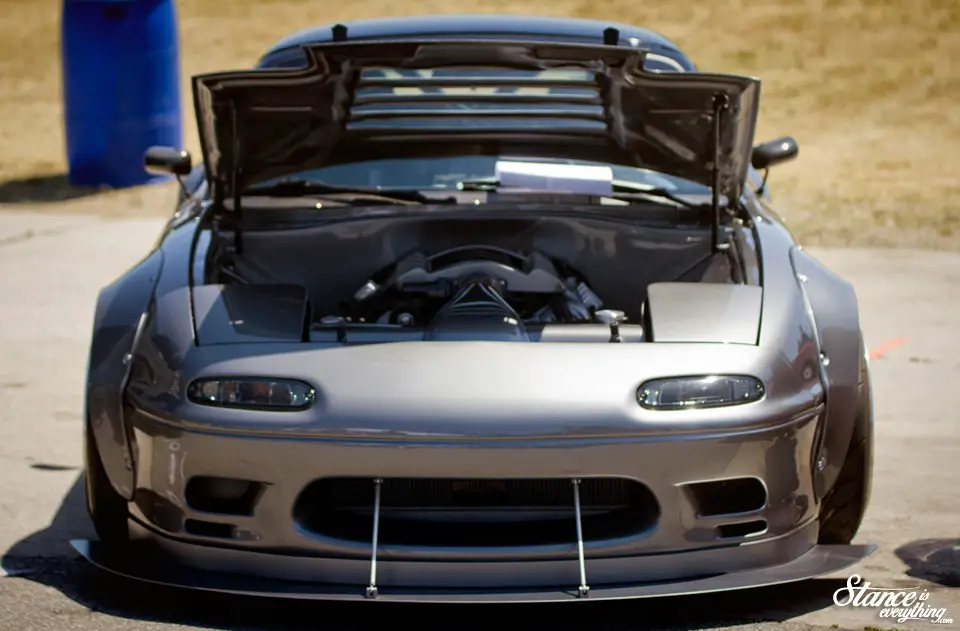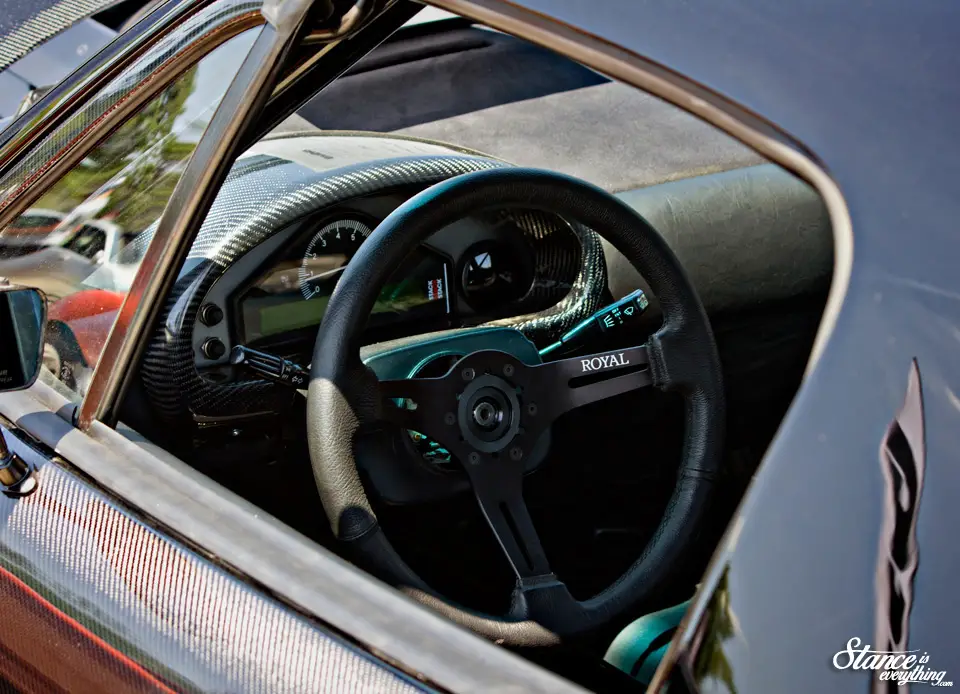 With this being the sole Ontario stop of the season all of the local competitive field was trying their best to put on a good show for the fans, and fill spots one through three with Ontario residents.
Moneygang Steve's car is now mechanically complete and even more of a beast than it was the previous season.
Steve drove well and made it into the top 16 however his axles decided they had enough, both snapping once the tandems started.
Mats Baribeu, another Ontario native, was putting his Chaser through its paces.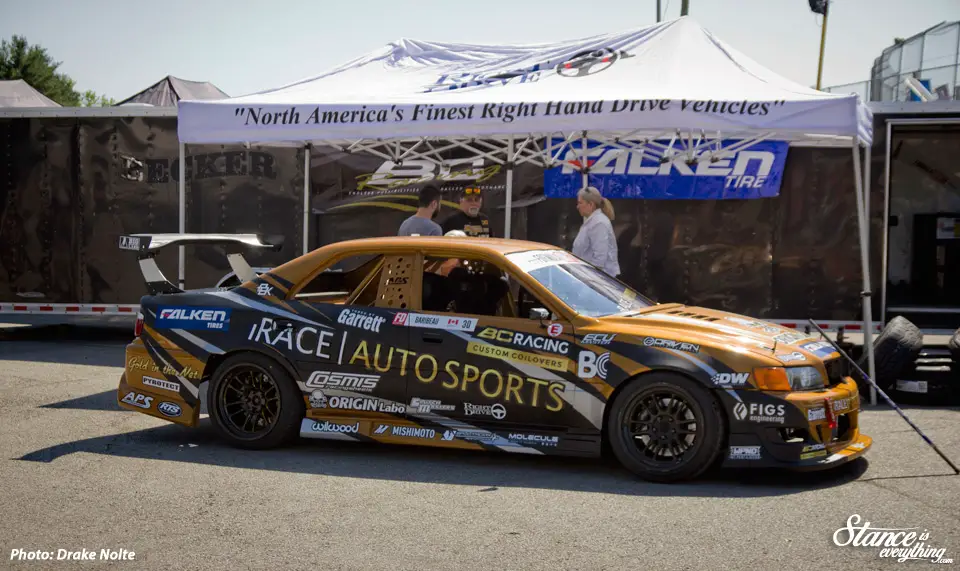 Black last season, Mats car is now a vibrant copper color. His Toyota has always been one of the more stylish cars in the field and this year it looks even better, he's also one of the few cars in the field that have wheels sitting mostly within the fenders.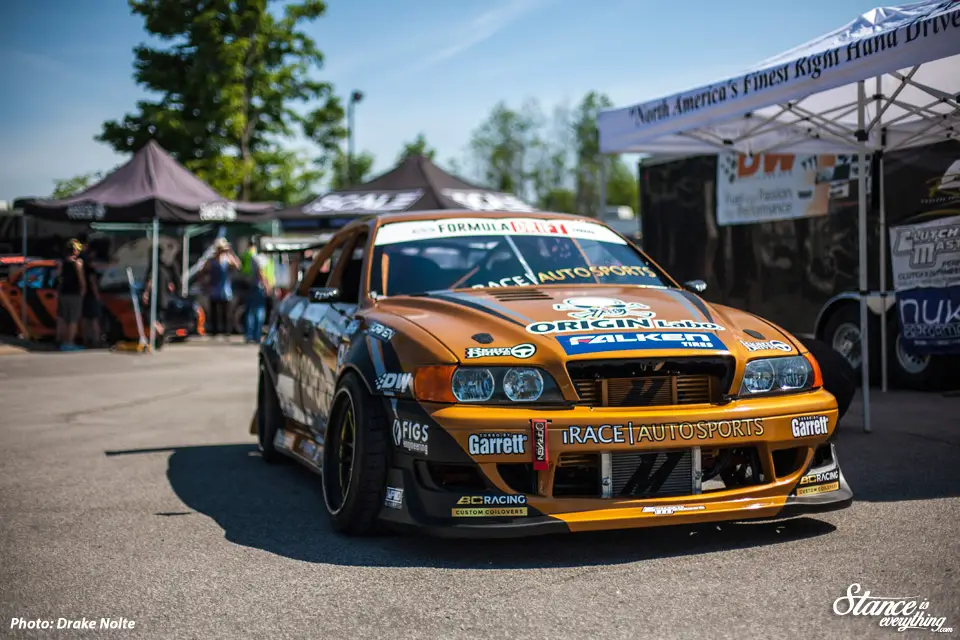 Mats has always been one of my favorite drivers to watch since I first saw him drive at DMCC six years ago. He's never afraid to let it all hang out with tons of angle every time he's on the track.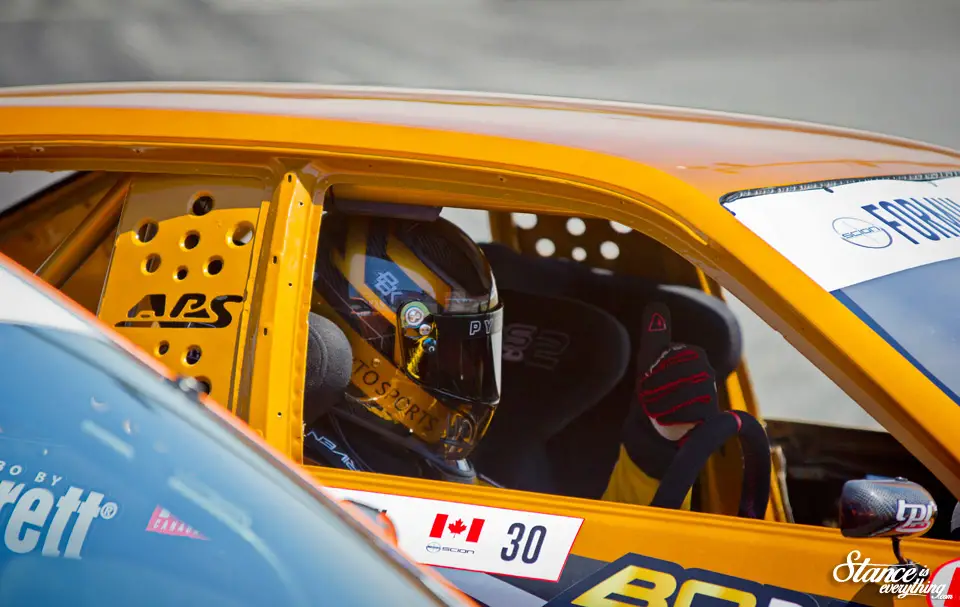 Unfortunately, as fun as Mats is to shoot, we were only able to do it in practice and qualifying as he straightened during both of his judged runs and didn't make the top 16.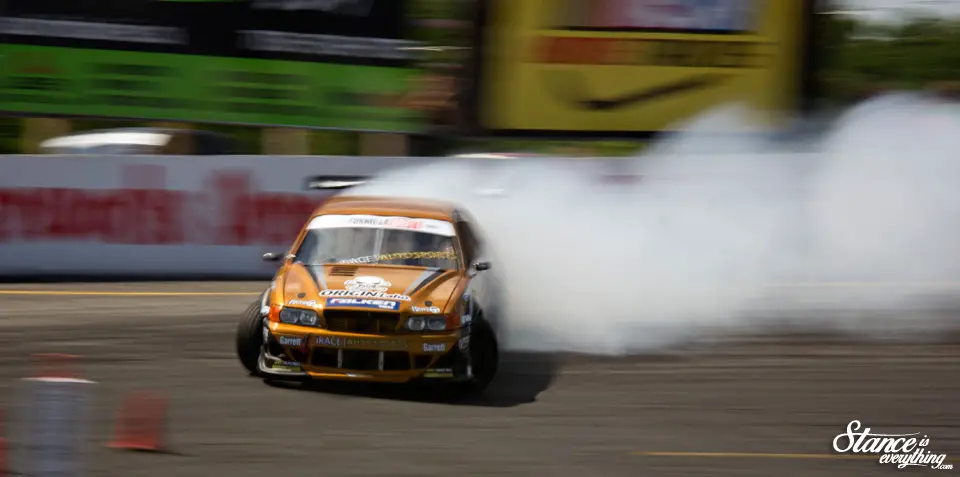 Riley Sexsmith drove well out in Barrie –actually I don't think I've ever really seen Riley have a bad day– making it into the top sixteen at the thirteenth spot.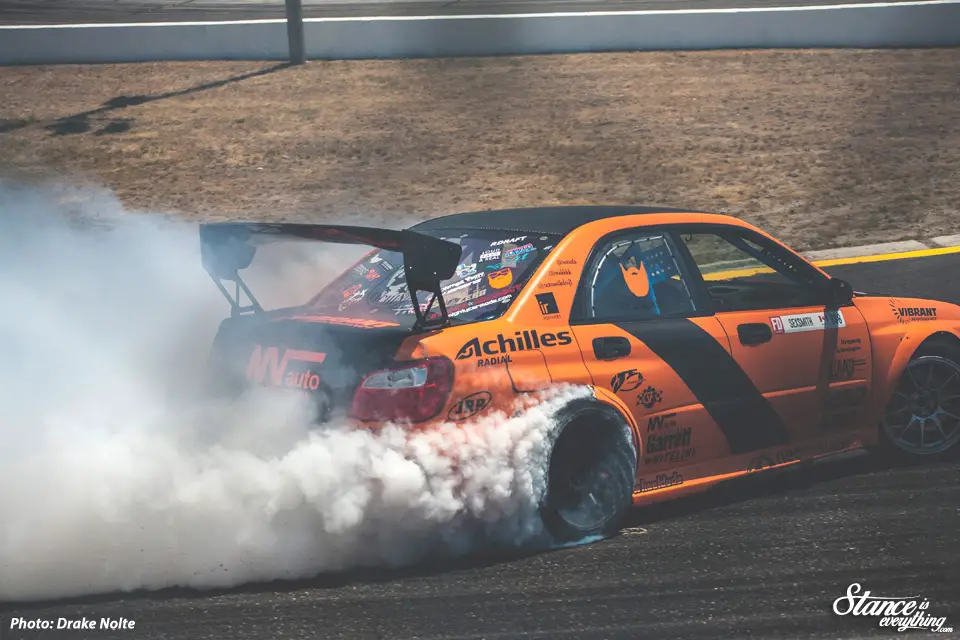 His NV Auto 2JZ Subaru is a smoke machine out that seems to never really hiccup. The vibrant orange livery makes it a really great photo subject too no matter how bright and hot the sun is.
The local veteran Pat Cyr had a bit of a rough go at the Sunset Speedway. In practice the day before the event he was plagued with fuel delivery problems that ended his day seven laps in.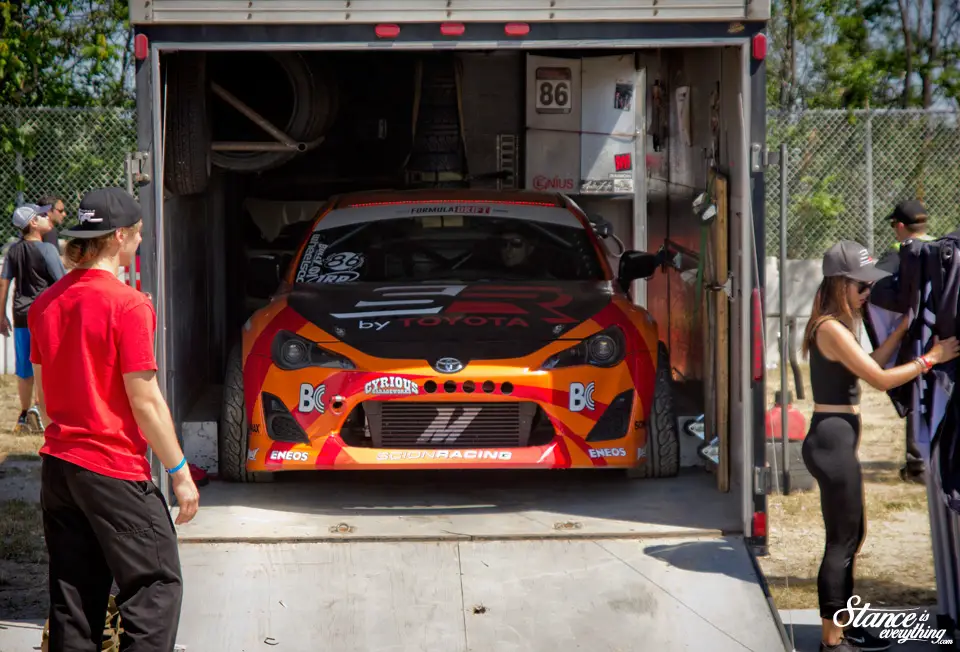 After a late night at the shop replacing the fuel delivery system, the Cyrious Garageworks team was rewarded for their efforts with an intercooler that cracked their first practice lap.
With no TIG welder to be found, Brad (a member of Pat's crew) had to head back to Mississauga weld the intercooler, then turn right back around and come out to the track to put the car back together in time for Pat's qualifying run.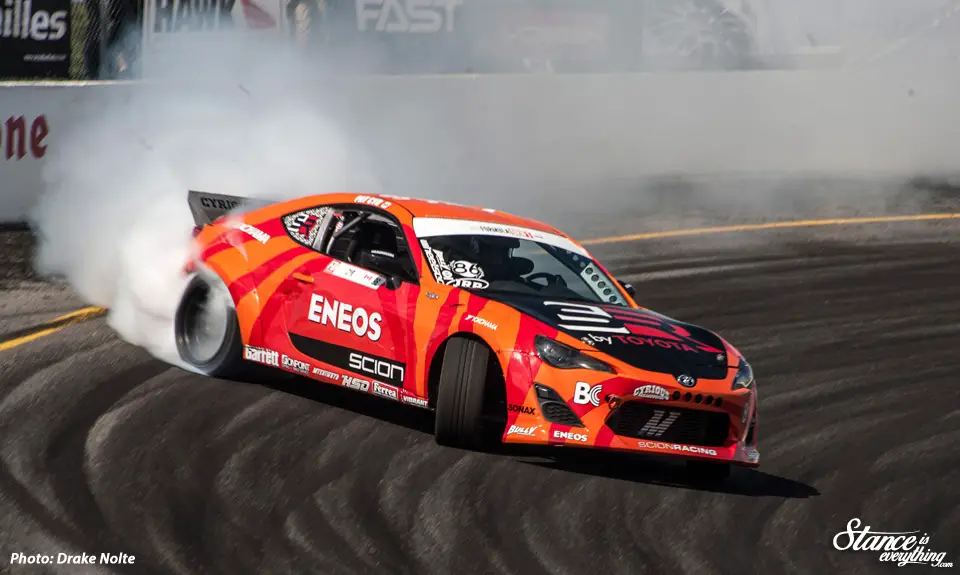 Most people would have a tough time coping in a situation like this, or at least most normal people, but Pat was as cool as ice signing posters and talking to fans as time ticked away.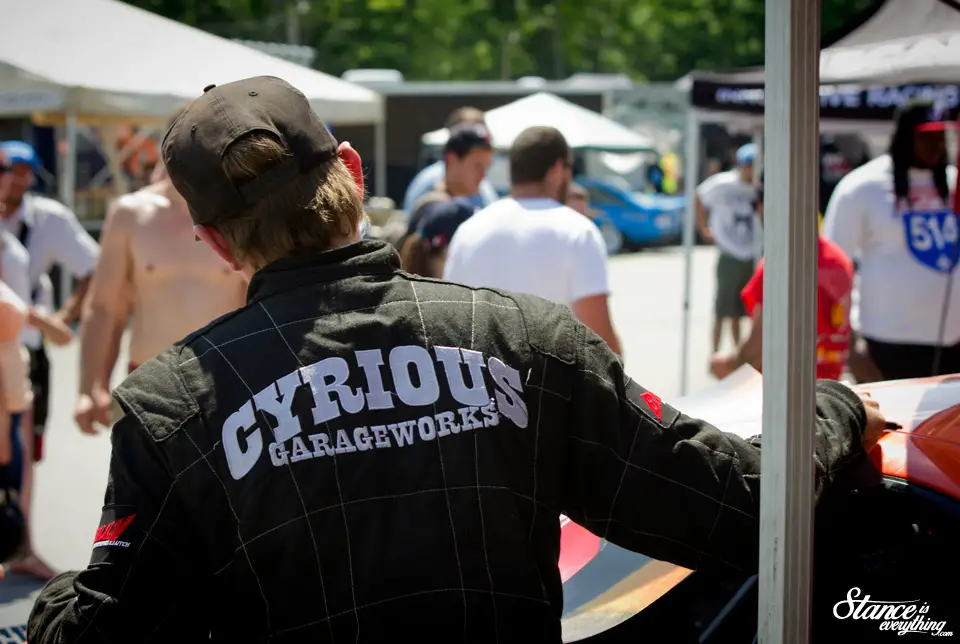 Miraculously they got the car back together just in time and Pat put together a killer qualifying run that earned him the tenth qualifying spot.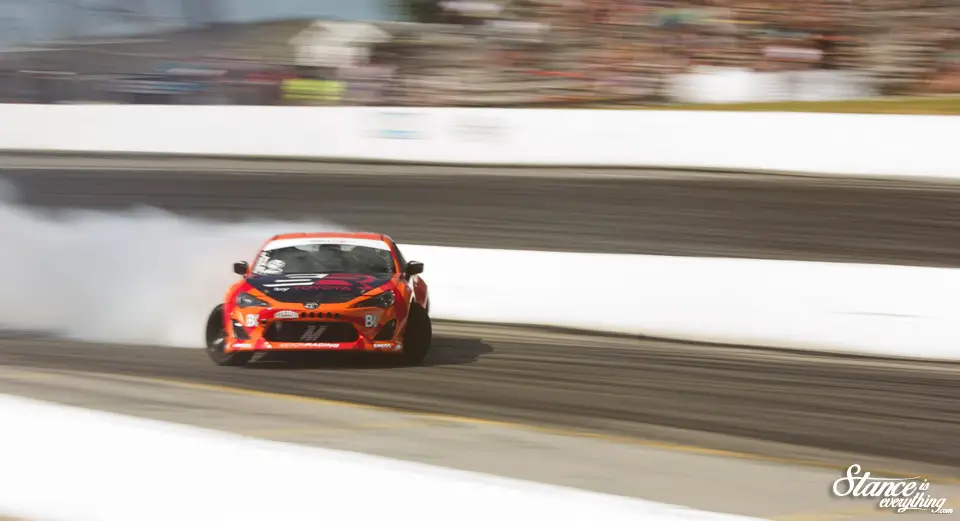 Unfortunately transmission problems ended his day sooner than he would have hoped in the top sixteen, but no one can say it was for lack of trying.
Pat wasn't the only one having a rough day, Tommy "Tom Tom" Bosivert found himself hard into the wall at Sunset speedway.
The impact was pretty significant, but I'm pretty sure he was alright. His car however was a different story, and though it looked like a write off from where I was standing his team tried their very best at getting it fixed for qualifying.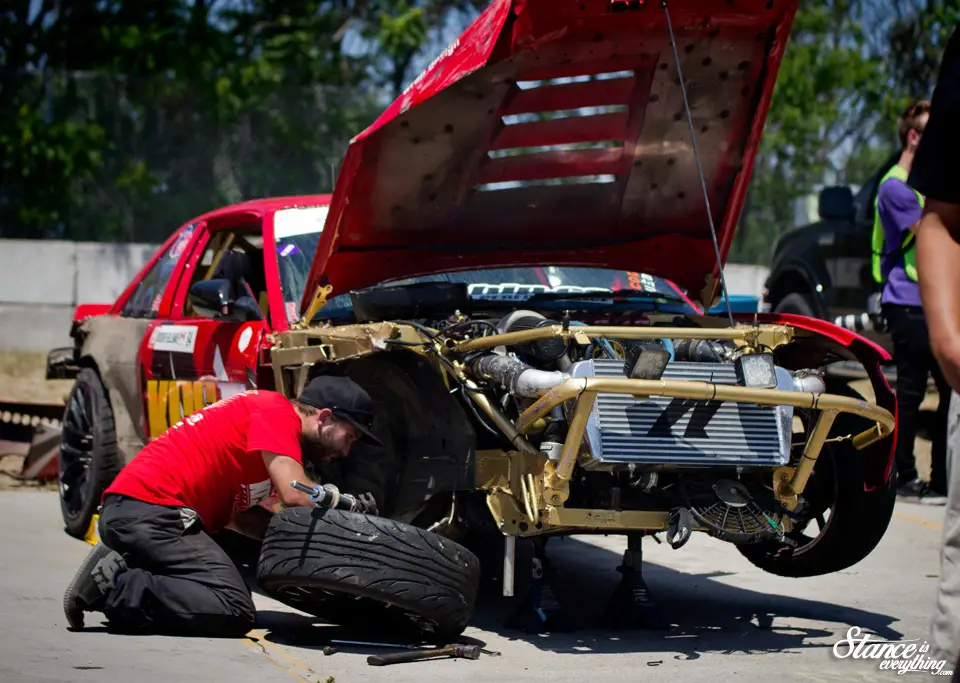 It was all for naught though. They did get the car back onto four wheels but it was still in no condition to compete.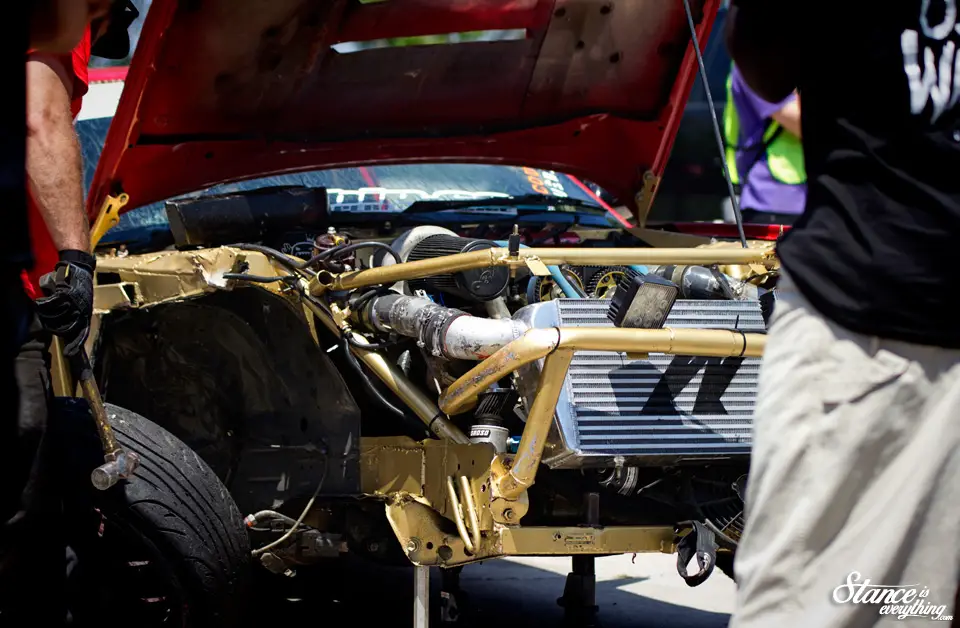 Practice for everyone else seemed to go pretty well, with no other major incidents and watching from the infield qualifying was pretty exciting even though I feared I might pass out as it was extremely hot and I had a rapidly depleting water supply.
I managed however, and Drake did a great job of capturing the action from the spectators point of view which really gives some depth to the coverage perspective wise.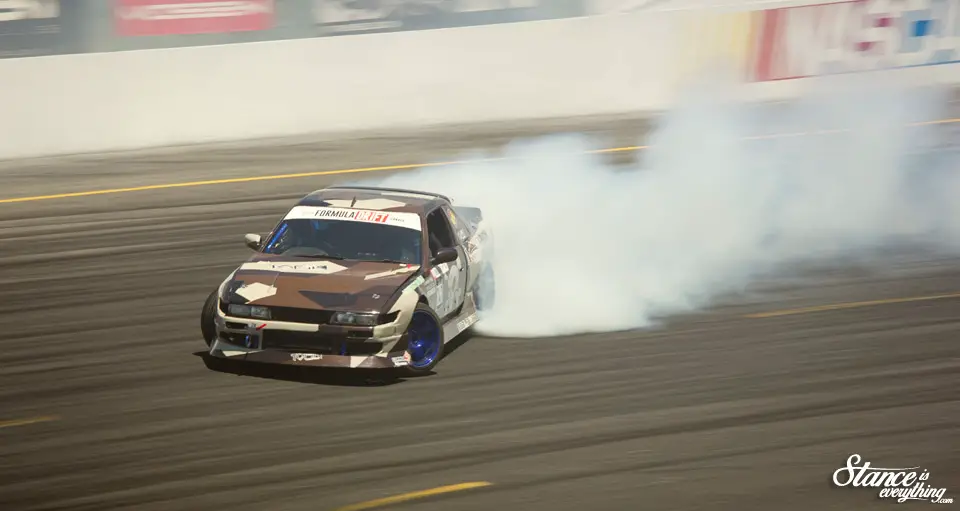 Alex Blanchette didn't qualify but he drove his supercharged Genesis has hard as he could.
If being the only Genesis in the field wasn't unique enough, he also added some Rollerblade wheels to his bash car that protruded from the bumper.
The wheels looked pretty fresh, and I feel like if they actually did hit the wall they would just vanish entirely, but it was a nice talking piece none the less.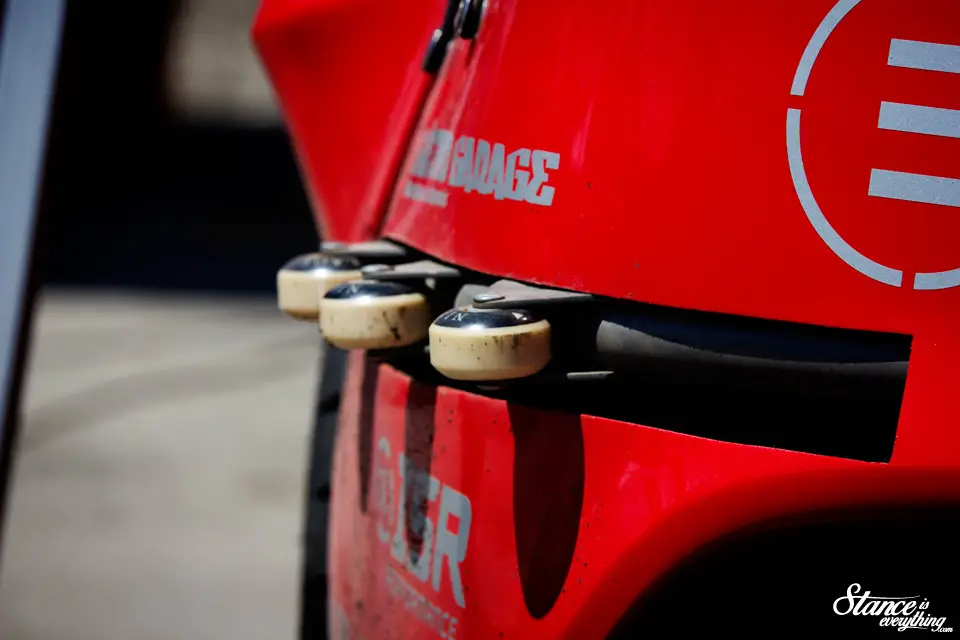 Pennsylvanians Troy Manners became one of my favorites of the day because I'm pretty familiar with the drive from Penn to Ontario and it's not something I expected someone to do to compete in drifting.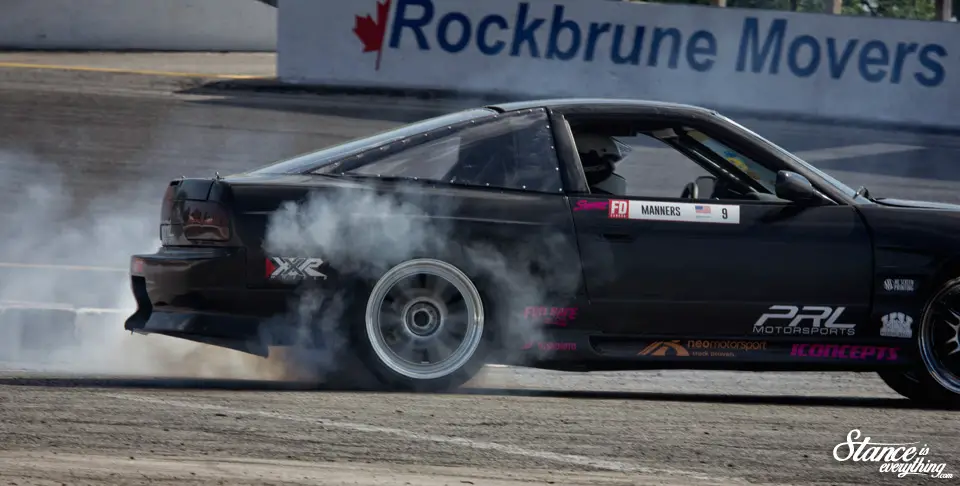 After something in the rear end let go right near the end of his first qualifying run, he had to let it all hang out in run two and just making it in.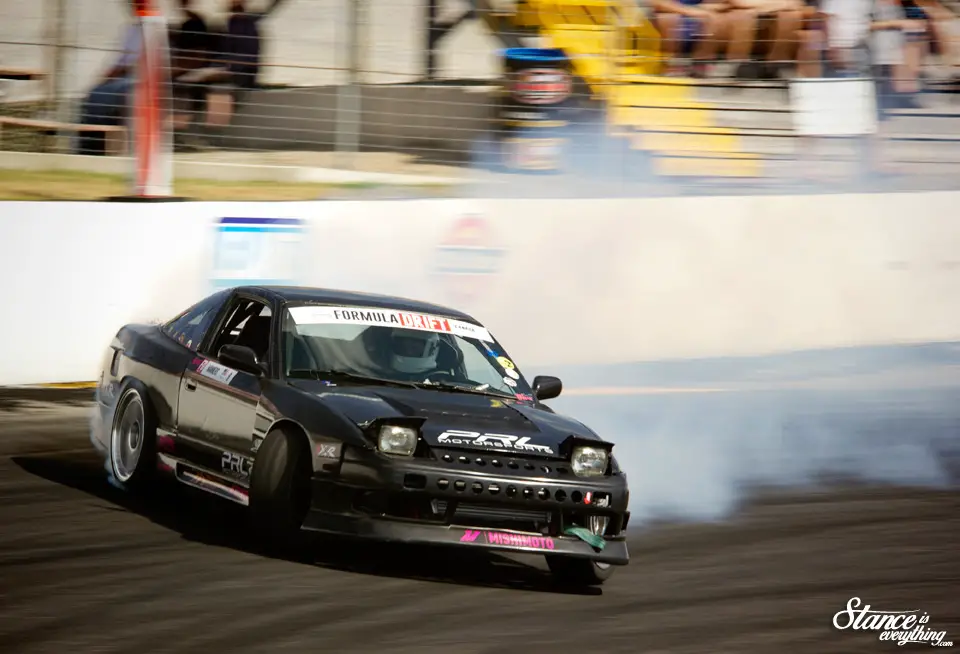 He's a pretty young competitor, but it looks like there's a bright future ahead of him of he can keep a program together. In fact I need to take a second to appreciate just how hard everyone in the Formula Drift Canada field works to keep their programs running.
Motorsports are in no way cheap and every competitor works incredibly hard to keep doing this year after year.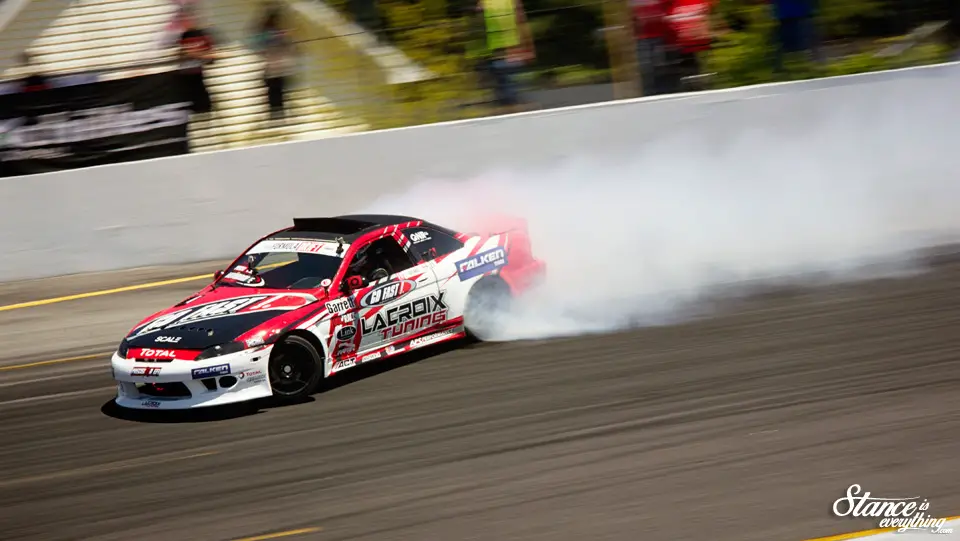 Jonathan Guitard qualified in seventh spot and ended up facing Pat Cyr if the first round of the top 16 elimination, after Pat's transmission problems cropped up Jonathan moved on.
Youri Levesque drove extremely well in practice, and in his qualifying run, and ended up at the top of the heap with a 79.5.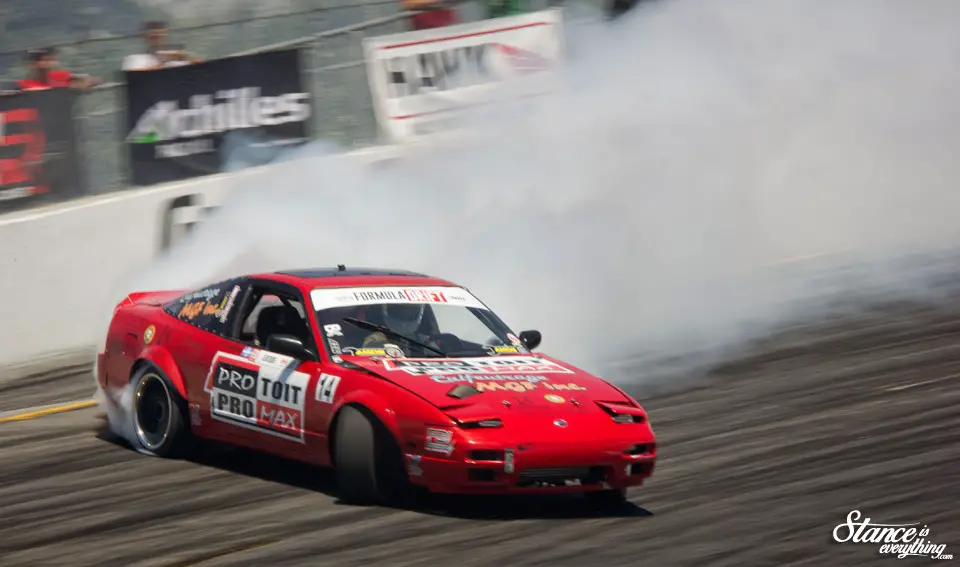 He ended the day in third spot, and celebrated a great day with his son during the award ceremony.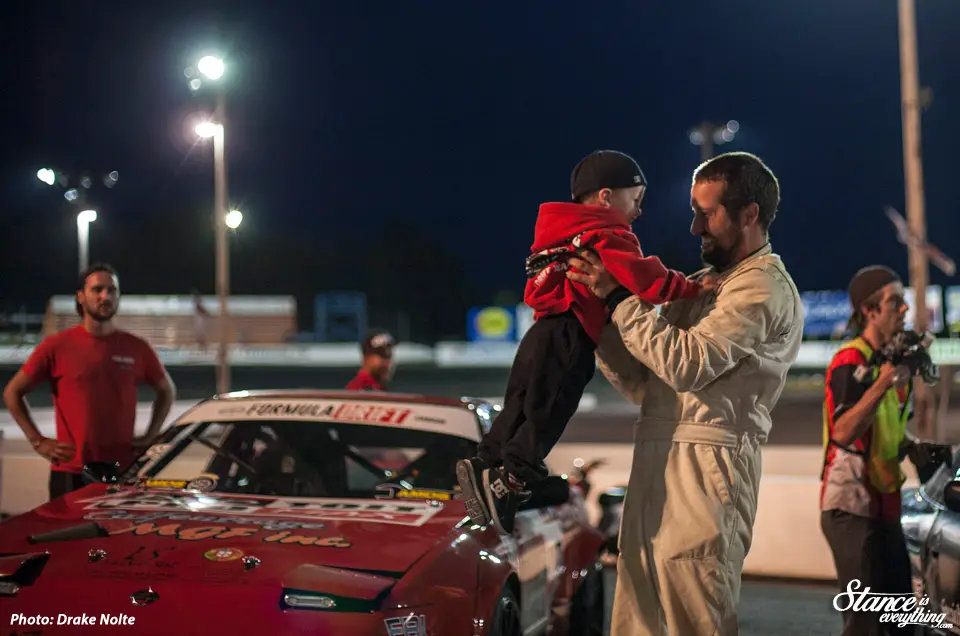 Miro Ovcharik put on quite a show at the Sunset Speedway from practice all the way through to the finals.
As the competition went later into the night Miro stayed consistent and took home a well deserved second podium position under the Barrie lights.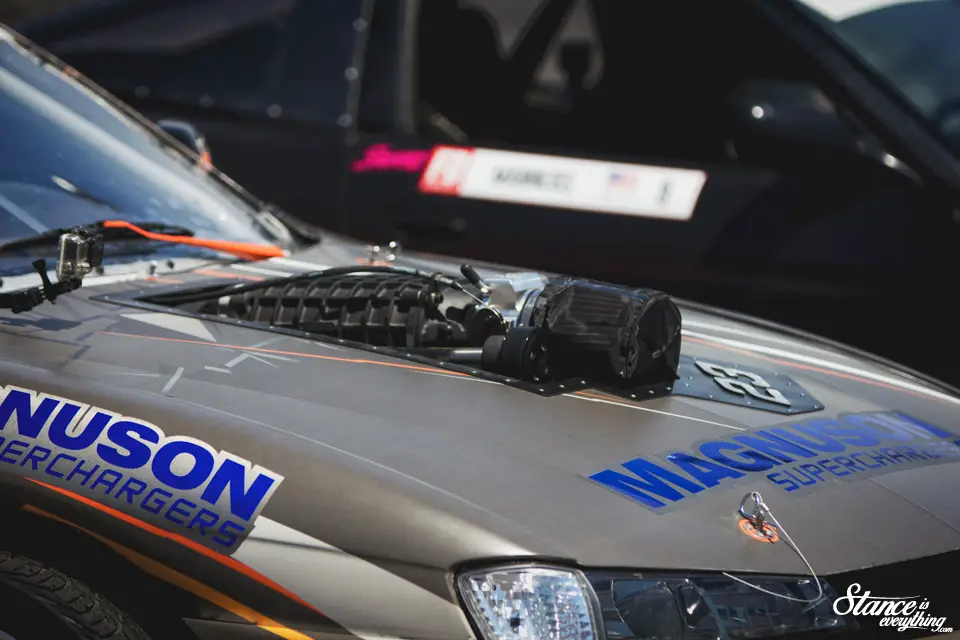 Jonathan Nerren was one of two halves of a Zenna Tires sponsored pair. Both drivers made it into the top sixteen, with Jonathan taking the fourteenth spot.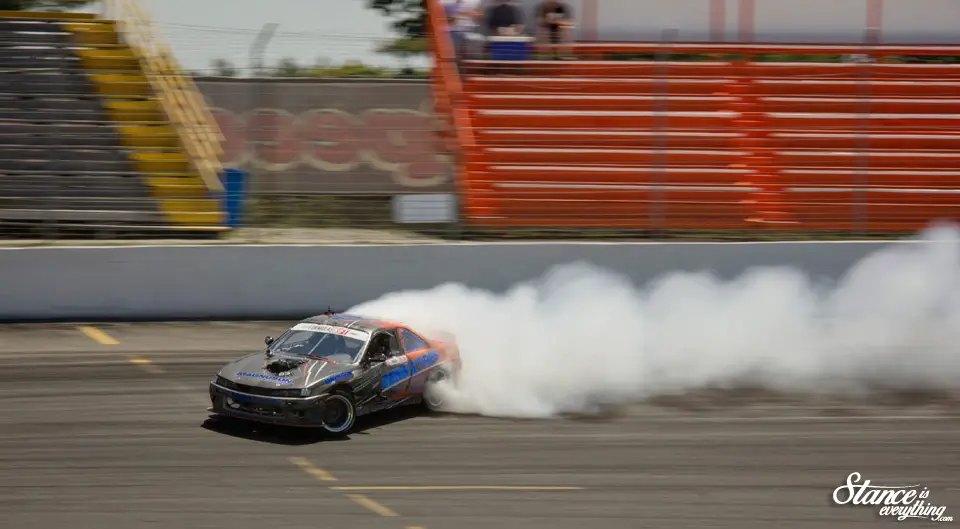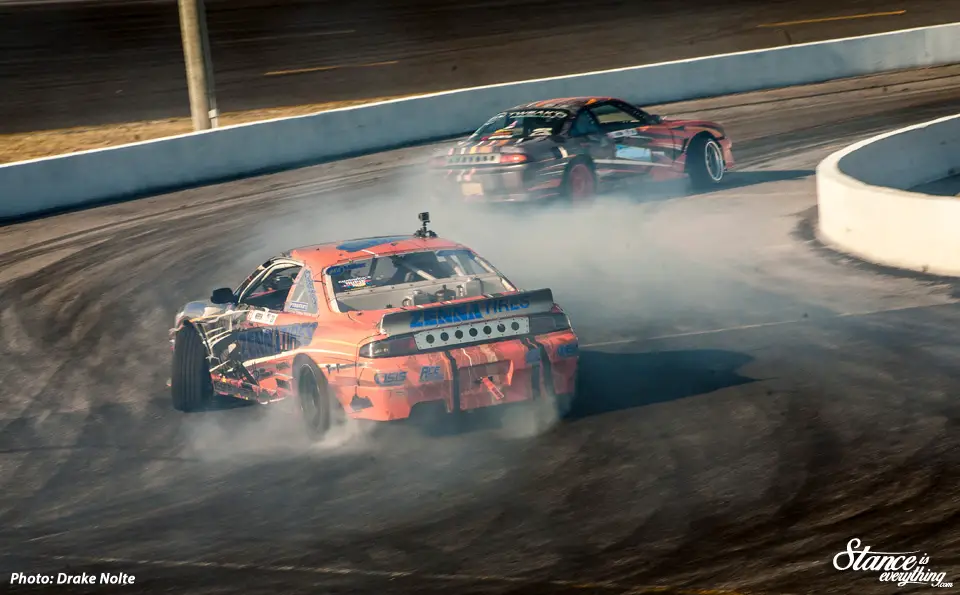 Tyler Nelson was the other half of the orange and silver qualified fourth, but battled from there up to the first place position.
A long day for drivers, media, and fans alike this Barrie Speedway round was great and I really hope that Ontario gets the opportunity to welcome Formula Drift back next year.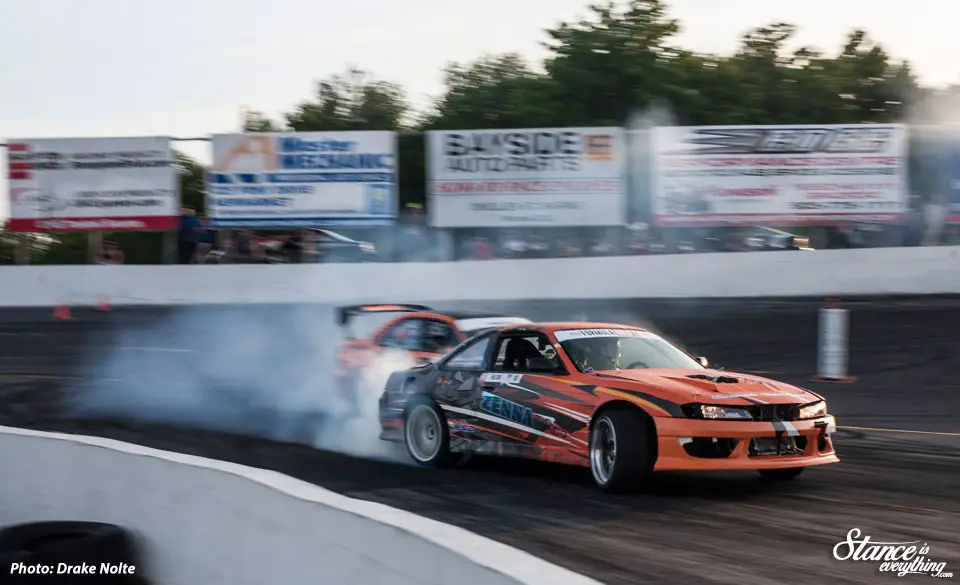 The Next Formula Drift Canada Event is July 16th at St Eustache, and it's a world round so there will be some big names there. Head over to formuladriftcanada.com for more info.