Well, we've reached the end of another year of extensive SEMA coverage here on Stance Is Everything, and hopefully you've enjoyed the virtual trip to Vegas so far.
Before the site shifts back into normal operation (yes that mean's Theme Tuesdays come back next week and WTF Friday this week) we're going to take one final look at a few of the trending, or most talked about, builds from SEMA 2016 thanks to Performance Improvements.
Chasing J's Datsun 260z
I've only got one photo of this Datsun but I had to include it regardless. Located in the Toyo Tires Treadpass this '76 was built by Dominic Le and John Esteban of Chasing Js.
The Marguen Shoukai over fenders and G nose front end combined with the remixed John Player Special (now Chasing J's Special) livery create a great looking Datsun.

The wheels are Work Mesiter M1s at 18×11 and 18×12.5 with 255 section width up front and 285 in the rear that tries to contain the 1000hp 2JZ under the hood.
The Muzilla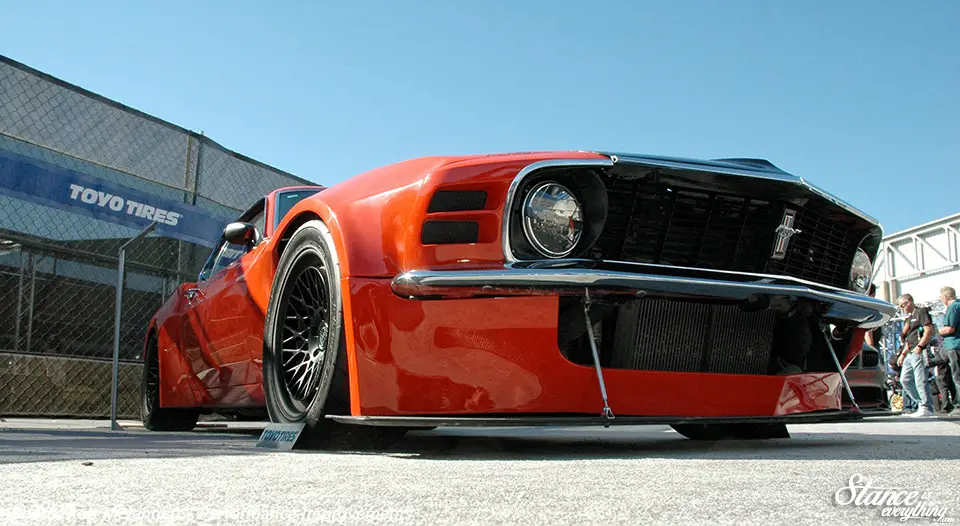 Looking through Rob's SEMA photos I knew from this low angle that something was up with this 'Mustang'.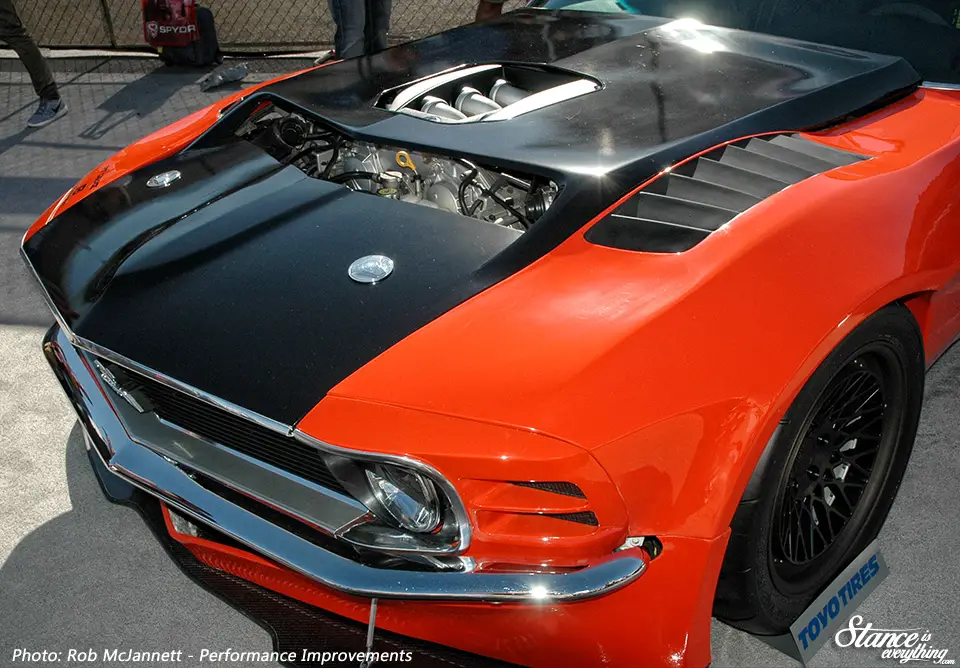 The fender bulges were obviously not factory, and the car looked generally pumped up all around. More obviously the VR38DETT sticking out from under the hood wasn't stock Ford equipment either.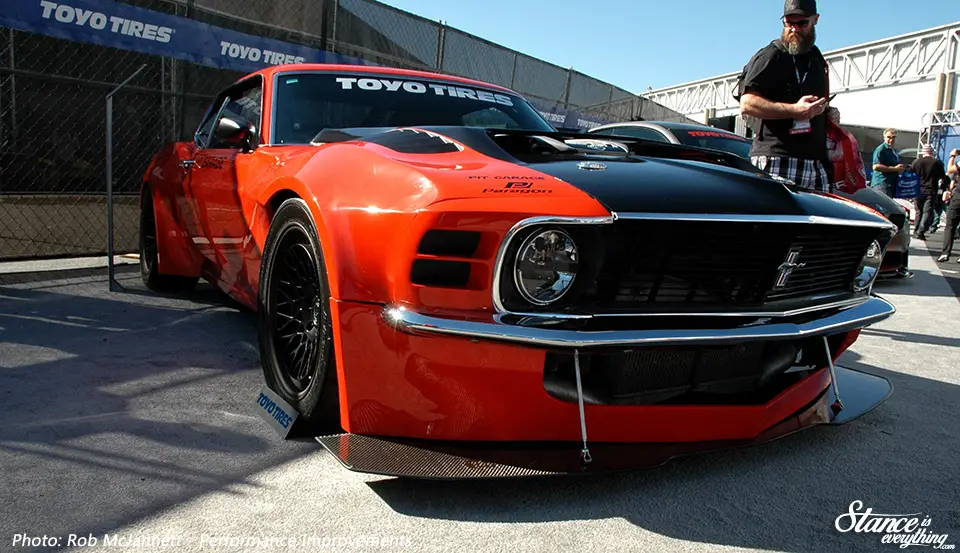 The Muzilla, as it is now known, is a 1970 Mustang mounted atop a Nissan R35 chassis retaining the all wheel drive and bells and whistles of a Skyline underneath the modified body of an American classic.
Classic Car Studio's Twin Turbo C10
The twin turbo LS powered truck built by Classic Car Studio that was sitting inside the Holly Performance booth with Mike Finnegan's boat in tow is quite simply a work of art.
The motor alone is worth talking about but the entire truck is a real treat.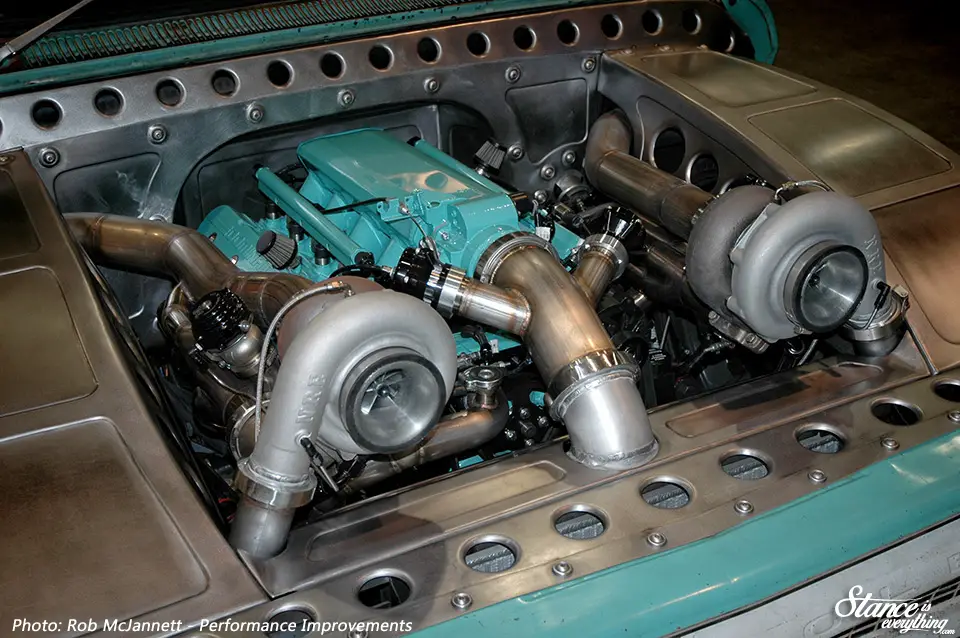 There's several different ways to deal with the inner fenders on the first generation c10, but I really like how the inner fenders employed here start high and slope down versus wheel-shaped humps.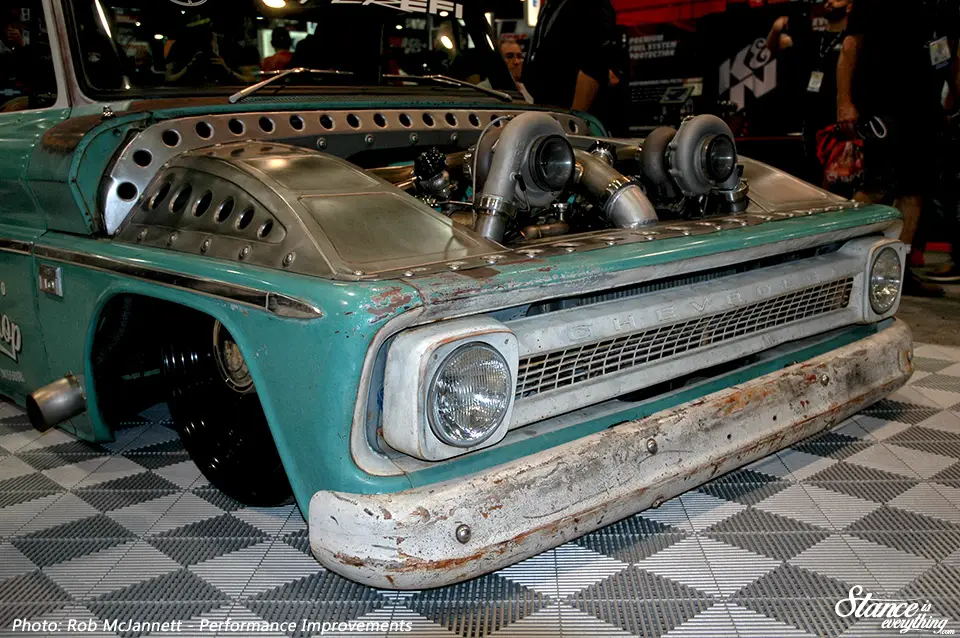 It works well with the equally custom fire wall that has detailing that descends further than the eye can see.
The expert metal work that and detailing continues in the rear with a beautiful metal floor covering the Porter Built suspension that lays underneath.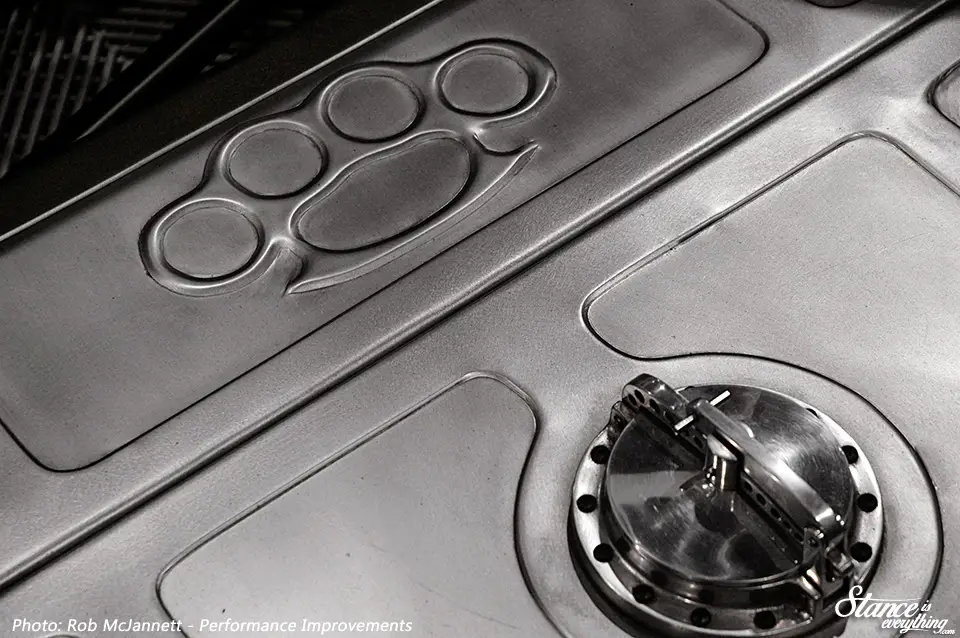 Like under the hood dimple-dies have been used considerably and there's that embossed brass knuckle emblem that looks darn cool.
The Hoonicorn V2
The second iteration of Ken Block's Hoonicorn actually hit the internet before SEMA, but for most people this was their first opportunity to see it in person.
The new USA themed livery aside the Hoonicorn doesn't look all that dissimilar than it did when it was last at the show.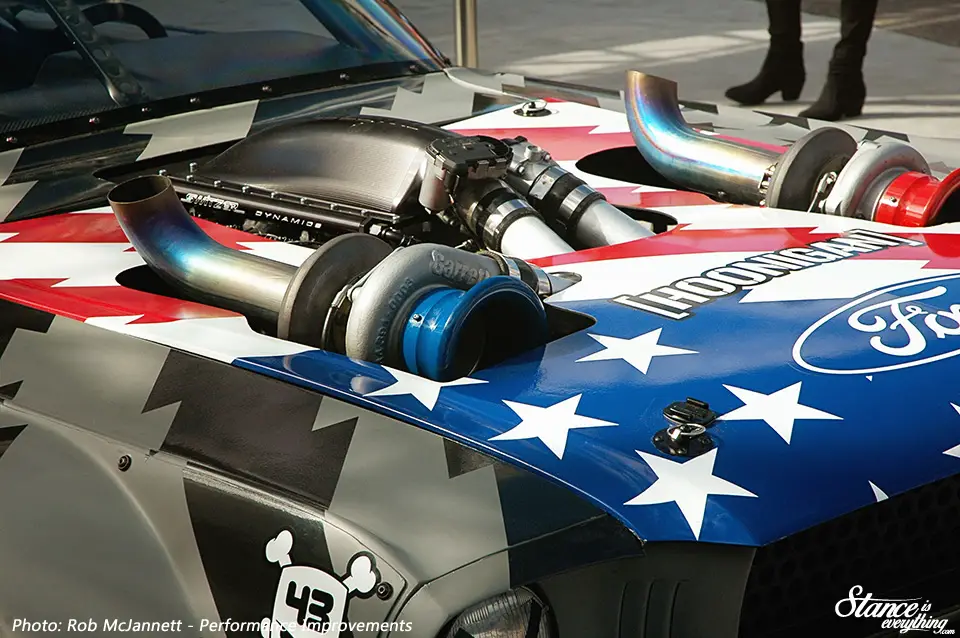 Mechanically however things have changed, the 6.7 liter V8 it had before remains but, it now has two Garret Turbos attached producing 21 pounds of boost to make 1,400 horsepower.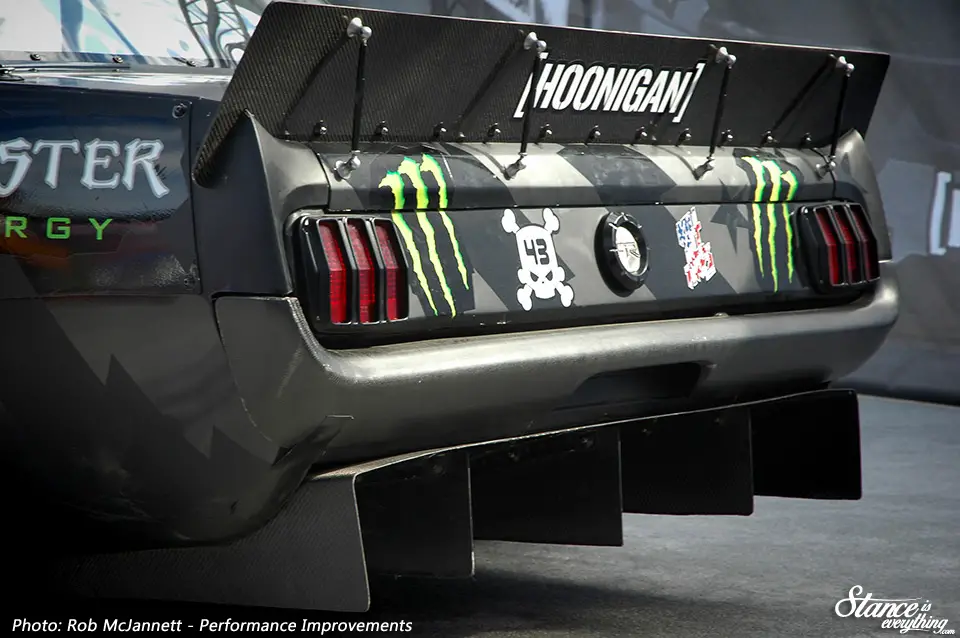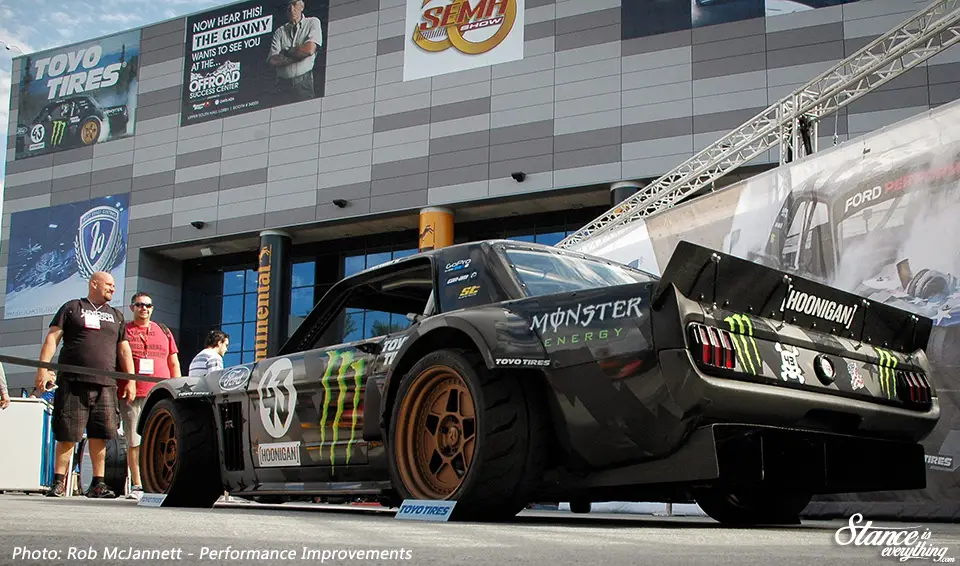 Power still hits all four wheels enabling to do things no other Mustang can, the next destination for this car is Pike's Peak which should get pretty crazy.
Griot's Garage e30m3 Touring
E30 m3 tourings are not a new concept, and something e30 fanatics like myself always wish was an official BMW release.
I actually saw one for the first time at h2O in 2013, however that car, is not this car, and this car is the World's first two door e30 m3 wagon.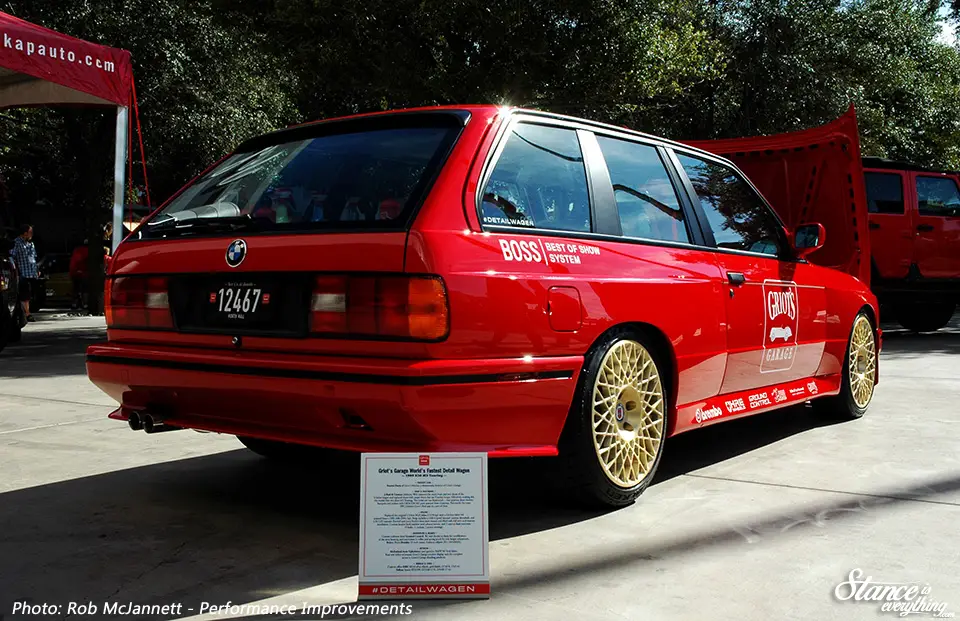 Not only that it is powered by M60 V8 motor making it one wicked vehicle for automotive detailers to carry all their supplies in.
Griot's Garage commissioned J-Rod & Custom to build the car, and the base was a standard e30 touring.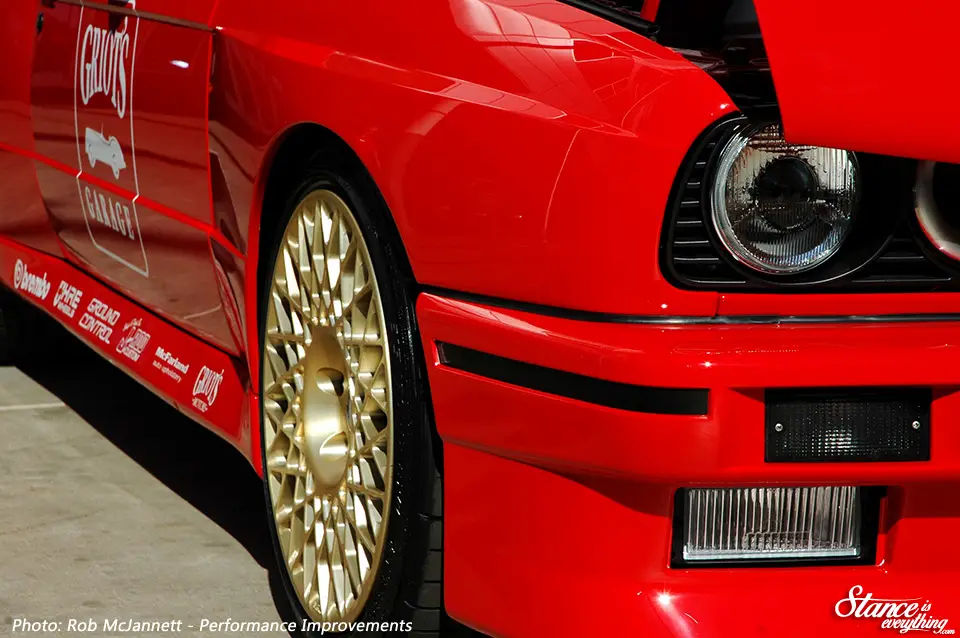 They did a stellar job with the conversion right down to the evo bumper seals. The HRE wheels suit the car well thanks to an altitude adjustment from Ground Control (a name I have not typed in a while) coil overs.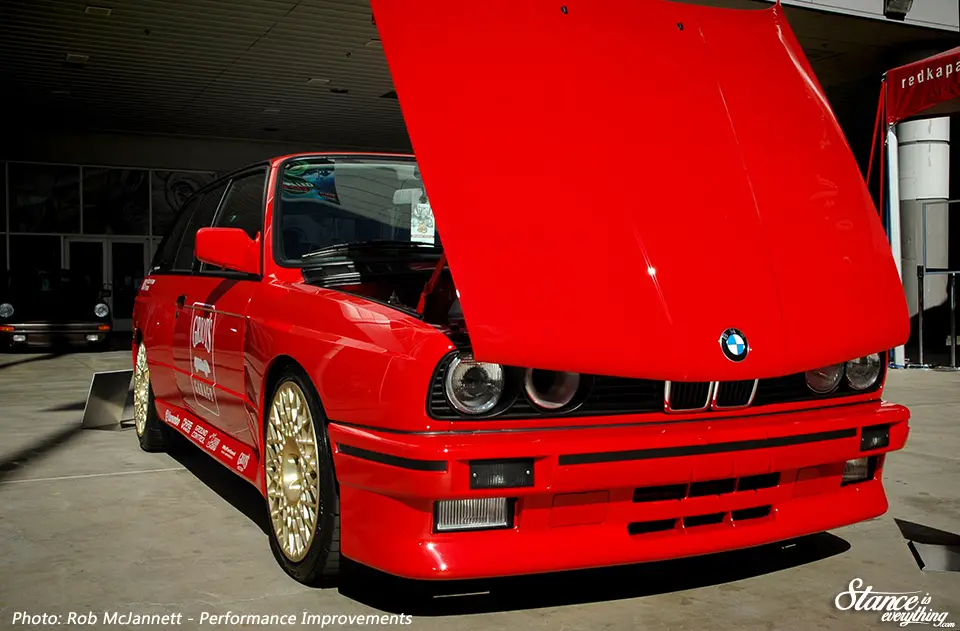 E30 nerds are probably still drooling over this one and I  can't blame them because so am I.
Ryan Tuerck's 458 Italia Powered FR-S
You've seen photos of this car, and you've seen it do donuts while filmed by Donut media, but that doesn't mean I am not going to post it again.
From a mechanical stand point this car is magnificent, and a true representation of the kind of work Huddy Motorsports is capable of pulling off.
The forward facing exhaust is a brilliant solution to a problem no one else will face with the zn6 chassis as are the intake manifolds literally going through the windshield frame.
Such a feat of engineering this car deserved the crowd it drew, that said, personally, I'm not as enthused about the end product as I thought I'd be.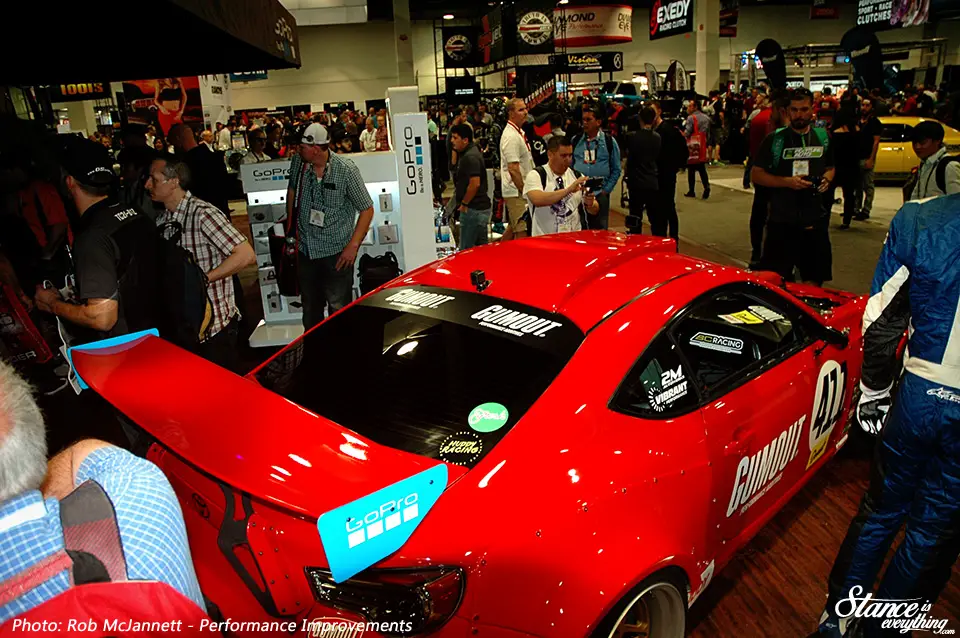 This could all change if/when the stickers come off but I was kind of hoping for a more subtle exterior with the engine being the main talking point.
Of course in the grand scheme of things my opinion doesn't really matter and there's really nothing you can take away from the people who saw an insanely ridiculous project like this through to the finish.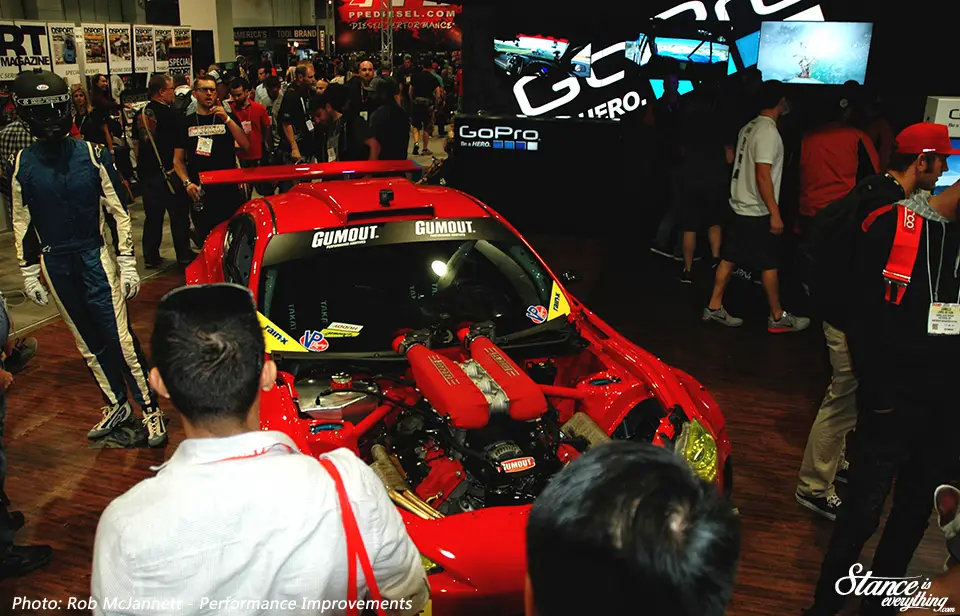 We'll end on that note for this year's Sema Show and start counting down to the next.
Hopefully I'll be back next year and if not let's all cross our fingers Rob and Performance Improvements will be back once more.