A week ago the Las Vegas Convention Center was full of some of the best cars from around the globe, today it's likely empty or being prepared for the next convention that is surely nothing worth discussing here.
While Vegas might have moved on, there's still a few more posts to roll out from SEMA 2016 thanks to Performance Improvements.
As content continues to hit the internet, and I talk to people fortunate enough to attend in 2016, one message remains consistent; the 50th year of SEMA was one of the best.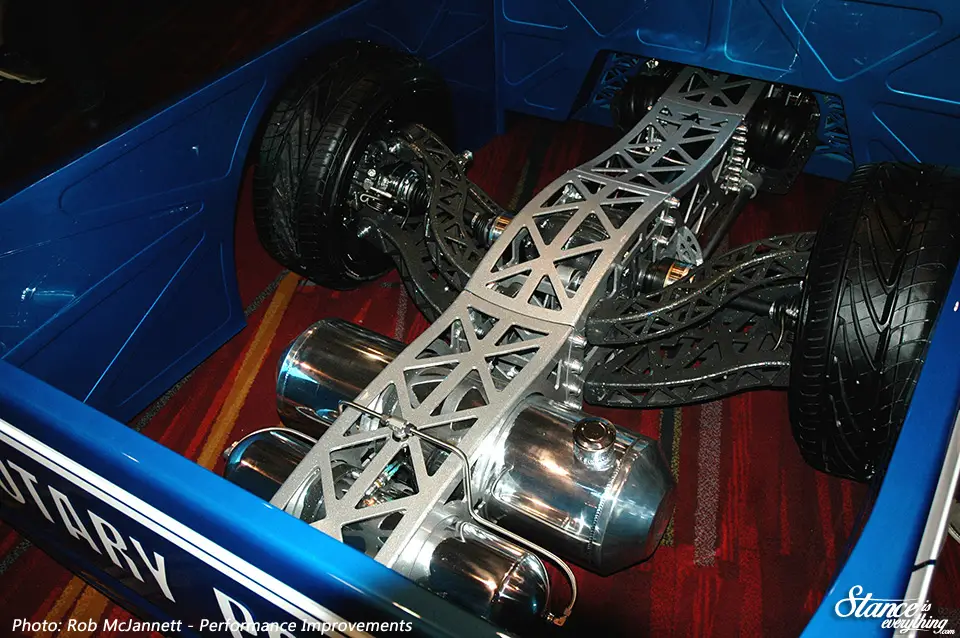 Innovation and creativity could be found all over the show and this Mazda B2200 that is sure to have people talking for years to come.
Built by Wicked welds custom shop this truck is right hand drive, bagged, 13B powered and, as you can tell from the photo above, has one of the more unique chassis to ever sit under a mini-truck.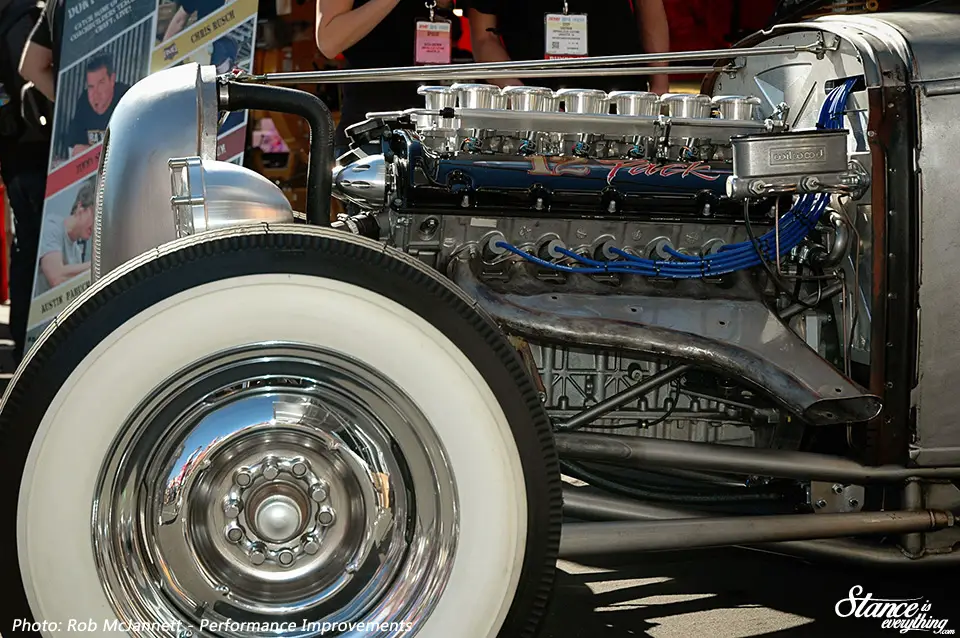 One vehicle I would love to see more press about, but sadly have not, is this twelve cylinder Ford.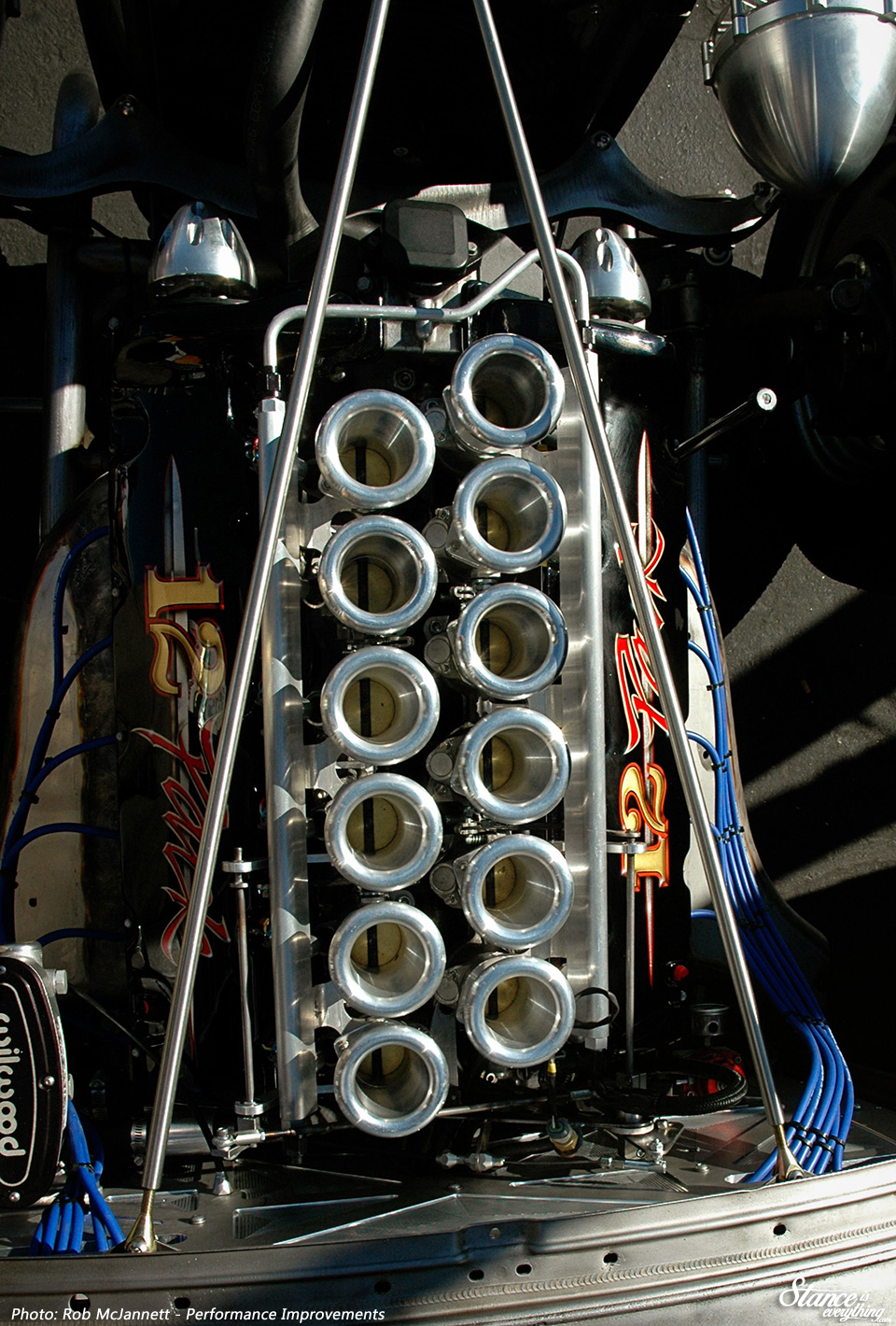 I searched high and low for more info but all that came back when searching for 12 cylinders and SEMA is the equally amazing v12 Camaro below.
Built by v12ls.com I'm not sure the attended use for this car but it looks like a street capable drag car might not be a bad guess.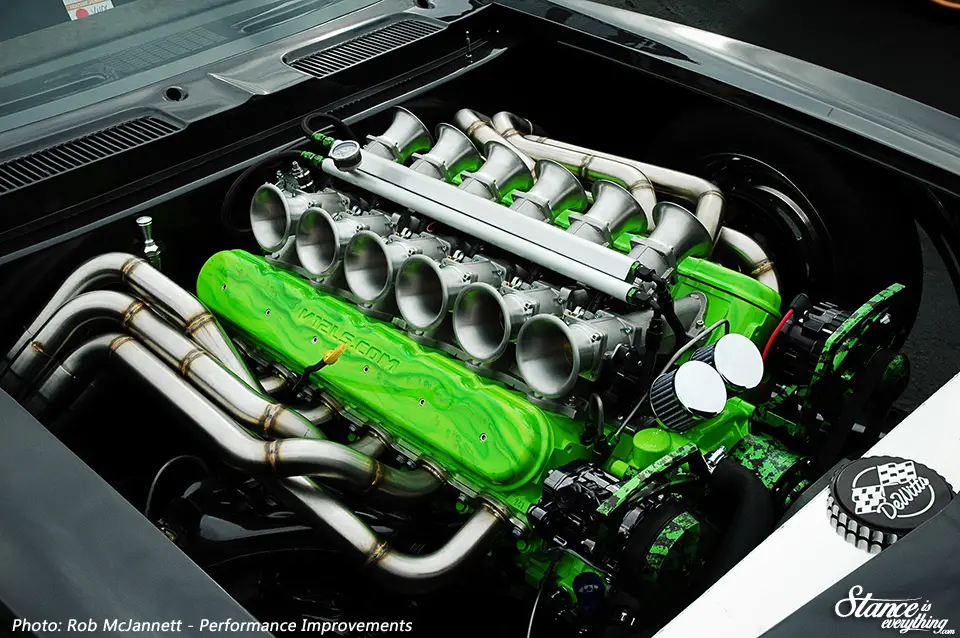 I've lumped a lot of the most talked about builds from SEMA 2016 into the conclusion post (coming this weekend or early next week), but I couldn't wait to post Max Grundy's COE which also doubles as a retail booth for his unique automotive artwork.
Max is no stranger to awesome COE's, as I'm pretty sure this is the second one in his stable, with the other being a mustard yellow version he brought in 2014.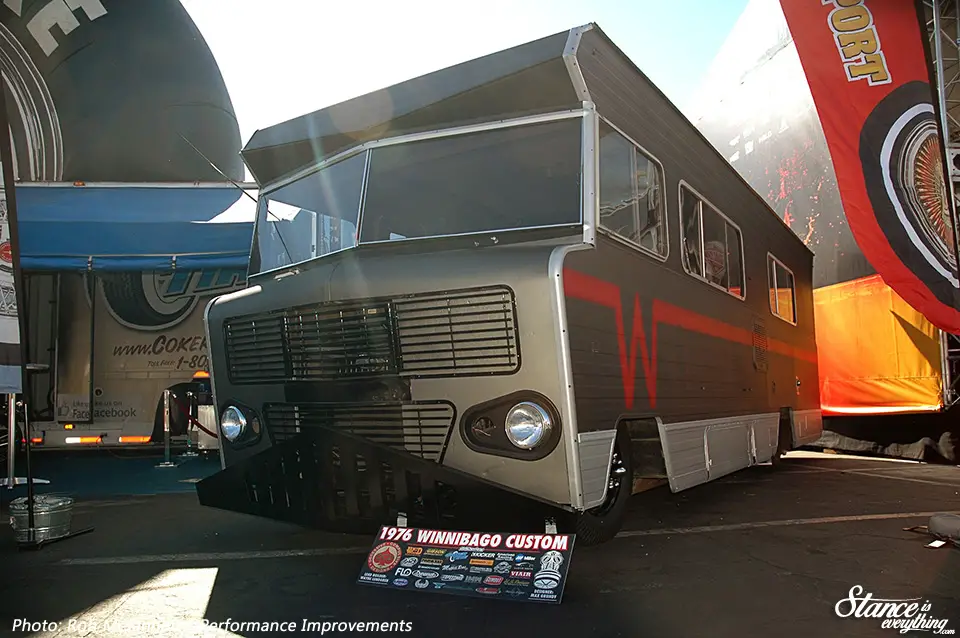 The COE wasn't the only vehicle Mr. Grundy brought to SEMA 2016, he also brought his custom bagged Winnibago. I guess you could say he's a fan of over-sized vehicles on air.
Over the past few years trucks and jeeps like the ones above have become extremely common place, though many have been criticized for missing critical components, like oh drive shafts for example.
Trucks done to this extreme are not terribly popular here in Ontario so seeing them is still a bit of a novelty for myself.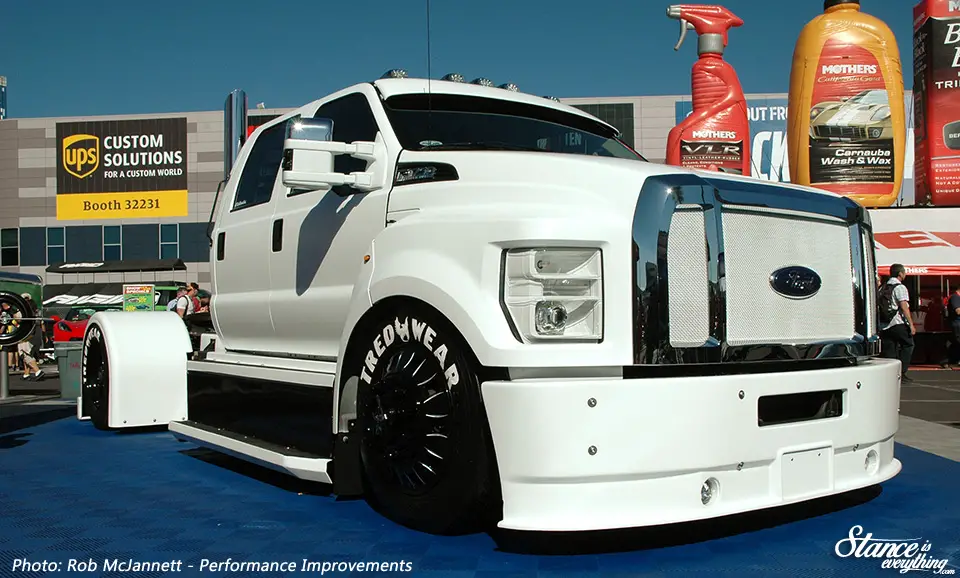 Coming back down from the nosebleed section, this Ford F750 is also bagged and runs Air Lift 3H management.
After realizing this truck belongs to former Indy car driver Paul Tracy –thanks to a couple of comments both here and on instagram– I had to dig up another photo Rob took of it.
It's a great looking truck that was started by noteworthy c10 builder and community member Dino Battlilana.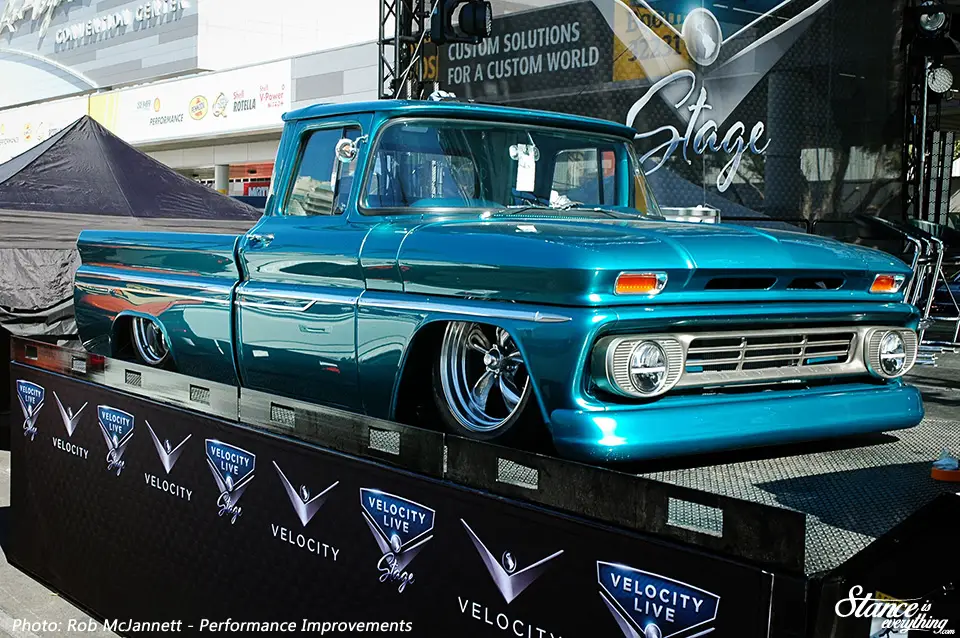 For any C10 fan SEMA is really the place to be, they are literally in every section of the show and either low, fast, or both.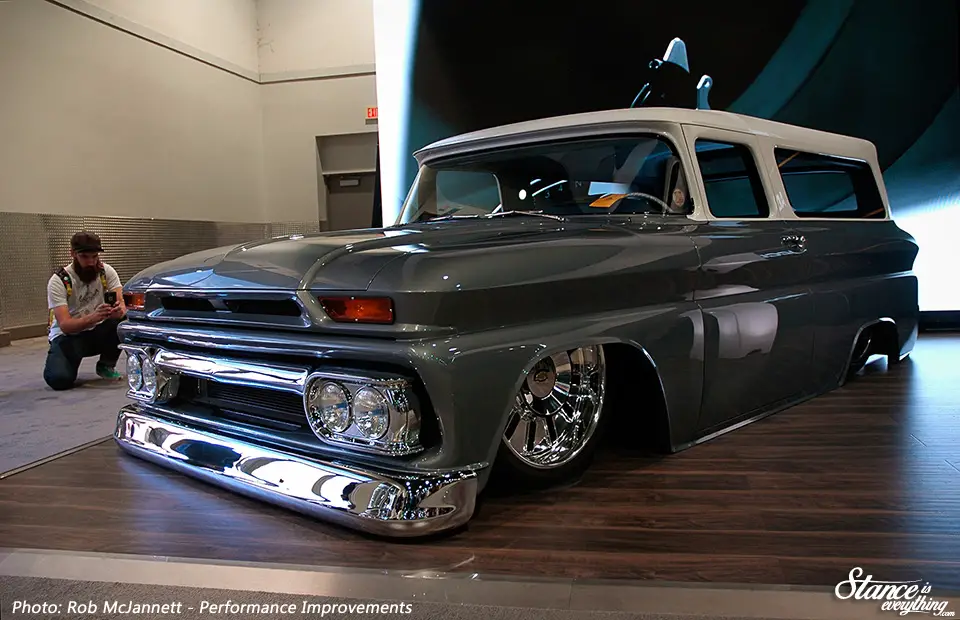 This '61 Suburban, converted to a Blazer and built by @sicchops was sitting in the Accuair booth. The truck has an LSA motor and produces over 800hp, which ain't bad for a big Chevy.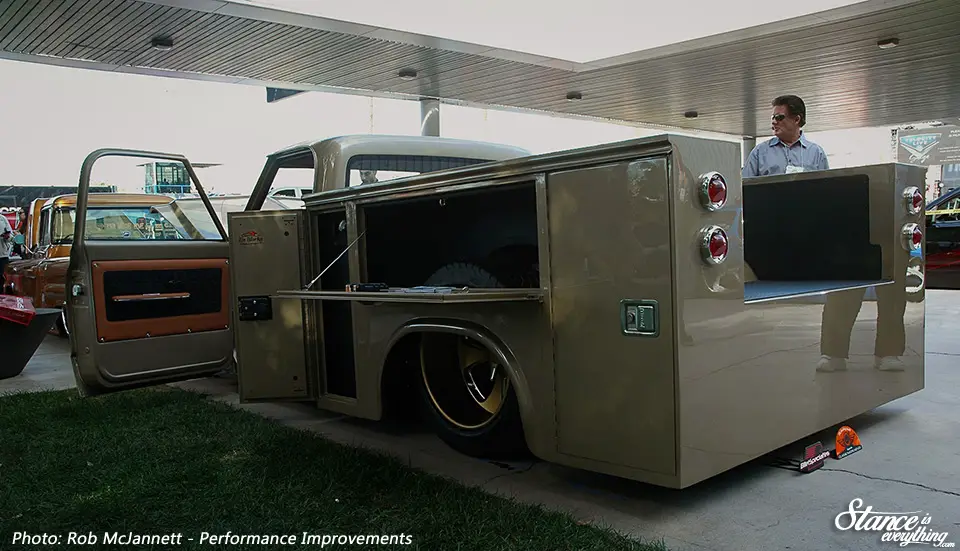 Wrapping out this mini ode to c10s is this bagged work truck tucking big Billet Specialties wheels.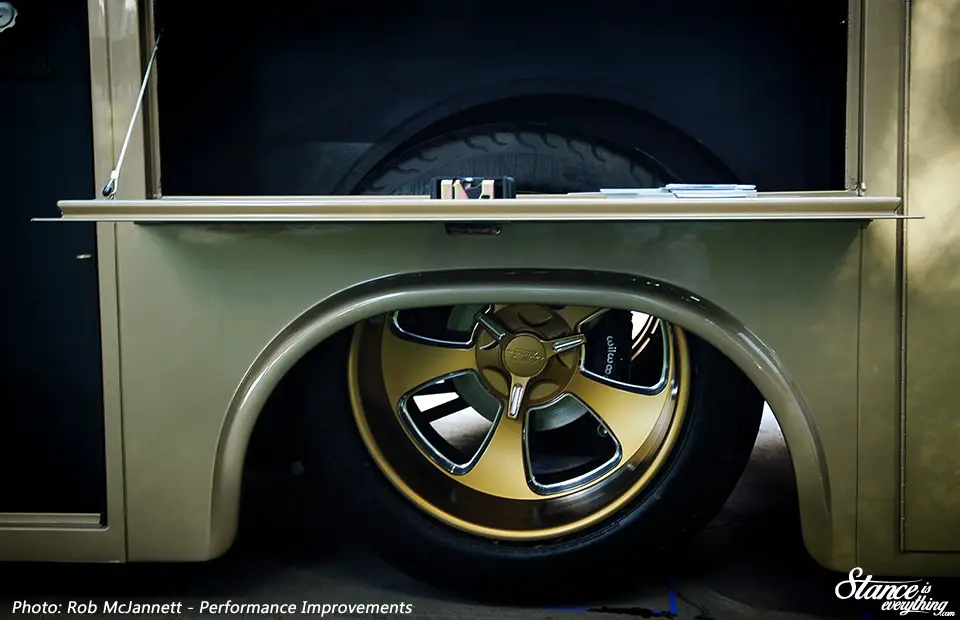 No tools here, just a lot of wheel and tire under the access door.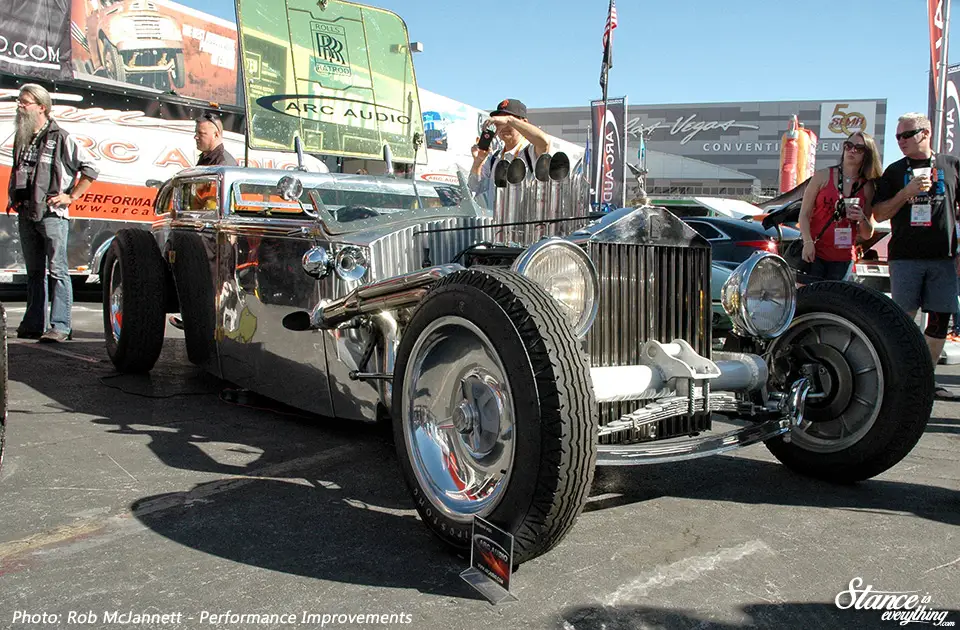 But to step away from trucks take a look at this chopped polished '36 Rolls Royce sitting out front of the Arc Audio booth.
The Rolls has features a big block under the hood, it's bagged, chopped and has a pretty techno color interior.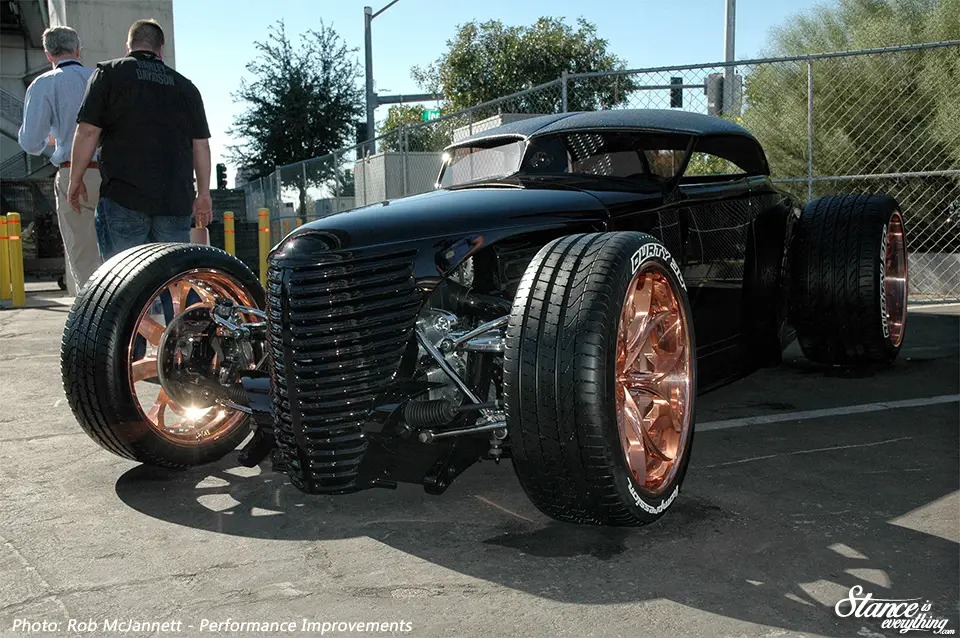 Another very unqique hot rod that turned a lot of heads was the "Durty 30" Model A.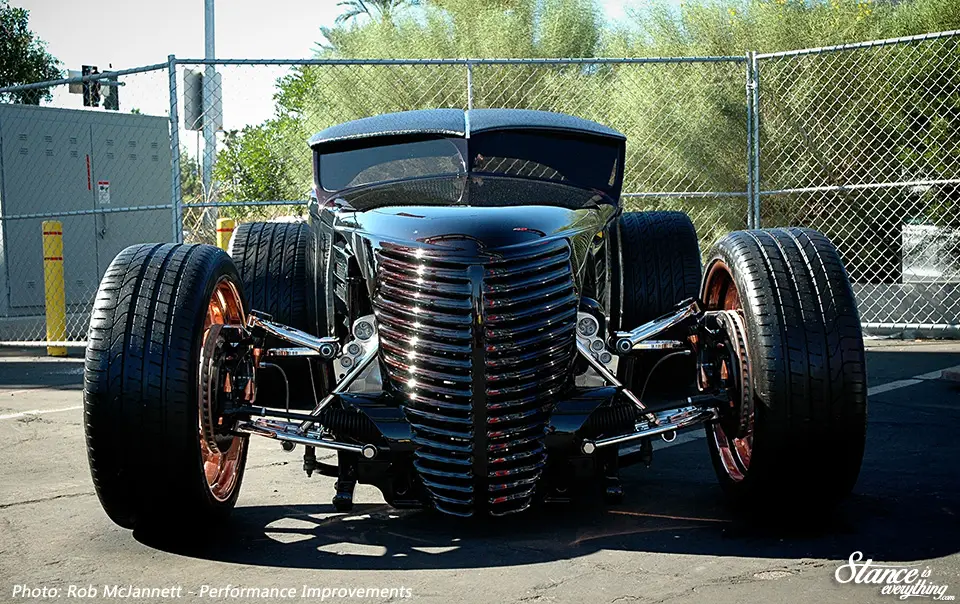 Apparently the car was built in Alberta and while I have not been able to find out exactly who built it yet I can say that it was at the show care of Kompression Wheels.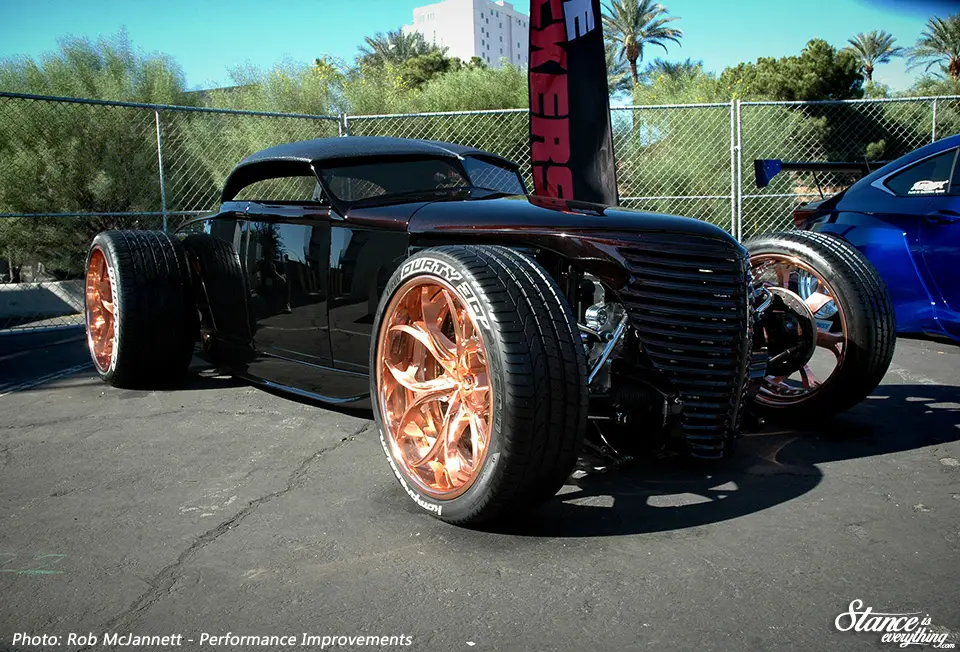 It's a pretty love it or hate it creation.
Previous years flared zn86 chassis cars were in every corner of the show, but this year things have seemingly normalized with them being in every other .
These two stood out because of their slightly less common kits, Aimgain on the Stance Nation one and Pandem on the Voodoo Ride respectively.
Flared Corvettes, or at least flared Corvettes not part of OUSCI are not nearly as common as other chassis with flares but there were at least two at this years show.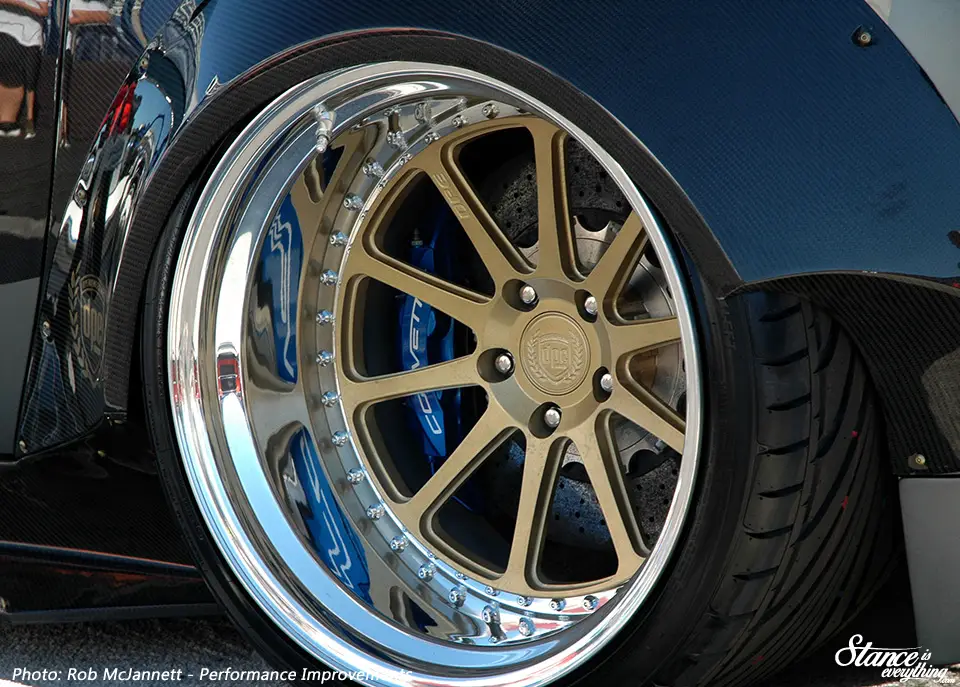 Located in the Toyo Tread Pass area the "Black Manta" has a kit designed by Job Sibal, bags, a super charger, and DPE wheels.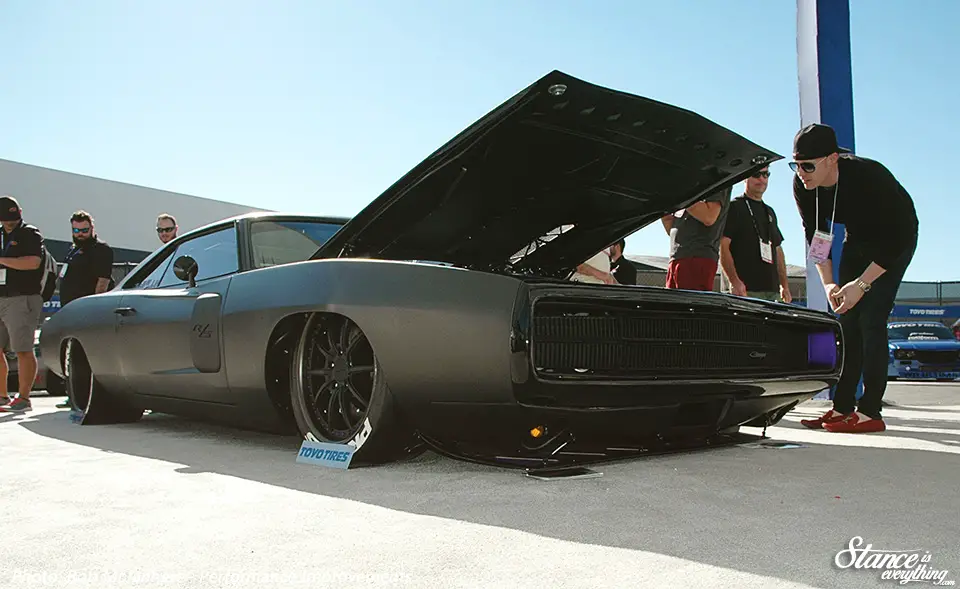 The car I've picked to end this post is the 1970 Charger built by Pro Comp Custom.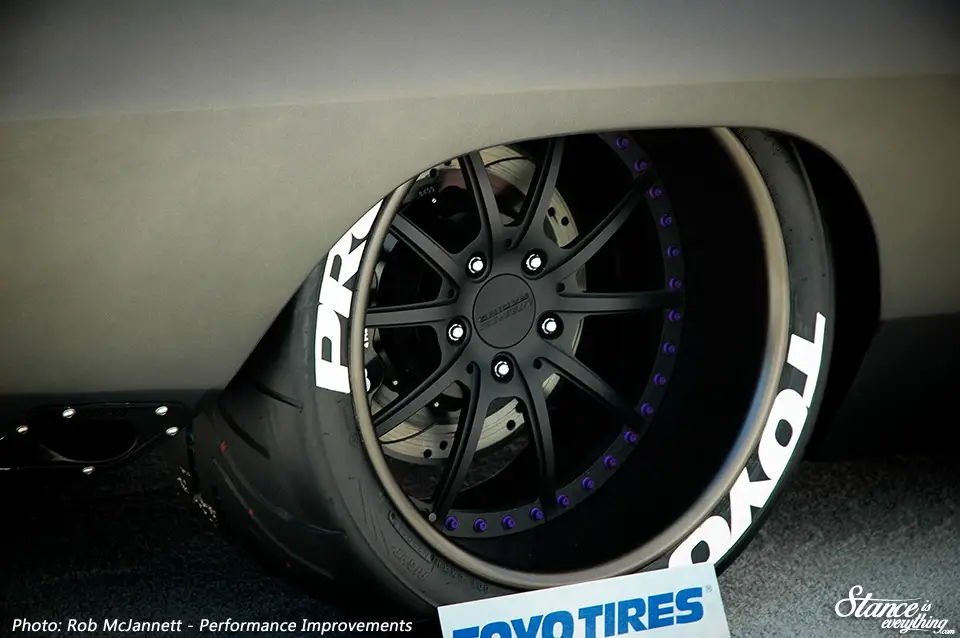 Tucking Litespeed wheels you've probably already put together that it's bagged but it's also been chopped 3″, sectioned 3″ had the wheel openings moved and the floor pan dropped down 4″.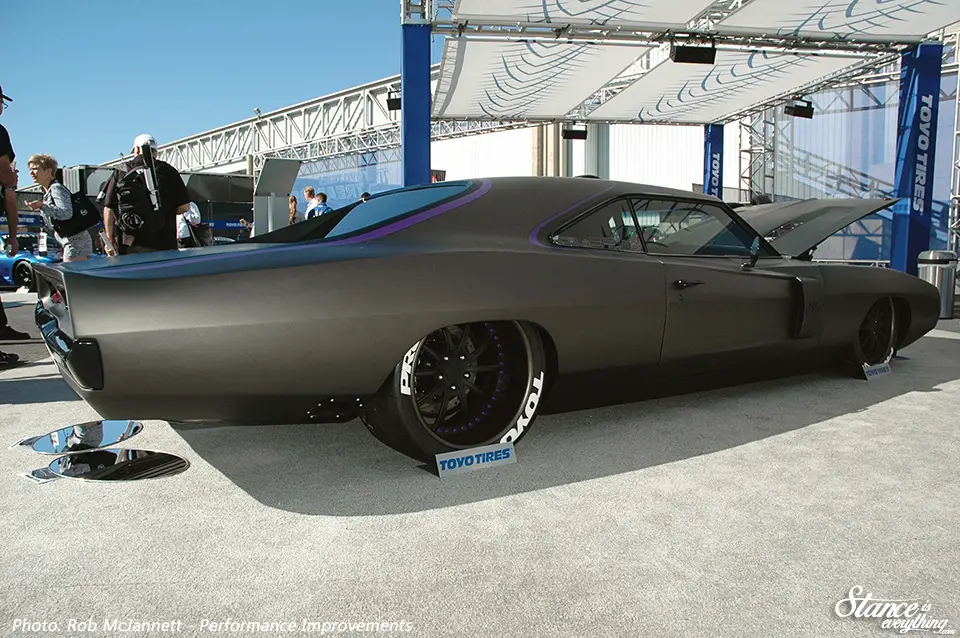 It's easily one of if not the lowest Charger currently completed and I'd really love to see it side by side next to Miro's when it is done.