To some –those with business degrees perhaps– the American Motors Corporation will be famous as one of the largest US corporate mergers of the 1950s. For enthusiasts AMC is noteworthy because of interesting, and capable chassis like the Pacer, Rambler, Javelin and their AMX line up of vehicles and performance packages.
AMX stood for American Motors eXperimental, which I'd like to believe represented a team of AMC employees constantly asking themselves how they could go faster. As soon as enthusiasts know that the manufacturers are behind making their products faster, they are going to try and go faster with your products as well.
Simply put there are a number of fast AMC/AMX's running around, then and now, and this year at SEMA two AMC based products stood out among Rob's SEMA coverage, the first of which is this Creative Customs Chop Shop built Javelin.

This '69 has all the looks of a battle tested, driven hard and put away wet Trans Am warrior but it's actually not a survivor at all and instead a "what could have been" build.
As far as looks go the car certainly nails it with the weathered race inspired paint job and era correct graphics.
The wide Cragar wheels stuffed under a flared body also help drive home the point that this car was designed to look like a car that could have competed then, with a few creative liberties.
But this isn't just a creative exercise the car does get driven on the track and is quite adept at doing a good old fashion burnout thanks to the 360ci AMC motor.
It's also for sale and looks like it could be a lot of fun for the right person.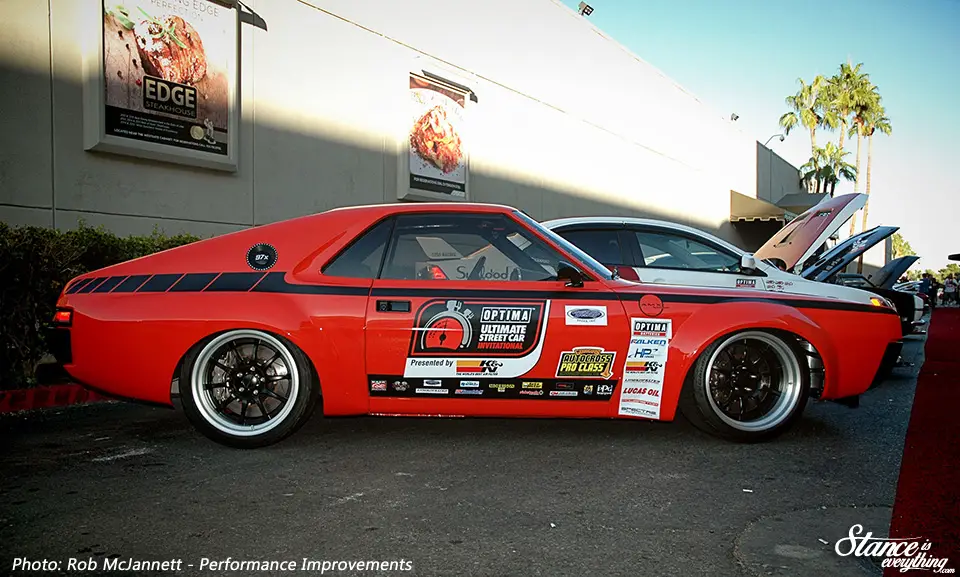 On the flip side of things, and quite literally on the other side of the Convention Center grounds, sat Bob Gawlik's '68 AMX in the Optima Street Car Alley, unlike the car above this isn't a throw back to days gone by but rather functional current day time attack car competing in the Optima Ultimate Street Car Invitational.
Also pumped up a bit proportion wise Bob's car was built by Lakeside Rods and Rides and is powered by an LS7 motor mated to a Bowler Transmissions Turbo 400.
As observed by the warnings stuck on the car key components have been replaced with lighter weight pieces to lighten the weight.
Lakeside was sure to fit the exterior with a few signature touches including pretty trick tow hooks and if you look under the cowl you can see some hard lines running below the vents which I assume are not for washer fluid.
Rounding out the car is a Detroit Speed front clip and an Art Morrison IRS with Baer Brakes all around behind 18″ Foregline kicks.
The next SEMA update is likely to feature more of the Optima Street Car Alley stay tuned for some more awesome vehicles the City Of Sin.