Last year when Spring Fever debuted at Motorama it did so to a largely positive reception, which in a city as critical as Toronto, is no easy task and a large indicator that the organizers know what they are doing.
The same organizational crew returned for 2017 and managed to grow the show in size in the process. There may have been more vehicles this year but the show didn't feel overly crowded, which is something that not all indoor shows are able to achieve once they expand.
Knowing when to say when is important however because some cars really deserve to be viewed at all angles.
More important than layout however is car quality, and the organizers managed to deliver on that regard as well keeping the quality of vehicles up through a rigorous screen process.
I have to give credit to the initiated folks that applied and got accepted (especially those with daily drivers) considering most of us are still dragging our heels for the 2017 season.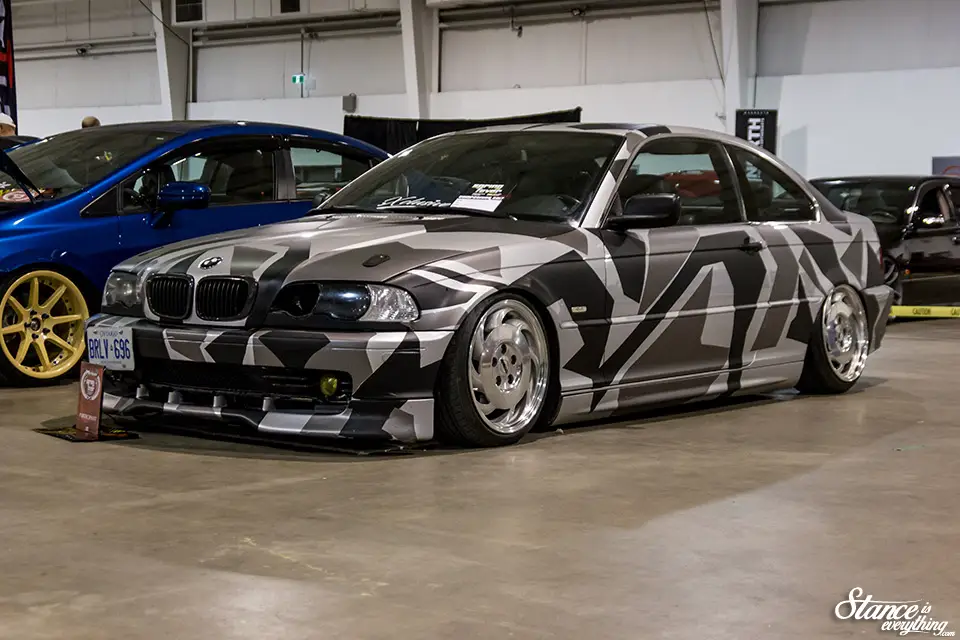 In all honestly I couldn't believe how much some cars I thought were "done" changed in the off-season. One such example is Lugi (@thesqueeg) Genesis .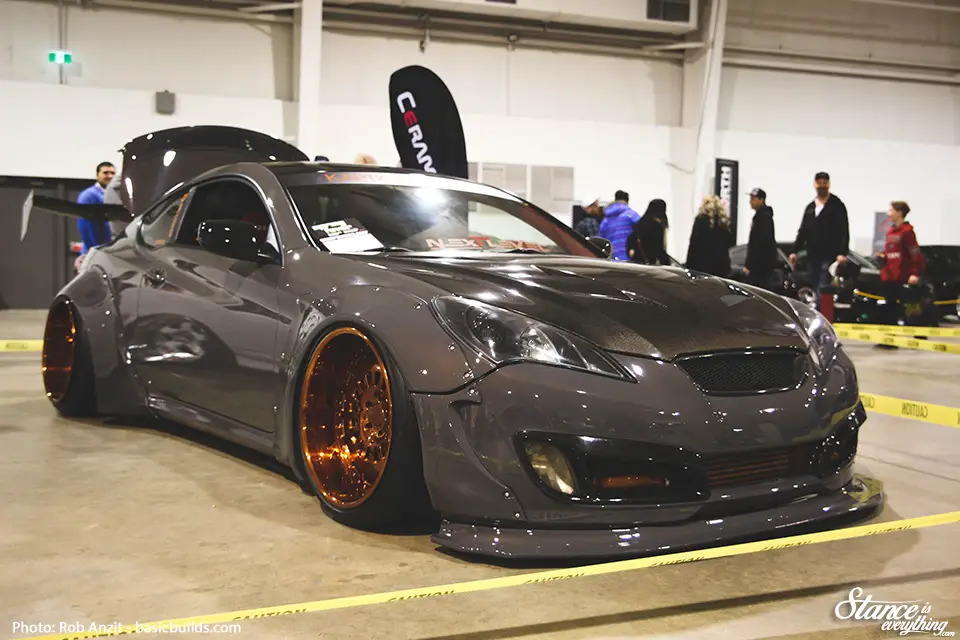 This car was pretty impressive last year, really impressive in fact, and while I thought it look good wrapped, it looks great painted.
Interestingly enough this paint is over a removable primer that can be peeled off similar to plasti dip or vinyl.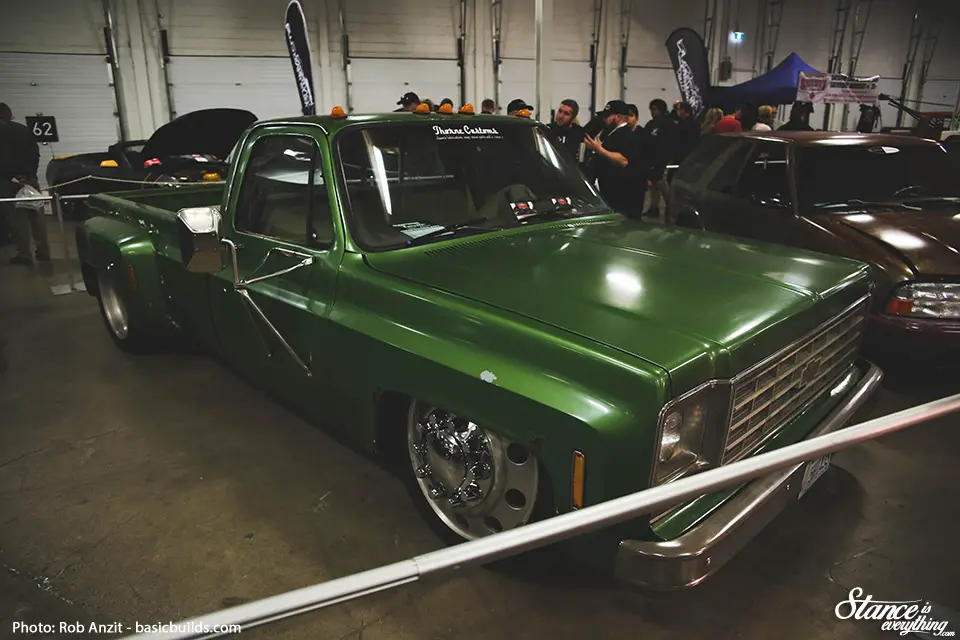 The truck you see above is known, affectionately and appropriately, as Big Booty Judy and certainly lives up to its name.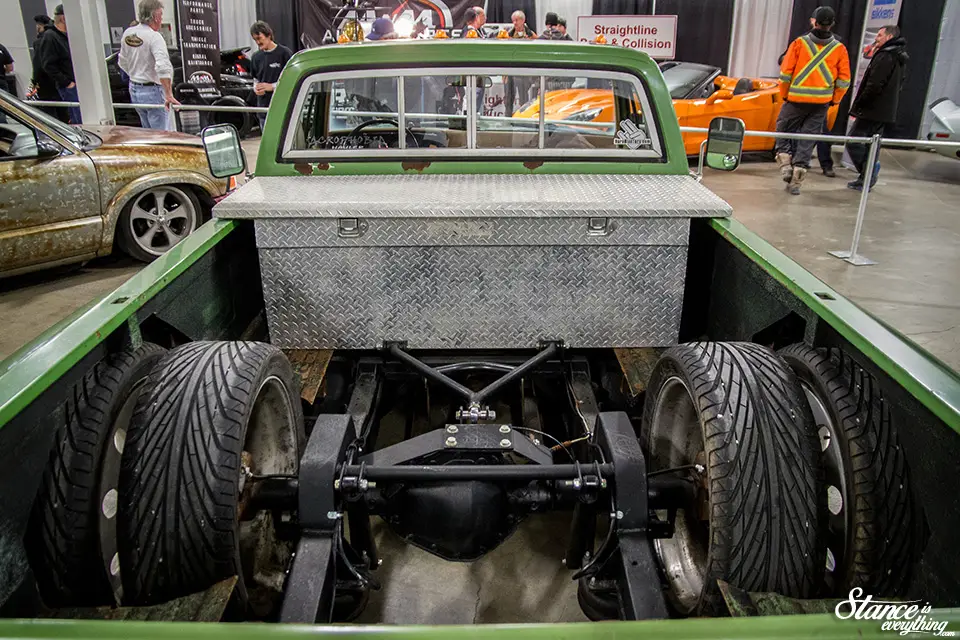 Shine up the paint, put it on bags, Alcoas, add a healthy amount of fabrication work, refresh the interior and bam you're left with a great looking cruiser.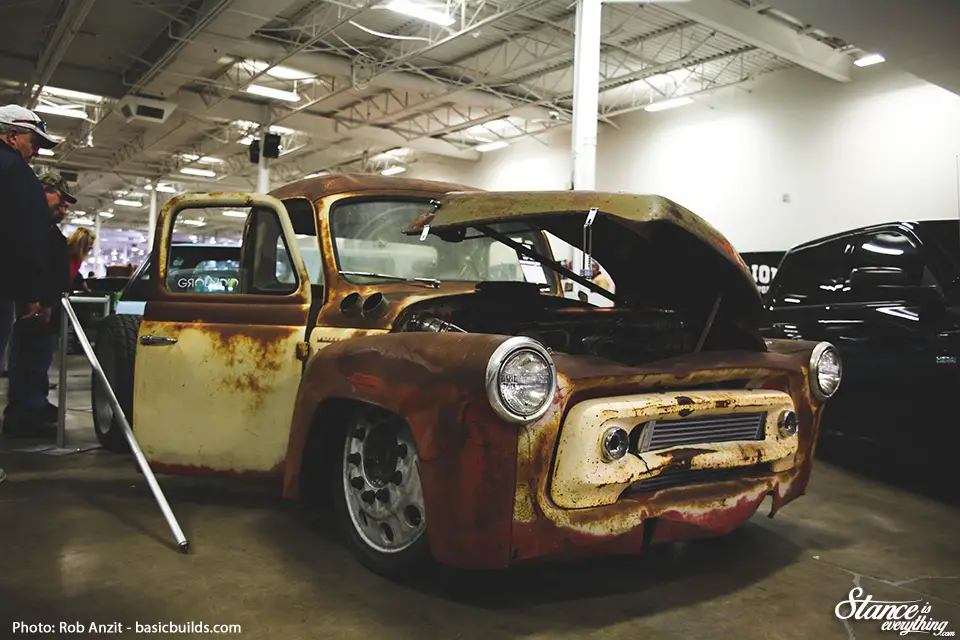 Parked close by Judy was the latest creation to roll out of Ground'd Kustoms, a Rat Rod International truck.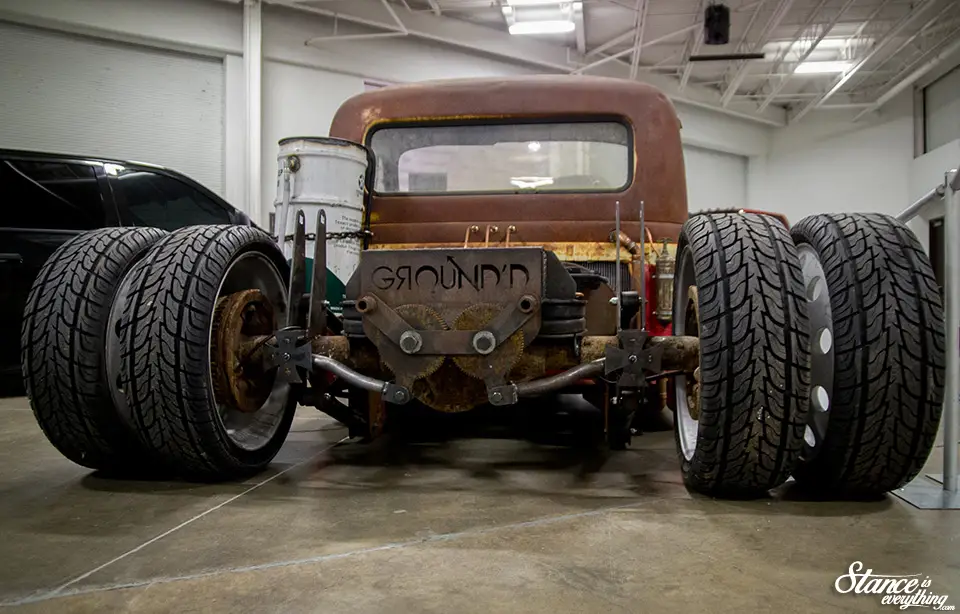 It and the 2016 Dodge beside it left a few people scratching their heads about the creative back half designs.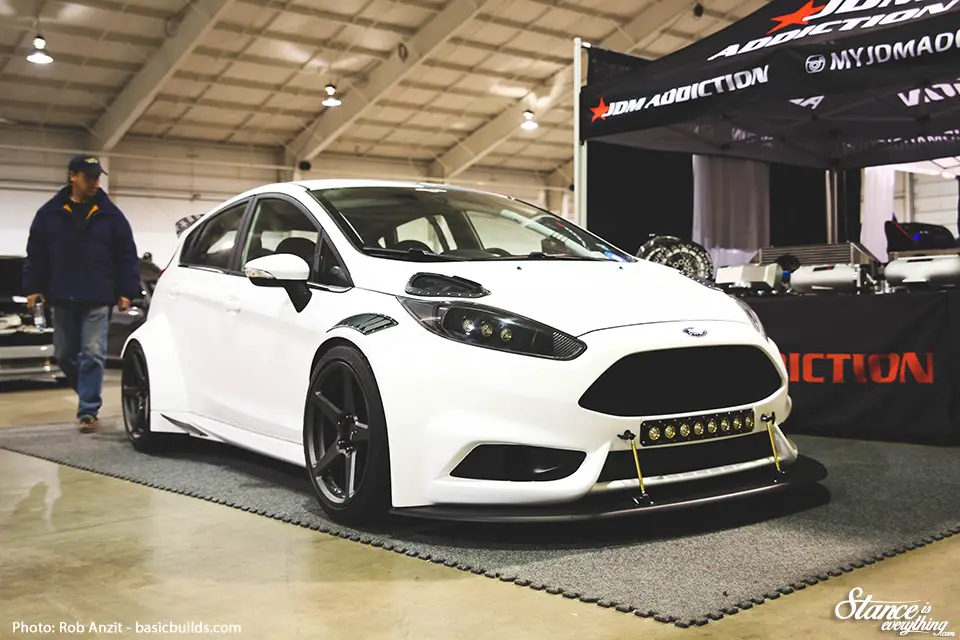 I did a bit of a double take when I learned that the widebody Ford Fiesta below was built by Tucci Hot Rods, the same people who built the low slung model A from the 2017 Motorama Custom Car and Motorsports Expo coverage. Bolt on flare critics need not avert their eyes, because this car is all molded.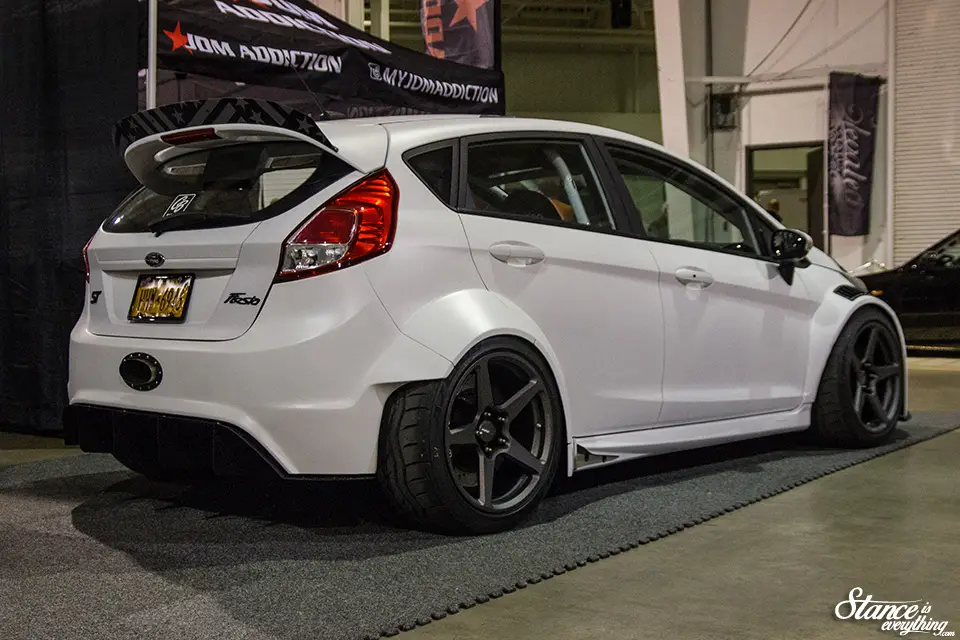 Jay (@simplyspeed3) has been steadily plucking away at his Speed3 since he got it and last year it was already one of the more heavily modified in the local show scene.
This year he switched his wheels out for fairly aggressive (9.5 et 15 if I recall correctly) BBS wheels. There is of course a bit of fiddling left to do to get the car to sit exactly how he wants but that's how it always goes right?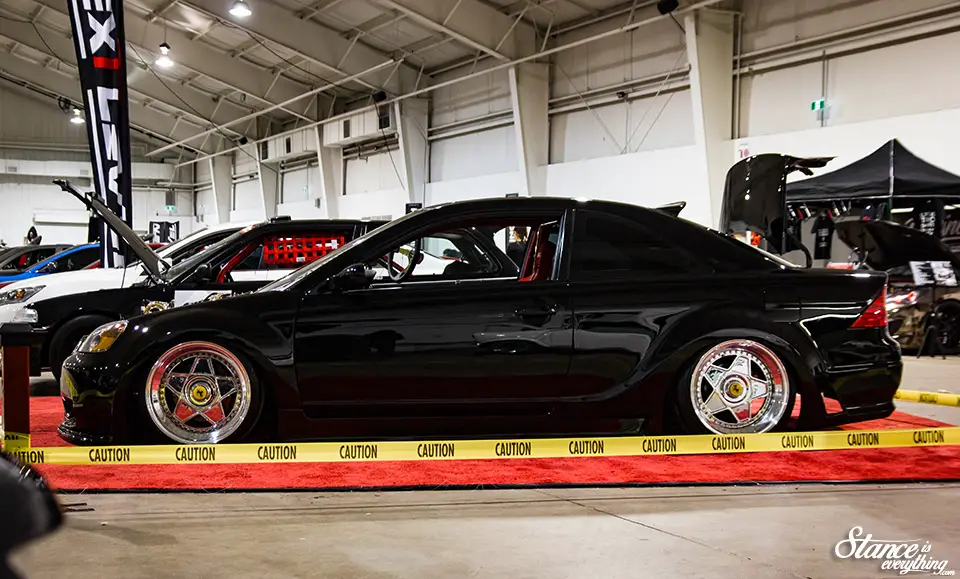 On the topic of wheel changes the widebody EM2 above got a nice new set since I saw it last. I was never able to determine if they were authentic Speedline wheels, but they look great regardless.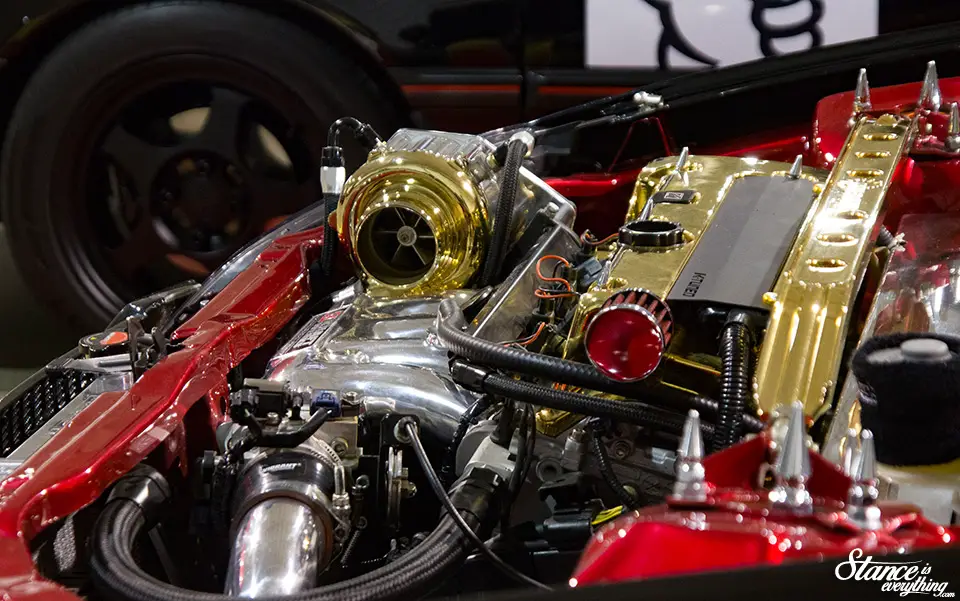 The car also got some clean up in the engine bay from Switches And Thangs who can apparently work on darn near anything and do a great a job of it.
In general The Honda/Acura community really brought their a game to this year's Spring Fever. There were show cars, track cars and everything in between.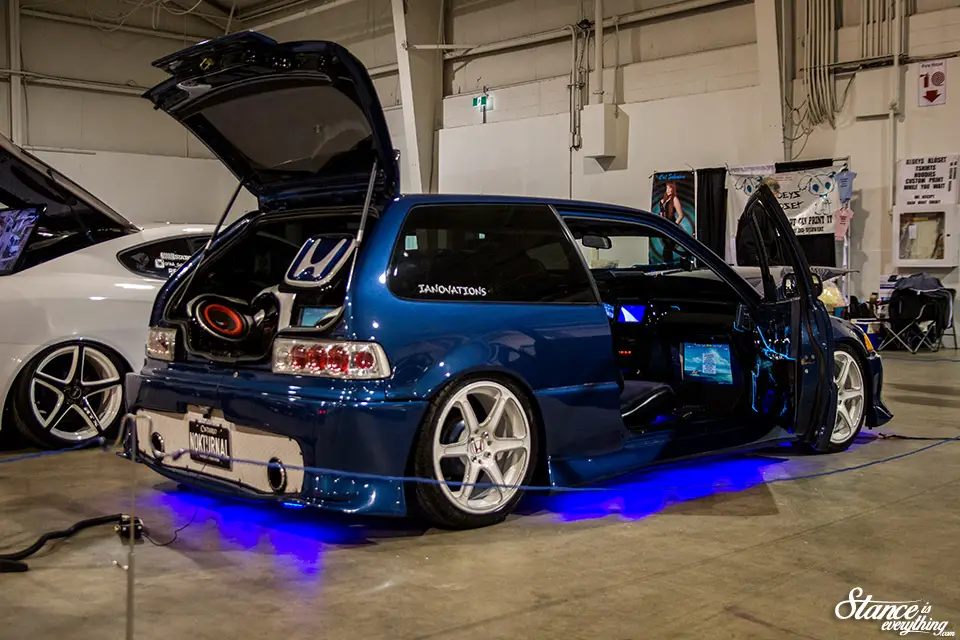 To say what I just did about quality and follow it with the car above probably seems contradictory, but consider that I've been seeing this car at shows for over a decade. That is a long, LONG time for a car to kick around the show scene.
Practically a time capsule at this point it's a pretty epic throwback to what things were like in the early 2000s, and I feel the owner deserves some credit for keeping the car presentable versus letting it rot away under a bunch of junk in a garage somewhere.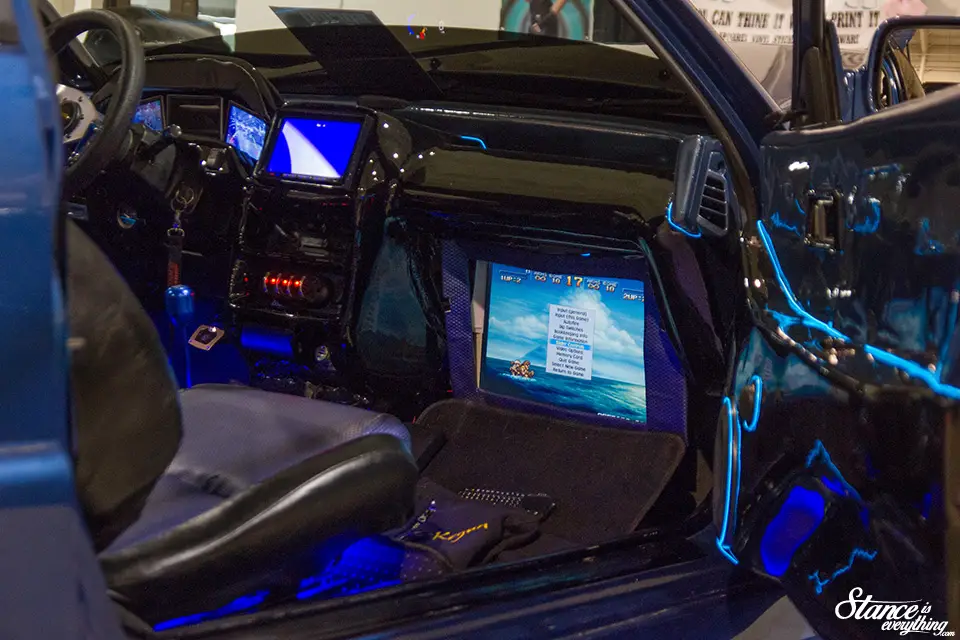 When was the last time you saw a car with this many screens? The I.C.E. set up in this car is ridiculous, and the owner embraces the period correct look of the car by only ever giving show goers the option of playing 16 and 32 bit games.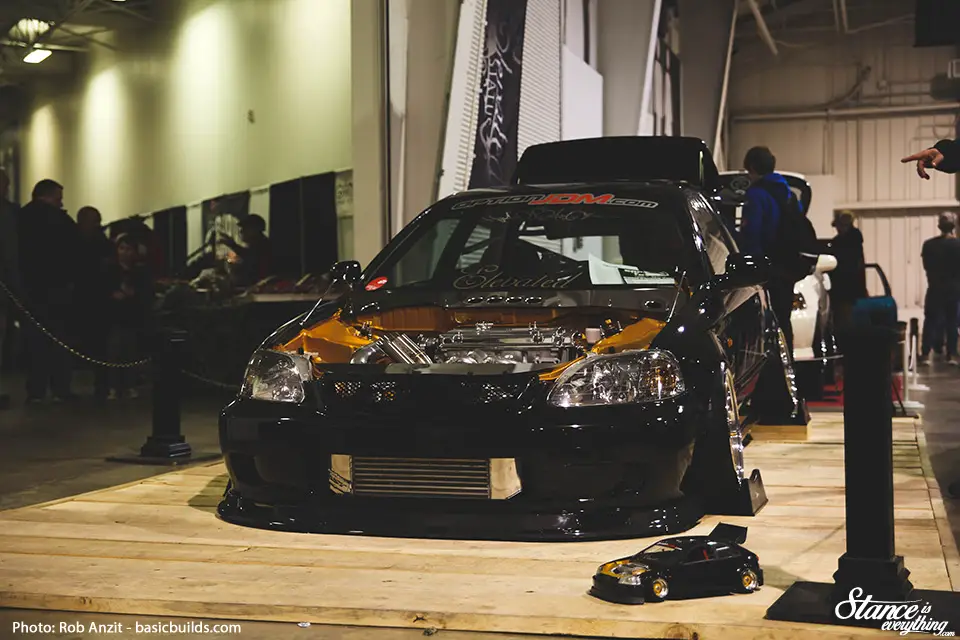 On the more contemporary side of things Brian always comes correct with his Civic. Parked in the same spot as last year noticing the changes between 2016 and 2017 was a little game of spot the differences.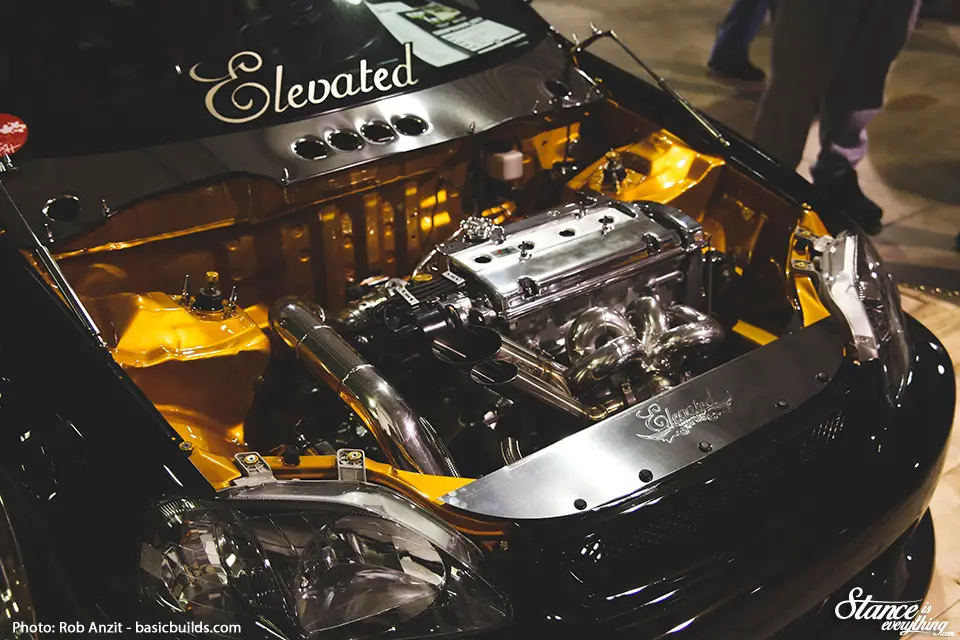 The one I noticed first was the plate above the radiator which is new and emblazoned with the Elevated Status logo.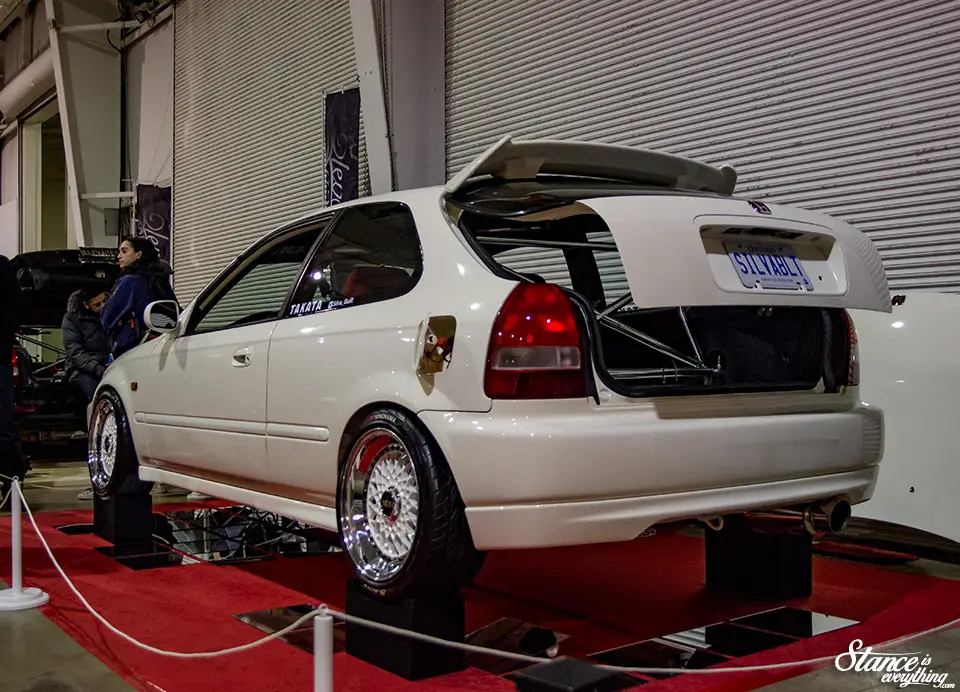 Parked behind Brian was this incredibly well-built father son Civic project. A full rotisserie ground up rebuild this car is far more deserving of a feature than it is a few flattering words in an event coverage post.
The two photos above are a small sampling of the work done to the car, and plenty more examples can be found on the builder Rob's new Facebook page that documents several of the modifications. This car took home a well deserved best of show.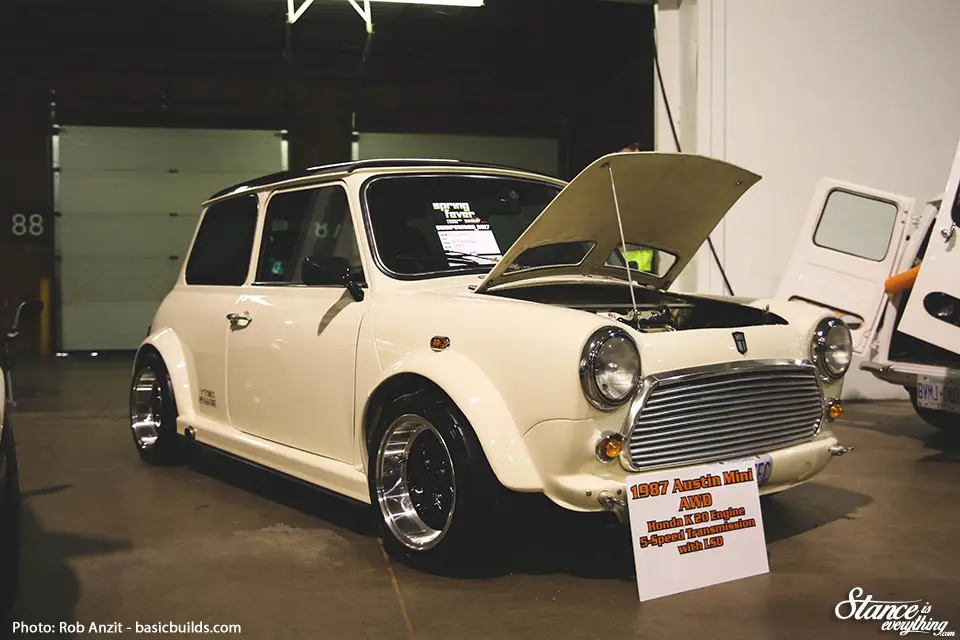 This mini was pretty gnarly, the sign in front really tells the story here, can you imagine what an all wheel drive K20 powered mini would be like to drive?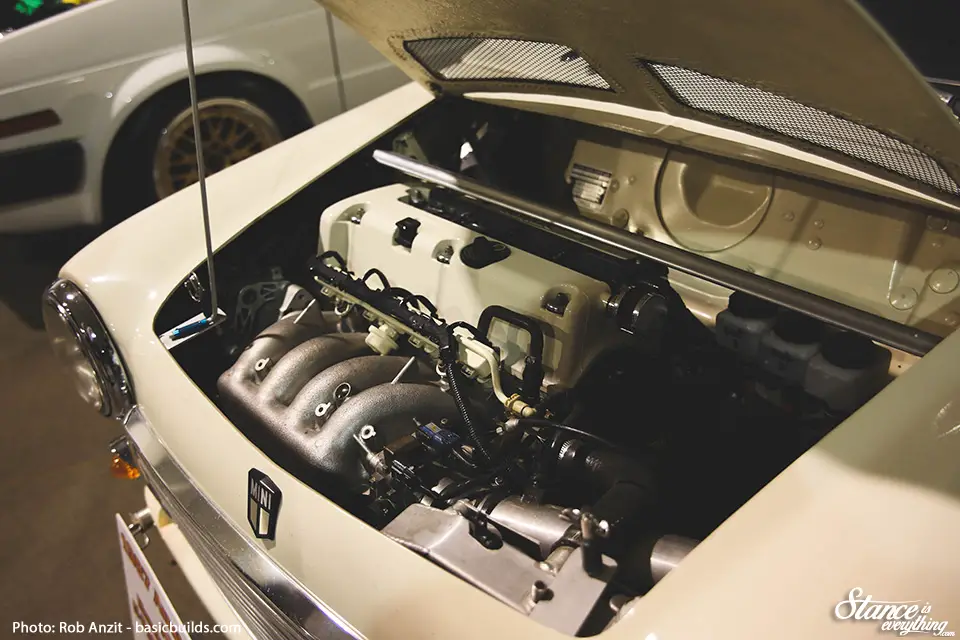 The installation was incredibly well done too, and if it wasn't for the sheer amount of space the K20 took up in the engine bay one might assume it was stock.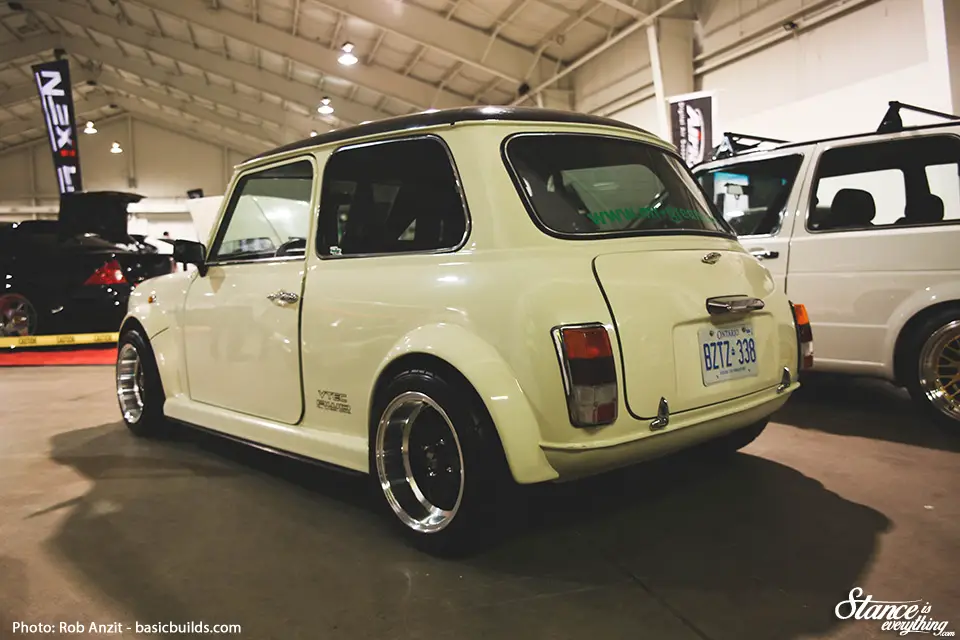 Fairly unassuming, outside of the vtech sticker, I wonder how many people will be surprised by this little mini this summer.
I'm pretty sure I have taken an engine bay photo of this car every year since it first debuted. As far as I know it isn't running yet but is apparently the closest it has ever been to doing so thanks to a recent visit to Cyrious Garageworks.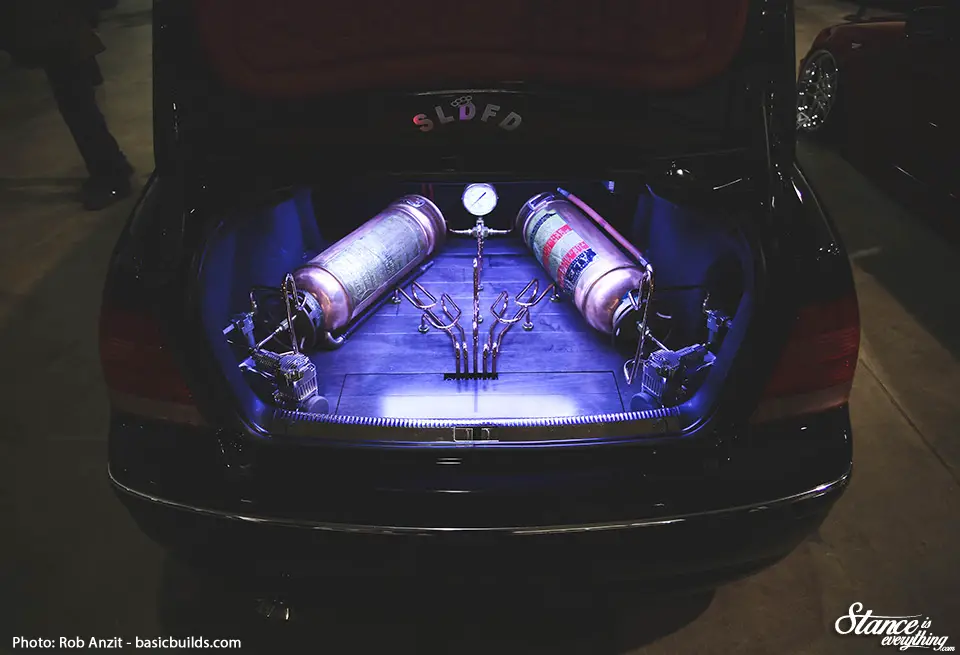 I have taken a few photos of this trunk set up over the years too but I feel like Rob Anzit did it proper justice with this series of photos.
The interior on this car is also all quilted leather and took home the best interior award, though I'll have to get a picture of that at another event.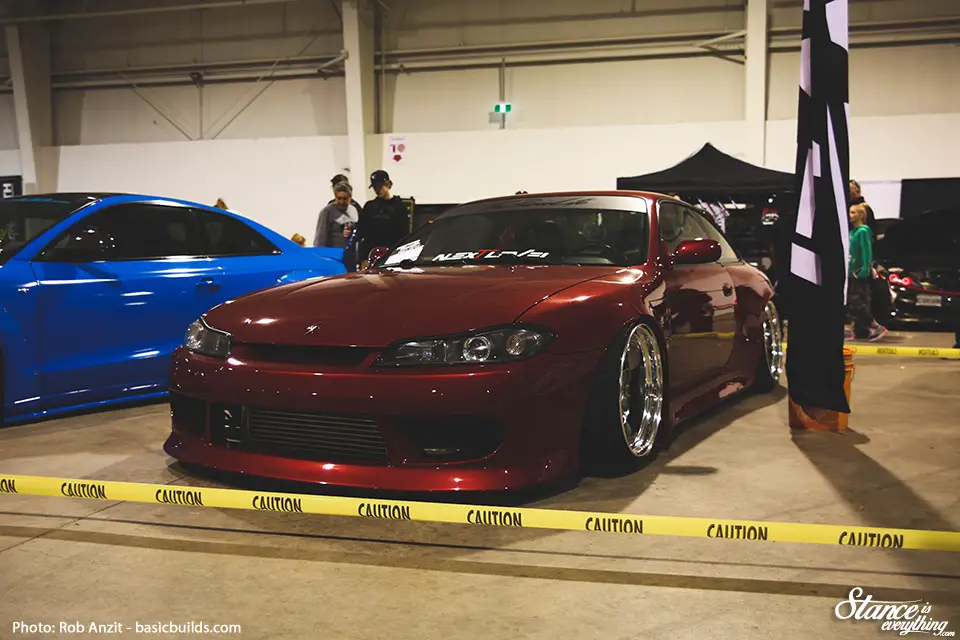 With two years now officially under their belt and no chinks in the armor I'm looking froward to seeing how Spring Fever continues to improve next year.
Of course there's also a whole seasons worth of events I'm also looking forward to between now and then so no rush guys.