Any show occupying Mississauga's International Center has big shoes to fill, but even in its first year it was evident that the Motorama Custom Car & Motorsports Expo was up to the challenge of filling said shoes.
Now, three events deep, the Motorama staff have focused their efforts in all of the right places, and never spread themselves too thin in an attempt to grow too quickly. The result is a show that continues to be enjoyable for both spectators and competitors.
Vehicle wise Motorama has consistently delivered, yes it is predominantly a classic show, but it isn't exclusively so, and for the second year in an import was placed in the prestigious front hall.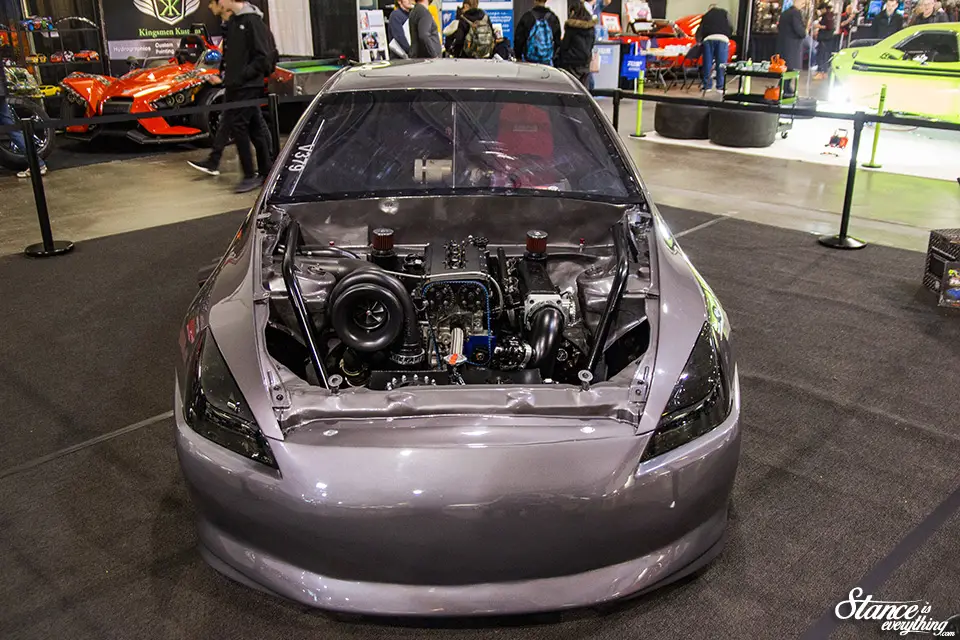 Recognizing that a well built car is a well built car, regardless of genre, is a significant hat tip to the import community and I'm really interested to see if the trend continues next year.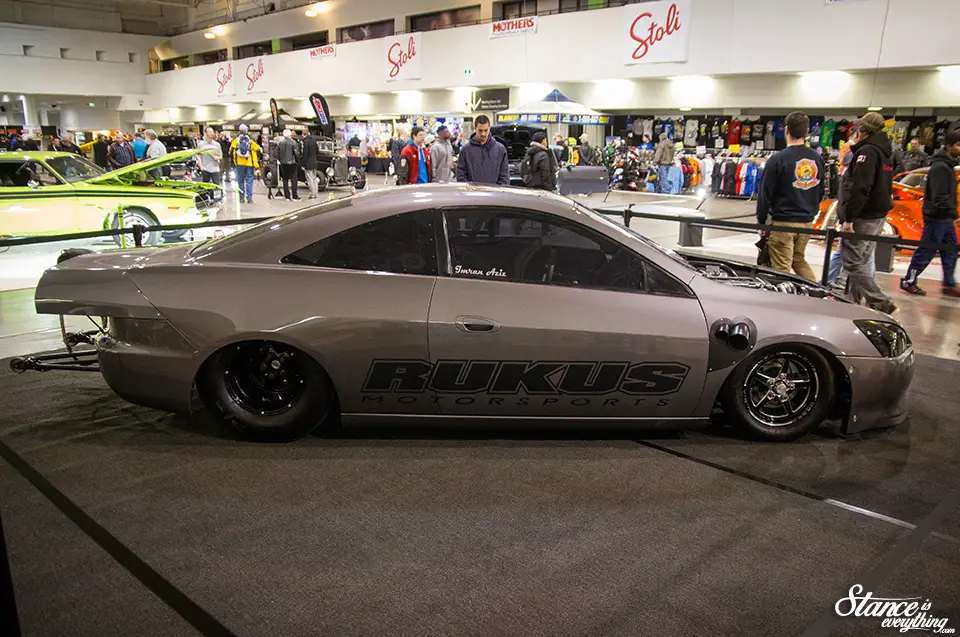 As a turbo B series, rear wheel drive converted, race ready machine, this Rukus Motorsports Accord isn't your run of the mill Honda.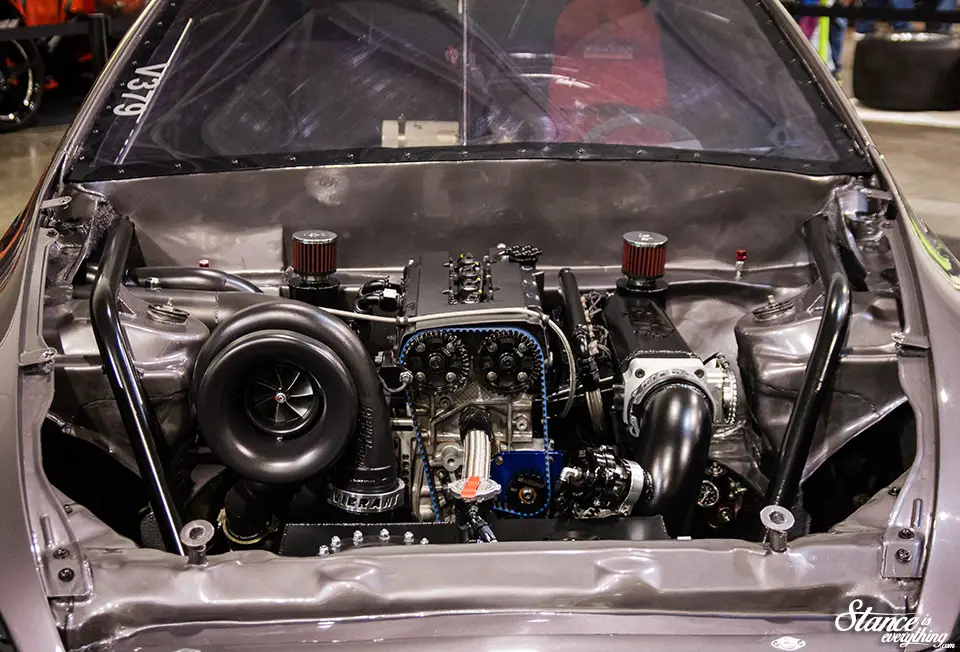 For those of you who might be skeptical of the project, the car does run and drive, so I imagine it will be seen at Cayuga once or twice this year.
Will it hit the six seconds it is certified for? Only time will tell.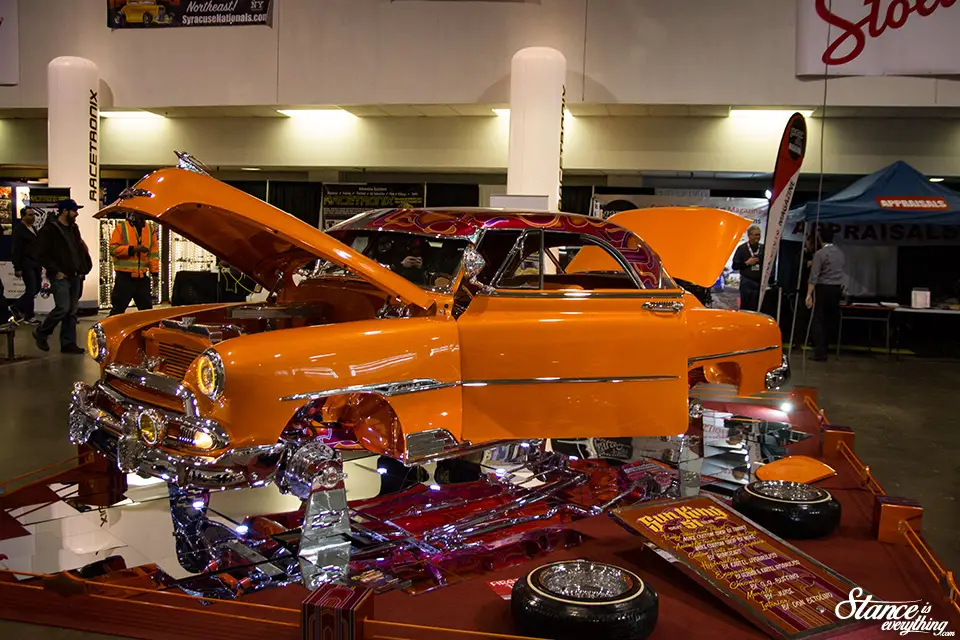 Just as imports are somewhat new to the front hall so are lowriders, looking back through my coverage I think only one other lowrider has been there before.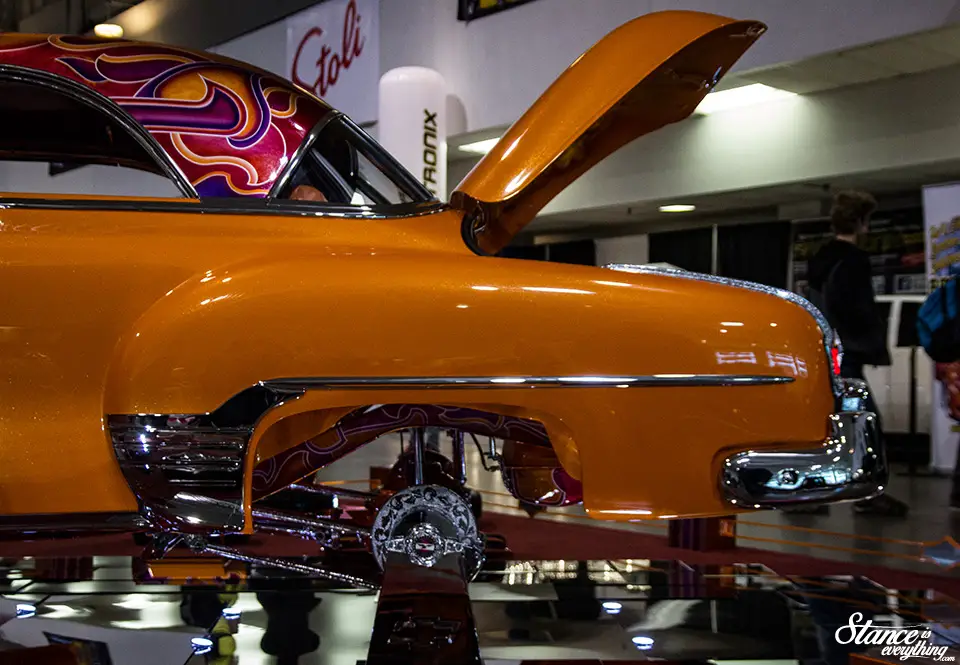 Known as the Sun King this '51 Bel Air came out of Quebec via the Luxurious Car Club, and the classic Chevy was detailed top to bottom and front to rear.
Engraving, paint, chrome, everything was thrown at this car at literally every angle.
One might assume, based on the lack of brake pads and chrome rotors, that this car isn't driven but I have it on good authority that those rotors come off, new pads go on, and this car cruises like a true lowrider should.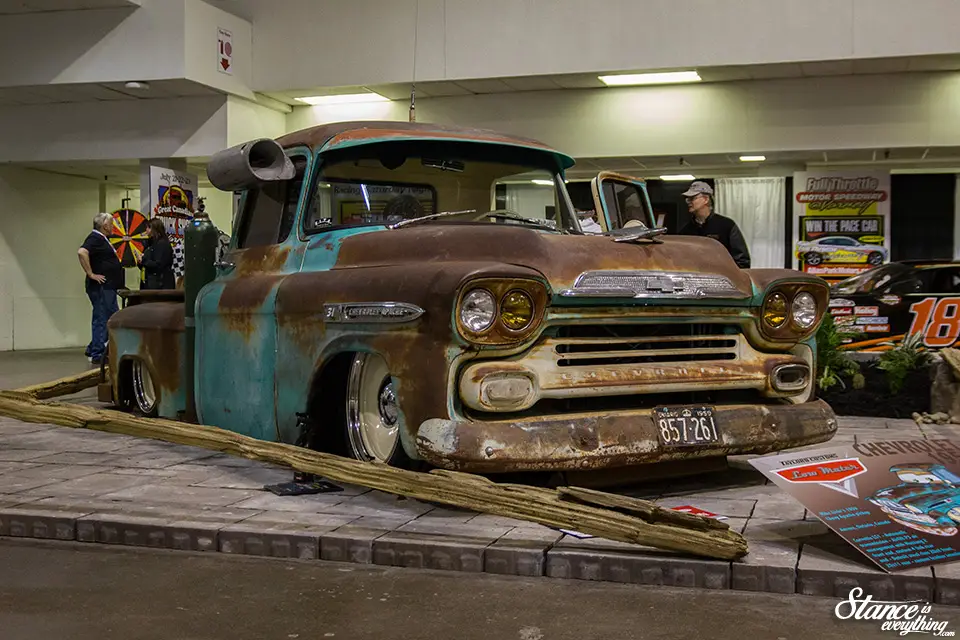 1936 Copperhead owner Mike Livia debuted his Taylor'd Customs built '59 Chevrolet at Motorama and the eagle eyed among you have probably noticed that this is the same truck from a shop visit to Taylor'd earlier in the summer.
Looking for a vehicle he could feel comfortable driving more often than his show winning Ford Mike's goals for "Lowmater" were a presentable, reliable, driver.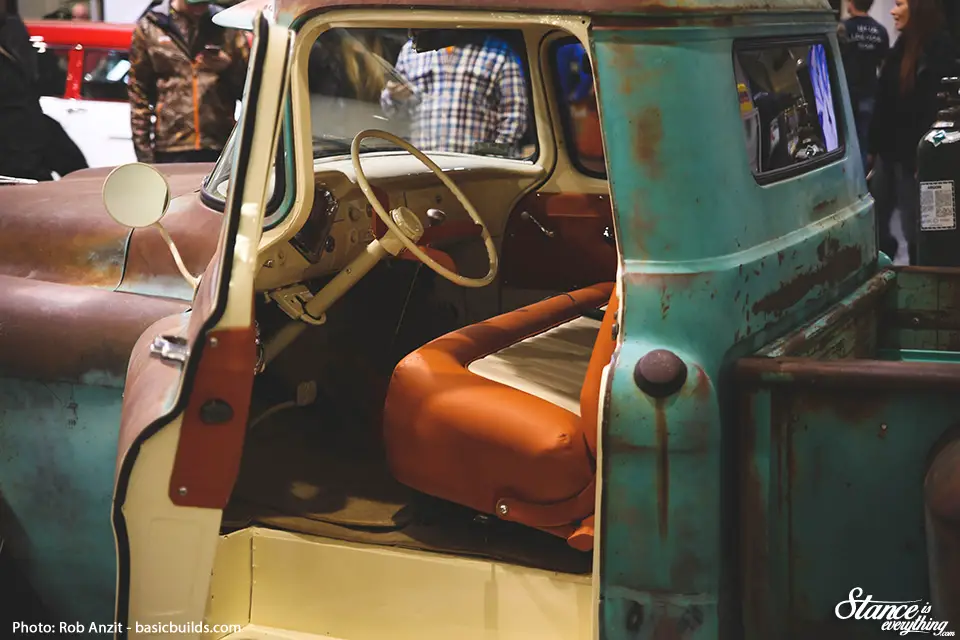 The exterior has been left alone, and the frame has a Mustang II front end conversion and custom back half. The interior was also repaired and re-trimmed, and under the hood is an LS permanently on loan from a Corvette.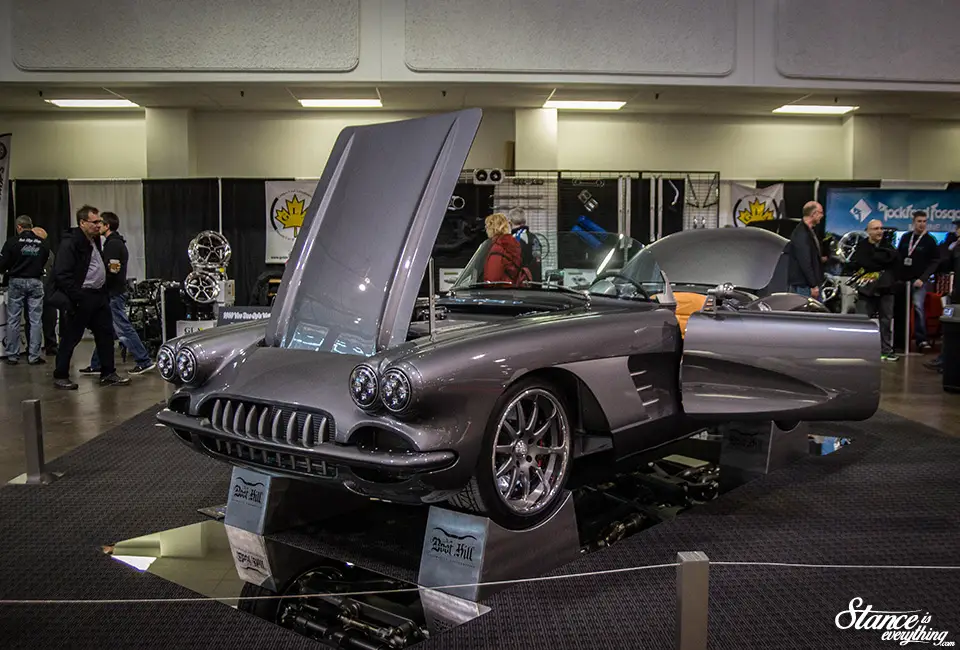 Boot Hill Automotive Resurrection is no stranger to Motorama, or the front hall, and this one stop restoration shop debuted their 1960 Corvette build at the 2017 show.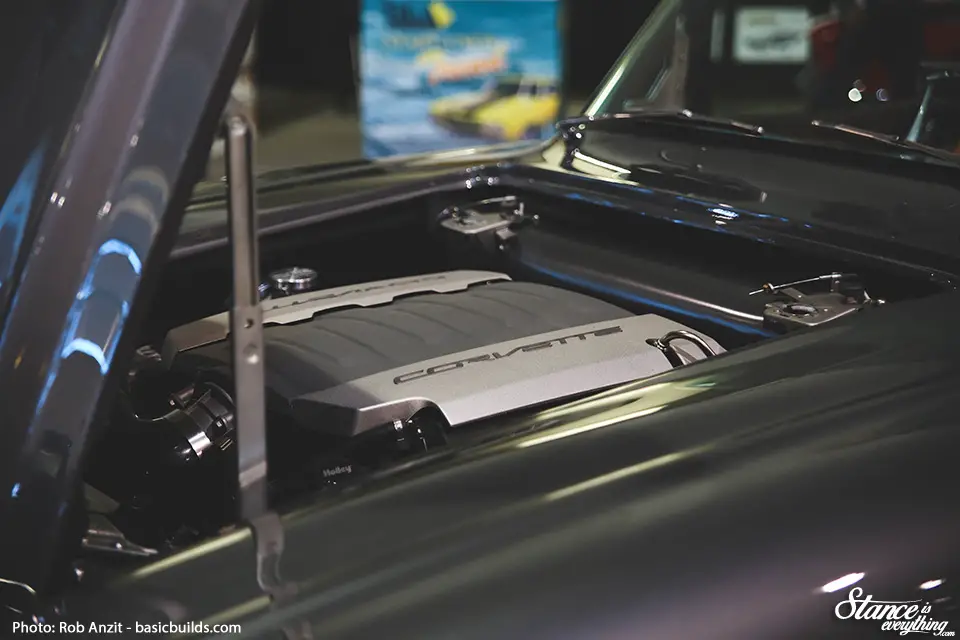 Now an LS powered car, and on a Roadster shop chassis, I imagine this C2 is going to be a riot to drive on the somewhat secluded streets in Erin Ontario where Boot Hill is located.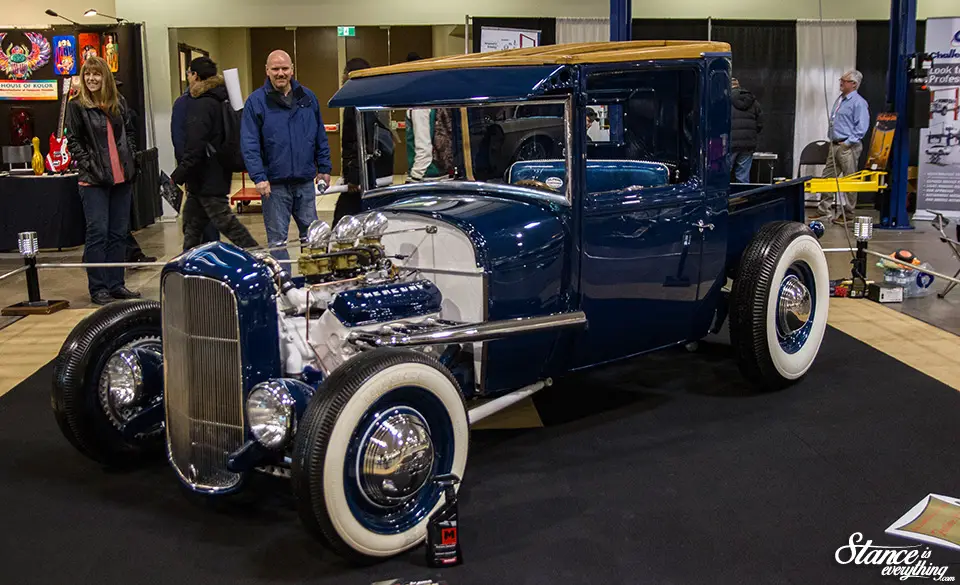 One never has to look too far for traditional hot rods at Motorama and Slade Customs had one of the standouts in 2017. A five-year build this Y-block powered car is known as the Blue Baller Hauler.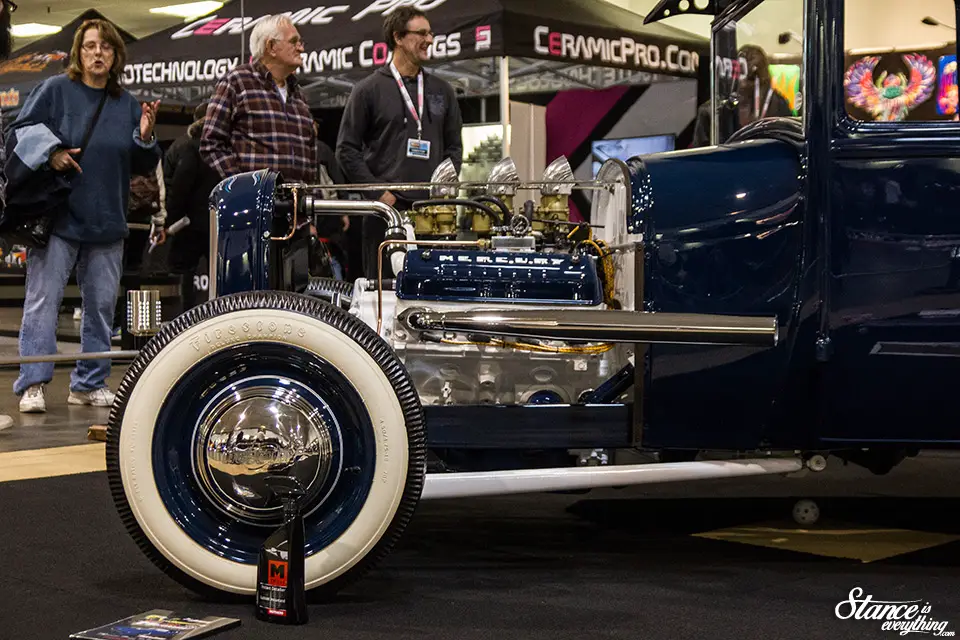 I feel like there's a really good possibility that this car will be at the Jalopy Jam Up in August where it would fit right in.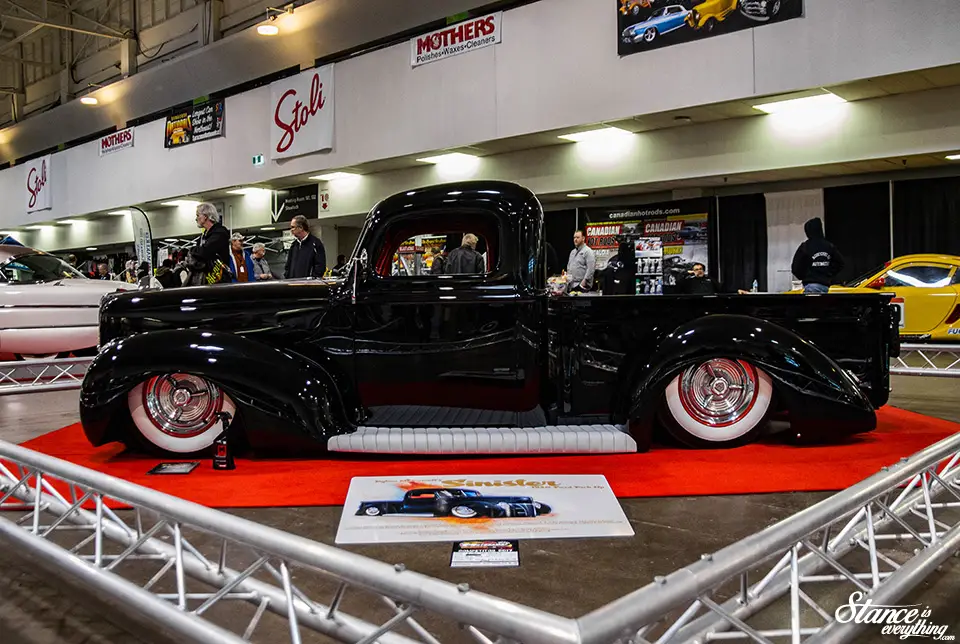 Speaking of the Jalopy Jam Up it was great to see this Ford pickup at Motorama after I saw it complete for the first time at last year's 'Jam Up.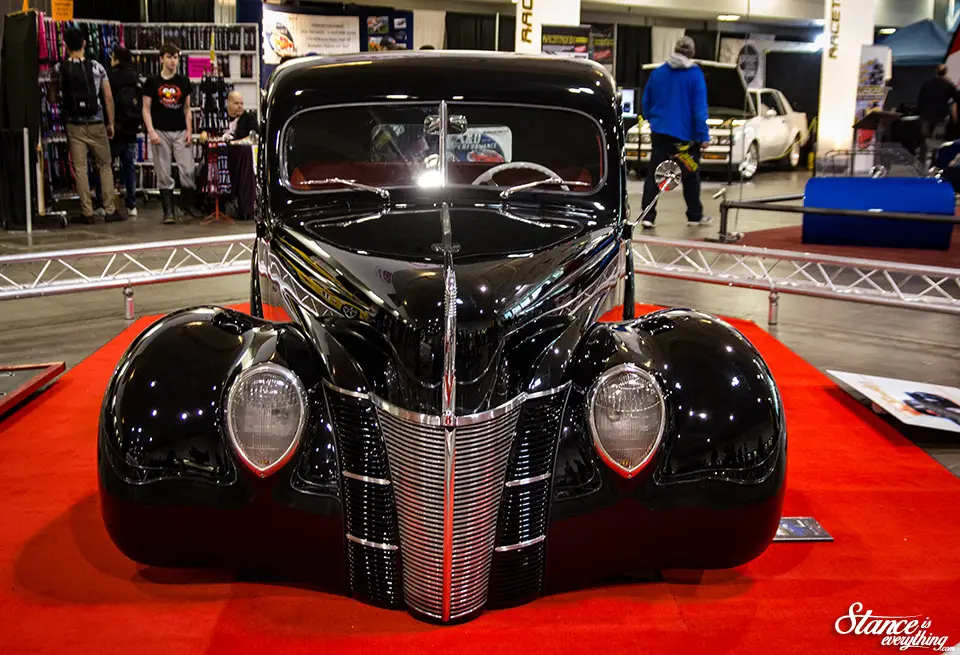 Debuting a few years ago –as a work in progress— the builder, Dylan, started the truck at the age of 15 when many kids are still building model cars.
To have a car in the front hall at such a young age is incredibly impressive and that feat is further impressive when you consider that the truck was built in a style that few Dylan's age set out to emulate.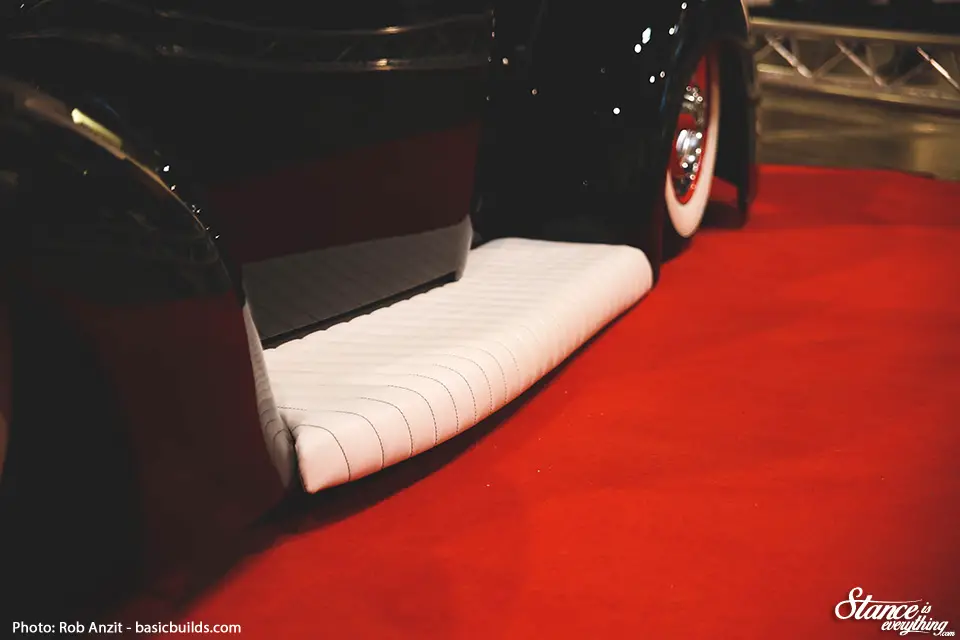 However, when your dad is one of the key members of the Lead Kings I guess style doesn't fall far from the tree.
The Lead Kings actually had a pretty cool display in the center hall of the show.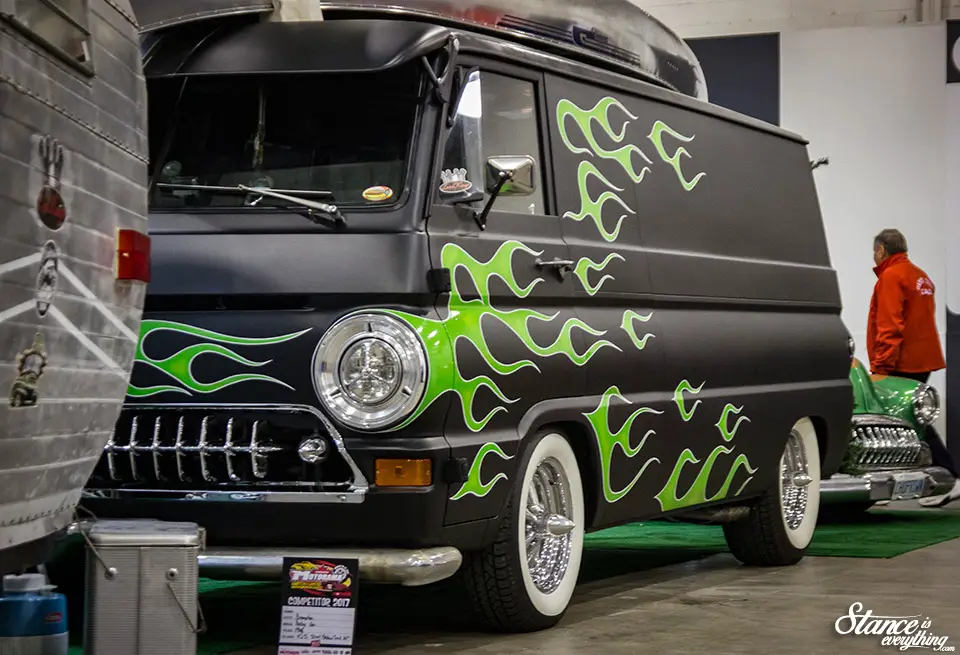 They pulled a few campers in and created an impromptu type of camp ground where they could be found hanging out all weekend long.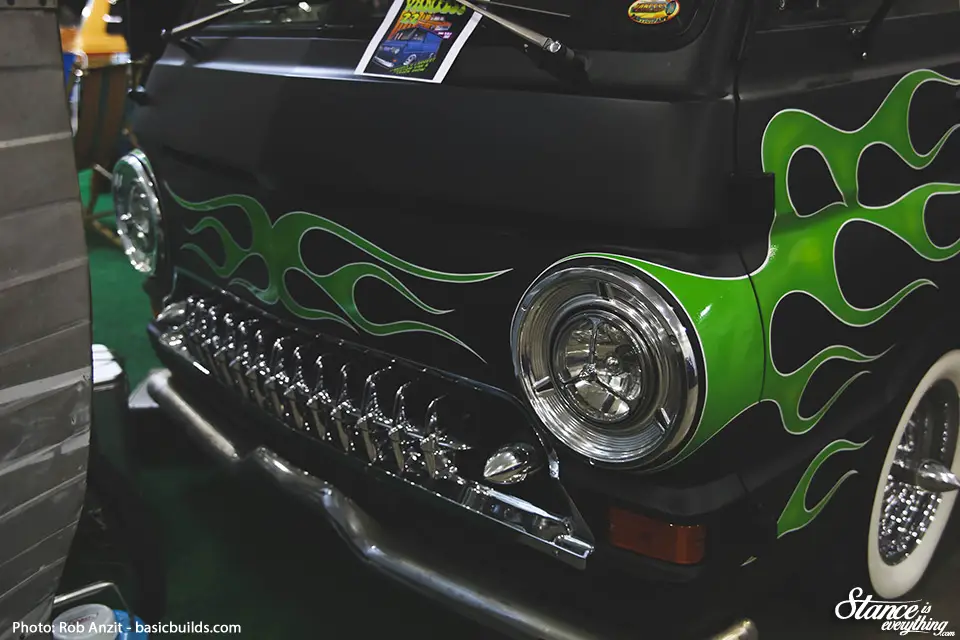 It was a pretty unique idea for a display, and really suits this club's style because ultimately I don't think taking things too serious is what they are all about.
The Lead Kings recently dropped some new merchandise, that I somehow managed to completely forget to buy at the show, so hopefully I see them later this year to grab some swag.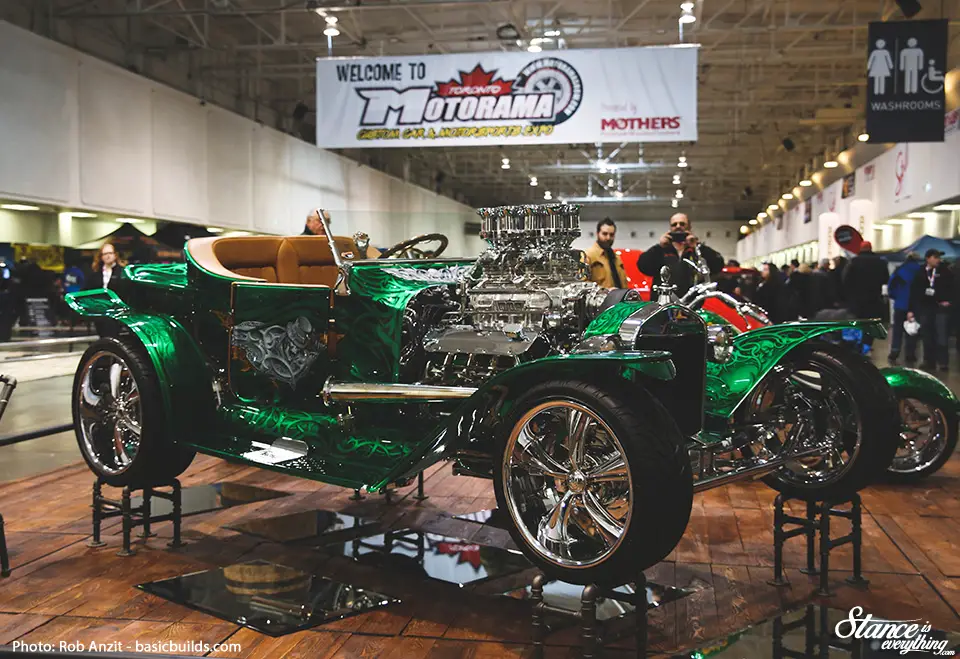 Circling back to the front hall this '23 T bucket was from Quebec as well, and I'm not sure what's in the paint guns out that way but they really take things to the next level.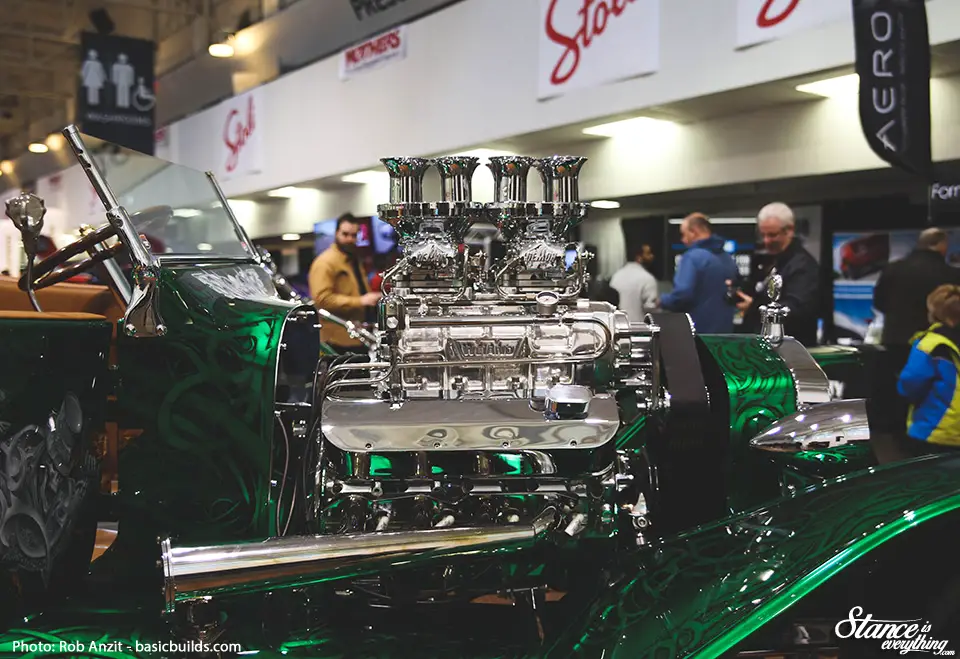 While not particularly my style, it was impossible to not appreciate the amount of work put into this car and it was totally deserving of its spot literally right near the main entrance.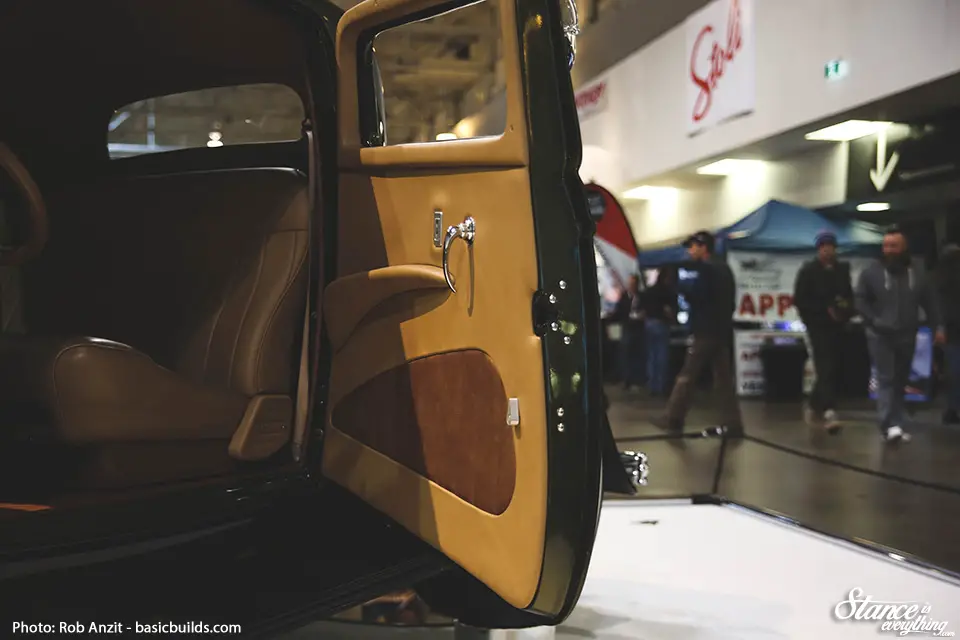 Fit and finish wise the Ford above was one of the best in the venue. The emerald-green hued paint looked great under the lights as did the fresh interior.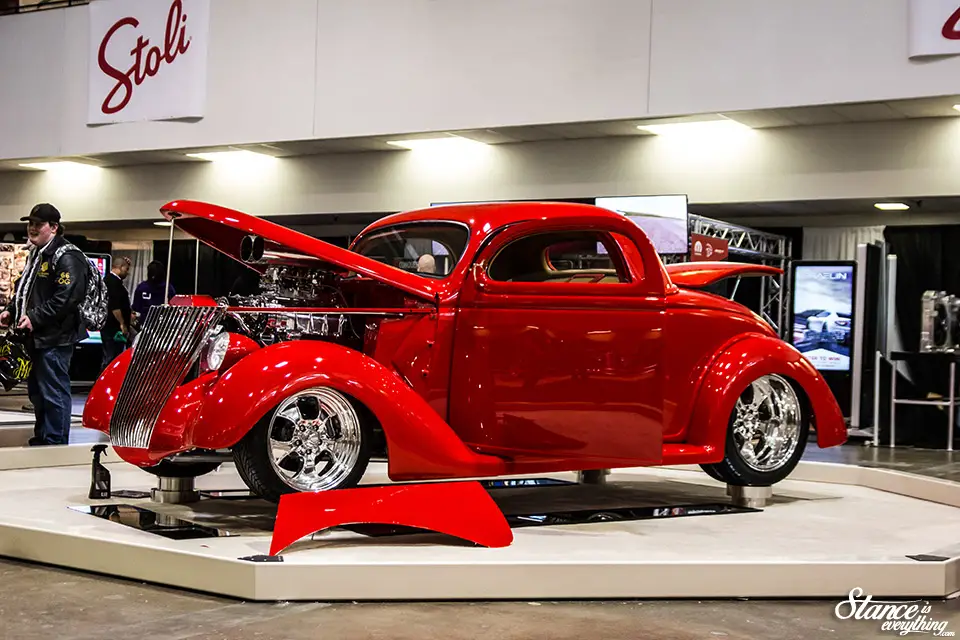 The Grand Champion award at Motorama went to Enzo Covello and his 1936, 427 big block Chevy powered three window coupe above. Dangerous in Red the car has the stance, the chrome, and the attention to detail of a proper street rod.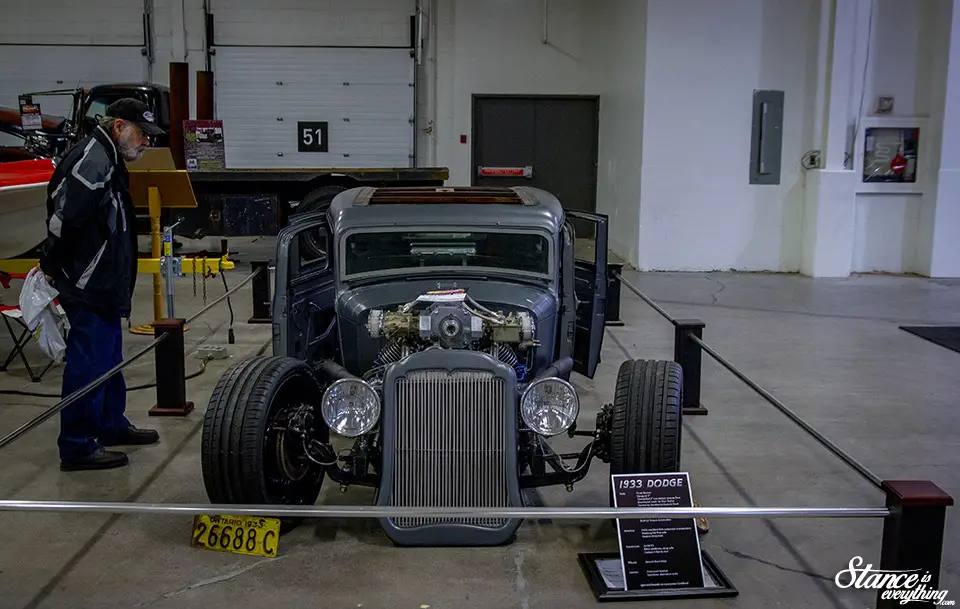 Blair brought his Dodge, fresh off its lowest car in at Autorama Extreme, to Motorama and the car proved a winner two shows in a row taking home the best rat rod award for 2017.
Now to set up that photo shoot in the summer with a little tire smoke…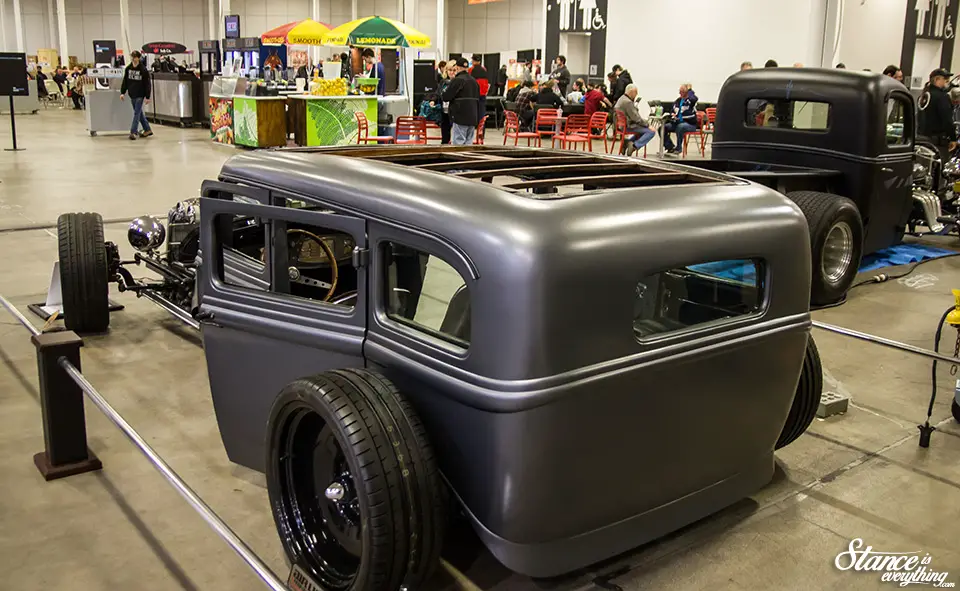 The Tucci Hot Rods Model A below has received quite a bit of exposure since it was completed in 2015, but this is my first time seeing the car in the metal.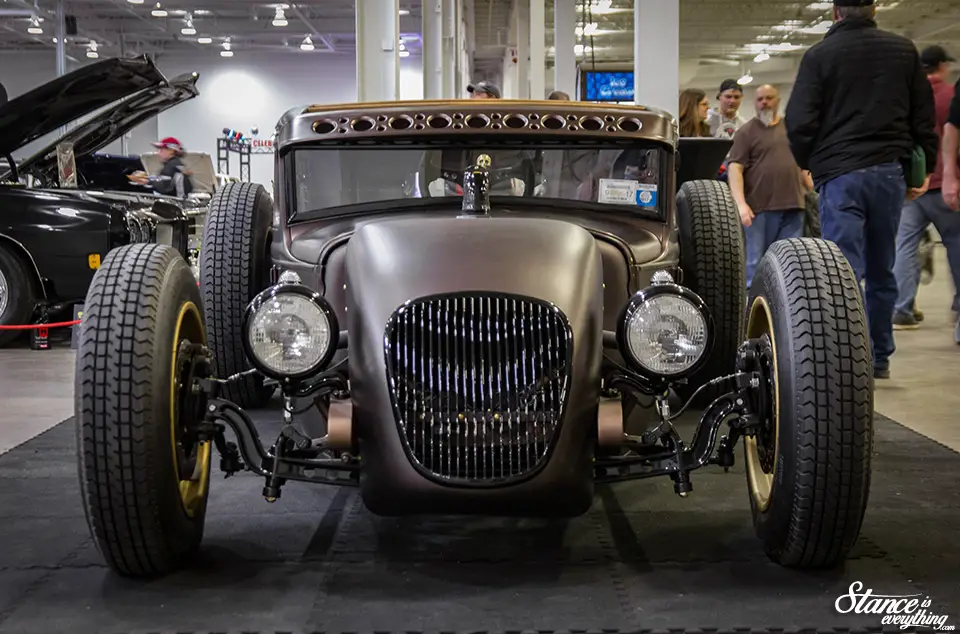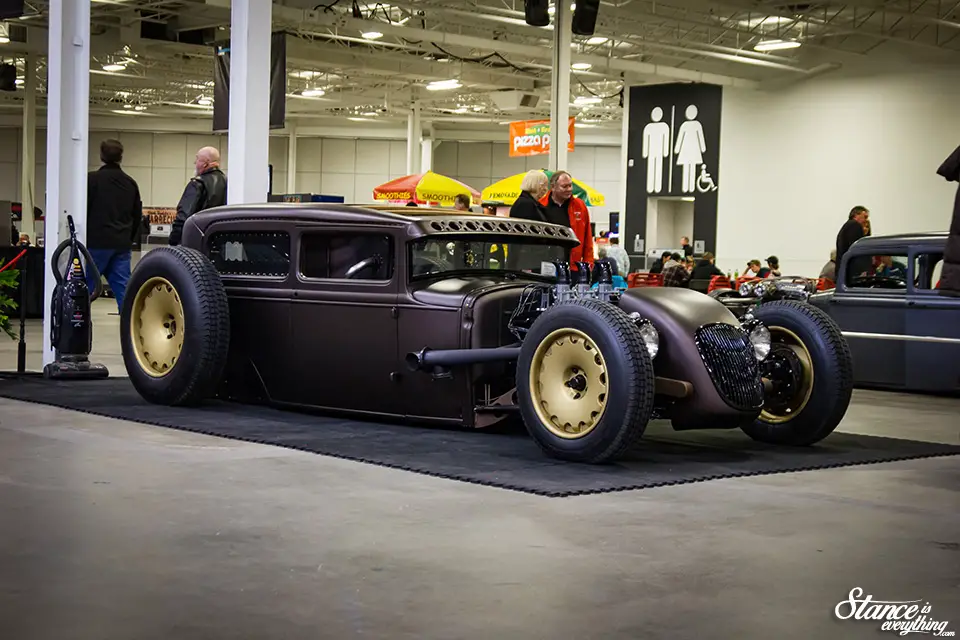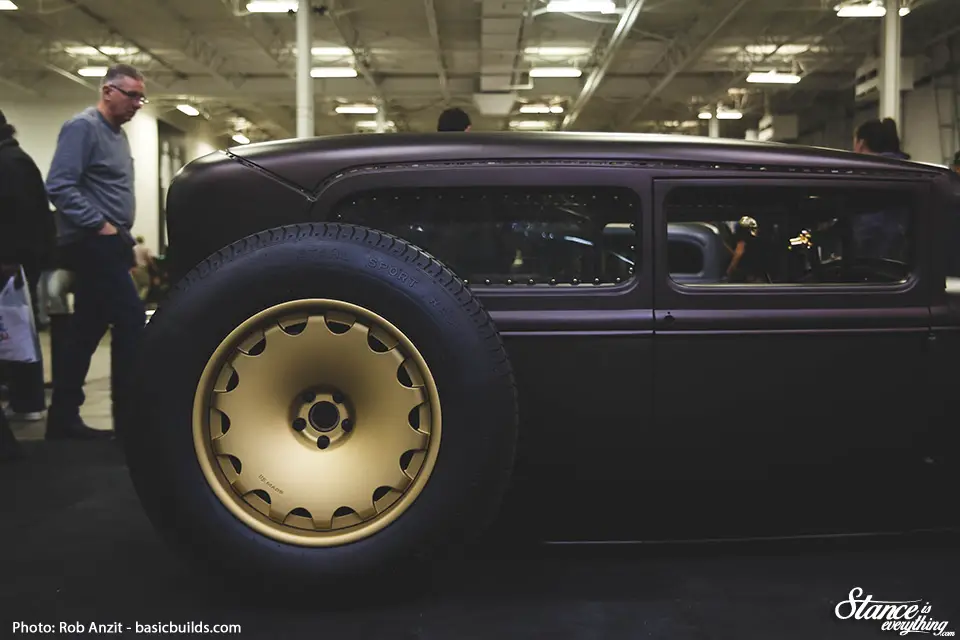 The car is chopped five and a half inches and has a small block Chevy under hood. It also has quite a few pretty slick details hidden all over it including an extremely different windshield trim you see in the photo above.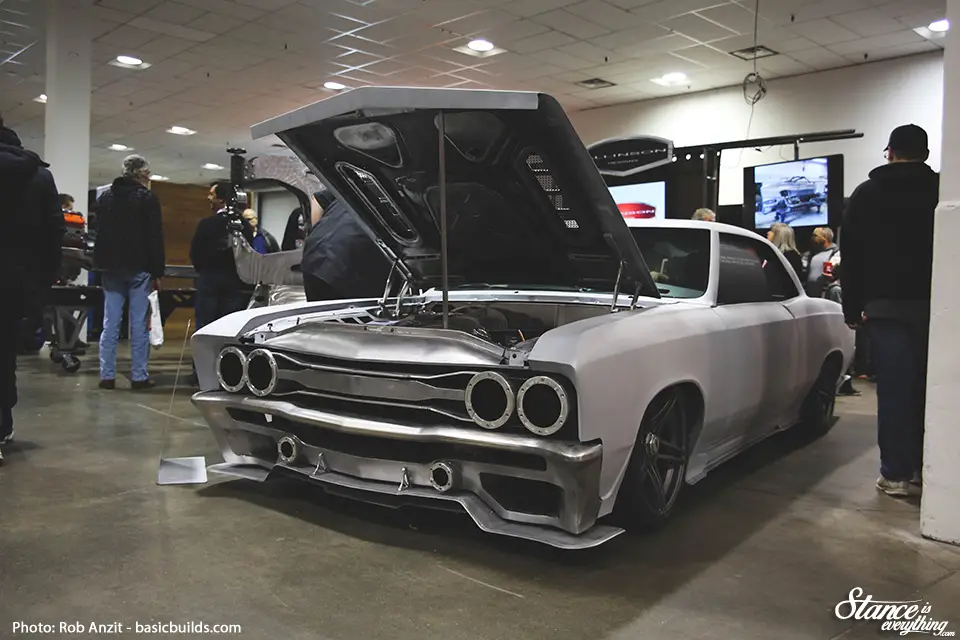 If there's one car I regret not elbowing my way to the front of the pack to take more pictures of it is this Alinson Designs Chevrolet Chevelle project. It was far from complete, but had a heck of a lot of cool details lurking throughout.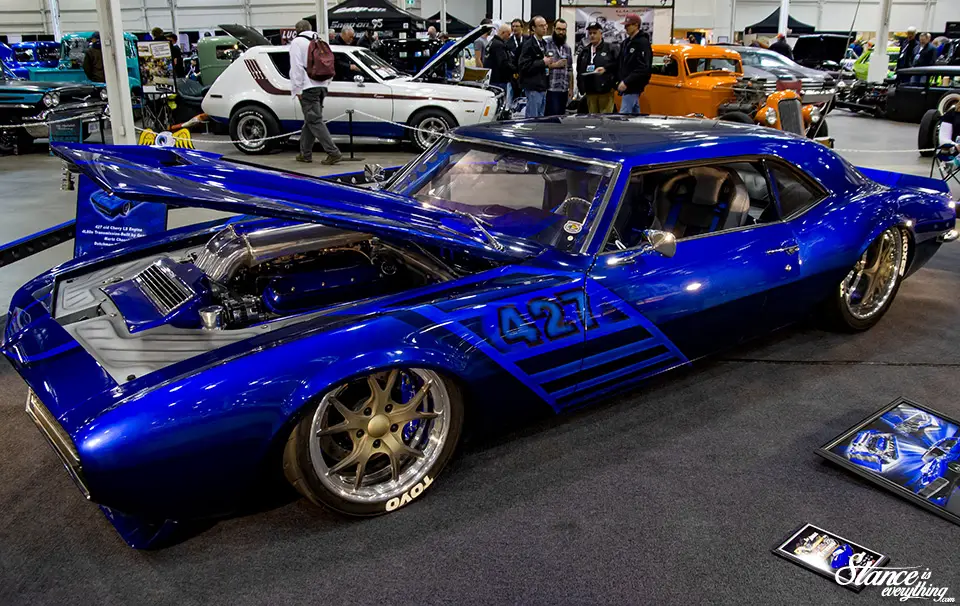 A car that did steal an almost disproportionate amount of my attention at this year's show was the '68 Camaro built by Pro Comp Custom. Similar to their Charger Solo (below) the Camaro known as My Kind Of Crazy was not for the faint of heart.
My Kind Of Crazy was actually built first, and according to the owner's upsets purists somewhat less as Chevrolet owners are apparently quite a bit more easy-going than Mopar owners.
Still, the car is a drastic departure from your average Camaro and has proportions very similar to a Jada "Dub Series" toy or something of that ilk so I imagine there are a few Camaro owners who are up in arms over this build.
I however loved the car and couldn't resist coming back several times to shoot photos of it. There's a number of under construction photos at Pro Comp Custom website if you're interested in just how much has been done to get the car to look as it does.
Another show and another advanced design truck draws my attention, you'd think I were building one or something (updates soon I promise).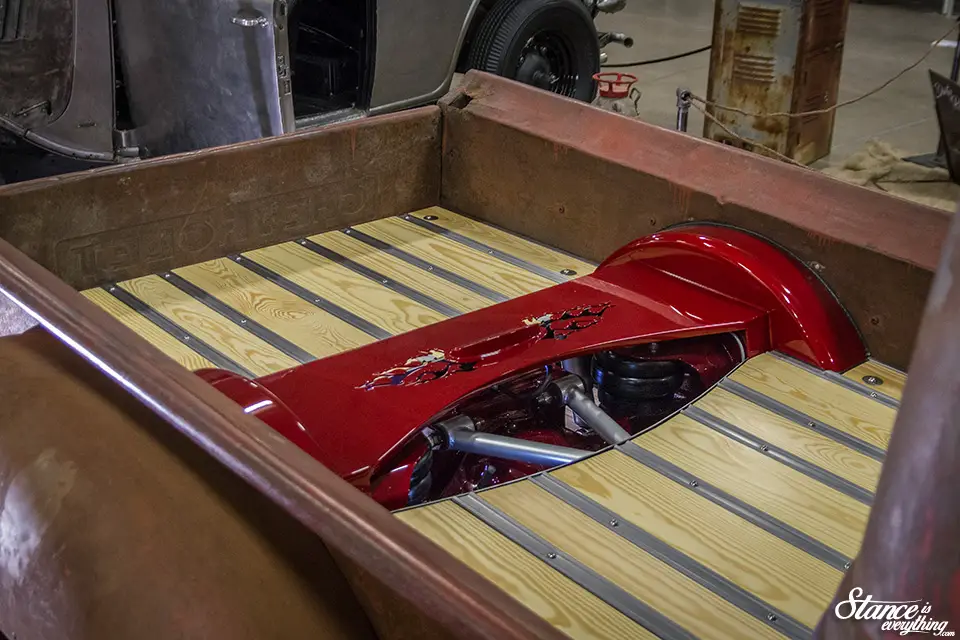 The bridge, extending into the wheel tubs was a nice look and tying the candy red frame, into the wheels and also the interior really brought it all together quite nicely.
The East London Timing Association was the feature club of this year's event which, not only did they deserve but, I'm sure helped lift the club's spirits after the passing of brother.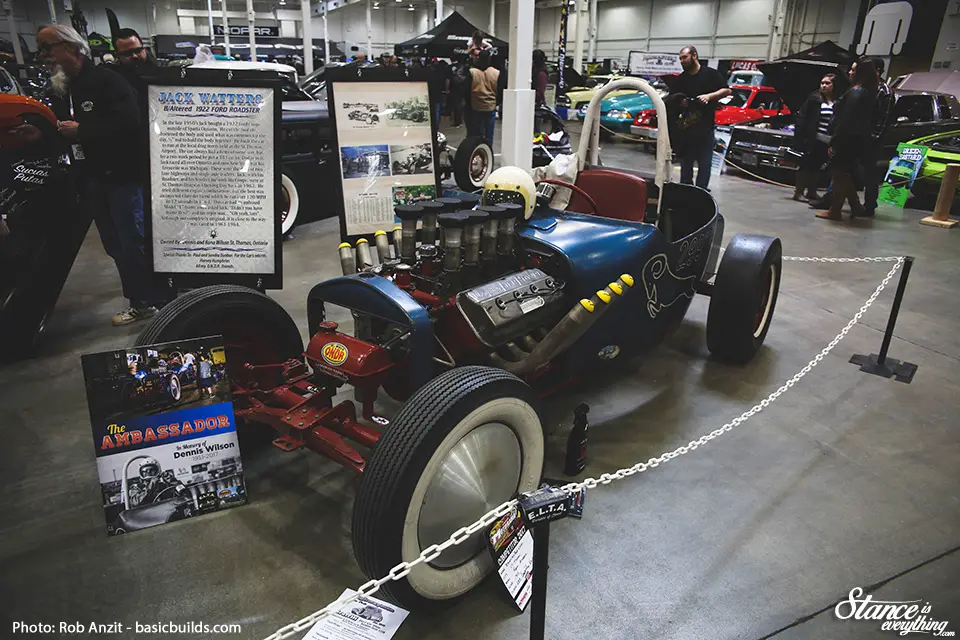 It was great of the E.L.T.A. to bring out Dennis Wilson's car (above) after his passing and continue his tradition of putting as many kids in it as possible. Local hot rod clubs also gathered later in the show to commemorate Dennis' life which just goes to show how much heart is really left in hot rodding.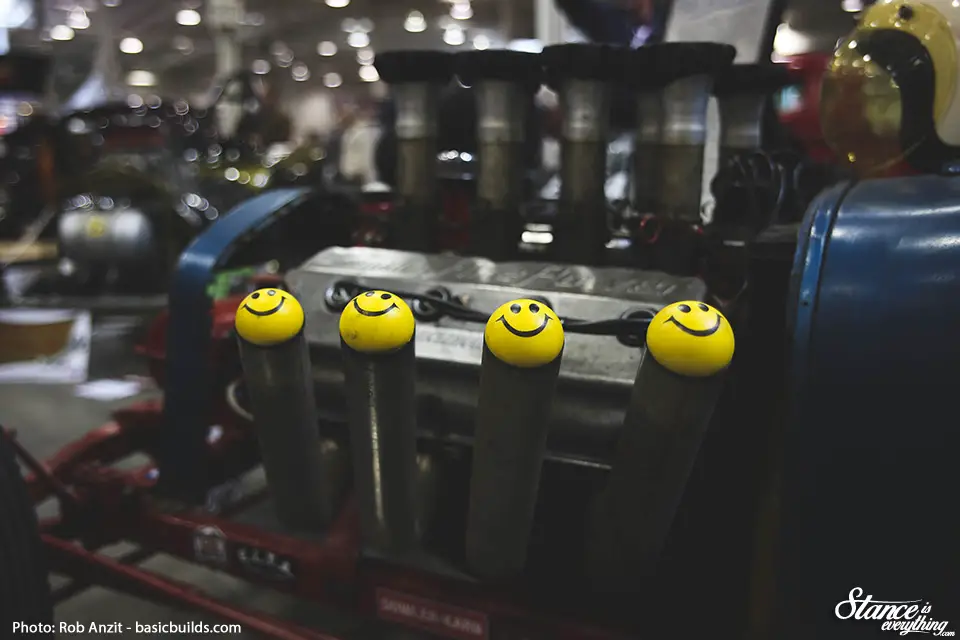 Hats off to the Motorama team for another great event and I look forward to attending again next year. Might be a bit too early to call it but hopefully I can drag, or more preferably drive, my truck out to next year's show but lets not put too many carts before horses.
Spring Fever coverage will be hitting the site later this week!