The Motorama Custom Car Show was last weekend and while I was sorting through the coverage I knew I had a good bike to showcase for this week's WTF Friday.
When I saw the bike sitting on the ground my initial reaction was indeed WTF, followed by wow there's been a lot of thought and creativity put into this build.
Built in a short four months by Toronto based Motorcycle Enhancements this Steam Punk themed bike is powered by a Yamaha Roadstar 1600cc motor mounted into a truss style frame.
You've probably already noticed that this bike sits on the ground thanks to air suspension front and rear.
The air set up itself is pretty trick; the compressor is a from a BMW and it fills that green oxygen tank.
The entire thing is plumbed with copper hard-lines –as is the electrical system– and the owner was doing demonstrations of the suspension going up and down all day thanks to a charger hooked up to the bikes battery.
The battery resides in the green ammunition box if you were wondering.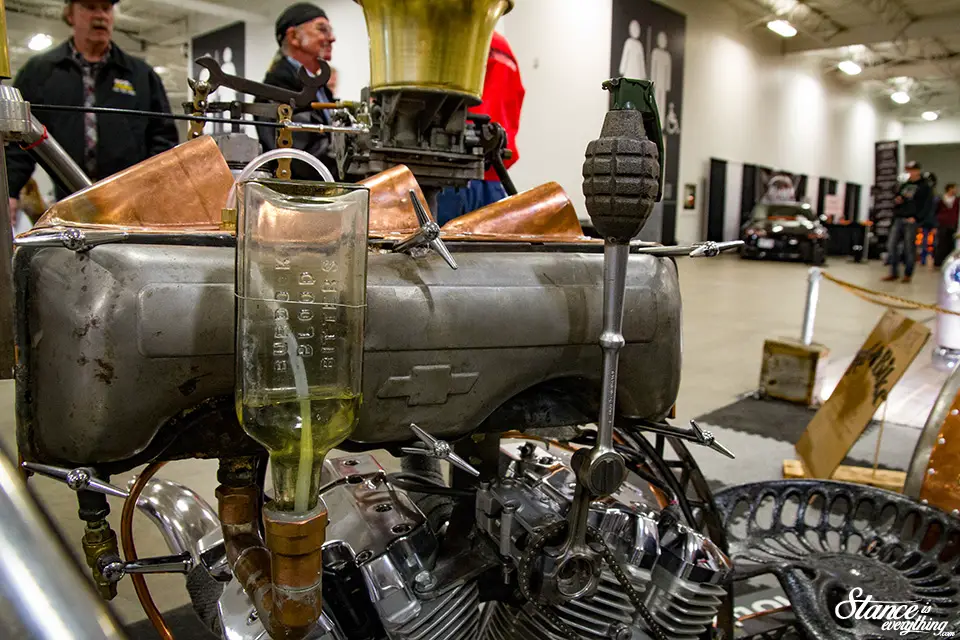 Interesting details are literally all over every inch of this bike. By now I assume you've already noticed that Chevy valve covers make up the gas tank but did you also notice the ratchet handled, chain driven, jockey shifter?
No? how about the quick release tractor seat?
The gauges on the truck reside in a custom-made copper "dash" and the tiny Canadian Club whiskey bottles you see on either side of the fork make up the bikes turn signals.
The springer fork uses wrenches as rockers and hides an air bag between the legs. The chain-drive in the rear is supported by a series of tensioners which help keep the chain in alignment throughout the suspensions articulation.
Fittingly an oil can serves as the bikes oil pan, and for foot controls I am sure you've noticed the 50mm bullets.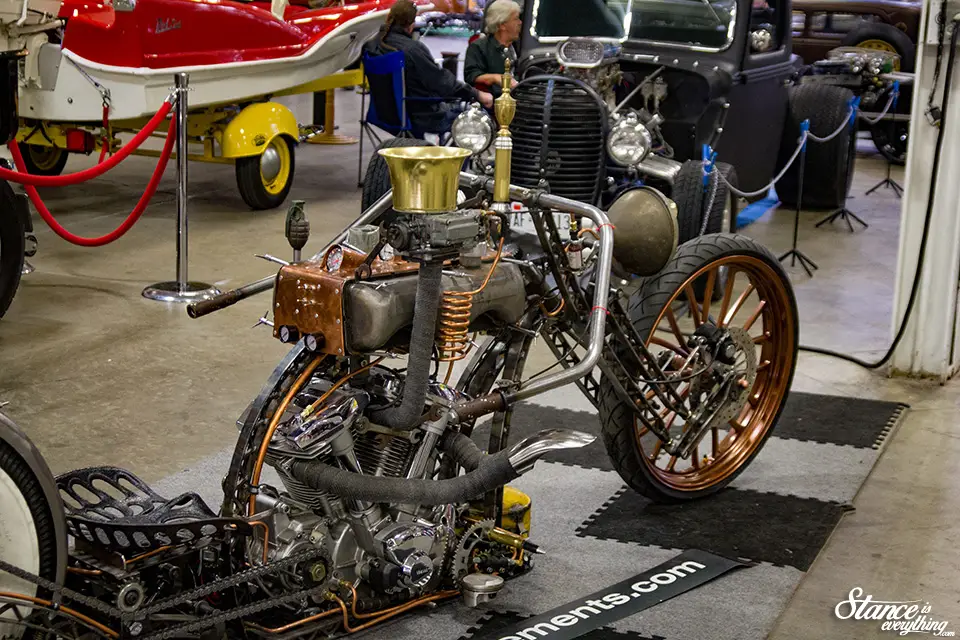 Unsurprisingly the bike drew a lot of attention at Motorama including the attention of Vegas Rat Rods's Steve Darnell who awarded it prestigious the RatRod award.
The builder/owner isn't quite done with the bike as he plans to add a steam-powered horn as well. I am not sure if plans are to ride the bike, sell it, or just keep displaying it but it is darn wild any way you look at it.
Look for more coverage from Motorama to start Monday!