Winter driving is an unavoidable situation for all Canadians, and while it would be nice if we were all capable winter drivers at birth anyone who has driven on the 400, 401, or DVP during a snow storm knows this is certainly not the case.
Unfortunately traditional driving schools often under emphasize winter driving do's and dont's, and some drivers just try to avoid the matter all together opting to stay off the road during inclement weather. However this all falls apart when you get caught in a blizzard which is something if you drive in Canada is bound to happen at least once.
Lexus Canada's solution for equipping the owner's of their vehicles with the skills they need to drive comfortably, capably and competently in the winter is their High Performance Driving Program.  The event invites Lexus owners to, for a fee, learn to better drive their cars while under the tutelage of experienced driving instructors who come from a variety of Motorsports backgrounds.
The event covers acceleration, braking, and steering exercises on various prepared courses in Quebec, Edmonton and Ontario, and Lexus Canada arranged for me to take part in their most recent event in Minden Ontario.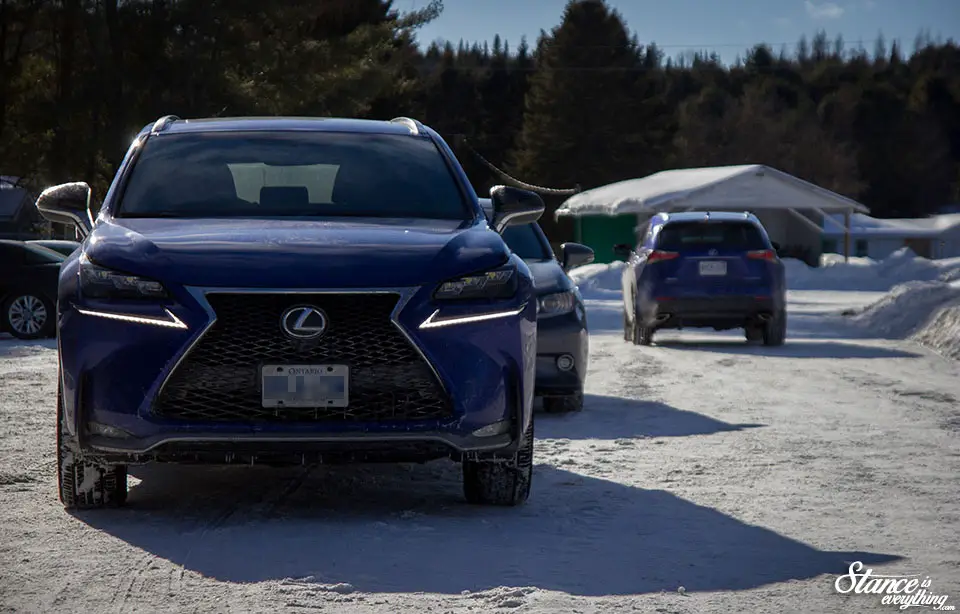 I was scheduled to drive in the afternoon session, and shortly after I arrived at the fairgrounds I was tossed the keys, or rather the fobs, to not one but two current year Lexus vehicles; an NX and an IS300 both winter ready all wheel drive vehicles. The IS was an executive packaged car and the NX was an F-Sport equipped model.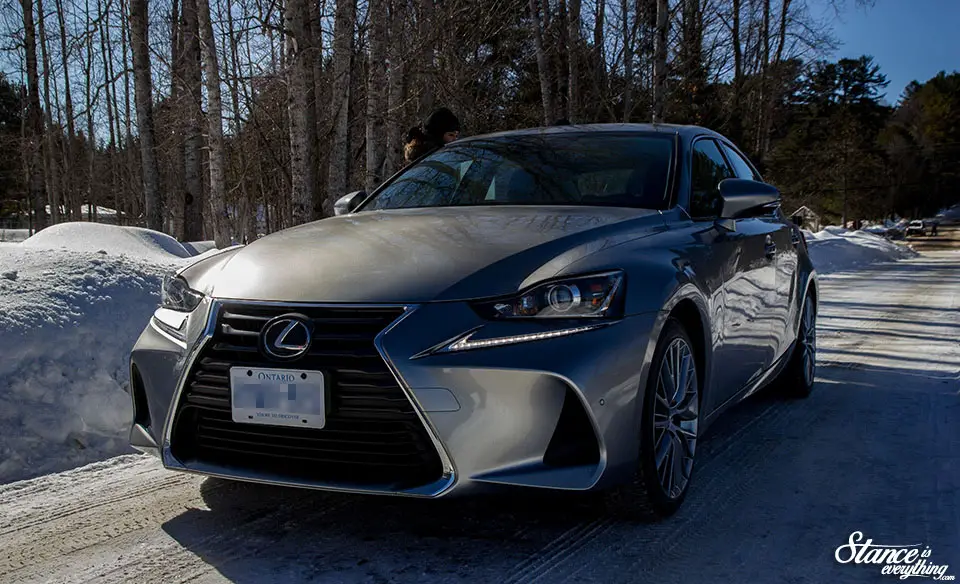 After spending four hours, split between the two vehicles, it would be absolutely shameful of me not to spend a few moments discussing first impressions.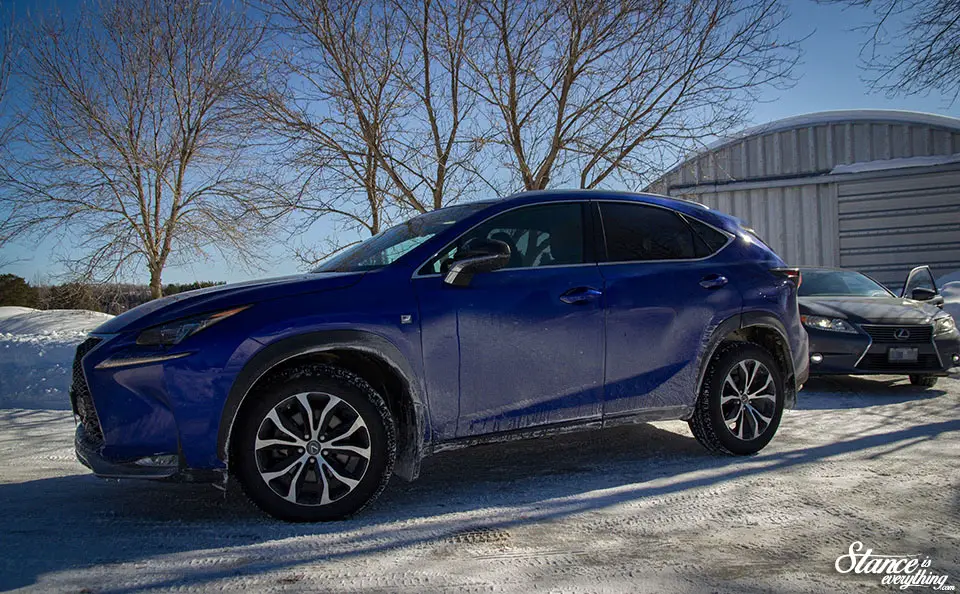 Now, I'm not in the market for a luxury CUV, but I will admit that the NX is far from a bad-looking vehicle and didn't feel overly large or ungainly to drive. That said it is still a CUV, and I felt much more comfortable doing the exercises in the IS. The IS felt far more nimble and responsive than the NX, but the transition was more akin to good to better than bad to great.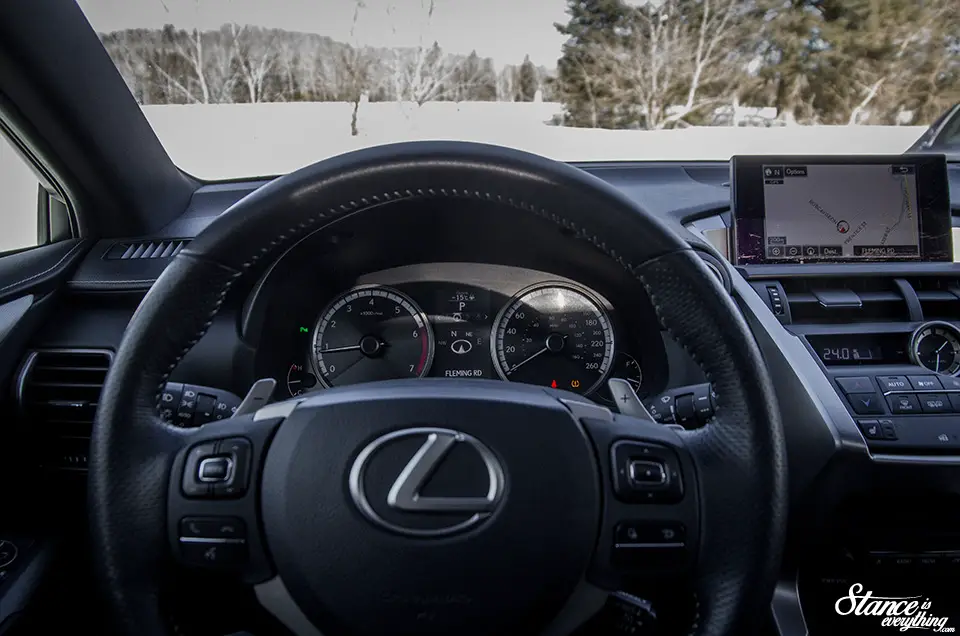 On first start of both vehicles I was taken aback by all the bells and whistles Lexus packs these vehicles with. Pushing the start button (once I found it) brought the car alive, not only starting the motor, but moving the seat to the last stored driver position, locking the doors, and adjusting the side mirrors.
It was much more of a production than I'm used to when I turn the key in my humble speed3.
From behind the wheel, if I had to pick two interior features that impressed me it was the analog clock and GPS display. I can't recall the last time I saw an analog clock in a vehicle, so that was a nice surprise and classy touch, and as someone who uses their phone as a GPS I'm a bit envious of those treated to a large, easy to read, integrated display.
But enough waxing poetic about the vehicles, if you want to check one out a Lexus dealer is probably not too far from you, and I'm sure you'd rather hear about what the High Performance Driving Program is about.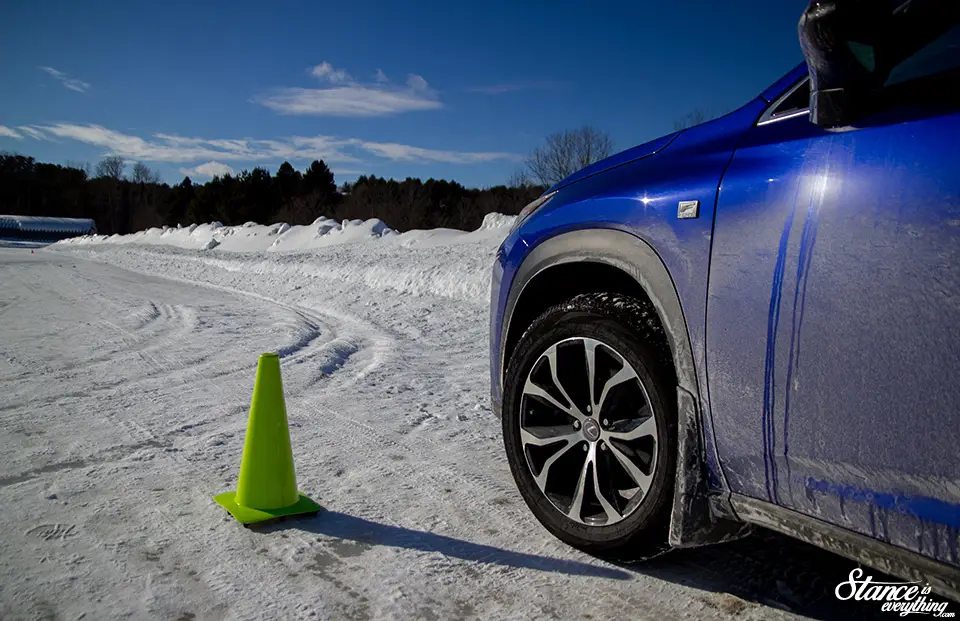 Compared to the sole other driving school I've been to this one focuses less on in class instruction and more on actually getting you behind the wheel and out driving.
Lead by a group of instructors, in my case the polite and patient quartet of Hank, Robin, Mike, and Greg, they ride with you (traditionally in your own Lexus) to run you through the four exercises; slalom, collision avoidance, skid pad, and finally the ice race track.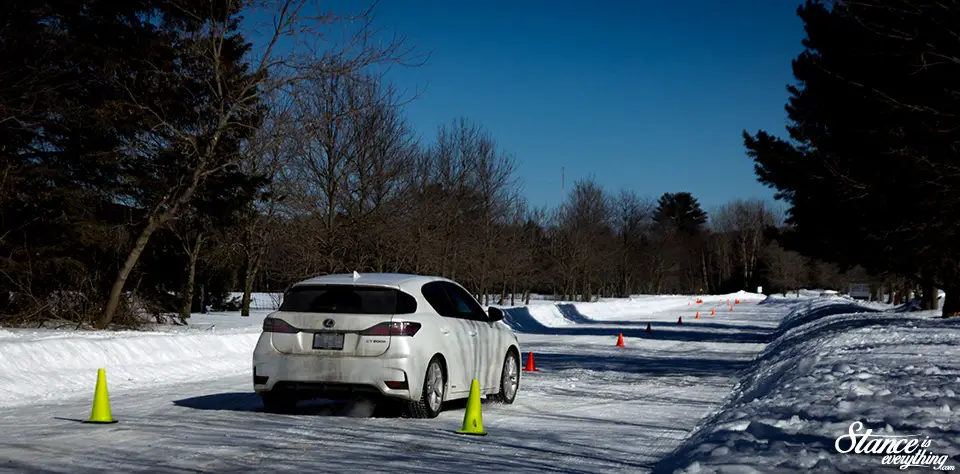 The first two exercises focus on raising the driver's eye height to take look further down the road at potential obstacles (an invaluable skill I wish the person who rear ended me had) and getting used to how a vehicle responds to steering inputs at different speeds and varying brake inputs.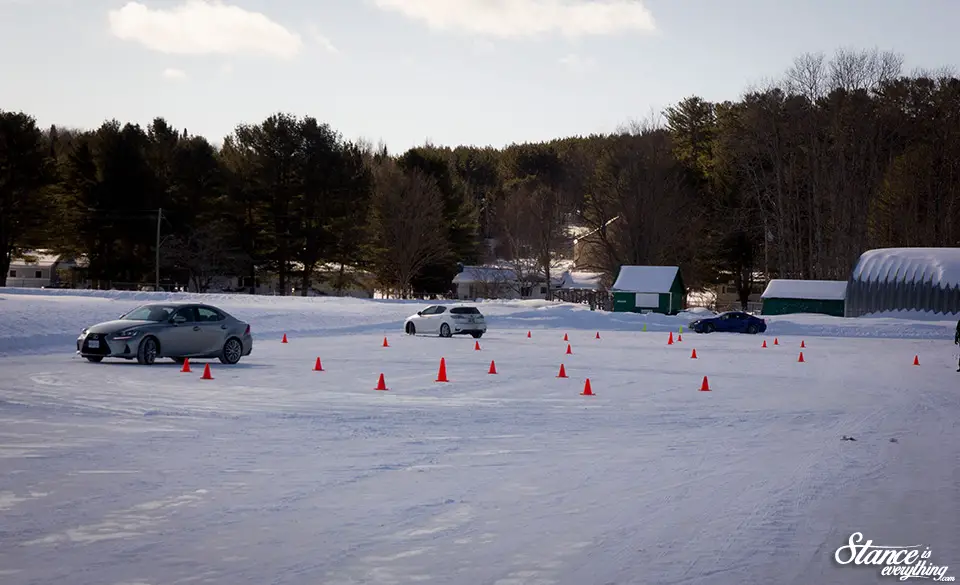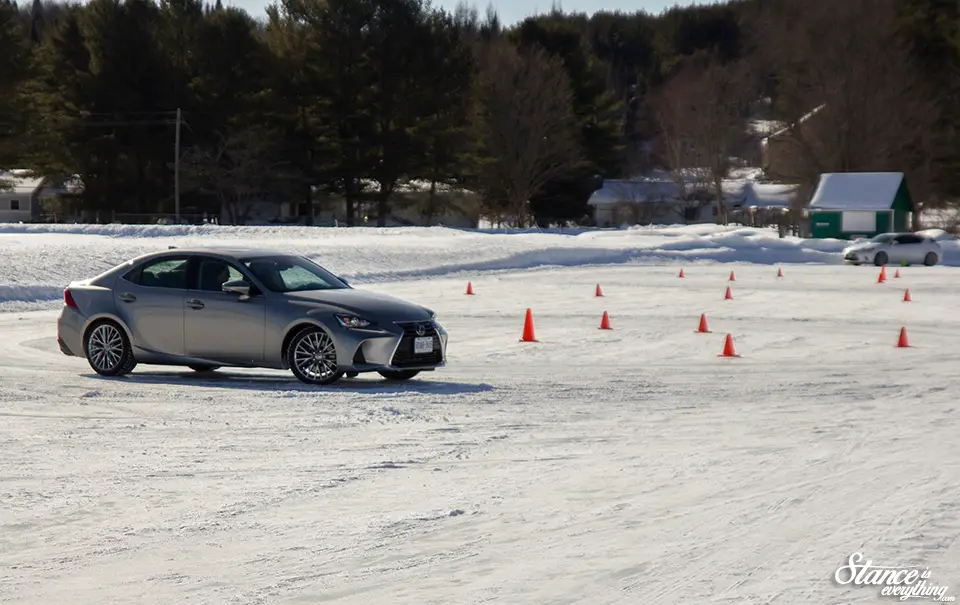 The third exercise took place on the skid pad, and it's at this point I became very aware of just how slippery the ice course at Minden fairgrounds actually is. Flooded every night with gallons upon gallons of water, any sign of pavement is under several feet of sheer ice that provides next to no traction once the snow has been pushed off it.
I've done my fair share of parking lot play in snowy conditions, but doing so on an ice track was a completely new, exciting experience. I wasn't the only one who took a few moments to get used to the conditions, the owner of the car below ended up tapping one of the snow embankments but thankfully his car was unscathed.
My only complaint regarding this particular portion of the training would be that they didn't let me play around with traction control off and sport mode engaged (to make power transfer more rear bias) for nearly long enough.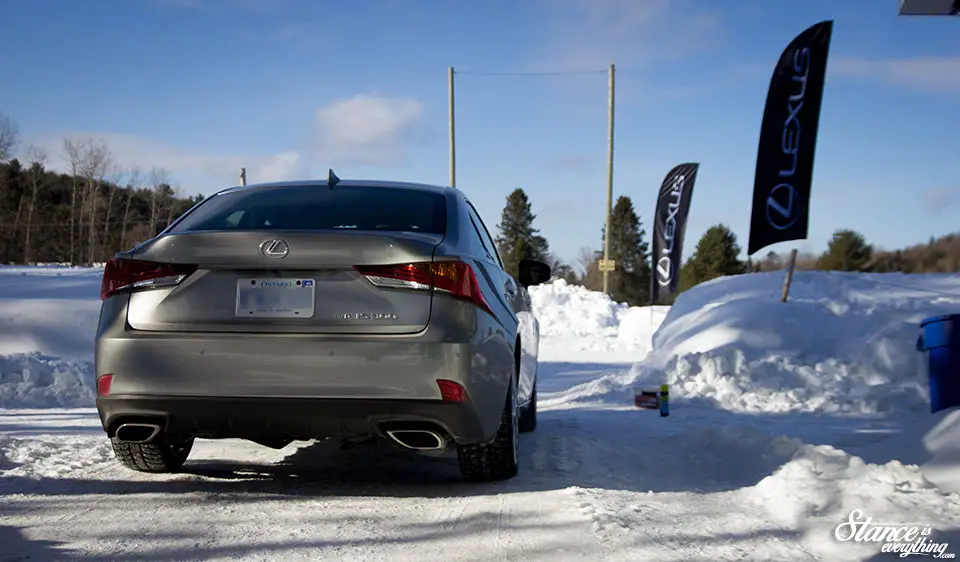 The final lesson of the day took place on the actually ice course which is normally home to vehicles like the Subaru and Hyundai below.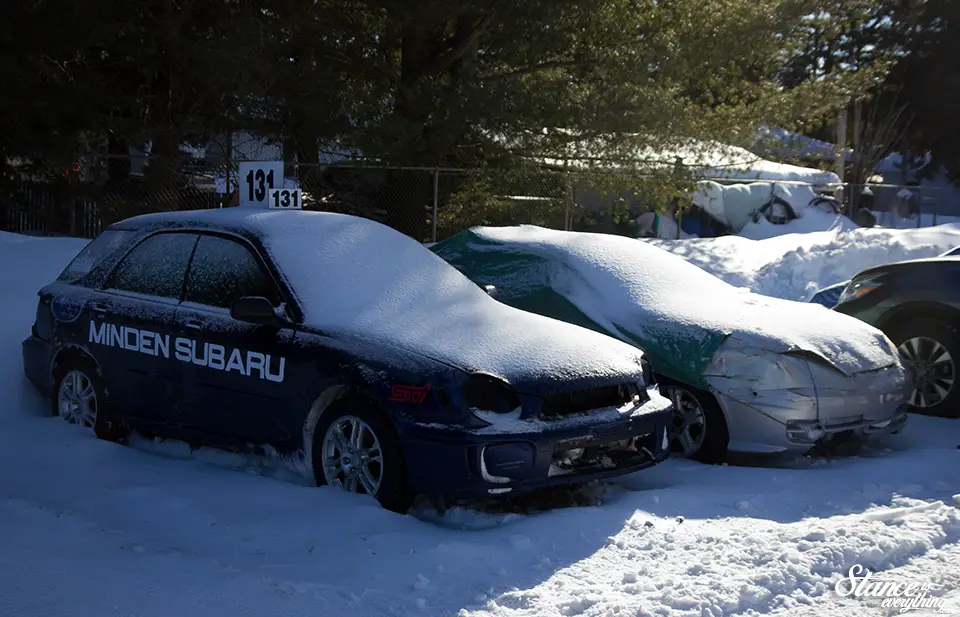 The track, which is designed to be fast and challenging has a variety of short straight-aways and turns that allowed us students to get going fast enough to use what we had learned, but not so fast that we could put ourselves or our cars in too much danger.
My first introduction to the fun to drive course was actually from the rear passenger seat of the IS.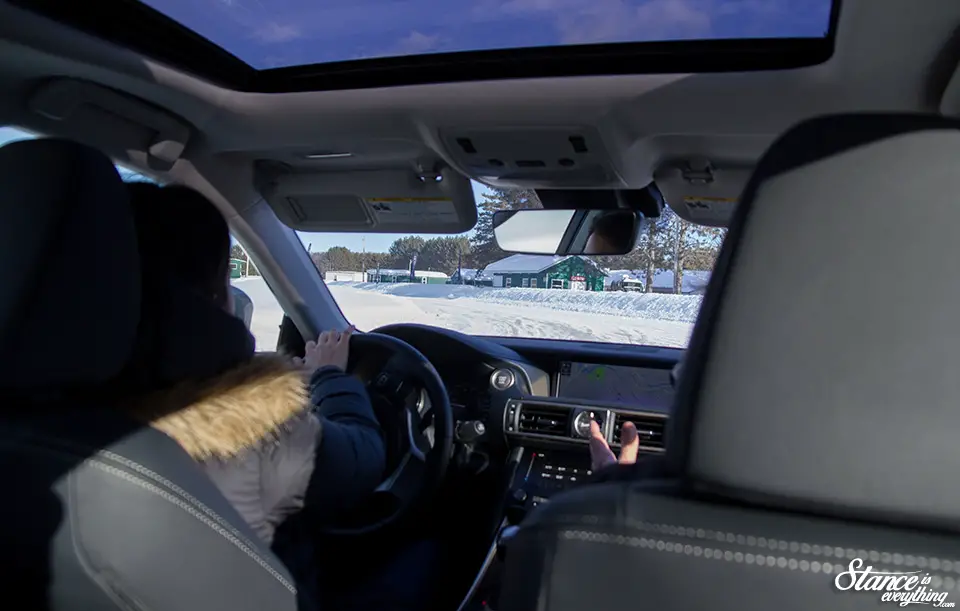 At this point in the day Marian (@m_k_1115), a Lexus employee from Japan, actually took me for the first few laps –with an instructor at her side of course– as we traded on and off with the IS.
She did very well on the track and wasn't afraid to push things a bit, which made me feel comfortable doing the same when she was riding in the back.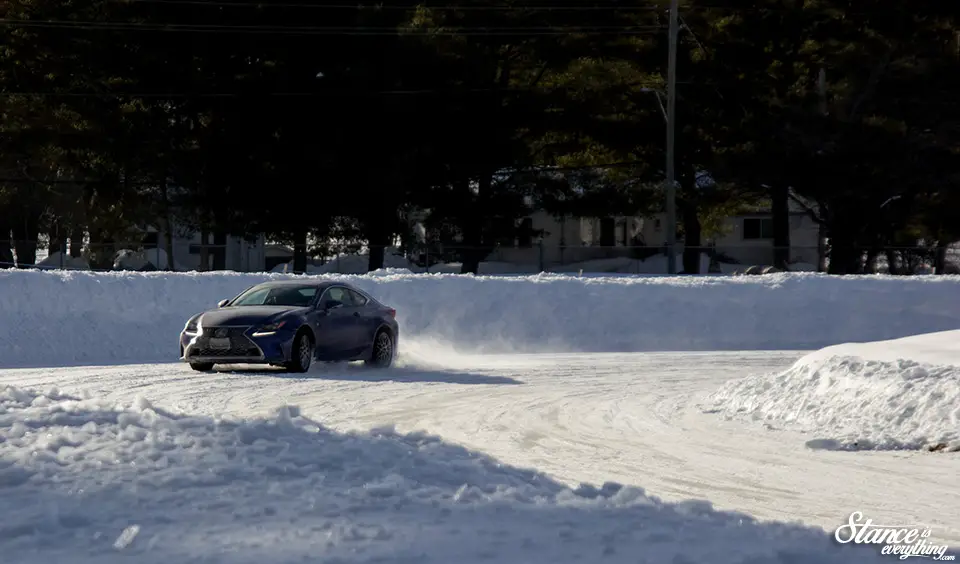 To make sure nothing got too hairy only two cars were allowed on the track at the time which gave me the opportunity to hop out and take a few photos between sessions. It was however 13 degrees (around -21 with the windchill) below zero so I didn't stay out too long.
After Marian and I traded six laps each the day was done and we were set on our way to employ what we learned throughout the winter, which I was actually able to do a few days later when we were treated to a healthy dumping of fresh snow.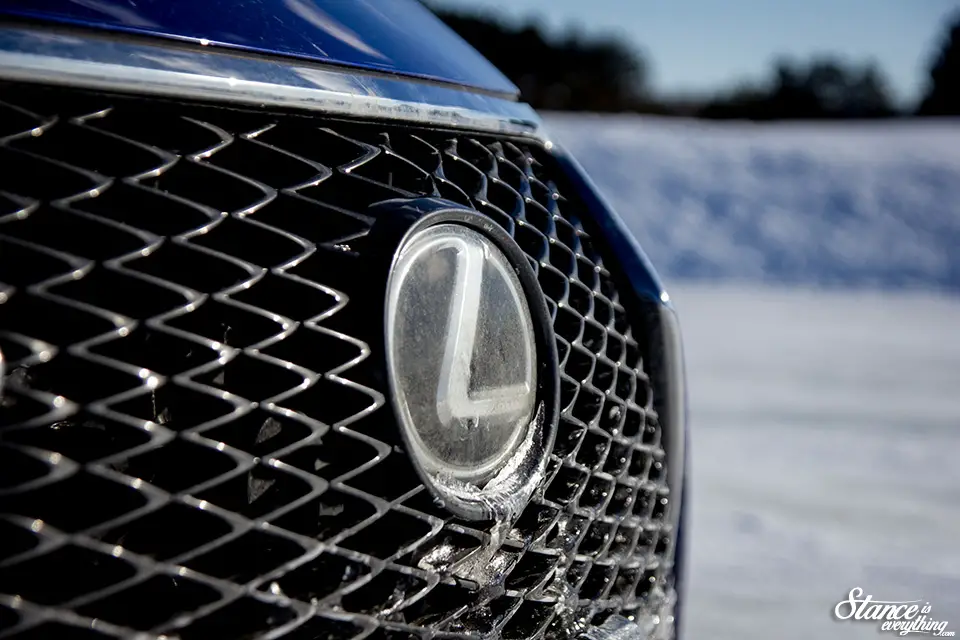 Overall my experience at the High Performance Driving Program was incredibly positive and I'd recommend it to any Lexus owner looking to become more comfortable behind the wheel of their vehicle.
Thanks Lexus Canada for the invite and if the powers that be are listening I wouldn't mind checking out the summer course!