From the outside looking in the 2017 SEMA Show looks absolutely phenomenal. There are so many awesome builds at the Las Vegas Convention Center that –in addition to the available seminars, workshops, and demo track action– it is quite literally automotive overload for everyone in attendance.
Automotive attention deficit order is certainly very real at SEMA.
But don't just take my word for it. Take a look at the two vehicles above. How much further apart from each other could they be?
The 'Baller Hauler' as been the subject of several features of late, but I'd imagine that only a select few of you are familiar with 'Donkmaster'.
This Caprice isn't just large wheels and stereo, under the hood is a turbo LS that puts down 1500 horsepower.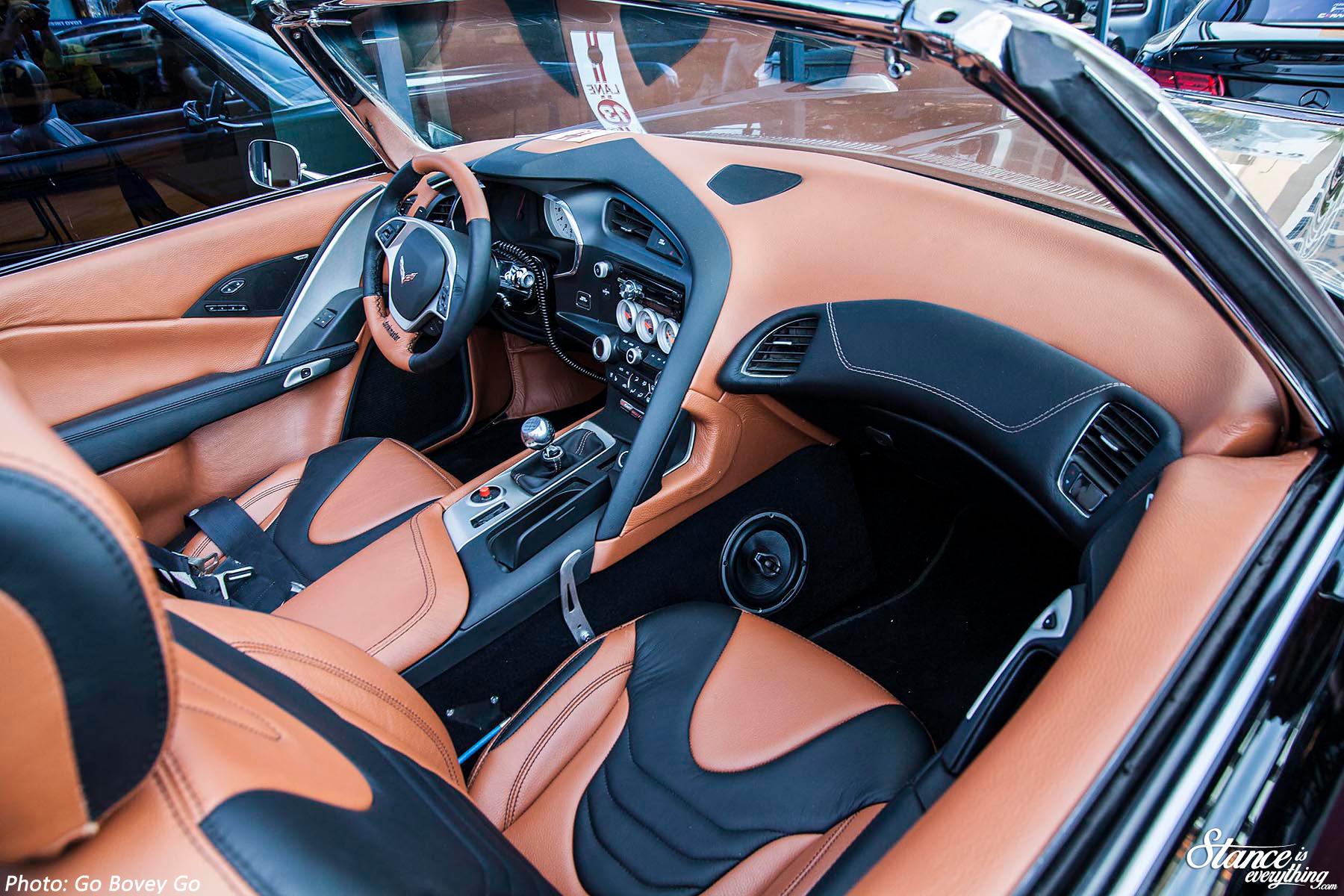 Inside, the Corvette theme continues with the expertly retro fit 'vette interior. The owner of this car isn't afraid to put the car to task either.
On Instagram he's called out a few Vegas locals (among others) so we'll see what happens before he leaves.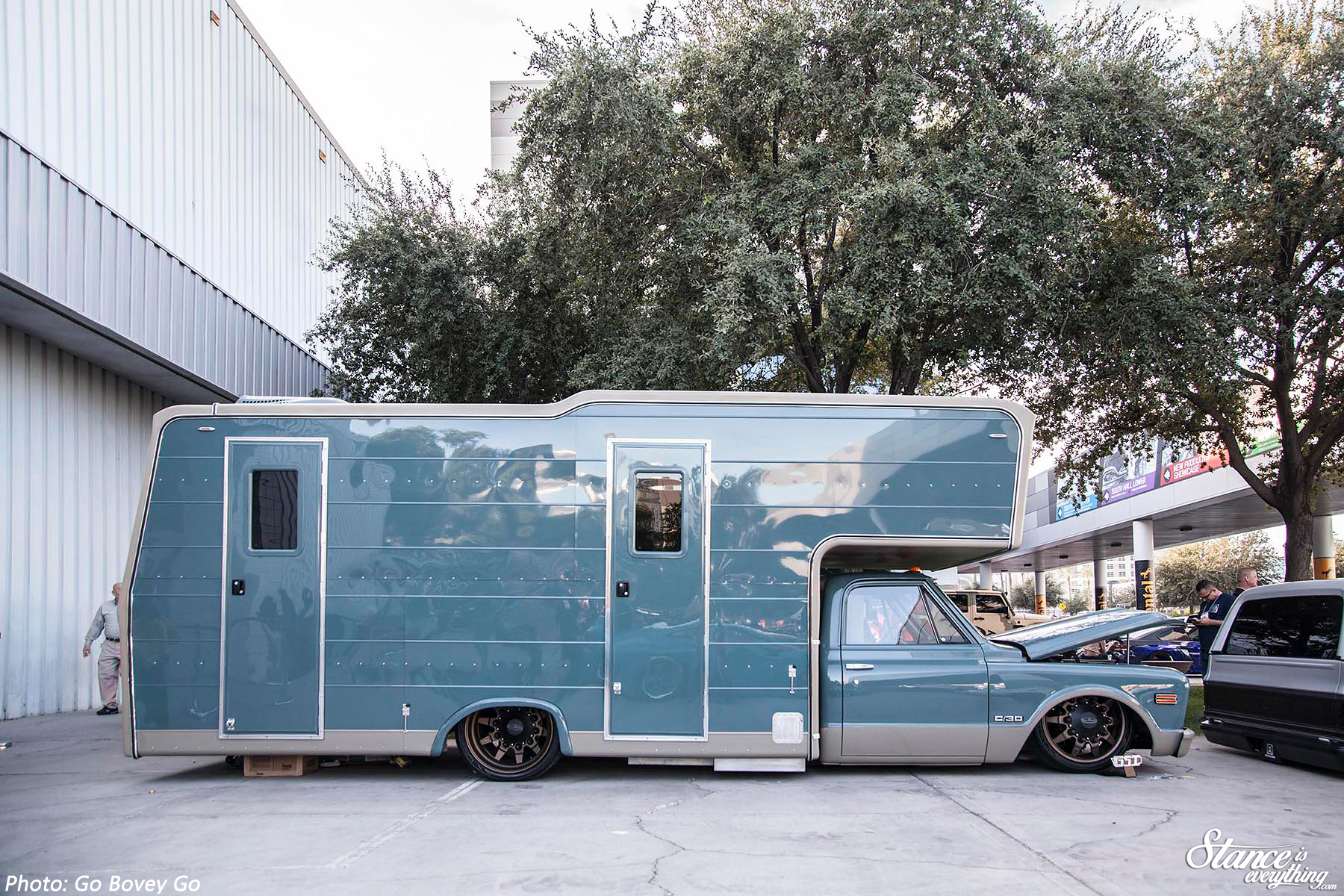 Flipping back to haulers –this time of the people moving variety– this C30 camper is straight up ridiculous. @rivercityrodsia is the master mind behind this truck which was basically rebuilt from the ground up.
The motor is a back dated LS (Delmo Speed LS1) and the custom chassis is fit with Accuair management.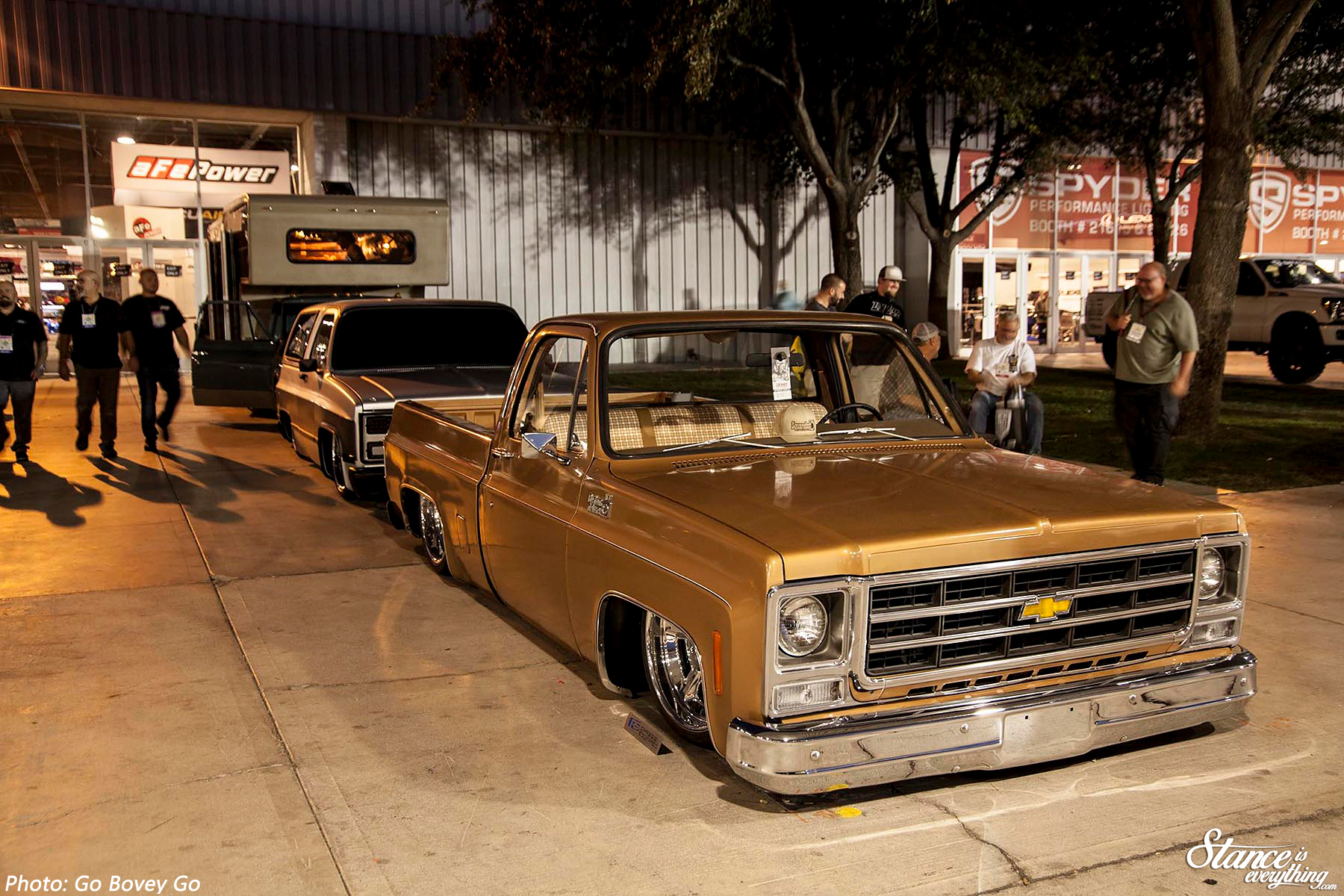 If the camper is a bit much for you, Sam Castronova's C10 is probably more up your alley.
It's an oem plus style approach to a later model c10.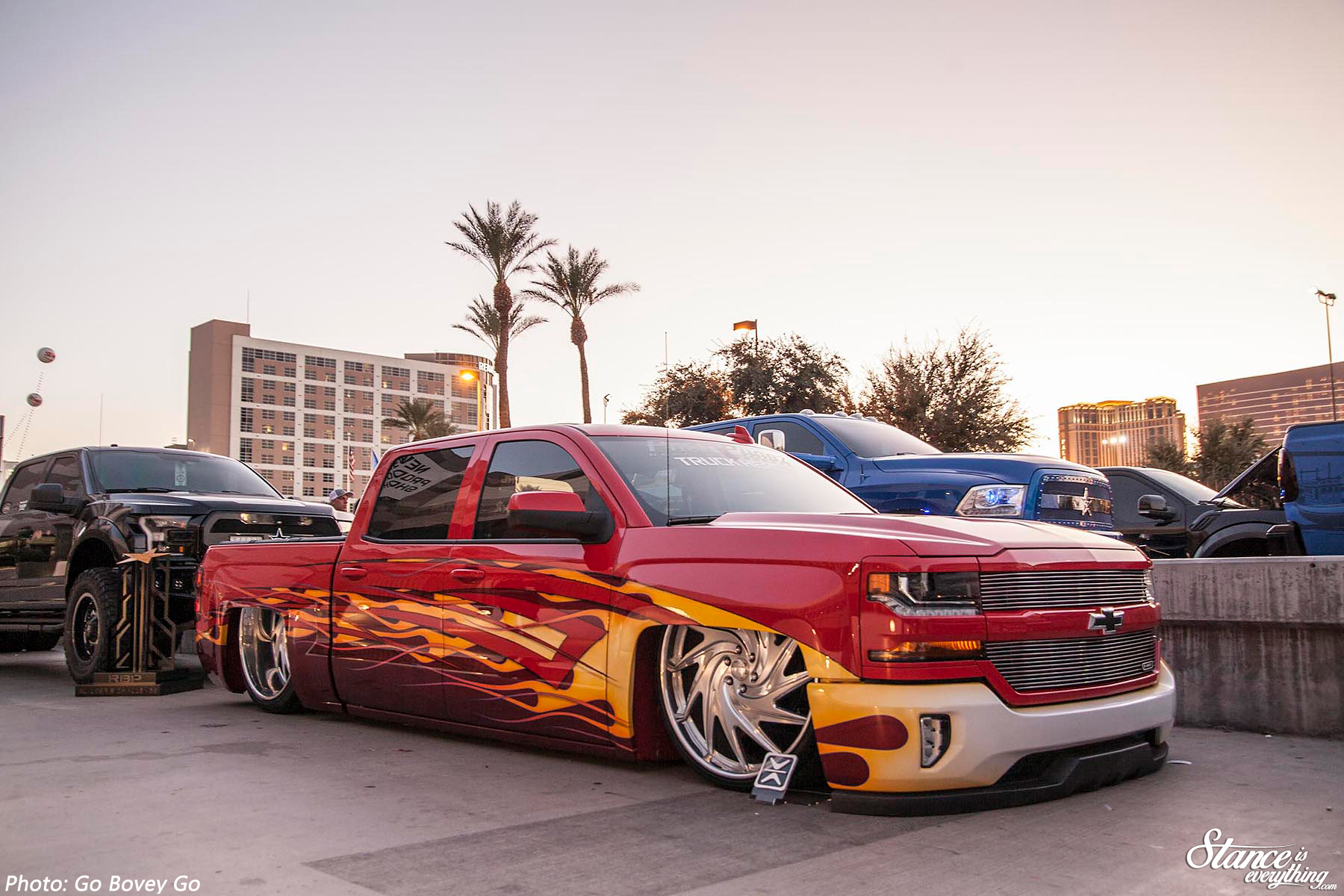 For those interested in a more traditional mini truck aesthetic to their slammed trucks, how about this bodied 2018 Silverado?
It takes a special kind of shop to take essentially a brand new truck and cut it to bits to lay it out like this.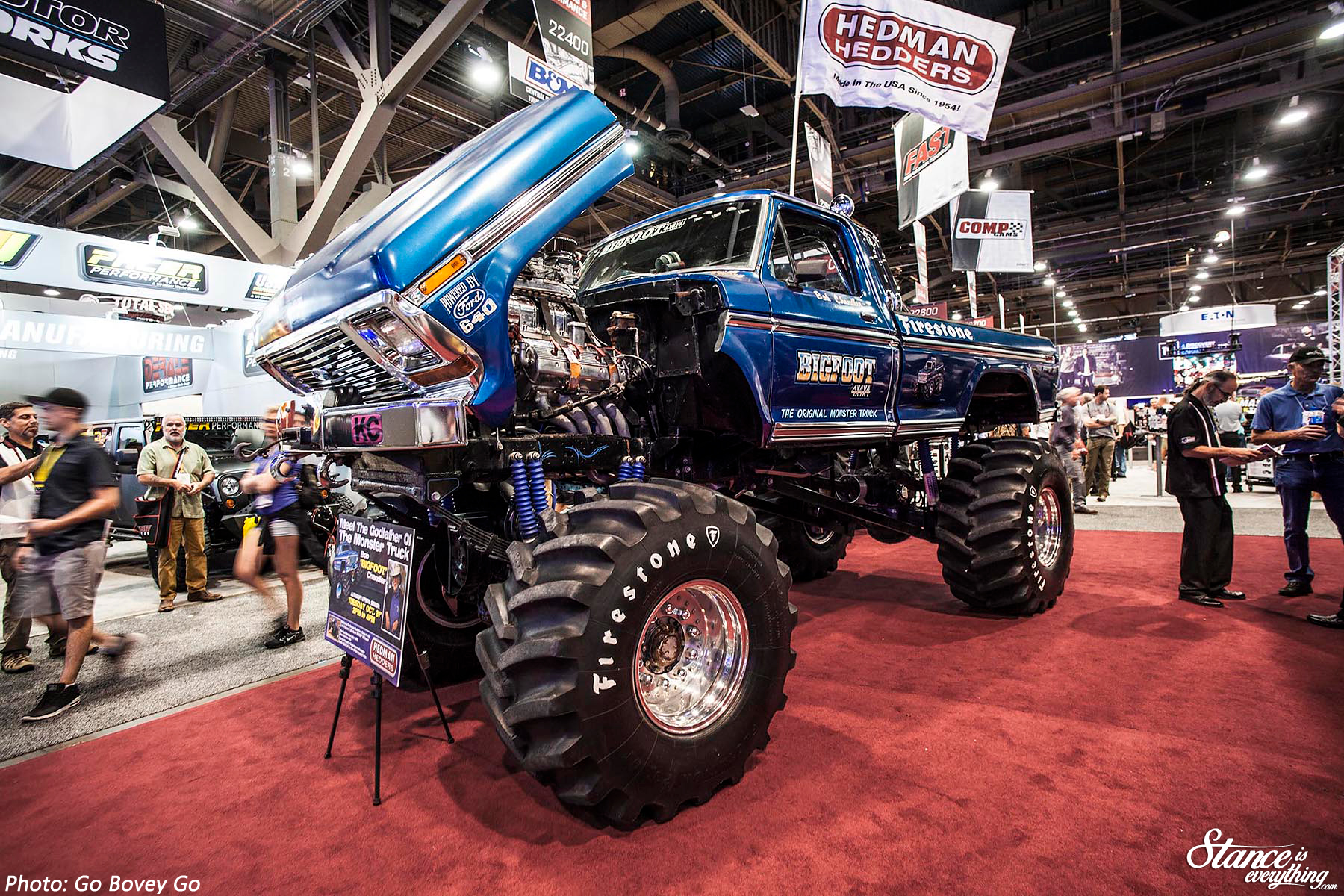 Going, quite literally in the opposite direction, inside the show, sits the original monster truck; Bigfoot.
The roots of monster trucking traces right back to this Ford, the one that started it all.
Looking used, but not neglected, it's great to see this truck presented at the show to a crowd of enthusiasts who can all remember the first time they saw a monster truck.
Axalta paint systems had Rob Ida's latest build in their display. All of Rob Ida's builds are phenomenal in their craftsmanship and this car is no different.
It looks like a resto mod, but the car is actually entirely hand-built. None of the sheet metal is original Tucker.
It rides on a modern chassis, and sitting mid ship is a 500 horse power twin turbo power plant.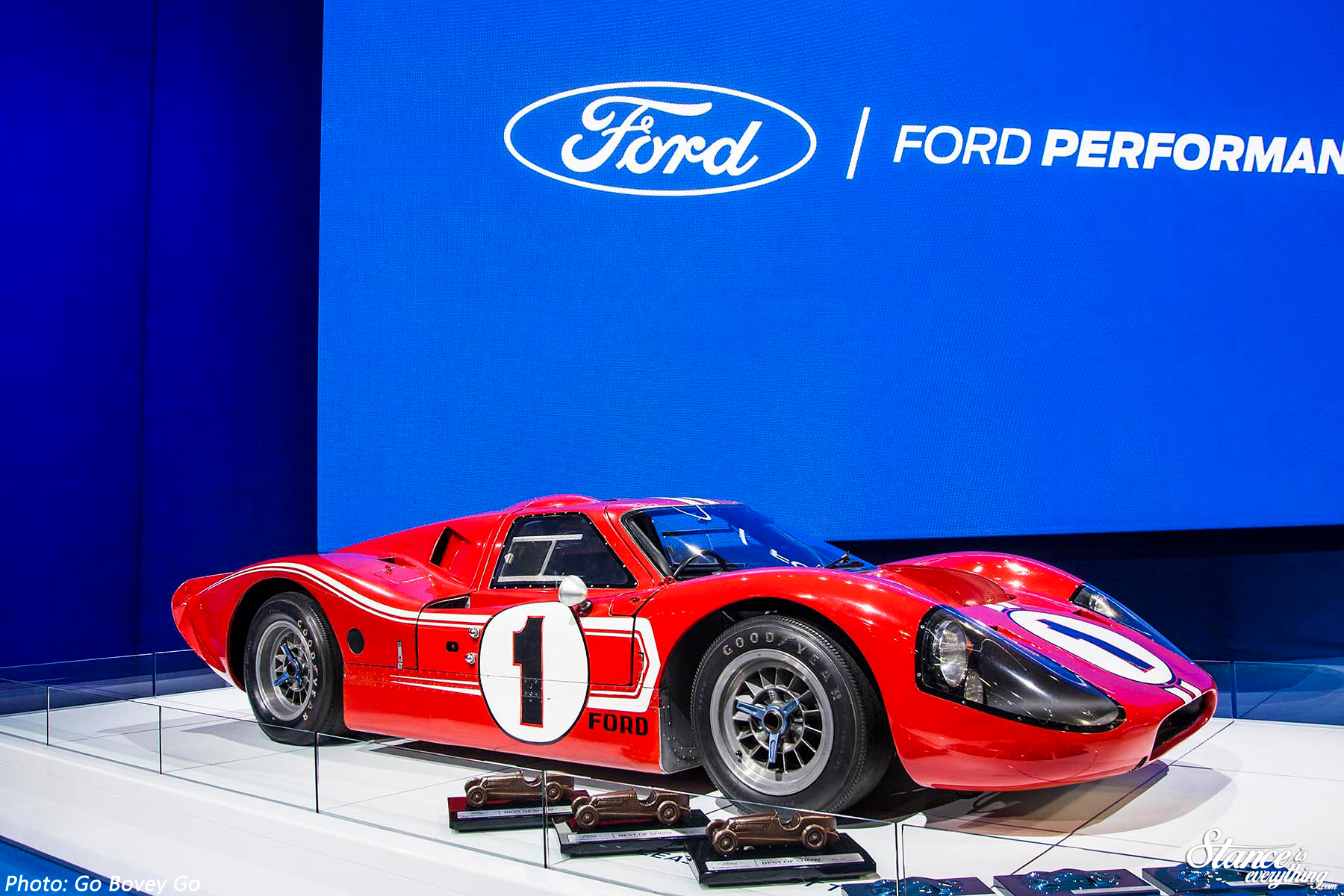 Of the OEM's Ford typically has the one of the best displays at SEMA.
It's usually a line up of many of the best modified examples of their current offerings, along side some classic race cars of serious pedigree.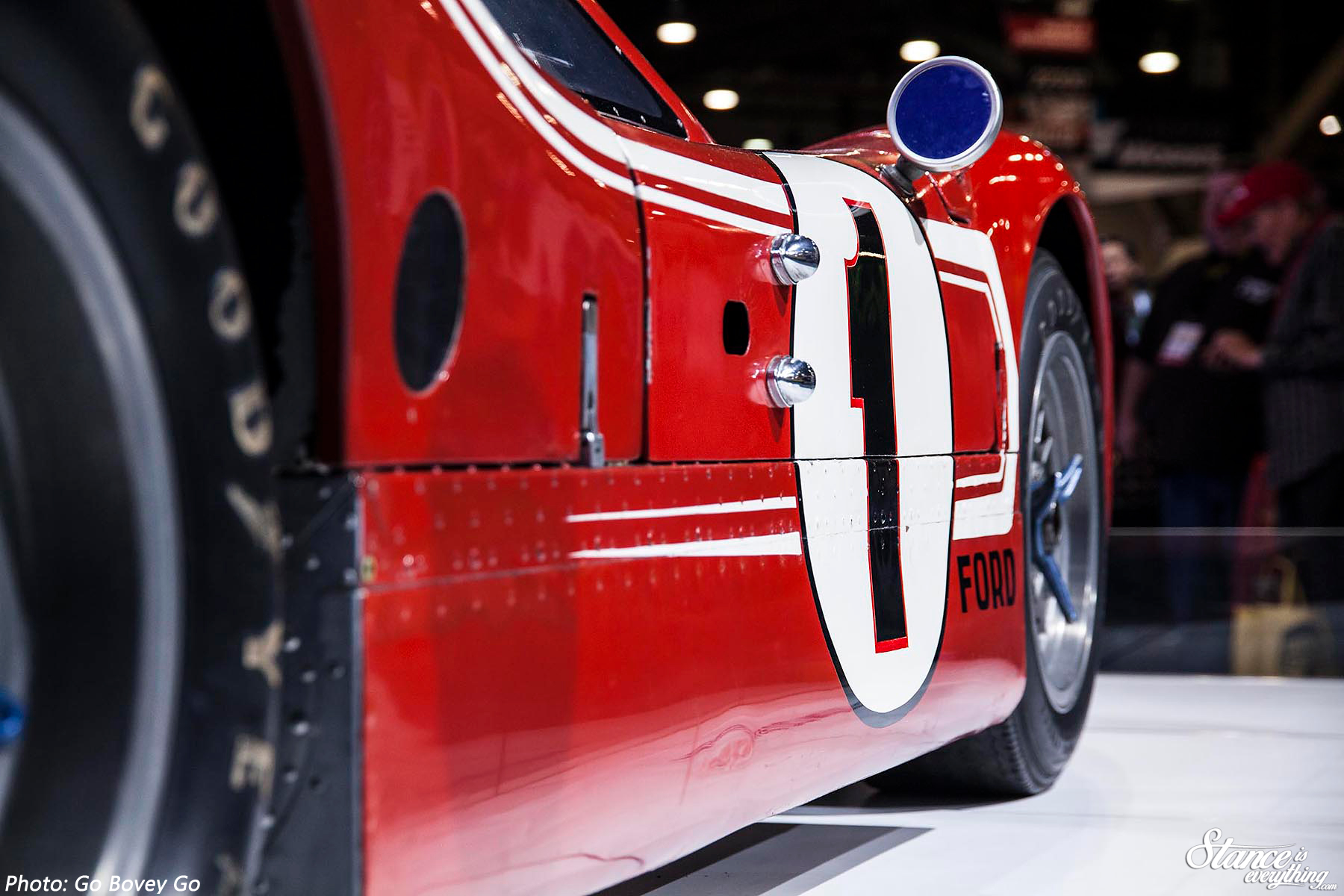 Racing enthusiasts and racers alike, like Mark Bovey (@goboveygo) who took all of the photos in this post, clamored over the car for a closer look.
It's not every day you get to be up close and personal with a vintage GT40.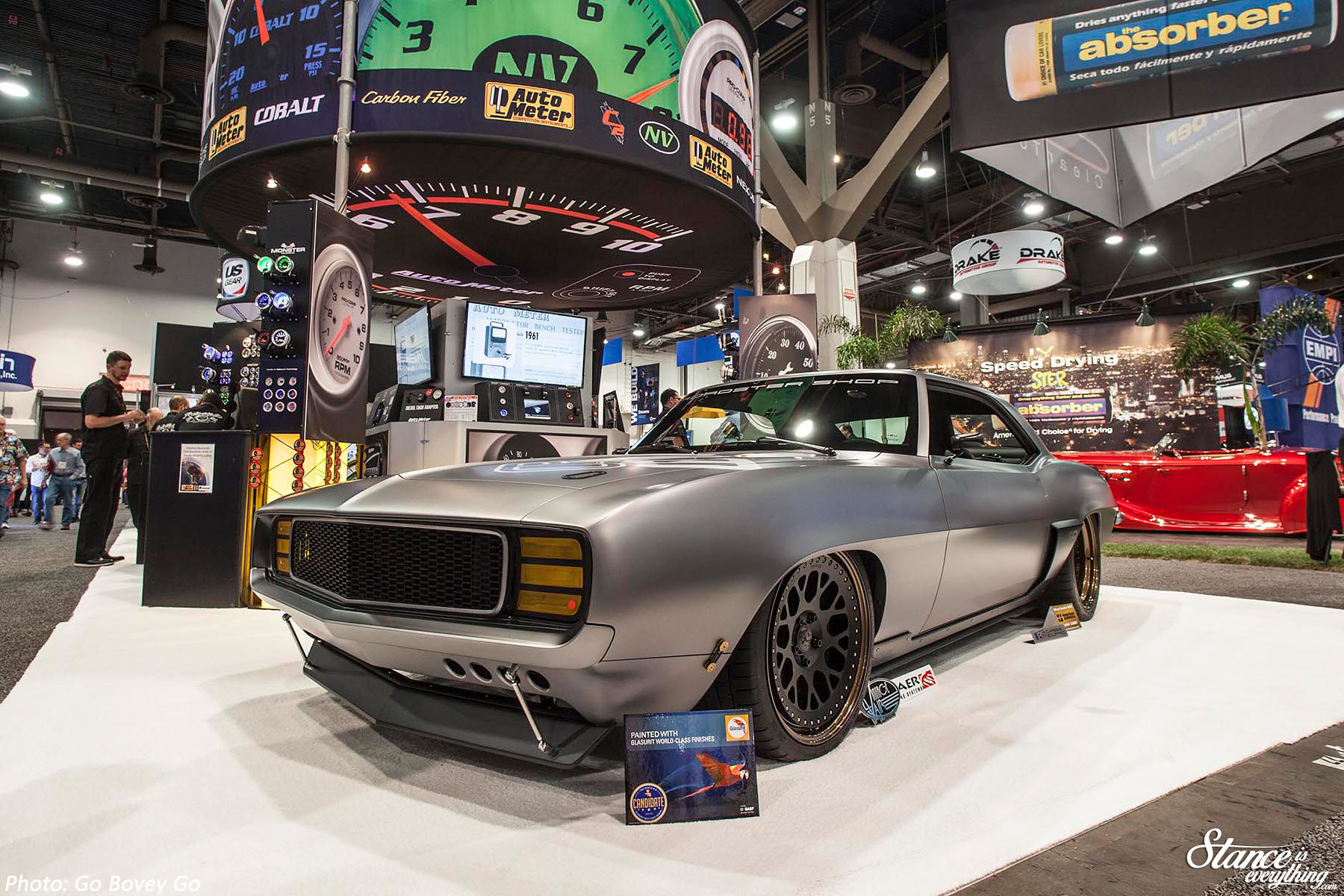 When it comes to pro touring builds The Roadster Shop really needs no introduction, they are some of the best to ever do it.
They brought several builds to SEMA 2017 but this one, Axis, is certainly one of the meanest.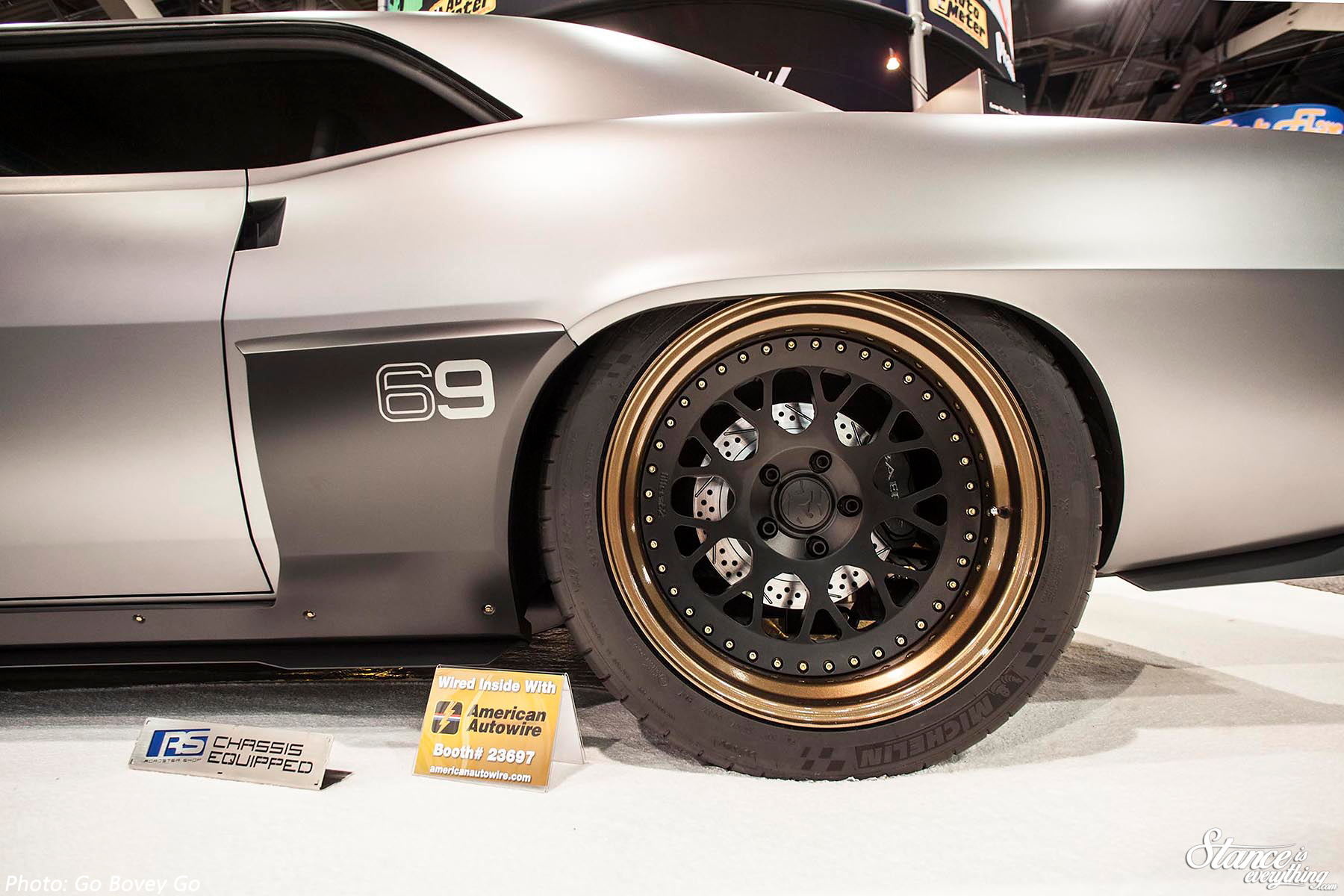 Baer brakes, Fifiteen 52 wheels, one of their own chassis, and crate LT4, can a car be perfect? Because this just might be.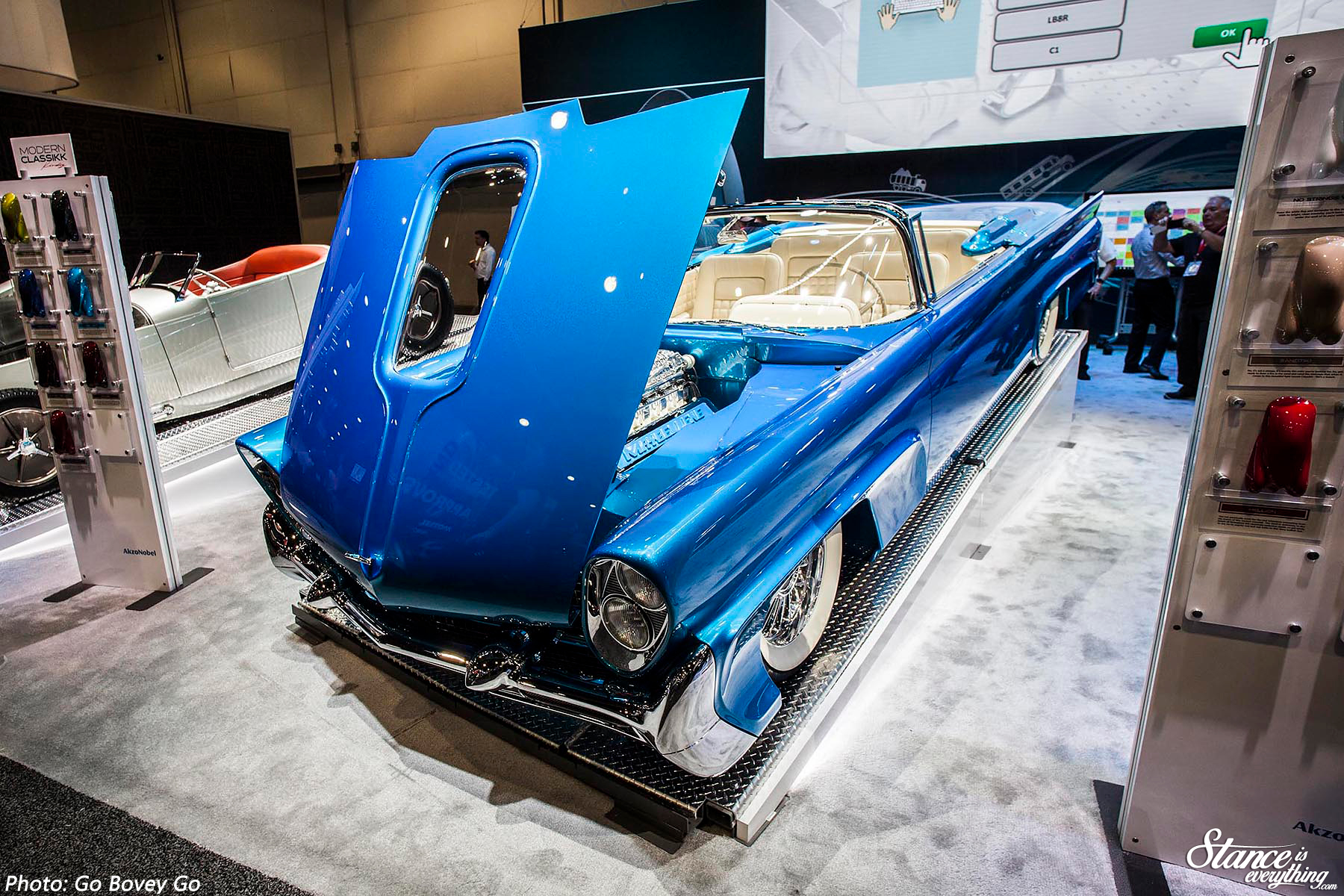 It's hard to mention perfection at SEMA and not throw to this Lincoln Continental. This car is the latest masterpiece to roll out of Dave Kindig's famous shop.
If you've never looked at Kindig It Design work I suggest you go to their website right now and take a look.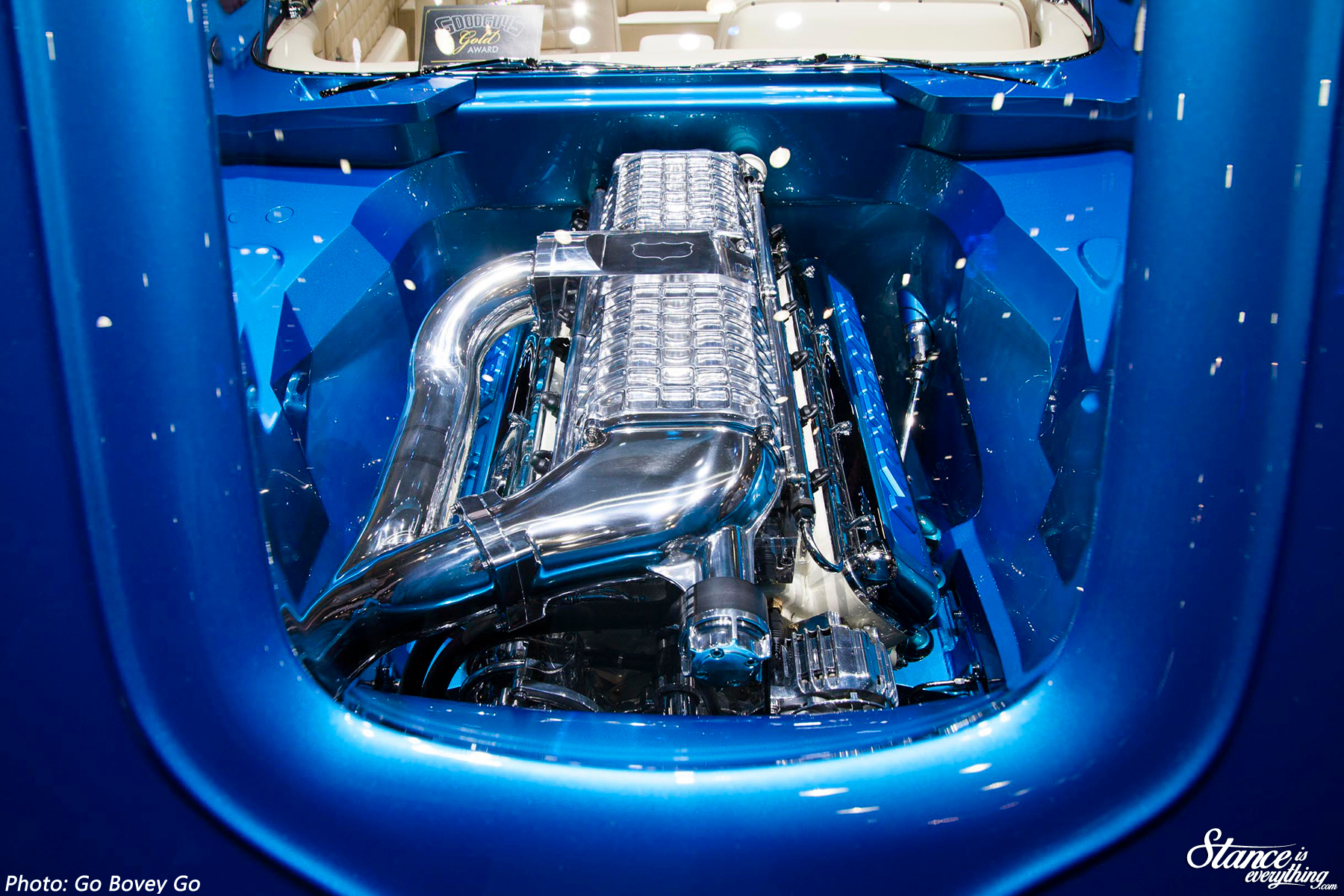 Back? Ok good, now that you're up to speed you can understand why this engine bay looks so good.
When it comes to engine porn it doesn't get much more explicit than a Magnuson supercharged v12.
Especially when said v12 is surrounded by meticulous metal work sprayed to perfection.
Rolling into its second to last day there's still plenty more to come from Sema 2017 thanks to both Rob McJannett and Mark Bovey.
Check back tomorrow for even more SEMA 2017 coverage!