Putting on a car show in Ontario is a bit of a thankless job. Maybe that is true everywhere, but it's especially true in Ontario. No matter what you do you are not going to please everyone.
All that planning you put in before hand to make things seamless is just going to open the window for someone to nitpick elements outside of your control.
Food prices, parking, the color of lighting in the venue the list goes on.
That's why I have a lot of respect for those who put on shows year after year. You need to have thick skin to go into something knowing people are going to turn mole hills  into mole mountains.
As difficult as putting on a car show is, putting on the first one of the season must be doubly difficult.
Spectators and participants want to see quality, and fresh builds, but there are only so many ready to go before spring.
Spring Fever did a pretty good job overall of bringing out vehicles people wanted to see.
Sure, a few cars that made it in the show that were of "parking lot" quality, but if any of you remember how barren the halls of Megaspeed were I'm not sure the alternative is better.
So, being the first show of the year what was there to see?
Well, Swift, Noktournal, Team Mayazn and Next Level Car Clubs all brought heavy hitters from their roster. Add in a few cars rocking no club banner and you end up with just over a hall and half of show entrants.
Some were ready to go, and a few were under construction to some degree but still presentable.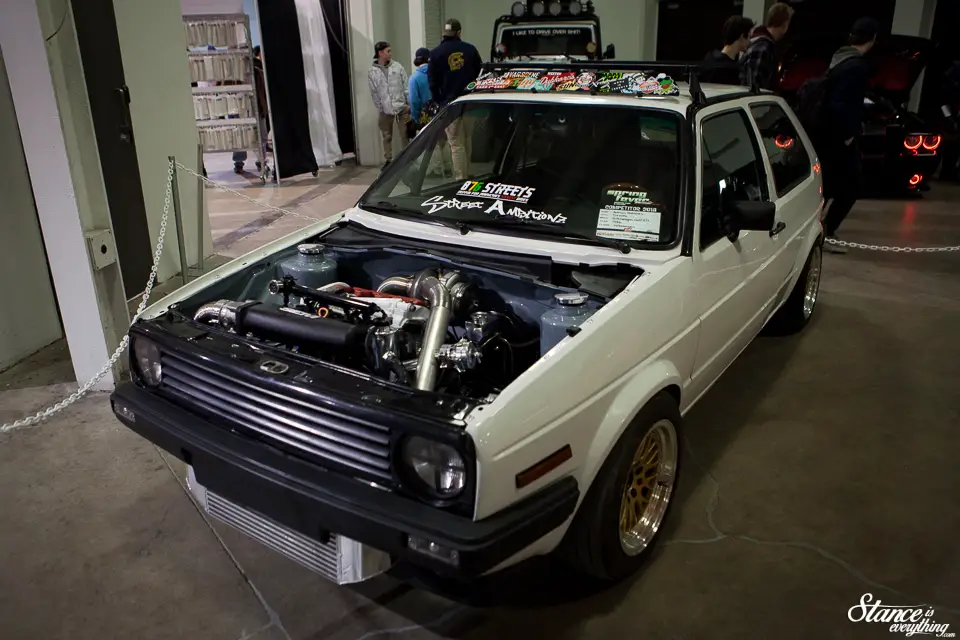 This swapped turbo Jetta was one of the under construction vehicles. All the titanium charge piping was tacked into place but final welding was still to be completed.
However all the bones are there and this is going to be one hell of a car complete.
One car that wasn't under construction this year was the Dynamotorsports Celica. I've taken nearly every possible photograph of this engine bay, but never one through the hood simply because there never was one.
Now the car runs and moves under its own power and it has a valid sticker. Will we see this beast on the streets soon? I sure hope so!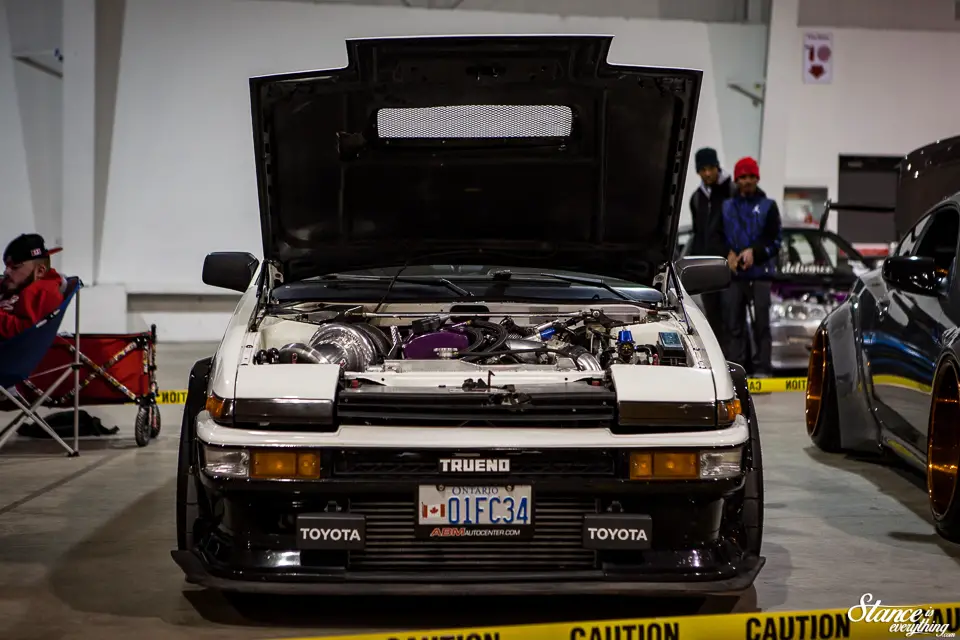 The Next Level/Dynamotorsports connection at Motorama continued with two more high horsepower street cars.
If you're a long time reader of this site this F20 swapped AE86 should look fairly familiar.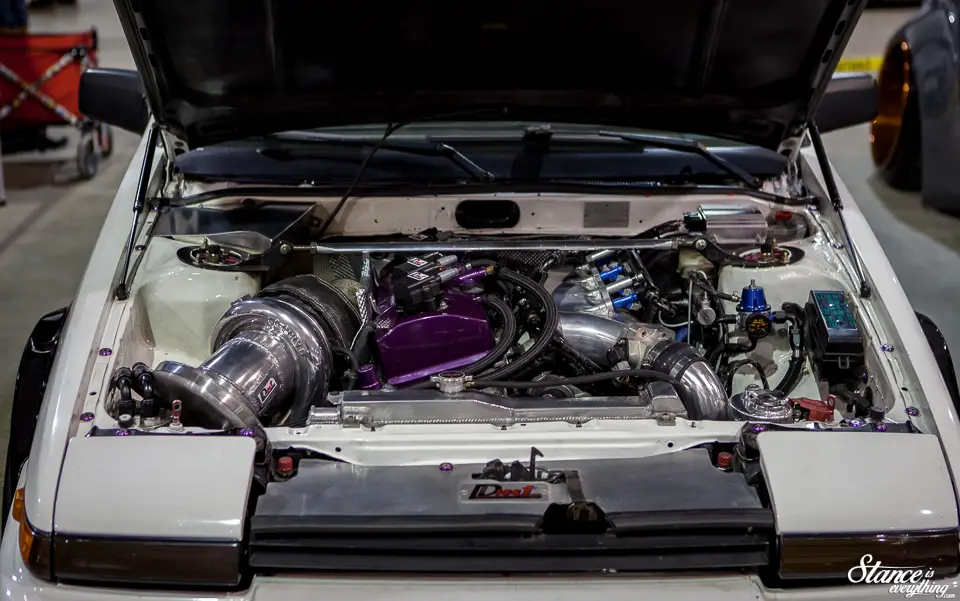 If not here's a closer look, and that baby eater turbo, along with a healthy amount of tuning from Dynmotorsports equals a dyno proven 1000+ horse power AE86.
No joke.
Also over 1000 horse, and tuned by the same magacian is this R32. The tail end of this car is likely what a lot of people see.
I don't know the numbers, but I think there were actually more performance minded vehicles in the Spring Fever hall this year than any year prior.
It seemed like everywhere I looked there was a cleaned up bay, with a hot turbo four-cylinder sitting under the hood. And believe me, I wasn't mad about it.
It's the mix of style and performance that keeps people interested in shows like this.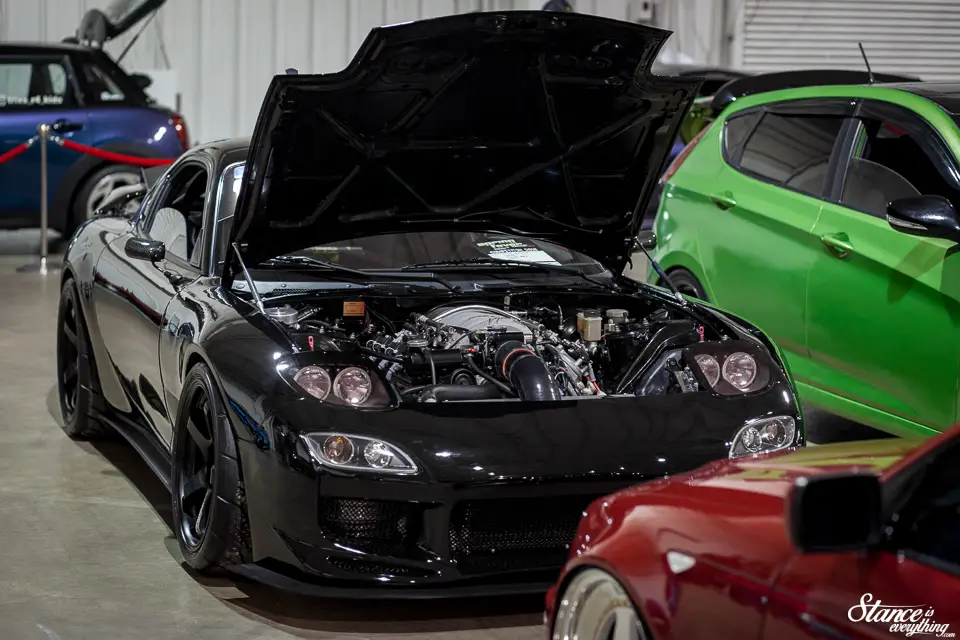 This RX-7 was equal parts style and performance.
I absolutely loved the car, from the black on black look, purposeful fitment and subtle wide body.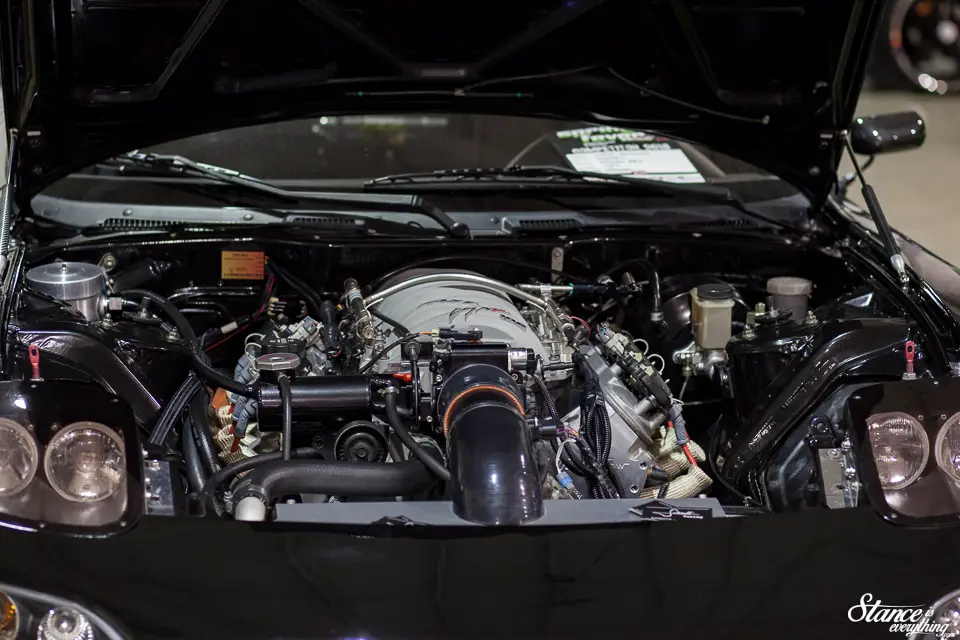 Obviously I had no issues with the power plant choice either.
Rotary fans don't get too upset, the owner had a rotary in this car for over 15 years before deciding to do something a little different.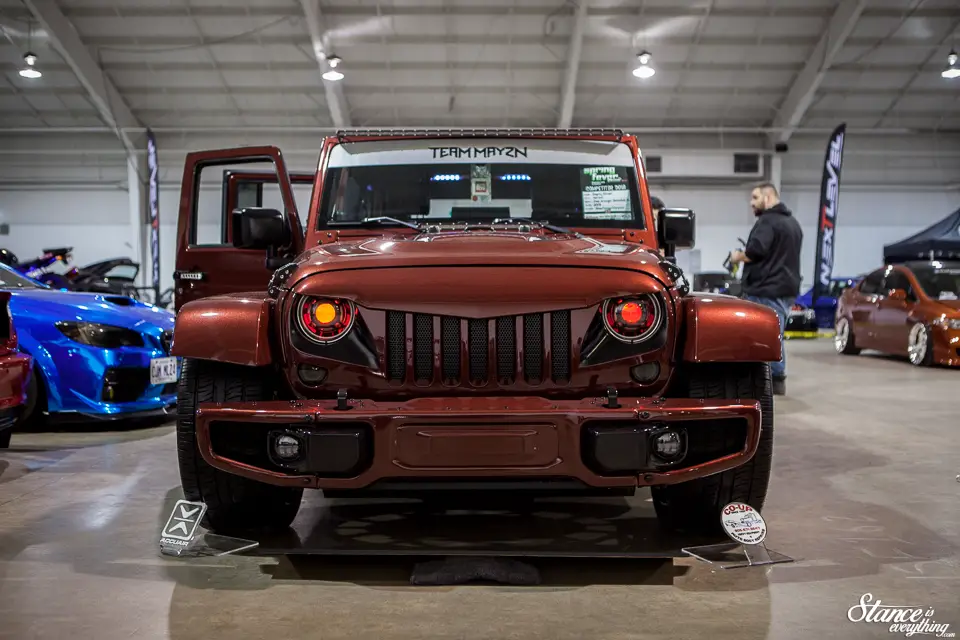 If there was any one vehicle at the show that was upsetting people, or at least splitting opinions, it was the Team Mayzn Jeep Wrangler JK.
This Jeep has been on air for probably the past four years but this winter they put a signficant amount of work in to get this jeep down.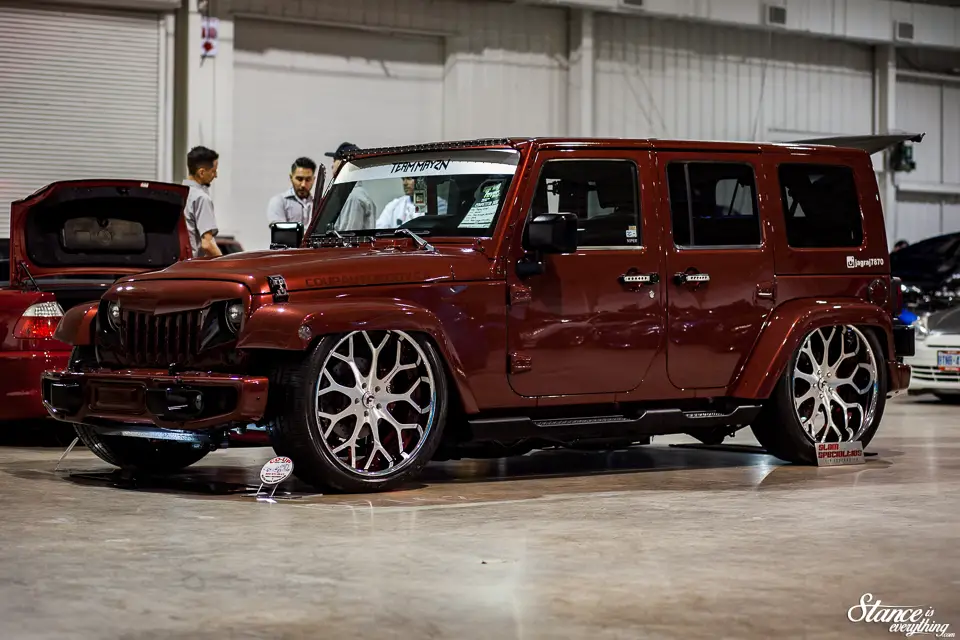 It's currently tucking 26s and tire and if there were small wheels on it I imagine it would lay frame.  Or at least come pretty close.
The fit, finish and detail on this jeep is top-notch and there are a plethora of modifications (like rear suicide doors) that only die-hard Jeep fans would pick up on.
The truck took home a truly deserving best of show. Haters be damned.
Confused by what you're looking at above? Well don't feel ashamed, I was too. It's an all metal wide-body Nissan Sentra done up in a modern VIP style.
The owner of the car and I had a good long chat about it and I was surprised to learn that this is his first build of this caliber.
This car came straight out of left field and had people talking all weekend.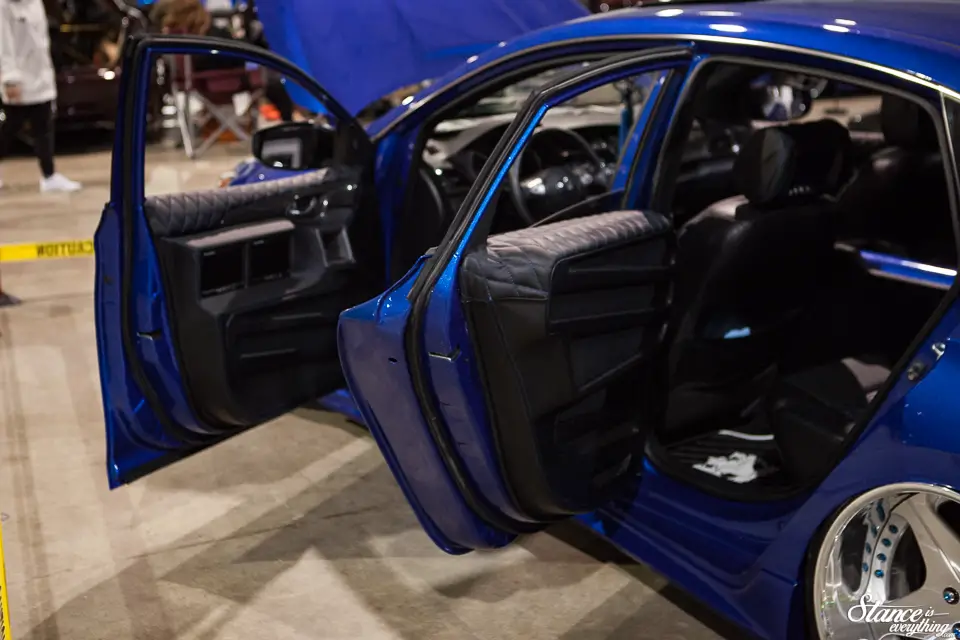 It's absolutely packed with audio too which is something you don't see too often anymore.
All that in car entertainment is put into a custom diamond stitched interior. Aside from engine mods (of which there might be few for a Sentra) this car is a full pull.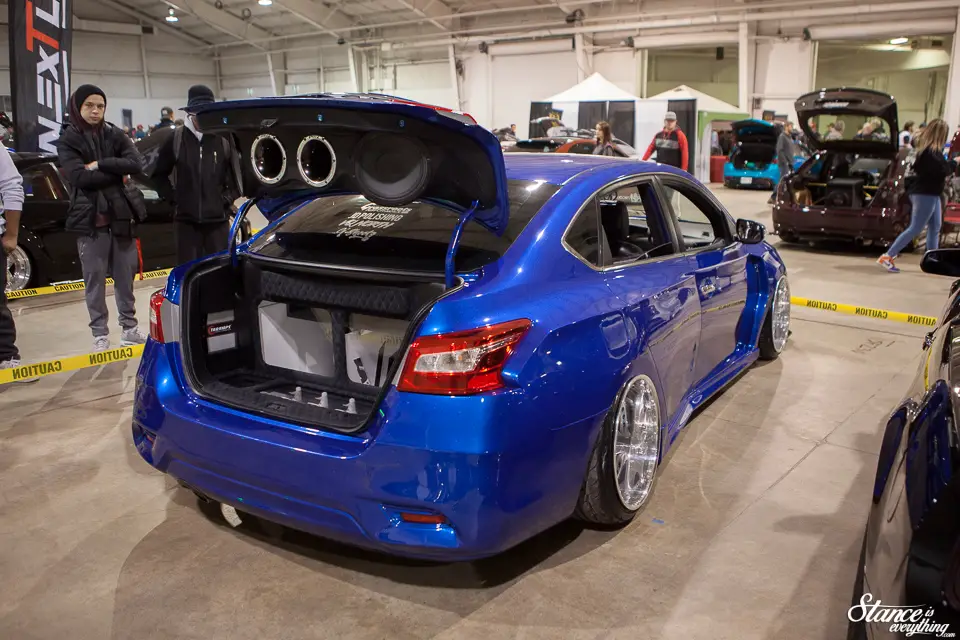 It's still early in the year and depending on where you're at there might still be snow but good weather is ahead. If Motorama/Spring Fever are any indication of what's to come 2018 it should be a good year.
That's it for this one see you on the next. Pat your local event organizer on the back on your way out.