Just the other day @gebyz hit me up with this picture on twitter. After taking a look at it I quickly remembered that I had actually posted a picture of his car before, an RX-7 as sick as this is not easy to forget.
Geby, who hails from the same area of BC as the Drift Union guys, has done a great job putting together one serious looking and performing RX-7.
Upon first glance it's easy to see that this car has got it's stance on point.
The height of this RX-7 is care of Tien Type Flex coil overs (with EDFC) but it's on rails, corner eating handling is a combination of the aforementioned pieces along with Racing Beat front and rear sway bars (with accompanying Re-Amemiya Sway Bar mounts), Re-Amemiya reinforcement bars and R1 Front strut bar.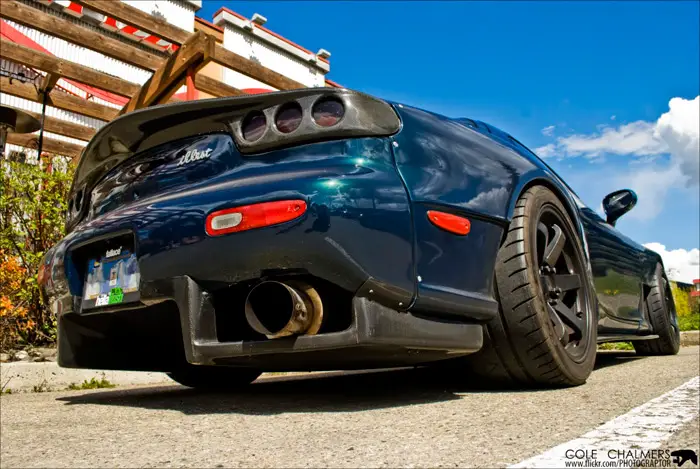 The 25mm Shine Auto Feed Replica over fenders are filled to capacity with 18×9.5 (et +12 and +0) Rota Grids with 245/40's up front and big ol 275/35's out back.
The result is an aggressive looking 'functional flush' stance that allows the rest of Geby's mods to be used to their full capacity, as every aspect of this car has been worked over in one way or another.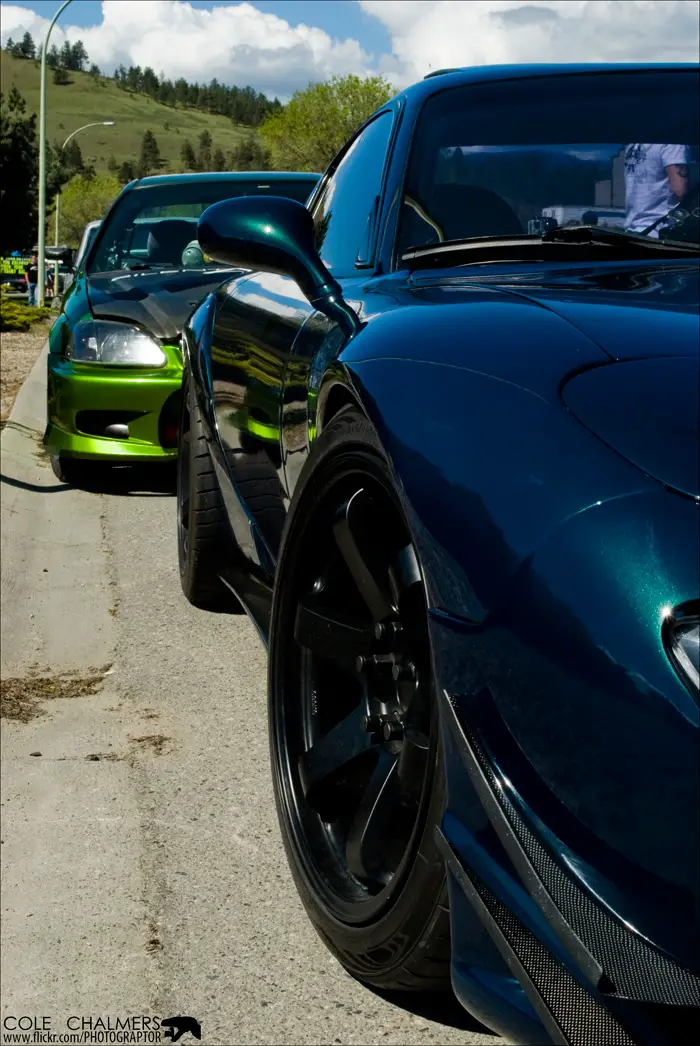 Some of the easier to notice mods on this car include the genuine Fujita Engineering AFFLUX Front Bumper (Version 2 Type R) with attached Shine Auto Feed replica carbon fiber canards, canards which are just the beginning of his CF exterior parts which also include a Shine Auto Feed replica under tray, works replica rear carbon diffuser, and Re Amemiya CF Taillight covers.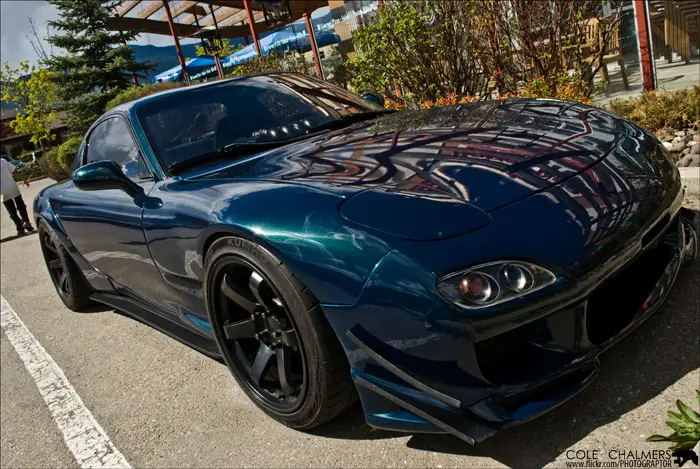 Some of the mods that can't be spotted by viewing the exterior include the entirely rebuilt 13B-REW, and updated and modified interior.
Geby's full mods list is below and I am going to let the pictures by Cole Chalmers do the rest of the talking.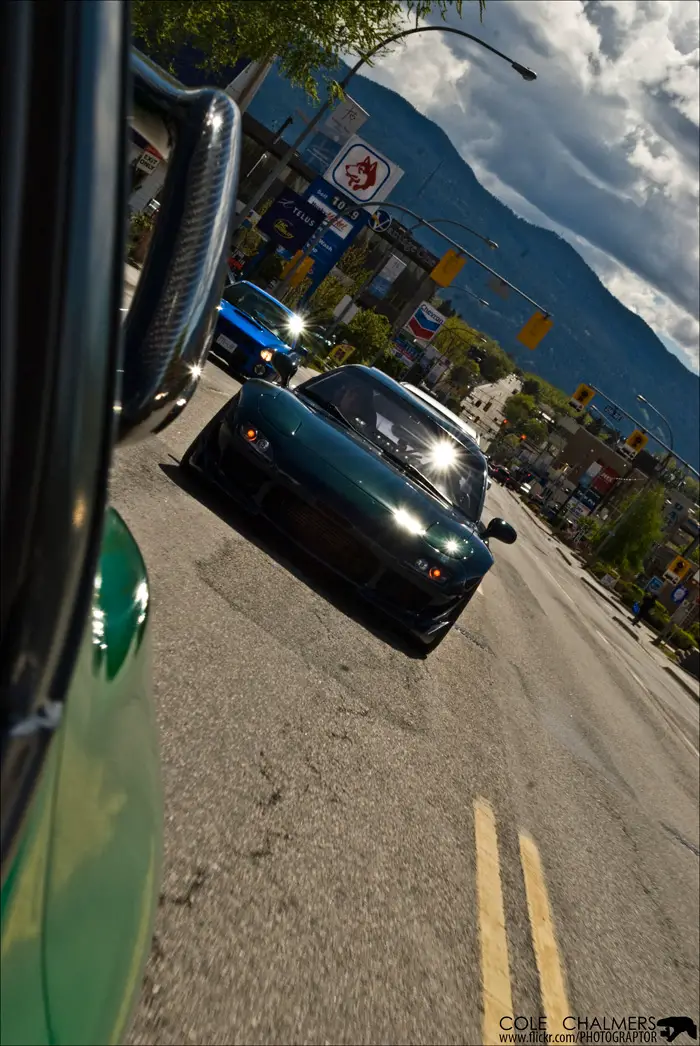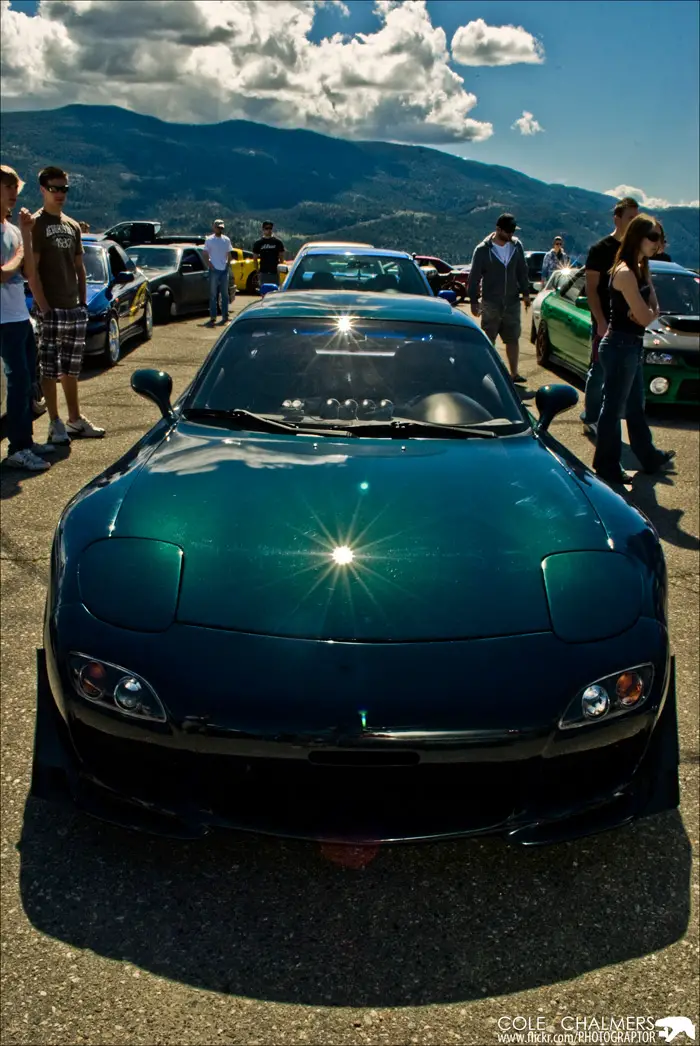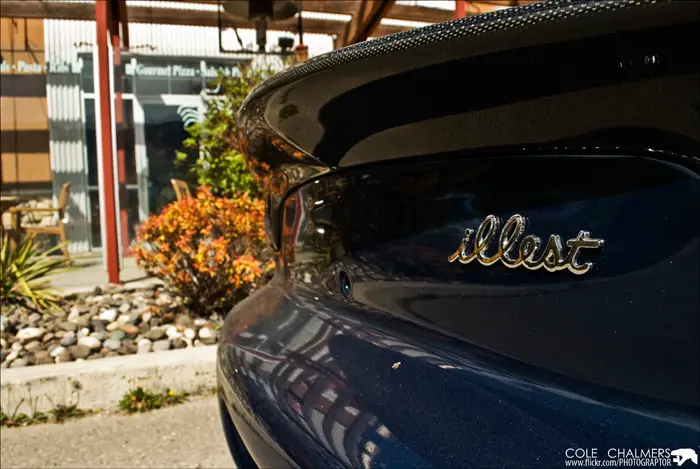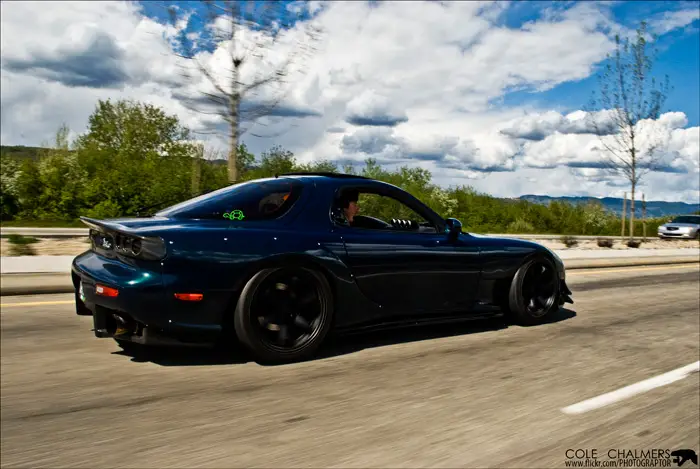 Performance:
Rebuilt 13B-REW – Extended Street Port
2MM Rotary Aviation Apex Seals
Blitz Sequential Boost Controller I-Color w/ Fuel Pressure Sensor
PLX DM-100 OLED Gauge w/ EGT and Wideband Sensors
Forcefed's Sekret Sauce Mega Turbo
Turbo Blanket
T4 SS Manifold
44MM Wastegate TIAL
50MM Blow-off Valve TIAL
HKS Twin Power Ignition and Harness
Megan Racing Midpipe
Racing Beat Resonator
Kaaz 2 Way L.S.D
Custom Charles7 Coil Pack Relocation W/ Upgraded MSD 8.5mm Wires.
Exedy Twin Plate Carbon Clutch
Fresh JDM 5spd Transmission
3′ RX-7 Store Downpipe
Apex'i N1 Exhaust
4' Thick – Trust/Greddy 3Row Intercooler W/ Greddy Compression Elbow
Fluidyne W/ Stock Electric Fans
Billion Silicone Coolant Hoses
AST Removal Mod
Feed 1.2 Bar Rad Cap.
KG Parts Primary Fuel Rail
KG Parts Secondary Fuel Rail
850cc Injectors x2 (Primary)
1680cc injectors x2 (Secondary)
Aeromotive FPR
Greddy Airpump Delete Pulley Set
Battery Relocated To Hatch
Greddy Oil Catch Can
2x Walboro 255lph Fuel Pumps
Microtech LT8s Standalone/Fuel Management
Custom Starburst Powder Coating.
Dual R1 Oil Coolers w/ SS Braided Lines
Suspension, Rims and Rubber:
Tien EDFC
Tien Type Flex Coilovers
Re-Amemiya SwayBar Mounts/Reinforcement Bar
Racing Beat Front Sway Bar
Racing Beat Rear Sway bar
R1 Front RX-7 Strut Bar
Hawk HP+ Pads Front and Rear
Custom Reinforced and Cryogenically treated PPF
Solid Polyurethane Engine Mounts
Attain Urethane Differential Bushings
Rota Grids:
FRONT: 18×9.5 +12
REAR: 18×9.5 +0
Kuhmo Ectsa XS
FRONT: 245/40/18
REAR: 275/35/18
Rays Duralunium Lug Nuts.
Interior:
JDM Trust/Grex/Greddy Shift Knob
RE-Amemiya Wet Carbon Scuff Plates
M2 Racing Roll/Harness Bar
Greddy Turbo Timer
Mostly all new 93 Interior Plastics
Fly RX-7 Custom Quad 60mm Gauge Pod
JDM Arm Rest
Defi BF Link Gauges (Amber): Boost, Water Temp, Oil Temp and Oil Pres.
Keys Racing Steering Wheel (Buckskin)
Pioneer Touchscreen DVD Player
Stock Bose Speakers and Sub
Exterior:
Genuine Fujita Engineering (FEED) AFFLUX Front Bumper Version 2 Type R
Shine Auto Feed Replica Front and Rear 25mm Overfenders
OEM 1999 Bumper Lights
Shine Auto Feed Replica Carbon Canards
Shine Auto Front Carbon Undertray
Shine Auto Feed Replica FRP Sideskirts
Re Amemiya CF Taillight Cover
10,000k McCulloch HID Driving Lights (Rice!)
Shine Auto Sanai works Replica Rear Carbon Diffuser
Feed Front and Rear Tow Hooks
Thanks Geby for sending in pics and lots of info about your ride.