Since posting Richard's ride Monday my mailbox has been buzzing more fine cars from Sweden, but before I get to those I have to spin it back a bit to a car that I actually saw for the first time in August.
Somehow the car ended up getting lost in the shuffle of event coverage until I was reminded of it yesterday.
Looking at the car once again I think I should be smacked for letting it slip because the owner Alexander has done quite a bit to this car to get it looking as nice as it does now.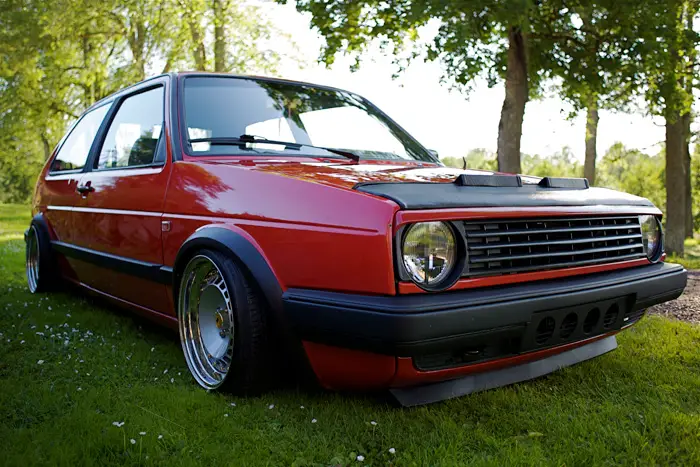 Like a lot of us the first thing Alexander did was slap on some lowering springs and call it a day.
Of course a few months later 40mm lower than stock on stock wheels seemed a little mundane so Ta-Technix coils cranked all the way down found their way under the car along with 14×9 O offset steel wheels that were shortly replaced with the current Schmidt TH Lines.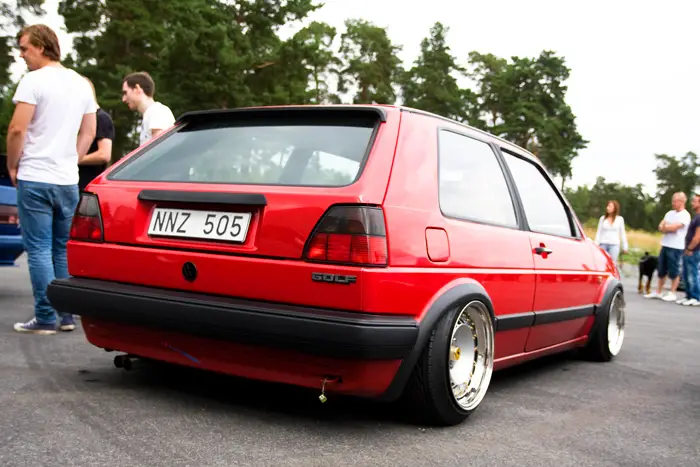 A few dozen cosmetic modifications on the inside and outside later (outlined below) Richards got a car that has taken best stance and best VW awards at shows in Sweden.
Thanks for sending your car in and Swedish stance fans more of your country folk is coming soon.
Alexander would also like to let fellow Swedes know that the Oijoij Society is the local forum for Swedish stance fans who want to keep track of events and swap ideas and parts.
Mods List
Wheels/Suspension
15″x8″ Schmidt th-line Et12 165/45-15
15×9.5″ Schmidt th-line Et18 195/45-15
Ta-Technix coilovers
Interior
Recaro Edition One (Complete with door panels)
Luisi steering wheel (year 1987)
Black interior part (grey original)
Exterior
Mk1 Cl-spoiler
Hella tinted taillights
Shaved front-bumper
Shaved tailgate
Handles replaced with rear handles without the locks
Strip without keybutton (on tailgate)
Gti-wing (On tailgate)
Gti-widener
Badgdeless grill
"Original" front lights with cross
Eyelid
Red side indicators
Single wiper
More Canadian content soon too.