I'm sure many of you have seen these photos already but I am going to post them here anyway because I am that pumped on the idea of a bagged, LS powered, s14 drift car.
While visiting the Air Lift factory back in March I had the opportunity to take a look at an early production version of their Nissan s14 kit and at the time they didn't say much either way about whether or not it would be released officially.
About a month or so ago the kit was in fact released and expectedly people were split on the idea of an air ride suspension system for a platform that is probably most notably known for it's drift capability.
The thing that people often forget is that the Performance in 'Air Lift Performance' is not a marketing gimmick.
They firmly stand behind the fact that their current line of products are fit for the street, track, and show and AB Motoring has decided to put the work of the Air Lift R&D department to test on the S14 below.
Not just a pretty face the car was recently given a proper shakedown at Risky Devil Drift day where (based on the photo below) it looks to have performed admirably.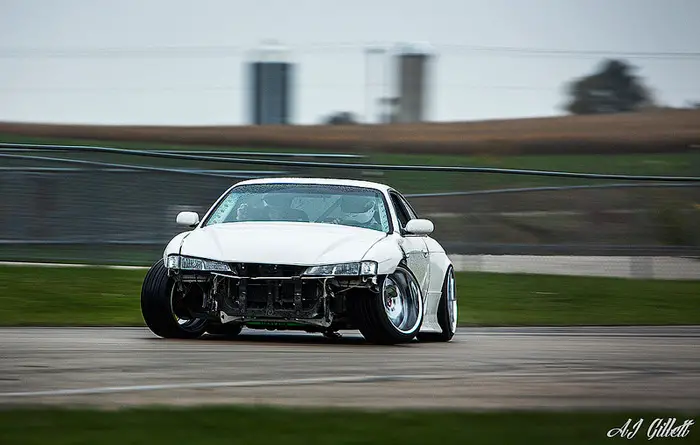 Hopefully the driver will toss up some video of the car being abused on the track and share a few words on just how well it did.
If I find any more photos or info on the car I will be sure to post them up as well. Really excited to see the progression of air in track applications.
Photo Credit:
T2 Films, AB Motoring, AJ Gillett