You might remember that I only somewhat recently had my first true swap meet experience and I absolutely loved it.
So when I discovered the Unfinished Nationals, which is both a show and a swap meet not all that far, from my house I had to go even though it was on the same day as the Niagara Truck And Tuner Expo and the London's Fleetwood Country Cruise In.
After a few messages I was able to get some representation at both of those events, and still head out to the Unfinished Nationals.
As with 90% of the events covered so far in 2016 the weather was not on this events side, which meant heavy rain was in the forecast and on the way to the Paris Fairgrounds I actually drove through three different Thunderstorms.
At the venue the rain held off for most of the day, however since I figured I would be forced inside at some point I didn't make my way to the swap meet until most vendors had started packing up.
So if you're looking for swap meet photos I am afraid you are out of luck.
But if you are looking for photos of awesome hot rods, classic cars, and trucks then you are in luck, because The Unfinished Nationals was the perfect place to take in a variety of builds.
In its eleventh year the name Unfinished Nationals is a bit of a double entendre. Yes unfinished cars are welcome, but most of the vehicles at the show drive themselves too and from. Of course as we all know no project is ever truly finished hence the name Unfinished Nationals.
…or at least that is my interpretation of the show's unique name.
At any rate it's a show where polished, primped, un-drivable vehicles are best left at home because it's time for the enthusiasts eager to put some miles on their cars to gather round and talk shop.
Some of my absolute favourite local classics were at this show like Keith Cox's '59 El Camino. I fell head over heels for this car at the ELTA Summer Bash, and since Keith and I have been talking about lining up a shoot with this car.
Our schedules have yet to connect but its something I need to make happen.
Speaking of the ELTA, they were the feature club of this year's show. Unfourtnatley I somehow managed to take very few photos of their cars, sorry brothers I'll get you guys next time!
With vehicles like the ornate, and unique, Dodge truck above can you blame me though for getting a little side tracked and losing track of time?
It seemed like every few steps there was another vehicle that you could spend a lot of time pouring over.
I'm really not sure what I like more here the bike, or the truck, there's no denying that they go together quite well and each have a unique style of their own.
When it comes to unique style this Ford truck had a face only a mother, or a hot rodder, could love. The long nose and style of exhaust reminded me of a classic fighter plane to the point where I'm curious if that was the goal.
I really enjoyed this t-bucket. I'm not sure if it's an era correct build, or a real deal survivor, but with no top in sight the owner didn't dare tempt fate and stay all day.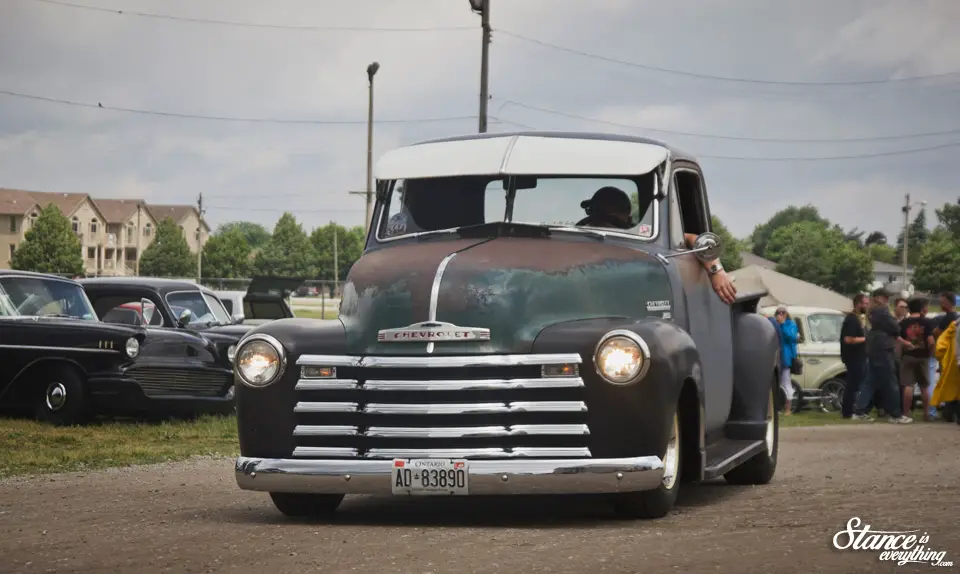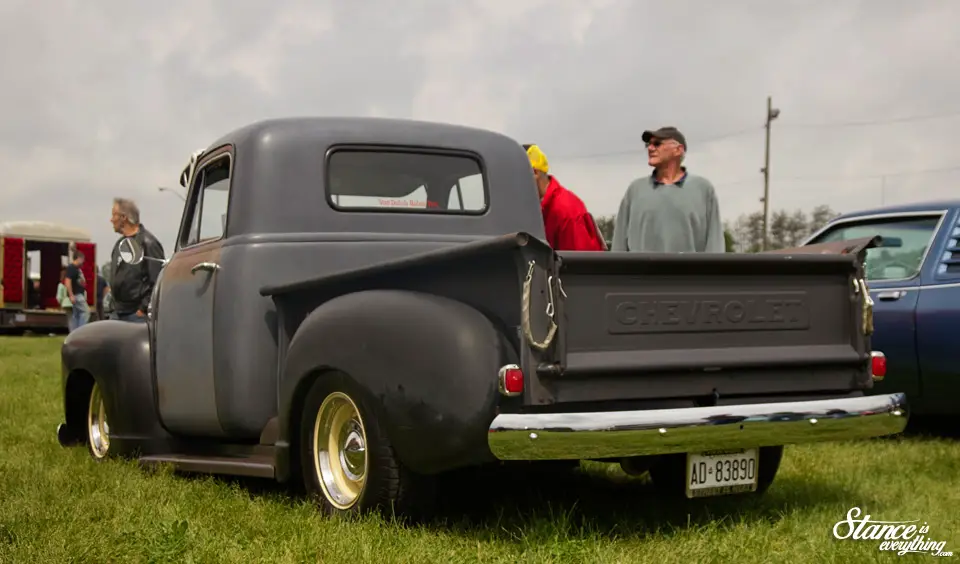 Advanced Design trucks were pretty plentiful at the show, and with each one my son Ash exclaimed "ads uck" which, in two year old, means "Dad's Truck".
Considering how little he's seen of my truck that took me by surprise, but you know the expression, start 'em young.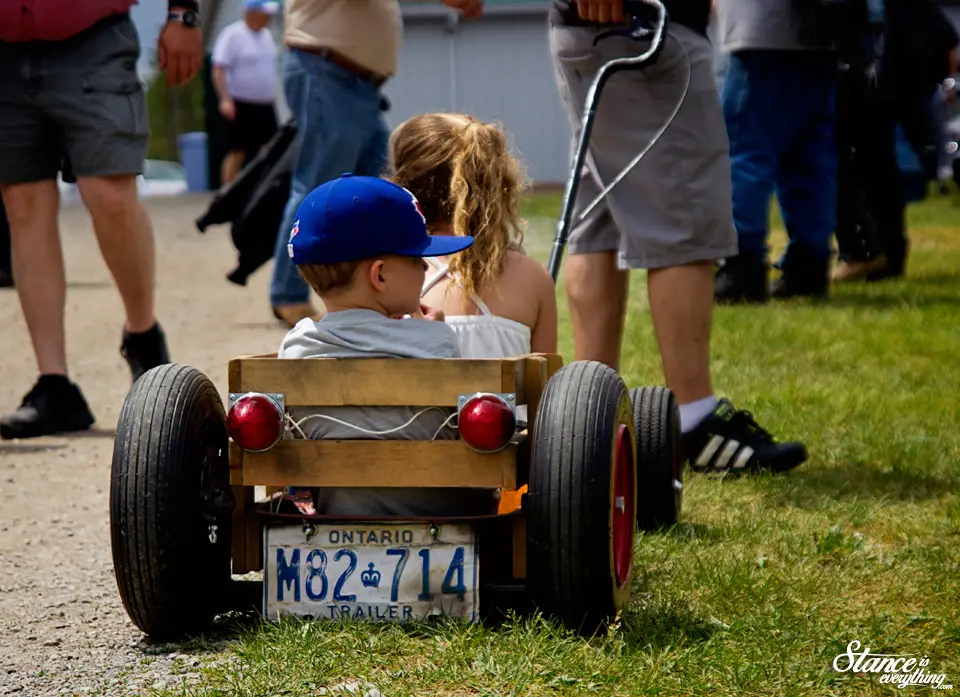 I'm clearly not the only one that shares that sentiment either.
Visually this particular AD truck was the least complete, missing things like the bumper, running board spats, and a few other odds and ends but under the hood the diesel –4bt Cummins perhaps– swap seemed to be fairly sorted, loose belt aside.
I quite enjoy how the motor looks similar to the exterior. I wonder if all that dirt and grit came from years of sitting or was added afterwards?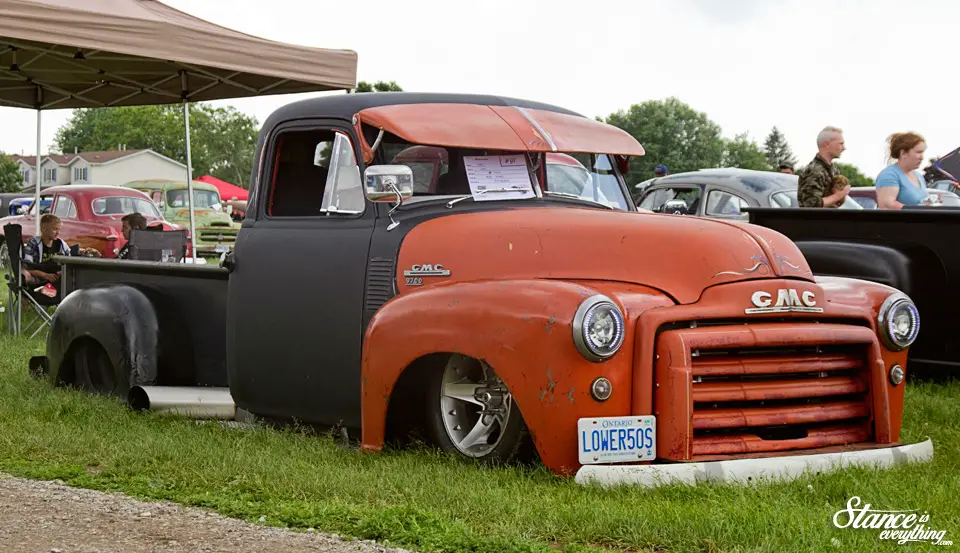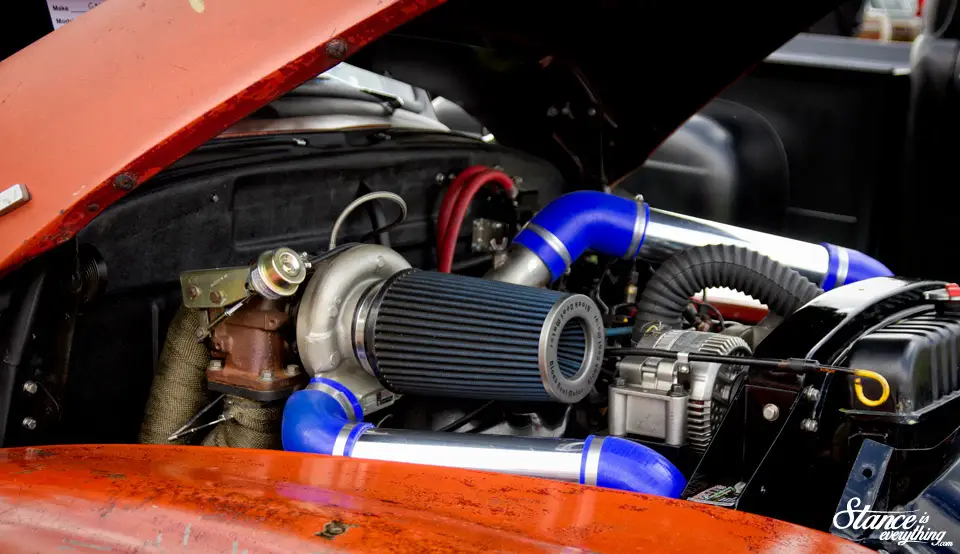 The Horsefall's Auto Service truck wasn't the only diesel-powered AD sitting in the grass of the Paris fairgrounds, Bob Ward's '52 GMC 9700 was also on display.
Bob is keen to have me shoot this truck, and having seen it in person I am keen to shoot it, so we're both looking at our calendars to make things work out. Yes, for those of you paying attention my list of cars to shoot grows every event.
He's got a few cool details slipped in here and there that should make shooting it quite enjoyable.
While awards were far from the most important thing at this show, a few were handed out and I was in ear shot to hear that this '27 Ford took home The 'Low Low Low' and traditional award.
It used a chain drive for its accessories which was really quite cool, why I didn't take a picture of it I am not sure, but take my word for it.
I've seen this Milk truck around but never taken photos of it before. Ash was quite a fan hopping right in and making his way to the driver's seat. Big thanks to the owner for welcoming him in.
I'll explain to ash the true meaning of that "fire pole" in roughly 16 years.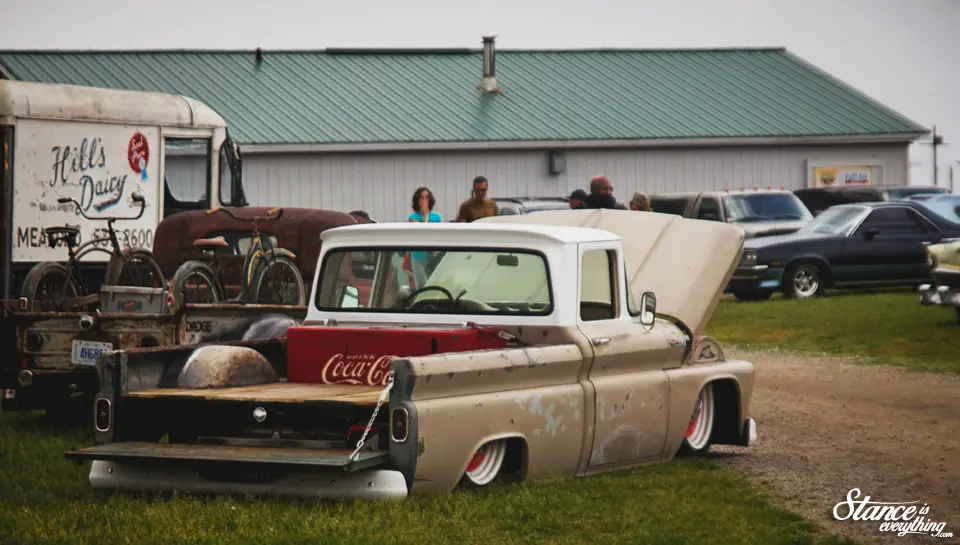 Choosing a vehicle to close out this post with was a little difficult, considering all the awesome showcased above, but Richard Ruiter's '62 C10 seemed like a perfect place.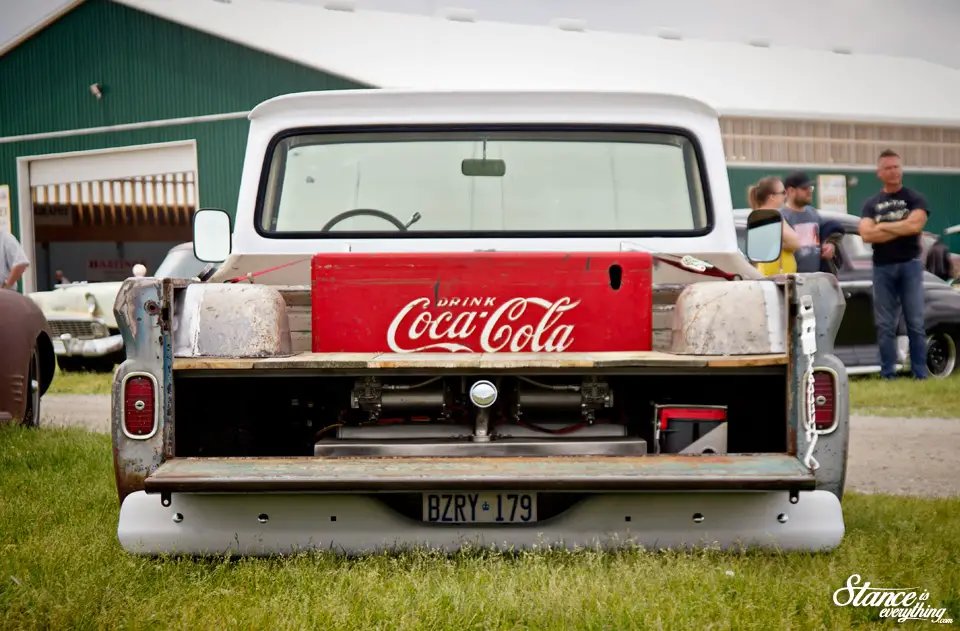 This is the first of Richard's builds I have seen in person and as many people have told me before his talent is incredible.
Having seen his son Brad's work in person I wasn't expecting anything less, but with this truck there's so much attention to detail in this truck that it is almost overwhelming.
I'll leave you guys with one last shot of Richard's truck and an optomistic promise that I'll have my truck (in some form) at this event next year!