What more can I say about the East London Timing association –better known as the E.L.T.A. (or those friendly guys in black shirts)– than I've already said?
Every event they hold is stellar with the perfect vibe for any car guy, classic or otherwise, and since I was unable to attend their Summer Bash I made a point to set time aside to attend the Fall Mixer.
The Fall Mixer, which is in its third or fourth year if I recall correctly, is held at Moore's Blacksmith shop in Strathroy Ontario which is admittedly a bit of a trek if you live in the GTA, and even further if you're east of the city like myself.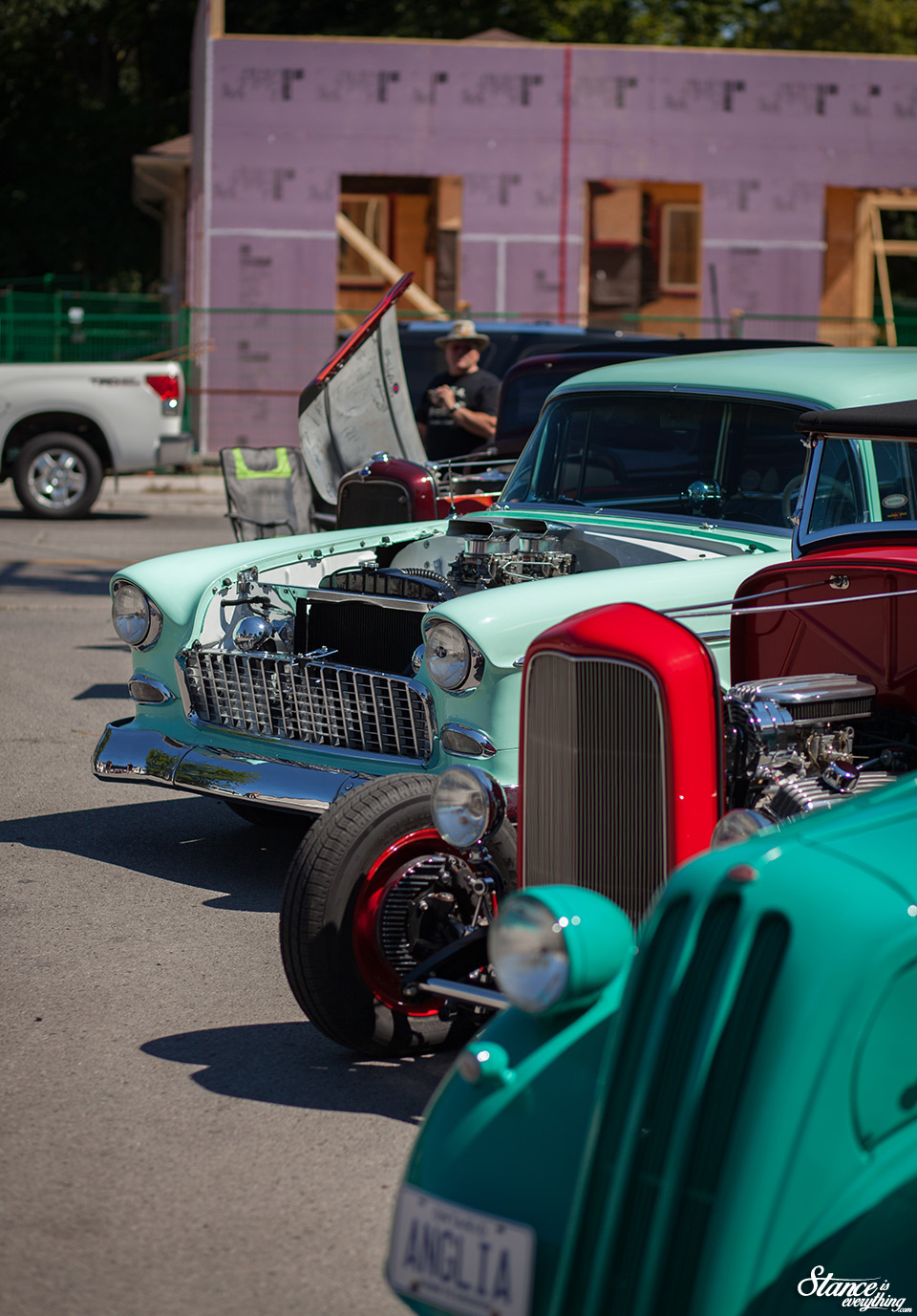 It is however worth the drive however, especially if you have family in the area, or can make a day of it by convincing your significant other that you want to check out a quaint town outside of London near London Ontario.
The ELTA choose Strathroy because the father and son duo at Moore's Blacksmith shop opened up their arms to fellow hot rodders in appreciation of the ELTA doing the same in the summer.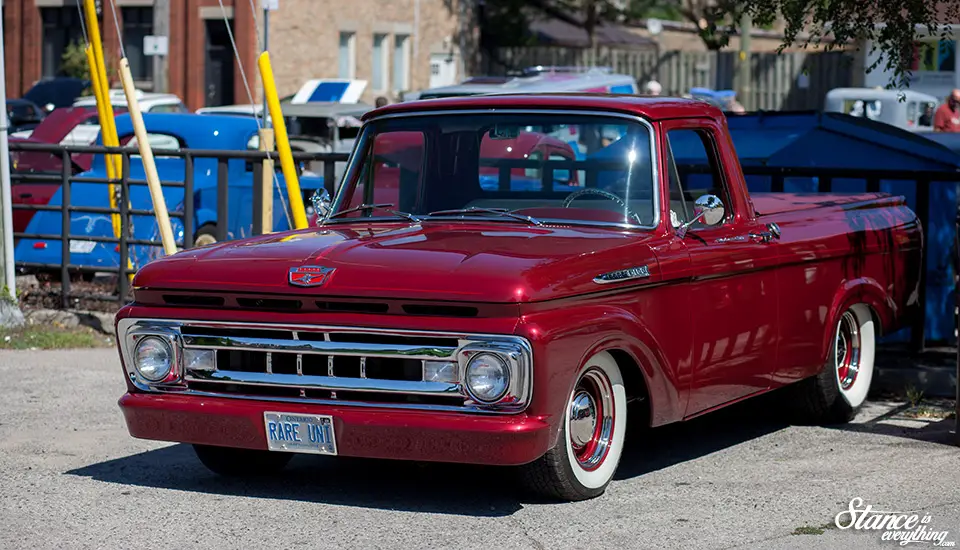 Moore's Blacksmith has been in operation  since 1904, which is a long time for any business, and the shop itself is essentially a working time capsule.
The atmosphere found within is something you just can't fabricate, and the ambiance was "just perfect" according to my wife who couldn't resist snapping a portrait of the shop's owner while we were there.
If you can believe it soon after this photo he made a call from not only a landline, but a rotary land line at that!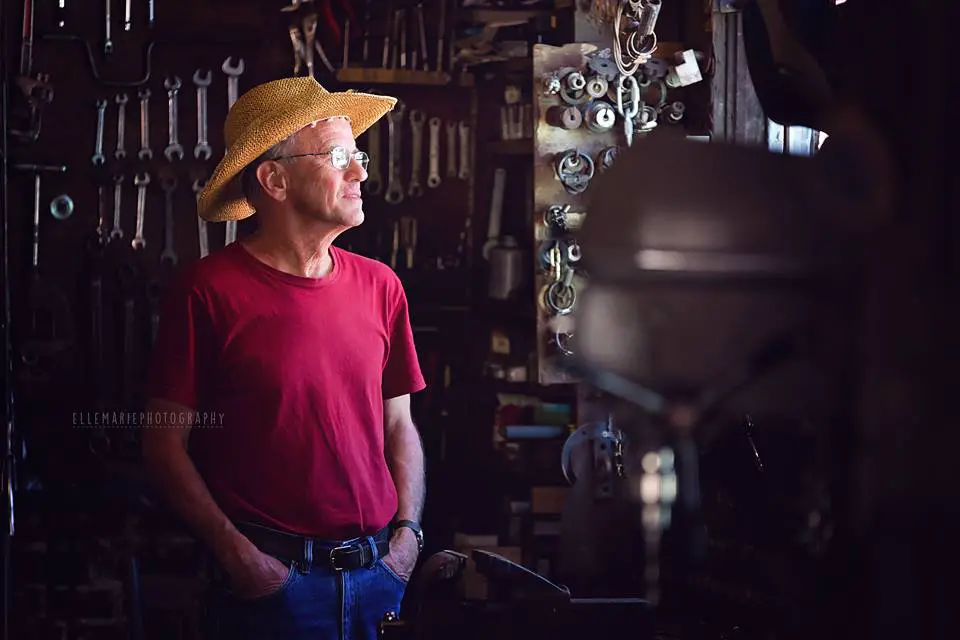 Outside my main focus, when not introducing myself to a few people, was on the cars which like any other E.L.T.A. show were a healthy mix of classic muscle, hot rods, and classic trucks.
The no pressure to stay, and no pressure to go, atmosphere yielded a consistent flow of cars in and out, and a constant reshuffle of vehicles during our stay.
This meant your head needed to be on a bit of a swivel if you wanted to see as many of the cars as possible.
Events like this are a nice change of pace from ones with strict roll in and roll out schedules because the constant change of cars makes monotony impossible.
The laid back atmosphere also means that you can take in some of the finder details of certain cars without worrying about getting in a judges way or anything of the sort.
Like pretty much everyone else who's a fan of old metal I can't resist looking at a nice Tri Five and this white and teal example was right ton the money.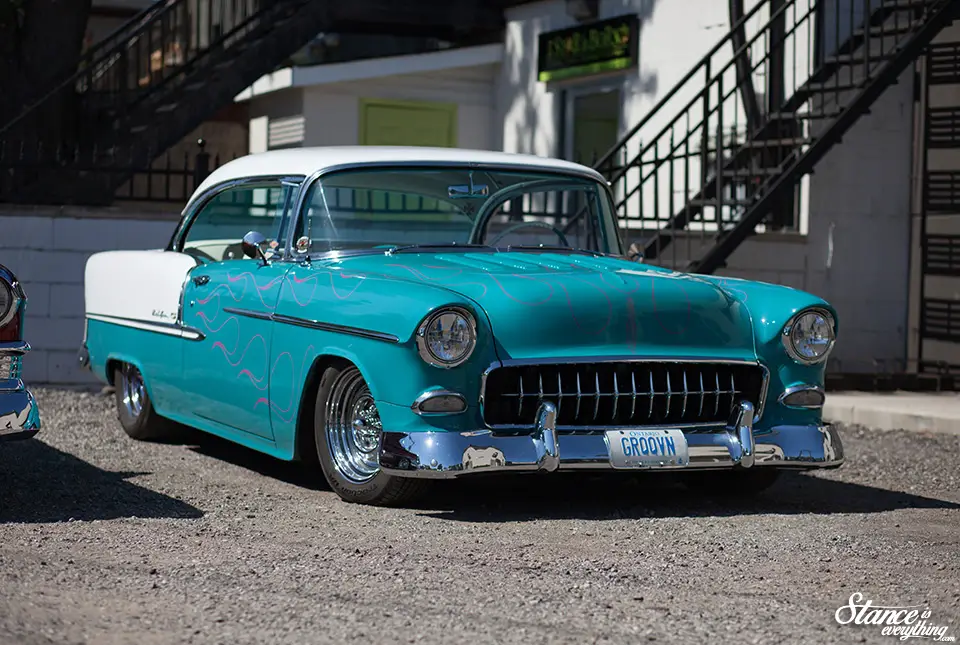 Static, on chrome steel wheels, with perfect brightwork and contrasting outlined flames it's a car that is understated, but at the same time has a lot of nicely done small details.
For example take a look at the front license plate that's been bent to match the bumper.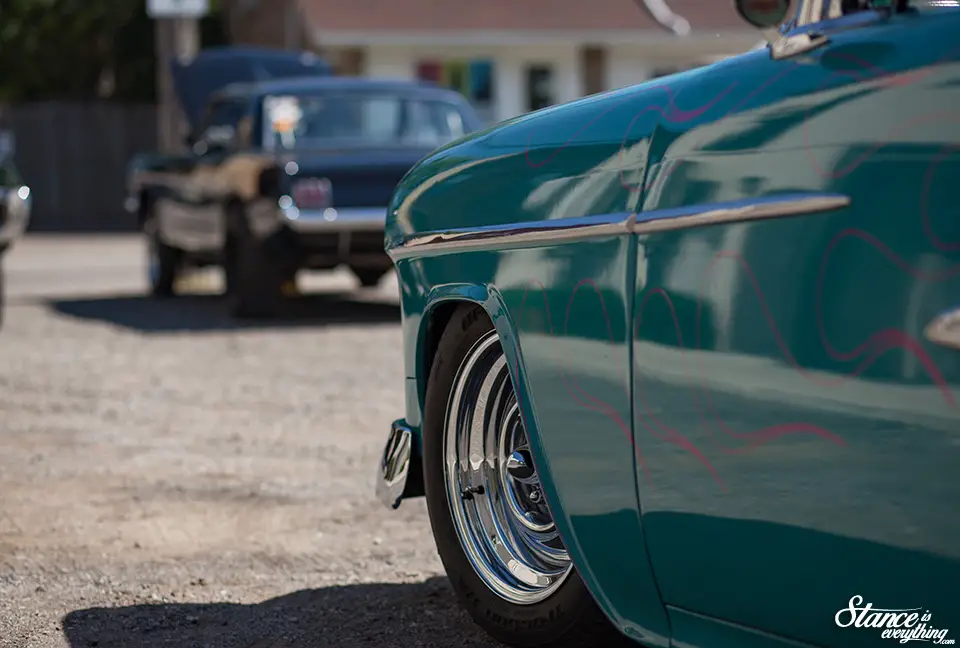 Removing the government mandated front plate completely invites unwanted hassle, and throwing it on the dash suggests lack of care.
Bending it like that though? A nice compromise to appease Jonny Law that flows nicely with the cars ashetic.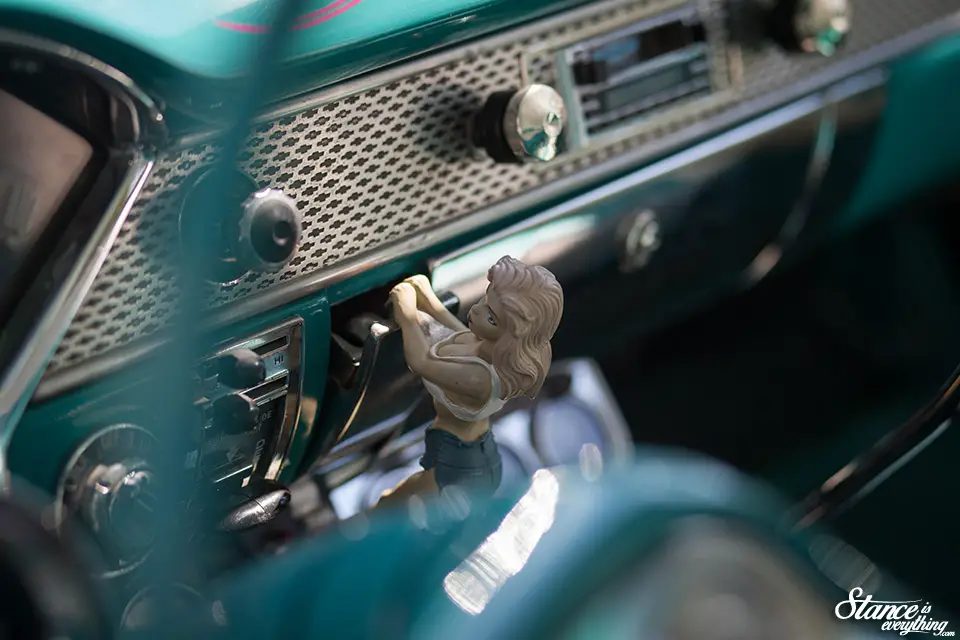 The bowtie inlay on the dash is indicative of the "don't build them like they used to" mantra, I also quite like the ash tray mounted passenger.
This blue Model T travels to most of the ELTA events, and I've posted photos of it previously but I don't think I've shared its story.
Built by the Watters Brothers in '59 the hemi powered car was campaigned for two seasons before being hoist up into the rafters of a barn when T buckets fell out of favor for the new 'modern' muscle cars.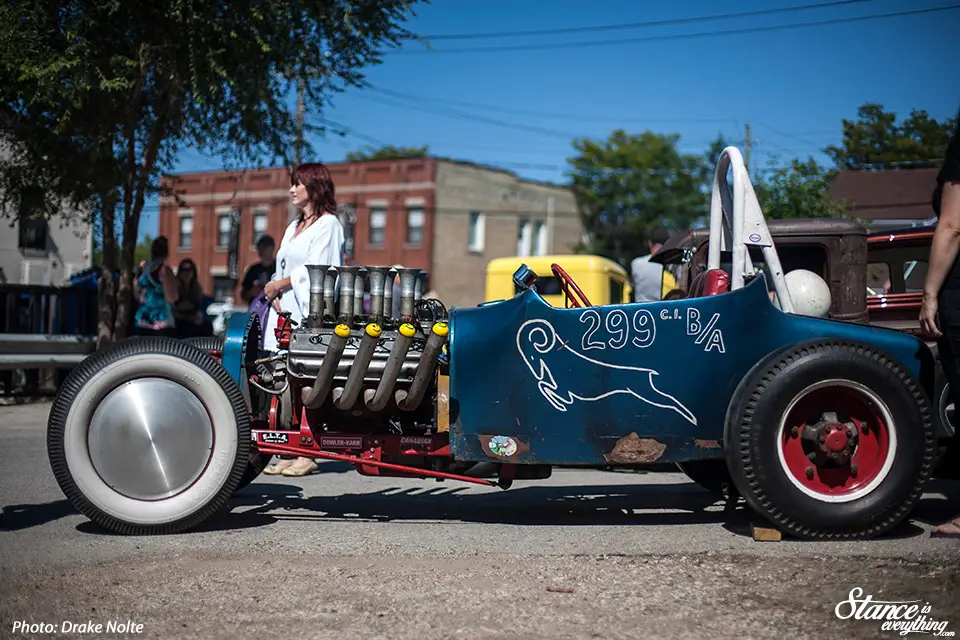 50 years later it was brought back down, and recently ran down the drag strip for the first time in over two decades.
I have no idea what time it ran, but how cool is that regardless?
You can get a bit more of a detailed story on the car's history at lugnutsmagazine.com
The blue roadster was far from the only Ford at the show, with a number driving in representing pretty well all of the different directions you can take 30s era Fords.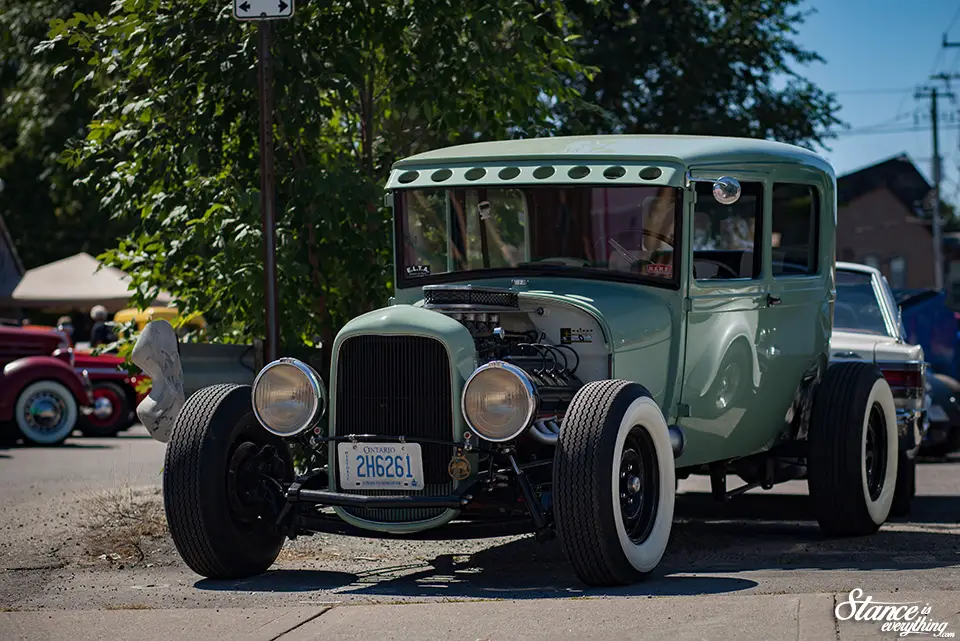 It's always nice to see old metal out and about and being driven, rather than behind stanchions or in a garage as a trophy piece, many of these cars would be both H.A.M.B. approved and Jalopy Jam Up Approved.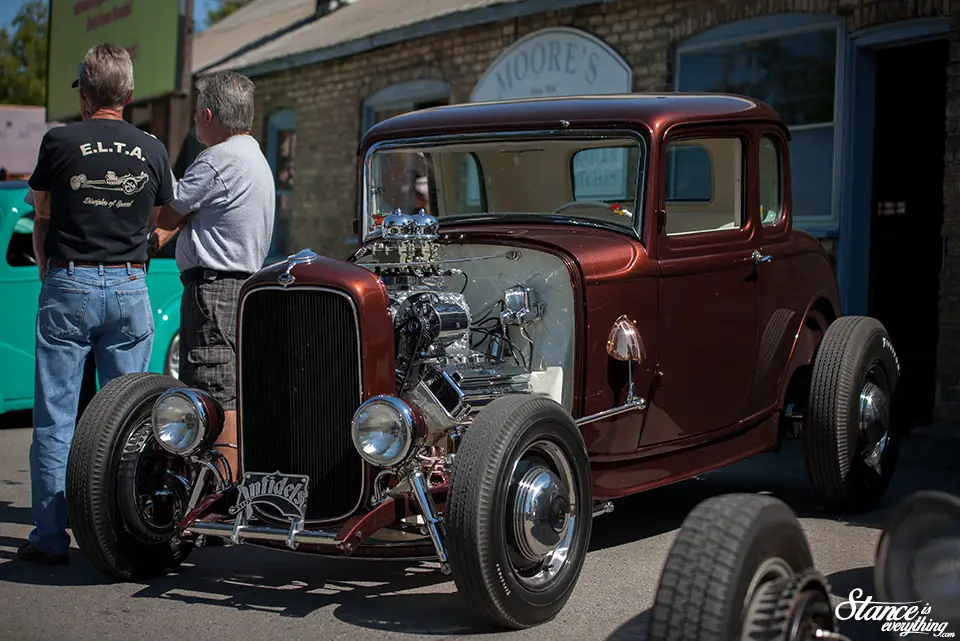 Speaking of the Jam Up, Jeff Norwell brought his Hemi powered deuce to the mixer, a car that I've never actually seen in person but have read quite a bit about online.
True to Jeff's style it's a very traditional build with no detail left overlooked, from the immaculately detailed (and awesome sounding) blown motor to the gorgeous root beer flake paint job.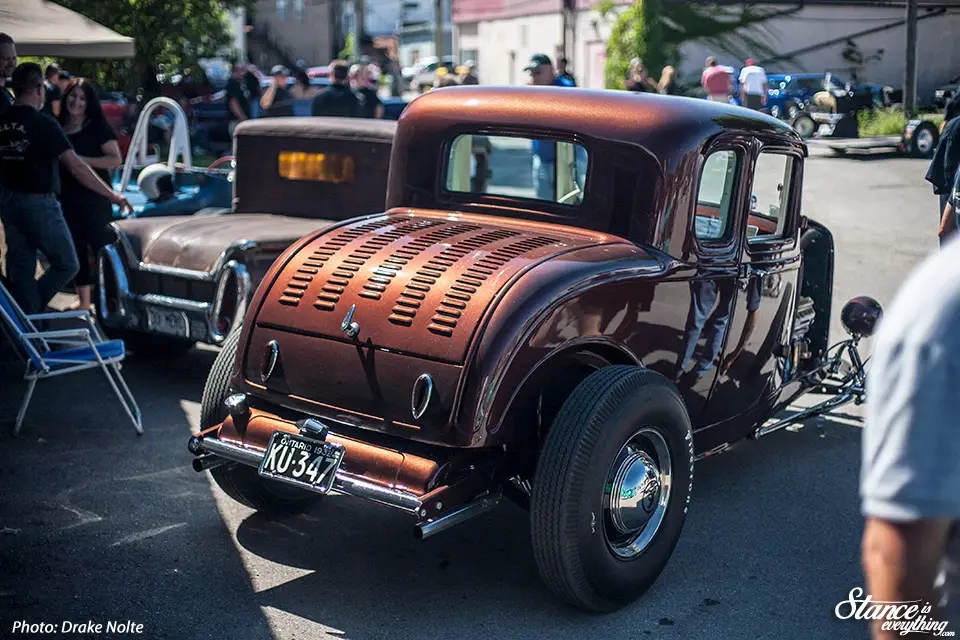 Despite being billed as a 'fall' event it was incredibly hot so after taking advantage of the ELTA and The Moores' hospitality and enjoying a slice of Pizza on the house, Lyndsey and I retreated back to a sanded back yard with cold beer but not before plans were made to return to either the Summer Bash or Fall mixer (preferably both!) next year.
Here's a few more photos from Drake and I to close this one out.
If you're wondering when the next ELTA event is, they are not big on posting the events online, but if you see one of them at an event they are more than open to telling you about the next one.