If you follow Stance Is Everything on Facebook or Instagram then you know that this past weekend I was in Detroit attending the Detroit Autorama as part of my freelance work for RodAuthority.com.
Initially the ask for RA was 5 articles, two of which were to be done in quick succession as they were going to be on the Great 8 cars and Ridler winner respectively.
For those of you not familiar with the Ridler award, it is essentially a best of show award on steroids. Only first shown cars can compete, and they must arrive a full two days (Wednesday) before the show officially starts to be pre-judged. From there  ISCA (International Show Car Association) judges take over and determine the Great 8 which are the 8 cars that will be eligible to compete that year.
After those 8 are chosen they are again further judged with the Ridler winner being announced on Sunday. These cars are no joke and each of them could easily win a best of trophy award anywhere else, but there can only be one Great 8 winner and that winner was….
The Renaissance Roadster
The custom aluminum bodied Renaissance Roadster was the big winner at the 2017 Detroit Autorama taking home the Don Ridler memorial trophy.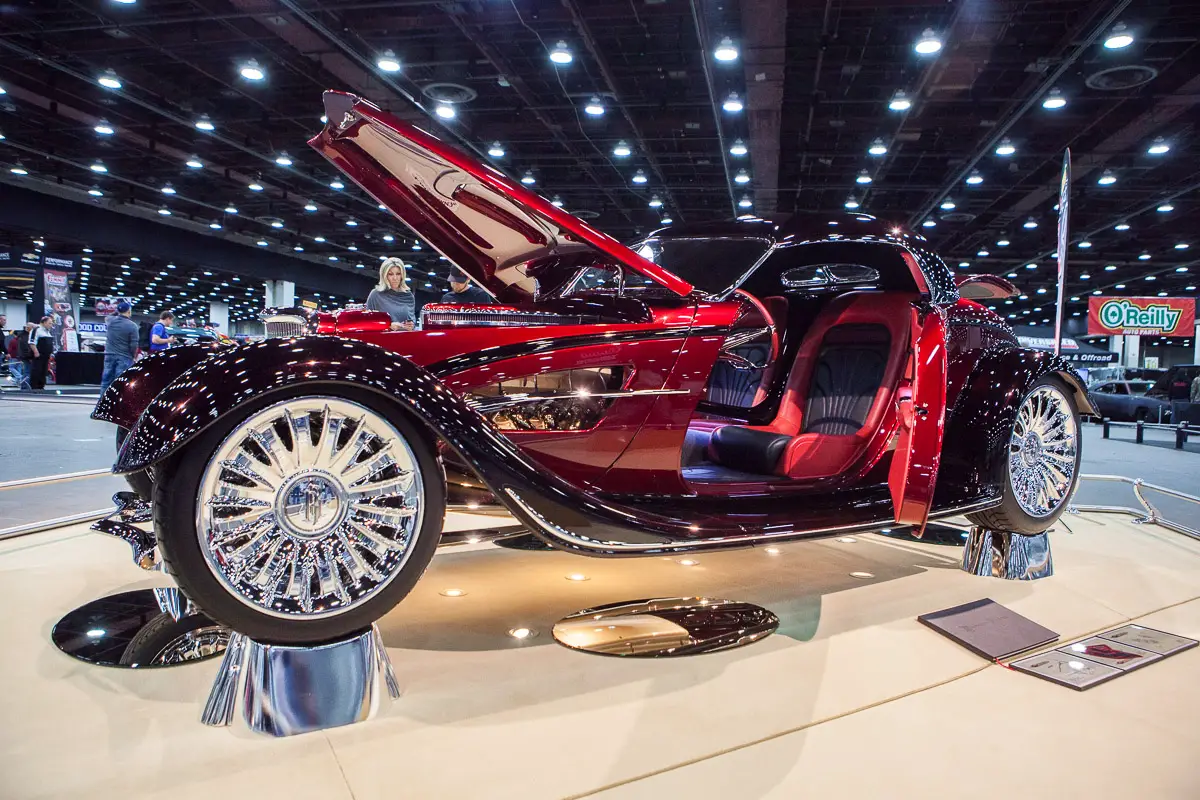 This car was built by Steve's Auto Restoration and was based on the '32 Ford (as a twist a full fendered Ford and not a fenderless one look everyone forgets).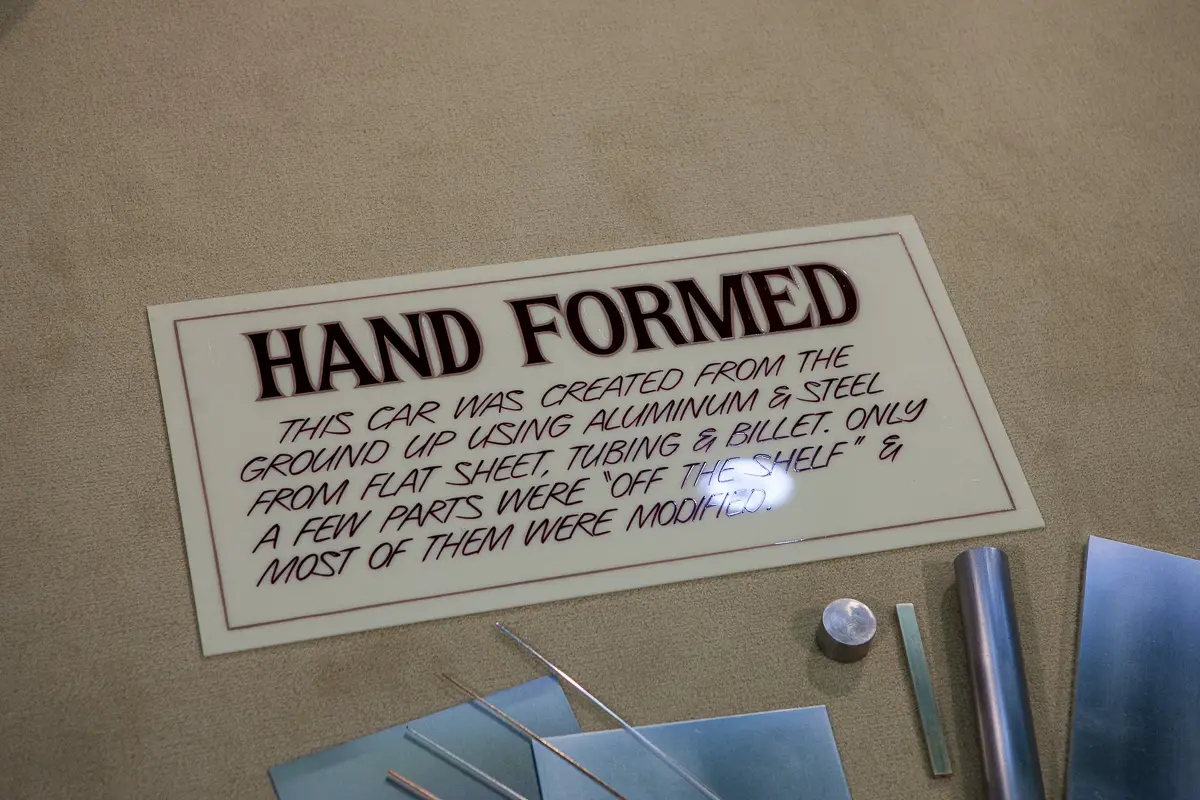 Style wise I can't shake the Prowler vibe I get from it overall, but that isn't a criticism because the Prowler was likely inspired by the same vehicles that vehicle designer Chris Ito drew his inspiration from.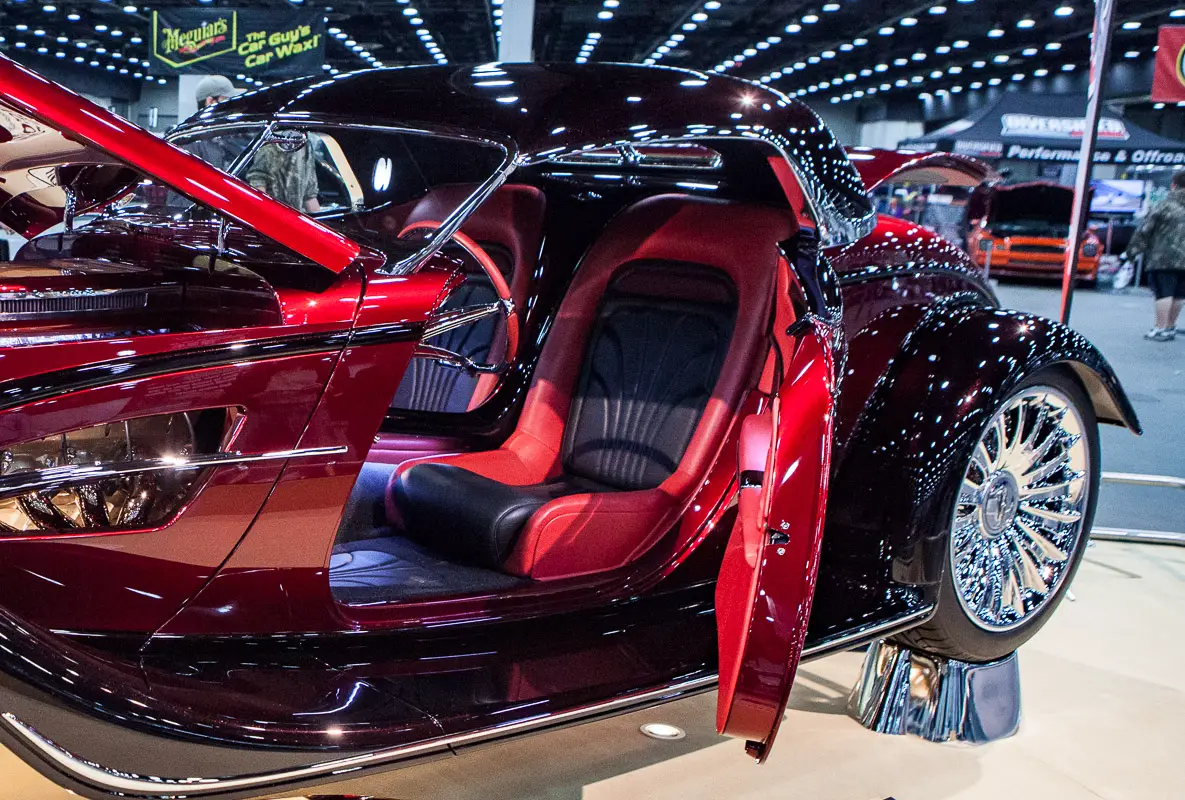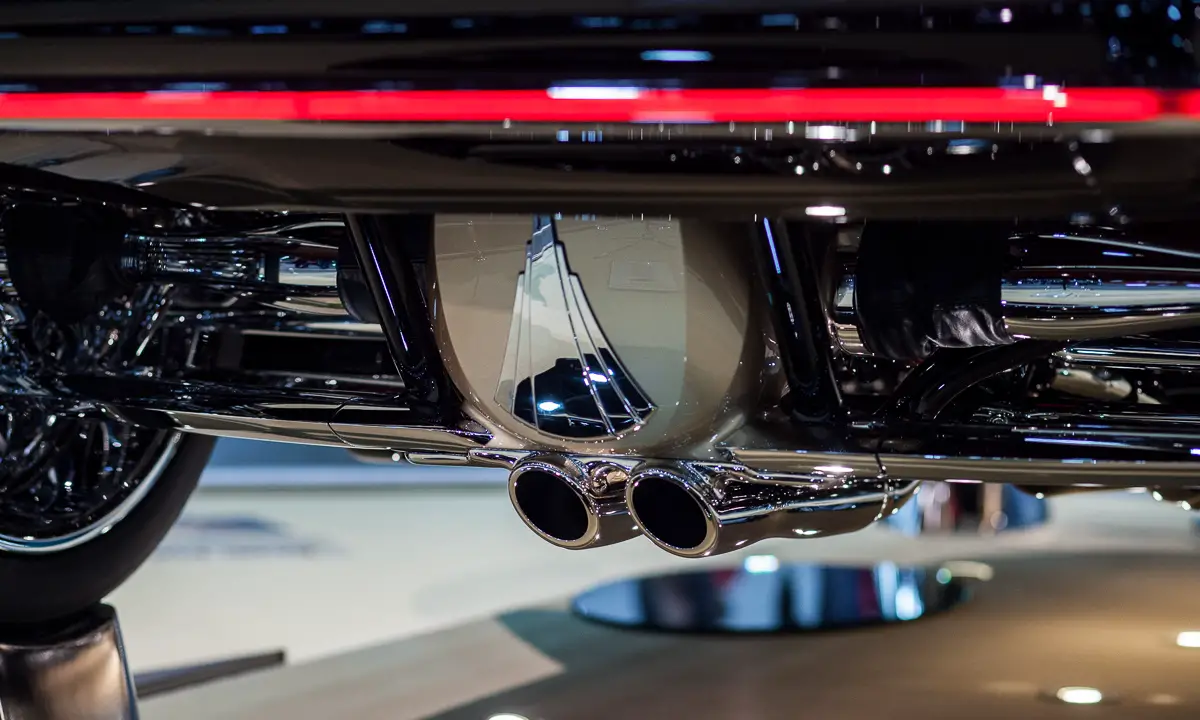 Being able to plan out your own car entirely from scratch and then execute it to this level is no small feat, so congratulations are in order to Marcy and Buddy Jordan the cars owners.
The Phoenix
A lot of the Ridler cars are commissions, that is to say someone has a shop execute on their idea over a set amount of time. This car however was almost entirely built by one man over a twenty-four year period.
Styled to emulate the 60s era of hot rod building the Phoenix was red, on red, on chrome and the owner/builder Dennis Portka was never too far from the car keeping it polished and dust free throughout the entire event.
Outside of upholstery Dennis did all the work himself. The hinges and emblems on the car are custom designed, the un-chopped roof is vinyl wrapped and Dennis actually figured out a way to spray bed-liner smooth for the car's interior.
People often criticize the Ridler award as a wallet based award so it was cool to see a vehicle entered built largely by its owner.
The Gold Standard
When I talked to the guys from the One Off Rod and Custom they all looked super tired, but they were also incredibly excited about making the Great 8.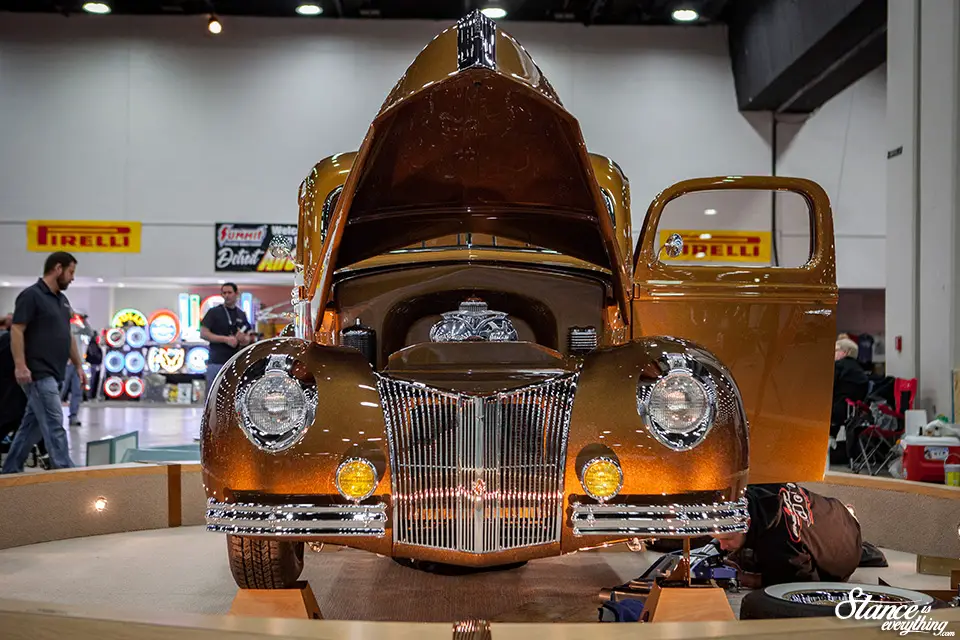 The paint on this truck was something to behold, flawless like all the other competitors cars it was very deep with a lot of eye-popping flake and complimentary pin striping.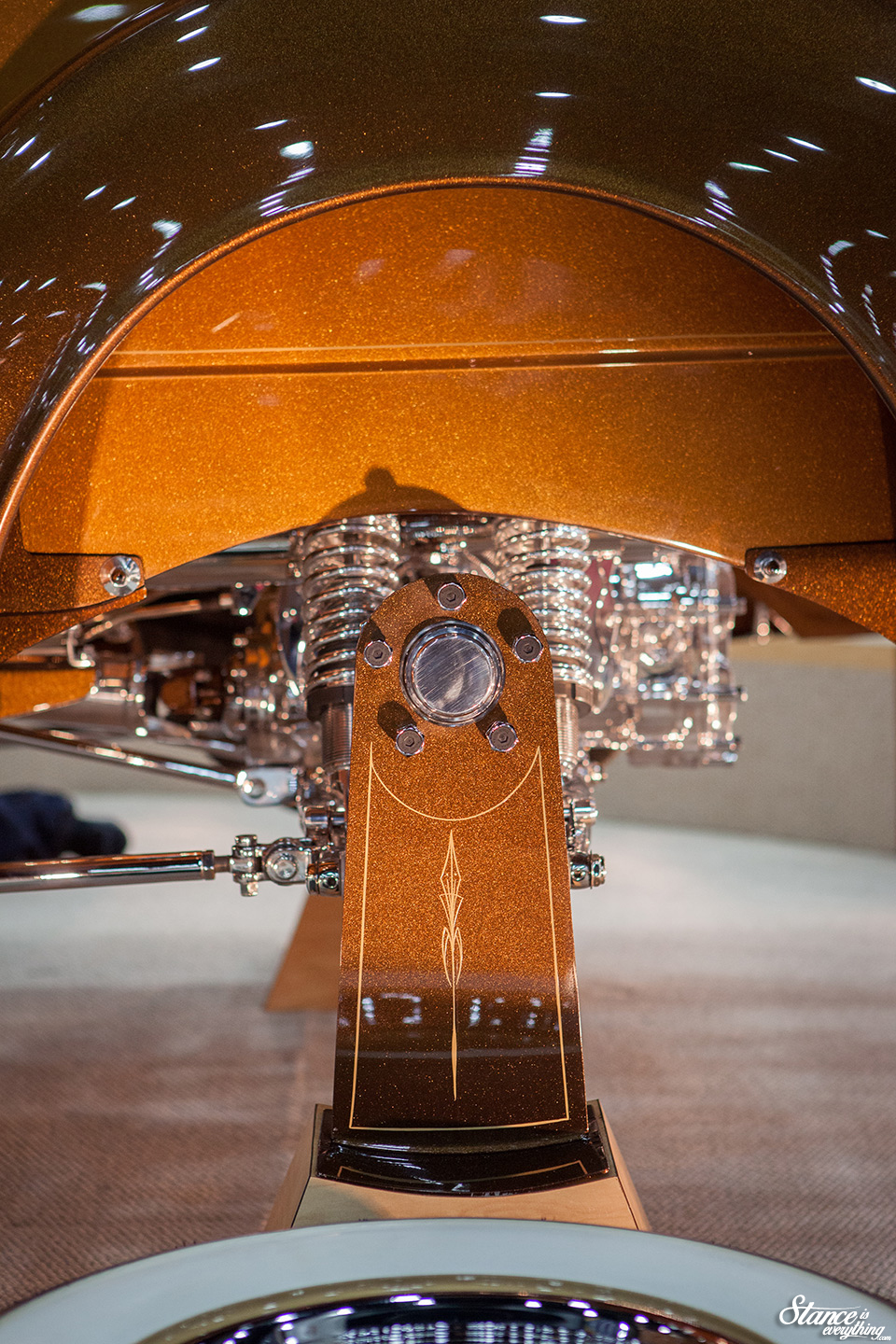 Outside of the interior the car was an entirely in-house build that the team said everyone contributed to in some degree.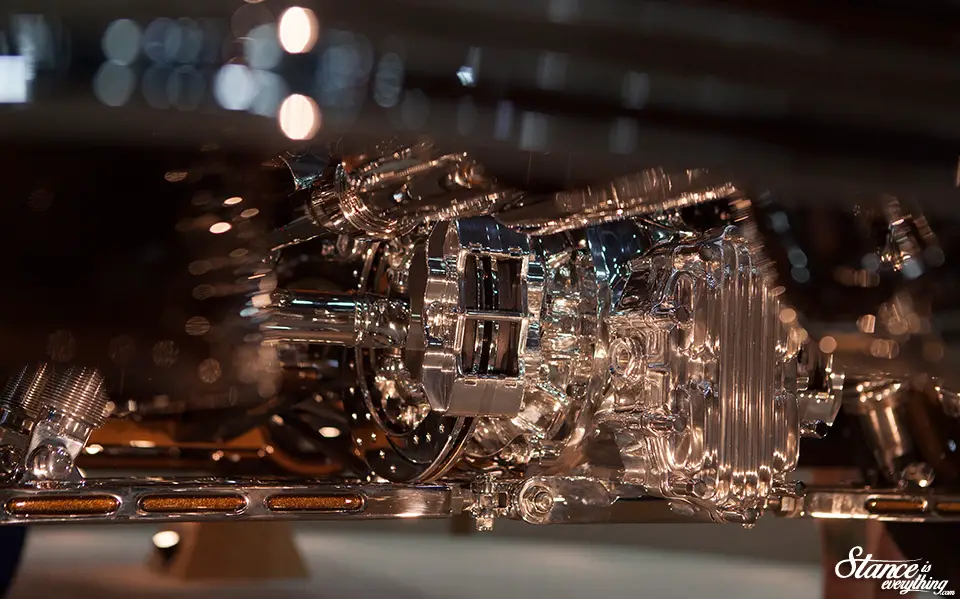 They were most proud of the fact that no single detail stole from the other, I mean the flathead looks great but could you say it took away from or over shadowed the interior?
Not really, and that is exactly what they were going for with this build.
Heirloom
As you all know I'm more than a little intimate with the Advanced Design flavour of trucks, at this point being literally parts deep in the middle of building one, so the first thing I noticed about this truck was that the proportions were not at all stock.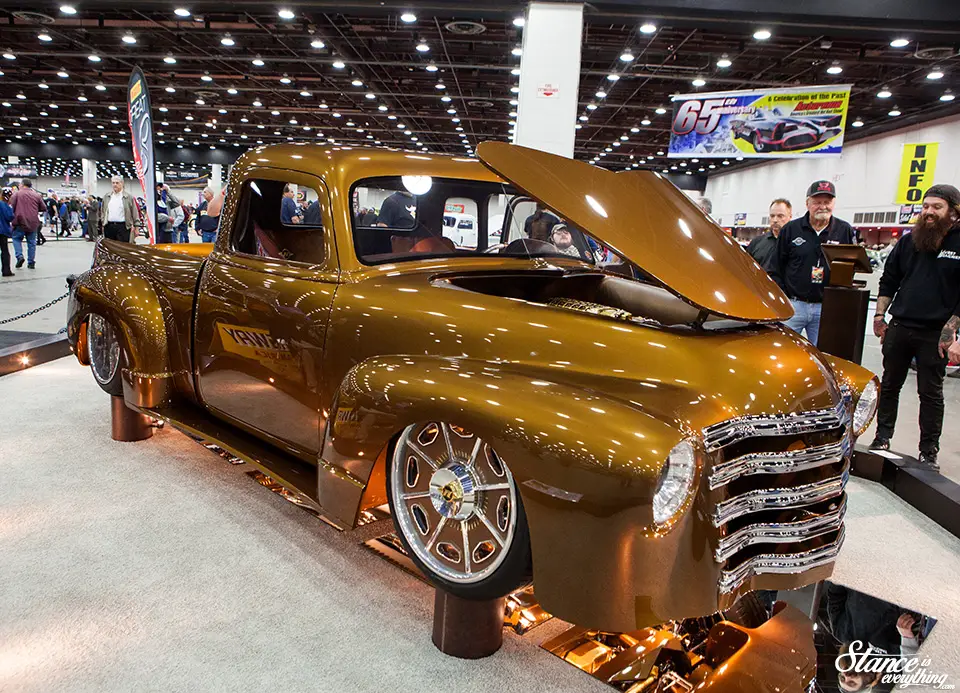 The second thing I noticed was that the builders had called the truck a c10 on their sign board, C10s didn't exist until the 60s which made me wonder if perhaps there was a C10 under the AD body.
While a swap like that would explain the increased track width, from a performance stand point it isn't really that much of an upgrade compared to the other options available.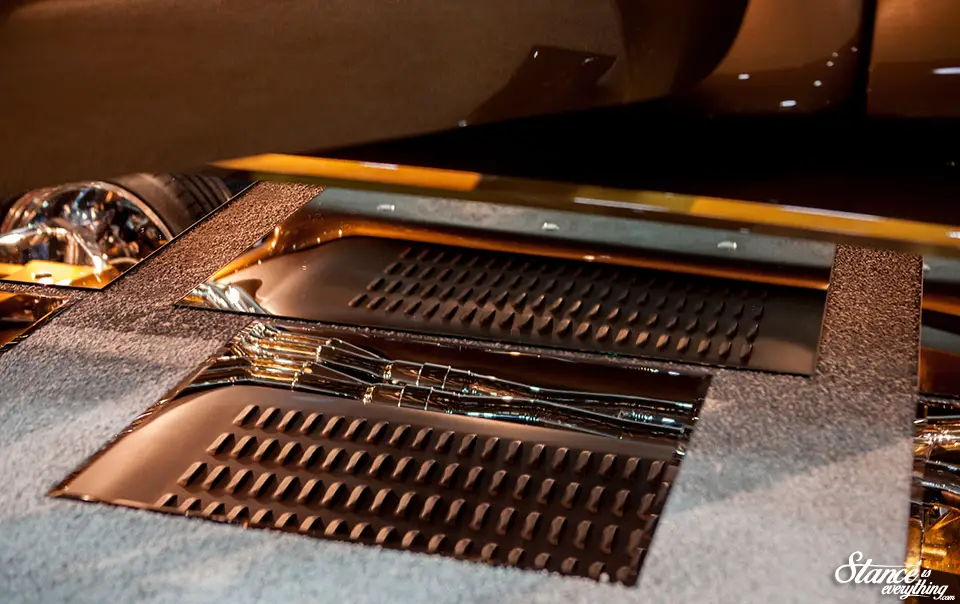 Knowing something was afoot I asked what was what and was informed the truck was built on a c5 Corvette chassis.
That performance chassis is what resulted in the generous propositions, and the distinct rear end is a custom bed made up in part of Cadillac Eldorado components.
Custom wheels tuck up under the fender and bed thanks to a lowered C5 chassis which if you look closely above is covered by a louvered belly pan.
The rawhide interior with custom dash, and bronze/steel assets was designed by Kyle Hix of Hix Design who, in addition to being super talented, is one of the largest humans I've ever met.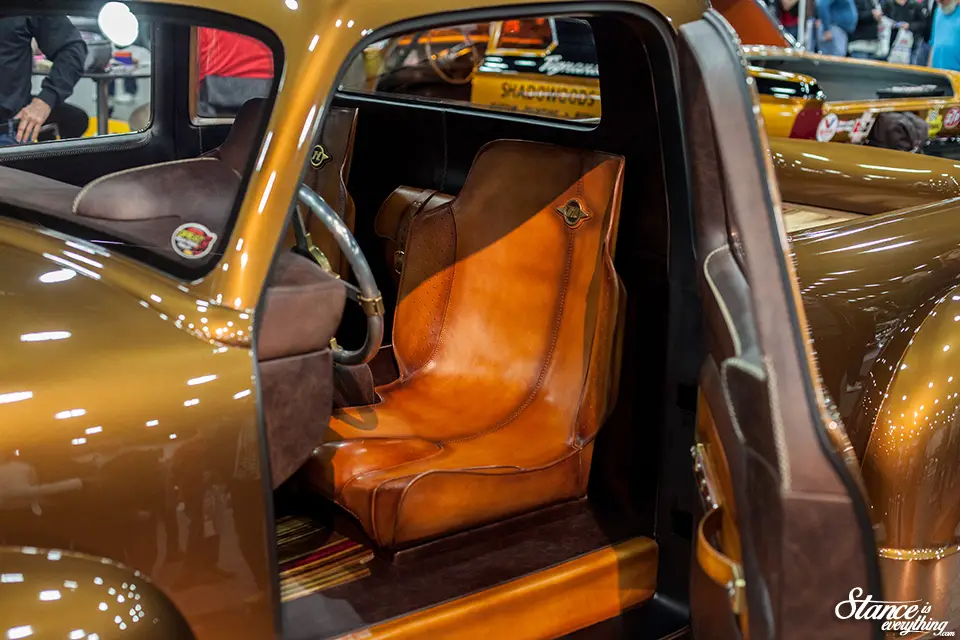 Like a few if the other vehicles in the Great 8 the Heirloom was posted by a supercharged LS motor.
Transitions
The first of two Corvettes in the Great 8 this particular car was inspired by the first Corvette concept in 1954, of course it is an updated version of said car, a transtion between then and now as you will.
One of the most interesting things about this car was its stance. It's been progressively body dropped (there's an inch difference front to rear body wise) to give it the rake you see.
You'll see no complaints from me over cutting something up to get the right stance!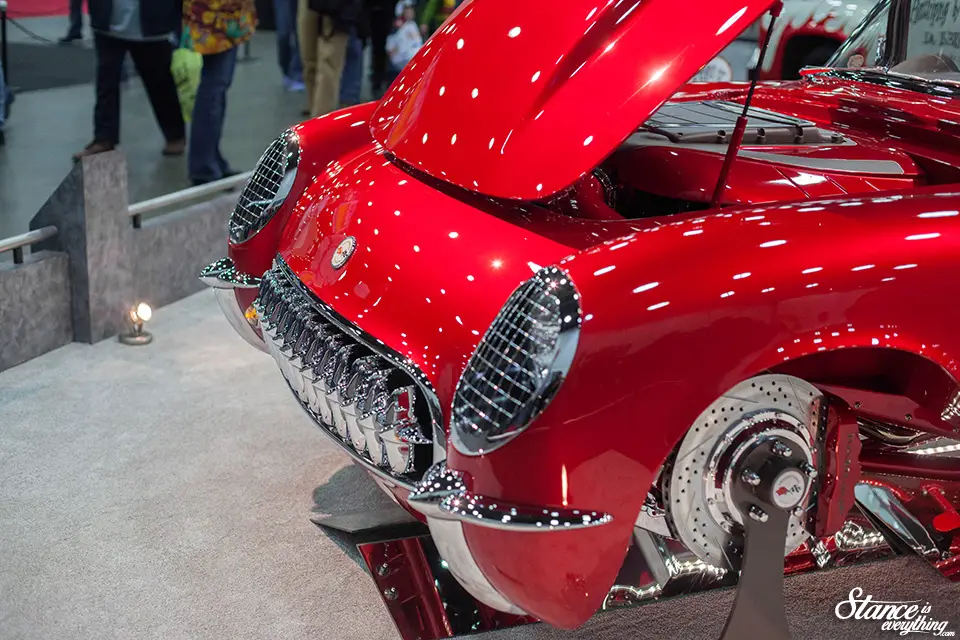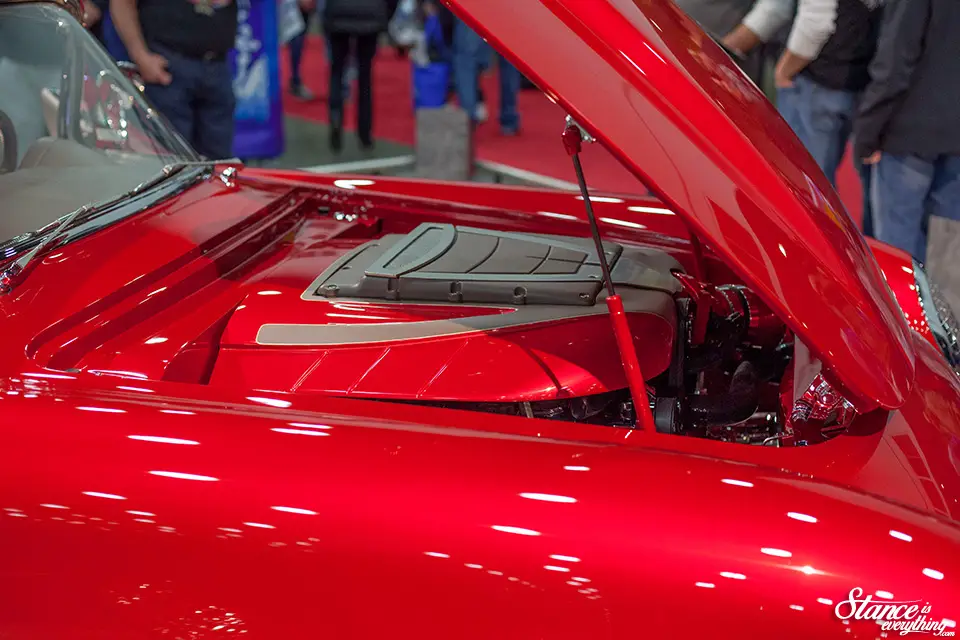 The motor is, fittingly, a supercharged LS motor, interestingly enough it is backed by a 4L60e but apparently it is set up in a way that it can be quickly transitioned (there's that word again) to a manual transmission.
The GPT
Even though there's no rule, hot rods are what I've come to expect from Ridler cars, not sure why probably because I compare it to the Grand National Roadster show's AMBR award but at any rate Ridler, I think hot rod and this year there were two fenderless Fords competing for the accolades.
The GPT is owned by George Poteet who is, from what I've read, a pretty serious automotive collector and this '32 is his latest addition to his collection.
Designed by E Black Design and Erick Brockmeyer the '32 was chopped and re worked heavily (adjusted wheel arches, re-worked cowl, re-worked grill, shortened windows etc) before being painted black and perched atop a custom chassis.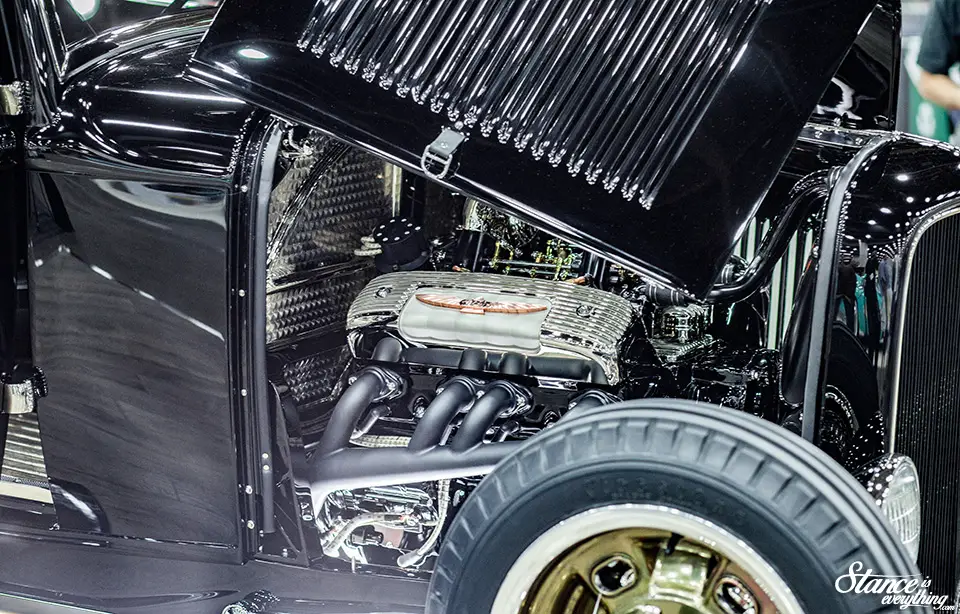 Halibrand style wheels sit at all four corners and a potent Ford Y-Block sits in front of a custom billet Firewall.
The Split Ray
From afar the Split Ray looked almost stock, but as they say looks can be deceiving.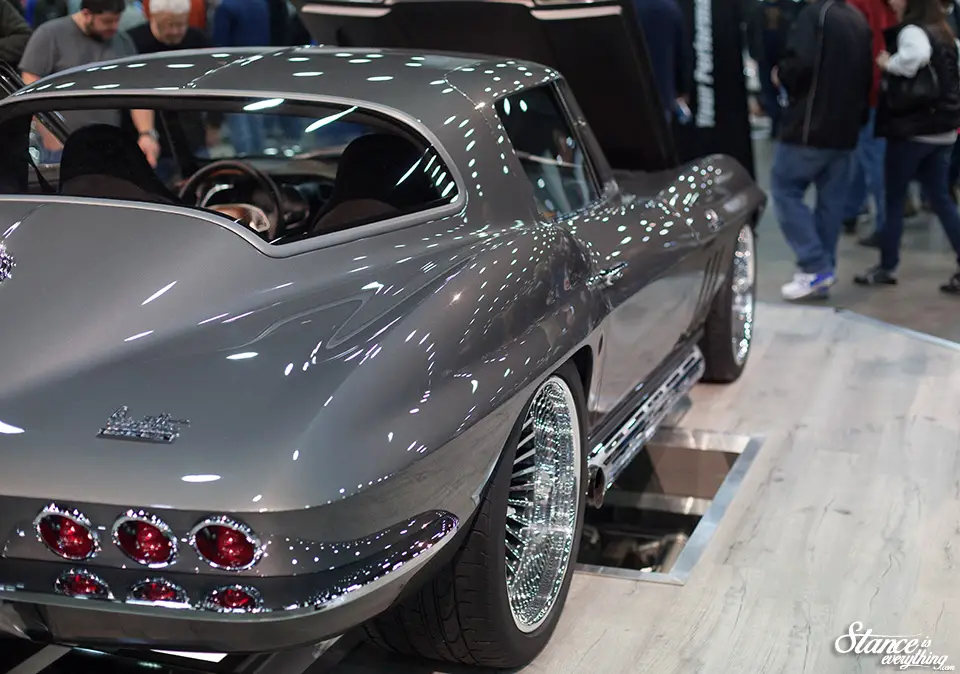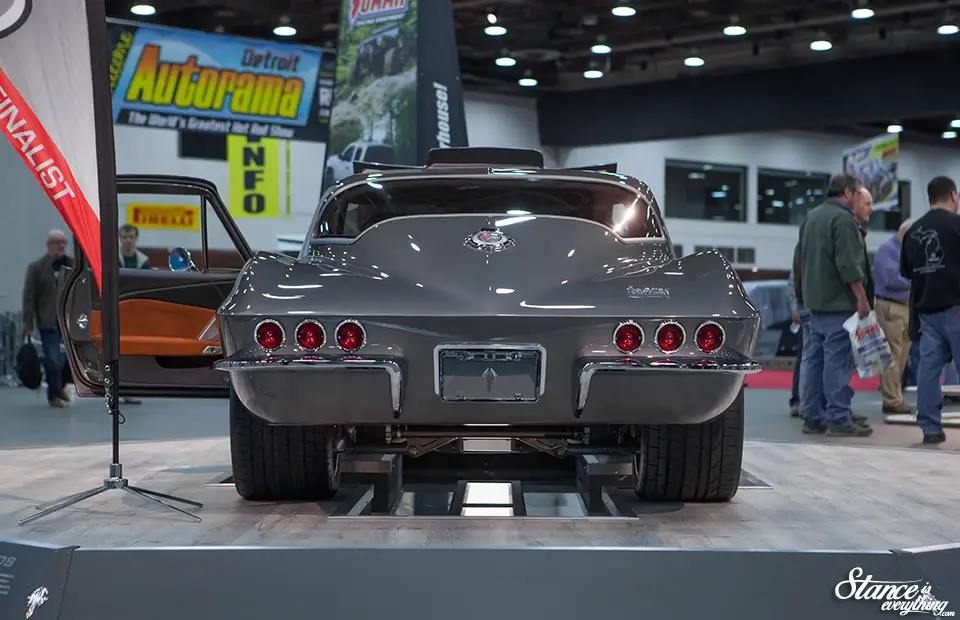 The Split Ray is a wide body, an actual wide body, not flares, not wide fenders and quarters, no this car was cut down the middle, opened up over six inches, plunked on a Roadster Shop Chassis, and welded back together.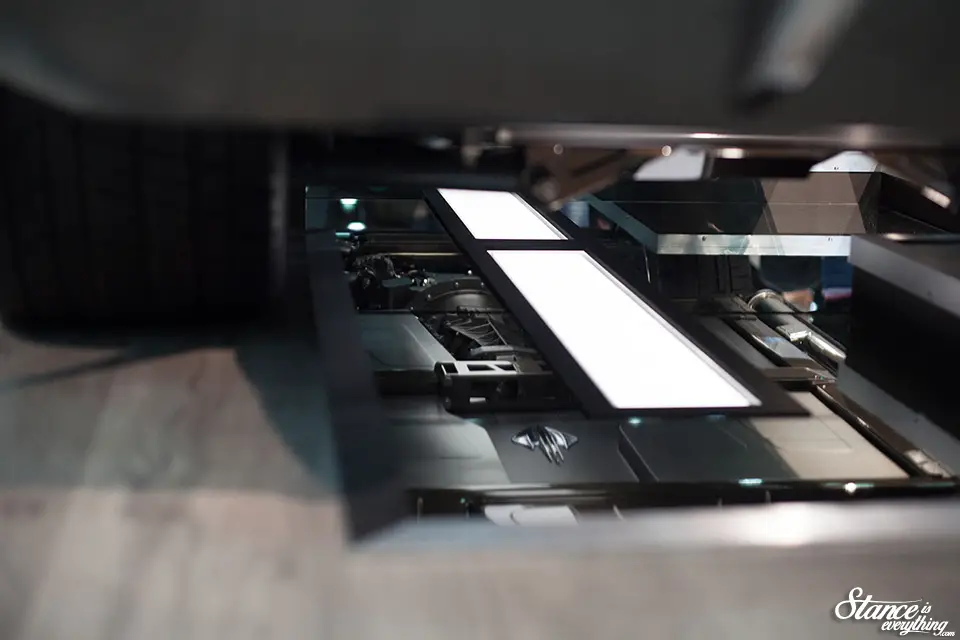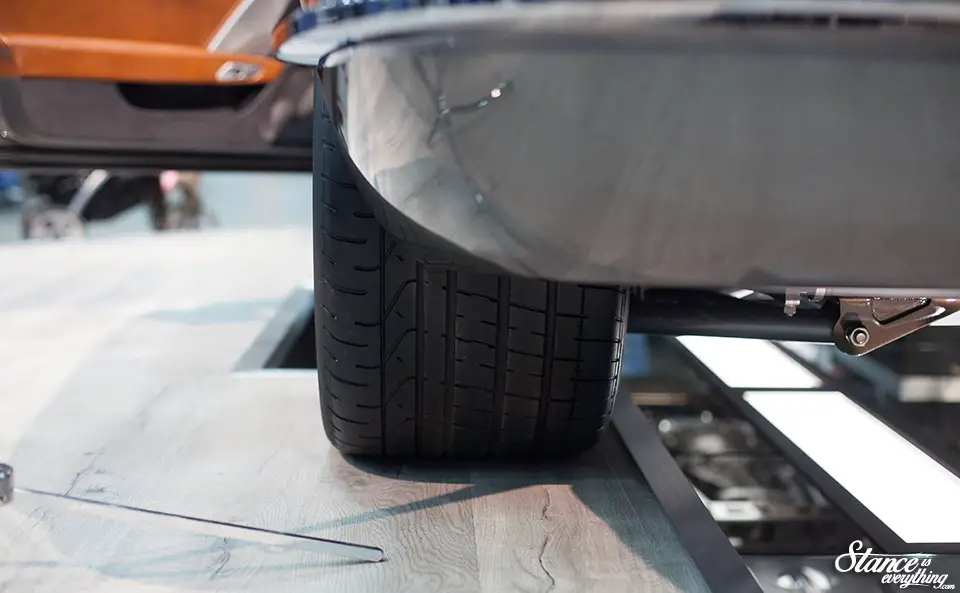 One of the more subdued Great 8 builds this was a car that you really had to study to realize just how far beyond stock the car really was.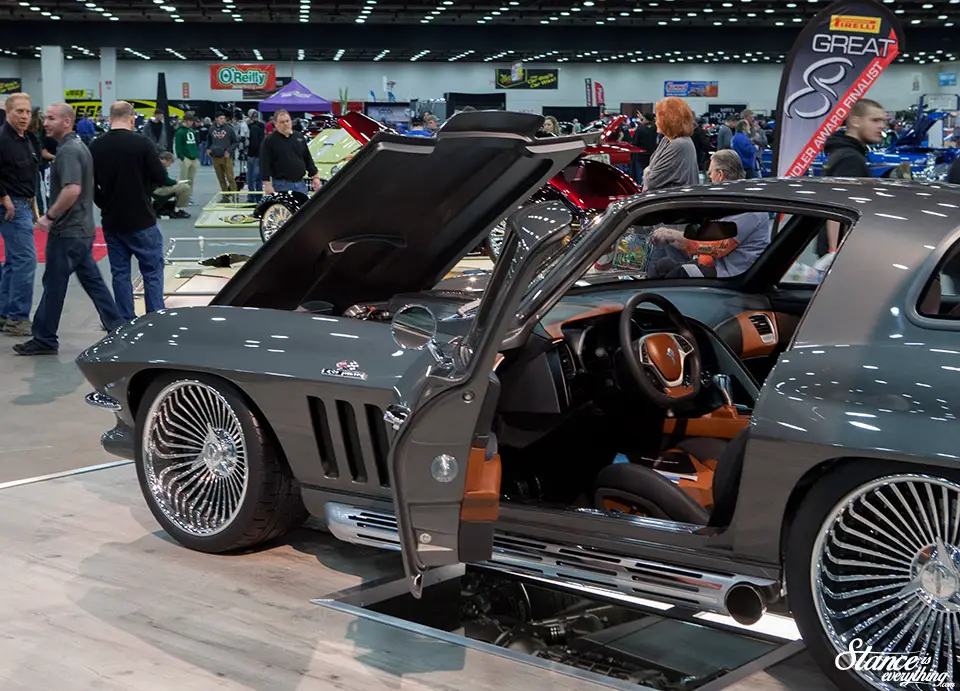 I particularly liked the interior which was updated to look like a 2016 Sting Ray, if I had to choose this car would have been my second pick.
The After Thought
If the Split Ray was my second pick what was my first you ask? Well those honors go to the 1930 Model A known as the After Thought built by Cal Auto Creations.
In the video that was playing in front of the car Cal Auto creations describes the vision behind the stance which was a cartoon like rake for the perfect stance.
Looking at the photo below you can't say they didn't nail it.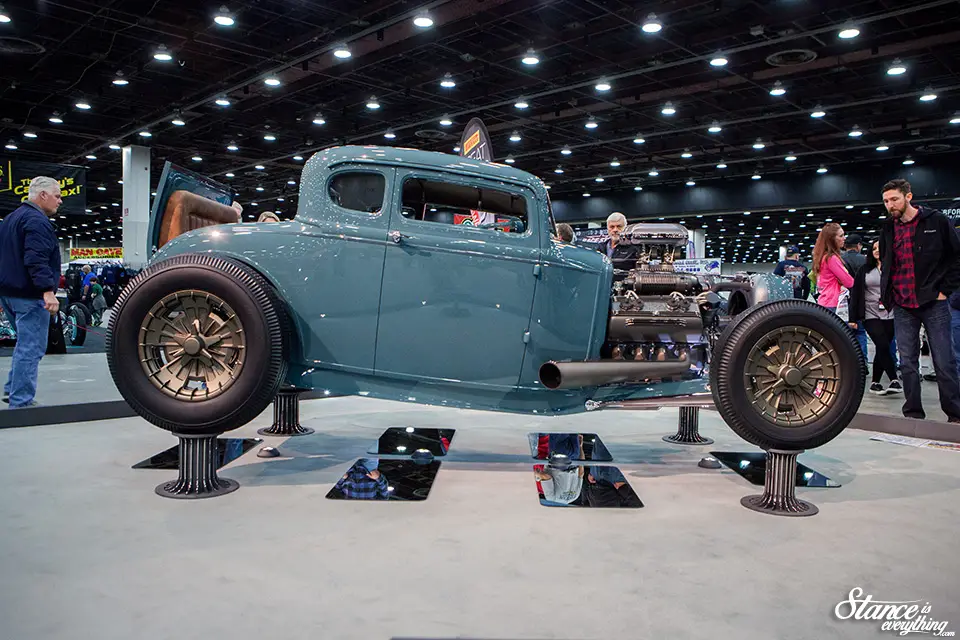 The color scheme of the car is described as art deco and the fins you see used all over the car were inspired by an exhaust manifold Cal Auto Creations owner Andy Leech spotted over two years ago.
The fins were used everywhere on the car and yet still somehow not over done. I spent a lot of time looking at this car and honestly couldn't find a single thing on it I didn't like.
I almost had to laugh when the video said that the car originally came in for a minor over haul.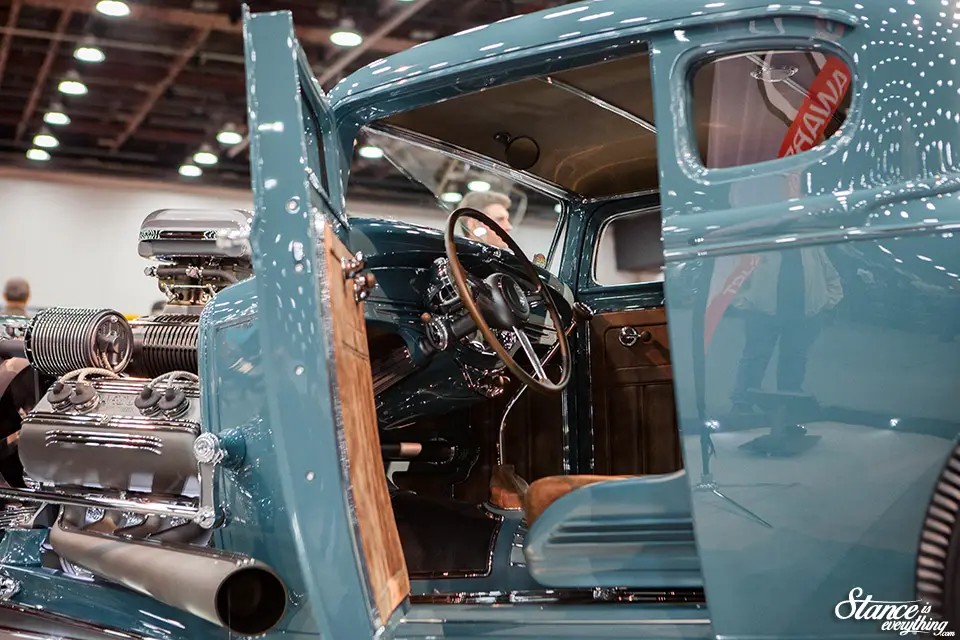 While this car didn't win, I hope that it doesn't disappear and more people get to see it in person because it's a pure work of art and one of the best coupe builds I've ever seen.
As a completely shameless plug if you want to read more about the Ridler cars you can check out The Great 8 Of the 65th Annual Detroit Autorama and The Renaissance Roadster Wins The Ridler Award At Autorama 2017 on rodauthority.com