Trevor Couture doesn't like to do things the easy way. In 2014 he first finished his Volkswagen VR6 swapped 96 Nissan S14. Then about a year later he tore it apart to redo it.
Since then it's been in a bit of a state of flux, being rebuilt and torn apart as he chases his version of perfection.
In it's visual prime, the car looked very similar to how it does below: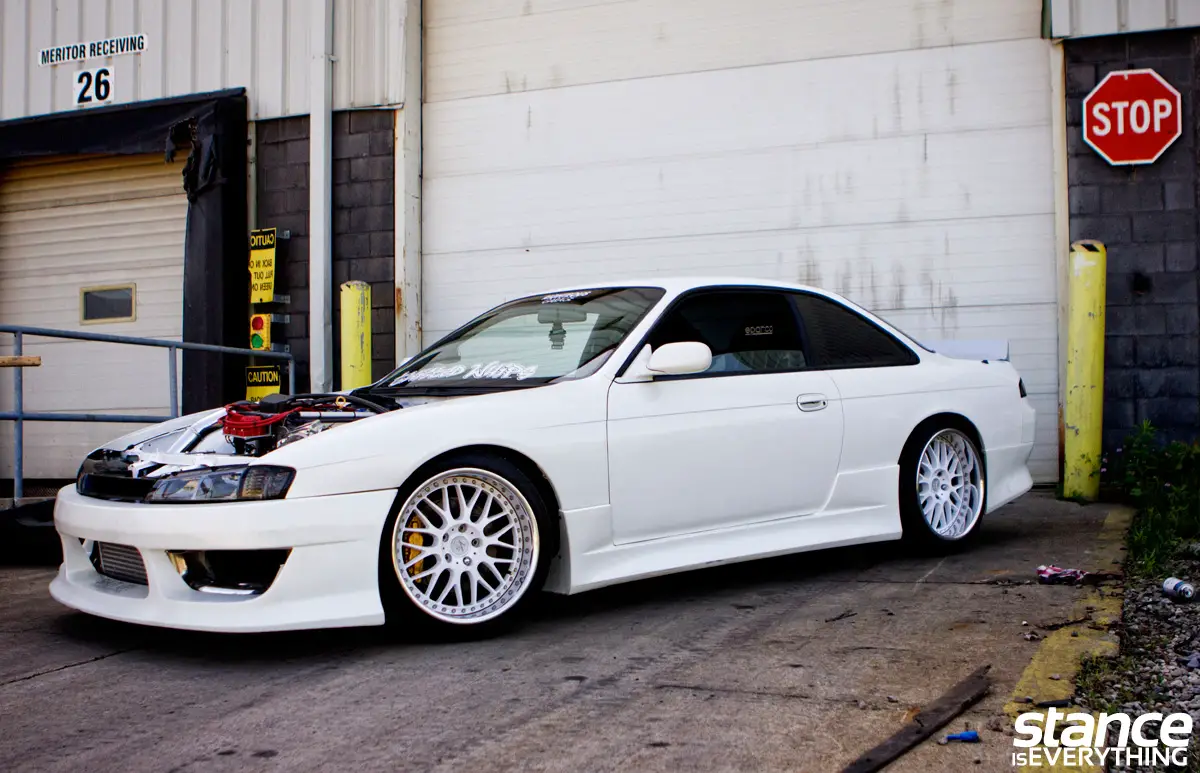 In it's mechanical prime, the car made over 700 horsepower at 28psi.
For all the people saying my sheet is sketchy cause it says kensstang as the user name. Here is a video of my 699.98whp pull. Final number of the 703whp but had to stop due to a leaky head gasket :). Was going to do more runs but we shut it down so we didnt do any damage to the engine.#stockbottomend #boostittlitblowsThanks to my gf for the video and Derkzen Motorsports for the dyno pulls. Dyno is mobile

Posted by The VR6 Silvia on Monday, September 21, 2015
Supporting that power was a motor that had a Schimmel Performance head, 268 turbo camshaft, 90mm throttle body and 1700 cc injectors. The pistons and rods however were stock Volkswagen components.
What's your 2 step game like? #bangbang #youdontneedeardrums #lightitup #2steplit

Posted by The VR6 Silvia on Saturday, November 16, 2019
The transmission consisted of a six speed, Nissan 350z transmission fit with a PTT triple plate clutch and custom flywheel.
This was bolted to the VR6 motor via a SEO motorsports adapter.
IRS hooking hard. This weekend coming is going to be the weekend this little stock bottom end is guna put in some work. HUGE shout out to all my buddies helping out with the car this year and coming to support @gelinasrobin @chemicalvalleyracing @teamreid1 @redrocketpinto @boostedamc @jibber782 @jr_chief_ @scott_t1976 @erikderkzen @rtolayThe man behind the keys has made this thing run so smooth @lugtronic thanks for that! Shout out to the boys from @importdragsolutions @jrogtuning for sharing their knowledge on suspension even tho I dont even run their kit LOL. Been a good year for the Silvia.#VR6SILVIA #runlug #lugtronic #lifeonair

Posted by The VR6 Silvia on Thursday, September 5, 2019
Currently the car is taken apart, and it's future a bit ambiguous.
https://www.instagram.com/p/B7bDME-HCd1/
However with Trevor you never really know so follow his progress via the social links below.
Swap Details:
Motor: Volkswagen VR6
Transmission: Nissan 370z
Turbocharger: Garett GT4294r
Horsepower: 700
Social Media: