When Mike Latter bought his 2001 Subaru Forrester he had no intentions of modifying it, however shortly after joining the Toronto Subaru Club he was bit with what we enthusiasts like to call the mod bug. After plenty of online research hours, wrench turning and visa bills later, Mike's car is on it's third revision and currently awaiting its fourth.
Like most Mike's first round of modifications started off fairly conservative, he installed a set of RaceGear coil-overs and OZ Superturismo wheels and called it a day. Since modified Forrester's are such a rarity in the GTA Mike's Forrester quickly stood out and turned a lot of heads in the Summer of 2007.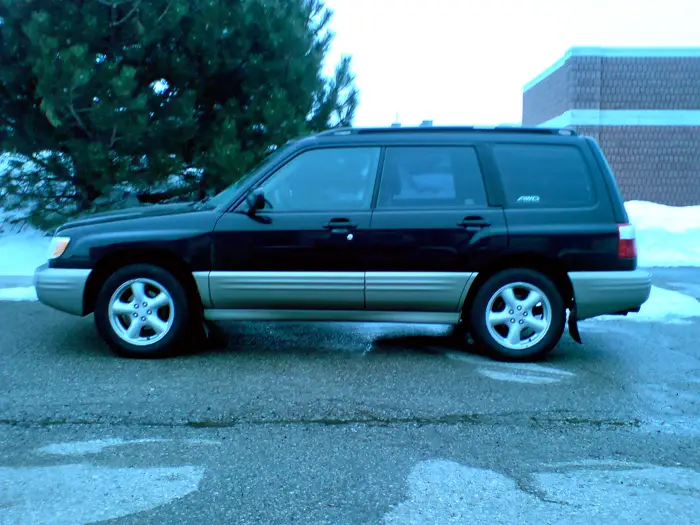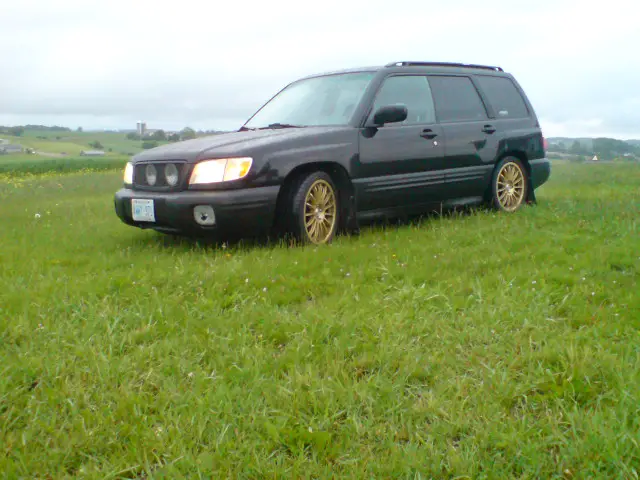 With the mod bugs venom seeping into his veins via the compliments he was getting on his rides new look Mike began to modify his Forrester over the 2007/2008 winter months.
Once summer of 2008 rolled around Mike further improved upon his Subuaru's suspension setup by adding a trio of Perrin suspension parts including: a 22mm rear sway bar, sway bar mounts and sway bar end links. Mike also got out his chop saw and welder to fabricate a set of heavy duty front and rear strut bars.
While the suspension was apart he improved braking performance by installing power slot rotors on all four corners.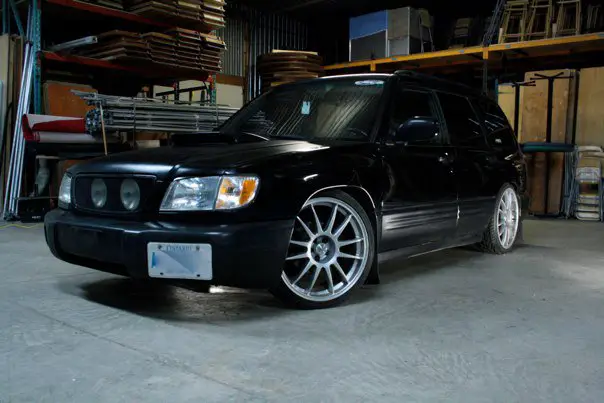 Under the newly fitted WRX hood, Borla headers were mated to a custom vibrant exhaust system, while inside a GroupA Short shifter was added, along with a set of nex carbon bucket seats for summer use, and 2001 WRX seats for winter. He also took some time at this point to shave a few pounds of sound deadening weight.
When the summer of 2009 came around Mike was at it again installing a set of 19×8 OZ Ultra leggra wheels along with a set of cusco coil overs that allowed him to drop his car lower than his previous, RaceGear, setup would allow.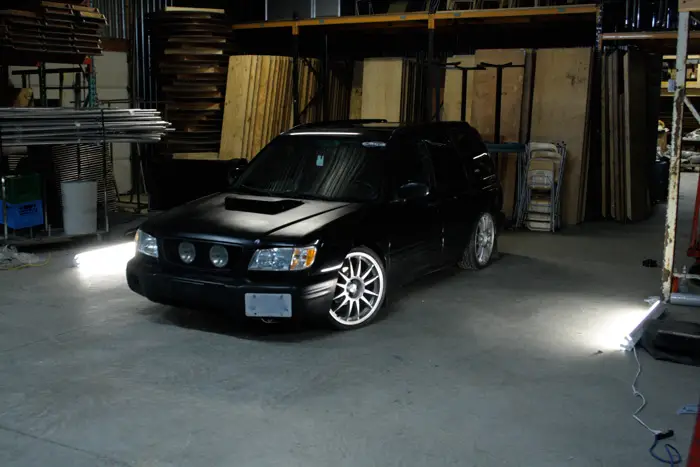 Near the end of the 09 season, after having some time to take in his cars new look, Mike decided that his wheel fitment left a little to be desired. Aiming to fill his wheel wells a little better Mike ordered a set of custom spacers, which required longer ARP studs, and open ended lug nuts.
Mike knew that a set of Work Lug nuts would be the perfect way to set off his new fitment so he placed his order. Unfortunately for Mike these lug nuts were back-ordered and as month, after month, went by Mike soon found himself in the middle of a snowstorm on summer tires.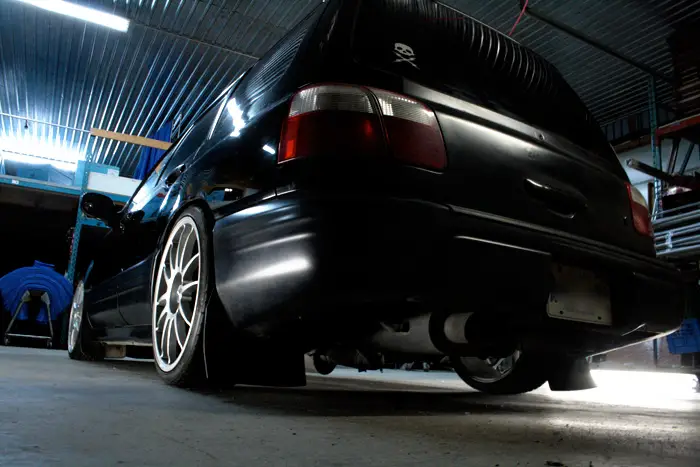 This is when tragedy struck, one snowy November night in Burlington Ontario, in the form of a very stubborn pole. With a significantly damaged front end Mike was put in a position that none of us as car enthusiasts want to be in.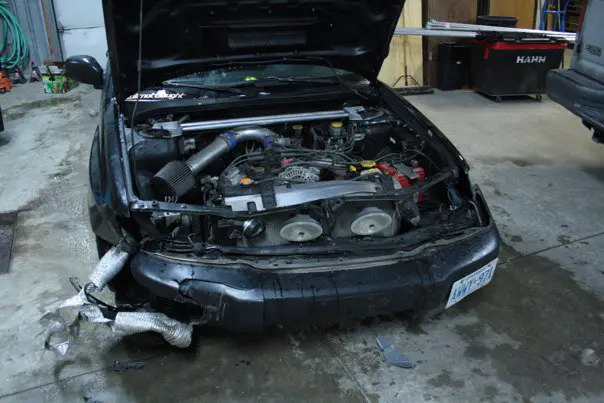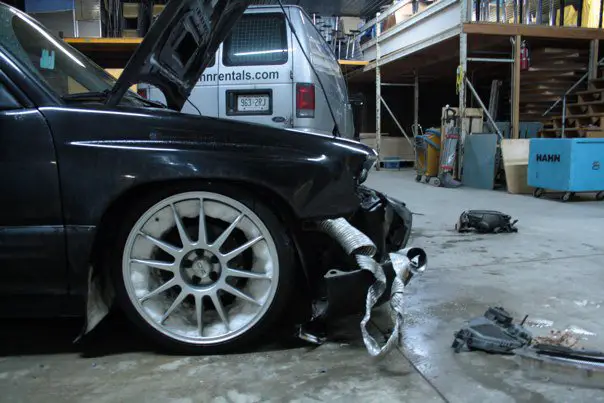 With time, love, dedication, and money invested into this vehicle it was heart breaking for Mike to see his Forrester now almost fit for the scrap yard. After much debate on what to do with his bent ride mike eventually pushed his emotions aside Mike and decided to rebuilt his prized possession.
After spending two days locked in his garage Mike was able to get his car back on the road with a new rat/hoodride inspired look.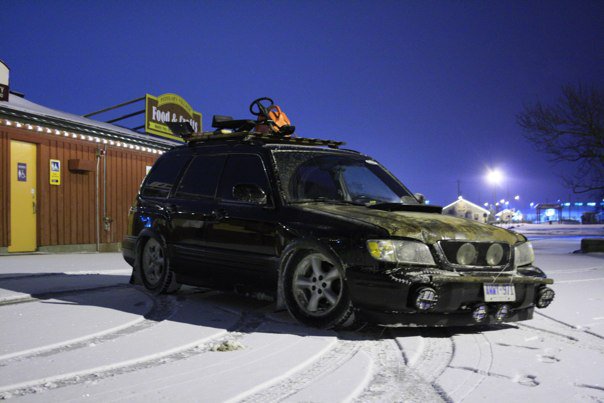 Mike's Forrester now wears it's battle wounds with pride and while one day Mike plans to transfer his parts over to a clean chassis he currently loves his car now just as much as he did before the accident
Mike's plan, once he gets a new chassis, is to continue to modify his car in a way that makes it unique and eye catching.
Personally I can't wait to see what comes next, and with the dedication and passion Mike has shown so far the sky is the limit.
Here are a few more photos of Mike's ride in its current winter and battle ready condition: