I can honestly say this isn't a swap I ever expected to come across. While  I've seen a handful of Japanese power plants in American cars (and vice versa) I never expected to see one in a traditionally styled high boy roadster. However Solo from Go with Solo changed that with his blog post yesterday.
He  spotted this bright yellow American/Japanese union at the recent Nashville nationals and while incredibly unorthodox the motor actually seems right at home.
A little research tells me the car was built by Nissan employee Jack Taylor in 2008 for Sema, Jack was obviously a fan of classic high boys because motor aside this car looks very traditional.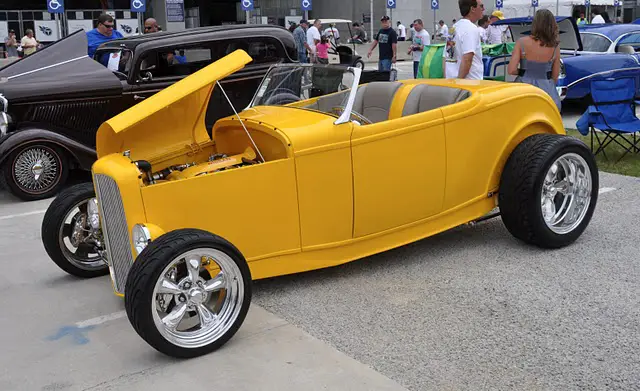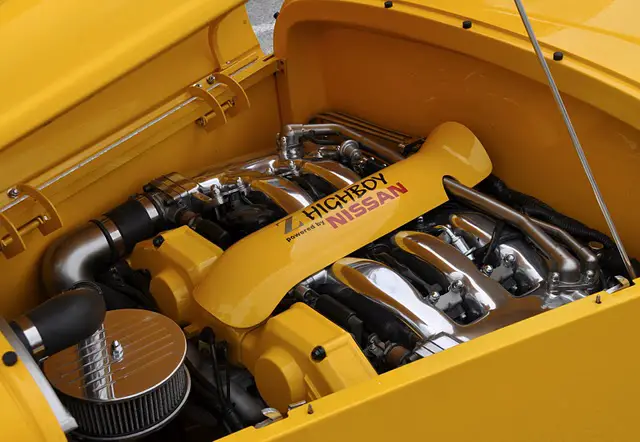 I was able to find a little bit more info on the car in a for sale post (from 2008) as well:
1932 Ford Highboy power by a Nissan 300ZX 3.0 DOHC EFI V6 for sale in Tennessee. The Nissan engine develops 240 horsepower. Transmission is a ZX 5 speed manual gearbox. Other features include ZX manifolds, stainless bullet mufflers, Jet-Hot coated pipes and Walker Radiator. Frame is an American Stamping Company '32 rails, boxed and pinched with custom cross members. Front suspension – custom tubular un-equal length A-arm IFS, polished forged aluminum ZX spindles, hubs, and brake calipers and 240SX steering rack narrowed. Rear suspension – custom tubular 5-link IRS, ZX differential with polished ZX axles, hubs, and brake calipers.

The Body paint is Sikkens single stage custom mix "yellow submarine", Downs '32 Ford Roadster Body, Rootlieb three-piece hood, custom hinge assembly, Custom polished aluminum grill, MG-B MG Midget windshield posts, frame, and glass. Interior is a custom bench design with gray leather and wool carpet.

American Racing Torq-Thrusts – 17 inch x 7 inch up front and 20 inch x 10 inch on the rear. B F Goodrich g-Force T/A KDW-2, 195/40/17 front and 295/45/20 rear.
I'm curious about how this car sounds and whether hearing it pull up would be a good indicator of what's going on under the hood.
Site Updates
Tomorrow afternoon I fly off to Cuba so I will be unfortunately missing what might be one of the biggest shows of the year, Import Expo. However enjoying some R&R in Cuba so I am sure I will quickly forget about it.
I've been pretty lately with this site, work, and working on a new BMX edit, that a week of hanging out and doing nothing in the sun with an adult beverage in my hand seems like an awesome time.
There will still be posts next week just not as many as usual. I have them written so if all goes to plan new content should be up Monday, Tuesday, and Friday of next week.
Already got a couple photo shoots in the works for when I get back too…
Flashback Friday
Matt (who owns the recently featured s2000) has been putting some promotion behind his show ,Tuners Against Street Racing, which takes place August 28th 2011, so here is a look back at the 2010 show.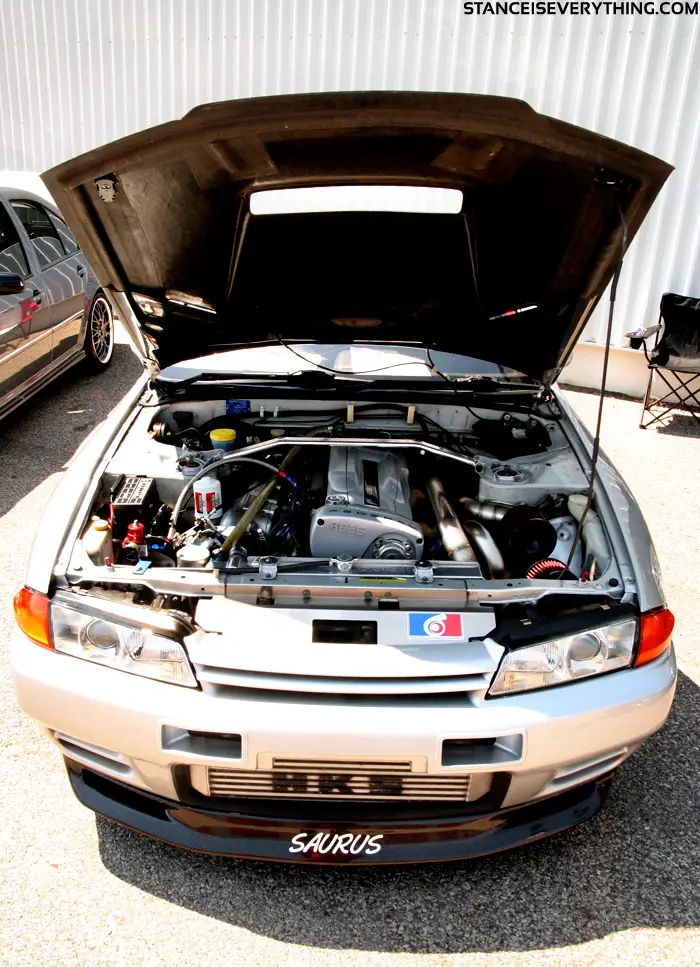 I am not sure if I'll make it out to T.A.S.R. this year as it's the day after Importfest and who knows what I will be getting up to that night but if I don't go I should be able to find someone who can help out with coverage.
Hopefully I get to see some of those crazy Cuban cars when I am gone…