On Wednesday it was announced that local car meet Ertefa was -at least temporarily- no longer welcome at the venue it had been occupying.
If I am not mistaken this is the second time they have had to leave a location but unlike the first time size wasn't the issue.
Apparently at some point within the last few weeks a street racing accident occurred on the near by highway and the blame has fallen on the Ertefa crowd, and as such they have been told to stop showing up.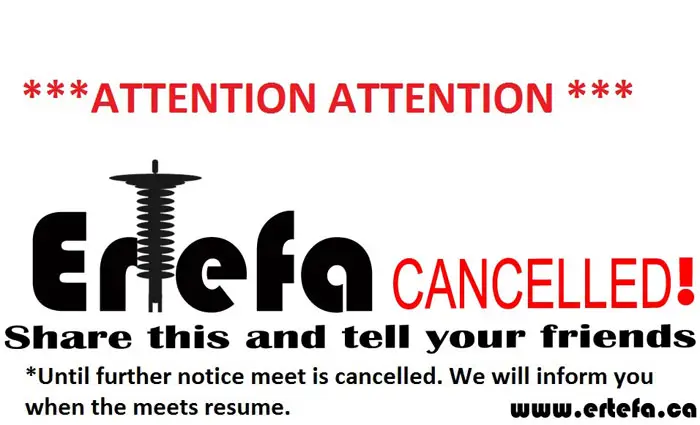 With this news of Ertefa's shut-down I have to ask… is anyone really surprised?
It's not like this hasn't happened before I'm sure (actually I know) I am not the only one who saw this coming. The writing began to appear on the wall pretty early, and as problems with burnouts, parking, fights began to pop up that writing only got clearer.
Really the whole thing was an ambitious endeavour by the Ertefa organizers because I can't recall the last time any large scale (500+ cars) weekly meet lasted without incident.
Which leads me to the question of the day, can any meet the size that Ertefa is (or was) last?
No matter how hard an organizing body tries to enforce their rules (as ridiculous as some may be*) there are going to be people who don't listen, and don't give a fuck.
And even if someone did manage to remove those individuals permanently you still have to deal with the fact that if anything accident related happens near by the cops are still going to point their fingers at the gathering because it's the most logical place to start.
Discrimination? Sure. Unjustified? No. Let's not kid ourselves street racers still exist, so why wouldn't the police start by killing the meet to see if that stops the problem? It's a sad state of affairs but at the same time it kind of is what it is and if they let the meet continue the non car car loving public would see it as turning a blind eye.
So what's the solution? I'm not sure, Classic car guys seem to be the best at having long term meets but at the same time they are generally half the size and not without their own issues.
Truthfully I am not sure there is a workable solution to the problem once numbers get past a certain threshold, but anyone is more than welcome to prove me wrong.
Will Ertefa make it back? Time will tell.
*By the way Ertefa organizers my offer to sponsor a trash can still stands.
Site Updates
For event weekend this Sunday, CSCS, Meeting of the Mazdas, Torque Modified, and Vagkraft. Flyers below, click each for their respective sites.
I'll be at Meeting of the Mazdas but I should have guest photographers at ever other event provided things work as they should.
Flashback Friday
Might as well go back to last years Vagkfraft
Vakgraft 2011 Part 1 complete coverage
Vagkraft 2011 Part 2 complete coverage