When I was eight or nine my dad came home and gave me a drag racing book with the ambitious hope it would stop me from chanting "I'm bored" while he was watching football.
The book was filled with equal parts photos and text so it actually did the job for some time.
Besides being the reason I can't help but take a photo of every gasser I see the book also did a good job of taking me through the history of drag racing including the time period when Top Fuel cars switched from the old front engine figuration to the rear mounted motor setups popular today.
That point in history is where the twin mill Top Fuel car known as the Syndicate was born. Not the first of it's kind by any means what makes this one interesting is the fact that it is reportedly the last one ever made.
For whatever reason the team behind this car thought that the best way to combat the rear engine cars was to give the twin motor setup one last kick at the can, so they placed two nitro powered Hemi motors in a line and hoped for the best.
Sadly it seems that the car was to heavy to ever really be competitive and quickly lived out the rest of it's days as a show piece up until it fell into disrepair.
After a lengthy period of time in storage it was picked up by California Construction company owner Ken Blackmore who was able to foot the bill to get this beast back together and running again.
The concept of placing two very powerful and potentially explosive motors in front of your face seems like a bad idea, but after watching the video of the now restored Syndicate literally shake under it's own power I see the appeal.
More info on the origin, death, and rebuild of this car can be found here on Cackle Fest.
Site Updates
Looking into getting some new T-Shirts made for 2013. Something a little more graphical, I just contacted a designer so we shall see what happens. Worse case one of the three shirts below (lifted from my instagram) will make their way into production.
Keep you posted.
Flashback Friday
It was really foggy this week in the GTA which reminded me that I did a photo shoot with my car in the fog years ago.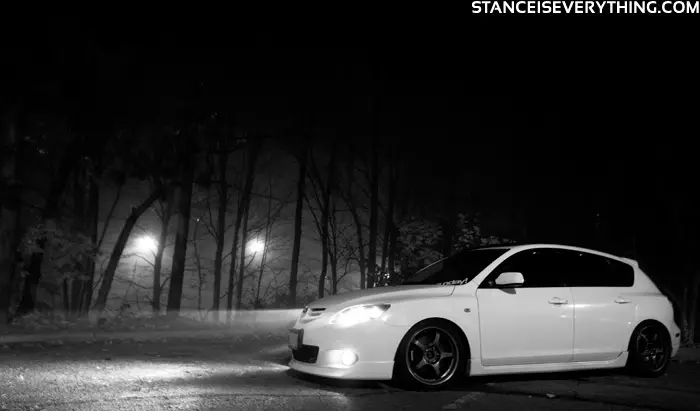 Seems like so long ages ago.