This year while I in Vegas for SEMA my girlfriend and I got married after eight years of her putting up with my impractical cars, obsession with small plastic transforming toys, and risky children's bike manoeuvres.
Though it was a surprise to many we actually planned the entire thing before hand and one of my few responsibilities was to arrange a vehicle to do the drive through ceremony in. After putting out an S.O.S. on twitter I immediately got a response from Las Vegas local Luis Planas of Kreative Street Designz who had a recently restored 72 c10 we could use.
The truck was purple, our wedding theme was purple, Lyndsey loved it, and I love trucks, so I gave Luis the details regarding our ceremony and he met us there.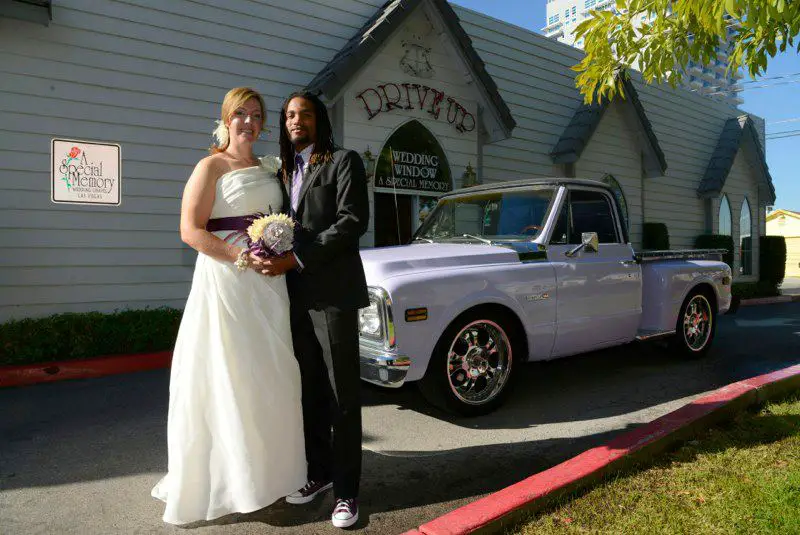 When all was said and done and I tried to pay Luis for his troubles he refused to take any payment instead suggesting I 'pay it forward'. Beyond a few twitter/gtalk conversations Luis and I were practically strangers at this point so for him to step up and do this for my wife and I meant a lot. I've still got a lot of paying it forward gestures ahead of me to make up for his kindness but hopefully this give-away is a step in the right direction.
While running this site I've been fortunate enough to wind up with a lot of free product and instead of selfishly continuing to horde these t-shirts, stickers, key chains, bracelets, lanyards, and plate frames I've decided to split it up equally, toss in some Stance Is Everything merchandise, and mail it to three of you reading this right now.
All you have to do to enter is comment on this post. No complicated liking, sharing, tweeting, or skill testing questions, just post a comment and you are entered.
Contest closes Sunday December 16th at 10:00pm EST.
Winners will be announced Monday December 17th at 10am EST*.
One entry per email address
Special thanks to: Crazy Leo, Drift Posse, Fatlace, Import Bible, Importfest, JDM EGO, Seche Media, Scarborough Scion, SIC RYDE, NextMod, and several others for contributing to this give away.
Good luck!
*Winners are chosen using The Random Number Generator.
Contest is now closed winners will be announced tomorrow, thanks to all who entered.