Hit up Kijiji this week to see what the warmer months have to offer for WTF Friday content and I actually came across something that blew me away.
It's not uncommon to find various Pro Street and Drag vehicles on Kijiji at any given time (usually very dated examples or ones missing their motors) but a COE set up to blast the quarter-mile? Now that's rare.
With Snap On branding on the bed I foolishly assumed finding information on this truck would be easy. I quickly learned that there isn't much on the truck to be found.
Well not much if you don't count the video below of it running 6.47 at 105 mph.
That's fast, really fast given it's size and even faster when you consider the pass was made basically sitting dead center over top of the axle.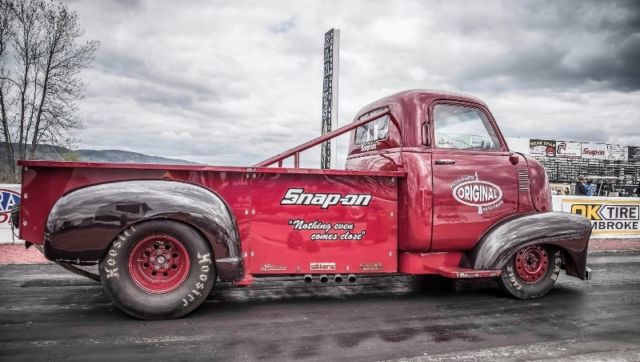 But still, I was hoping to find a bit more info, maybe something about the builder, or something about the power plant. Every avenue I explored however I came up snake eyes.
The for sale ad reveals the  truck is set up for SemiPro or Super pro and runs 6:40s on alcohol (as seen above) and 6:50s on pump gas.
It comes with a 26′ enclosed trailer which is presumably the one below, and it is part of an estate sale.
The truck is currently in Ottawa (and I feel pretty confident in saying it has always resided in that area) with a 30k OBO asking price.