Jet ski's are a lot of fun, provided you don't flip them in the middle of the lake and have to get towed by a fishing boat back in to fix it, but getting them to and from the lake can be a bit of a challenge.
Getting it out of a lake becomes more of challenge if you don't have a proper trailer to do so. These two guys almost had a method worked out to but then mother nature, gravity, and common sense took over which resulted in a nice little fail.
From what I'm told they are doing a lot of swearing in french:
Bonus!
Saw this on Farm Of Minds and had to put it up, these crashes are wild.
Site Updates
Seche Media has confirmed that my new stickers have shipped out and they should be here as early as tonight or as late as Monday.
Either way I am really excited to see what they come out like as I have some special edition ones for Voice Coil Meltdown as well as 2 tone I like em dropped stickers.
Once I get the new shipment expect an update post.
Event wise I am thinking about taking my old man to the Classics Against Cancer car show this Sunday for Fathers day.
Tonight I am going to take some pictures at the meeting spot of the Maxbimmer midnight cruise, pretty sure Keven is rolling with me to this as well so it should be good times.
I've also got a few emails to respond to so if I have not yet don't worry I read all the emails I get and will response soon it's just been a busy week. Lots of readers rides coming soon which is awesome.
Finally here is my status with BC-Racing regarding getting my car down another .5 of an inch in the front.
We will be doing a test fit btwn now and then to confirm there will be no issues.
Mike
Cross your fingers for me.
Flashback Friday
I've been thinking I should get my iphone out and snap more street finds lately so to remind myself I figured I should shine some light on one of the more unique ones I spotted last year. This Koenig-Special widebody benz.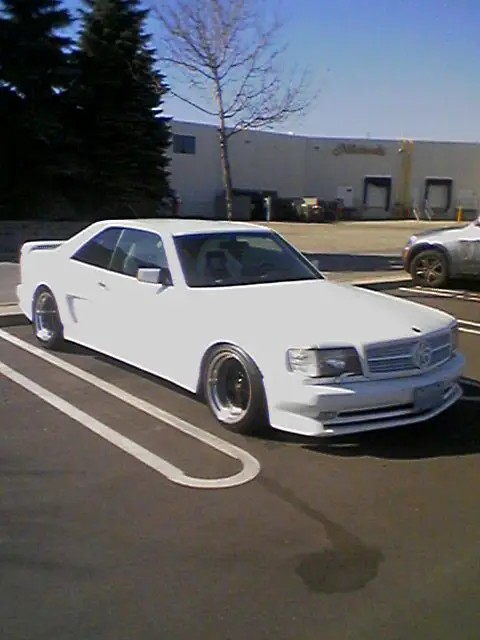 Have a great weekend, feel free to detail your car like me tomorrow and feel my pain.