I go to a lot of car shows, as you probably already know from my event coverage, and doing so I see a lot of crazy things: insane and interesting motor swaps, slammed International trucks, and lots of scantily clad women are pretty much par for the course.
However what is not par for the course is what I saw at last Saturdays Street Classics Cruise In.
While slowly making my way outward from the ice cream truck I saw an older looking go kart sitting on the ground beside a Jr Dragster.
After studying it for several moments, trying to piece together what I was seeing in my head, the owner with a bemused look on his face asked me if I knew what I was looking at. My short answer was no (my long dumb answer was jet).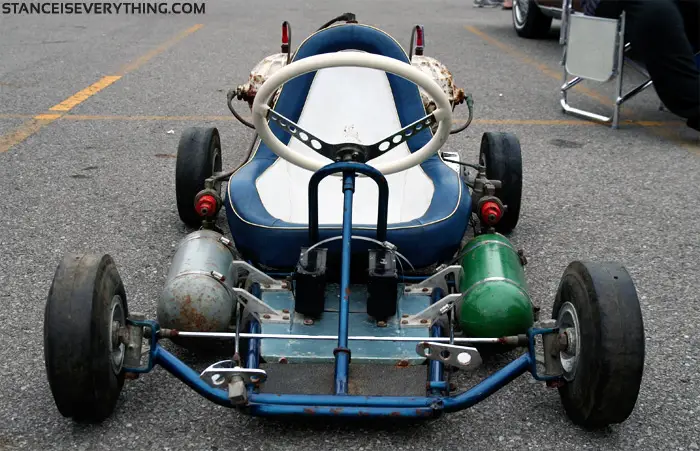 The Kart you see above is said to have been built early to mid 1960s by now defunct company known as 'Turbonique'. From my research it seems that this company only existed to strap rocket motors on cars and go karts to see how fast they could go down the track.
The rocket kart above is made up of the following vital components: two oxygen tanks, two capacitors, two spark plugs, a fuel tank, and a 60s go cart frame with a drum brake.
The rocket propulsion system (words I never thought I would type) is a closed system which the owner says could theoretically run underwater and in space since it doesn't require fuel from the atmosphere.
When I asked the next natural question 'how fast is it' the owner told me that each of the rockets put out 300 pounds of thrust and the car would rip down the 1/4 mile in around 9 seconds at about 150 or so MPH.
Sounds fun? Well it probably was if you stated on the ground. To quote one of the sites I read to get a little more info:
According to all accounts this kart went from zero to 150mph in 4 seconds before becoming airborne and sliding out of control.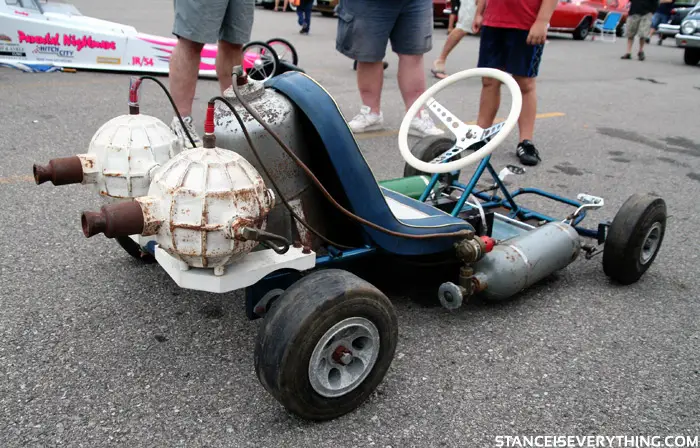 The owner went on to say that the motors were on or off and that they were designed to burn all of the fuel in one 1/4 mile pass.  The drum brake the kart is fitted was more or less for show and so you had to make sure that the track you were running on had enough run out to keep you from pancaking into something.
The drivers wore a flame suit,helmet, and gloves and tossed their common sense out the window and held on for the ride.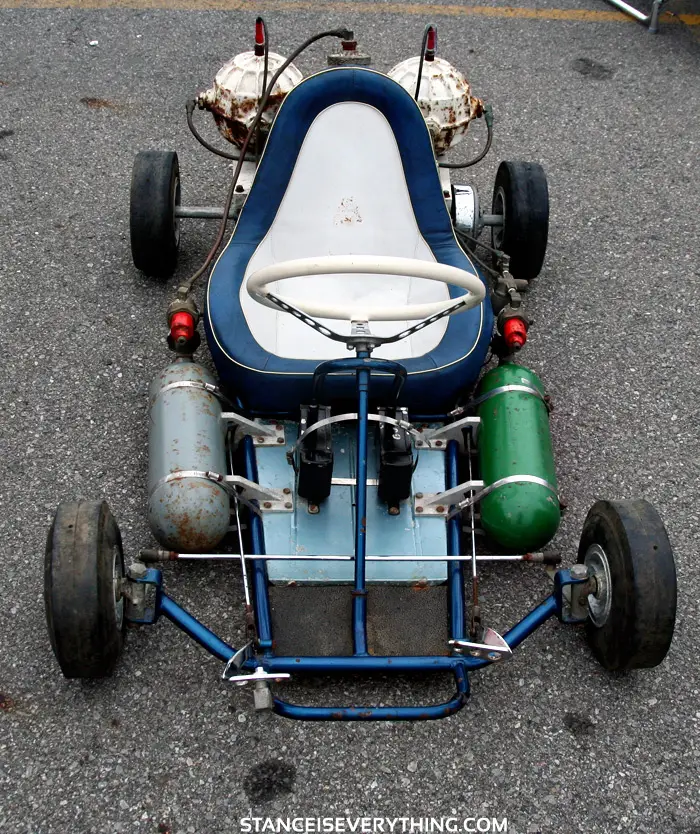 Here's the real kicker about this whole thing, the now owner says that he got it at a garage sale after several people passed it up, and while he wouldn't say how much he payed I am guessing it was a lot less than what it's currently worth considering they sold for about $1500 back then and there were only 5 or 6 said to have been built with only 3 or so remaining.
For those interested in learning a bit more about this cart and Turbonique check out the following links:
Rocket Karts
Vintagekarts.com
Turbonique
The Real Acme
I have reason to believe this same cart has been spotted before in Florida as well damn.
Site Updates
It's been pretty quiet week. I've been slowly rolling out slight functionality/seo tweaks to the over all site but other than that nothing to out of the norm has happened.
I've sent a draft off to a photographer for approval and scoped out a photo shoot location for an upcoming featured ride yesterday was well.
Basically just keeping it rollin.
Flashback Friday
While not anywhere near as crazy as the kart posted above the last twin motored vehicle I posted was the Evolution Racing Twin Motor VR6.
Other than the amount of motors the only real similarity here is that I have never seen either move under their own power in person.