A few days after the Majestics/Luxurious BBQ Rob at Performance Improvements asked if I would be interested in shooting some photos of Jeff Forgione's Lincoln at his shop Switches N Thangs for the Autumn issue of Performance In Motion.
Jeff's car –which doubles as the Switches N Thangs rolling demo vehicle– has progressed an incredible amount since I first saw it in the hop pit at the Scrape by the Lake in 2010, so the opportunity to shoot it hopping in a private location wasn't one I was going to turn down.
After a couple of U-Turns thanks an "I'm sure I know where it is" navigation system we found ourselves parked in front of a door with a small, hand painted, "Switches & Thangs" sign affixed to it.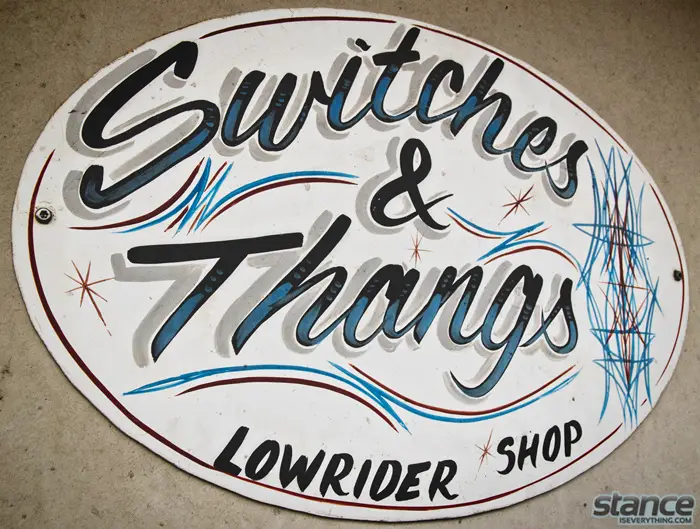 Of course at that point the sign was a little redundant as the number of classic American cars in various states of repair (ranging from show ready all the way down to fit for the pick and pull) was enough to let us know we were in the right place.
After a brief conversation about the success of the most recent BBQ, and the prerequisite down town cruise afterwards, Jeff welcomed us into his shop where we were greeted by an absolutely massive Caprice limo that was in the middle of having a lift kit installed in preparation for 30″ wheels.
Jeff informed us the owner –originally from Atlanta– wanted something that would stand out in the streets of Toronto.
Trying not to dwell on the obvious fact that even without 30s a giant metallic blue limo would have little trouble standing out, I turned my attention to the middle of the shop where Jeff's most recent, and most interesting, projects could be found.
There were a number of frames throughout the shop, most of which had already been reinforced to Fort Knox levels of strength in preparation for a life of abuse hittin' 3s, and banging bumpers.
Some were raw and freshly welded while others like the one below had been painted, pinstriped, gold leafed, and fitted with custom Switches N Thangs control arms waiting to be mated with a body that's seen equal amounts of careful customization.
Though the frame above was impressive the crown jewel of the entire Switches N Thangs shop had to be the under construction '64 Chevrolet Impala know the 'Chilango 64'.
I'm not about to say I have seen all of the great lowriders built right here in Toronto but, I don't think it would be out of line to say that once this car is finished it will be one of the greatest '64s to ever leave a Toronto shop.
Even in it's incomplete state this Impala was a work of art. The chrome work is impeccable and the paint work is absolutely phenomenal.
I can't even begin imagine how long it took to paint this car, and I was almost scared to get close in the event that something on my person would somehow manage to damage such detailed work.
Every inch of this car from frame to Dakota Instruments equipped dash had been artistically covered in various shades of blue, and silver prior to be covered with glossy clear and metal flake.
The firewall even had beads of water embedded into the paint creating the perfect back drop for the equally detailed, and colour coordinated, motor.
After a few minutes of getting lost in the finer points of this build I focused my attention outside to the Jeff's car which was of course the reason I was there in the first place.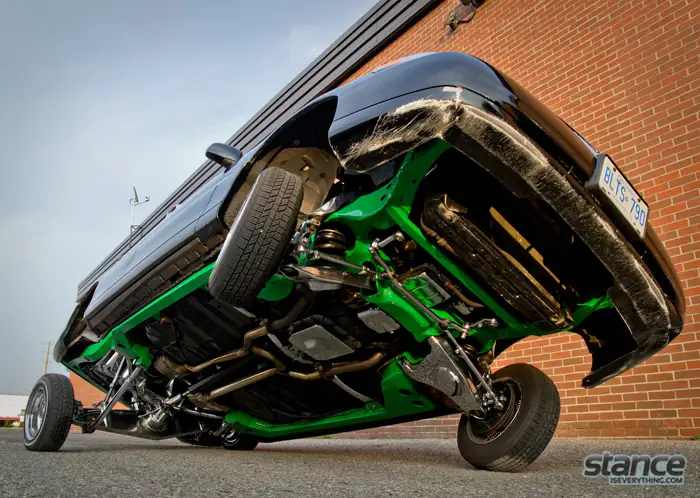 This Lincoln, which Jeff drives as much as possible (even occasionally in the winter) is a true testament of his handy work and anyone who's seen it will vouch that Jeff isn't afraid to hop it any time, anywhere.
Whether it be for us in the back alley of his shop, at a show with his Majestics family, or down Yonge street Jeff's willing to ride until the wheels fall off.
Immediately after we took a few 'glamour' shots he hopped in and put it right on his bumper repeatedly so that we could get a few shots for the feature.
If that right there isn't an indication that Jeff's stands behind his own work than I really don't know what else is.
A few weeks after this shoot Jeff moved his shop to a new location allowing him much more space to build and his latest projects can be followed here on facebook or via instagram @switchesnthangs.