On Father's day my wife surprised me by locating a staggeringly large show at a local Church here in Durham, neither of us really knew what to expect, but it ended up being a really great show that we will be back to.
I didn't take a lot of photos, originally not even taking my camera from its bag, but I had to take photos of this 1947 Custom Mercury known as the 'Franken Merc'.
Modified so far from its original form I'm really glad the owner kept a photo of the car on his seat because without it I would have not been able to tell what it was.
Originally a two door hard top the car is now, well, not that at all. The roof is gone, the belt line shaved, side pipes have been added and the bumper is now a carbon fiber split piece.
The largest change however is the electronically actuated 1 piece front end and headlights from… somewhere. The combination gives the car a bug , or Prowler like, look.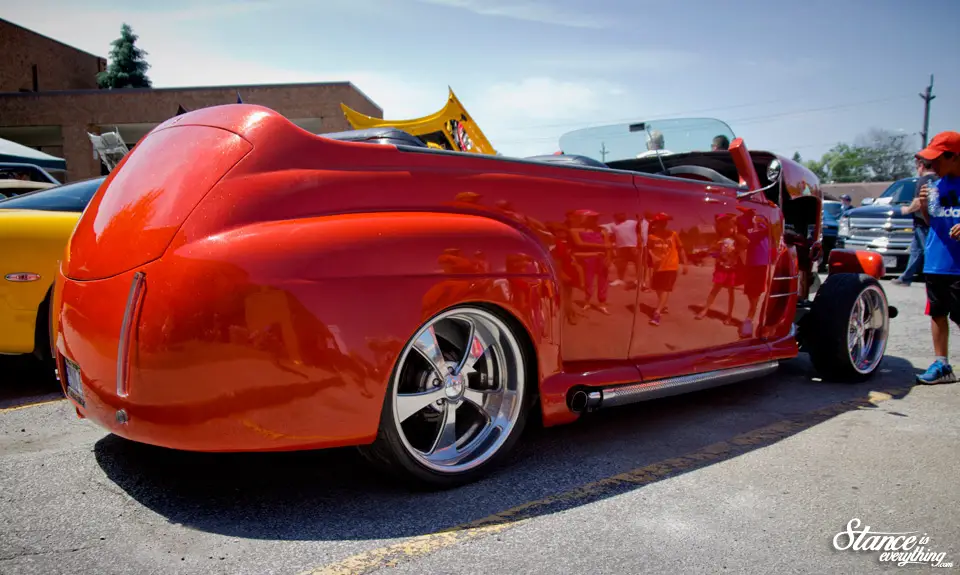 The door handles have also been shaved, and the rear bumper is gone too before a flaked orange paint job was added.
All the smoothing and lack of roof give the car a hefty looking rear end.
The interior is pretty late 90s street rod and the Franken Merc name has been added to a few various places in the car, most notably here the dash, end of the filters. However the valve covers (not pictured currently but I will add it later) also wear the Franken Merc branding.
I'm not sure the number of hours in this car, or if the owner did it all himself, but its safe to say that there are no other Mercs out there quite like this one.