In my 2016 wrap up I mentioned that moving East of Toronto put a number of new events in my reach and the Autofest Nationals is on the larger scale of those events.
A twenty-three year old classic car event held at Lakeview park in Oshawa the Autofest Nationals is open to all makes manufactured before 1986.
I've peppered a few of these photos throughout Facebook and instagram, and even padded a few editorials with them, but for the most part the lion's share has been trapped inside a draft post.
With January being one of the hardest months content wise I've decided to put a few words around these images and unearth the coverage so to speak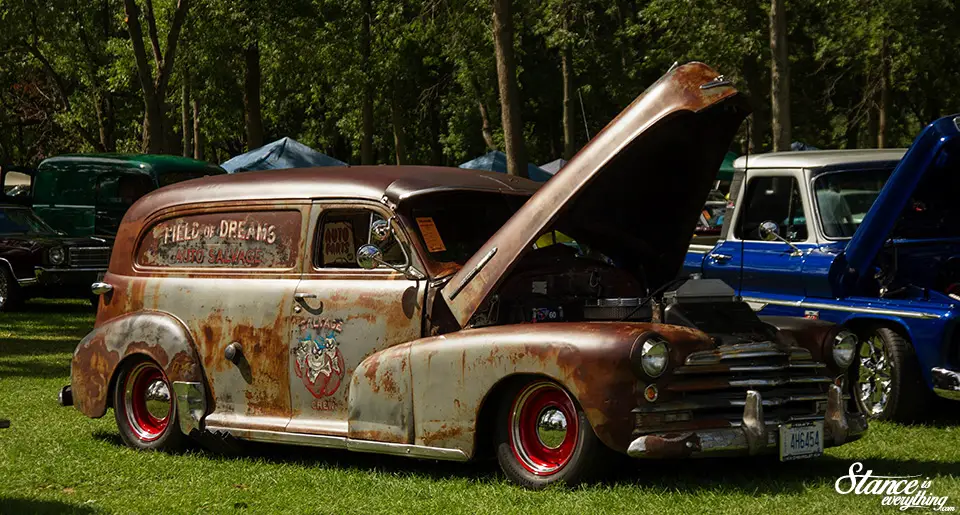 For my first Autofest Nationals I went with Ash in tow and to be honest as soon as he saw the neighboring park my minutes were numbered, but we did circle the grounds for about two hours taking in the variety of different vehicles.
If memory serves the weather was calling for rain that day as well, but as it became clear it wasn't going to rain more and more vehicles started to arrive.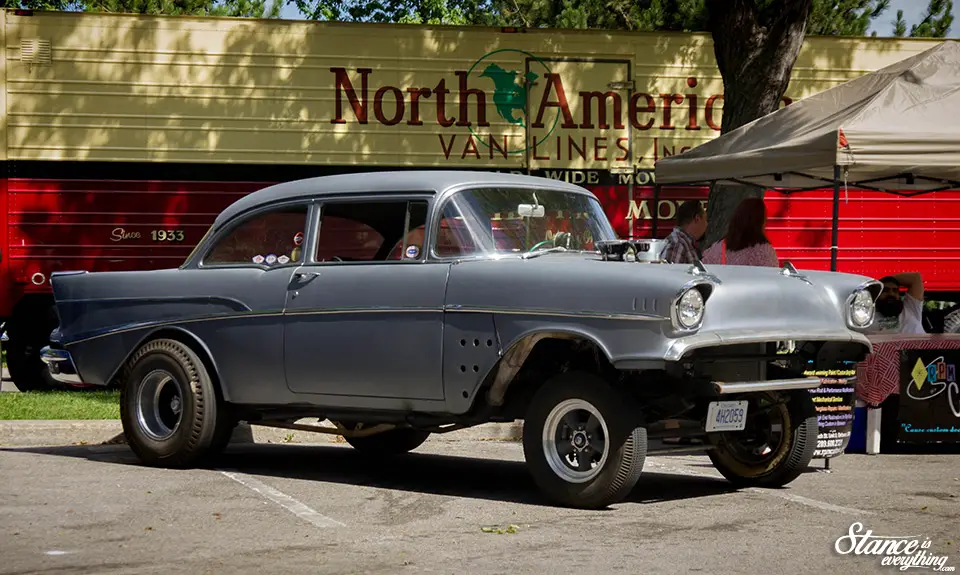 The variety at the Autofest Nationals was pretty good and should you be a classic car fan I don't think you'd be disappointed going to the show either Saturday or Sunday.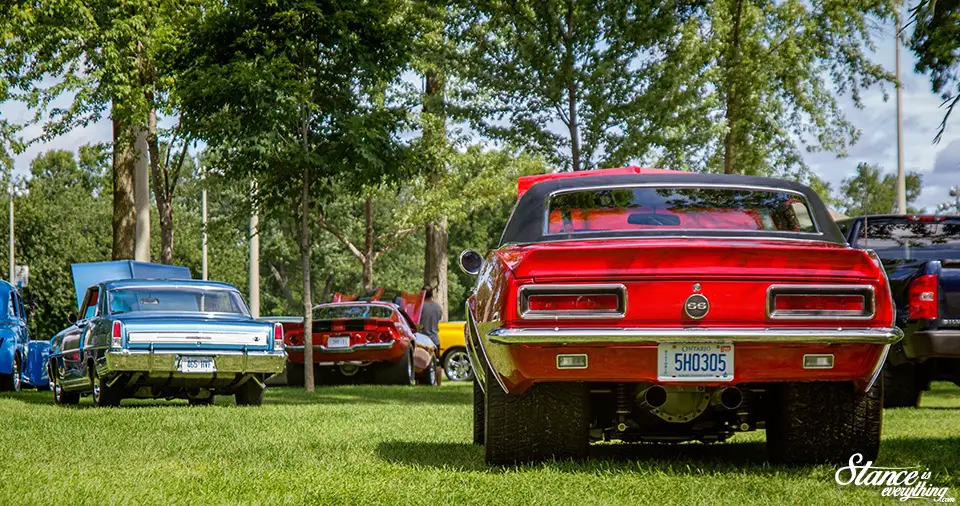 Ford, Chevy, Lifted, Lowered, stock numbers matching, or heavily modified there was a bit of something for everyone.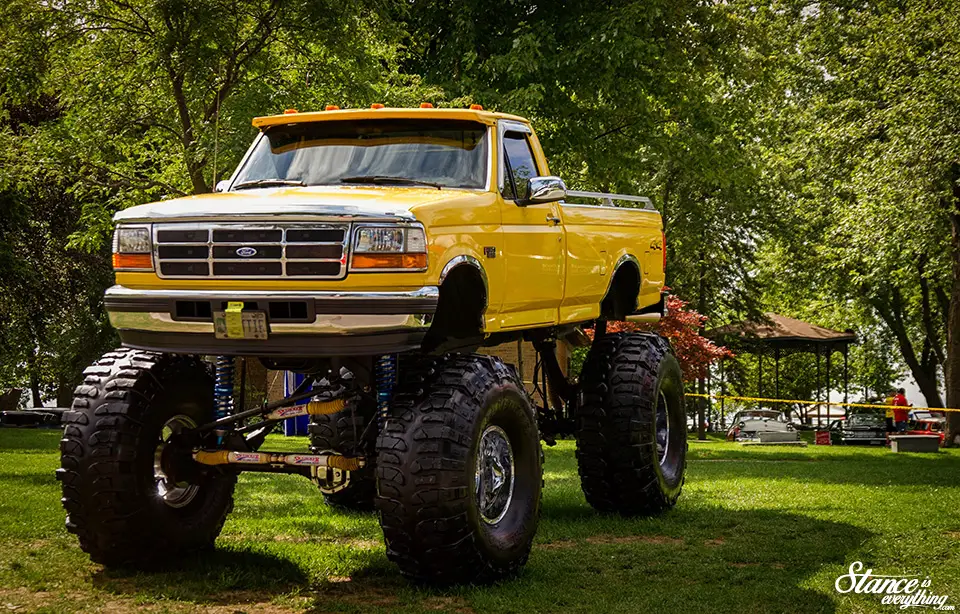 What I always find interesting to do at a show this large is try and place the year that some of the builds were finished.
Paint colors, wheel choices, and windshield banners can be incredibly telling when it comes to dating a car and it's always fun to see vehicles that remind me of sitting down in front of the couch watching The Nashville Network.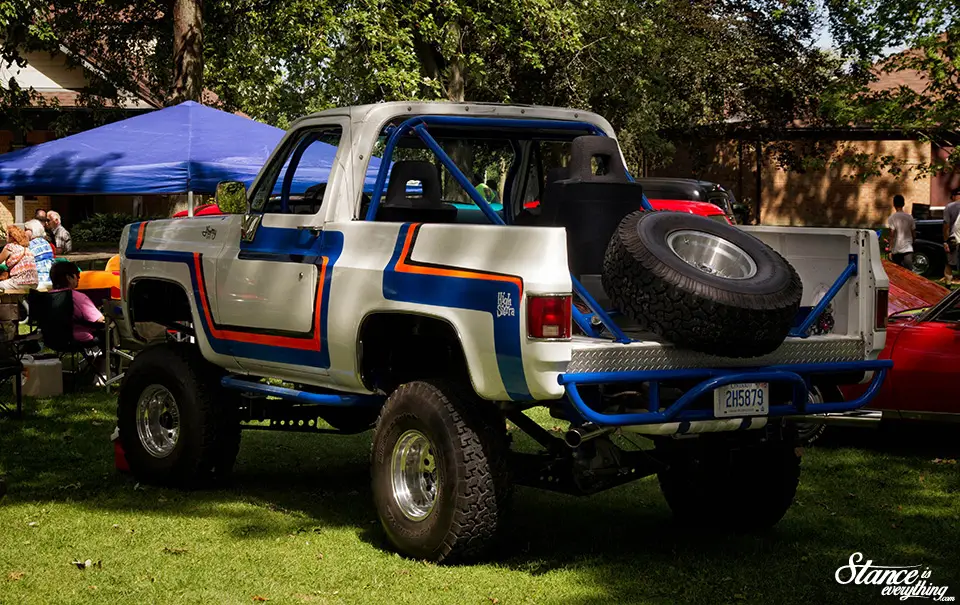 I loved this High Sierra for example, sure we could split hairs about whether this is dated or era correct but it was clean as a whistle either way, no doubt from years of careful storage and upkeep.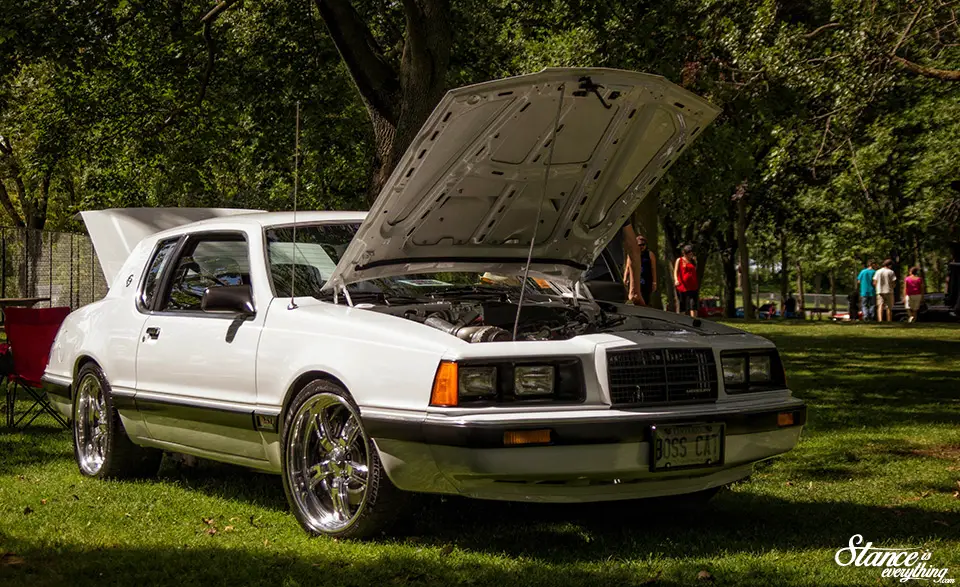 Another car that I'm sure is kept under a cover quite religiously is this Mercury Cougar. I'm actually struggling to think if I've ever posted another Cougar to the site and if I have I'm pretty sure it wasn't a sixth generation.
Furthermore I can guarantee it wasn't a supercharged 302 sixth gen! How crazy is that?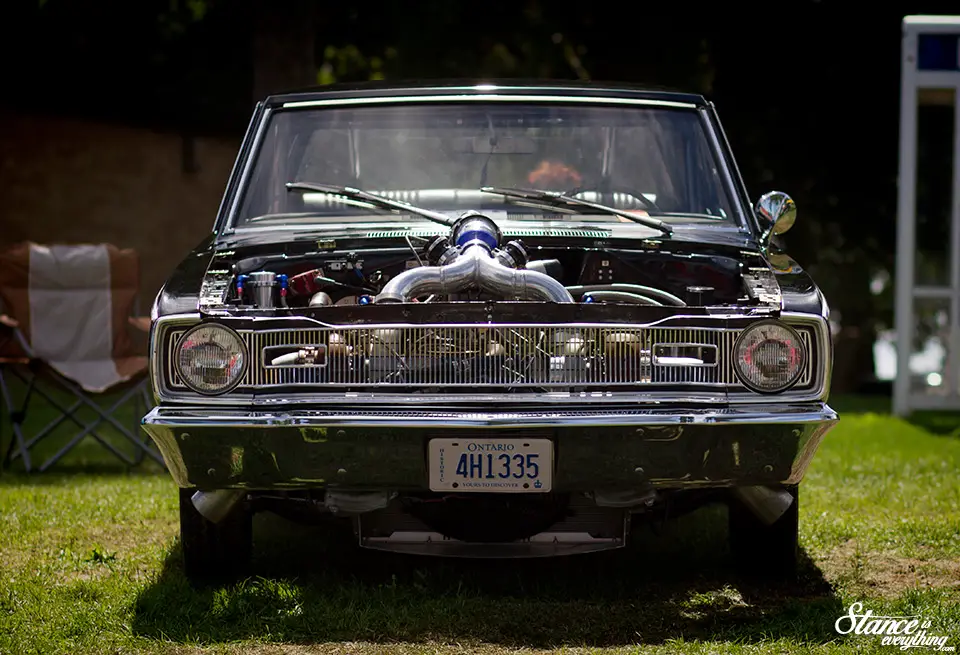 The twin Turbo Dart got some love in the Mobile Photo Dump Theme Tuesday as I've seen it at Shake Rabble and Roll Cruise Ins a couple times.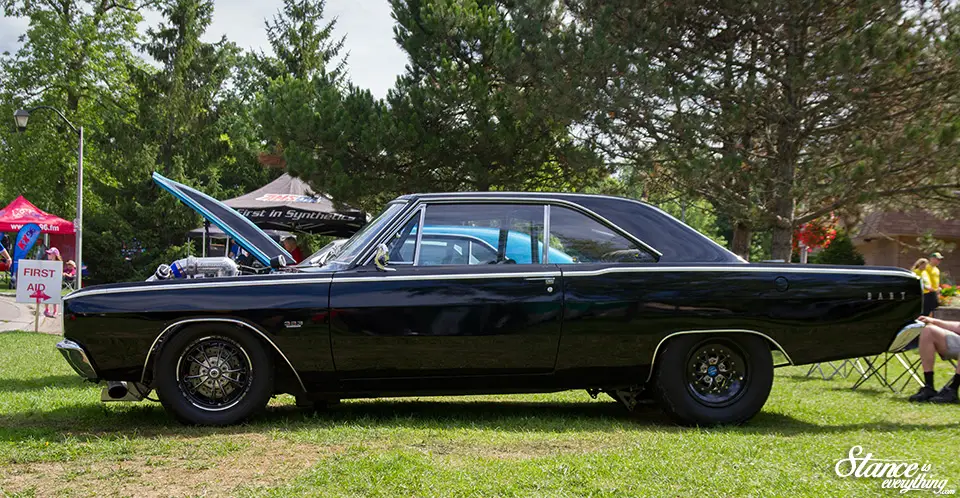 This car just look sinister at every angle including the side view which, if looking at it, doesn't convince you stance is everything I don't know what will.
The Lead Kings Canada has a few cars at the show as well, one day I'll have to feature at least one of the builds out of this Canadian club because they are all awesome.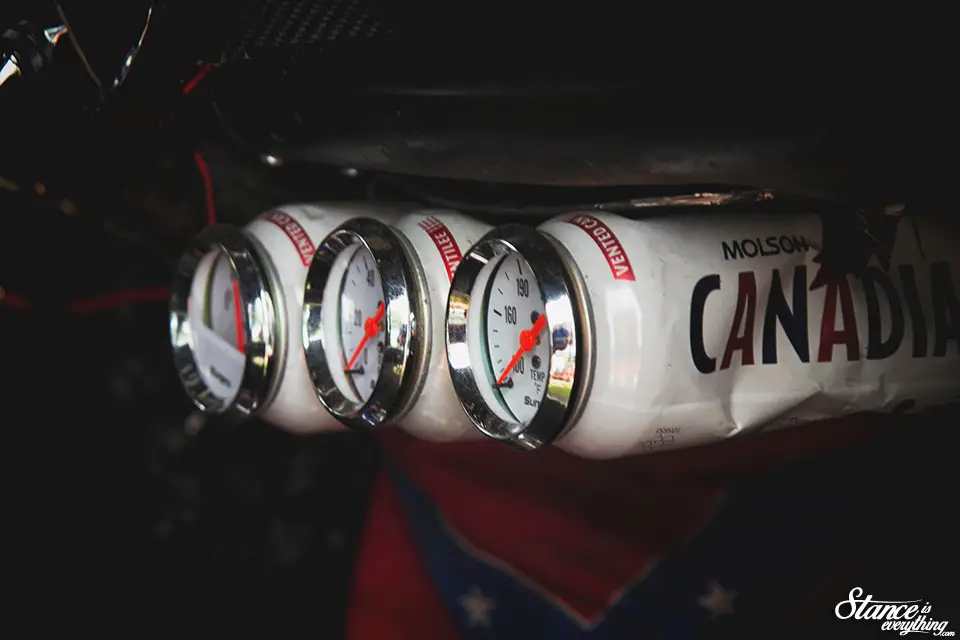 Classic car owners are never afraid to show their personality in their builds, other people's opinions be dammed, and this tall can gauge pod is pretty neat. I imagine more than a few of those cans were drunk during the build.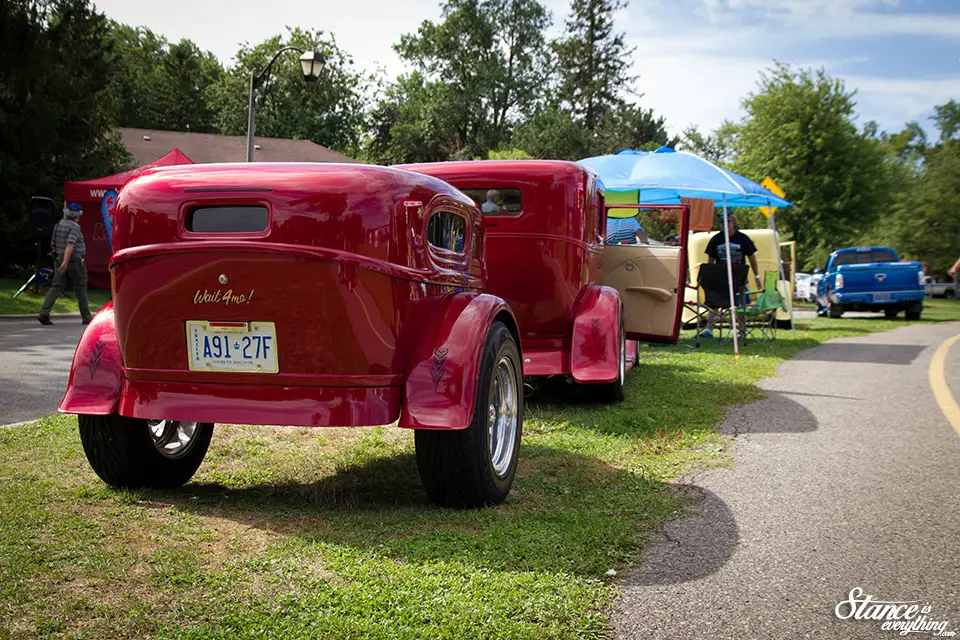 Matching trailers are not exclusive to the classic community but I do see more of them here than anywhere else.
While I was at the show Blair made the mistake of saying he missed his previously featured '57 3100 so I made darn sure to take a few photos of this truck to rub it in a little.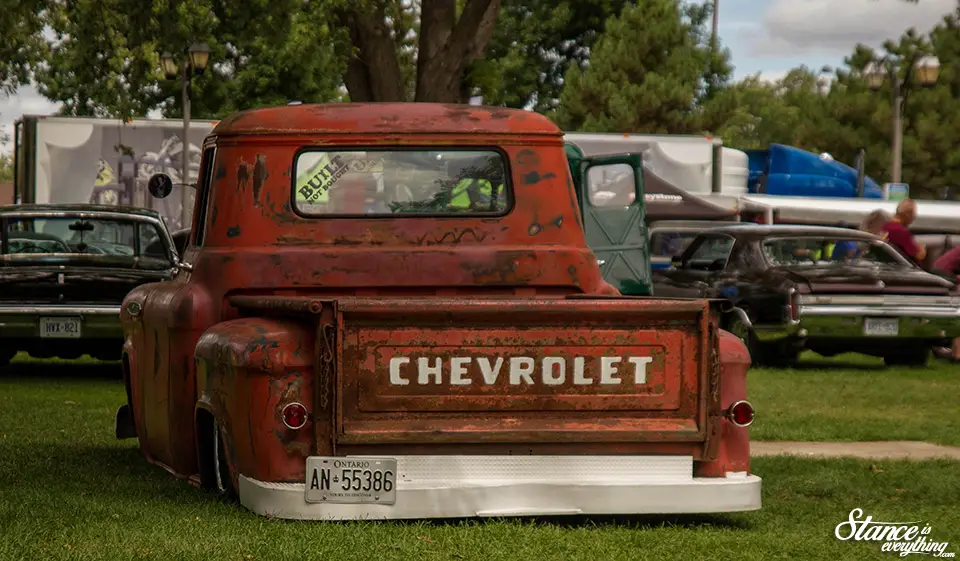 This truck sported great patina and laid out quite well. I'd imagine that industrial looking bumper would throw some pretty good sparks should the owner be so inclined.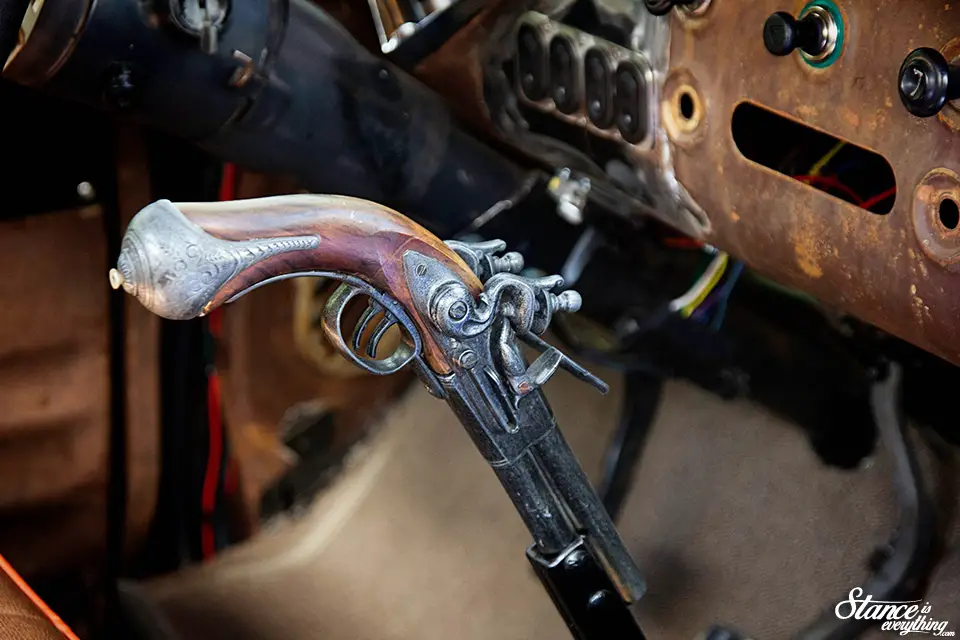 The shifter was also pretty unique. I don't know enough about guns to say if this was real or not but it did look rather convincing.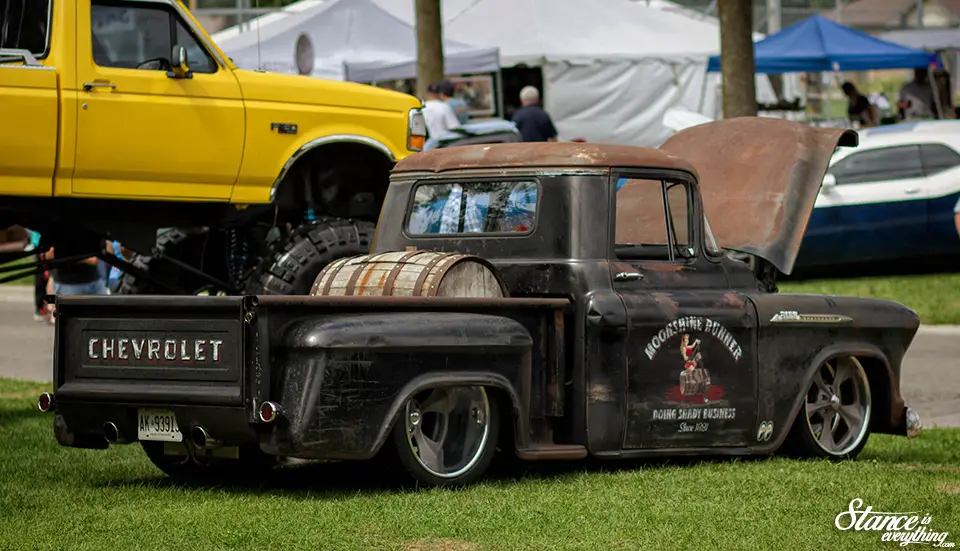 The Webber Chassis Task Force was also out at this show. If you remember from the ELTA Summer Bash Coverage in 2015 this is a static big block powered truck.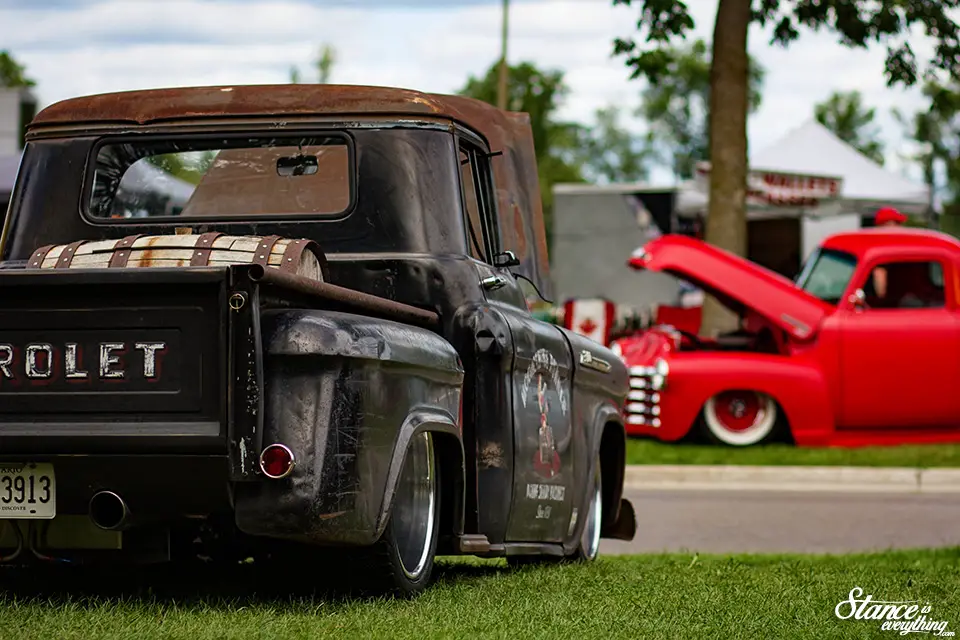 Again, the stance of this truck is incredibly impressive but I imagine it boogies darn well to boot.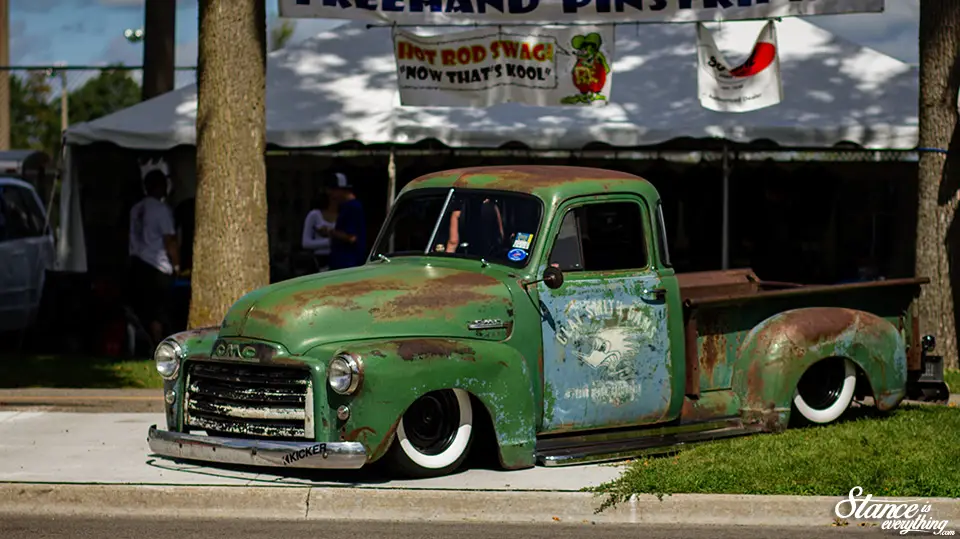 Since I am always looking for some inspiration for Project 'Why Wait?' I spent a lot of time looking over this truck and must admit it played a bit of a part in the design of my rear bed mounts.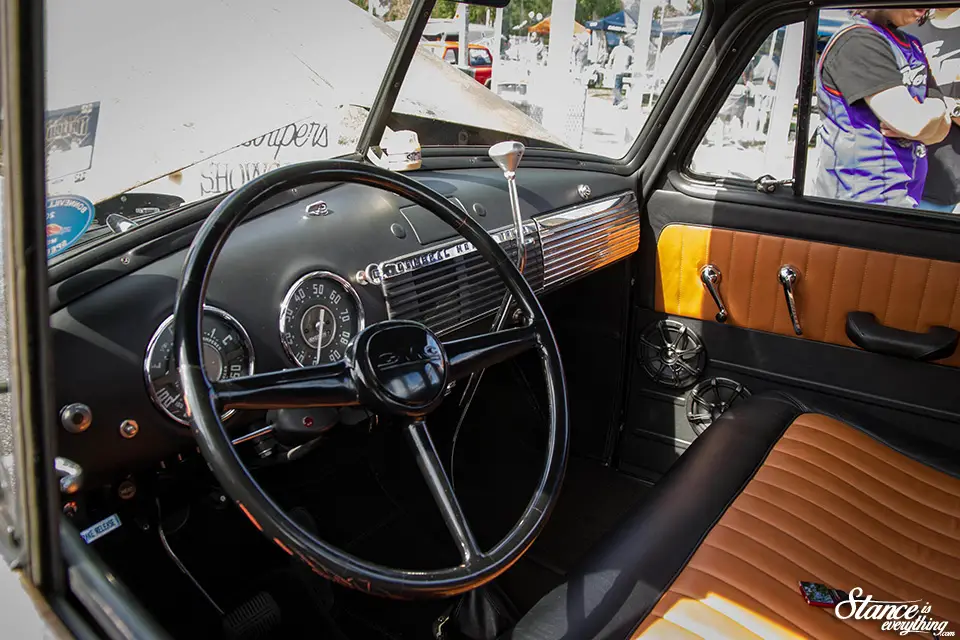 While I don't plan on cutting my door for speakers I did like the door panels in this truck, and the use of the original gauges. I plan to run an aftermarket wheel though this truck does make a strong point for keeping the original one.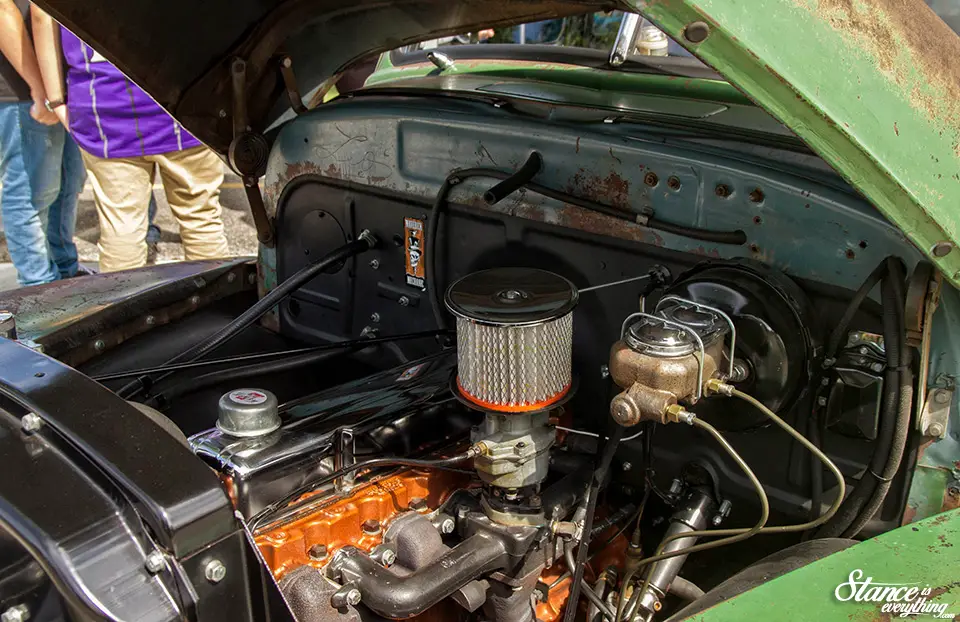 The truck also tried to make a pretty convincing argument to keep the six, but at this point I'd already made up my mind that it was going to hit the road.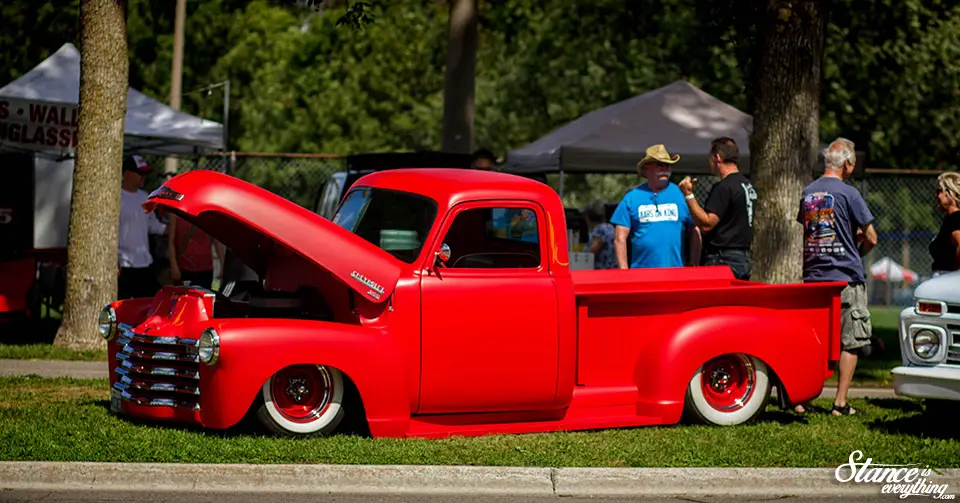 I'm sure you all noticed this truck lurking in the background of the Webber chassis truck. It was built by Hitman Hot Rods and is another truck I've spent a lot of time looking at.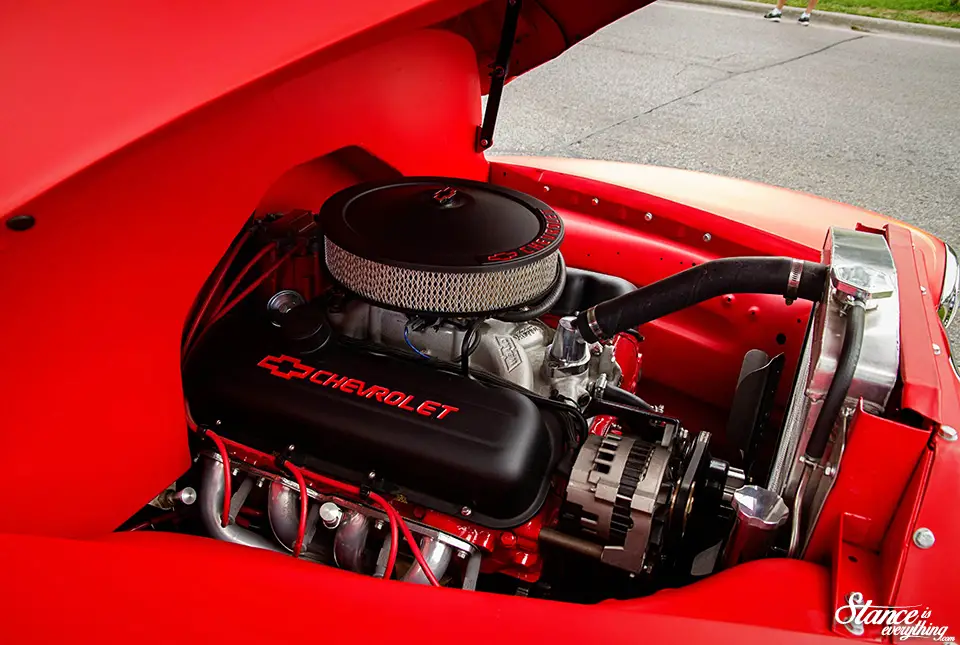 It's also a regular at the Shake Rabble and Roll weekly meet I go to and I've drooled over it so much that Ash actually points it out when he see's it now exclaiming "Red truck" with enthusiasm.
The truck is clean enough to show extremely well but if you look carefully there's enough character in it to facilitate driving it around near daily in the summer without worry.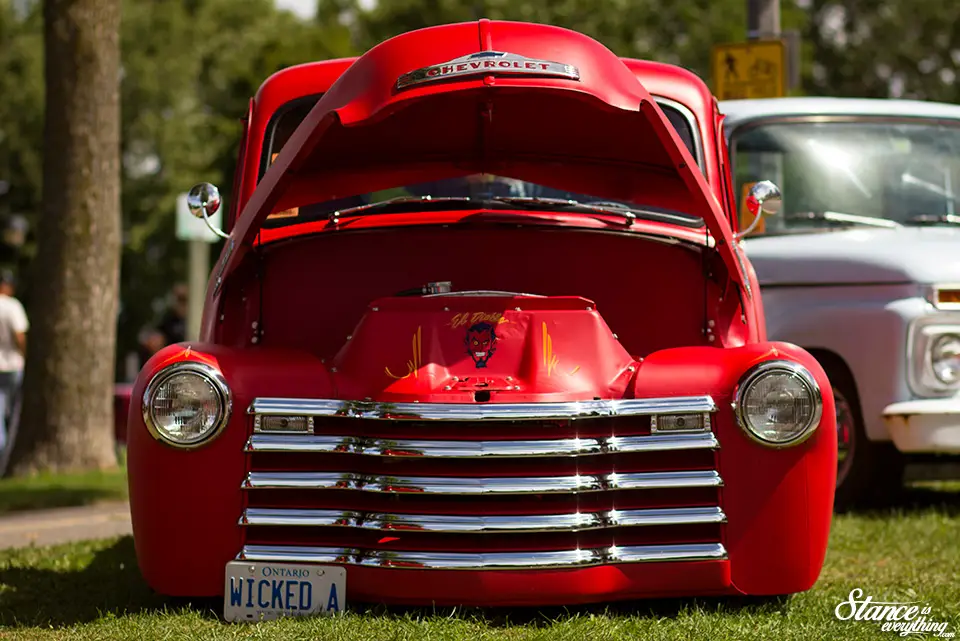 Coming straight out of a weekend if -20 degree weather posting these now is a bit of torture, but I hope you guys enjoyed it.