Yesterday I went to cover a local e30 meet and as usual Jay (Mystkial) and I chatted about e30s that have come and gone from the GTA scene over the years. While there has been an astonishing number of e30s that just up and disappeared the most famous of all the disappearing acts would have to be Randys Super charged S52, Reiger Kitted, Honda Blue, 325. This car set had a huge impact on the e30 scene at the  time so lets go back and take a look at why.
I first saw this car at Importfest the weekend after my e30 crossed the border and it was immediately put on my short list of cars I wanted mine to look like. It wasn't until I joined maxbimmer (where Randy is a member and a moderator) that I really got to know how much of a beast this car actually was.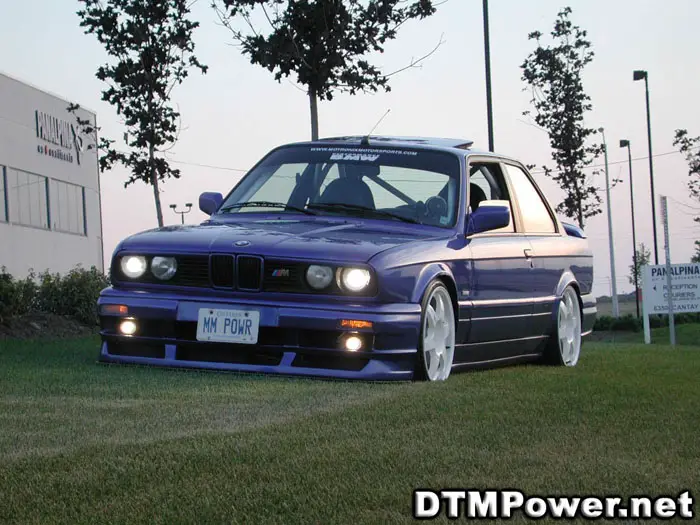 This car started out as an 1988 325e (one of the slowest e30s but ironically the fastest year 325e) but by the end it was far from a stock 325e. The standard superEta motor was tossed in favor of an s52 mill which is, for those of you who are not BMW heads, the motor out of a 1999 m3 and stock puts out about 250hp. However Randy's Motor wasn't stock and in addition to the blower it was bored out, had a higher flowing intake plenum, a set of Genie headers which fronted a 2.5″ mandrel bent exhaust system. It's hard to find the numbers that the motor put out when it was in it's prime but it's safe to say that it had the power to back up the aggressive look.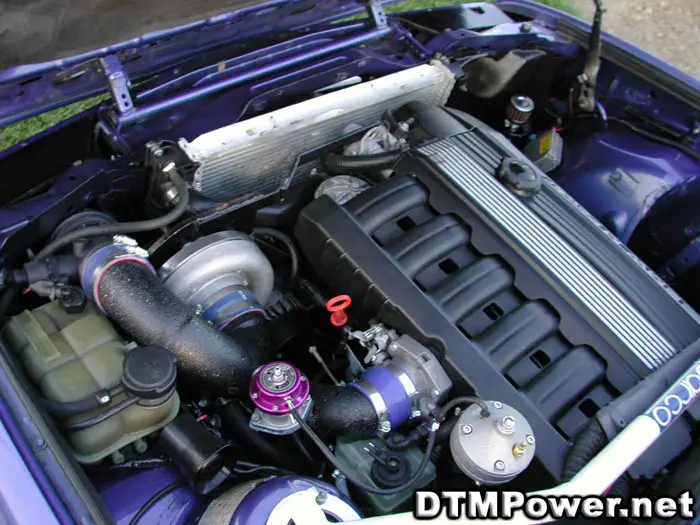 The aggressive look of the car came via authentic Reiger GTS front and rear bumpers, MTECH side panels, and Honda Civic rocker covers which were fixed to the body and painted Honda Electron Blue pearl. To set off the kit and color the car was fit with large and wide (for the time) white 18″ X 8″ Compomotive wheels, the wheels were then matched with the necessary low stance via e36 OBX coil over sleeves.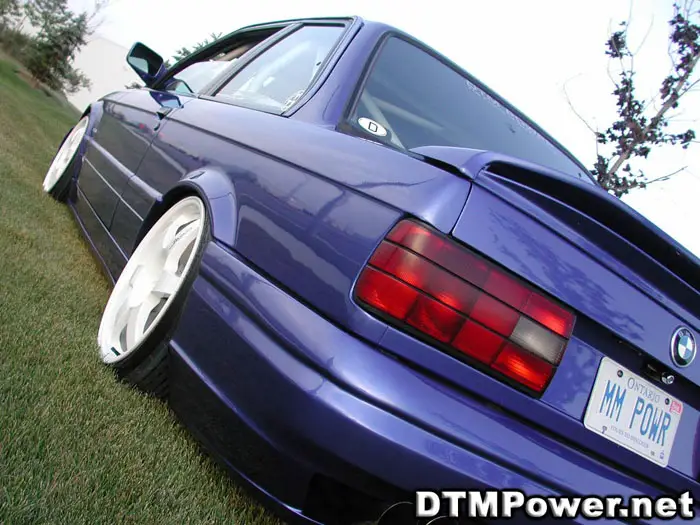 Randy was one of the first people to run these coil over sleeves on an e30 and this opened the flood gates for an inexpensive way to slam the heck out of e30s, The authentic Hella H.I.D.s in the US elipsoid headlights were also one of the first for it's time. H.I.D. kits in those days were not as cheap and readily available as they are now.
The interior was swapped to black cloth, with a white six point roll cage added and OBX reclining racing buckets up front, the car also had the necessary (for showing) full I.C.E setup and the necessary (for not going to jail) hidden Valentine 01 radar detection system.
Further plans for the car included a nitrous oxide system and a few more under-hood bolt ons, that is until the unthinkable happened. One night while parked in the streets of Montreal the car was stolen and never to be seen again.
Rumors soon began to fly through the now large online e30 community that the car was stolen for an insurance scam, or that Randy crashed it on some back road some where but regardless of if either of those are really true the fact remains that this car is gone and now only lives via pictures and videos.
While this car might not be the style today and looking at it now some could call it ugly it was a trend setter in it's time and deserves to be remembered.
*Images courtesy of dtmpower who still has their article regarding his e30 up here. Anyone remember Mischeif?