With spring weather finally here I thought it would be interesting to get in touch with with some of my favorite independent automotive bloggers and ask them what they had in store for both their cars and blogs this year.
I sent around five questions to each of them and to my surprise all of them were kind enough to answer in depth. In part 1 (of 2) of the spring is in the air series I catch up with the authors of Rich Corinthian Leather, Cars X Girl, Hatch Life and Build Threads to find out what they have in store for this spring.
Derek Kreindler is a lucky guy. His job as a Toronto area automotive journalist has allowed him to spare his Miata from some of the winter duty and drive press cars in the miserable weather instead.
I'm not jealous or anything of course… let's see what he's up to.
Where are you from and how did the winter season treat you?
This winter was pretty good, I had an Acura TL AWD and Acurca RDX with big winter tires during the two heavey snow falls. The TL had a 6-speed manual and was a blast to drive in the snow as was the RDX. I haven't spent a lot of time with a turbo car, since my MKV Jetta 2.0T, and the AWD system works like a charm.

After I gave them back, the snow cleared up, and I was driving my car on snow tires for a while and with weather being so dry I managed to do a few track days!

When the snow and ice were present things were a little interesting. Driving my car was treacherous, but one day we had a last gen Audi TT, a 2010 Taurus SHO and a 650 horsepower R35 GTR. That day was a lot of fun.

The only time I won't drive my car is after the roads have been salted or after the snow melts and there's saltwater everywhere, that stuff kills cars; NA Miatas, EG Civics and 240SXs have disappeared from the roads up here due to rust.
Did your car receive any new modifications over the winter months or any plans for spring?
Yeah, I put the snow tires on! My biggest acquisition was a Hard Dog rollbar, which was something I sorely needed, I also got a Bride Zeta II seat, which is one of the few that will fit in a Miata.

Spring plans include a bigger front sway bar, poly bushings and maybe a new steering wheel, and hopefully some new rims but that depends on "real world" bills.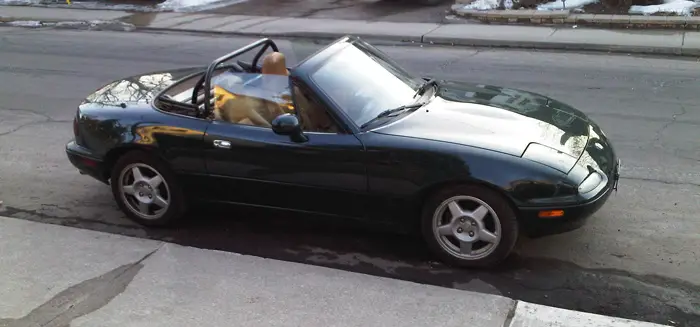 Any particular events you are looking forward to this year? (show or competitive)
On March 27th I'll be getting a tour of the Sultan of Michigan's garage, If you've never seen the famous video, this guy has 3 warehouses of exotics, muscle cars and Corvettes. I think I'm going to see all of my dream cars under one roof.

I'm also looking forward to my usual track days at Toronto Motorsports Park, it's become something of a scene, where we have a regular crowd with a few professional instructors and we all help each other out, swap cars and enjoy bagels & junk food.

I'm not baller enough to do any competitive events yet, but I'm going to be out there as often as I can to work on going faster.
Anything new and exciting we can expect from Rich Corinthian Leather this spring/summer?
Rich Corinthian Leather doesn't really have a direction, it's more spur of the moment topics I choose to write about. You'll be seeing more of me at Speed Sport Life and other outlets as well.
Meg was one of the first regular commenters here on Stance and continues to be a familiar face both here and on twitter. When not zipping around the autocross course in her Miata, or taking photos, she can be found learning whatever she can about 240s so that she can pour that knowledge into her own build.
Where are you from and how did the winter season treat you?
Currently living on Little Rock AFB, in Arkansas. For my last winter here (moving to Spokane, WA in May/June) it was more wintry than usual — including four snow days during the spring semester.

Overall, all three cars made it in one piece, so I can't complain.
[Two her's one her husbands.]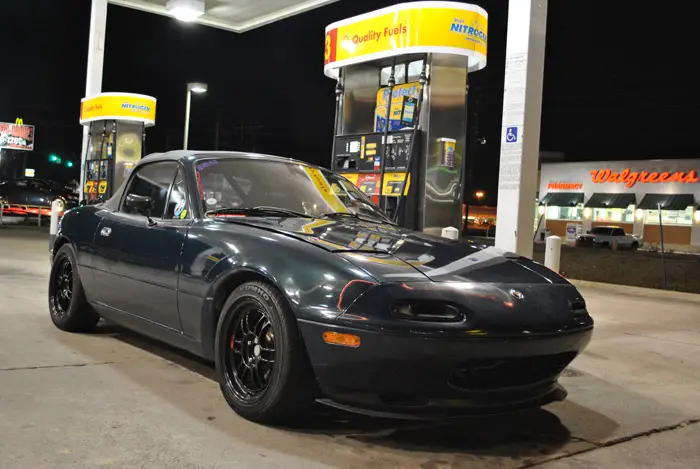 Did your car receive any new modifications over the winter months or any plans for spring?
Let's see…. The Miata's been relatively unchanged, I'm pretty happy with where she's at right now anyhow. I will be picking up a Torsen LSD this year, hopefully.

The S2000 is just getting new tires, but also an alcantara leather center console cover. Plans for her are unsure as the husband's looking into another car for himself. (I'm not allowed a new car until he gets a new car, ha.)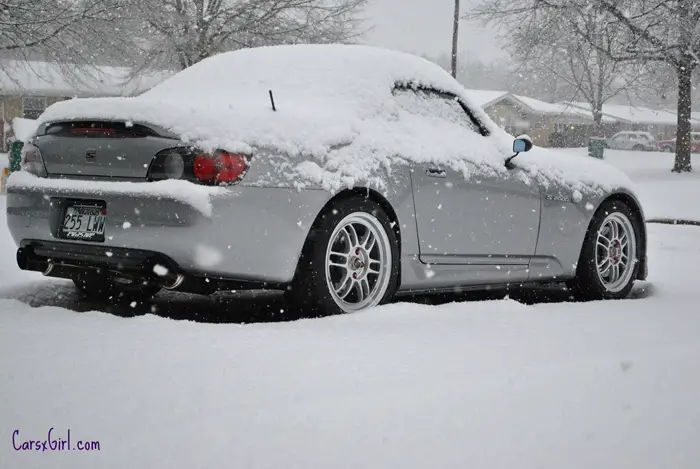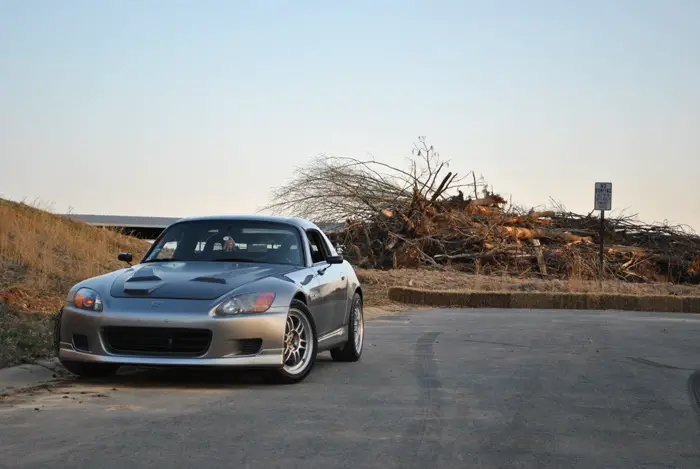 The 240SX is where ALL the work's been at lately. Over the winter (wrong time to do it, in hindsight) she underwent the SR20DET swap.

Plans for this year include (hopefully) the Silvia front end conversion, a Bride seat, and wheels. Really I'm just looking forward to enjoying my new engine. 🙂 (Actually she needs a new diff too….. Yikes.)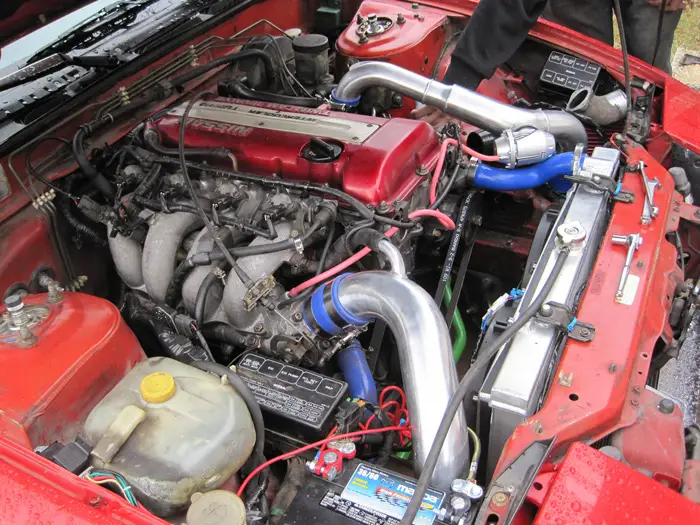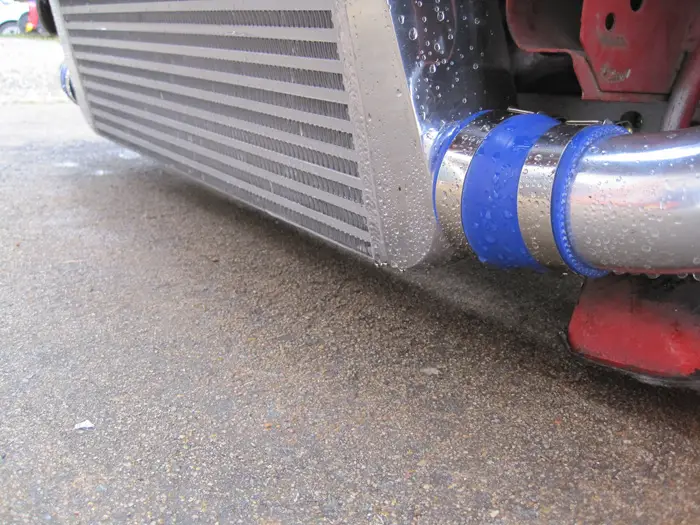 Any particular events you are looking forward to this year? (show or competitive)
There's a chance that this year we'll be able to go to a Formula D event. I'm excited because I have yet to actually go and see drifting first hand, it's all been on DVD's and the web and in pictures for me.

There's also Spokane County Raceway, which is literally within eight miles of the Air Force Base. I'm looking forward to hopefully getting out to a track day or two with the Miata. 🙂 And, of course, auto crossing!

I might go to Hot Import Nights as well, I've never gone and I feel like I should go once. I can also get a media pass which is great!

I should be a busy girl this season!
Anything new and exciting we can expect from Cars X Girl this spring/summer?
Plenty! Mostly after we move, though.

There's so much that the Pacific Northwest has to offer as far as car culture goes I can't wait to sample it all, and, naturally, share my experiences. 🙂

Other than just going places and seeing things, the 240SX should be humming along yet, and I may start sharing some details on looking to add a fourth car to the family.
Noah is one heck of a guy not only does he use his blog, Hatch Life, as a place to post car after car you might have never heard of or seen before, but he also uses it as a way to change lives (more on that further down).
Noah is fairly modest guy, who doesn't think his cars are all that much, so while he didn't answer the questions as traditionally as everyone else I was able to answer them on his behalf based on the information he sent along.
Where are you from and how did the winter season treat you?
Noah's from Columbus, Ohio and the winter season kept him pretty busy and not just because of the snow.
Like a lot of people over the past year or so (self included) Noah has had to keep his ear to the ground and feet to the pavement looking for a new job opportunity since his current employment situation is coming to an end.
While this is a downer Noahs spirits remain high since his friend Melisa, in which The Melissa Project was founded, beat her cancer into remission and the $2500 he raised through his site for her cause helped tremendously.
If you click through to any link in this post click this one because it's truley awesome and inspiring story.
Did your car receive any new modifications over the winter months or any plans for spring?
The stock pile of parts for Noahs first Civic (the red DX below) increased over the winter by way of a red carpet, vibrant catback, and as Noah puts it 'a bunch of overpriced beauty washers'.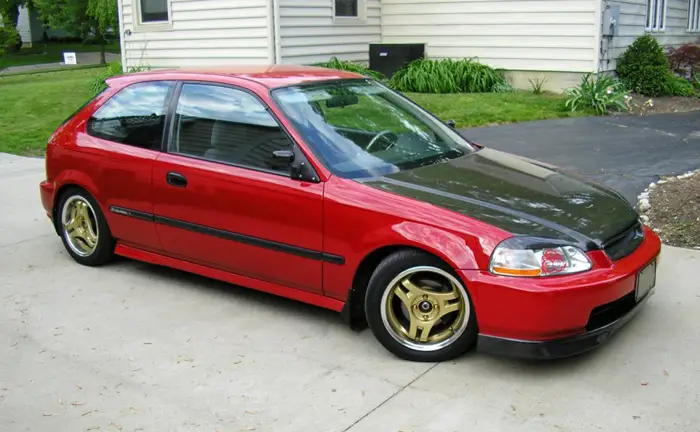 This Civic, which is his baby, has a plethora of mods including: APEX'i N1 coilovers, Wicked Tuning LCAs, Benen rear subframe brace, Megan C Pillar Bar, Hawk pads, Password carbon cooling plate, Y8 intake manifold/short ram, 15×7 rotas and a CRV 5 speed cluster.
His Civc also has a Volante steering wheel with a bit of a story behind it. Purchased on ebay from an owner in Thailand this wheel came with it's mother of pearl inlay heavily tarnished and the original horn button replaced with a BMW unit (in an e30 it's previous life perhaps?).
While this has all been cleaned up it was quite a surprise when he got it.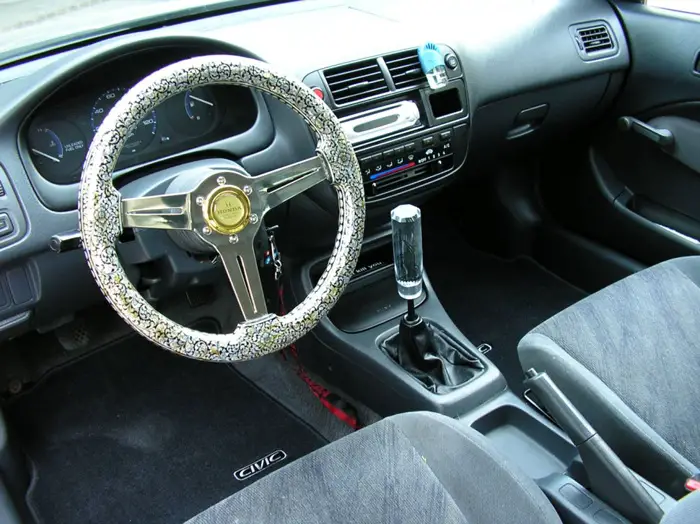 During the course of he winter his Civic got a bronze poweder coated valve cover, and a polished fuel rail, in the spring it's also going to get some out of the way by installing a new water pump and replacing his timing belt.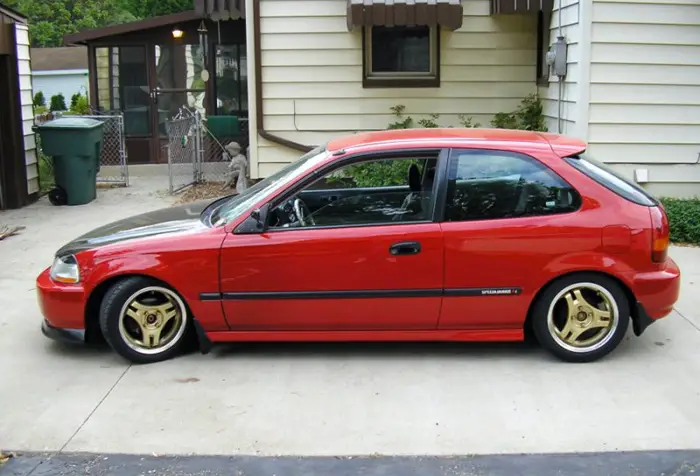 His silver daily driver EK is a salvage title car that now only receives what it needs to keep going, but this doesn't mean that this car is stock.
It has a bunch of mods including a 99-00 front end, ChargeSpeed lip, CTR rear lip, color matched side skirts, Nuespeed springs, and Konig Work Equip replicas.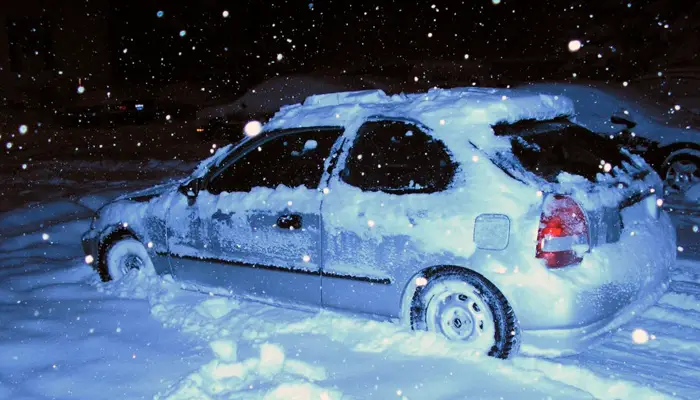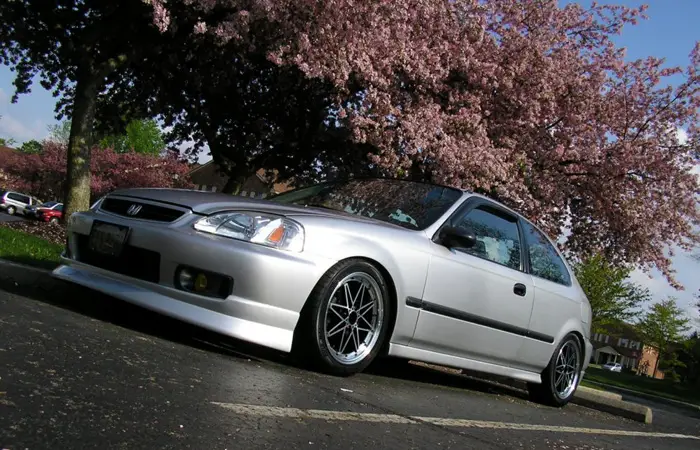 One thing this Civic no longer has though is Honda Emblems as they keep getting pinched every winter
Anything new and exciting we can expect from Hatch Life this spring/summer?
Noah's been pretty quiet about his plans for Hatch Life since he has not had time yet to implement them but rest assured that even if all he does is keep doing what he is going Hatch Life is a blog worth visiting.
Anth and Build-Threads really need no introduction, this site is bar none the best place to visit to get build fix.
Since the last time I mentioned Build Threads Anth has moved his site from a wordpress hosted server to his own and has lent his writing talents to Speed Hunters for a four part feature.
With so much going on I'm glad Anth could clear his schedule enough to let me know what's going on with his rides, did I mention he is on the other side of the world?
Where are you from and how did the winter season treat you?
I am from Melbourne, Australia, so our seasons are actually the opposite to what you guys have, We're just entering Autumn now, so I've just finished my summer season and I'm getting ready for winter.
Did your car receive any new modifications over the winter months or any plans for spring?
At the very beginning of my summer (late Nov, early Dec), the diff in my Datsun 510 started to play up and make a terrible whining noise which ended up being the crown wheel & pinion.

Christmas was just around the corner, and if I took too long (to get it fixed) I would have had to wait until the new year for workshops to re-open.

Luckily everything went to plan, the diff was re-built and re-installed, and I could enjoy driving the car over the summer months.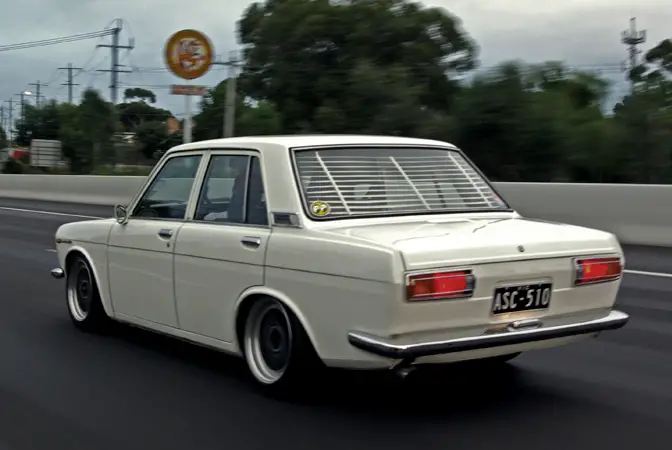 My MKIV Golf daily had it's coilovers & 18″ Aristo replicas fitted, which meant that no matter which car I choose to drive I can at least be happy that I was traveling in style.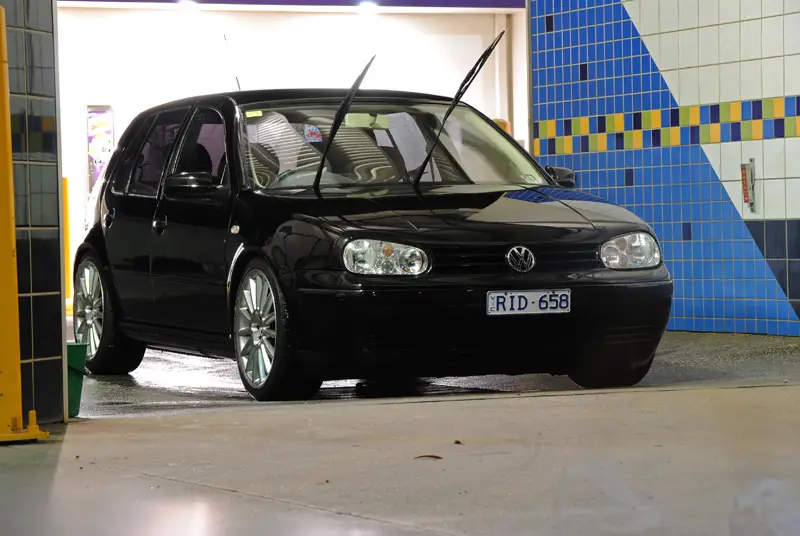 My plans for this winter are minor, as I am trying to save money, the Datsun will continue to receive minor detail work such as cleaning up the engine bay a bit at a time while the Golf is awaiting a new sway bar (as the stock one is rubbing on the drive shaft).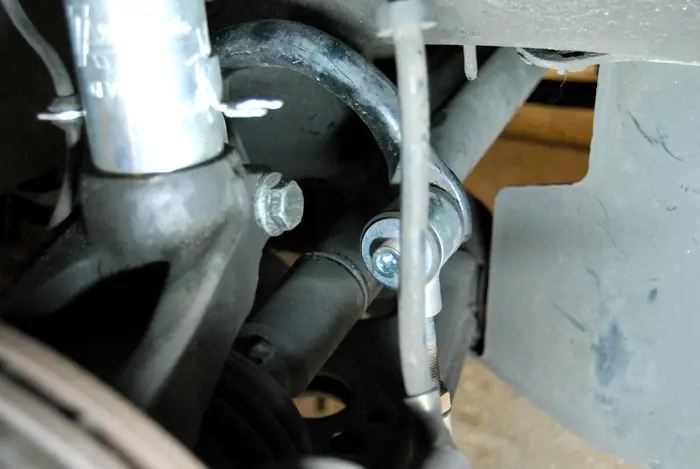 Once that goes in I can lower it some more, and then I want to track down some spacers for it to get the stance looking right (Stance is Everything, after all!).

I also want to fit a CD/DVD/MP3 head unit + 7″ fold-out monitor that's been sitting in my garage for the past 2yrs.
Any particular events you are looking forward to this year? (show or competitive)
I am actually looking forward to viewing all of the American and European shows online.

One of the good things about entering Winter on this side of the world is knowing that on the other side everyone else is debuting their cars at all the latest shows.

So, I know that most cold mornings when I boot up my Mac, I can count on some fresh coverage from yet another car gathering and lose myself in the summery images of all the newly modded cars.
Anything new and exciting we can expect from Build Threads this spring/summer?
Well I'm a pretty bad procrastinator (eg. the previously mentioned head unit that's been in my garage for 2 years), I've been meaning to work on the appearance of the blog, create a new logo, header, forum signatures, and even register it as a business so I can run some advertising.

How much of that will actually get done? We'll have to wait and see!
That's it for this round of 'Spring is in the air' but check back next Thursday to see what the authors of N/A On The Run, Full Lock, and Up-shift.net are up to this spring.