Dave and the crew at Stretch & Poke have put together their final meet of the year, and it's taking place Oct 3rd 2010 at Downsview Park.
Downsview is the same venue as Honda Tech 7 so there is no worry of spots filling up or pay parking, furthermore there will be awesome deals on food and beverages courtesy of Grand Prix Kartways.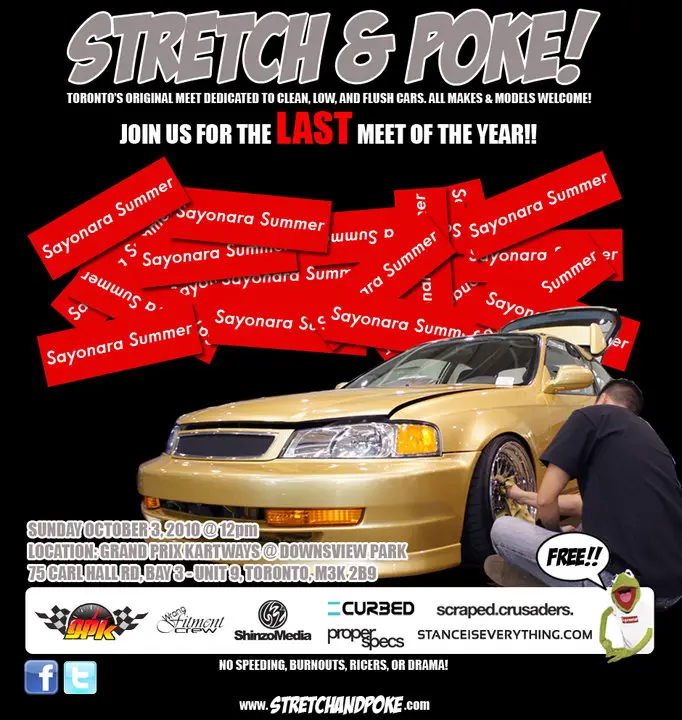 Stretch & Poke presents: SAYONARA SUMMER!
Date: Sunday October 3, 2010.
Location: Grand Prix Kartways @ Downsview Park, Toronto, M3K 2B9
Time: 12pm-?
Don't put your $h1t away yet! Join us for the LAST S&P meet of the year before we store our rides or go into winter mode!
Grand Prix Kartways will be offering us the following food & beverage specials:
$2 draft beers and $13 pitchers
$5 bbq burger or hot dog w/powerade drink
All makes and models are welcome! Please respect the property and clean-up after yourselves. No speeding, burnouts, ricers, or drama.
More info: @stretchandpoke , facebook, [email protected] stretchandpoke.com
I should be rolling into the event about mid afternoon so hope to see a lot of people there 😀