Without you all, the readers, this blog would be me writing about cars to myself and that wouldn't be a whole lot of fun. When I first started this  I had no idea how well it would go but the support I have received so far both locally and abroad has been absolutely fantastic.
While I would love to give all of my readers a personal show of thanks doing so would put me in the poor house so I'm just going to have to settle for giving one of you a bunch of stickers.
Below I have a prize pack which I have assembled from stickers I've received from various vendors over the year either by sticker swaps, hand outs, or dumb luck.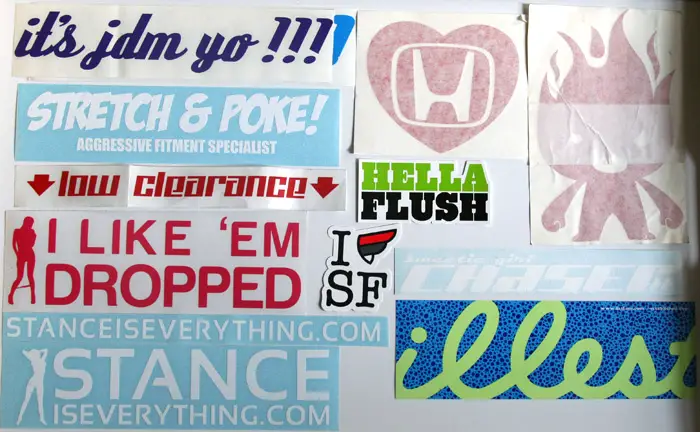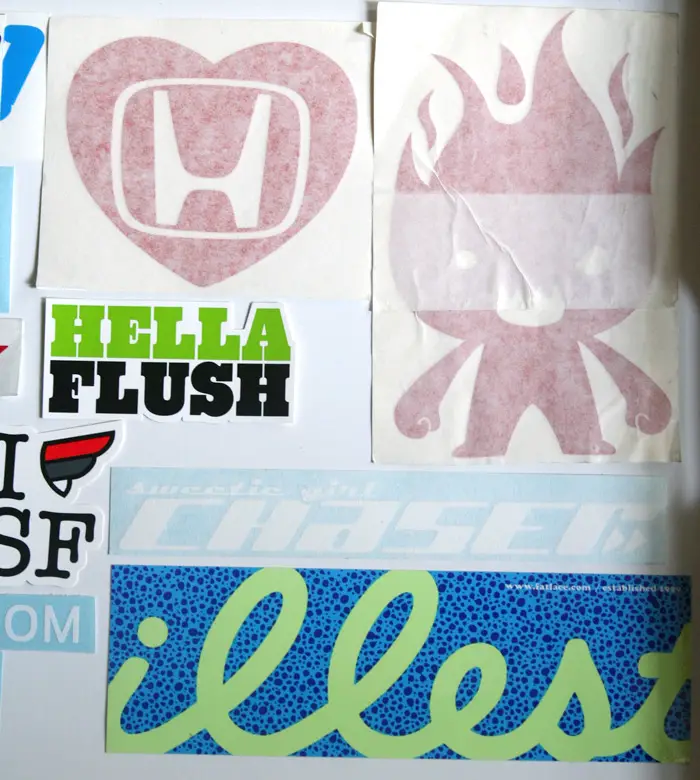 The prize pack includes:
| | | |
| --- | --- | --- |
| Quantity | Sticker | Color |
| 1 | It's JDM Yo!!! | Purple on blue |
| 1 | Stretch & Poke | White |
| 1 | I like Em Dropped | Pink (options availible) |
| 1 | Stanceiseverything.com url sticker (small) | White (optionsavailible) |
| 1 | Stanceiseverything.com url sticker (large) | White |
| 1 | Heart Honda sticker | Red |
| 1 | Hella Flush sticker | Green/black |
| 1 | Fatlace SF | White/Red/Grey |
| 1 | Nextmod flameboy | Red |
| 1 | Sweetie Girl Racing 'chaser' sticker | White |
| 1 | Fatlace Illest | Blue/Green |
To enter the contest all you have to do is comment on this post, that's it!
The contest will run from Monday October 4th to end of day Thursday October 7th with the winner being announced on this weeks WTF Friday.
The winner will be chosen at mathamatical random and not by comment quality so feel free to say whatever you like.
Good luck and thanks for reading!
Note: It is one entry per email address. 🙂
Special thanks to the following people/sites who contributed via sticky vinyl:
Sweetie Girl Racing
Stretch & Poke
It's JDM Yo!!!
Fatlace/HellaFlush
Hatch Life
Seche Media
The winner has now been posted up here!
A sincere Thank You to all who entered!