Going to car meets can sometimes be a mixed bag of experiences, some people are cool and normal, while others can be show offs trying to compensate for god knows what. When testosterone gets flowing and the need to show off bubbles over epic failure ensues, I showed a lot of that in the Street Racing WTF Friday post, but this incident is a little closer to home.
Maxbimmer.com does weekly meets in Woodbridge, near highway 7, and I used to frequent them quite a bit when I had my e30, for the most part these meets are cool and everyone just gathers around to shoot the shit on a nice summers night. However from time to time people bug out and crash their whips, a Corvette ended up on top of a fire hydrant a few years back and this July an e30 tried to drive under a curb.
From what I can piece together from message board accounts is the owner of this black e30 was racing around the parking lot for some reason but didn't take the time to memorize they lay of the land and plowed right into this island. He hit the brakes at the last moment but it was to little to late and all that did was cause the front end to dip and not go over the curb which in turn tko'd the front end of his car, shame it looked pretty clean.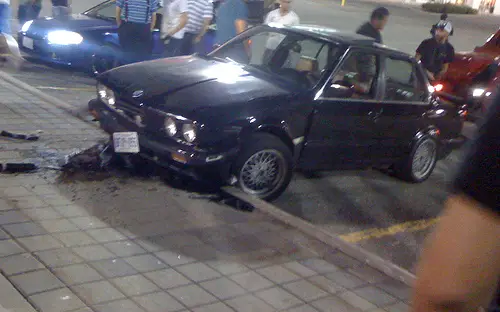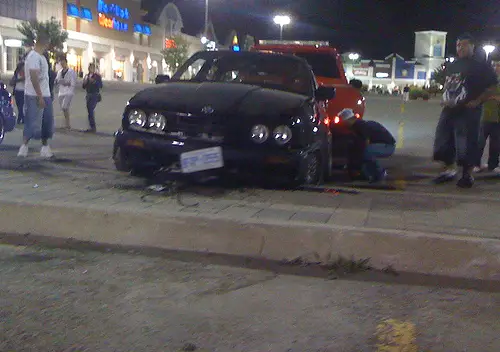 and thanks to the era we live in we have a video of the car getting hooked up:
This type of stuff brings a bad name to us all so lets keep it on the DL before the cops start kicking us out of any spot we try to chill at.
In site news this has been an amazing week for Stance Is Everything traffic wise, comment wise, and email wise. Kept me really busy to say the least.
I got a serious about of love from the Toronto Subaru Club, for the Hyper Meeting pics and made some connections with a big Hella Flush fan out and Windsor and people in the Hella Flush crew.
This weekend I am going camping so I won't be covering any events but I have two featured cars in que, most of next weeks Theme Tuesday Cars picked, and Importfest to hit up next weekend.
Not to mention I picked up some new wheels for my current ride that should be on next week for an early fall photo shoot and my stickers are in the mail.
See you Tuesday!