Last year I posted up a couple photos of Batman styled Porsche 944 I saw at the Cruisn' for The Cure car show, and at that point I thought the owner was done with the theme being firmly established.
It would appear that I was wrong as the owner continued work on his Porsche by adding a few more details to the mix, most notably the winged flares.
Last Year
Last years look for the GTA's Batmobile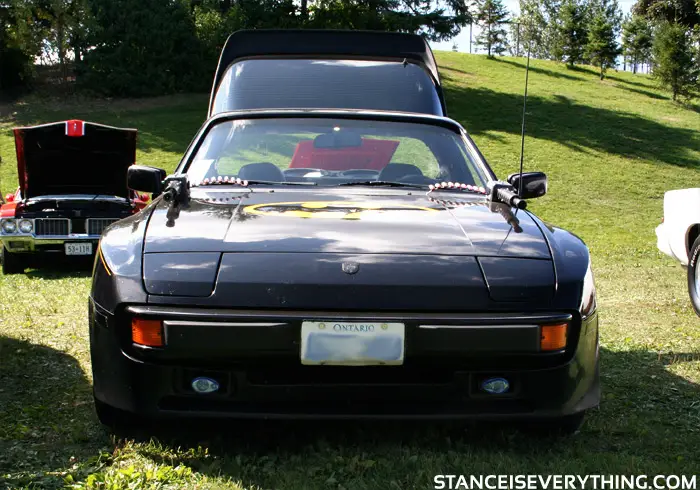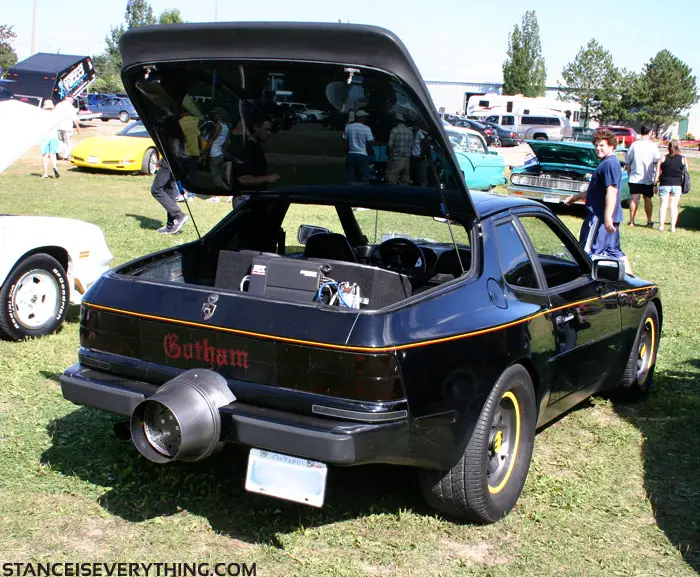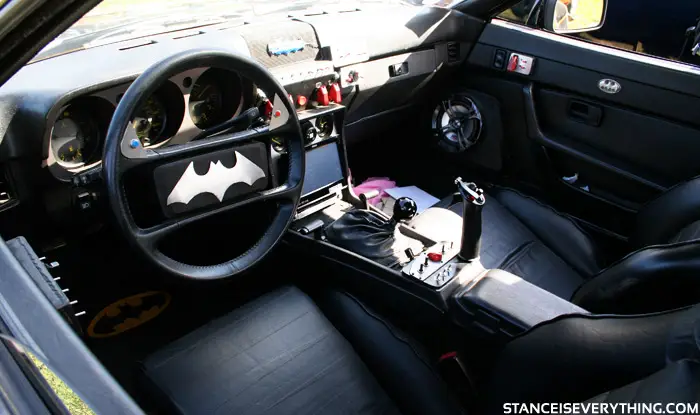 This year
Quite a number of additions this year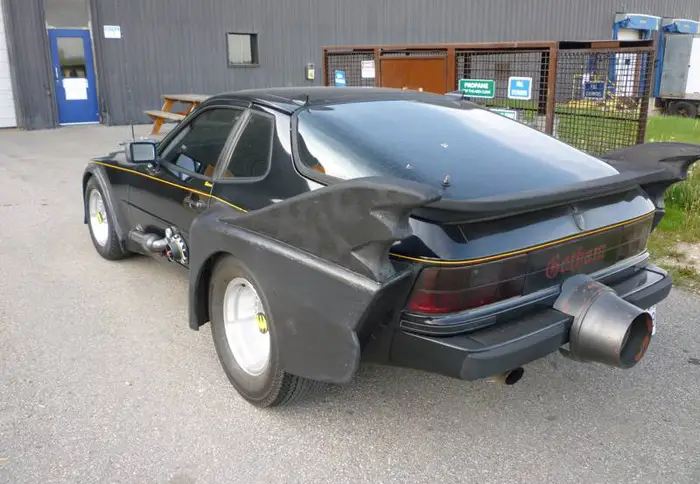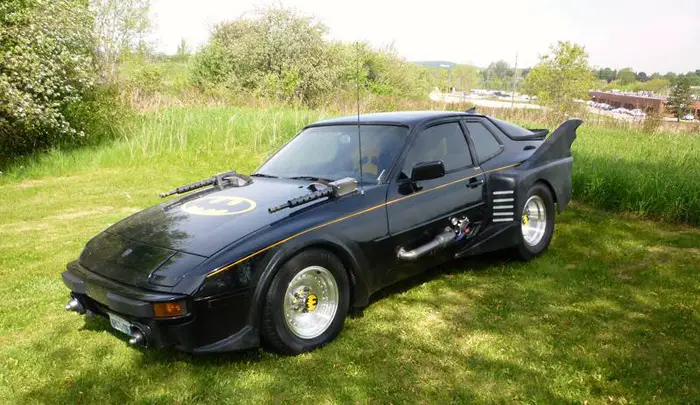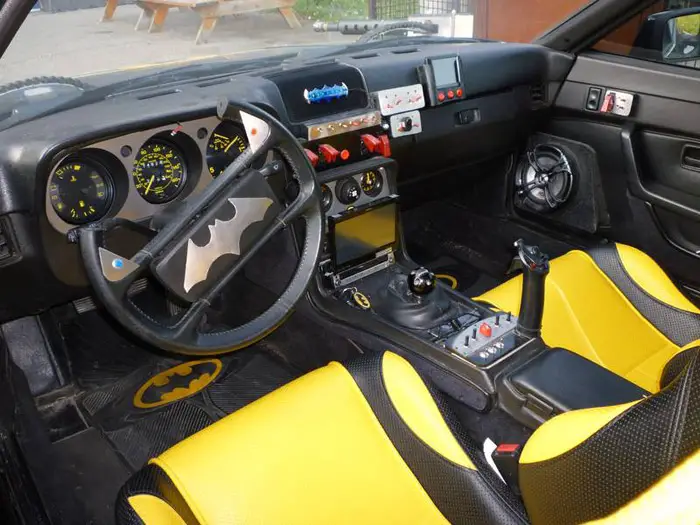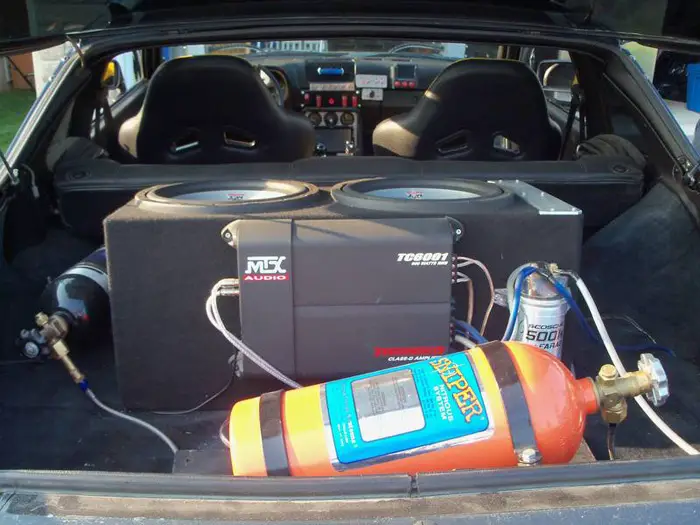 If you want to buy this 944 it is currently for sale at 6,500 here is the text from the ad:
The ultimate attention getter Custom 85 Porsche Batmobile.

This car gets pictures taken everywhere you go even while your driving.
-2.5 litre 5 spd with new solid center clutch.
-Tranny serviced and new shift linkage.
-Custom Yellow and black seats , factory yellow and black gauges, Clarion 200 watt flip out dvd Mtx 600 watt amp, twin 12″ mtx thunder, 6.5″ and 6 x 9 mtx.
-American Racing wheels 15 x 7 and 15 x 10, Mickey Thompson N50-15 (345/50) rears.
-Nos sniper system is new and never used.
-Twin .223 machine guns (replicas) that light up on the hood.
-GOTHAM lights up on the rear panel of the car.
-Fenders are not complete and need to be glassed.

I am out of time and have another project that needs to be started. Will sacrifice it for $6500.00 NO TRADES, AS IS you finish. Requires no etest.

Text only at xxx-xxx-xxxx or email me with a number and we can discuss all issues or concerns.

Sorry no test pilots and dreamers. For the couple of clowns with negative comments, grow balls and send me your email. I will meet you and your car at any cruise anytime.
Site Updates
Got a few events I am hitting up this weekend. The first is 100% no car related but has to do with a good friend of mine so I am plugging it.
The first is a comedy show put on by contributing photographer/laugh provider Keven Soldo and a few other funny guys:
Wiggin' Out Comedy Show
The Comedy Bar
945 Bloor Street
Toronto, ON
August 14th (Tomorrow!) 10pm-12am
More Info
and the second thing I will be attending is the Next Mod 1 Year Anniversary which I mentioned in this weeks event preview.
Note since I will have all my sticker stock on me I will be putting everything temporarily sold out on Sunday just so I don't over sell my stock.
Sunday evening everything that is not sold out will be back on sale.
Flashback Friday
Not sure why but I was thinking about this Civic the other day. I love the fact that it's so subtlety done and so fast.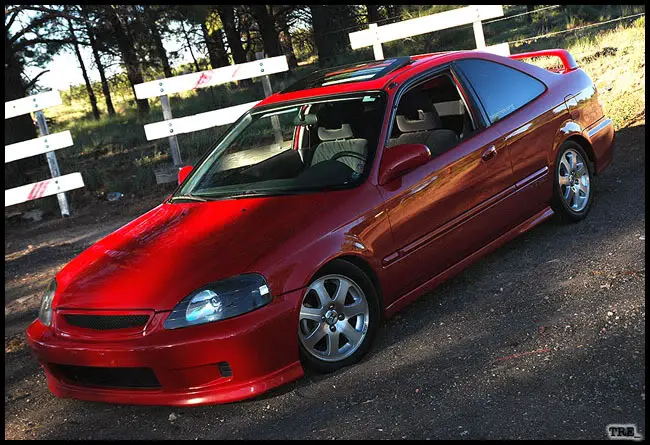 Check the full Sleepin on ya