Since Jalopnik has over 50 thousand fans on facebook and over 18 thousand followers on twitter I am going to assume some of you may have already heard a little about this story but I feel the need to talk about it anyway.
Two days ago someone tweeted from the Chrysler corporate account "I find it ironic that Detroit is known as the #motorcity and yet no one here knows how to fucking drive", today the person responsible for the tweet no longer has a job and Chrysler didn't renew their social media contract with this company.
That's crazy because I assume the contract was at least 100 thousand dollars which makes that a very expensive 140 character mistake.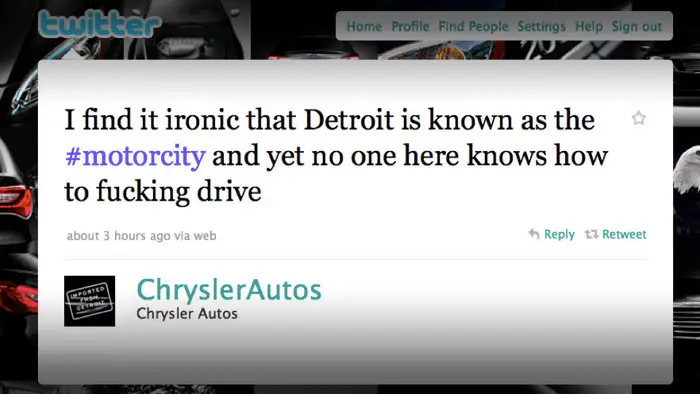 This situation is really interesting to me because, stepping out from behind the Wizard of Oz curtain for a second, I work as a web developer for a large media company that's in charge of multiple twitter accounts and what Scott Bartosiewicz did is a pretty easy mistake and could happen to a lot of my fellow co workers (heaven forbid).
The best (worst?) part about it all though is that what he said was funny. No amount of money Chrysler has thrown, and will continue to throw, behind their 'Imported from Detroit' marketing campaign can change that fact.
Instead of scrambling to delete the tweet (can't delete anything from the Internet) Chrysler and New Market Strategies should have taken a cue from Red Cross and theirsimilar "getting #slizzered" mistake and turn it into a marketing/donation win.
Coles: When  Red Cross employee tweeted that she was out getting slizzered with her friends Red Cross didn't fire her, they instead partnered with Dogfish Head Beer who offered a pint of beer to anyone who donated a pint of blood and it ended up being very beneficial for both parties.
Chrysler could have done something similar, imagine if they teamed up with a local driving school and offered Chrysler owners a discount?
It could have been something like "Lets prove that Chrysler drivers are the best in the motor city".
There were so many options that could have been employed rather than a firing of the individual and terminating the contract, shame.
Chrysler if you want someone new to run your twitter holler!
(Sorry for the nerdy WTF Friday but it's rare my work and passion cross paths).
Site Updates
Nothing crazy site wise as I announced the winners of the SIC RYDE contest in the previous post.
Personally I am on 1000 grit wet sanding for my first wheel lip and I'm hoping to get the rest of the wet sanding done Sunday night so I can try out my polishing kit.
Finding time so far is the hardest part.
Flashback Friday
I'm sure most of you saw this coming, check out last years Performance World Coverage if you have not already.
2010 – Performance World Part 1 – Muscle & Rods coverage is here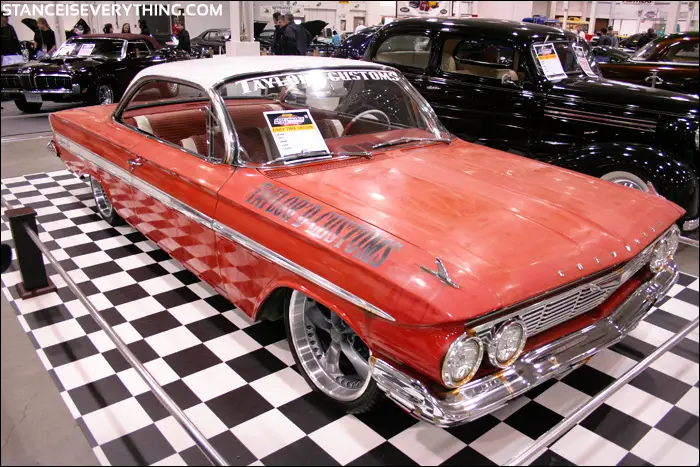 Event Coverage: Performance World Part 2 – Imports coverage is here